Z I N D A

M A G A Z I N E
Khzeeran 13, 6750 Volume VI Issue 13 June 13, 2000
To receive our weekly notification message or this issue in text format write to z_info@zindamagazine.com.
T H I S W E E K I N Z I N D A
All blue links throughout this issue are hyperlinks to other sections on this page or featured websites.
BEING A SON OF ASSYRIAN PARENTS
My dad and mom were proud to be Assyrians and they came to this country to become Americans, which they both were proud to be. My dad came in 1905 and my mother in 1922. This was when the Turks drove out our people. In fact, they killed my grandfather- my dad's father.
Arriving in America, my dad worked in hotels in Chicago for one dollar a day. After five years he enlisted in the U.S. Army for some ten years. When he finally had enough he returned to Gary, Indiana and carried mail for one year. His ears got frostbitten and he had enough to return to San Francisco, as he was stationed here during one year of his army life. The weather here was much better than Chicago. He was lucky and got reinstated in the Post Office and retired in 1955.
Wheat I can say about being the only son of these two wonderful great parents: they were good Assyrians, kept their language and religion and most of all enjoyed becoming citizens of the U.S.
My wife is of Assyrian heritage also and is also a product of her parents. We both speak the language and one of our daughters does also. There are not too many Assyrians in San Francisco now, rather in Turlock and San Jose there are quite a few.
My dad was in the Army for ten years and worked for the Postal Service for some thirty four years. Together between the Army and the Postal Service he had some forty four years of service.
When my dad left the Army he had attained the rank of Sergeant and upon his passing he was given full military burial at the Veterans Cemetery in San Bruno, California, which is some ten miles from San Francisco.
I am very proud of my dad who came to this country at a young age, enlisted in the Army and worked for the government. He used to say what a great country we live in, even when I pass away they will bury me. My mom is also along side him.
My mom was a school teacher in the old country and she was from Gutapa*. She came to this country with her mother; her older brother was already here in San Francisco. My dad met her here in San Francisco through her brother, John Shimmon. John and my dad went to school together in Urmia and that is how he came to meet my mother.
Gilbert L. Solomon
*a village in Urmia, Iran
In August 1999 Zinda Magazine received a collection of articles and letters entitled "The Assyrian Diaspora: A Family History". This was the magnificent work of Edward A. and Irene Kliszus, avid Zinda Magazine readers, who had tirelessly amassed an incredible amount of information on "Assyria and Assyrians" for their grandchildren. Edward and Irene write: "When our grandchildren asked us about our backgrounds for a genealogy project at their schools, we realized we knew almost nothing about our parents' lives before they emigrated to America." Mr. Gilbert Solomon's letter is only one of the many interesting pieces of the "Aurahan-Yohannan" family history puzzle. Zinda Magazine thanks Edward and Irene for sharing this beautiful gift with us.


AMERICAN AMBASSADOR VISITS TUR-ABDIN
(ZNDA: Tur-Abdin) The American Ambassador to Turkey, Mark Parris, visited Mor Gabriel Monastery near Midyat, Turkey on the first day of June. A large Turkish press was present when several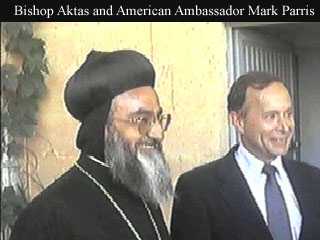 participants inquired about the return of the Syriac-Assyrian people to Tur-Abdin. The issue of the emigration of this small Christian community in south-east Turkey has become a serious concern as the government of Turkey continues to move its Kurdish citizens into Christian villages. There has been no compensation nor plan to move out what locals often refer to as the "squatters". Mr. Parris was also asked about the educational needs of the Christians in Turkey. His Eminence Mor Timotheos Samuel Aktas, the Syrian Orthodox Church's Archbishop of Turabin, told the Ambassador that unless the Syriac language can officially be taught the Church will disappear in Turkey.
Report compiled by Fr. Dale A. Johnson (Bar Yohanon) in Tur-Abdin
ANCIENT ISRAELI ROYALTY REMAINS FOUND IN BET-NAHRAIN
Article by David Keys of the Independent Newspaper, London (30 May 2000)
(ZNIN: London) Two skeletons of two princesses from Jerusalem who married the Assyrian monarchs have been identified by Dr Stephanie Dalley, an Oxford historian, as the only human remains of the ancient Israelite royal family. The bones are believed to be in storage in Baghdad Museum in Iraq. The skeletons probably belonged to the daughters of the Biblical kings Uzziah and Jotham.
They were rulers in the 8th century BC of the more southerly of the two ancient Israelite states, the Kingdom of Judah, which was ruled from Jerusalem. Although the skeletons were unearthed in Iraq 12 years ago, the full academic publication of them – and the spectacular gold treasures found with them – took place only last year. It is only in recent weeks that research by Dr Dalley – a leading authority on the ancient Middle East and the author of a recent book on the region, The Legacy of Mesopotamia – has begun to reveal the Israelite identities of the two individuals.
The key pieces of evidence are the names of the two princesses, Yabaa and Atal-ya. Dr Dalley realized that both names were almost certainly Hebrew. Language experts believe that Yabaa probably means "He [the Lord] brings forth," while Atal-ya almost certainly means "Yaweh [God] is exalted." The latter name, sometimes spelt "Atalia," occurs in the Bible as the name of a queen of Judah who had lived several generations before the lifetime of the Atal-ya unearthed in Iraq.
The skeletons were buried in the same stone coffin in the same tomb in the ancient Assyrian capital, Nimrud. Found lying next to them were a gold bowl, a rock crystal jar and an electron mirror, all bearing inscriptions that read "belonging to Atal-ya, Queen of Sargon, King of Assyria".
The two queens were interred with a spectacular treasure – 157 precious items including 79 gold earrings, 30 gold finger-rings, 15 gold plates, bowls and flasks, six gold neck-rings, four gold arm-rings, four gold foot-rings, two diadems and a crown.
---
"Thank you so much for your wonderful support."
Thea Halo
Author of "Not Even My Name"
New York

SURFERS CORNER
SALOME FAST IN SYRIAC @ LINCOLN CENTER FESTIVAL 2000
ASKO AND SCHÖNBERG ENSEMBLES
Alice Tully Hall
Tickets: $38
Wednesday, July 12 at 8 p.m.
Soon after its arrival in 1928, the Ondes Martenot displaced the Theremin as the electronic instrument of choice for the classical concert hall. Messiaen's Trois petites Liturgies de la presence divine, a signature work of this exotic instrument, will be performed by noteworthy Messiaen interpreters: pianist Peter Serkin, French Ondist Valérie Hartmann-Claverie, and conductor Reinbert de Leeuw leading two Dutch ensembles and the Vox Vocal Ensemble, all specialists in their interpretations of 20th-century music. Also featured will be the classic Varèse musique concrete work, Déserts, and the U.S. premiere of Salome Fast by Dutch-based American composer Ron Ford.
Programme
Edgard Varèse: Déserts
Ron Ford: Salome Fast (U.S. Premiere)
Narrator: Naurez Atto
Intermission
Olivier Messiaen: Trois petites liturgies de la Présence Divine (Three short liturgies of the Divine presence)
Women of the Vox Vocal Ensemble, George Steel, Director
Peter Serkin, piano soloist
Valérie Hartmann-Claverie, Ondes Martenot
About Salome Fast
Salome Fast, for small ensemble and reciting voice, was written for Amsterdam's Asko Ensemble, and was premiered in Amsterdam in 1996. The music is composer Ron Ford's interpretation of Hugo von Hofmannsthal's libretto for Richard Strauss's opera, Salome, with Aramaic text taken from the Bible ­ and with Salome as the work's narrator.
The short work is fast-paced and includes a virtuosic percussion part for vibraphone, marimba, xylophone, two roto-toms, and güiro. The reciting voice is amplified and, with loudspeakers placed near the performer, becomes gradually distorted. When the work premiered at the Concertgebouw's Klein Zaal last year, Der Telegraaf wrote that Salome Fast is a "virtuoso piece which carries an excitingly direct musical charge." The character of Salome "is embodied in rapid
figures, while John the Baptist, her opposite role in the opera, holds his own with resounding wind chorales." Salome begins her narration halfway through Ford's piece and by the end has "become a screaming witch who succumbs in a theatrical percussive explosion."
For more information: click here

---

LECTURE: "AUTHORITY WITHIN CHURCH OF THE EAST"
The Assyrian Academic Society in conjunction with Assyrian National Council of Illinois proudly sponsor a lecture entitled:
"The Source of Authority Within the Assyrian Church and the Assyrian Nation"
Presented by: Rev. Gewargis Toma, Ph. D., Assyrian Church of the East.
In his presentation, Rev. Gewargis Toma will trace the source of authority within the church to the time of Aron and his sons. He will discuss how spiritual authority was handed down through the Apostolic Succession from Jesus Christ and the Holy Apostles to the present Bishops of the church. The Patriarch of the Church of the East, at one time, was considered to be the spiritual and national leader of the Assyrian nation. To support his analysis, Dr. Toma will convey important information that he collected from civic and religious leaders regarding the source of authority. Through this engaging lecture, Dr. Toma will explain how faith, experience, knowledge, and sacrifices could have led individuals to become religious and civic leaders within the Assyrian nation.
Rev. Gewargis Toma received his Ph.D. in Ministry from Hartford Seminary in 1998 (Hartford, Connecticut). He earned a Masters Degree in Theology from the Holy Apostles College and Seminary in 1993 (Cromwell, Connecticut). Dr. Toma has served in numerous professional and religious capacities for the Assyrian Church of the East. He is a member of the Mixed Committee for Theological Dialogue between the Roman Catholic Church and the Assyrian Church of the East. He has taught classes on Membership Development and Bible Study. Dr. Toma is the current advisor for the Assyrian Youth Association.
Lecture Information
Date: Sunday, June 25, 2000
Location: Assyrian National Council office, 2450 W. Peterson, Chicago, IL 60645
Time: 5:30 p.m.
For more information, contact the AAS at: webmaster@aas.net.
nadiaejoseph@hotmail.com: (773) 461-6633.

---

AN INVITATION TO THE UNVEILING OF SUMMURAMUT MONUMENT
This notice is aimed at all those people who consider themselves descendants of the culture in the region called Mesopotamia, who would like to work at promoting that heritage. We ask you to attend this year's Labor Day Assyrian American National Federation convention, in Chicago, to help form a new organization whose task will be to:
1. Develop an interest in our heritage among young children.
2. Generate greater awareness of our history, culture, presence and current status in the world today among the general public.
3. Contemplate steps to promote our survival in the Near East and elsewhere
An added benefit of attending this year's convention will be the opportunity to participate in the unveiling ceremony of the monument of Summuramut, the Chaldean princess who became Queen of Assyria from 805 to 800 BC. She was, perhaps, the first woman to rule an empire in her own right. She is the historical basis for our legendary Shumirun, whom the Greeks called Semiramis.
Twelve years in the making and spanning two continents, the bronze statues of the queen and her lioness, will be installed near the Oriental Institute, on the campus of the University of Chicago. The unveiling ceremony is set for Saturday, September 2, from 5:00 to 7: PM. Afterwards there will be a private reception for those who've supported the monuments of Ashurbanipal, Summuramut and Hammurabi. Those interested in participating in the formation of the new organization will also be welcome. We look forward to meeting, sharing ideas and setting an agenda for our first year.
Anyone interested in further information may call (707) 963-5620.
Sincerely,
Fred Parhad
California
Sammurammat, Semiramis, or Shamiram was the wife of the Assyrian king, Shamshi-Adad V (824-810), and the mother of Adad-Nirari III (809-782), both monarchs of the Assyrian kingdom. After the death of her husband, Semiramis ruled the Assyrian kingdom for five years until her son reached adulthood and ascended upon his mother's throne. Semiramis is credited with the building of the city of Babylon and the conquest of Egypt and India.

---

67th ANNUAL ASSYRIAN AMERICAN NATIONAL CONVENTION
The 67th Annual Assyrian National Convention will be held in Chicago, Illinois. Starting Wednesday August 30, ending Monday September 4th, 2000. Updated information will be added to the Assyrian American National Federation's web site as it becomes available.
Convention Committee
Assyrian American National Federation
1 June 2000
Hosted by the AANF Affiliates of the Midwest Region
Wednesday, August 30 - Monday, September 4, 2000
Hilton Hotel & Towers
720 S. Michigan Avenue
Downtown, Chicago
312-922-4400
1-800-HILTONS
(See Calendar of Events)
Room rate $129
For more information in future: Click Here
---

THEA HALO TO DISCUSS 20TH CENTURY'S FIRST HOLOCAUST
Special to The New York Times Public Lives
(ZNDA: New York) Almost three Million of Turkey's Christian population, Armenians, Pontic Greeks and Assyrians, were annihilated by Turkey during and after World War 1.
Thea Halo, who recently authored Not Even My Name, joins with Amnesty International-NYC and Barnes & Noble Booksellers Friday evening, June 30th, to discuss her family's forced death march to exile 80 years ago.
This is the fifth in a series of Human Rights Forums co-sponsored by Amnesty International and Barnes & Noble Booksellers. Ms. Halo will appear Friday evening, June 30th, at 7:30 PM in the upstairs lounge of the 4 Astor Place Barnes & Noble Bookstore. At age ten, Sano "Themia" Halo, Thea's Mother, was exiled from her mountainous home near the Black Sea and sent on a death march that led to the extermination of her family.
Stripped of everyone and everything she had ever held dear: family, home and country, even her name, Sano was then sold into marriage to an [Assyrian] man three times her age who brought her to America. Thea will also discuss how she felt as she retraced her mother's footsteps, 70 years later, when she and her mother made a pilgrimage to Turkey in search of Sano's lost home.
As part of the program, Amnesty International will briefly highlight their world-wide effort to stop children from being forced to serve as soldiers by more than a dozen governments around the globe. Many nations recruit, induct & arm children as young as ten-years old to fight their guerilla wars.
Amnesty International
NYC 26 Broadway


ASSYRIAN SURFING POSTS
Links to Other Assyrian Websites
Peshitta New Testament in Aramaic/English Interlinear Format
A Concordance to the Bible in the Official Language of the Assyrian Churches
Nakosha Magazine's June 2000 Issue
Requires Acrobat Reader
Music of Addo Rhawi
Step into Addo's brave new world!

WHY ARE YOU CRYING?
The Babylonian parents sometimes tried the following words to calm their fretting and crying babies:

Little one who dwelled in the dark chamber*
You really did come out here, you have seen the sunlight.
Why are you then crying? Why are you then fretting?
Why did you not cry in there?

You have disturbed the household god,
the bison-monster is astir, saying:
"Who disturbed me? Who startled me?"

The little one disturbed you, the little one startled you.
Like wine tipplers, like a barmaid's child**,
Let sleep fall upon him!

From Distant Days, Myths, Tales and Poetry of Ancient Mesopotamia by Benjamin Foster
*a metaphor for the womb
**a reference to the expected alcoholic intake of a child nursed by a woman of bibulous habits and the child's resulting stupor.


MAR BAWAI SORO
Mar Bawai Soro, a bishop of the Assyrian Church of the East, is completing his doctorate degree in theology this year and the staff of the Light Newsletter of San Francisco's Mar Narsai's Parish recently conducted an interview with His Grace. Mar Bawai's doctorate dissertation focuses on the Assyrian Church of the East's historical theology. His Grace discusses four major aspects of Assyrian history and Christian theology. These include:
1. The contribution of the ancient pre-Christian Assyrian Religion to Judaism and Christianity, especially, the influence on the writings of the Books of the Old Testament. His findings are mainly based on important archaeological findings and anthropological/theological studies.
2. The very early spread and gradual formation of Apostolic Christianity that the missionaries from Jerusalem brought to Mesopotamia, especially to Assyria Proper, based on ancient historical records and Church of the East manuscripts.
3. The genesis and genius of theological thought and contribution of the early Church of the East fathers (the first five centuries), both the Mesopotamian (i.e. Mar Aphrahat, Mar Ephrem, and Mar Narsai), and the Antiochean (i.e. Mor Diodore, Mor Theodore, and Mor Nestorius).
4. With these important three aspects in mind, the dissertation will then treat the significance of the history and theology of the Assyrian Church in relation to the contemporary socio-ecclesial situation in which the Assyrians as a church and a nation enter the 21st century.
His Grace's plan is to publicly defend this thesis in Rome at St. Thomas Pontifical University (the Angelicum) sometime in early next year. After defending and publishing his thesis, he will earn a Doctorate in Theology (PhD).
Mar Bawai is also scheduled to fly to Washington, D.C. to present a theological paper at the Catholic University of America about the theology of Holy Qurbana in the Assyrian Church of the East.
In August, His Grace Mar Bawai is invited to present a theological paper for the International Congress of the Ecumenical Society of the Blessed Virgin Mary, which will be held this year at Oxford University. In September, His Grace Mar Bawai is invited by the United Nations (UNESCO) to present another paper at Tashkent Islamic University (in the Republic of Uzbekistan) on the history of the Assyrian Church of the East and its contribution to the promotion of civilization along the Silk Road in the first Millennium.

PUMP UP THE VOLUME
| | | |
| --- | --- | --- |
| ENGLISH | MODERN ASSYRIAN | GENDER |
| Wisdom | kha/khim/ta | Feminine |
| Understanding | paar/me/ta | Feminine |
BC (1300)
Assyrians encounter a Semitic people which they initially referred to as Ahlamu - the new troops - and later Aramu - the Arameans. These were successfully kept away from Babylon and Nineveh until 1050 B.C. However, after this time they gradually established themselves in Bet-Nahrain and formed an increasingly greater portion of the Mesopotamian population.
The Ancient Orient, von Soden

---

AD (1988)

The al-Qousour Church, a church building belonging to the early history of the Church of the East, was discovered and more fully excavated in 1989 in Kuwait. Its externals dimensions are 35 by 19 meters. It shows a clear tripartite plan with the east end divided into three small chambers and a fourth appended on the east side. The closest resemblances of this church are the buildings found in ancient southern Mesopotamia, particularly at Uruk. The early Mesopotamian religious architecture shows striking parallels with the Assyrian churches of Hira, Ctesiphon and al-Qousour.

Mesopotamian Civilization, Potts


---
THIS WEEK IN HISTORY
June 17, 1841 : The first wave of the French Lazarist priests arrive in Urmia, Khosro-abad in the Salamas region. One year later a local school was built and administered in Khosro-abad.
CALENDAR OF EVENTS
Jun 25

CHICAGO
LECTURE: "AUTHORITY WITHIN CHURCH OF THE EAST"

Sponsored by the Assyrian Academic Society & the Assyrian National Council of Illinois

Assyrian National Council Office
2450 W. Peterson
5:30 PM

Rev. Gewargis Toma will trace the source of authority within the church to the time of Aron and his sons. He will discuss how spiritual authority was handed down through the Apostolic Succession from Jesus Christ and the Holy Apostles to the present Bishops of the church. The Patriarch of the Church of the East, at one time, was considered to be the spiritual and national leader of the Assyrian nation.

Contact the AAS at: webmaster@aas.net.
nadiaejoseph@hotmail.com: (773) 461-6633

Jun 26-30

SYDNEY
EIGHT INTERNATIONAL SYMPOSIUM SYRIACUM

For the first time in 32 years this international conference is taking place outside of Europe & in Sydney

More than 100 eminent Syriac scholars from different parts of the world will be attending

For more information:
Louren David Majidi Ann Warda
(02) 9822 1778 OR 0404 124 930 0413 854 936
Department of Semitic Studies
University of Sydney

For more information on speakers and papers click here

Jul 2

SYDNEY
ASSYRIANS AFTER ASSYRIA
Persecutions & Massacres of the Syriac Speaking Christians

An international conference on the subject of the fate of the Assyrian people after the collapse of the Assyrian Empire (612 B.C. - 2000 A.D.).

Dr Gabriele Yonan - Germany
Dr Fuat Deniz - Sweden
Professor Abdul Massih-Saadi - USA
Dr Racho Donef - Australia
Panayiotis Diamadis - Australia
Nicholas Al-Jeloo - TAAAS

Sponsors:
The Assyrian Australian Academic Society
The Centre for Comparative Genocide Studies at Macquarie University & the Department of Semitic Studies at the University of Sydney

Merewether Building,
City Road
University of Sydney

For more information & Registration Fee Detail click here
REGISTRATION: Closing 7th June

For more information: Click Here

Jul 10-13

PARIS
46th RENCONTRE ASSYRIOLOGIQUE INTERNATIONALE

"Nomadism and Sedentarism in the Ancient Near East"

College de France
52 rue Cardinal Lemoine
75005

Contact: chrinico@club-internet.fr or fax 33-1-48-87-82-58

XLVIe RAI
Christophe NICOLLE
Chaire d'Assyriologie
College de France
52 rue Cardinal Lemoine
75005, Paris - France

Jul 26-30

PORTLAND, OREGAN
38TH ANNUAL SYRIAN ORTH ARCHDIOCESES CONVENTION

The Syrian Orthodox Archdioceses in Canada and United States
Led by His Holliness Patriarch Ignatius Zakka I
Hosted by St. Ignatius Church, Portland
Marriot in Portland

Agenda: Review of the past 50 years of history of the church in North America to identify and cement the strengths and work on improving
weaknesses.

In addition to a spiritual and cultural festival, a cruise on the Columbia River, a bus trip to Cascade Range, etc. are planned. Click Here

Jul 28-31

BEIRUT
SYRIAC UNIVERSAL ALLIANCE MEETING

Speakers include representatives from the Office of the President of Lebanon
Mass celebrated by His Holliness Patriarch Ignatius Zakka I
Performances by a Maronite University musical group
Art Exhibition: Art works from artists of our community throughout the world
Dance party for the youth attending the conference
Book Exhibition
Suryoyo singers and folkloric dances
A visit to Zahle
Banquet in honor of the Patriarch
A special concert performance by George Badro, Suryoyo musician from Canada.

For more information:
Daghelian Bldg. - Bloc A - 2nd Floor - Jdeideh Blv.
P.O. Box: 55414 - Tel: 961-1-884810 / 961-1-884811
Fax: 961-1-884812 - E-mail: sua@lebmail.com

Aug 30 -
Sep 4

CHICAGO
ASSYRIAN AMERICAN NATIONAL CONVENTION

Hilton Hotel & Towers
720 South Michigan Avenue, Chicago, Illinois 60605
1-312-922-4400, Fax: 1-312-922-5240

Phone: 312-922-4400 or 1-800-HILTONS
To obtain the convention rate refer to the AANF Convention
Location Map: click here
Directions from Airports: click here
AANF Convention 2000 Information: click here

THANK YOU!
Naurez Atto..........................N/A......................Surfers Corner
Jacklin Bejan.....................California....................Surfers Corner
Frank Dittrich.....................Sweden...........Assyrian Surfing Posts
Nadia Joseph........................Chicago........................Surfers Corner
Linda Michaels.................California................................Bravo
Paul Younan........................Chicago.............Assyrian Surfing Posts

---

SHARE YOUR INFORMATION WITH READERS IN 50 COUNTRIES BY INCLUDING ZINDA MAGAZINE IN YOUR COMMUNITY OR ORGANIZATION'S MAILING LIST.
SEE OUR MAILING ADDRESS BELOW.
ZINDA Magazine is published every Tuesday. Views expressed in ZINDA do not necessarily represent those of the ZINDA editors, or any of our associated staff. This publication reserves the right, at its sole discretion, not to publish comments or articles previously printed in or submitted to other journals. ZINDA reserves the right to publish and republish your submission in any form or medium. All letters and messages require the name(s) of sender and/or author. All messages published in the SURFS UP! section must be in 500 words or less and bear the name of the author(s). Distribution of material featured in ZINDA is not restricted, but permission from ZINDA is required. This service is meant for the exchange of information, analyses and news. To subscribe, send e-mail to: zenda@ix.netcom.com.
Zinda Magazine
P.O. Box 20278 San Jose, California 95160 U.S.A.
Voice: (408) 918-9200
Fax: (408) 918-9201