Z I N D A

M A G A Z I N E
Tammuz 27, 6750 Volume VI Issue 17 July 27, 2000
Advertisement Info Contact Us Archives
To receive our weekly notification message or this issue in text format write to z_info@zindamagazine.com.
T H I S W E E K I N Z I N D A
All blue links throughout this issue are hyperlinks to other sections on this page or featured websites.
THE LIGHTHOUSE
ASSYRIANS & THE 1906 NOBEL PRIZE
In my recent research about the Assyrians in the First World War I came across an astounding document which I think should be shared with all Assyrians. In 1905 the war between Russia and Japan broke out, but the American President Theodore Roosevelt invited diplomats on both sides to his home in Oyster Bay. After much negotiation the two countries reached an agreement and the Accord was signed in Portsmouth, New Hampshire, thus it was called the "Treaty of Portsmouth". The following is a quote from Theodore Roosevelt Association Publication: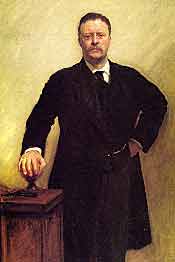 "President Roosevelt was awarded the Noble Prize in 1906 for his work in the negotiation that led to the Treaty of Portsmouth ending the Russo-Japanese War in 1905. This made him the FIRST AMERICAN TO WIN A NOBEL PRIZE IN ANY CATEGORY.
The prize consisted of a large medal, a diploma in a fancy case, and a cash reward. President Roosevelt collected his prize money in 1910 since he did not feel right to accept the prize while he was in office. He did not feel that he should get the money himself therefore he made arrangement to use it for "an industrial peace foundation" in the United States; but the idea never materialized.
The prize money was $36,734.79, but by 1918 the Fund with accumulated interest had reached $45,482.83. On August 22nd, 1918 Roosevelt wrote to the House Representative James Ambrose Gallivan (a Democrat from Massachusetts) giving a full accounting of the distribution of the Fund."
The money was then distributed to many war relief organizations and associations as well as individuals working with refugees and others. What is of utmost interest for the Assyrian nation is that President Roosevelt donated $1000.00 of his prize money (which was worth around $10,000 or more in today's money) to Mr. Paul Shimmun (an Assyrian) to be used for relief work among Assyrians and Armenians.
Let me quote directly from President Roosevelt's letter to Rep. Gallivan:
"To Paul Shimmun, for use among the Armenians and Assyrian Christians, one thousand dollars I send this through Mr. Shimmun because so far as I know he has never sought to excuse or justify what I regard as our inexcusable dereliction in duty having failed to declare war on Turkey, and therefore in having failed to play a manly part in the effort permanently to remedy the hideous wrongs of the subjects of the Turk in the only really effective way; by destroying the Turkish rule."
It is noteworthy that a former President of the United States of America as early as 1918, admitted to the crimes committed against our Assyrian nation and that a part of the very first Nobel Prize won by any American was utilized toward the welfare of our murdered, devastated and uprooted nation.
Rev. Dr. Fereidoun Es-Haq
San Jose, California
With the assassination of President McKinley, Theodore Roosevelt at 42 years of age became the youngest President in the Nation's history and served his nation from 1901 until 1909. More than any other President before him, Roosevelt involved the United States more actively in world politics. His favorite quote was: "Speak softly and carry a big stick! "
Rev. Dr. Es-Haq is the Senior Pastor of the Assyrian Bet-Eil Church in San Jose, California.
To learn more about the Bet-Eil Church, its programs and services Click Here.


ASSYRIAN-SURYOYE DEMONSTRATORS OCCUPY GOVT BUILDING
(ZNDA) According to a report published in Beth-Suryoyo-Othuroyo, on July 24, nearly one hundred members of the Patriotic Revolutionary Organization of Beth Nahrin (PROB) entered the governmental building in Lausanne, Switzerland to attract the attention of the media and the Swiss government officials toward the precepts of the Treaty of Lausanne, ratified in 1923. An official statement was presented to the Swiss government and the European Parliament. According to the report a lawsuit against the Treaty of Lausanne will be filed.
The demonstrators forced their entry into the government building where the historical Treaty of Lausanne was signed. Last month the city of Lausanne had previously denied permission for their peaceful demonstration. The Treaty of Lausanne granted almost no rights to the Assyrian people. The Assyrian-Suryoye activists demanded an increased improvement in the treatment of the Assyrian-Suryoye people by the Turkish Republic.
Report compiled by Matay Arsan, Holland
NEWS DIGEST
MELTHO PROJECT UPDATE
(ZNDA: New Jersey) The Syriac Computing Institute (SyrCOM), a non-profit organization dedicated for the advancement of Syriac studies by means of computer technology, will be releasing in August 2000 a beta version of its font software "Meltho: Syriac OpenType Fonts for Windows 2000".
SyrCOM was involved in the inclusion of Syriac in Unicode (www.unicode.org), the newly international encoding convention for storing texts in various languages. This paved the way for having Syriac support under the Windows 2000 operating system. This makes it possible to use Syriac in a wide range of software, including word processing, databases, spreadsheets, graphics, web pages, email, etc., provided that users have the proper Unicode-compliant fonts.
SyrCOM has produced over 15 such fonts in Estrangelo, Serto (West Syriac), and East Syriac. The fonts give support not only to texts in Classical Syriac, but also in Garshuni (Arabic written in Syriac), Swadaya (Eastern Neo-Aramaic of the Assyrian and Chaldean communities), Turoyo (Central Neo-Aramaic of the Syriac Orthodox communities of Tur Abdin), and Christian Palestinian Aramaic (formerly known as Palestinian Syriac, the dialect used in many Melkite texts). The aim is to provide a system that is useful for the scholarly community as well as to the heirs of the tradition: the Syriac Orthodox, Assyrians, Maronites, Chaldeans, Syriac Catholics, and the Malabar and Malankara Christians of India. All Meltho fonts will be freely distributed over the SyrCOM web site.
The artwork of the fonts is based on printing types and old manuscripts. The typographical design was commissioned to an outstanding firm, made possible by generous donations from the Syriac Orthodox and Assyrian communities, as well as Western scholars and universities. It is the contribution of these fine individuals and institutions (both sacred and secular) that made this project possible. A full list of donors will be published with the release of the software.
The following image gives a number of Syriac fonts in Microsoft Word 2000. Estrangelo is shown in black, Serto in blue, and East Syriac in brown. The text is taken from the 2nd century Old Syriac Gospels, the version of the Gospels that predates the Peshitta.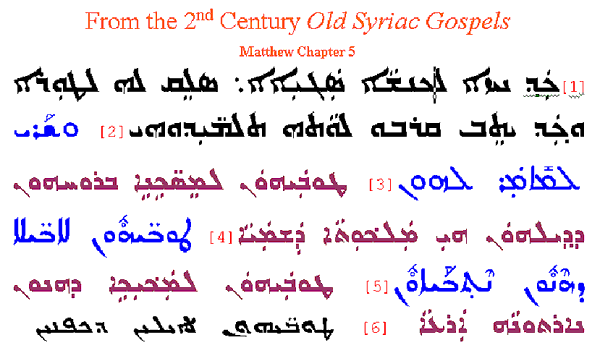 Article courtesy of Dr. George Kiraz, Director of the Meltho Project.
WITTENBERG SYMPOSIUM ON ASSYRIAN CHURCHES
(ZNDA: Berlin) On July 15 a symposium was organized in Wittenberg, Germany to discuss the current situation of the Syriac-speaking Christians of Lutterstadt Wittenberg, the town of Reformation where Martin Luther lived and worked. The symposium was entitled "Deutsches Syrologen Symposium zur Geschichte und Theologie der Syrischen Kirchen in Wittenberg/Deutschland" or "the German Syriac Symposium on the History and Theology of the Syrian Churches in Wittenberg, Germany". Three Assyrian speakers were on the panel, two of whom were of the Eastern (Suraye) and one of the Western Syriac background (Suryoyo). Several other European scholars were in attendance. The Assyrian-Suryoyo speaker, Mr. Gabriel Rabo of the University of Göttingen in Germany is also the webmaster of the popular Suryoyo Online. Ms. Helen Yonan Sarderoudi from the Free University of Berlin presented a lecture entitled "Behnam and Sara". Ms. Adrin Takhsh, also from the Free University of Berlin discussed the topic of the "Assyrian Woman between Tradition and Modern life".
SURF'S UP!
"Can someone please point me out in the right direction of any Assyrian chat rooms? They are the best way to keep in touch with people when you are out of the country."
George Youhana
Here are a few:
Assyrian Forum
Assyria Web Chat
Beth Suryoyo Othuroyo
Suryoyo Online Forum
---

"Thank you for your interest in our music.

We, the Jews from Urmi, are proud of our own customs, heritage, and language. We speak Assyrian, albeit a unique dialect of our own, which we call "Lishan Noshan" ("our own language").

Here in Israel our ancestral language and our whole special identity are gradually vanishing, and that is why Nisan Aviv and myself as his co-singer have decided to embark on a project aiming to preserve some of our poetry and songs, and through our songs to reflect many aspects of our heritage. A labor of love, the disk and tape are the least we could do in order to bequeath some of our dying community's beauty for posterity.

Indeed we are dying, and very few young people like me can still speak Assyrian, the rest of us being old or too influenced by Hebrew, our national language.

But the bad shape of our community only encourages us to produce theater shows and music, and now we are proud to present our recent project:

14 songs in format of disk or cassette, both titled "Lishan Noshan", and with full English translation for two of the songs. All that for only $15 for a disk or $5 for a cassette, including airmail shipment!.

We hope that just as we are familiar with your music and singers (Ashur Sarguis, Janan Sawa, Linda George, Evan Aghassi and many others....), your people would like to get to know our own music. One can purchase a disk or a tape in either of two ways: 1).

Send the sum of $15 (disk) or $5 (tape) for Nisan Aviv's bank- account number:

10007459
Bank Iggud, Branch 62 Ramat-Gan
Israel

2). Send bank- notes of $15 (disk) or $5 (tape) by registered post to my address: Hadassa Yeshurun st' iris 15 Holon 58210 Israel.

Hawetoon basime raba, U shlame qa kulle Atooraye khabibe Min shwawokhoon hoodaye,"

SURFERS CORNER

ASSYRIAN SCHOOL OF VERIN DVIN IN ARMENIA

Dear Assyrian compatriots,

There are currently 4,000 Assyrians living in the village town of Verin Dvin in Armenia. They have lived in this village since 1830-40's, most of whom left Iran after the Turkish attacks. There are 350 pupils in my school. In addition to Armenian, they learn Assyrian, English, and German.

Since 1992 the government of Armenia has given us permission to teach Assyrian language in our schools. Therefore, our children can not learn to write and read in Assyrian and study their history. Also, there are Assyrian dancing and singing classes under the direction of Olga Bagdasarian.

The staff at our school is requesting from our Assyrian brothers and sisters abroad to help us protect and improve this unique school for Assyrians in Armenia where the Assyrian language, history, and culture must be protected. The school is decrepit; there are not enough textbooks and supplies. The Armenian Republic has many problems (economic, energetic, and financial). In Armenia today, schools cannot exist without benefactors. So Armenian benefactors who live in Armenia and other countries help Armenian schools. We believe that Assyrian organizations and individuals do not know about our village and our school. We hope that if they know about our school they will assist us. We are sure God will bless you.

We try to use any opportunity to satisfy our school's needs. We took part in the competition whose aim was to build a modern computer programm in our school. And we won! Soon we will receive computers to be placed in a room where the pupils will receive a good education in English language. The cost of which was about 10,000 dollars. However, we must come up with 10 percent of the sum in order to get the computers.

With the help of the students and parents we were able to gather only $300.00. Please help us! We are eager to know about you and we wish you all the best.

Olga Bagdasarian
Secondary School of Verin Dvin
Director
Republic of Armenia

The village town of Dvin was an old capital of Armenia. Today, the Armenian residents of this beautiful little town live in the Lower (Merqin) and the Assyrians in the Upper (Verin) half. Dimitrov and Arzny are the other two villages in Armenia that include a substantial Assyrian population.

Since the receipt of this letter at our office, through the efforts of the Assyrian Weekly Magazine television show the sum of $1000.00 has been collected and submitted to the School in Armenia. To continue your support of the Assyrian students in Armenia please send your donation to:

Zinda Magazine
P.O. Box 20278
San Jose, California 95160
U.S.A.
---
ASSYRIAN MARTYRS' DAY COMMEMORATION IN SAN JOSE
The Assyrian American Association of San Jose proudly presents the Assyrian Martyr's Day Commemoration on Sunday, August 6 at 7:00 PM.
Join us for an unforgettable evening in remembrance of the sacrifices made throughout our history.
Premier showing of the "The Untold Holocaust"
Solo musical performances by Arbella Issabey
Nineveh Choral Group under the direction of Maestro Nebu Issabey
Thea Halo, Author of "Not Even My Name"
Poetry & dramatic performances by our own young talents
Santa Clara Convention Center Theater
5001 Great America Parkway
Admission: $5

For ticket information: AAA of San Jose 408-927-8100
Etminan Market 408-226-5992
Linda Kaldani 408-356-3953

Assyrian American Association
San Jose, California


ASSYRIAN SURFING POSTS
Links to Other Assyrian Websites
Assyrian Women's World
Assyrian Women's Conference & Network Archives
Frederick P. Isaac's "The Forgotten People"
Part I , Part II , Part III
The Mystery Stelae
The stelae may depict rulers of Hubushkia, a kingdom known from Assyrian annals.
Iraq: A Decade of Devastation
Published by the Middle East Research and Information Project (MERIP)
Campaign to End Economic Sanctions Against Iraq
Babylonia and Ancient Near Eastern Texts
A good source of available information on the web

LITERATUS
AN ASSYRIAN-IRAQI VISITS ARMENIA
The following are excerpts from "In the city of a 1,001 churches: Sandra Simpson looks at the ancient Christian communities of the Caucasus", an article published in 1998 in the Lebanese Newspaper, the Daily Star Online.
(ZNDA) In 1998 Annie Hoglind, an Armenian born in Beirut, and her Swedish husband Tom, who works with the Bible Society in Lebanon, accompanied Abu Yussuf, an Assyrian priest and writer from Iraq investigating the state of Christianity in Armenia, to the country.
"Communism was more successful than the Turkish massacres in getting rid of Christianity. But there were people in Armenia, grandmothers, who somehow carried something on ? and there were a few ready to die for their faith," says Hoglind.
In 301 A.D., almost 260 years after King Abgar of Assyria and his people were converted to Christianity, Armenia became the second Mid-east nation to adopt Christianity as a state religion when king Trdat was converted by St Gregory the Illuminator who then became catholicos, or head, of the Armenian church. A concrete celebration for 2001 will be the dedication of a huge new hilltop church with 1,700 seats, one for each year of Christianity, in Yerevan.
Abu Yussuf wanted especially to visit the Assyrian community in Armenia, thought to number about 12,000. "We met a group of Assyrians in a very remote area on the Ararat plateau," Annie said. "They were originally from northern Iran but had taken Russian names. Under communism their churches had been used as warehouses. They know so little about themselves and Christianity. Abu Yussuf thought they had not yet reached even the level of folklore. They've mixed their beliefs up with those of the Kurds and the Turkomen.
"We could see by their offerings how poor they were- plastic flowers, an apron, coloured pictures," she said. Tom was both taken aback by their ignorance and captivated by the unusual twists and turns the generations had added in preserving what they called Christianity. "They didn't know what the church was for. They would light candles on national holidays. At the altar were pictures of the Mona Lisa, an obvious Virgin image, and dream-type paintings of Islamic paradise. It was a fascinating amalgam."
Abu Yussuf researched every sector of Armenian Christianity, including Catholic, Apostolic, Orthodox Brethren and Pentecostal. He was interested to compare Armenia's situation to that of Iraq, where a theology college near Baghdad has recently been accredited by the Vatican and weekly bible-study classes run by Dominican priests regularly attract up to 900 students. "The Assyrians have never had it so good as they do under Saddam Hussein," Annie said. "They are no threat politically so are encouraged to build and expand. The church is very strong there."
Abu Yussuf, now visiting Assyrian communities in Australia, is editor of Christian Thought magazine published in Baghdad.


BRAVO
CARLO GANJEH
Candidate for the Presidency of the Assyrian American National Federation
National Platform

Mission:
Establish a strong AANF leadership, promote unity, increase AANF resources and revenues, strengthen AANF's financial status, and promote the Assyrian cause nationally.
The Agenda:
Education
The Assyrian future will be a bright one if we provide for the education of our children. Our nation faces tremendous challenges. Assyrians are scattered around the globe in more than 40 countries. My goal will be to work with the Executive Committee to design and implement special projects that will "create" opportunities for our children in USA and those in the Middle East.
Programs:
a- Establish a uniform Assyrian educational program nationally.
b- Introduce the Nisibin School at all AANF affiliates; and promote these cultural schools.
c- Create special financial incentives to assist the affiliates with the national education program.
d- Establish the Assyrian Language Institute
e- Establish the Assyrian Genocide Institute

Resources, Public Relations and Awareness
One of the most difficult tasks at hand is increasing public awareness regarding the AANF. We need to educate the Assyrian communities as well as our local, state, and national governments on the AANF and Assyrian issues. The goal is two folds:
a- To increase AANF resources and manpower;
b- To identify potential sources of financial assistance.
Programs:
Youth Involvement
a- Establish and promote special programs to involve the Assyrian Youth with the AANF projects nationally.
b- Strengthen affiliates athletic programs.

Public Communication and Involvement:
a- Strengthen the Public Relations through aggressive use of Internet, media, and Assyrian publications.
b- Increase the role of the Assyrian Women in AANF administration & national programs.

Assyrian Unity
All of us Assyrians, Chaldeans, Syriacs and Maronites need to work together, on common agendas, if we are to be recognized as one People and if we are to secure our rights in the Middle East.
We are all one People yet from diverse religious denominations. I will commit to work with all on our common agenda and promote mutual respect, cooperation, and coordination. I will commit to work hard on Unity of our nation.
Global Perspective
I will support the Assyrian Universal Alliance and assist the AUA to bring more coordination, cooperation between our people around the world.
Financial Reform, Increasing Revenues
I am a strong advocate of Assyrian American National Federation financial reform. Under the current system, the AANF it is not aware of all the available public and governmental resources nor utilizes the available sources.
If I am elected, as a measure of my performance, I will commit to increasing AANF revenues significantly within the next two years.
Not only I will commit to strengthening AANF's financial status, but I will also submit that AANF will be in a position to financially support the affiliates with the implementation of the national programs.
Constitution & Bylaws
The Assyrian American National Federation Constitution & Bylaws are outdated and require major revisions. The proposed changes and amendments have been submitted to the Executive Committee. I will aggressively pursue a floor debate to vote on the proposed revisions and changes recommended by individual members and affiliates.
I believe in compassionate policies. I believe that we can solve most problems with commonsense and cooperation. But I also recognize that to solve some of our toughest problems we must be strong & responsible.
Carlo Ganjeh
Friday, July 28, 2000
Email: ganjeh@aol.com
Phone: (408) 369-7620 Ext. 202
Fax: (408) 369-6311


PUMP UP THE VOLUME
| | | |
| --- | --- | --- |
| ENGLISH | MODERN ASSYRIAN | GENDER |
| Library | bet/ar/ke | Masculine |
| Museum | bet/it/qe | Masculine |
BACK TO THE FUTURE
BC (9th Century)
As early as this time the Assyrian documents mention the name of "Parsua" as the district north of modern city of Kermanshah in Iran. The people of Parsua (Persians) are often mentioned as the enemies subdued by Assyrian armies.
The Heritage of Persia, Frye

---

AD (583)

The Sassanid king of Persia, Hormozd IV, who succeeded Anushirwan was a pro-Christian ruler. It is written that when asked by his advisors to persecute the Christians, he replied: "My throne stands on four feet, not on two. It stands on the Jews and Christians also." The matter of the persecution was then dropped.

The Death of a Nation, Yohannan


July 29, 1918: On a hot Wednesday morning tens of thousands of Assyrians begin the journey from Urmi to Hamadan, what was to become the longest and deadliest journey taken in recent history. Many, mostly elderly and children, perished during the "Exodus of 1918".
CALENDAR OF EVENTS
Jul 26-30

PORTLAND, OREGAN
38TH ANNUAL SYRIAN ORTH ARCHDIOCESES CONVENTION

The Syrian Orthodox Archdioceses in Canada and United States
Led by His Holliness Patriarch Ignatius Zakka I
Hosted by St. Ignatius Church, Portland
Marriot in Portland

Agenda: Review of the past 50 years of history of the church in North America to identify and cement the strengths and work on improving
weaknesses.

In addition to a spiritual and cultural festival, a cruise on the Columbia River, a bus trip to Cascade Range, etc. are planned. Click Here

Jul 28-31

BEIRUT
SYRIAC UNIVERSAL ALLIANCE MEETING

Speakers include representatives from the Office of the President of Lebanon
Mass celebrated by His Holliness Patriarch Ignatius Zakka I
Performances by a Maronite University musical group
Art Exhibition: Art works from artists of our community throughout the world
Dance party for the youth attending the conference
Book Exhibition
Suryoyo singers and folkloric dances
A visit to Zahle
Banquet in honor of the Patriarch
A special concert performance by George Badro, Suryoyo musician from Canada.

For more information:
Daghelian Bldg. - Bloc A - 2nd Floor - Jdeideh Blv.
P.O. Box: 55414 - Tel: 961-1-884810 / 961-1-884811
Fax: 961-1-884812 - E-mail: sua@lebmail.com

Aug 5

SAN JOSE
ASSYRIAN GENOCIDE CONFERENCE 2000

Organized by the Assyrian American Association of San Jose
Presentations by a panel of scholars and experts in the area of genocide and the persecution of Assyrians in the Middle East:

Dr. Gabriele Yonan (Germany), a research scientist, scholar and author of "Lest We Perish – A Forgotten Genocide".
Dr. Abdul Massih Saadi (Chicago), professor of Middle Eastern studies at the Lutheran School of Theology.
Ms. Thea Halo (New York), author of "Not Even My Name", a newly published book on the Assyrian-Armenian-Greek Genocide of 1915-1916 by the Ottoman Turks.

To register: Click Here

Zinda Magazine is a major sponsor of the "Assyrian Genocide and Persecution Conference 2000" in San Jose, California.

Aug 5

SAN JOSE
ASSYRIAN MARTYRS' DAY COMMEMORATION

Assyrian American Association of San Jose

Premier showing of the "The Untold Holocaust"
Solo musical performances by Arbella Issabey
Nineveh Choral Group under the direction of Maestro Nebu Issabey
Thea Halo, Author of "Not Even My Name"
Poetry & dramatid performances by our own young talents

7:00 PM
Santa Clara Convention Center Theater
5001 Great America Parkway
Admission: $5

For ticket information: AAA of San Jose 408-927-8100
Etminan Market 408-226-5992
Linda Kaldani 408-356-3953

Aug 30 -
Sep 4

CHICAGO
ASSYRIAN AMERICAN NATIONAL CONVENTION

Hilton Hotel & Towers
720 South Michigan Avenue, Chicago, Illinois 60605
1-312-922-4400, Fax: 1-312-922-5240

Phone: 312-922-4400 or 1-800-HILTONS
To obtain the convention rate refer to the AANF Convention
Location Map: click here
Directions from Airports: click here
AANF Convention 2000 Information: click here

Sep 4

SAN JOSE
NINEVEH CHOIR IN CONCERT

Conducted by Maestro Nebu Issabey
Presented by the Assyrian American Association of San Jose

8:00 PM
Santa Clara Convention Center Theatre
5001 Great America Parkway
Donation: $20.00
No tickets will be available at the door

For ticket information:
Nancy Isaac 408-229-2100 Josephine Molhem 408-323-1816
John Khangaldy 408-723-4726 Ramina Ziyeh 408-448-6225
Jackie Yelda 415-664-5825

Thank You!
Jackie Bejan (California)............Ben Elias (California)........Nadia Joseph (Chicago)
---

SHARE YOUR INFORMATION WITH READERS IN 50 COUNTRIES BY INCLUDING ZINDA MAGAZINE IN YOUR COMMUNITY OR ORGANIZATION'S MAILING LIST.
SEE OUR MAILING ADDRESS BELOW.
ZINDA Magazine is published every Tuesday. Views expressed in ZINDA do not necessarily represent those of the ZINDA editors, or any of our associated staff. This publication reserves the right, at its sole discretion, not to publish comments or articles previously printed in or submitted to other journals. ZINDA reserves the right to publish and republish your submission in any form or medium. All letters and messages require the name(s) of sender and/or author. All messages published in the SURFS UP! section must be in 500 words or less and bear the name of the author(s). Distribution of material featured in ZINDA is not restricted, but permission from ZINDA is required. This service is meant for the exchange of information, analyses and news. To subscribe, send e-mail to: z_info@zindamagazine.com.
Zinda Magazine
P.O. Box 20278 San Jose, California 95160 U.S.A.
Voice: (408) 918-9200
Fax: (408) 918-9201