Z I N D A

M A G A Z I N E
Kanoon I 18, 6750 Volume VI Issues 33 December 18, 2000
Advertisement Info Contact Us Archives
To receive our weekly notification message or this issue in text format write to z_info@zindamagazine.com.
T H I S W E E K I N Z I N D A
All blue links throughout this issue are hyperlinks to other sections on this page or featured websites.
BRUNO MOOSHEI
LEGENDARY HAIGHT ST. BAR OWNER
A little bit of San Francisco history has passed away with the death of Bruno Mooshei, for almost 50 years the proprietor of the Persian Aub Zam Zam, a Haight Street watering hole immortalized by Chronicle columnist Herb Caen as the Holy Shrine of the Dry Martini. Mr. Mooshei, 80, died of prostate cancer on Nov. 25.
Mr. Mooshei was known for his martinis. He mixed Boord's gin and Boissiere vermouth -- in a ratio, he said, of 1000 to 1 -- and served ice cold in 3- ounce glasses, the same ones his father used when he opened the Zam Zam in 1941.
Equally legendary was Mr. Mooshei's cantankerous personality. If he didn't like the looks or attitude of a potential patron, he would brusquely send the person away.
"Bruno always served people if they did three basic things: come sit at a stool, put your money on the bar and give him your order," longtime patron David Gutekunst, 50, said yesterday. "But people that came in, fooled around, went to the bathroom, laughed with their friends, said 'What would you recommend?' when he asked for their order -- to them, he'd say, 'I recommend the corner bar.' He expected people to have bar manners."
"Bruno had kind of a crusty reputation," agreed Robert Clarke, another Zam Zam habitue and friend of Mr. Mooshei. "He had definite ideas about the way a bar should be run. He had, as he said, 'old school' ways. Ladies got napkins and gentlemen didn't. He ran a very strict bar. He had the freedom to do that because he wasn't working for anybody else."
Clarke and his partner, Diane Epping, loved the Zam Zam so much that they couldn't bear to see it close when Mr. Mooshei retired for health reasons in January. They bought the bar, gave it a new coat of paint and reopened it this weekend.
Behind the unassuming door at 1633 Haight St., the room is small and dimly lit, with a Middle Eastern ambiance. There are Moorish arches over the doors, and a mural behind the semicircular bar depicts a prince and princess from a Persian fairy tale. The place was designed by Assyrian architect Jon Oshanna for Mooshei's father, also Assyrian.
Clarke and Epping plan to keep the original decor. The price of the martinis will go up, however, to $4.50 from Mr. Mooshei's $2.50. The size will increase as well, said Clarke.
In a 1991 column, Caen called the Zam Zam "a place that time forgot. It's like a movie palace of yesteryore, its curving bar filled with worshipers sitting in silent contemplation of the silver bullet in its graceful stem glass. You expect . . . perhaps Charles Boyer whispering to Hedy Lamarr, 'Take me to zuh Cazbah.'"
"The plan is to keep it essentially as it was," said Clarke. "I think it's important to maintain the tradition established over many years of a quiet place where people can have a drink, listen to vintage music and have a civilized time."
Mr. Mooshei's parents emigrated to the United States from what is now northern Iran. Mr. Mooshei was born April 25, 1920, in Baghdad as his parents were leaving the Middle East, according to Norma Jean Mooshei, his sister-in- law for 57 years.
The Moosheis lived at the corner of Haight and Ashbury and ran a tiny restaurant with five stools called the Pall Mall, Norma Mooshei recalled. When Mr. Mooshei's parents realized they could make more money doing less grueling work by running a bar, they opened the Persian Aub Zam Zam room. The name, according to a Herb Caen column, means fountain of youth.
Mr. Mooshei graduated from San Francisco's old Polytechnic High School and served in World War II as a Navy medic assigned to the Marines at Guadalcanal. On his return, he worked for the city of San Francisco in the pension department for a couple of years before joining his father's business. He took over the Zam Zam in 1951.
Customers and friends describe Mr. Mooshei as a fiercely nostalgic man for whom San Francisco's heyday was in the '40s and '50s.
"Haight Street back then was like a little village," said Norma Mooshei. "There were streetcars. You knew the people who owned the stores, you knew everybody. You'd see people and stop and talk."
Things started to go downhill for Mr. Mooshei when Haight Street was overrun by hippies in the 1960s, but he doggedly kept his business going and adhered to his old ways, working the bar in a vest and tie.
"Bruno was always a gentleman," said Gutekunst. "He was very Old San Francisco. He would say there were only two great cities in the world and they're both gone: San Francisco and Shanghai. They had intrigue and class. They were international, and everybody dressed right."
Though the close-knit neighborhood feeling of the Haight, and indeed, San Francisco, began to fray over time, Mr. Mooshei created his own community of loyal patrons who became his friends. The clientele ranged from cab drivers and construction workers to poets and bankers.
"The bar was his life and the people that hung around with him outside the bar, but most of us knew him from the bar," said Gutekunst, who lived nearby on Fell Street and works in commercial real estate. "In the end, the bar was our living room."
Mr. Mooshei loved to eat out, and he had a regular circle of friends, including Gutekunst and Clarke, who joined him on jaunts to old-fashioned restaurants such as the Gold Mirror on Taraval Street or the Three Flames in San Jose.
Several times a year he would take a few days off for a vacation in Reno. He used to brag that he had never traveled east of Nevada.
"He'd go for three days and that was it," said Norma Mooshei. "He'd play keno, a little bit of slot machine. He'd never win and never lose. It was just for fun.
"We kept saying, why don't you just retire and enjoy yourself," she added. "But he wouldn't quit. He hated to give it up."
Mr. Mooshei is survived by his brother and sister-in-law, Allen and Norma Jean Mooshei of Ceres; two nieces and a nephew; four grand nieces and nephews, and a great-grand nephew.
Tyche Hendricks
San Francisco Chronicle
Sunday, December 3, 2000


SWEDEN'S PARLIAMENT DISCUSSES ABKULUT'S PENDING TRIAL
(ZNDA: Sweden) On November 16th, Inger Lundbert, a Social Democrat member of the Swedish Parliament, began discussions on Fr. Akbulut's condition by addressing the following question to the Minister of the State, Mr. Goeran Persson:
Lundbert: On 21 December the Syriac Orthodox priest Yusuf Akbulut will stand before the Turkish public security court in Diyarbakir. The reason of the accusation is a newspaper interview, in which he positively expressed himself about the genocide of the Armenians in Turkey, which was being discussed in the American congress. Additionally he said that in this time, which they call 'the year of the sword' (1915), also - for instance - half a million Assyrians/Syriacs were murdered.
The accusation demonstrates a heavy intervention against the liberty of opinion. According to reports of many Assyrians/Syriacs, who live in Sweden, this issue has created large-scale unrest (concern) to those which live in southeastern of Turkey. I would like to therefore ask the Minister of State, whether Sweden is ready to take orderly measures against Turkey and use its influence to exercise that a country which requests membership in the EU cannot make encroachments on the human rights of the Assyrians/Syriacs.
Minister of State: "Foreign Minister Anna Lindh, on her round trip to the candidate countries, had the opportunity to discuss with its representatives the human rights, liberty of opinion and democracy which Turkey will soon have. The case addressed by Inger Lundberg is already well-known, both in the message from Ankara and from our State Department, and underlines the importance that we are to remain in further discussion with Turkey, in particular also regarding a possible Eu-membership."
Lundbert: "I believe that the Minister of State stated that the Foreign Minister takes this question very seriously. I can ensure you that we in this chamber very positively regard the efforts of Turkey abouy the stabilisation its human rights situation. Therefore we are greatly concerned over setbacks like the case of Yusuf Akbulut. It is desirable that also the Turkish government is informed of our concern.
Minister of State: "We will take up the appropriate attitude made clear by Inger Lundberg and will make sure that we, as far as democracy and human rights are concerned will not make compromises. We are shaken by this case. According to our opinion, [the incident of the priest offers] sufficient cause to point out that this behavior does not fulfill by any means the expectations which one places against a future member of the European community."
==========================
Official Text of Turkish Government's Indictment Against Father Yusuf Abkulut
REPUBLIC OF TURKEY DIYARBAKIR
STATE SECURITY COURT
OFFICE OF THE PUBLIC PROSECUTOR'S
18.10.2000
PREPARATION NO: 2000/1798
PRINCIPLE NO: 2000/1021
INDICTMENT NO: 2000/979
INDICTMENT TO THE PRESIDENCY OF NO ( ) STATE SECURITY COURT DIYARBAKIR PLAINTIF : K.H.
ACCUSED: YUSUF AKBULUT, son of Lehdo and Meryem, born in 1964, Registered in Ana Street, Lalebey district of Midyat, Priest of Our Lady Church.
OFFENCE: Inciting people to hatred and enmity by referring to religious, racial, sectarian and regional differences.
DATE OF OFFENCE: 04.10.2000
APPLICABLE LAW: TCK [Turkish Penal Code] Articles 312/2-3, 31
THE PREPARATORY INVESTIGATION DOCUMENT HAS BEEN EXAMINED:
Then person whose identity is stated above, the accused Yusuf Akbulut, who as a priest of the Syriani Our Lady Church, in an interview he gave to Star newspaper Diyarbakir correspondent Halit Ziya ALPTEKIN, and Olay newspaper correspondent Ahmet BESENK on the day of committal of the offense, referring to the so-called Armenian Genocide Resolution said "At that time it was not only the Armenians but also the Syrianis who were massacred, on the grounds that they were Christians. Christians were massacred in groups, the Kurds were used in the massacres. The homeland of the Syrianis is Mesopotamia. Whereas [the homeland of] the Armenians is Mus, Erzurum, Van, Erzincan and Sivas. Armenians lived in these lands. Why is that they were so many Armenians then and now there are not any? In our area, it is called the "kafle time". What does kafle mean? It means destruction en mass. All people living in the region know the truth I look at Diyarbakir, many people say my grandmother is Armenian or Syriani. From this we understand that at that period our men have been massacred but our young girls were not touched". Furthermore, he also said that he supports the so-called Armenian Genocide Resolution. When the interview was published in Olay newspaper on 03.10.2000, Hurriyet's correspondent Ayhan Acet went to see the accused for confirmation. The accused verified his statement and the interview was published in Hurriyet, on 04.10.2000.
In this manner, the accused committed the crime of openly provoking and inciting people to hatred and enmity by referring to religious, racial, sectarian and regional differences. As is understood from Hurriyet and Olay newspapers, Case Report and Confrontation [of parties] Reports, witness statements by Ayhan ACET, Halit Ziya ALPTEKIN and Ahmet BESENK, and a recorded video cassette [Held in Trust] 2000/500 concerning the interviews. It is alleged and requested that in the name of the public the accused be tried promptly in accordance to procedures of No 2845 Law and the appropriate article.
The following is a related article published by the Assyrian International News Agency on 12 December.
The ongoing case of Father Yusuf Akbulut (AINA, 11-23-2000 and 12-4-2000), an Assyrian priest from St. Mary's Syrian Orthodox Church in Diyarbakir, Turkey, has raised questions in the Swedish Parliament about Turkey's eligibility for membership in the European Union. Inger Lundberg, a delegate of the Social Democrats party, raised concerns about Turkey's treatment of Assyrians, stating that "a country which requests membership in the EU cannot make encroachments on the human rights of the Assyrians/Syriacs". Furthermore, Inger Lundberg stated that this issue has "created large-scale unrest (concern) to those [Assyrians] which live in southeastern of Turkey". Mister Lundberg asked if "Sweden is ready to take orderly measures against Turkey".
Responding to Mister Lundberg, the Minister of State, Goeran Persson, stated that the Parliament "will make sure that we, as far as democracy and human rights are concerned will not make compromises", and "this behavior does not fulfill by any means the expectations which one places against a future member of the European community."
Legal Background
Father Yusuf Akbulut was arrested for affirming, in response to questions from the newspaper reporters, the Assyrian Holocaust of 1915. Fr. Yusuf was interviewed by reporters from the Turkish newspaper Hurriyet during deliberations in the U.S. Congress regarding HR 596, the Armenian Genocide Resolution.
Father Akbulut is accused of violating Article 312, Book 2, Section 5 of the Turkish penal code, "crimes against public order". The first paragraph, "request for committing a criminal offense or threat to cause fear and panic in the surrounding population", reads as follows:
1) He who publicly makes announcements to the population approving of disobedience to the law (which is punishable by law as a crime), is punished with six months to two years prison and with a heavy fine from 6,000 to 30,000 Turkish Lira (TL)
2) He who goads publicly the population with low key statements differentiating between class, race, religion, denomination or region to hate and enmity, is punished with prison from one year to three years and with a heavy fine from 9,000 to 36,000 TL. If this goading occurs in a manner, which endangers public security, then the punishment which can be imposed is increased anywhere from one third to one half.
3) If the criminal offenses specified in the above paragraphs were committed by the means mentioned in art. 311 cl. 2 (see below), then the punishment is doubled.
Article 311, clause 2 reads as follows:
If the request takes place via any mass media, tapes, records, films, newspapers, magazines or other printing units by which publishing or spreading and-written and multiplied documents or by hanging up posters and other impacting things at public places, then the amount against the author in imposing penitentiary and terms of imprisonment are doubled. Under article, Father Akbulut may face a fine of between 18,000 - 108,000 TL and a prison sentence of between 2 - 9 years.
UN CHASTISES IRAN FOR HUMAN RIGHTS ABUSES
(ZNRU: New York) On Tuesday, December 5 the U.N. General Assembly rebuked Iran on Rights Abuses on a series of human rights abuses by adopting a resolution calling on Tehran to end torture, a crackdown on freedom of speech and press, and discrimination against religious minorities. The vote was 67 in favor, 54 against with 46 abstentions on the resolution.

ZOWAA LEADER MEETS BRITISH DIPLOMAT
(ZNDA: LONDON) According to an RFE/RL Iraq Report of December 8th, Ya'qub Yusuf, a member of the Assyrian Democratic Movement's Central Committee, received Liane Saunders, Secretary of the British embassy in Ankara, on 27 November. The two discussed the political situation and peace in the region. Saunders had met with Mas'ud Barzani, leader of the Kurdish Democratic Party, a few days earlier in Salah Al-Din.
RFE/RL Iraq Report was complied by Mr. David Nisman.
---
AUA PRESS RELEASE ON GUTERSLOH MEETING

Press Release

December 3, 2000

The political uncertainty in the world today necessitated the Assyrian Universal Alliance (AUA) to call a political conference to make the world aware of the plight of the Assyrian people.

The Assyrian political parties of:
Assyria Liberation Party
Assyrian Democratic Party
Assyrian Patriotic Party
Shuraya Party
met together in this conference called by the AUA.

The conference took place at the Assyrian club in the city of Gütersloh (Germany) on December 1-3, 2000.

The purpose of this conference was to explore ways and means of working together in unity to meet the needs of millions of Assyrians scattered in over 35 countries throughout the world.

Upon completion of the working agenda, it was agreed unanimously to create a subcommittee comprised of a member of each of the represented parties and AUA with a mandate to find a political structure of working together, and propose the goals and procedure for this structure.

The participants of the conference were encouraged to expand the conference membership and committee participation to include all qualified Assyrian political parties from around the world.

The conference was concluded in a spirit of cooperation with plans to tackle the many concerns including the inalienable political and human rights of the indigenous Assyrians of Iraq.

Our neglected minority in order to maintain its identity agreed to strive to preserve the rich culture, language, tradition, customs and religion of the remnants of these ancient Assyrians.

Assyrian Universal Alliance
Gütersloh,Germany
Senator John J. Nimrod
Secretary General
Assyrian Universal Alliance
Phone: 1-773-274-9262
Fax: 1-773-274-5866

---
HOLOCAUST-LüGE AUF TüRKISCH?
P R E S S E - M I T T E I L U N G
Aramäisch-assyrischer Priester vor Gericht
Göttingen, 20.12.2000
Mit der Bitte um Engagement für einen in der Türkei verfolgten aramäisch/assyrischen Priester syrisch-orthodoxer Konfession hat sich der Generalsekretär der Gesellschaft für bedrohte Völker (GfbV), Tilman Zülch, an den Bundesaußenminister und die Vorsitzenden der im Bundestag vertretenen Parteien, an deutsche Abgeordnete türkischer Herkunft in Bund und Ländern, an türkische Organisationen in Deutschland und die türkischen Medien gewandt. In dem Schreiben heißt es, dass es unerträglich sei, dass ein christlicher Priester in einem europäischen Land nur deshalb vor Gericht stehe, weil er historische Fakten wie den Genozid an Armeniern und assyrisch-aramäischen Christen in einem Zeitungsinterview mit der nationalistischen türkischen Zeitung Hürriyet benannt hatte (Hürriyet 4.10.2000, "ein Verräter unter uns"). Ungewöhnlich für westliche Zeitungen, aber symptomatisch für Hürriyet: Die Zeugen der Anklage sind zwei Redakteure dieser Zeitung. Wegen angeblicher Aufhetzung zum Rassenhass wird morgen, am 21. Dezember 2000, der Prozess gegen den christlichen aramäisch-assyrischen Priester syrisch-orthodoxer Konfession Vater Yusuf Akbulut vor dem Staats-gerichtshof in der ostanatolischen Kurdenmetropole Diyarbakir beginnen. Akbulut wird nach § 312 des türkischen Strafrechts angeklagt (Gefängnisstrafe bis zu drei Jahren). Vater Yusuf Akbulut, Vorsteher der syrisch-orthodoxen Meryemana (Mutter Maria) -Gemeinde in Diyarbakir hatte erklärt, dass die Armenier in der Türkei gemeinsam mit den aramäischsprachigen Christen einem Völkermord zum Opfer gefallen seien und "in Scharen ermordet wurden". Damals hätten die türkischen Behörden auch die Kurden als Helfershelfer benutzt.
Pfarrer Akbulut hatte erklärt: "Alle Menschen in diesem Gebiet kennen die Wahrheit. Ich unterstütze nicht die Armenier. Ich sage, dass die Tatsache des Völkermordes wahr ist. Das kann niemand leugnen. Ich bin ein religiöser Mensch. Ich sage das, was wahr ist." Der Genozid an Armeniern und Assyrern/Aramäern ist von zahlreichen Historikern erforscht und dokumentiert worden. In jüngster Vergangenheit haben unter anderem der Weltkirchenrat, Papst Johannes II, das Europäische Parlament (1987 und 2000), die UN-Menschenrechtskommission und die Parlamente von Belgien, Frankreich, Kanada und Schweden den Völkermord an den Armeniern verurteilt. Die türkische Regierung verhinderte u.a. mit der Androhung der Schließung amerikanischer Militärbasen eine entsprechende Abstimmung im amerikanischen Senat.
Die aramäischsprachigen Christen des Nahen Ostens, ansässig im Irak, in Syrien, der Türkei und dem Iran, werden ethnisch auch als Assyrer oder Aramäer bezeichnet. Sie werden in allen vier Heimatstaaten verfolgt, unterdrückt oder benachteiligt. Sie gehören den sogenannten vier syrischen Kirchen an, nämlich der Chaldäischen, der Nestorianischen, der Yakobitischen (Syrisch-Orthodoxen) und der Syrisch-Katholischen Kirche. Nach dem Genozid an aramäischen Christen in der Türkei 1915 bis 1918 sind dann seit den 60er Jahren etwa hunderttausend Angehörige der Minderheit nach Europa emigriert. Im früheren Siedlungsgebiet sind nur wenige tausend zurückgeblieben.
Die Minderheitenschutzklauseln des Vertrages von Lausanne (1923) werden nur auf religiöse Minderheiten -Griechen, Armenier und Juden- angewendet. Die aramäischsprachigen - in der Türkei überwiegend syrisch-orthodoxen - Restminderheiten gelten offiziell als "türkische Christen" und haben nicht das Recht auf Unterricht in der aramäischen Kirchen- und Muttersprache. Seit 1997 besteht ein ausdrückliches Unterrichtsverbot in den Klöstern des Tur Abdin. Tilman Zülch ist erreichbar unter 0172 562 0523 und unter 0551/4990621.
Inge Mingau
Gesellschaft für bedrohte Völker
Sekretariat des Generalsekretärs
Postfach 20 24, D-37010 Göttingen
Düstere Strasse 20a, D-37073 Göttingen
Tel.: +49/(0)551/49906-21, Fax: +49/(0)551/58028
e-mail: politik@gfbv.de, Homepage: http://www.gfbv.de/

"I would like to make some comments on the following article: ANKARA MUST BE HELD ACCOUNTABLE!
Since 1998, when I created and coordinated the Learn the truth now! campaign, I work every single day to make the crimes against humanity perpetrated by Turkey known and recognized all over the world.
In case you are interested, you can find several messages of mine on the Beth Suryoyo Othuroyo Forum and the Assyrian Forum.
Since I care for your work and for the cooperation between the Armenians, Assyrians and Greeks, I must share with you several parts of that excellent article which in my opinion contain errors. I think we must strive to always mention all three nations. In some of your paragraphs, the Greeks were forgotten.
I think it's better not to take any risks for any misunderstanding so I think we should never say "was given to Greece", when referring to those territories as what really happened is that parts of Greece stolen by Turkey were liberated and at the cost of many Greeks who died fighting for their homeland, their compatriots and for justice. When Assyria finally have a country of its own, around Mosul, no one will be able to say something was "given" to the Assyrians.
To say that "The suffering of the Assyrians, Armenians, and the Pontic Greek populations in the Ottoman Empire and in today's Turkey must not be forgotten." is a common but VERY serious error. We should NEVER refer to the Greek Genocide as if it had been restricted to the Greeks of Pontos. That's NOT correct and is very misleading.
There was ONE Greek Genocide, just like there was ONE Armenian Genocide and ONE Assyrian Genocide. Therefore, there was simply the Greek Genocide, not the "Pontian" Greek Genocide.
The Greeks were tortured and massacred in Pontos AND Anatolia AND Asia Minor AND Eastern Thrace and Constantinople. Also the Greeks of Invros and Tenedos who were supposed to be treated in a "special" manner by the Turkish government were also wiped out. Even Greeks make that mistake but it IS a mistake and one that contributes to the efforts of denial of the Turkish government.
The most known fact showing that the Greek Genocide was not restricted to Pontos is the massacre of the Greeks (and Armenians) of Smyrna, in 1922, when the Turks tortured and massacred them for five days (with the battleships of the Powers watching it) and then destroyed the city and the proofs of their crimes by setting it on fire. By the way, if you have information on the presence of Assyrians in Smyrna in 1922, please let me know.
I am almost 100% sure that there were many Assyrians there because very many Christians tried to take refuge there during the genocides and after the Greeks liberated the city but I still didn't find any documentation namely placing the Assyrians in Smyrna.
Finally, I would like to share with you my opinion that the interval that best describes the genocides of the Armenians, Assyrians and Greeks is 1894-1955 and not 1915-1923. In all my messages to the press and anyone else about the genocides I explain that although usually unknown the correct interval is 1894-1955.
It's easy to prove that the genocides actually began in the 1890's and "ended" in the 1950's, with the atrocities in Constantinople against the Greeks and Armenians in 1955 (again, if you have related information on the Assyrians, please, let me know).
So, I think it's better not to use 1915 as an initial reference as the Turkish government uses the WWI as an excuse.
Also, making people know the genocides "ended" MUCH after the WWI and MUCH after the creation of the so-called "modern Turkey" shows that Mustafa Kemal and the Kemalism ARE responsible for the genocides, which is something that both the USA and Europe try to deny in order to satisfy the Kemalists and the profits it represents.
Thank you very much for your attention. This message is very long but I think allies and friends should see each other's works as their own and that's how I see the works and efforts of the Assyrians."
Roberto Lopes
São Paulo, Brazil

---

"I have just read your recent article summing up the Christian massacre perpetuated by the Turks.

I want to congratulate you for your efforts. One remark I want to pass is: I feel somewhat uneasy about the mention of "Agha" Petros as a patriot or even a "hero" of the Assyrian cause.

My family have know that man from very close and a great uncle of mine was his bodyguard at the Lausanne conference.

Well, according to his bodyguard, Petros Elia (I cannot bring myself to call him "Agha"), was not really concerned about the future of Assyrians while in Lausanne.

He did not wholeheartedly defend the Assyrians but what he had in mind was his own status and his own welfare.

Here in France the Petros family DOES NOT enjoy the status of a famous and eminent family; on the contrary they have helped in bringing the Assyrian image down because of their behaviour (morality) and their judicial records ...

Therefore we Assyrians in France urge you to be extremely CAUTIOUS when using the name of the infamous Petros Ilia. If you lean on his name to support Assyrian rights, his name might break like a reed and pierce your hand through.

The French authorities have records dating back to that period and the name of Petros Ilia appears as everything but shining.

To cut a long story short he was a high-flying international CROOK and people in high places know about this fact.

Our aim is to warn you against nasty surprises when addressing political or moral authorities while waving the memory of Petros Ilya who is considered by MOST Assyrians as the actual gravedigger of the Assyrian hopes.

We are ready to give you more info on the subject in an attitude of seeing things straight."

Jean-Paul Sliva
Honorary Chairman
Association Assyrophile de France
Paris

To learn more about Agha Petros, Commander-in-Chief of the Assyrian Forces during WWI, see the following: Photos, "The Smallest Ally", and this week's BACK TO THE FUTURE.


SHOPPING FOR CHRISTMAS? TRY WAWALLAP
The #1 Assyrian shopping site for Christmas.
We accept all major credit cards.
We can ship COD UPS.
You can either e-mail us your order at wawallap@yahoo.com
or you can fax us (909)982-7217 by downloading our order form
from our site www.wawallap.com and see the "Gift Ideas & Close-out" section
And don't forget to vote for us on the Assyrian top 50 site.
You can vote for us at the bottom of our home page by clicking on the vote for us" button. Once you click "Enter" from the second page, you are done.
You can vote for us only once per day.
Thank you for your support,
Fred Parhad's
REFLECTIONS ON ASSYRIA
CUBAN CITIZENSHIP FOR IRAQI CHILDREN
An Assyrian businessman once proudly informed me that, "When Al Gore's people come to town they call me". He went on to brag, in hushed tones andwith a significant tilt of the head, that at receptions, "Al" had been especially deferential towards him when shaking hands. I wonder if others in that check-toting line of businessmen felt the same glow... the one which comes of being noticed by those in power who are above ones station. How anyone would feel privileged to have a politician lock onto him, I can't understand

There aren't many more people in this country "for sale" than politicians. It isn't entirely their fault though, some of the blame goes to us for tolerating a system which makes money the mother's milk of politics. But, even without that, politicians are constrained by public opinion as expressed in polls and other measures. Few would be willing to risk re-election by taking unpopular positions
With this double-whammy aimed at them, politicians can't afford to take a principled stand or champion causes which don't sit well or register on the public's radar screen. Elected officials have little power or inclination to act contrary to the public will, thereby risking donations as well as votes. Even though they would never admit it; politicians follow...seldom lead.
Our people have the mistaken notion that anyone with the trappings of power...the office suite, limousine, police escort etc. can do something for us. This probably comes from our having more experience with dictatorships than republics and, of course, our patriarchal tendencies towards strong-MAN rule.
In this Republic one must influence the masters; the electorate and not the politicians; the servants. Cultivating relationships with a succession of politicians whose term of office is uncertain, who only appear to be interested in us because we give them money and votes, and who will do nothing to risk their standing in the polls, might gratify some businessman's ego, but will result in little of any real or lasting value if, as in our case, helping us would most likely lead to controversy. We don't have enough money to buy a single politician's soul, let alone the numbers we'd need to get things done. But we just might have a very powerful case to make before the court of public opinion, then the politicians would follow.
What if, by some stroke of magic, we could get Cuban citizenship for the hundreds of Iraqi children at risk today, and land them on Florida's sunny shores. The machinery for forming and manipulating public opinion against Castro, communism and Cuba, has been built up and maintained over years. The anti-Castro exiles in Florida would be able to protect those children much better than we've been able to. If Elian Gonzalez had come from any country but Cuba there would have been no story. He washed ashore into a storm driven by public opinion, skillfully worked up by people who'd been quick to learn how to hamstring politicians for years: Politicians afraid of "losing" the Florida vote.
But it was towards the end of the Elian drama that the power and uses of public opinion became manifestly clear. With every court, asked for an opinion, saying that the boy must be returned to his father and country...with that most potent agency, the INS, before which we and our relatives have quaked with fear, saying he must be returned...with the United States Attorney General, the most powerful legal officer in the land, saying he must be returned...with the might and majesty of the government aimed at them, this shaky batch of relatives along with a few hundred Cubans, stood their ground, defying them all. They got away with it as long as they did because public opinion polls showed the nation divided as to the best course to take... and politicians , with the Law behind them, didn't dare move.
Then the relatives made a mistake; they overplayed their hand, tilting public opinion against them, by releasing a video of Elian lecturing his father, "demanding" to be left where he was. People who saw that tape, enough of them, were shocked awake by the obvious manipulation of a little six year old boy and, overnight, polls changed enough to allow the politicians, legal officers and institutions to go ahead, carry out the law, and return Elian to his father.
Our best hope for influencing the path this unique heritage of ours will follow in the coming years and centuries lies in making our story, all of it, known to as many people as possible, but we'll have to clean up our act first. It's this "housecleaning" which has our nationalists, purists, and activists spooked. They know all too well they'd cut a sorry figure anywhere except the basement of some clubhouse that doubles as a wedding hall or bingo parlor. There will be no chance at individual glory in such a move for any of the current crop of leaders we have. Only those with an understanding of what we need, as a group, as individuals but most importantly for our children will have the skill, the dedication and the heart to do it. The rest will continue to skim their percentage off the top, either in money or personal glory..


BRUNO MOOSHEI
(1920-2000)
See this week's THE LIGHTHOUSE
"Let's go get a drink at Bruno's," Al said. He knew it was an offer I couldn't refuse. After all, what better fix for a little boredom than to immerse yourself in the Haight's own palace of pure pathological psychosis.
Bruno, an irritable old man with many a screw loose, is the proprietor of a fine San Francisco establishment called the Persian Aub Zam Zam (affectionately called "Bruno's" in this part of town). The Zam Zam is a small dimly lit bar on Haight Street whose decor hasn't changed in decades. Bruno opens the bar only when he feels like it. I've stumbled across it open for business at 7:30 am on my way to work and closed Saturday night in the heat of the party hour.
So we walked over to Bruno's and entered his little twilight-zoned corner of the universe. Luckily there were two seats left at the bar. To no surprise, nobody was sitting at the tables. As soon as Bruno approached, Al ordered a scotch and I ordered a vodka martini. We both knew that if we hesitated a moment too long, Bruno wouldn't serve us. We made it for now.
In through the door came a guy and his girlfriend. At this point there weren't any seats left at the bar. The conversation hushed as Bruno turned to the new patrons.
"The tables are closed," he drawled.
"That's alright, we'll stand" the guy said to Bruno.
"I only serve those seated at the bar."
"But there aren't any seats at the bar."
"Well I guess you'll have to go that bar down the street. They play that nice rock-and-roll music there."
"What do you mean?... we want a drink!"
"I guess you'll have to come back on a Monday night when it's raining, there'll be a seat at the bar then."
"I can't believe this, you won't serve me a drink?"
"It's time for you to leave."
The guy made some smart-ass comment and steamed out onto the sidewalk.
As the door swung closed, Bruno turned to the rest of us and said, "And go back to Osh Kosh where you came from."
Al sipped his scotch and gave me that look that said, "This is better than television any night!"
Chip

INFORMATION TECHNOLOGY, 2500 B.C.
A year ago the world was bemused by three zeros. Those zeros won out, even as fear of practical confusions faded from our Y2K screens. We who live in a hurry were at least reminded of the long span of historical time. This New Year's we will consider another crucial millennium long ago, the one during which prehistory became history itself, and look back from the best-informed viewpoint of 2500 B.C.
Our drama's stage is Mesopotamia. Across gently sloping lands the waters of two parallel rivers--the Euphrates to the west, the Tigris to the east--drain out the flanking Zagros Mountains southward to join into one wide, reedy delta at the shores of the Persian Gulf. Well upstream of their junction lies a ruined city whose aerial photograph underpins what we say about it. Ancient, lively and unique, Uruk was a southern lowlands city on broad mudflats traversed by many green channels, taking vital water from the Euphrates through torrid summers and winters that occasionally knew frost.
Bounding the settlement was a strong wall. A few thousand courtyard houses of sun-hardened clay bricks once sheltered 10,000 to 20,000 people around a high ceremonial mound and its ziggurats. There stood the public structures, a complex of large temples to the gods, where dwelt the priests who tended to divine and human needs on Uruk's lands and where worked the scribes whose accounts maintained the economic order for high and low. Such ancient cities are marked by three essentials: a wall, public buildings and a flow of worldly surplus, largely agrarian products but with bronze and silver, too, enabling steady growth and widespread trade.
Uruk (Erech, it is called in Genesis) had for two millennia been only one among hundreds of similar farming and pastoral villages in this land of Sumer. From their images we know the Sumerians as a robust, stocky, black-haired people and from their written word as ones with a language all their own. Sumer was followed by later peoples with distinct languages, who nonetheless became for nearly three millennia cultural heirs to Sumer.
As power shifted far up the Tigris, the Sumerians leave our historical horizon, while newcomers densely peopled the larger surrounding area. These were speakers of Semitic tongues, first Babylonian, then Assyrian, and up to a dozen more, including scriptural Hebrew and Aramaic, all written in the Sumerian way. Almost the entire populous valley is today within Iraq, where they use another Semitic language and write in alphabetic Arabic. Sumer is alive now only to those who dig and scrutinize clay.
The reason we can say so much about a people whose descendants we cannot now even point out is that theirs was the first society to leave a vivid written record. The written legacy of the kingships and empires of greater Mesopotamia were meticulously preserved in a script of Sumerian invention, its complex wedge marks, called cuneiform, etched in damp clay tablets baked for permanence. After some 3,500 years, this lasting syllabic record finally gave way to alphabets.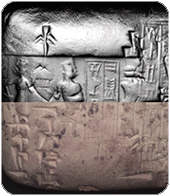 Writing on clay gave Uruk enduring influence, and abundant texts bring the vanished city to life in diverse tongues and places. As many as half a million cuneiform tablets, hand size up to book-page size, are now stored in the museums of the learned, from Baghdad upriver out to Moscow and Berkeley. Surely many more are waiting to be found. Those samples are of every quality: once prized accounts and receipts, schoolboys' lessons, litigation profound or droll, literary essays, erotica, mathematics--and entire ancient epics, centuries older than Father Abraham's. A mostly unread treasury, comprising the equivalent of tens of thousands of large printed volumes.
On a cool evening of the year we would number as 2500 B.C., a serious young citizen of Uruk is walking home along the street. His wife has laid in a cumin-spiced loaf or two of malted barley, prepared either to bake as bread or instead to crumble in water to let ferment a while, to become a popular tonic, barley beer. Dates with cream may end supper. The husband's garments are linen and wool, his shoes are leather, and a silver wire spirals around his wrist, from which he might clip off a bit as proto-coinage. The street is busy with strangers. Oxcarts rumble by laden with grain, their clever planked wheels as familiar as the simpler plows other oxen pull to furrow and channel the grainfields both within and without the walls. (Horses and war chariots will arrive hundreds of years later.)
Like many a hardworking person in Uruk, our subject pursues a career in information technology. The young scribe has studied for years to become a fluent writer of cuneiform; he goes daily to the temple precincts to assist estimators and archivists. He knows the songs and stories of that half-divine hero Gilgamesh, who first built Uruk's city walls. (No written version of that tale appears until a few centuries later.) It is a fair conjecture that he might have formed some rough picture even of 1,000 years back, when the records of Uruk first became articulate. (Nowadays we can read 1,000 tablets and fragments stored from that early epoch, five out of six of them only number-filled accounting documents, as antique to our scribe as the comet of 1066 is to us.)
The recent brilliant unraveling of the evolution of cuneiform itself out of a long period of gamelike tokens and their impressions in clay is no part of this column, but compelling evidence centers on Uruk's place and time for the first copious records. Decipherment is active today; it grew largely out of the study of a monumental trilingual cuneiform text, carved on a rocky mountainside by ancient command of Darius of Persia, "King of Kings." In Victorian times that became the key to cuneiform, as the Rosetta stone had earlier served Egypt's hieroglyphics. Cuneiform texts reach us mainly out of buried or ruined libraries; Uruk's own lasted about 3,000 years, about as long as the first Imperial Archives of China. (No alphabetic collection so far has lasted even 1,000 years.) One poignant difference: when in our time a library burns, its books suffer even more than the building does, but clay tablets survived the structure's ruin, for tablets largely bake brick-red to new durability.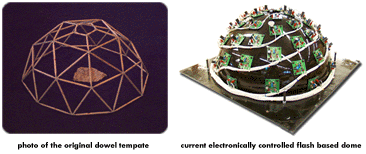 The recognition of our urban lives in old Uruk extends to its troubles. Millennia of irrigation led to the failure of the crops--even salt-tolerant barley--by salination of the soil. Perhaps that is no great failure but simply part of the beginning of city life. Civilization may start where it is easy to begin, only later to seek sustainability. The peoples far upriver today still win good crops wherever variable floodwaters deposit renewing silt in their canal complex. The strong stratification of Uruk society is plain, too. In one document the young scribes report their fathers' occupations; these early IT professionals are sons, very rarely daughters, of the well-off. (Sumerian tavern keepers, though, were often women of means and status.) It was mainly war that brought ruin to walled Uruk and to all its royal successors. Whether we moderns will better manage our own overarmed world is far from a foregone conclusion.

Philip and Phylis Morrison
Scientific American
January 2001 Issue

Article submitted by Mr. Mazin Enwiya of Chicago.

HEWLETT-PACKARD TECHNOLOGY HELPS NEAR EAST SCHOLARS
Yale scholar Walter Bodine had spent the better part of four long years painstakingly transcribing the ancient Sumerian characters inscribed on a crumbling, 4,000-year-old clay tablet.
Then he met Tom Malzbender, an HP Labs researcher who has invented a tool that lets scholars see ancient texts in ways never before possible.
Malzbender's technology for capturing and viewing images of three-dimensional objects can make characters that were previously invisible or undecipherable clear enough to read. As a result, scholars can derive more accurate meanings from the text — and potentially obtain a better understanding of the past.
"I've been working on these texts for years, trying to figure out what the lines say," says Bodine, a research affiliate with the Babylonian Collection at Yale, the nation's premier collection of ancient cuneiform tablets. "This technology gives me access to more data than I get when using my own eyes."
In one case, researchers were even able to make out the fingerprint of the author of a document, imprinted ever so faintly into the clay thousands of years ago.
"You quite literally have the human touch of 3,000 or 4,000 years ago," says Bruce Zuckerman, director of the West Semitic Research Project at the University of Southern California. "Potentially, this (technology) could mean a profound improvement in our knowledge of the ancient world."
Traditionally, scholars of ancient texts have scrutinized the physical tablets, stones or other materials to decipher and transcribe inscriptions. Trouble is, the tablets are thousands of years old — they're worn and often crumbling, and the writing is faded.
By changing the angle or type of light shining on the tablets, scholars can sometimes see the text more clearly. In the early 1980s, Zuckerman, a scholar and teacher of the Bible and ancient Semitic languages at USC, pioneered the use of high-resolution photographs in the study of ancient writing.
Malzbender's invention, a type of image-based relighting, takes that technique several steps further by automating the collection of images and allowing scholars to manipulate the lighting and other aspects of the image on the screen. By changing the appearance of the object, the technology brings out surface details previously invisible to the naked eye.
Malzbender and his collegues in HP Labs' visual computing department, Dan Gelb and Hans Wolters, didn't set out to change the study of ancient texts. He was trying to solve problems of existing 3D graphics rendering technologies, looking for a way to both improve photorealism and rendering efficiency.
To collect data, Malzbender headed to his basement and built a geodesic dome — constructed of glued-together wooden dowels — that would help him control the angle of light. In a darkened room, he photographed a crumpled-up newspaper 40 times, each time changing the angle of the light, a table lamp.
It worked. On the screen, he could manipulate the angle of light to change and enhance the surface appearance of the newspaper.
To speed the data-collection process, Malzbender teamed with fellow researchers Gelb, Eric Montgomery and Bill Ambrisco to build an automated dome. This one, a plastic dome with 50 flashbulbs mounted on its inside surface, takes 50 photos at the touch of a button.
Malzbender next wondered if there were other ways to accentuate surface details. He wound up developing an entirely new class of contrast-enhancement mechanisms that can bring out even surface details.
By changing the optical properties of the imaged object, he can synthesize specular highlights — that is, he can make a surface that isn't reflective, such as a clay tablet, appear to be as glossy as obsidian. Another technique, called diffuse gain, changes how the surface responds to light. A third method, model extrapolation, makes the lighting appear more oblique than is physically possible.
Malzbender and other researchers are now working on a freestanding portable unit that scholars could easily transport to remote sites to capture images of large objects such as walls or statues.
The image-based relighting technology has the potential to reshape other fields as well, including forensics and diagnostic medicine, where materials are degraded or difficult to view.
"It's been really exciting," says Malzbender. "A lot of things have come out of this we didn't expect."

HP Labs News
6 December 2000
Article submitted by Mr. Ray Eivaz of California.

| | | |
| --- | --- | --- |
| ENGLISH | MODERN ASSYRIAN | GENDER |
| Pleasure | boo/sa/ma | Masculine |
| Pleasing | ba/see/ma (simta [fem]) | Masculine |
BC (1595)
As early as 1900 BC, the Hittites controlled a large kingdom in Anatolia (modern-day Turkey). They ruled from the city of Hattusas, near modern-day Boghazkoy. Between 1800 and 1680 BC, the Hittite kingdom expanded its lands greatly. By 1595 BC, it was strong enough to sack Babylon, thus ending the dynasty of Hammurabi. The Hittites retired to their lands, leaving Babylon in the hands of the neighboring Kassites.
AD (1918)
The Battle at Sauj Bulak - Assyrians of Urmia were under attack from two sides, in the north and south-west. The Assyrian general, Agha Petros d' Baz, decided to attack the Kurds in Sauj Bulak to the south-west and keep a strong front to defend Urmia to the north. After his victory in Sauj Bulak, he planned to meet with the British allies at Sain Kala (100 miles south of Urmia) and replenish his supplies of ammunition. On July 15, Agha Petros defeated his Moslem enemies in Sauj Bulak and drove them back to the Rawanduz river. He then moved to Sain Kala, only to reach there seven days after the appointed time where he found no trace of the British army. They had already retired. The northern front of his army wavered and upon the next attack of the Turkish army gave in. And so began the flight of the Assyrians from Urmia to Hamadan, while being attacked from all sides by Turks, Kurds, and Persians alike. More than 70,000 Assyrians started out on this dreadful retreat and less than 50,000 reached Hamadan.
The Tragedy of the Assyrians, Stafford


December 23, 1881: born, Alphonse Mingana, Assyrian linguist and compiler of the large Mingana Collection of Syriac manuscripts, in Mosul, northern Bet-Nahrain.

Dec 31

SANTA CLARA, CALIFORNIA
WALTER AZIZ NEW YEAR'S EVE PARTY

Presented by Worldance Entertainment:
Walter Aziz & his Middle Eastern / Latin dancers
Assyrian, Arabic, & Salsa
Raffle Prize: Hawaiian Vacation for 2 courtesy of PoinTravel.com
Marriott Hotel in Santa Clara
2700 Mission College Blvd
Tickets: $ 95.00
in San Jose: Etminan (408) 226-5992
in San Mateo: Worldance (650) 571-8538
in San Francisco: Oasis Travel (415) 664-8400
in Modesto: Soro Enterprises (209) 551-1800
For more information contact worldance2000@aol.com .

Dec 31

SANTA CLARA, CALIFORNIA
AAA of SAN JOSE NEW YEAR'S EVE PARTY

Assyrian American Association of San Jose Presents:
The Legendary Assyrian Singer: George Charbakhshi

Westin Hotel
5101 Great America Parkway

- SOLD OUT -

For more information, please call 408-927-8100 or 408-927-9100
Jan 17

LONDON
STORIES FROM ANCIENT SUMER

Retold in live oral performance by storytellers:
Fran Hazelton, Fiona Collins and June Peters
7:00 PM
The Kufa Gallery
26 Westbourne Grove
Admission free
For more information phone (020) 7278 3624
e-mail fran@hazelton.greatxscape.net

Until
Jan 21

CHICAGO
TREASURES FROM THE ROYAL TOMBS OF UR

The Oriental Institute
University of Chicago
1155 East 58th Street

Tue, Thu, Fri, Sat, & Sun 10AM-5:30PM
Wed 10AM-8:30PM
Closed Mondays

General Info: 773-702-9514
Tours: 773-702-9507

Admission is free, but the Institute suggests a donation of $5 for adults and $2 for children under 12 to view the Ur exhibition.

Jan 25

TORONTO
CANADIAN SOCIETY FOR SYRIAC STUDIES LECTURE

"Icons & Syriac Inscriptions in the Monastery of the Syrians in Egypt"
by Professor Lucas van Rompay, Duke University
8:00 PM
Auditorium, Earth Sciences Centre, Room 1050
5 Bancroft Avenue
University of Toronto, St. George Campus

Feb 15

TORONTO
CANADIAN SOCIETY FOR SYRIAC STUDIES LECTURE

"Frescoes & Syriac Inscriptions in Medieval Churches in Lebanon"
by Dr. Erica Dodd, Victoria University
8:00 PM
Auditorium, Earth Sciences Centre, Room 1050
5 Bancroft Avenue
University of Toronto, St. George Campus

Mar 29

TORONTO
CANADIAN SOCIETY FOR SYRIAC STUDIES LECTURE

"Syriac Heritage at the Northern Silk Road: The Archaological & Epigraphic Evidence of Christianity in Kirghizia"
by Dr. Vassilios Klein, Bonn University
8:00 PM
Auditorium, Earth Sciences Centre, Room 1050
5 Bancroft Avenue
University of Toronto, St. George Campus

Jul 2-6
2001

FINLAND
XLVIIe RENCONTRE ASSYRIOLOGIQUE INTERNATIONALE

International Congress of Assyriology and Near Eastern Archaeology
"Sex and Gender in the Ancient Near East"
University of Helsinki

Registration Form: click here

Jacklin Bejan (California)...Ramsin Betyousef (Australia)...Adrin Takhsh (Germany)
---

SHARE YOUR INFORMATION WITH READERS IN 50 COUNTRIES BY INCLUDING ZINDA MAGAZINE IN YOUR COMMUNITY OR ORGANIZATION'S MAILING LIST.
SEE OUR MAILING ADDRESS BELOW.
ZINDA Magazine is published every Tuesday. Views expressed in ZINDA do not necessarily represent those of the ZINDA editors, or any of our associated staff. This publication reserves the right, at its sole discretion, not to publish comments or articles previously printed in or submitted to other journals. ZINDA reserves the right to publish and republish your submission in any form or medium. All letters and messages require the name(s) of sender and/or author. All messages published in the SURFS UP! section must be in 500 words or less and bear the name of the author(s). Distribution of material featured in ZINDA is not restricted, but permission from ZINDA is required. This service is meant for the exchange of information, analyses and news. To subscribe, send e-mail to: z_info@zindamagazine.com.
Zinda Magazine
P.O. Box 20278 San Jose, California 95160 U.S.A.
Voice: (408) 918-9200
Fax: (408) 918-9201