ATTACK ON SYRIAN ORTHODOX CHURCH IN AUSTRALIA
Courtesy of Sydney Morning Herald (Oct 11), Story by Stephen Gibbs
(ZNDA: Sydney) The police commissioner in Sydney-Australia, Peter Ryan, describes the increased vandalism at Sydney's religious buildings as outrageous.
Slogans such as "Osama bin Laden is Great", "Muslims Rule" and "Kill Jews and Christians" were spray-painted on the walls of the Syrian Orthodox Church at Lidcombe, which is still under construction.
"We're monitoring this literally hourly and daily," Mr. Ryan told Radio 2UE.
"And we've asked all our patrols, all over the city, to be very, very conscious and to patrol in the vicinity of mosques, churches and institutions, and buildings owned by the allied coalition partners, America, Israel, and also businesses and institutions owned by Islamic groups."
BEITASHOUR VOTED OUT OF AUOC VP POSITION
(ZNDA: Modesto) Mr. Ninous Beitashour who held the position of the Vice President in the Assyrian United Organizations of California (AUOC) and a high-ranking member of the Assyrian Universal Alliance, was forced to vacate his position during a meeting of this organization in California last weekend.
In a phone interview with Zinda Magazine Mr. Beitashour explained that "the Kangaroo Trail" was more of a personal vendetta than a judicious act.
The executive members of the AUOC, an umbrella organization for the Assyrian associations in California and the sponsor of the annual State Convention in May, decided last week that Mr. Beitashour had misconduct himself at the DoubleTree Hotel by not properly registering as a guest of the Assyrian National Convention. Mr. Beitashour, apparently challenging the registration process, had entered the hotel area without a proper identification card carried by all registrants. He was soon discovered by the security officers and reported to Ms. Jacklin Bejan- chairwoman of the 2001 National Convention.
Mr. Beitashour explains that the registration process was not meant to be a source of income at the convention. It was initially planned out for the State Convention in Los Angeles (May 2001). "But some officers including Jacklin Bejan opposed the registration process which I had proposed then," says Mr. Beitashour. "The whole thing was supposed to be used to gather information and be included in the Federation's data bank. Mr. Bejan opposed this proposal so it was not implemented at the State Convention. Then a couple of months later she proposed it for her own convention in San Jose - this time with a fee attached to it."
Ms. Bejan tells Zinda Magazine that "the registration process was a proposal that was brought on the floor of the Assyrian American National Federation's National Executive Committee meeting during the 2000 National convention in Chicago by Mr. Mark Thomas - the AANF legal advisor. It passed with majority votes and it became a mandate that needed to be implemented during the next convention which was in San Jose."
Mr. Beitashour believes that any Assyrian should be allowed to attend the conventions without a formal fee-based registration process.
Mr. Bejan then explains that: "During the last AUOC meeting right before the Long Beach State convention, Mr. Beitashour proposed a similar process which he came up with based on what I had proposed and discussed. What I opposed was the thoughtless procedures, the lack of control and the eminent disaster that they failed to foresee. I have copies of all minutes and all e-mails exchanged on this issue, which I will be happy to produce."
Since Mr. Betashour is an officer of the Assyrian Association of San Francisco he will remain in the AUOC as its voting member.
The fate of the information gathered during the registration process last September and the continuation of this practice for the future conventions remains to be seen. If the comments heard during the San Jose convention or at the NEC meeting floor are any indication, the pre-Convention registration is here to stay.
NAKOSHA AND TREE OF LIFE MERGER, ZINDA APPLAUDS UNION
(ZNDA- Australia) The Assyrian Aid Society-Australia (AAS-Au) and the monthly Assyrian-Australian publication Nakosha Magazine (www.nakosha.org) have decided to merge their publications.
The 'Tree of Life' newsletter, which is currently published by the AAS-Au is distributed to over 200 AAS members throughout Australia, with its primary purpose being to provide feedback regarding projects that were being conducted by the AAS-Au branch in Northern Iraq, as well as attracting new members.
During a private meeting held in the AAS-Au's bookshop in Sydney, on Sunday 30th September, 2001, the committee members of both Nakosha Magazine and the AAS-Au, unanimously agreed to the merger.
Utilising the distribution capabilities of Nakosha Magazine, it is hoped that the new 'Tree of Life' section, which will also provide all readers with a Direct Debit Form (DDF) along with a free stamped and AAS-Au-addressed-envelope, will enable the AAS-Au to reach the majority of the Assyrian community, currently living throughout Australia, in a more efficient manner.
Nakosha's targeted distribution of 1,500 hard copies and 1,000 soft copies per month, by the end of 2001, mean that the merger will provide the AAS-Au with a strong established distribution network from which to reach prospective new members on a monthly basis.
Meanwhile Nakosha magazine also benefits from the merger. "We are finally able to provide a link between our homeland and our people living in the West", commented Fraydon Heskel, a reporter for Nakosha Magazine.
When asked to comment on the merger, Nakosha magazine's editor, Sennacherib Daniel shared his thoughts with us: "The AAS holds the same aims and beliefs as does Nakosha magazine, in that it is non-political, non-profit and non-religious. It was inevitable that we would join with them."
It is hoped that this merger will set an example for other Assyrian publications and Assyrian charities, throughout the world, in joining together and becoming more efficient and effective.
Zinda Magazine, the major financial contributor of Nakosha Magazine, has also agreed to increase its monetary support to sustain the additional costs as a result of this merger. "Zinda Magazine funds Nakosha because it is a magazine with high visual appeal, youthful energy and maturity. Its recent merger with Tree of Life in Australia will save money that can otherwise be used in Bet-Nahrain for other worthy causes. I hope other AAS chapters will soon consider utilizing the distribution powers of Nakosha and Zinda Magazine," said Wilfred Alkhas, editor of Zinda Magazine.
The merger is due to take place with Nakosha's upcoming November issue, and with an increase in quality, frequency and distribution capabilities, the merger will place the AAS-Au in a strong position to raise urgently needed funds in order to assist the Assyrian population currently living in Northern Iraq this coming winter.
ASSYRIAN MAN KILLS EX-GIRLFRIEND IN SYDNEY, BLAMES MOSLEMS
Courtesy of Sydney Morning Herald (Sept 28), article by Peter Gregory
(ZNDA: Sydney) Sargon Younan, an Assyrian from Sydney-Australia, who last year beat his former girlfriend to death and left a note beside her falsely blaming Muslims for the attack was jailed on September 28 for 19 years. He will serve a minimum term of 16 years. Justice Philip Cummins in the Supreme Court said Sargon Younan, then 26, left the note beside 18-year-old Victoria Skidmore as she lay dying in the Doncaster Shopping Town car park. On August 22 last year, Ms Skidmore was betrayed by an old school friend, Mirielle Talj, now 20, who lured her to the car park with the promise of sharing some heroin. Younan had earlier discussed the beating with Talj after Ms Skidmore ended her relationship with him. Younan's brother Michael, 19, was also present during the attack. Justice Cummins said the Younans followed Talj and Ms Skidmore to the car park in a separate vehicle.

Once there, Sargon Younan attacked Ms Skidmore with a wooden shovel handle and left her dying in a pool of blood on the concrete floor.
To avoid detection, he left the note, which said: "This is payback for insulting the Muslim religion and holy Koran. Allah Akbar. Also for the drug money you owed us."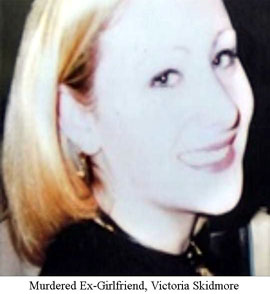 Ms Skidmore was hit at least 24 times and died later in hospital from head injuries.
The judge said Michael Younan and Talj knew Ms Skidmore was to be assaulted, but did not know that Sargon Younan intended to kill her.
But Talj, who told police the truth about the attack, later said Ms Skidmore was a bitch who got what she deserved.
The judge said Ms Skidmore, who met Sargon Younan in April, ended the relationship in August because of Younan's jealousy. He killed her three weeks later after sending her a mobile phone text message saying: "If I can't have you, no one will."
"She made mistakes, as we all do - but tragically she made one fatal mistake, she chose the wrong boyfriend," Justice Cummins said.
He told Sargon Younan: "You killed her because she exercised her right to say no. Men who kill women for exercising their rights will be met with the full force of the law."
The judge fixed a 16-year minimum jail term for Sargon Younan, of Edington Way, Craigieburn, who pleaded guilty to murdering Ms Skidmore. Michael Younan, of the same address, and Talj, of Fyfe Drive, Lower Templestowe, each pleaded guilty to manslaughter.
Michael Younan was jailed for five years, with a three-year minimum. Talj was jailed for seven years, with a five-year minimum.
FOURTH ANNUAL ASSYRIAN FOOD FESTIVAL HELD IN CERES
Courtesy of Modesto Bee (Sept 26), Report by Kerry McCray

Most of us don't have the patience to cook, peel and stuff onions.
Not everyone plans far enough ahead to soak rice overnight.
And the thought of chopping two or three bunches of fresh herbs -- then rolling them up along with meat in cabbage leaves -- can deter even the most dedicated home cooks.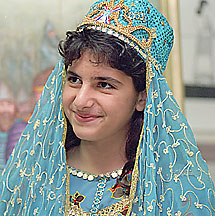 No, preparing Assyrian food isn't easy. But buying it at this weekend's Assyrian Food Festival is.
Treats that take members of the Assyrian Cultural Center hours to prepare were available at the fourth annual festival Saturday and Sunday, September 29 and 30 in Ceres (between Modesto and Turlock).
The ticket price was $8 which included singing, dancing and a dinner of chicken kebab with rice and a rich sauce of onions, tomatoes and green beans flavored with traditional spices.
The rice alone was worth the price.
First, basmati or another long-grain rice is washed and soaked in saltwater for several hours, often overnight. Then, it's rinsed and boiled until the inside of the grains are just cooked. Finally, it's rinsed again, then steamed over low heat or baked in the oven with lots of butter or oil.
The result: perfectly separated grains with a rich, buttery flavor.
"Assyrian food is flavorful," said Janet Shummon, president of the Beth-Nahrain Cultural Center. "But it's very time-consuming to make."
Other Assyrian treats were sold. Kalecheh, pockets of dough filled with walnuts and dates, were available. So were dolma, cooked cabbage or grape leaves filled with a savory mixture of parsley, dill, green onions, rice and meat.
Food that takes extra-long to prepare could be ordered in advance. Dolma made with the cooked, peeled layers of onions is a popular choice.
Shummon and the rest of the cultural center members want everyone to know that Assyrian culture is more than food.
Some of the money raised this year went to the American Red Cross to help victims of the recent terrorist attacks.
Here are Assyrian dishes from "Recipes for the Assyrian Palette," a cookbook by Nineva Ishaya:
DOLMA-D-BISLI (STUFFED ONION)
SERVES: 12
2 pounds round steak or lamb
1 green pepper
2 leek stalks
1/2 bunch dill
3 celery stalks
1/2 bunch parsley
1 (16-ounce) can beef broth
1/2 cup melted butter
1/2 cup uncooked rice
4 Spanish onions
Juice of 1 lemon
1 cup ketchup
1 cup water
1 teaspoon salt
1 teaspoon black pepper
1 teaspoon paprika
Bone and dice meat into very small pieces. Rinse with cold water, place in a saucepan and add water until meat is covered. Cover and allow to cook on medium-high heat until water comes to a boil and evaporates (about one hour). Set aside to cool.
Mince the green pepper, leek, dill, celery, parsley and mix with pepper, paprika, rice and cooked meat. Combine in a large mixing bowl with the melted butter.
Make a vertical cut that begins on the surface and extends to the center of each Spanish onion. In a large saucepan, boil water on medium-high heat and add the onions, completely submerging them. Cook for 5 to 10 minutes.
When the onions are cooked, remove them from the heat and rinse with cold water. Peel one layer of onion at a time. Scoop 2 tablespoons of the meat and vegetable mixture, placing it at one end of the onion peel then rolling it up. Place finished rolls in a large pot, forming layers, and pour the broth over them.
In a bowl, combine lemon juice, ketchup and water. Mix well.
Pour the mixture evenly over the stuffed onion layers, cover and cook for 30 minutes over low heat.
JAJICK (CHEESE SPREAD)

1 pound low-fat cottage cheese
8 ounces low-fat cream cheese
1 bunch green onions
1/2 cup coriander
1 jalapeño pepper (seeded)
1/2 cup parsley
1/2 teaspoon salt
1/2 teaspoon black pepper
1/2 cup tarragon
1/2 cup sweet basil
Using a hand mixer or food processor, blend the cottage and cream cheese until it is creamy. Add the salt and black pepper. Mix well.
Finely chop all the vegetables and herbs. Blend in the rest of the ingredients using a spoon, until well mixed. Cover and store in the refrigerator. Use as a spread on toast and other kinds of bread.
ARAB-CHALDEAN LEADER BUSY IN WAKE OF TERROR WAR

Courtesy of the Associated Press; October 11

(ZNDA: Detroit) Haifa Fakhouri has been busy since the Sept. 11 terrorist attacks, which pulled her Arab-American and Chaldean Council into a whirlwind of activity. The nonprofit social service group is based in this Detroit suburb.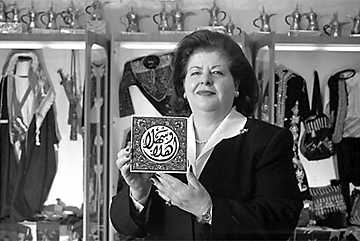 "This is a great country. If you have a dream you can achieve it," said the Jordanian-born Fakhouri, the group's president and chief executive.
The council provides health care, counseling, English language skills and job training, the Detroit Free Press said Thursday.
Lately, her big job has been orchestrating the council's response to the terrorist attacks. It has been helping schools develop diversity training to address ignorance and bias toward Arabs and Muslims and fielding media calls.
On Thursday night, Fakhouri and Detroit Mayor Dennis Archer were scheduled to lead an interfaith service at the Hyatt Regency hotel in Dearborn for peace and the victims of the Sept. 11 attacks.
The event is sponsored by the Pontifical Institute for Foreign Missions, an international Catholic organization.
"This is a national tragedy of extraordinary proportions," the council says on its Web site. "As we all mourn with the rest of the nation, our members at the ACC extend our utmost sympathy and condolences to all those who suffered the loss of a loved ones at this terrible act of terrorism."
Those who know Fakhouri describe her as a woman who has devoted her life to humanitarian deeds among immigrant and refugee people.
"I don't think she has much time for anything else," says Jawad Marzook, director of the council's program development and research. "She calls me at night, at home, on my cell phone, saying, `What are you going to do (about a problem)?"'
The youngest of eight children in an Orthodox Christian family, Fakhouri, 55, came to the United States she was 21, to join many family members already living in Michigan.
In Jordan, her family ran a prosperous agricultural business outside of Amman. She holds a master's degree and doctorate in educational sociology from Wayne State University.
She took two leaves of absence from the council in the 1980s to work as a consultant to the United Nations, overseeing women's and children's programs in the Middle East.
"When you talk about culture, you find that differences quickly go away," said Fakhouri. She likes to introduce Americans to her culture with Arabic foods.
She calls herself a "concerned citizen," though photos of Republicans dominate her office. A picture of former Michigan Gov. James Blanchard, a friend and Democrat, is nearly out of sight next to a closet.
The council's largest fund-raiser is its annual gala dinner, planned for Dec. 1. The dinner annually raises some $200,000. The council's board will vote Tuesday whether to hold the event. Board members worry that if the military conflict in Afghanistan escalates to Arab nations, attendance might be affected and programs could suffer.
If the gala is held, Fakhouri wants to see to it that it has a patriotic theme, "United We Stand," down to table napkins and floral arrangements.
"The terrorists want to affect our morale, but we won't let them," she said. "I always say, `God bless America."'
[Speakers at the Interfaith event included the Rev. Piccolo; Dearborn Mayor Michael Guido; Rabbi Ernst Conrad of Temple Kol Ami, West Bloomfield; Bishop Kevin Britt, Archdiocese of Detroit; Eid Alawan, Islamic Center of America, Detroit; the Rev. Kenneth Flowers, Greater New Mt. Moriah Baptist Church, Detroit; the Rev. George Shalhoub, St. Mary's Antiochian Orthodox Church, Livonia; Imam Abdullah El-Amin, Muslim Center, Detroit; Rabbi Lauren Berkun, Jewish Theological Seminary, Bloomfield Hills; Sister Jacquie Wetherholt, Marygrove College, Detroit, and the Rev. Steven Baumbusch, a missionary.
Performers were the Mercyaires from Mercy High School, Farmington Hills; Plymouth United Church of Christ Gospel Singers, Detroit; Children's Choir of the International Institute, Detroit; pianist Marilyn Walilko of Queen of Peace Church, Harper Woods; Nathalie Conrad, composer and accompanist, and Susan Greener, soloist and cantor, both from Temple Kol Ami.]