PHOENIX NISSAN DEALERSHIP SUED OVER RIDICULING ASSYRIANS

(ZNDA: Phoenix) Last Friday a federal judge on added ABC Nissan to a discrimination suit originally filed against Pinnacle Nissan over alleged national-origin and religious discrimination by management.
The order cited strong interrelated operations between the two dealerships for allowing the Equal Employment Opportunity Commission to amend the complaint it filed on behalf of three former employees.

One of the former employees, an Assyrian, accuses the dealership of ridiculing Assyrian cultural practices. Another employee alleges that the phrase "Heavy Hitler" was written on one man's paycheck stub, according to court documents.
Managers at Pinnacle Nissan deny the allegations.
Pinnacle Nissan General Manager John Cleaves has said the dealership employs a diverse group of people, has a no-tolerance policy against discrimination and offers employees a toll-free telephone number to report complaints, he said.
The Equal Employment and Opportunity Commission spent about a year investigating the claims, then filed the complaint Sept. 29.
US MARONITES AND ASSYRIANS PROTEST CLASSIFICATION AS ARABS
Reprinted from Mideast Newswire (Oct 22)
(ZNDA: Washington) In an unprecedented move, leaders from the Assyrian, Maronite, Syriac, Chaldean organizations mailed 550 letters to the US Government leaders including President Bush, Vice President Cheney, all twelve Cabinet members , all members of the House and Senate, as well as Multimedia Encyclopedia.
A copy was sent also to the Arab American Institute. Following, the letter was to be published in ethnic media around the nation.
The letter signed by main organizations leaders, affirmed that 2.2 million Americans from Mideast descent are not Arab, but from Maronite and Assyrian descent, including Chaldeans and Syriacs. The letter said those ethnicities are the native peoples of the Fretile Crescent (I.e. Iraq, Syria and Lebanon), and were initially invaded by the Arab Conquest in the seventh century.
Although plans were on the move as of last year, the letter comes as a result of an increasing debate about the identity of the Mideast American community. Many Middle East Christians in the US have complained that "Arab-American" and "Muslim-American" lobbies have been using their numbers to score political points in the public arena.
The Assyrian-Maronite letter came to "end a debate and clarify a situation." However, sources told Mideast Newswire that the letter's main aim is not to engage in a confrontation with Arab-Americans but to lay down the grounds for a better understanding between the two Mideast communities in America. The source said "we have two American communities from Mideast descent. Those who are Muslims and those who aren't. And among those who aren't, including Copts, Persians and others, the Assyro-Maronites count for 80% of the Mideast rooted communities. All what we want, said the source, is for Arab American leaders and activists not to claim that we are part of their ethnic group. Particularly that we are more then 80% of the entire Mideast community in this country."
The letter follows:
[start of letter]
---------------------
Coalition of American Assyrians and Maronites
We the undersigned, speaking on behalf of over 2.2 million Assyrians, including Chaldeans and Syriacs, and Maronites living in America herewith assert that Assyrians and Maronites are not and have never been Arabs -- contrary to the claims of the Arab American Institute.
Assyrians and Maronites are the ethnically homogeneous, distinct and indigenous Christian people of Mesopotamia and Lebanon and have a history, spanning seven thousand years, that predates the Arab conquest of the region. Assyrian civilization at one time incorporated the entire Middle East, most notably the area of the Fertile Crescent. The heartland of Assyria lies in present day north Iraq, southeast Turkey, northeast Syria, and northwest Iran. Till today, significant indigenous populations of Assyrians reside in Iraq, Syria, Turkey, Iran and Lebanon. Assyrians embraced Christianity in the first century A.D., and remained Christian throughout the Arab Muslim conquests.
Assyrians are Semitic people and speak Modern Assyrian, which some scholars refer to as neo-Syriac or neo-Aramaic. The parent language of modern Assyrian is Aramaic, the language of Christ, and was made the second official language (with Akkadian) of the Assyrian State in 752 B.C.; it remained the lingua franca of the Middle East until 900 A.D. Syriac is the liturgical language of the Syriac Orthodox Church, Chaldean Church of Babylon, Holy Apostolic Catholic Assyrian Church of the East, and the Syriac Maronite Church of Antioch.
Assyrians and Maronites are ethnically descendant from a common, non-Arab root.
Maronites are ethnically of Syriac roots and their historical language is Syriac. Their ancestors included the Phoenicians who lived in Syria and Lebanon. Their church, the Syriac Maronite Church of Antioch, started in northern Syria and moved to Lebanon in the 5th century.
Since the 7th century A.D., the Maronites formed a homeland in Mount Lebanon called the Marada State and resisted the Arab conquests and empires for 7 centuries and the Ottoman empire for four centuries.
Maronites spoke Syriac and derivative dialects until the end of the 19th century. In 1920 they chose to establish a Lebanese Republic separate from the Syrian Arab Republic. The Maronite emigrants who came to the Americas are an ethnic extension of the Maronites in Lebanon, hence are not Arab.
We ask the Arab American Institute to cease and desist from portraying Assyrians and Maronites of past and present as Arabs, and from speaking on behalf of Assyrians and Maronites. We ask the Arab American Institute to remove any and all references to Assyrians and Maronites as being Arabs from its literature and materials (audio, video, print and electronic). We ask the Arab American Institute to modify the reference to Assyrians in Helen Samhan's article, "Arab Americans", published in Grolier's Multimedia Encyclopedia, and any other articles, in which Assyrians or Maronites are identified as Arabs, and to submit this amendment to Grolier's Multimedia Encyclopedia, subject to prior approval with respect to the Assyrian content from the Assyrian Academic Society (www.aas.org), and the Maronite identity as it is defined by the Maronite World Congresses.
We further inform the Arab American Institute that it is not authorized to speak on behalf of Assyrians or Maronites in any capacity, except to state:
1. Assyrians and Maronites are ethnically distinct from Arabs or any other ethnic group.

2. Assyrians are linguistically distinct from Arabs or any other linguistic group.

3. Assyrians and Maronites are Christians and belong to various denominations: Syriac Orthodox Church, Syrian Catholic Church, Chaldean Church of Babylon, Holy Apostolic Catholic Assyrian Church of the East, Syriac Maronite Church, Presbyterians and other Protestant denominations.

4. Assyrians are the indigenous people of north Iraq, southeast Turkey, northeast Syria, and northwest Iran. Maronites are the indigenous people of Lebanon.

5. Assyrians and their civilizations, and the Phoenicians of Lebanon, span seven thousand years and predate the Arab conquest of the region.
We are happy to work with the Arab American Institute in showing our loyalty as Americans and informing our fellow Americans of our respective heritage, customs, language and religion. We thank the Arab American Institute for its cooperation and look forward to working together in the future.
Correspondence and inquiries should be directed to caam@aina.org.
Assyrian American National Federation
Atour Golani, President
Assyrian Universal Alliance
Senator John J. Nimrod, General Secretary
Assyrian Chaldean Syriac Alliance
O. Kaldoyo, Chairman
Assyrian Chaldean Syriac Union
F. Aho, Chairman
American Maronite Union
Tom Harb, Chairman
World Maronite Union
Sami Khoury, President
World Lebanese Organization
Pierre Elias, Coordinator
Web resources:
Assyrian International News Agency: www.aina.org
Assyrian American National Federation: www.aanf.org
Assyrian Academic Society: www.aas.net
Zinda Magazine: www.zindamagazine.com
Beth Suryoyo: www.bethsuryoyo.com
Nineveh Online: www.nineveh.com
World Maronite Union: www.maroniteunion.org
Maronite Research Council: http://plaza.powersurfr.com/maronites
World Lebanese Organization: www.wlo-usa.org
BETH MARDUTHO RELEASES NEW SYRIAC FONTS FOR WINDOWS XP

(ZNDA: Piscataway, NJ) Last Friday Microsoft Inc. launched its latest operating system Windows XP in a publicized event that featured a live concert by Sting in Manhattan broadcast on the MSN site (see www.microsoft.com). On the same day Beth Mardutho released a new version of the Syriac fonts package Meltho (Version 1.20) with Windows XP-enabled fonts.
Bill Gates spoke about Windows XP at the launch event at 10:30 AM (EST). This is what Bill Gates did not cover in his talk: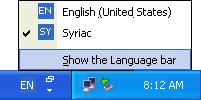 Windows XP is the first operating system to have native Syriac support. Both Windows XP Professional and Windows XP Home Edition support Syriac. Users can simply click on the language control (located on the task toolbar), choose Syriac, and type away using numerous applications, including Office XP (for word processing, desktop publishing, databases, spreadsheets, presentations, web design), Internet Explorer (for web browsing), Outlook Express (for writing emails), as well as many of the Microsoft accessories (Notepad, Paint, etc.). Any application that uses Uniscribe's functionality for text input and output will automatically have Syriac support, paving the way for developers to write Syriac applications.
Click on Syriac on the task toolbar and type Syriac in many applications.

Name your folders and file in Syriac!
Native Syriac support means that the language is implemented at the operating system level. This allows the user, for instance, to name files and folders in Syriac (see image on right). The operating system also knows about Syriac dates and time. For example, when the user inserts an automatic date in Word XP, it will write the name of the day and the month in Syriac.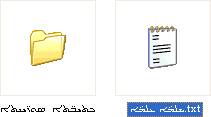 Having a hard time locating keys? The built-in On-Screen Keyboard helps you find any letter, vowel or diacritic mark; you can also type using this tool. Because of the lack of a 'standard' Syriac keyboard layout, the user has the option of using two different keyboards, one modeled after the Arabic keyboard and the other is phonetic. The image below shows the On-Screen Keyboard used in conjunction with Notepad.
The On-Screen Keyboard helps you find Syriac keys.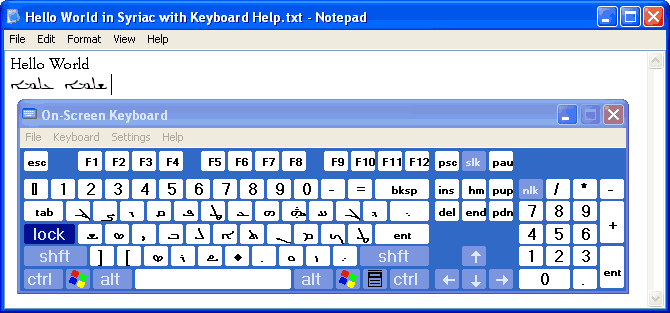 Windows XP ships with one Syriac font, Estrangelo Edessa. The font was developed by Beth Mardutho and given to Microsoft to include it in Windows XP. Beth Mardutho developed 22 Syriac fonts in a package called Meltho, available free of charge from Beth Mardutho's web site at www.bethmardutho.org.
Beth Mardutho worked with Microsoft for the past four years to make this happen. Central to the success of this story is Paul Nelson of Microsoft's Complex Scripts Group. Nelson was the communication link between Beth Mardutho and Microsoft and developed much of the Syriac features inside Windows. Back in 1998, Beth Mardutho took part in a meeting with the Unicode Consortium and the International Standard Organization (ISO) when a proposal to add Syriac to the coding standard Unicode was presented. Subsequently, due to the generous contributions of Beth Mardutho's benefactors and the hard work the Meltho team, the Meltho fonts became available to the public free of charge.

Send E-Mails in Syriac!

Beth Mardutho would like to take this opportunity to thank all those who contributed financially to this project. A full list of the supporters can be found on the Beth Mardutho web site. We also wish to thank the Meltho Team for their hard work; their names also appear on the same web site.
Call For Support
Beth Mardutho is an academic institute whose goal is to globalize the Syriac language. The Institute is currently working on creating the largest digital eLibrary of Syriac books and journals on the Internet, among other projects.
To become a part of bringing the Syriac language into the Third Millennium join the Friends of Beth Mardutho at www.bethmardutho.org. Friends receive Mardu Newsletter, discounts on Beth Mardutho publications, and free access to the Syriac Digital Library. Zinda Magazine is a major sponsor of the Syriac Digital Library and Maltho Projects.
MECHRIC ACCUSES BIN LADIN OF MASSACRE IN PASKISTAN CHURCH
Reprinted from Mideast Newswire (Oct 28)
(ZNDA: Washington) On Sunday a source from the Middle East Christian Committee (MECHRIC), an umbrella coalition of more then 17 organizations representing various communities of Middle East Christian descent in America, accused Usama Ben Ladin of masterminding the massacre of Christians in Pakistan. The killing occurred in the Church Saint Dominique in Pakistan during a service last Sunday when armed men erupted inside the Church and machined gunned men, women and children as they prayed.
"This is the true face of Islamic Fundamentalism at its best," said MECHRIC, which represents also Americans from Pakistani Christian decent. "Bursting into a Church, and opening fire against innocent Christian civilians is what Jihad has done before in that country (Pakistan) but also in Egypt, Sudan and Lebanon." The source added "MECHRIC has just warned last week, of the imminence of barbaric aggressions against exposed Christian minorities in many Muslim states. The killing of Christians in Northern Nigeria, the burning of Churches in Lebanon, and the threats issued against Christians under the veil of Crusaders were clear warnings. Usama Bin Ladin and his Jihad cohorts have ignited a backlash against millions of Christians and other non-Muslims around the world."
A senior spokesperson from the Christian League of Pakistan, based in the US, said "a million of our brothers and sisters are now under clear danger of aggression by Bin Ladin supporters and Jihad militants. Unfortunately, the Pakistani Government cannot provide protection. We urge the international community to deploy UN forces in those enclaves, particularly those close to the Afghan border."
The MECHRIC source said "people talk about backlash in the US and seem to ignore the real backlash around the world at the hands of the Islamist terrorists. The two only persons who were killed in America after the massacre of Manhattan, were a Copt and a Sikh, both non-Muslims. Yet, voices in this country were concerned about Muslim women hesitating to shop at Malls. We, in America focused out attention on perfecting our moral identity, while Christian Pakistani women and innocents were murdered inside a Church. The real backlash happens at the hands of those who had no moral resistance to the genocide they committed in New York and Washington."
The source said its member organizations warn from similar attacks against Christians in Indonesia, Egypt, Lebanon, Nigeria and other countries as well.
KAZAKH PRESIDENT ADDRESS RECOGNIZES ASSYRIAN LANGUAGE

(ZNDA: Astana) In his address to the eighth session of the Kazakhstan People's Assembly, held in Astana on 24 October, the assembly chairman, Kazakh President Nursultan Nazarbayev, called on all ethnic groups living in Kazakhstan, including the Assyrians, to preserve the "interethnic and interconfessional stability" achieved in the country over the 10 years of independence. He also said that the country should unite against the new threats to the country's independence -terrorism and extremism. The country's security is a priority, Nazarbayev said, and that is why spending on the army has been increased by at least 100 per cent. On the present situation in Afghanistan, Nazarbayev said that ordinary Afghans should be "distinguished from international terrorists" and that it was "important" to distinguish the religion of Islam from terrorism. The following are excerpts from his speech, broadcast by Kazakh Khabar TV on the same day: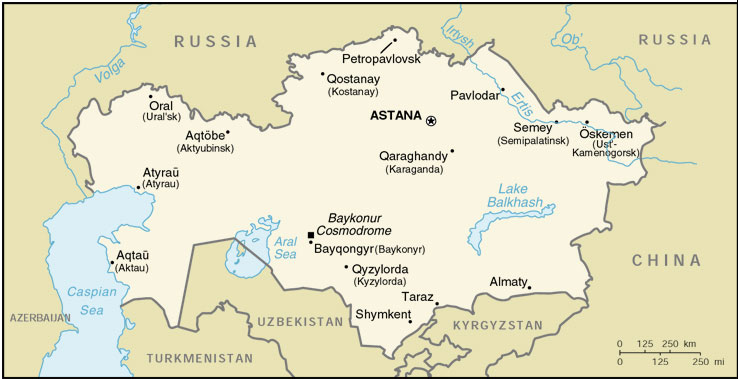 I want to point out particularly the main results of our interethnic policy, all the more so since Kazakhstan has become a country whose experience of civic peace and interethnic accord has been recognized as being of value to the international community.
What are the main results of our policy of interethnic accord? On the threshold of independence, there was a high probability that interethnic problems would emerge. The legacy we had after the break-up of the USSR - the so-called Friendship of Peoples -was on the brink of collapse, and you saw all that. Ethnic problems manifested themselves in full in all the republics on post-Soviet territory as the pressure of the totalitarian regime weakened. Nevertheless, we avoided major conflicts in our country because we defined interethnic accord as a priority in our state policy.
Today we can sum up the undeniable results of the work we have done together…We have managed to conduct a balanced language policy. Kazakhstan has been one of few countries in the post-Soviet area to tackle these [language] problems without acute conflicts and public shocks, and you know that there have been such [conflicts and shocks] in the post-Soviet area. The natural process whereby the country's citizens, especially the young people, master the state [Kazakh] language is taking place. This is happening not through coercion, but through the voluntary desire of people who feel the need to know the state language, and I am certain that this desire will grow with every year. On the other hand, we have created a network of ethnic and cultural education in the form of Sunday schools and language courses under the national and cultural associations, and this involves practically all the languages of Kazakhstan's ethnic groups, even a language as rare as Assyrian. Republican language festivals have become an annual tradition in all regions. We can state with pride today that Kazakhstan's linguistic wealth is enriching the common Kazakh culture and is an important factor in strengthening the unity of a multinational people.
DELAWARE'S SYRIA EXHIBITION EXTENDED THROUGH DECEMBER
(ZNDA: Washington) The First USA Riverfront Arts Center in Wilmington, Delaware, wilt extend its current exhibition "Syria: Land of Civilizations," through December 9,2001.
The exhibition, which opened July 14, has received rave reviews as a beautiful and educational display of artifacts that provide a wonderful history lesson on ancient civilization. Approximately 30,000 people have attended the exhibition to date. In recent weeks, it has received renewed interest from those seeking to learn more about Middle Eastern civilization and culture.
With this exhibition, we are in a unique position to help people gain insights into the history of a very complex part of the world," said RDC executive Director Michael S. Purzycki. "We believe the interest is there to support the extension of the exhibit, and have already heard from school groups and others who plan to visit in November and early December.
"Syria, Land of Civilizations" features precious artifacts dating as far back as one million years to the earliest evidence of civilization. Many of the 385 artifacts have never been seen outside of Syria. They include stone statues, ceramic vases, detailed mosaics, intricate jewelry, delicate cloth remnants and other treasures from 11 different museums across Syria.
Visitors will see a 1,950-year-old silver helmet and mask used by an ancient Syrian man for parades amid battle, a mosaic of Hercules as an 8-month-old infant strangling two serpents, and a finely crafted brooch of gold and rubies. The oldest artifact is a 1 million-year-old flint hand axe that attests to the presence of a human ancestor, Horno erectus, on Syrian territory.
Admission prices are $13.50 for adults, $12.50 for seniors, and $6.00 for youths (ages 5-17). Group rates are available. For tickets, call 1-888-862-ARTS or (302) 425~3929.
For more information Contact Sharon Roat (302) 235-5591
OBITUARY: SHEMSHOON ISRAEL
Shemshoon Israel (Feb. 21, 1916 - Oct. 25, 2001) of Turlock died last Thursday at Emanuel Medical Center in Turlock.
Mr. Israel was a native of Iran. He lived in Turlock 11 years. He was a stone mason and a member of the Assyrian Evangelical Church.
He is survived by his children, Sargon Israel of Germany and Rozmary Babakhan and Rosalyn Sporghan, both of Turlock; brother, Sarkis Israel of Iran; sister, Luba Marogul of Australia; and six grandchildren.
A service will be held today at 11 a.m. at Assyrian Evangelical Church. Burial will be at Turlock Memorial Park. Allen Mortuary in charge of arrangements.