ARMENIAN REPRESENTATIVE REMINDS U.N. OF ASSYRIANS' PLIGHT

Courtesy of M2 Communications (Nov 9)

(ZNDA: New York) Sprearheaded by General Secretary Kofi Anan of the United Nations, the UN General Assembly met in New York on November 8 and 9 to debate on Dialogue Among Civiliziations. The proposal for this project came a few years ago from President Mohammad Khatami of Iran in an effort to promote interchange and understanding among peoples and coexistence among cultures and religions.
The representative of Armenia, Mr. Movses Abelian, on the first day of meeting said that the international community must respect the right to cultural self-determination just as it did the right to political self-determination. There were small ethnic groups in today's world which despite their modest demographics were living heirs of great past civilizations. Such ethnic and religious groups must be regarded as the cultural heritage of all mankind. Calling others "inferiors," "barbarians" or "infidels" was a sign of cultural insularity -- fertile soil for ethnic and religious intolerance -- and far too often manifested itself in acts of violence and terrorism. In his reference to these small ethnic groups the Armenian representative used Assyrians as an example.
The following is an excerpt from Mr. Abelian's speech addressed to the General Assembly:

"There is a growing understanding of the fact that the human race could no longer be weakened by cultural, religious and ideological differences. These differences must be turned instead into an inexhaustible source of strength and inspiration. A dialogue among civilizations was both a sign of mankind's maturity, and an instrument of its progress, he said. In today's world more and more people had begun to realize that they belonged to more than one civilization. Multiculturalism had become a reality, and it could grow to become a universal standard for cultural self-identification in the present century.
This process must not be artificially accelerated or enforced. The unfortunate reality was that each decade several mini-cultures and micro-civilizations vanished from the face of the planet, even in the remote and hardly accessible regions. This could not be perceived as a necessary and unavoidable sacrifice on the altar of globalization.
The international community must respect the right to cultural self-determination in the same manner as the right to political self-determination. There are small ethnic groups in today's world which, despite their modest demographics, are living heirs of great past civilizations. Many of them are forgotten and neglected, some are endangered in their own homelands, such as the Assyrians, who kept alive the Aramaic tongue of Jesus Christ. Such ethnic and religious groups must be regarded as the cultural heritage of all mankind, with special approach to their needs and aspirations.
There is opposition to the dialogue of completely different kind. It feeds on the notion of cultural superiority. Calling others "inferiors", "barbarians" or "infidels" was a sign of cultural insularity, which provided fertile soil for ethnic and religious intolerance, and far too often manifested itself in acts of violence and terrorism."
ADM SECRETARY GENERAL VISITS GERMANY
(ZNDA: Berlin) Last month, on his way back from the United States, Rabbie Yacob Yoip, General Secretary of the Assyrian Democratic Movement (Zowaa) visited the Assyrian community in Germany and met with a few German officials. Zinda Magazine's Adrin Takhsh has compiled a report on Rabbie Yosip's travels in Germany:
Mr. Yonadam Kanna (Rabbie Yacob Yosip) began his visit to Germany on Oct. 27. He spoke on the political situation of the Assyrians in Northern Iraq and Assyrians in the international politics on Oct. 28 in Wiesbaden and on Oct. 29 in Augsburg.
On Oct. 30 he visited Fraunhofer Institute, an Institute for Digital Communication. Here he met with Mrs. Elvira Gershauser (Head of Public Relations) and Mr. Ernst Eberlein (Chief Scientist). Mr. Aryo Toma (ADM representative in Middle Europe), Mr. Ashur Olca (ADM representative in Germany) and Ms. Adrin Takhsh (ADM PR-Representative in Germany) accompanied Mr. Kanna on his visits. Mr. Kanna also visited the Evangelical Churches and humanitarian organizations, such as Churches help Churches, Bread for the World, Evangelical Church of Baden Wuerttenberg and Evangelical State office in Bavaria. In his reports he referred to the humanitarian work of AASS in the homeland. Later on he was interviewed by IDEA-SPEKTRUM, a magazine of the Evangelical Church.
On November 1, Mr. Kanna along with his ADM delegation from Germany visited Prof. Dr. Udo Steinbach, Director of German Oriental Institute in Hamburg. They discussed the Assyrians in northern Iraq and in the Diaspora
and our national identity and today's situation of our people.
The next day Mr Kanna visited the Assyrian communities in Bad Oeynhausen, Muensterland and the surrounding regions. On Nov. 3, he gave a speech in Guetersloh, and on Nov. 4 he spoke in Eschede in Netherlands. This time he addressed his speech in Suryoyo (Western
Sourath) and discussed our people's situation in the homeland and the Assyrian Coalition (Awyoota). This is s coalition of several Assyrian groups which include the Assyrian Democratic Organization, Assyrian Democratic Movement, Assyrian Universal Alliance, and Bet-Nahrain Democratic Party. He emphasized the important of an Assyrian joint action group and discussed the Coalition's visit to Washington D.C. on October 11 where they met with U.S. officials and Congressional representatives.
On the 5th day of November, Mr. Kanna visited Berlin and met Mr. Dietmar Blass, Chancellor of the Middle East and North Africa, and Mr. Raymond Dequin, an official in the Middle East Affairs in Foreign Affairs Ministry. Mr. Kanna spoke about our people and political situation in Homeland and the expected developments in the region, exchanging views with the German authorities.
The same day Mr. Kanna and the ADM delegation met with the Human Rights and the Humanitarian Affairs Committee in the German Parliament from both SPD and CDU factions. Mrs. Angelika Graf, from the leading party of SPD, and Mrs. Monika Brudlewski of CDU were among the German Parliament representatives met. Mr. Kanna addressed about the Humanitarian situation of our people and Iraq in general under the sanctions and the regime of the Iraqi dictator.
Mr. Kanna left Germany to return to Northern Iraq on Wednesday, November 7.
ASSYRIAN FOUNDATION OF AMERICA ELECTION RESULTS
(ZNDA: Berkeley) At the General Membership Meeting on Nov. 4, the Assyrian Foundation of
America elected the following officers for the year 2002:
President - Sargon Shabbas
Vice President - Daniel DeKelaita
Secretary - Joseph Sarkis
Treasurer - Ramin Daniels
Chairman, Education - Robert Karoukian
Chairman, Welfare - Martin Jacob
Chairman, Membership - Voltaire Warda
Chairwoman, Social - Flora Kingsbury
To learn more about AFA, its educational assistance programs and its future activities visit: http://www.assyrianfoundation.org/ or write to:
Assyrian Foundation of America
P.O. Box 2620
Berkeley, CA 94702
CHALDEAN CENTER IN DETROIT SURVIVES EARLY BUDGET CUTS
Courtesy of Detroit Free Press (Nov 9)

(ZNDA: Detroit) The Legislature of Michigan Council for Arts and Cultural Affairs sliced 7 percent from the dollars available to symphonies, museums, zoos, theaters and other cultural groups last week as part of Governor John Engler's massive $320-million package of reductions to close a recessionary deficit.

Only two items in the budget, separate from the arts council, survived last week's cuts. These were the $1 million grant to the Charles H. Wright Museum of African American History in Detroit and a $2 million supplemental grant linked to a new Chaldean cultural center in West Bloomfield.
However, the Department of Management and Budget has yet to weigh in on the $2 million, and other groups may end up with some of the money.
"There is support for that money to go to a Chaldean cultural center, but it's not a done deal," said Todd Harcek, chief of staff for Rep. Marc Shulman, R-West Bloomfield, chairman of the House Appropriations Committee.
With the overall pie shrinking this year, the result is likely to be flat or reduced funding for both large and small groups in southeastern Michigan, where leaders say they are hoping for the best but preparing for the worst.
PETER OSHANA DEFEATED AT MAYORAL RACE IN NEW BRITIAN
Courtesy of the Hartford Courant (Nov 7)

(ZNDA: New Britain) Three-term incumbent Democrat Mayor Lucian J. Pawlak last Tuesday easily won two more years in office, squelching challenges from the Republican candidate, Peter Oshana, an Assyrian.

There appeared to be no contest as returns showed Pawlak garnering five and 10 times as many votes as his challengers.
At Republican headquarters, Oshana, who had been on the common council, was disappointed as he mulled the reasons for his loss and what he will do now that he won't be holding any elective office for the next two years.
"I think there was probably a lack of education out there in the public," Oshana said. "People complain and complain about taxes. And then you spend half a million on a soccer team, and you owe another half million, and you put the man back in office. Everyone who voted for him had best keep their mouths shut about taxes. They'd best keep their mouths shut about education. If that's how you've set up your priorities, live with it."
"It's a disappointment in terms of numbers," he said referring to the trouncing he took at the polls. "I was hoping it would be a little closer than that."
Oshana, however, said he plans to continue attending council meetings and to take another stab at the mayor's job in 2003.
Mr Oshana took only 1,835 votes as opposed to Mr. Lucian J. Pawlak's 5,136.
Elsewhere in last week's local elections held in Connecticut, Mr. Zaya A. Oshana Jr. won the Commissioner's seat on the Planning & Zoning Commission by defeating 7 other candidates.
APRIM SHAPERA'S NEW BOOK PUBLISHED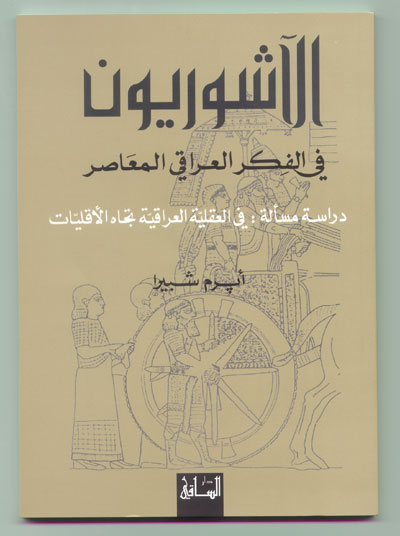 (ZNDA: London) Al Saqi Books (www.alsaqibookshop.com) has announces the recent publication of Aprim Shapera's new book in Arabic, "Assyrians in Contemporary Iraqi Thought". The book consists of 112 pages of text, along with 15 pictures bound to be of special interest to Assyrians. Although this is the eighth book in a series of books on Assyrians published by this author, it is the first book Mr. Shapera has issued through a publisher of such prominence.
More can be learned about the publisher's breadth and scope by visiting the Al Saqi Books website. Available at some stores, Aprim Shapera's latest work can also be ordered directly from the publisher, via the Internet or by fax (+44 20 7229 7492). Specifiy Author and Title.
For Zinda Magazine's review of Aprim Shapera's new book visiti:
http://www.zindamagazine.com/html/archives/2001/7.3.01/index.php#Bravo
DIAMANDA GALAS TO PERFORM MASS FOR ASSYRIAN GENOCIDE
Courtesy of the Scotland on Sunday, a Scotsman Publications (Nov 11); based on article by Jonathan Trew

(ZNDA: Glasgow) The Greek American singer Diamanda Galas will be performing this week at the recently re-opened CCA in Glasgow. She has been called the "the Bride of Satan", "the Diva of Disease" and a "vocal terrorist" CCA writes that "Diamanda Galas has one of the most striking voices of our time. She creates haunting gospels of despair, desolation and redemption that leave the audience shaken and transformed." Galas says that the common and often the first reaction to her work is "What the hell are you doing that kind of work for? We don't understand it. Why can't you do something more simple?"
Diamanda Galas possessES four octave vocal range and will surely awake the morally dead or sleeping Scotts with her performances of the shattering DEFIXIONES: WILL AND TESTAMENT a composition for voice and piano.
Ms. Galas will be performing two pieces in Glasgow this week in honor of the Armenian, Assyrian, and Hellenic genocides of 1914-1923. The concerts include music set to the texts of Assyrian-Lebanese poet Adonis and Armenian poet Siamanto. The performances will be held in pitch black, likely to be an unsettling experience for all concerned.
For more information visit: http://www.diamandagalas.com/defixiones
CCA is located on 350 Sauchiehall Street in Glasgow, Scotland.