AN INTERVIEW WITH WALTER AZIZ
At the start of his career over 20 years ago, Walter Aziz seemed to defy the natural order of things as it concerned the Assyrian listener of that time. Soon he became known as the rebel and iconoclast. Then suddenly Walter Aziz disappeared and left the fast-changing world of Assyrian music. He's now back again with a fresh approach.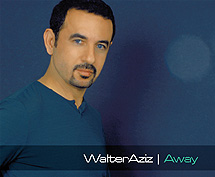 Twenty years after he first began his music career, Walter Aziz remains the most controversial and equally popular figure in Assyrian music. He is currently traveling North America promoting his superbly produced CD, "Away", which has already become the fastest selling album in the history of Assyrian music.
Zinda Magazine recently caught up with Mr. Aziz at his home in California. A scheduled two-hour interview lasted six hours. Walter Aziz talked briskly and truthfully about his roots, his musical career, and the factors that resulted in the formation of an unmistakably Assyrian pop entertainer.
We found Mr. Aziz at home with his family, dressed comfortably in his jeans and a shirt on which the word "Chicago" was ascribed in large, bold letters.
Zinda: Let's start by talking about your special kind of musical style.
Walter: I, with all the musicians and producers I've worked with in the past couple years have put together a new style of Assyrian music for today's listener; Assyrian pop music. It's different from the traditional styles of music we're used to. There are and should always be the traditional "khigas". But this is new stuff and I'm glad that people have responded to it so well.
Z: Why are you doing this?
W: I believe that God created each of us to be different and to contribute differently. Music is the soul of the people and people have different tastes in music. I'm giving the people what I feel creatively. The Assyrian listener today is more conscious and appreciative of a better quality production. And when it comes to dance, we understand that we can change with the times yet keep the soul of our music intact. I think we are all learning how to do that together.
Z: What does Assyrian music mean to you?
W: To me it means variety. Assyrian music can mean different things to different people and we need to embrace that. My new goal is to export our music to the world. Take something we are proud of, make it ours, and tell the world who we are. To do that. we need to be able to understand that this music can grow and develop with the times.
Arab musicians were successful in exporting a music that is influenced by Western beats. Who hasn't heard of Amr Diab and Alabina these days? Unless our music doesn't deny that the world is different today and our people are different today, then we will not be able to reach new Assyrian listeners and the non-Assyrians around the world.
Z: Who are these new listeners?
W: The youth. And I'm afraid we might be driving them away. They love "chobiya" and "khigas" as do I more than anyone. I think its time to bring that, but make it sound different from everything that was done in the past. I don't want people to say that the Assyrian music formula is getting old. So with this album, I tried to change that.

Z: You seem to be optimistic about the future of our music in the west?
W: I knew our music was in jeopardy. People come to the conventions, but do not want to come to the parties. The feeling I get is that they're tired of dancing to the same six or seven songs while holding hands in a circle for an hour or so. They want to break free and show their individuality. That's the primary purpose of the new music.
Z: What do you mean by breaking free and demonstrating individuality?
W: Let's take singing of ballads as an example. The first time any Assyrian vocalists sang ballads was in 1960's. This was the time of such greats as Biba and Evin Aghassi. How did the people react at first? They called them "non-traditional" and "non-original". But the more we learned about them, the more we realized that we just weren't ready for something so new so fast. People like Biba and Evin are innovators. I am inspired by both of them.
They showed that Assyrians could dance slow songs together to music of their own language. Love songs. That's what I mean by individuality. They let the audience express themselves in ways they couldn't do before. I don't mind seeing people breaking free from traditional dances and showing who they are.
Z: Do you consider yourself a "career entertainer"?
W: No, not really! That's because singing is not a job for me. It's what I love doing. If I had to I would not even mind singing for free. I love trying to promote our music among other people and other nationalities. It's a challenge for me.
Z: Does this mean that you would collaborate with entertainers from other nationalities?
W: Yes, and I have already. My new CD, "Away" is a collaborative project with several entertainers from various backgrounds.
Z: Tell us something about your background, your childhood.
W: My father was born in Russia and my mother in Iryava. My family moved to Baghdad where my father died when I was eight. I was born in the Geilani Camp in Baghdad. I was raised in a very poor family. My mother was our bread-winner who worked in a bank and helped raising her family and taking care of my grandmother and uncle.
I went to Qasha Khandoo's school where I learned to read and write in Assyrian. I was then accepted to Baghdad College to study free of tuition, because of my academic achievements. I would have never been able to study there for two years had I not been accepted in this way.
My father's aunt in Chicago invited me to live with her. I was 16 when I left Baghdad. She was in her late 70's. I then helped bring my mother to America.
In Chicago I had two more years of high school education and then entered the University of Illinois in Chicago to study Chemical Engineering. (He stops and stares at the candle lit on the coffee table for a few moments). If there's one regret that I have in my entire life, it's that I never completed college.
Z: Why not?
W: I was a very bright student, but early on had to deal with too many obstacles and family difficulties. I was forced to quit school and before I knew it I was in California and married. I thank God that things turned out so well for me, though.
Z: So when did you start singing?
W: I was 19 or 20. At that time I didn't appreciate Middle Eastern music as much. I enjoyed the likes of the Beatles instead. As for my mentors later, I began to look up to Sargon Gabriel, Ashur Bet-Sargis, and the late Isha Zaya. I formed a band called "Kings" in Chicago and Ashur Baba was our guitarist. He still lives in Chicago. My second band was called "Heartbeat".
Z: Which song brought you your initial fame?
W: "Yala, Rappe Eeda" (Let Go Boy!). My sister Claudette performed the song with me. It was her first and last attempt at singing.
Z: Let's go back to your coming to California. When was that and what happened then?
W: I came to California in 1978 where I met my wife at a New Year's Eve party in San Francisco. We got married and two years later I released my first LP called "Assyrian Nation".
Z: You mentioned that you were not much into Middle Eastern or Assyrian music for that matter. Your early music indicates otherwise. What happened between Chicago and California?
W: I owe my sense of nationalism to my father-in-law, Gewargis Yoseph. I was not raised in a patriotic family so I could not be one. It was he and my lovely wife, Nahrain, who taught me all I know of Assyrianism. My father-in-law has been like a father to me.
Nahrin is Walter's closest advisor, manager, promoter, and his biggest fan. She accompanies her husband to his shows and promotion parties. Tonight, she arrived home late from work. In just a few minutes she prepared a delicious Assyrian dinner for Walter and his guests and began speaking boldly about her husband's relentless pursuit of perfection in his art. "Nahi", as Walter calls her, is without a doubt the essence of his continued success in music. Walter and Nahrin are proud parents of two sons: Joey (Yosip) and Benny (Benyamin). Benny is now attending the University of California at Berkeley as a Junior.
Z: Did your father-in-law help you with your music also?
W: One of his earliest contributions to my music was his song "Agha Petros". It's the Title Track from my second album.
Z: This is a good time to ask you a question that has puzzled us for a long time. Where did you find that color painting of Agha Petros on the cover?
W: It's not a painting. Actually it's a colorized photo of our famous general. I took a black and white photo of Agha Petros and gave it to an American artist to colorize. She then did some research to learn more about the French military uniforms worn in Agha Petros' time. The poster turned out to be a memorable gift for fans of my music and those who appreciate our history.
Z: And the music on the album?
W: It was a grand achievement for me. Twenty musicians performed on the album. I can safely assert that an entirely new generation of Assyrians turned to our music because of the music on that album.
Z: Was "Agha Petros" your favorite song on this album?
W: No, I liked "Yama Shleeta" (Quiet Sea) even more. It was a very difficult song. Although my band practiced it, it was tough for them to play that song live. It was a song by Andranik and involved the brass section, trumpets especially, and violins. I never sang it again until the remake in "Away".
I also took the two-inch master of "Agha Petros" last year and digitized the entire album to preserve it. A new rendition of that song is now on the "Away" CD.
Z: It wasn't until much later when we hear of Walter Aziz again. What happened in the late 1980's and early 90's?
W: To speak plainly, my music career declined. There was a renewed interest in the traditional Assyrian music during this time and people moved towards that style. I wanted to stay true to what I wanted to do as a singer and performer. So I didn't adapt to that sound. I didn't want to sing in the traditional style of Assyrian music like everybody else.
Z: What about the behind-the-scene politics and the Assyrian American National Federation's boycott of your performances?
W: (He did not expect this question, clearly obvious in the manner he suddenly began to move around in his chair.) It started with the 1985 Assyrian State Convention held in Turlock and organized by San Jose. I was one of the three invited entertainers at that convention. All three of us were asked to sing for an hour and to bring our own bands and sound system. I did, but the other two bands did not come prepared. They each sang for one hour and then it was my turn to perform. I had not been even 15 minutes on the stage when I was told to leave by the MC.
I was very confused and so was the crowd. "What would people think if I just left the stage after singing for 15 minutes," I asked myself. So I decided not to and I told the person in charge that I was not going to. We continued to play. Then the security showed up. My drummer, Pierre Noghli, became furious and stopped playing. I stopped too. I then turned to the crowd and asked if they were satisfied with our performance. They all cheered for my band. I told them that the organizers of the convention do not want me to sing and have brought the security to take us away. The organizers asked the band to stay on without me, but the band members said that they wouldn't play for anyone else except myself. I left the Civic Club that night crying. I still don't know why they wanted me to leave the stage that night.
The (Assyrian American National) Federation then boycotted me. I was never to sing at any Assyrian party or convention sponsored by any of their affiliates.
After all I had done for our music up to that point, I thought, "How could this happen to me?" It took a toll on me and then I started having stage fright. In fact I did not even listen to Assyrian music for almost 6 or 7 years after that horrible experience. So between 1985 and 1992 I sang for Arabs and Persians and just non-Assyrians in general. I think that helped me build a better world view of music even in the local scene.
Z: So why did you decide to return to Assyrian music?
W: I owe my comeback to Pierre Noghli and David Betsamo (Ogin's younger brother). Pierre was then playing with the Persian singer, Shahram; and David was making music with the Black Cats. In 1992 these two guys proved to me how much I had missed singing in Assyrian. I went to see David on one occasion. He had just arranged a very nice song for Shahram. I was so impressed with what he had done. Of course I always knew he was a very talented musician.
Five or six months later I saw David again. He was playing with Shahram in the Bay Area. He encouraged me to work on a new album. So I gave him five or six songs and we started working together in the studio.
We were concerned that CD's in 1992 may not sell as well among the Assyrians. But I also wanted to come back to the music scene with a big bang. Fired up by this idea, even though it cost more, I did it and became the first Assyrian musician to release his music on a CD.
The "Assyrian Unity Dance" CD saved me and brought me back to life and back to my people. I just wish there was an influential medium of information like Zinda Magazine then. I could not get my message through to the youth who had not heard Assyrian music with new beats until then. I was back again and this time I was about something more than just singing Assyrian music. I wanted to be known as the "promoter" of Assyrian music among other nationalities.
Z: Could it be that this was one of the first CD's produced for a Middle Eastern singer?
W: Iranian performers had already printed CDs by then, but I was told that this was the first CD produced by an artist from Iraq also.
Z: So how come you're singing at the convention and its affiliates' parties now?
W: After I released the CD, Haroot asked me to perform at an upcoming national convention. That was the unofficial end of the boycott. The same guy running the 1985 convention from San Jose also came to see me at one of my performances in San Jose and apologized later.
This was a perfect moment to ask Walter about another source of contention during his musical career. The digressive and intermittently fascinating video "Khoosh, Khoosh" - filled with sexual innuendos and graphic scenes. It remains the most controversial video ever directed for an Assyrian singer.
Z: Perhaps nothing has been as controversial about you as your now famous 1997 music video. Tell us about "Khoosh, Khoosh".
W: The "Khoosh, Khoosh" (Go Away, Go Away) video was directed in 1997 by Sargon Yoseph, who's the most talented Assyrian filmmaker I've seen. He also happens to be Nahrain's brother. He's done work in independent film festivals across America. We shot the video at the San Francisco Palace of Fine Arts. There were a few scenes in that video which angered some people. Only Sargon Dadesho agreed to play the video without any editing. The feedback I got was probably split in half; half positive, half negative. But what I noticed was that younger crowd supported it fully, and most of the negative response was from slightly older Assyrians.

I consider that video and song in general a success. I was now known not just for my comeback music, but also for my videos. And that video made the song really work. I don't think one could have existed without the other. A few months later I released a collection of my videos. Then we shot a video for "Guitari". I think that's the video I've done.
Z: Let's come back to the current year and "Away". It seems you have a winner in your grasp this time.
W: I hope so. We worked to make this the best quality album I've ever done. We spent months in the studio working out so many details. It was tiring but fun. But I never tried to settle for something until all the people working with me were happy with it.
I think that the Assyrian singer's responsibility today is greater than ever. There was a time when Assyrian singers used to compete with other Assyrian singers only. Today we're competing with other Middle Eastern artists as well. Assyrians are watching Arabic, Persian, and Turkish music videos on satellite television and are drawn to the music from that region.
You have to realize that it's no longer just about a vocalist and a keyboard. It's the CD, the video, the musicians, the music and so much more - the whole package. There's a lot of pressure on the Assyrian singers these days.
Z: How did you incorporate this philosophy or observation in your latest CD, "Away"?
W: "Away" is an arrangement of World-Assyrian music. I demanded better quality than most Arabic CD's out there. We mixed three songs in Fantasy Studios, where I saw Carlos Santana during recording session. He recorded his album "Supernatural" there. "Away" was also recorded in five other studios in Oakland, San Francisco, and Sausalito. I invited such great musicians like Latif Bolat from Turkey to play on a record. Ishmael, an Assyrian "Qanoon" player from San Louis Obispo also played on a few tracks.
Z: Of all Assyrian singers you picked Sargon Gabriel to do a duet with you on "Away". Why Sargon?
W: Let's be honest. Sargon is probably the most influential Assyrian singer ever. To me, Sargon is the most popular Assyrian singer. The name of Sargon Gabriel is like a trademark for Assyrian nation. People will forever associate that name with Assyrian music. In fact, musicians use him as a standard of measurement to which they compare their quality of musicianship and performance. There is just something about his voice that makes you want to dance. Sargon Gabriel is a legend.
I wanted to utilize the legendary voice of Sargon Gabriel on my CD and he graciously agreed.
Z: We hear very positive reaction to such songs like "Lorque" and "Qa Mani Bayat" at the Assyrian parties. Is that true with your other tracks on the "Away" CD?
W: The reaction has been tremendous. It's been selling very well these past two months. This is the fastest-selling album I've ever made. It might be the fastest selling in Assyrian history. I thank everyone who has supported me.
Z: Some Zinda readers were accusing you of separating yourself from others by singing to the melodies of non-Assyrian music. They even say you have betrayed our music for fame and money.
W: No. First of all I haven't lived in communities with other singers so I haven't had the chance. But musically, I'm influenced by music around the world. For me it's been successful. But no matter what, it is Assyrian music.
In order to grow, we need to be able to create different genres of music. Some Traditional, some "Pop", some Contemporary. The listeners are asking for something different. Our singers are responding also. We're starting to see more emphasis being put on production, and more established singers trying to take their music to directions that they can call their own.
The best examples of that are Evin Aghassi, Ashur Bet-Sargis, and Linda George. These are three singers with three very different, original styles. And lately, all three have better established their musical identities.' Evin's voice and Ashur's lyrics are phenomenal. Linda George has a beautiful voice and an excellent pitch.
I speak for all singers when I say that music production has never mattered more than right now. And good production requires money. And money comes from the support of the people. So we have to constantly bring our best to them. And with this album I feel I bring my best for my people and for the world.
Z: Walter, what can top your current success in the future?
W: I have given myself two years to fully distribute "Away" around the world. It will take me another year and half to record another CD. By that time I have no idea what will happen to the music industry and what kind of new styles will come around. But I already have some thoughts on how the next projects will sound.
In the meanwhile, I want to work with other Assyrian singers as well. We want to establish an Assyrian record label, EastJam Records. Hopefully the success of "Away" can show other artists that anything is possible. Our people need more positive exposure in the world.
I'm so pleased that there will be something like Zinda Magazine then to promote my work and the work of other Assyrian artists. I wish we had you guys back in the old days too…
********
Our interview was over, as Nahrain insisted that we must now partake in the delicious dinner she had prepared for us at an hour past midnight. There was more wine and more stories that will never make the pages of our magazine.
Walter is a gifted and dedicated Assyrian artist. He's controversial, a skilled marketer who has a knack for popular taste in Assyrian and Middle Eastern music.
For just a few minutes after the interview, Walter disappeared from our sight and came back with a bottle of Pinot Noir and a couple of his albums. As he was filling our wine glasses and watching us admiring his unwrapped albums, "Assyrian Nation" and "General Agha Petros" he quietly told us that he was presenting them to Zinda Magazine as a gift for its dedication to promoting Assyrian arts and artists.
Leaving his residence, speechlessly holding our gifts, we reached an emphatic conclusion about Walter Aziz: he has an unfinished business with Assyrian music and we should brace ourselves for more controversy, tasteful surprises, and just plain-old good Assyrian music.
We can hardly wait!