Z I N D A

M A G A Z I N E
Adaar 27, 6750 Volume VII Issue 5 March 27, 2001
To receive our weekly notification message or this issue in text format write to z_info@zindamagazine.com.
T H I S W E E K I N Z I N D A
All blue links throughout this issue are hyperlinks to other sections on this page or featured websites
ASSYRIAN CULTURE KEPT ALIVE THROUGH CUISINE
For more than 2,500 years Stephanie Neri and her fellow Assyrians throughout the world have not had a country to call their homeland.
Their 5,000-year-old civilization, which began in the part of the world that is now Turkey, Syria and Iraq, came to an end in the early 600s B.C. The Assyrians scattered throughout the Eastern Mediterranean region.
But for all that time Assyrians have kept alive their culture and their cuisine.
Stephanie, who lives in Schaumburg, hasn't been cooking quite that long, but she still makes traditional Assyrian foods. Like other Mediterranean cuisines, Assyrian dishes lean heavily on lamb, rice, plain yogurt, chick peas, cilantro and enough butter to keep Wisconsin's dairy cows in green pastures for the next 2,500 years.
"I go through pounds of butter, Stephanie says. "My grandmother always said that Assyrians never get cancer, they die quickly, of heart attacks."
Stephanie inherited her Assyrian recipes from her grandmother, who was from Greece, and her grandfather, who was from Turkey.
"The center of attention for Assyrians is food," says Stephanie. "God forbid you don't have enough food."
Her husband, John, who is Italian and German, loves an Assyrian breakfast dish called Haressa that is made from chicken and cracked wheat and served with gallons of melted butter.
Stephanie also makes a meatball dish that calls for rice, onions, egg, cilantro, oregano and of course, butter. The meatballs are the size of tennis balls, except they are not hollow.
"We used to say the Assyrians fought wars with these," says Stephanie. With the meatballs she might serve Fattoush, a simple salad of tomatoes, cucumbers, parsley and green onions tossed with Romaine lettuce and toasted pita bread. The dressing is a blend of oil, lemon juice and sumac, a Middle Eastern spice similar to paprika.
Another house specialty is lentil soup with onions, garlic, tomatoes, bay, oregano and a full cup of olive oil.
"We just use the fat liberally in our house," says Stephanie. "But I never had weight problems because you can only eat a little bit and you get riched out."
Today Stephanie teaches us how to make two Assyrian favorites - Kubeh and Dolma.
Kubeh are elongated meatballs stuffed with tiny balls of diced vegetables and seasoning and cooked in a tomato sauce with cilantro. The ground beef is blended with cream of rice cereal for a very dense consistency that holds up well in the sauce.
Dolma are stuffed grape leaves with chopped lamb or beef, rice, tomatoes, lemon juice and butter - definitely. Serve them with garlic- spiked yogurt.
The power of Assyria throughout its history depended on the success of its Army, which was defeated for the last time in the early 600s B.C.
Maybe they ran out of those tennis ball-sized meatballs.
KUBEH (Meatballs)
1 1/2 pounds ground beef
2 1/4-2 1/2 cups cream of rice cereal
2 teaspoons salt
1 egg
Filling
1 tablespoon cilantro, finely diced
1 tablespoon white onion, finely diced
1 tablespoon green pepper, finely diced
1/2 cup ground beef
Salt and pepper to taste
Sauce
3 cans (16 ounces) tomato sauce
5-6 cups water
1/2-3/4 cup lemon juice
1/4 cup cream of rice cereal
1 teaspoon sugar
3 tablespoons chopped cilantro
For the meatballs: In a bowl, mix ground beef, cream of rice, salt and egg. Form each meatball around your finger, creating a little tunnel. They should be slightly elongated and about the size of the palm of your hand. Set aside.
For the filling: In another bowl, mix together cilantro, onion, green pepper, ground beef, salt and pepper. Form into balls the size of a large gumball and push into center of each meatball. Seal filling inside.
For the sauce: Combine tomato sauce, water, lemon juice, cream of rice cereal, sugar and most of the cilantro in a large pot. Bring to a boil and simmer several minutes. Add meatballs and simmer, covered, for 1 hour.
Add a small amount of cilantro to soup 10 minutes before serving.
Serves 10.
Nutrition values per serving: 389 calories, 13 g fat, 48 g carbohydrates, 2 g fiber, 19 g protein, 72 mg cholesterol, 1,412 mg sodium.
DOLMA
2 pounds boneless leg of lamb, diced or 2 pounds boneless
chuck roast, diced
2 cups rice
1 can (28 ounces) whole tomatoes
Juice of two lemons
1/2 bunch of dill, chopped
5 green onions
1/2 bunch of cilantro
2 teaspoons salt
1 teaspoon pepper
1/2 teaspoon paprika
1 banana pepper, chopped
2 jars (about 32 ounces each) grape leaves
8 tablespoons butter
2 1/2 cups water
2-3 teaspoons lemon juice
In a large bowl, mix together the meat, rice, tomatoes, lemon juice, dill, onions, cilantro, salt, pepper, paprika and banana pepper. Set aside.
Rinse the grape leaves with water to remove some of the salt. Line a roasting pan or 10-quart stock pot with one layer grape leaves. For the remaining leaves, fill each with one heaping teaspoon of mixture, fold in corners and roll. (Filling will expand during cooking.)
Layer the filled leaves in the pot, seams down, starting at the outer edge of the pot; you fill have enough leaves to fill the pot just about to the top. Cut butter into small pieces and add to the pot. Pour in 21/2 cups of cold water with a couple of teaspoons of lemon juice. Invert a dinner plate over grape leaves to hold them down. Cover the pot and bring to a boil over medium heat. Reduce to low and simmer 1 hour.
Serves 10.
Nutrition values per serving: 382 calories, 17 g fat, 36 g carbohydrates, 2 g fiber, 20 g protein, 79 mg cholesterol, 633 mg sodium.
Laura Bianchi
Chicago Daily Herald
02/28/2001

NORTHERN WATCH
Zinda News From Northern Iraq
On Tuesday, March 27, the Turkish parliament voted to extend emergency rule in northern Bet-Nahrain. The four regions include Diyarbakir, Hakkari, Sirnak and Tunceli. The emergency rule will be extended for four additional months. The emergency rule regime was first introduced in 1984 to help in the fight against Kurdish insurgency.

Emergency rule has effectively stripped locals of a number of basic rights and has allowed the military wide-ranging powers to suppress dissent. European governments and both local and international human rights groups have repeatedly called for the harsh emergency rule regime in southeast Turkey to be scrapped.
---
SCIENTISTS USE FRESCOES FOUND IN BET-NAHRAIN TO CREATE IMAGE OF JESUS
Courtesy of the Times of London; article by Paul McCann - March 27
(ZNDA: London) For a BBC television series, scientists have devised what is said to be the closest possible likeness of the historical Jesus, producing an image far removed from centuries of convention. The skull of a Jewish man from a 1st- century burial and the latest technology were used to create a computer-generated image that challenges the stereotype used in art since the Renaissance. The BBC used 1st and 3rd-century frescoes of Christ found in northern Iraq to give their Jesus short curly hair and a trimmed beard. The skin color was determined by the known climate of the time. The BBC's Christ has a broad, peasant's face with a prominent nose, dark olive skin and short curly hair. In the past, artists often gave Jesus a pale, delicate-featured appearance.
Richard Neave, a forensic reconstruction expert, produced the face for Son of God, a BBC1 series on the latest historical and scientific evidence surrounding the Gospel stories that starts this Sunday. Mr. Neave, of Manchester University, added strips of clay to a plaster cast of the skull.
He previously used the technique to construct the face of an unidentified victim of the King's Cross fire and the method has a 70 per cent success rate in finding names for unidentified bodies. It is a staple of television programs on archaeological subjects.
The skull used for the reconstruction was among a group of skeletons found by accident by a road construction team in Jerusalem. Israeli archaeologists identified the burial site as Jewish by the alignment of the graves and artifacts found near the graves. They dated them to the 1st century.
Jean Claude Bragard, producer of Son of God, said: "Using archaeological and anatomical science rather than artistic interpretation makes this the most accurate likeness ever created. It isn't the face of Jesus, because we were not working with the skull of Jesus, but it is the departure point for reconsidering what Jesus would have looked like."
Before the 2nd century, Christ was represented only by symbols, such as the lamb, the fish, or the sacred monogram, owing to the ban on the pictorial representation of God, inherited from the Judaic tradition. The earliest figurative representations portrayed Christ symbolically as the Good Shepherd -because of the statement, "I am the good shepherd", taken from St. John's Gospel, and followed the pagan tradition of portraying Mercury as a shepherd.
After the conversion of the Roman Empire to Christianity the Christ figure was shown as the King of Heaven and so was painted as older, more authoritative and beardless like many Roman aristocrats.
The Byzantine Church always favored the image of the bearded Christ and by the 12th century this convention had become almost universal in both East and West. Son of God, which is presented by the former BBC Middle East correspondent Jeremy Bowen, took two years to make and draws together all of the latest thinking on the historical Christ. "I am not a religious person," said Bowen yesterday, "but there is an awful lot of evidence that there was a man called Jesus, a dissident who argued with the political establishment who was put to death. Those are the historical facts."
ARAB-AMERICANS LOSE OUT IN CENSUS, CHALDEANS NOT INCLUDED
Courtesy of the Detroit News; article by Gordon Trowbridge - March 26
(ZNDA: Dearborn) Despite years of lobbying, Arab Americans have failed to convince the federal government to include a separate race or ethnic category for them in the census -- a perceived hole in the nation's most comprehensive demographic portrait that activists say costs their community political and economic clout.
From politicians redrawing congressional boundaries to companies deciding where to build their next drug store, data from the 2000 Census will guide a staggering number of decisions for the next decade.
"We're a pretty census-oriented society. It's taken as gospel," said Ismael Ahmed, director of the Arab Community Center for Economic and Social Services (ACCESS) in Dearborn.
The data rolling out on a state-by-state basis this month classifies the nation by six race categories: white, black, American Indian, Asian, Hawaiian or other Pacific islander, and "other race." Separate is an ethnic origin question, which asked people whether they are of Hispanic or Latino descent.
The choices leave Arab Americans like Dearborn attorney Ziad A. Fadel with a dilemma.
"I've checked white' all my life," Fadel said. "There is no category for who I am."
The Census Bureau's long form, which went to about one-sixth of U.S. households, includes a question about national ancestry. It forms the basis for estimates of population for hundreds of groups, including those from the Middle East. Data from the long form will be released over the next two years.
In 1990, that count found about 940,000 Arabs nationwide, a number pollster John Zogby calls "pathetic."
The truth, according to Zogby's research, is closer to 3.5 million. In Wayne, Oakland, Macomb and Washtenaw counties, the 1990 Census found about 100,000 people claiming some Arab ancestry. The real number, said Zogby, is nearly three times that high.
The solution recommended by the Arab Community Center for Economic and Social Services and other groups: a second ethnic category, next to Hispanic/Latino, for Arab-Americans and Chaldeans. Like Hispanics, those of Arab descent include blacks and whites, and they're linked by language and culture.
A Census Bureau advisory committee recommended against such a change in 1997 -- in part, many observers say, because of disagreement on whether a "Middle Eastern" category should include Jewish immigrants. The panel also rejected requests for categories such as Creole and German American, but it decided to give an Arab category more study because of the group's size and cultural distinctiveness.
While a more accurate count is partly an issue of pride, there are also practical effects.
"(Arab Americans) are growing as a political force, and accurate numbers would be very useful in that," said Zogby, himself an Arab American and one of the nation's top political pollsters.
"As bankers, we obviously love numbers," said David W. Huiskens, a first vice president at Comerica Bank and leader of the bank's efforts to market to Arab Americans and Chaldeans. Comerica strategists used demographic data -- including Zogby's survey numbers -- to show Comerica executives the value of reaching out to the Arab market.
So did Kroger's Michigan operations when deciding how to serve the same market.
"We did a massive study, for about a year, to remerchandise our stores in communities that have a large Arab and Chaldean population," said Michael Layne, spokesman for The Kroger Co. of Michigan. Now stores in places such as Dearborn and Southfield carry food prepared according to Muslim religious rules, and other products targeting Arabs.
Still, even among Arab Americans, there is no unanimity on the issue.
"In more established communities across the country, they just don't view this as a need," Zogby said. Second-generation and third- generation Arab families are much less likely to identify themselves as anything other than American, he said.
Then there's the issue of exactly who to include in a new category. Chaldeans -- who trace their ancestry to what is now Iraq - - are currently counted separately from Arabs; should a "Middle Eastern" category include them? What about Turks? Or Iranians?
And even if there was a new category, some of the same problems that make the long-form's count too low would likely come into play.
Like many groups with many new immigrants, language is often a barrier to an accurate count of Arabs. Distrust of government also is a factor, said Ahmed of ACCESS: Not only do many new immigrants come from countries with autocratic governments, but even longtime U.S. residents often view the U.S. government with some suspicion because of scrutiny from law enforcement and immigration officials.
---
MUSEUM CARVES OUT ROOM FOR KING'S EGO
Reprinted from Chicago Tribune (Copyright 2001 by the Chicago Tribune); article by William Mullen - March 26
(ZNDA: Chicago) For a man possessed of one of history's most monumental egos, Assyrian King Sargon II had a humbling end: slain in ambush during a military campaign in Syria--perhaps by his own men. Vultures ate his unburied remains.
But 2,700 years after his death, Sargon's ego, which made him an Old Testament villain as a plundering enslaver of men, women and children, lives on at the University of Chicago's Oriental Institute.
The museum owns just a few slivers of the gigantic fortress city Sargon built for himself from 717 to 705 B.C. in what is now Iraq. But those "slivers" are so enormous--they weigh a combined 85 tons-- that a decision by museum officials to display the limestone carvings together for the first time is costing them a small fortune.
When the museum closed in 1996 to allow construction of a 16,000- square-foot addition, museum director Karen Wilson took advantage of the down time to renovate and reorganize the galleries. One of her prime targets was to reunite the relics from Sargon's fortress, which are among the museum's most massive and precious artifacts.
"Once it's done," Wilson said, "it will be the first time since the palace was destroyed in antiquity that all these pieces have stood upright, together again. From what had lain in crumbled pieces for thousands of years, we've re-created a little bit of the palace Sargon knew."
But bringing them together, at a cost of $700,000, has not been a simple task of rearranging museum furniture.
The biggest piece is a 16-by-16-foot finely sculpted limestone statue of a human-headed winged bull that guarded an entrance to Sargon's throne room. At 40 tons, the statue was too heavy to be moved and will remain sitting atop a specially built brick and steel pier that rises unseen in the basement.
The museum then reinforced the floor surrounding the winged bull with steel girders so it could withstand 45 tons' worth of additions: six sections of an immense courtyard wall that led to the throne room entrance.
"The way the museum had been laid out before," Wilson said, "the wall panels had been scattered around in other galleries in a way that made no sense."
Each section is a sculpted relief panel about 9 feet by 9 feet that weighs 15,000 pounds. They depict Sargon's son and successor, Sennacherib, with an entourage of courtiers. In the Old Testament, Sennacherib is an even bigger villain than his father. He is the king whose armies laid siege to Jerusalem.
In Sargon's time, Assyria was an empire that ruled over most of the Middle East and bullied the rest. He came to power in 721 B.C. when his older brother, the king, died mysteriously.
Sargon is the Hebrew version of his name, but in his own Assyrian tongue he was Sharrukin, meaning "the legitimate king."
In his first year of power he destroyed the Israelite kingdom of Samaria, boasting in writing that he carried away and enslaved 27,290 of its people.
He went to war every year thereafter with neighbors in all directions, annually bringing back tens of thousands more slaves. Many of them he put to work building a new capital, which he named for himself, Dur-Sharrukin.
More than a fortress, it was intended to be the center of the empire and showplace of its wealth and might. The city came to be graced with the best art and architecture of his age.
In inscriptions on the bull statue, Sargon boasted: "With my broad knowledge and wide intelligence ... I built a city. ... In it I had substantial shrines. ... I built palaces using ivory, boxwood, musukkannu-wood, cedar, cypress, juniper, burashu-juniper and [sumac] for my royal dwelling."
When he ruled, the king was the terror of the world. But the city he built as a monument to his own greatness had a stupendously short history.
Archeological evidence indicates that after Sargon was slain in Persia, Dur-Sharrukin was abandoned almost immediately. The government, palace courtiers, tradesmen and slaves followed the new king, Sennacherib, who preferred ruling from the old Assyrian capital, Nineveh.
Grand palaces and courtyards soon fell into ruin. For centuries afterward, nearby villagers and farmers took away pieces of carved limestone, sometimes using it in their own buildings, sometimes burning it to make lime for whitewash.
Dur-Sharrukin is now a mound of ruins in an area of Iraq known as Khorsabad. The last major excavation undertaken there was a 1929 expedition by Chicago archeologists who unearthed the relics that the museum owns today.
The winged bull has long been regarded as one of the most exquisite surviving treasures of Assyrian antiquity. Ten years ago, the Louvre museum in Paris sent a team to make a mold from the sculpture for a copy it now displays.
Aiming to open the Assyrian gallery in summer 2002, early this year the Oriental Institute hired two firms that specialize in heavy lifting to install the wall panels next to the winged bull.
"It takes three weeks to get just one of these panels into place," said Bill Allison, a foreman for Belding-Walbridge, an Aurora firm that moves big but delicate industrial machinery and museum pieces.
Using hoists that raise the heavy panels inch by inch, Allison and his team are placing the panels, cemented into new steel frames with poured epoxy, into special footings on the gallery floor.
While moving the panels, museum workers discovered inscriptions never noted before, in which Sargon claimed responsibility for the decoration.
"They seemed to have been left there for the sake of the gods," Wilson said, "to make sure Sargon was credited for the work."
The Chicago expedition, in accordance with the custom of the day, gave half of what it recovered in its Khorsabad dig to Iraq and kept the other half. The relics will be back on permanent display next year at the museum, 1155 E. 58th St.
Mazin Enwiya - Zinda Chicago Desk
---
THOUSANDS GREET THE MARONITE PATRIARCH RETURNING TO LEBANON
Courtesy of Associated Press; March 27
(ZNDA: Beirut) Tens of thousands of Christians welcomed the return of the Maronite Catholic patriarch from a North American tour in an outpouring of loyalty that turned into a show of resentment against Syria's domination of Lebanon.
The toll of church bells, the wail of honking cars, and the stomp of folk dance greeted Cardinal Nasrallah Sfeir, who returned Tuesday from a six-week tour of Lebanese immigrant communities in the United States and Canada during which he repeatedly called on Syria to pull its army out of Lebanon while seeking good neighborly relations with Damascus.
Anti-Syrian Christian groups had urged supporters to take to the streets to welcome Sfeir.
"We are calling for a very simple thing, that Lebanon be sovereign, free and independent," the soft-spoken patriarch of Lebanon's Maronite Catholic Church told reporters on arrival at Beirut airport.
"I think this is a natural, legitimate demand for every country ... It is the demand of all people, even if they do not say it loud," said Sfeir, whose church's 900,000 members comprise Lebanon's largest Christian sect. Lebanon's population is 3.5 million.
The Maronite patriarch has come under sharp criticism from Muslim extremists and from pro-Syrian groups who accused him of fueling the flames of sectarianism by his anti-Syrian campaign and dismissed him as a clergyman with little following.
Sfeir's views made him a de facto leader of the opposition and put him in direct conflict with the pro-Syrian government, which says the presence of Syria's 30,000 troops in Lebanon was necessary for stability after the 1975-90 civil war.
During his North American tour, Sfeir called on the estimated 2 million people of Lebanese descent not to forget their homeland and preached that Lebanon can only survive by Christian-Muslim coexistence.
His criticism of the Syrians lit sparks in Lebanon, where the issue of Syria's sway over this small country has become a divisive one. Sfeir and many Christians have openly questioned Syria's continued hold over Lebanon. But many within the country's Muslim communities continue to support Syria and its army in Lebanon.
About 500 Muslim students in the northern Akkar region marched Tuesday, waving Syrian flags and carrying pictures of Syrian President Bashar Assad. They demanded that Syrian troops stay in Lebanon and condemned the calls for their withdrawal.
Sfeir's motorcade drove from Beirut International Airport, escorted by security forces and supporters. He was stopped several times by supporters on the road to Bkirki, the mountain seat of the Maronite Church overlooking the Mediterranean coast above the port of Jounieh north of Beirut.
Residents showered the motorcade with rice and rose petals and church bells tolled as the motorcade moved through Christian areas. It took Sfeir more than two hours to reach Bkirki, about 25 kilometers (15 miles) north of Beirut, where he offered a thanksgiving prayer.
Some who took to the streets to welcome Sfeir home carried anti-Syrian banners. "Syrian withdrawal NOW before tomorrow," read one banner on the coastal highway. Others shouted anti-Syrian slogans.
This was not the first time the cardinal traveled abroad but the massive welcome - estimated by the Christian media at 40,000 seated and another 60,000 standing with some perched in trees - outside the stonewalled monastery overlooking the Bay of Jounieh was only rivaled in 1997 during Pope John Paul II's first visit to Lebanon.
Syria's army crossed into Lebanon at the height of civil war in 1976 at the invitation of Christians, who were locked then in a battle for life with Lebanese Muslims backed by Palestinian guerrillas.
The Christian-Syrian relationship turned sour a year later and Syria sided with Muslims in the fighting that ensued. A Christian-Muslim agreement to end the civil war called for Syrian redeployment out of Beirut.
The Maronite Church has called for an end for what it described as Syria's control of decision-making in Lebanon in the last decade and implementation of the so-called Taif Accord that ended the conflict. Calls increased in the summer after Israel's pullout in May from southern Lebanon.
Despite Christians becoming a minority in Lebanon in the last century, Lebanon remains the only Arab country where the head of state is Christian.
---
REGISTER.COM ANNOUNCES PRE-REGISTRATION FOR SYRIAC DOMAIN NAMES
Courtesy of Business Wire; March 27
(ZNDA: New York) Register.com, Inc. (Nasdaq: RCOM), a leading provider of global domain registration and Internet services, on Tuesday announced that it will be taking pre-registration requests for new multi-lingual domain names in Middle-Eastern, Indian and specialized Asian languages, as well as other characters and symbols. As a result, customers can get on line early for the latest and final wave of multi-lingual domain names scheduled for launch in 22 distinct character sets including Syriac, Arabic, and Hebrew.
As a participant of the multi-lingual test-bed, Register.com will be among the first registrars that can provide multi-lingual registration for specialized character domains in real time, directly from the web site and through the Global Partner Network. Pre-registrations for the newest multi-lingual domain names will be taken immediately and will then be submitted for processing when the service goes live at the registry level, scheduled for April 5. If the name is available for registration at the point of submission, customers will then be billed the introductory retail price of $30 per name.
"The launch of this final wave of multi-lingual domain names creates a great opportunity for businesses and individuals because the languages introduced have fundamentally different characters than what has previously been recognized by the domain name system," said David Hirschler, Vice President of Global Marketing for Register.com. "By introducing domains that genuinely reflect the Internet's global user base, we hope to reach out to some of the world's fastest-growing online markets by providing domain names that accurately represent their local culture and clientele."
Middle-Eastern, Indian and specialized Asian domain names are the final installment of a staggered multi-lingual domain name rollout by the .com, .net and .org domain registry, which began in November 2000 with the launch of domain registrations in Chinese, Japanese and Korean. With this final phase, domain name registrations will be available for all characters of Unicode, a widely used standard that allows computers to display non-ASCII characters.
While the existing Domain Name System (DNS) recognizes only ASCII characters, multi-lingual domain registrations are made possible through a technology that translates non-Roman characters into ASCII-compatible representations for the purposes of routing multi-lingual names through the existing DNS. While domain registrations will be processed in real time, domains are only anticipated to resolve to IP addresses on the Internet in the coming months, with the assistance of iClient(TM) v3.0 free plug-in software.
As with other .com, .net and .org domains, multi-lingual registrations will be processed on a first-come, first-serve basis.
For more information contact Shonna Keogan, 212/798-9149 skeogan@Register.com
ACT

NOW!
The Genocide Petition
The government of Mr. Kostas Simitis recently altered the language of a legislation voted in the Greek Parliament in response to pressure from Turkey. The term "Genocide" was therefore dropped from Law 2645 to appease the government in Ankara.
Please visit the The Hellenic Genocide Petition website and sign the petition demanding the recognition of the massacres committed by the government of Turkey between 1915 and 1923 as a GENOCIDE against the Christians of Anatolia (Assyrians, Armenians and Greek citizens of the Ottoman Empire - present-day Turkey).

---
Thea Halo Reads from "Not Even My Name"
Author of the "NOT EVEN MY NAME", Ms. Thea Halo, will be giving a reading in Brookline, Massachusetts on April 1 at 4:30 PM.
Location:
The Maliotis Cultural Center
50 Goddard Avenue
Brookline, MA 02445
Tel: (617) 522-2800
For Zinda readers in/around New York City, Ms. Halo will be speaking at the Cathedral of the Holy Trinity at 7:30 PM (319 East 74th Street) and on April 22 at the Armenian Rally Day, between 2:00 and 4:00 PM on 43rd Street.

ASSYRIAN STATE CONVENTION OF CALIFORNIA
I want to take this opportunity to announce the dates and location of the Assyrian United Organizations of California's 35th Annual State Convention, which is being hosted by the Assyrian American Association of Southern California beginning Friday, May 25th and ending Monday, May 28th, 2001.
The site of the State Convention is the Hyatt Regency Long Beach in Long Beach, California. The Hyatt Regency Long Beach is attached to the Long Beach Convention Center, which is the location of the Banquet Party on Sunday, May 27th, 2001.

The picnic, on Monday, May 28th, 2001, will be located at the Rainbow Lagoon Park, which is also adjacent to the Hyatt Regency.

Rooms have been blocked for the convention at special convention rates and reservations should be made directly through the Hyatt Regency Long Beach by telephone at (562) 491-1234 or through the Hyatt Central Reservation System at 1-800-233-1234. Reservations should be made no later than May 10th, 2001 and the cost of rooms for the conventions are as follows: Single and Double Occupancies are priced at $109.00/night and Triple and Quadruple Occupancies are priced at $134.00/night. Please mention that you are attending the Assyrian United Organization of California's Convention when making your reservation.

More details will be released via the AUOC's 35th Annual Convention website http://assyriansofsocal.dotplanet.com and to Zinda Magazine and other Assyrian press as they become available.

If you have more questions regarding the convention, please e-mail me at shamiramt@hotmail.com.
Thank You!
Shamiram Tabar
AUOC 35th Annual State Convention Chairwoman
Assyrian Canadian Student Union
THREE APPLES FELL FROM HEAVEN
"Three Apples Fell From Heaven" is Anaguil Micheline Aharonian Marcom's first novel of a child's view of the genocide carried out by the Turks on the Christians in Turkey during the first World.
Khalil Agha, the egg-seller, looks at the unchaperoned young girl standing quietly before him, her head bent amid her hands tucked into her carsaf.
How many eggs you need, girly?
Anaguil pulls her left hand from the inside of the floor-length veil and raises four fingers to the egg-seller's eye-level.
Four eggs? You want four eggs, eh?
Khalil Agha stares at Anaguil's bent head and knows that since the war began seven mouths ago even small treasures can bring a profit.
The price is 15 paras per egg. Prices have gone up today; these are difficult times. He smiles broadly, showing a missing incisor and a front tooth edged in black.
Anaguil stares intently at the packed dirt. She shakes her head. Ten paras, I have only 10.
Khalil Agha smacks his lips together, making a sucking sound.
They're not paying you too well, eh?
Anaguil presses the coins she is holding in her right hand into an even tighter fist.
Well, girly, for that I can give you one egg. A bargain for a sweetplum like you.
Anaguil thinks of the word one - one-egg - and she wonders if her thoughts have brought this moment into being; her thinking on one making it the only possible number. She removes her clenched hand from the carsaf and stretches it toward the egg-seller; she opens her right hand, revealing a score of indentations left by the coins. The red crescents are relief for the 10 paras in her palm.
Khalii Agha reaches across the table to take the currency. As he begins to remove the coins from her hand, he runs his fingers down the centre of her palm. He slowly glides his fingers along each of the red moons and when finished, reaches to her wrist and then underneath the carsaf. His hand skims her forearm. Cacudes, Anaguil thinks, as she glares at the white pebbles lying next to her feet. When Khalil Agha squeezes her elbow through the cloth of the dress she wears beneath the veil, she clenches her hand again.
I do have discounts, cutie.
Anaguil shakes her head three times in the negative and notices in that moment how her hands perspire; she smells the bitter residue of the coins in the sweat of her palms.
No? No? Take your egg then, littlewhore, he says, removing the coins from her hand. Even little-whores shouldn't come to the marketplace by themselves.
Anaguil receives the egg he hands her into the linen square she has brought from home. She carefully folds the cloth around the egg and for each fold of fabric she titters one syllable: I-shit-in-your-mouth: cacudes.
The egg-seller's gaze is drawn towards her bitten fingers where only small stubs of fingernail remain. Anaguil turns away from the egg-seller's stall and she feels how the back of her dress now sticks to her skin; her hands tremble as she begins walking. It was worth it, she thinks, it was worth going to the market alone and buying from the son of an ass. The boys are at home safe with Mama, and I have done something I never expected. She disregards the burning feeling in her belly as she begins the walk home. She presses her thighs tightly together and ignores the need to relieve herself.
She passes the idle bootmaker's corner and the rows and rows of shuttered shopfronts as she winds out of the market. On another corner she passes the knifemakers' stalls. Anaguil smells the horns of goal in the high heat of the Turkish knifemakers' shops. The odours drift onto the morning air and into the mouth like bone, as the knifemakers melt and shape the cartilage and mineral life into handles and blades for cutting and slicing and killing. She hears in the distance the high-pitched call of the muezzin for the mid-morning prayer; it is a voice she has heard five times a day since the day of her birth and the sound is familiar, like skin.
Anaguil very deliberately moves her thoughts to her feet again, to each step that she is taking and to each step that she is about to take: one booted foot then another on hard-packed dirt, past discarded apple core, spittle, dog shit; another booted foot, the toe scratched and worn as it veers onto the stone of the main road. She turns left, passing the closed bakery, passing the empty space where further down the road the well lies, and she heads towards home.
An omelette is what Mama needs, she whispers. An omelette with green onions. It will ease her spirits. In the summer we have always eaten them.
The wind has picked up since she left the house one half-hour ago. A tall cypress leans into the invisible force. Tall cypresses remind her of burial grounds, water, the colour of death.
Sargis Becomes a Writer
DRESSED like a woman, can you imagine it? And sitting here in the pitchblack darkness like some mewling schoolgirl. My mother sneaks in dolma and cheese and pieces of fresh fruit and small strips of succulent lamb when she can get it. What I would give for the simple and unfettered pleasure of standing in the garden and tipping my head to the sun and the sky, of talking with the neighbour's beautiful girl Koharig in front of the white lilies, and lazily smoking a cigarette. I would even climb the mulberry tree like I did as a boy; I would shake the branches so that Mairig and my sisters-in-law could catch the berries in the blanket they'd hold like a fisherman's net below me. The red fruit would rain down in one thunderous catch and we'd laugh, thinking of the delicious fruit spreads Mama would make. I would feel the slight wind on my cheeks from the rush I had created in the branches. I would breathe the blue-white in the sky, the crimson in the berries, green on the leaves and the grey of the tree bark. My cheeks would puff up like a rodent's with the fruit I would pilfer. Mairig says these cheeks are beginning to look sallow, and that I'm not eating enough. Bollocks, I say. But I seem to have lost my big appetite.
When we saw Professor Najarian running in the street like a crazy man, Mairig, who has always been my clever mama, grabbed me by the collar and pulled me up the hidden ladder into the attic saying, Not my boy, they will not touch my youngest boy. Later that evening she brought my books and some wax candles into this dark hole. The following week she pulled off my suit jacket and pants as if I were a two-year-old child, and while I was spitting and hawing, pulled an old woman's mu-mu over my head. Now I look like an old Christian village woman. Mairig wanted to go as far as rubbing ash into my cheeks but I said, Enough, they can't even see my face with this headscarf!
If it hadn't been for Professor Najarian, I probably would have resisted my little mama. I don't think I will ever erase the last image of the professor from my memory. Perhaps I will never again see him as he was when he lectured to us at the Euphrates College, with his stern voice and drooping dark eyes, his large waxed moustache that stretched from jowl to jowl and curled delicately at each end like a girl's hair ribbon. Now when I think of our esteemed professor I can only see him dancing naked in the streets between his wife and three daughters. No matter how hard I try to re-enact his lectures on poetry and philology, I can only hear him singing and babbling like a lunatic. This too feels like a betrayal.
The day he was released from prison after a fortnight's stay, we all stood behind our shuttered windows and peered surreptitiously through small cracks into the almost empty street. From our street windows we had a direct view of the professor's house and so we watched how the gendarmes dumped him in chains in a heap at his doorstep. He and Mussig Agha (whose wife had been able to prove her husband was an Assyrian by birth) were the only two men released from the group of detained intellectuals and prominent businessmen arrested in March. Each of the others had passed beneath our windows at night in an old wooden cart; their corpses were dumped at the edge of town in a large and unmarked hole. Ignominious death. Urine on their faces. Beard and chest hairs plucked out. Fingernails and toenails removed. The look of death on their faces, frozen. Ears disjointed and bloodied clothing sent to the wives as mementoes. Eyeballs for afternoon tea. Severed skullcaps.
The professor was the only one to leave the konak with his extremities intact. Yet the damage had been done. Who could recognise the gibbering and drooling naked old man with shit pressed into his hair and groin and filling the cracks of his arse? The man who yelled at the top of his lungs like a stuck sheep while his wife, Digin Hassig, and three daughters tried to cover him with a blanket and escort him back into his home?
The world is a pile of dung and a crock, la-la, and a crock, la-la, of hor-sees' doo! the Professor sang, and wiggled his hips, and then began to yowl like a feral cat while his wife and daughters tried to hold on to his twitching arms. The Turks stood laughing a few feet away as he was escorted inside; it must have been better entertainment for the gendarmes than even the previous weeks' fun. As Digin Hassig tried to close the door, the professor stretched his neck and turned his head to the sky and cried, Where will the next tete-atete be, O Lord? And one the laughing gendarmes yelled out, Don't worry, Professor, we'll invite you to another party very soon! The professor twisted his neck to look behind him at the police and yelled back, Thank you, thank you, effendi! If his hands had been free, perhaps he would have waved to them gaily.
Once Mussig Agha was back in his home the gossip spread throughout the quarter about the torture of the men. Word travelled of how the professor had been chained on a high ledge in the room where the gendarmes practised their black art. He had been the chosen one. The professor witnessed the beatings and slashings of his friends and colleagues, he felt the splattering of their blood when it arced steeply, and he heard their continual screams for mercy. He was told the same would happen to him unless he confessed where the arms were hidden.
Mussig Agha says the professor saw everything. Day and night for days and days. Mussig Agha says they didn't let him sleep.
TOWARD the end of the first week the professor began to rub himself in his excrement (they left him to urinate and defecate on himself) with the aid of his unbound feet, and to laugh like a demented child. After that the gendarmes loosed him and let him roam the prison grounds freely - he amused and entertained the working men. He performed his assigned duties. He folded the soiled clothing carefully so that it would arrive in a neat bundle to the owner's family.
In the days after the professor was released, the late nights became unbearable for the inhabitants on our block. I could barely see him from my hiding place, from the tiny attic window which gave on to the street. Whether or not I saw him, I always heard his screeching cries as he ran through the dark night, yelling at the top of his lungs, Somebody stop them! They're doing it again! They're doing it again! - after which he laughed uncontrollably.
For 11 days after his liberation the macabre scene was repeated. Mairig said the neighbours listened in fear but did nothing, only watched through their curtains as the professor ran naked up and down the street while his wife and three daughters trailed after him with a large coverlet. On the twelfth night I waited for him patiently as I had on previous days; I do not sleep until dawn in the attic. The streets were quiet all night and for the first time in days I felt relieved and even a bit hopeful by morning: perhaps the man was regaining his senses.
Later that morning Mairig told me that the professor's heart had stopped. Everyone is thankful that his suffering has ended, she told me.
Witnessing our brilliant professor lose his mind has caused me the worst kind of grief.
He received a proper burial in the cemetery. He lies in a marked grave and his face, they say, bore a stiff smile.
I've been in the attic 20 days. The gendarmes have begun to search the houses throughout the Armenian quarter more frequently; they still say they are looking for illegal arms caches. That is the reason they give for everything - for arresting and torturing the prominent teachers and businessmen of Kharphert, for coming into our homes uninvited. The town crier announces on each street corner that the Infidel is planning a coup d'etat! We ask ourselves: for Godsakes, what 'caches' and armed rebellions are these shit-in-the-mouths talking about?
Some of the families in the quarter are now desperately trying to purchase arms to turn in to the Government: it has been said that if we turn nothing in they will know we are hiding something. But Mairig is clever: I don't trust those dogs. Do they think we are imbeciles? Stupid bleating sheep? And disregarding the orders, she dismantled the antique pistol Hayrig had sometimes used for hunting quail, burned its handle in the fire, and buried the metal pieces in the cellar.
When Hayrig was alive and the centuries' old rules still applied, he always paid the fee to keep his sons out of the army. Now even gold does not seem to help. The officials accept the payment, smile reassuringly, and then send the gendarmes to round up the men while the women wave the papers futilely and protest as ineffectually as squawking birds: Here it is, effendi. Look, effendi, my husband's pardon. We paid, sir. What are you doing, effendi! By God, we paid. Look here at this paper! Here!
My older brothers worried about the changing climate in town, but wouldn't listen to Mairig's pleading that they also hide in women's clothes.
I will never don a woman's habit. Things will settle down, Mama, my brother Melkon said, you'll see.
WHEN the call came for Armenian men between the ages of 18 and 25 to report to the commissary, Mairig came up to the attic to inform me.
They're taking the young men now. But you are not a boy for this war, son. I showed them your papers for advanced study in the capital. I told them you'd departed weeks ago for Constantinople.
As the days passed I tried to do my reading and keep up with the course work from the college. I wanted to be prepared to take my exams in the autumn so that I could later take up my extended course of study in the capital as planned.
Three days ago the decree came from Constantinople, demanding that all Armenian males between 13 and 70 report to the commissary. Already the gossip has been circulating about the earlier recruits digging the trenches for their own burial pits. Last night the police began to break into the homes and drag men out forcibly. From my perch in the attic I heard the cries of the women throughout the quarter.
He has done nothing!
What are you doing?
Let him go!
Dear God, have mercy upon us.
I dared not look through my small window for fear someone would see me. I used the brass bowl again and again to relieve my bowels. Mairig climbed quickly to the attic at 4 a.m. crying, Sargis! Sargis! They've taken your brothers. They're taking all of the men now. And she was at once assailed by the foul stench in the small space. I looked down at her as she stood on the top rung of the ladder.
Ah no, Mama, I said, don't come in now. And I cried quietly, as if I were a schoolgirl. The following day it was quiet in the quarter. Quiet as the grave, as the old people say here.
With the long days in the attic, as I tired from the reading by candlelight, I began to think of writing. It was as if my hands wanted to record of their own volition. I began:
There is nothing of more importance to an Armenian than his books. For we understand that we have survived in this hostile land for thousands of years because of three things: our language, our faith, and our texts. And it is in our texts that our language and our faith have been preserved. The people know that Armenia has been preserved in the books and that the books have been the testament of our people.
We are a culture that bases our existence on the Book. Let us recall that our first work of Armenian literature was, after all, the translation of the most holy of texts: the Gospel. This is what is offered to the people in our liturgy: the word of God: sepculum gloriae Dei. The book is sacred, thus the holy book is never directly touched, we do not sully it with our stained hands.
Dammit. I sound worse than a pompous cleric.
For the Armenian, the book is more precious than wife or mother. The book is the symbol of our preservation as a people under horrible domination.
Shittyshit bollocks.
Eh, Mama? Yes, I hear you. Yes, I would like some tahn with lunch.

ASSYRIAN-GREEK CROSS-CULTURAL NIGHT IN SYDNEY

The Greek Festival of Sydney organised by the Greek Orthodox Community of New South Wales (Australia) is in its 19th year. The Festival is a culture event covering the whole range of arts and folklore. This year the cultural events included the Brighton Le Sands Street Festival which attracted more than 80,000 people. The opening of the festival on Sunday, 4 March 2001 included the street fair that continued from 11 in the morning until 8 in the evening, with the official opening of the festival at 3 pm. The festival will continue until the closing day on Sunday, 8 April. Many events are taking place at various venues around Sydney and the aim of the festival is the promotion of Greek-Australian culture and arts in an inclusive and cross-cultural environment.
The Assyrian Community was invited to participate in the 19th Greek Festival of Sydney, which happens to be the second largest celebration in NSW. This was a great opportunity for our community to participate in such a high-profile and well-known festival in Australia.
The Assyrian Federation of Australia in conjunction with every Assyrian organisation, church, academic group, media and businesses worked towards organising the Assyrian program for this Festival. Our participation was two folds: The Street Fair (Sunday, 4 March) at Brighton Le Sands; and the Cross Cultural Night (Friday, 16 March 2001) at the Greek Club at Lakemba.
The official Assyrian program included a welcoming speech by Dr. Said Stephan, the president of the Assyrian Australian National Federation; followed by Assyrian Folkloric Dance by the Assyrian Stars Dancing Group from the Assyrian Sports and Cultural Club led by Youkanna Khamis, accompanied by Yako Minyanish and Fred Dawood on Dawla and Zorna. Other musical performances included the Assyrian Alphabet, the Suzuki Orchestra, and the Assyrian Children Choir of the Assyrian Church of the East, conducted by Maestro Rabi Alexander (Shoora) Michailian.
The second section of the program during the Opening Day was sponsored by the SBS Radio. It began at 4 PM with a special welcome by Dr. Said Stephan and Ms. Vivi Germanos, the president of the Greek Orthodox Community of NSW. Miss Majedi Ann Warda, an Assyrian youth, delivered an excellent and informative speech entitled "Who Are the Assyrians" followed by a very warm welcome from the Assyrian audience for Mr. Wilson Younan, head of the Assyrian program at SBS - Radio. The program was filled fun, games and give away gifts and prizes. It also included Assyrian music and dancing.
There were also an Assyrian showcase, displaying Assyrian sculptures, statues, pictures, magazines, books etc. There was also on-line demonstration of Assyrian information. Few thousands visited the showcase and obtained valuable information for their varied questions and inquiries.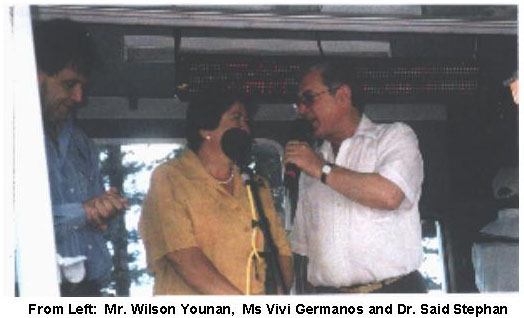 On Friday 16 March 2001, a Cross Cultural Night between Assyrians and Greek was organised at the Greek Club at Lakemba. The function was filled with music and entertainment from both the Greek and the Assyrian communities. The Assyrian programs included: speeches by Dr. Said Stephan and Majedi Ann Warda, Assyrian folkloric dance by the Assyrian Stars Dance Group from the Assyrian Sports and Cultural Club led by Youkanna Khamis; a duet violin performance of Hungarian Dances, by Mr. Alexander (Shoora) Michailian and Mr. David Daniel; solo piece "Gypsy Song", by Mr. Michailian; and the "Assyrian Tune", a solo violin performance by David Daniel. Entertainment was also provided by the Assyrian vocalist, Charles Tooma, accompanied by the Charles Band.
On behalf of the Assyrian Universal Alliance, we congratulate the Greek Orthodox community on this special occasion and acknowledge the organising committee of the Assyrian Australian National Federation including the Assyrian Australian Academic Society and other organisations for working so hard for making this a magnificent and enjoyable event. This festival provided an excellent opportunity to share the spirit of multiculturalism in Australia.
Hermiz Shahen
AUA-Australia
| | | |
| --- | --- | --- |
| ENGLISH | MODERN ASSYRIAN | GENDER |
| Fat (lipid) | tar/ba | Masculine |
| Fat (weight) | tdree/sa (tres/ta) | Mas/Fem |
BC (721-705)
Sargon II founded the last Assyrian dynasty. Like Sargon of Akkad he called himself Sargon, or "True King." He participated in the siege of Samaria, and after the death of his predecessor, Shalmaneser V, he conducted the mopping up operations, allegedly deporting more than 27,000 Israelites and dispersing them so widely throughout the Assyrian empire that they became the "lost tribes of Israel." The creator of the first truly imperial administration in history, Sargon also defeated rebellions within his empire and powerful enemies who threatened his frontiers. He died repelling an invasion by the Cimmerians, a barbarian horde from the north.

---

AD (1992)

"Children ride a float through the Loop Wednesday to kick off the Assyrian new year 6742. Assyria was an ancient Middle Eastern empire that extended from Asia Minor to the Nile River in Egypt and to the Persian Gulf. April 1 marks the beginning of its spring and new year. Chicago events marking the occasion are sponsored by the Assyrian American National Federation."

Chicago Tribune, 2 April, 1992


March 28, 1899 : born in Baghdad, Yusif Malik, Assyrian nationalist, author, freedom fighter.



Thu,
Mar 29

TORONTO
CANADIAN SOCIETY FOR SYRIAC STUDIES LECTURE

"Syriac Heritage at the Northern Silk Road: The Archaeological & Epigraphic Evidence of Christianity in Kirghizia"
by Dr. Vassilios Klein, Bonn University
8:00 PM
Auditorium, Earth Sciences Centre, Room 1050
5 Bancroft Avenue
University of Toronto, St. George Campus

Since the 1890s Kirghizia has attracted the attention of scholars in the field of Syriac epigraphy, when Daniel Chwolson published about 600 Syriac funerary inscriptions found there. The discovery of these inscriptions came as a surprise since there was little literary evidence that Christianity had played any important role in the lands located to the north of the Tianshan Mountains. In recent years archaeological excavations in the Middle Age capital revealed a church with three naves and the grave of a holy man. Taking into consideration these excavations, the other religions coexisting with Christianity in Central Asia, and the political history of that region at that time, we shall describe the role played by East Syriac (so called Nestorian) Christianity and the Syriac language in the daily life of the Sogdian and Turkish people.

Fri,
Mar 30

CHICAGO
HANNIBAL ALKHAS LECTURE & ART EXHIBIT

Sponsored by the Center For Middle Eastern Studies
University of Chicago

Pick Hall
4-6 PM
For more info contact Mrs. Saboori: 773-381-2065

Sat,
Mar 31

TORONTO
AMERICAN ORIENTAL SOCIETY PANEL DISCUSSION

"Writing Syriac: From Stone to Bytes"
Chair: Prof. Amir Harrak, University of Toronto

1:00 p.m.-3:30 p.m.

1. Marica Cassis, University of Toronto
The bema in the West and East Syriac Churches

2. Amir Harrak, University of Toronto
Patriarchal Tombstones at the Monastery of Rabban Hormizd: Types and Origins

3. Wolfhart Heinrichs, Harvard University
Turkish Karshuni

(Break)

4. George Kiraz, Syriac Computing Institute
From Parchment to Open Type: The Development of Syriac Digital Types

5. Wassilios Klein, Bonn University
Writing Syriac and Speaking Turkic in Light of Central Asian Tombstone Inscriptions

6. Eden Naby, Harvard University
The Cultural Context for Writing Syriac During the 19th and 20th Centuries

Panel to be held at the 211th Meeting of the American Oriental Society
Toronto Colony Hotel
89 Chestnut Street

Sat,
Mar 31

CHICAGO
HANNIBAL ALKHAS LECTURE & ART EXHIBIT


Assyrian Universal Alliance Foundation
Clark Avenue
co-sponsored by Khaneh Iran
6:00-9:00 PM
For more info contact Mrs. Saboori: 773-381-2065
Sun,
Apr 1

FAIRFIELD, AUSTRALIA
AKITU ASSYRIAN FESTIVAL

Organized by a network of Assyrian youth, the Assyrian community and the wider Australian multi-cultural community

in conjunction with - Centenary of Federation &
National Youth Week 2001

Entertainment: George Pityou, Ramen Odisho, Ninos & DJ Robbie G.
OneVoice Choir of Freeman Catholic College
International Food Hall

AKITU ASSYRIAN NEW YEAR 6751
Fairfield Showground
Smithfield Road

9:00 AM - 10:00 PM
Parade 12:00 PM

Games, rides, shows, An-El Drama, & fireworks
Information and international food booths
Assyrian and English musical bands and DJ music.

Tickets can be bought at the door:

$10 Adults
$ 5 Under 15 Years
$ 20 Family of 4
Children under 5 years of age are admitted free of charge

For more info: Nina @ 0416041432 or toomani@cba.com.au
Maji @ 0404124930

Sun,
Apr 1

BROOKLINE, MASSACHUSETTS
THEA HALO READING FROM HER BOOK
"NOT EVEN MY NAME"

4:30 PM
The Maliotis Cultural Center
50 Goddard Avenue
Brookline, MA 02445
Tel: (617) 522-2800

Mon-Wed,
Apr 2-4

CHICAGO
HANNIBAL ALKHAS LECTURES & ART EXHIBITS

Northeastern University
University Art Exhibition Center

For more info contact Mrs. Saboori: 773-381-2065

Tue,
Apr 3

NEW YORK
THEA HALO READING FROM HER BOOK
"NOT EVEN MY NAME"

7:30 PM
Cathedral of the Holy Trinity
319 East 74th Street

Thu,
Apr 5

DIYARBAKIR, TURKEY
FATHER YUSUF ABKULUT'S NEXT HEARING

Sat,
Apr 7

HOLLAND
A MASTERS THESIS PRESENTATION

Presented by the Assyrian Aid Society of Netherlands

Speaker: Ms. Adrin Takhsh
Topic: "Are Assyrians a Nation?"

5:00 PM
Delft Centrum
Koorn Markt 48a
in 2612 VJ Delft

For more information contact: ++31-(0)628-225 123

Until
May 6

DETROIT
TREASURES FROM THE ROYAL TOMBS OF UR


Objects from one of the most important archaeological finds

The Detroit Institute of Arts
5200 Woodward Avenue

Adults $8, Children $5: includes audio tour and museum admission

Thu,
May 24

KALU SULAQA : Bride of the Ascension Festival

This year marks the 600th anniversary of the remembrance of the men and women who died in 1401 A.D. when Timurlane attacked the Assyrian villages near Nineveh. Each year children dress-up as brides and grooms and go to homes in the neighborhood to collect sweets.

Nakosha "Assyrian Holidays" Calendar

Fri-Mon,
May 25-28

LONG BEACH, CALIFORNIA
ASSYRIAN STATE CONVENTION OF CALIFORNIA

Click on the photo for more information

Hyatt Regency Long Beach
Rooms at special convention rates
(562) 491-1234 or 1-800-233-1234
Reservations should be made no later than May 10th
Single and Double Occupancies $109.00/night
Triple and Quadruple Occupancies $134.00/night.

PICNIC: Rainbow Lagoon Park

Please mention that you are attending the Assyrian United Organization of California's Convention when making your reservation.

For more Info contact Shamriam Tabar at shamiramt@hotmail.com

Sat-Sun
Jun 2-3

NEW BRITAIN, CONNECTICUT
TAKA ARDISHAY WEEKEND

Dinner on Saturday -
Catered dinner (American) and Middle Eastern music (a mix of Assyrian, Turkish, Greek and Armenian)

Picnic on Monday - Lots of fun, food, and music

Tickets $35 for adults (less for students)
After 9:30 - 10 PM, just $15 for dancing.

Location: Church Ballroom of St. Thomas Assyrian Church

M-F,
Jul 2-6

FINLAND
XLVIIe RENCONTRE ASSYRIOLOGIQUE INTERNATIONALE

International Congress of Assyriology and Near Eastern Archaeology
"Sex and Gender in the Ancient Near East"
University of Helsinki

Registration Form: clickhere

Jul 22

NOOSARDEL

A festival celebrating the descent of the god Tammuz to the Underworld and the end of spring in Bet-Nahrain. It is customary to sprinkle water on friends and family members, wishing for Tammuz' safe return to his beloved Ishtar.

Aug 7

MARTYRS DAY

A day to commemorate the Assyrian martyrs throughout history.

Aug 28 - Sept 3

SAN JOSE, CALIFORNIA
ASSYRIAN AMERICAN NATIONAL CONVENTION

Majedi Ann Warda (Australia)

---

SHARE YOUR INFORMATION WITH READERS IN 55 COUNTRIES BY INCLUDING ZINDA MAGAZINE IN YOUR COMMUNITY OR ORGANIZATION'S MAILING LIST.
SEE OUR MAILING ADDRESS BELOW.
ZINDA Magazine is published weekly. Views expressed in ZINDA do not necessarily represent those of the ZINDA editors, or any of our associated staff. This publication reserves the right, at its sole discretion, not to publish comments or articles previously printed in or submitted to other journals. ZINDA reserves the right to publish and republish your submission in any form or medium. All letters and messages require the name(s) of sender and/or author. All messages published in the SURFS UP! section must be in 500 words or less and bear the name of the author(s). Distribution of material featured in ZINDA is not restricted, but permission from ZINDA is required. This service is meant for the exchange of information, analyses and news. To subscribe, send e-mail to: z_info@zindamagazine.com.
Zinda Magazine
101 E. San Fernando Street
Suite 505
San Jose, California 95112
Voice (408) 918-9200
Fax (408) 289-9996