ARSON SUSPECTED AT ST. JOHN ASSYRIAN CHURCH IN CHICAGO
Courtesy of Chicago Tribune (Sept 24)
(ZNDA: Chicago) The St. John Parish of the Assyrian Church of the East in the North Side of Chicago was set afire in a suspected arson incident early Sunday, causing an estimated $200,000 in damage.
Police were called to St. John's Church in the 1400 block of West Lawrence Avenue by a passerby who saw smoke at 3:55 a.m. The church's pastor, Rev. Charles Kluetz, said he believed the fire was started by someone who pushed a wad of paper through a mail slot and dropped a match onto it.
Firefighters contained the blaze to the west side of the building, bringing it under control by 4:20 a.m., Kluetz said.
The fire is being investigated as an arson, said police spokesman Matthew Jackson.
Church items ruined by smoke and fire included a copier, fax machine, wall hangings and carpeting, and water damage occurred throughout.
In an email to Zinda Magazine, Rev. Klutz explains that he was "called to the Church building…to witness the fire which had been set to destroy our Christian witness in Chicago." Rev. Klutz notes that "we had been warned that a possibility of a superpatriot or some unbalanced feeble suffering soul would try to destroy our Church buildings."
At about 4 in the morning someone in the neighborhood of the Parish calls Father Klutz and informs him that the church building was on fire and flames were shooting off the roof. Rev. Klutz arrives at 4:26 A.M. and finds the fire-trucks, emergency vehicles, and the police assembled around the church building.
"I am in tears, and my heart is broken this morning" writes Rev. Klutz.
A video documenting the damage to the church building can be viewed at: http://assyria.nineveh.com/video/StJohn.html
RABBIE YONADAM KANNA SPEAKS ON ATTACKS AGAINST AMERICA
Courtesy of Modesto Bee (Sept 12); article by Lisa Millegan
(ZNDA: Modesto) A Christian pro-democracy activist from Iraq said he was saddened but not entirely surprised by Tuesday's terrorist attacks against the United States.
Yonadam Y. Kanna, general secretary of the Assyrian Democratic Movement, said his group has long been worried about the potential for violence here.
"We were expecting (terrorism) at any time, but we were shocked that they reached the World Trade Center and the Pentagon," Kanna said.
Kanna, also known as Rabi Yako Yousif, has been in the United States since late August to meet with Assyrian groups. He said he intends to stay for at least another month.
He spoke at the Assyrian national convention in San Jose earlier this month; he has been meeting with Stanislaus County organizations this week.
No one knows who committed the attacks in New York and Washington, D.C., but Kanna said he fears that it was a group from the Middle East. He said
anti-American sentiment has been rising in Iraq, spurred by Saddam Hussein.
The Iraqi president blames U.S. sanctions for the country's financial problems. He said America is responsible for the thousands of hungry Iraqi children.
Kanna said a growing number of extremists are willing to do anything to fight the United States, including die.
"The war has started," he said.
Kanna was accompanied by police escorts when he arrived for his interview at The Bee. He said he is worried about attacks from pro-Saddam immigrants who may be living in the area.
"Thousands of terrorists are in America from Islamic countries," Kanna said.
He and his group are calling for the world to denounce the attacks as a crime against humanity, not just America. He said Tuesday's actions should alarm everyone who stands for peace and human rights.

SAN DIEGO CHALDEAN-ASSYRIANS REACH OUT TO RESCUE WORKERS
Courtesy of The San Diego Union-Tribune (Sept 21); article by Matthew T. Hall

(ZNDA: El Cajon) First, local Chaldean community leaders wanted to give blood. When others donated so much so quickly for survivors of the terrorist attacks, the Chaldeans turned to prayer. Now, they have opened their wallets.

The nation's second-largest Chaldean community has started a fund-raiser to support rescue workers in New York City and Washington, D.C. With others in San Diego County, Chaldean leaders also plan to help the uninsured families of the victims and, in time, the families of reservists called up to active duty.
On September 20, dozens of East County's 15,000 Iraqi Chaldeans met with East County politicians to discuss how best to help. Sam Cholagh, a Chaldean who became a U.S. citizen 10 years ago, said he has already collected money from friends and relatives for this cause.
"Our people are survivors," he said. "We don't want to lose the second chance we got in America."
The money will be given to the Rescue Task Force, a humanitarian group co-founded by Wendell Cutting, chief of staff to Rep. Duncan Hunter, R-El Cajon.
Cutting and co-founder Gary Becks were scheduled to leave for a relief trip to Honduras on Sunday. The two men said staying home and redirecting the aid was an easy decision.
"Years ago, firemen had bucket brigades to respond to the fires," Becks said. "Now we have buckets to respond to the firemen. (We're) rescuing the rescuers."
Cutting said five relief packages have been sent to New York City and the nation's capital. The packages include batteries, flashlights, blankets, food and water.
"As a community we wanted to step up our support," said Arkan Somo, the head of a state grocers association made up primarily of Chaldeans.
Somo said fund-raising canisters will be placed in some 350 stores around the county by the association's nearly 400 members.
Cutting thanked the Chaldeans for their support, coming as it does amid reports that some of them and other people of Middle Eastern descent were being harassed after last week's attacks.
"It sends a message to what I call the rednecks in this country, the people who need to be educated," Cutting said. "It sends a message that you are with the American people."
SARGON DADESHO: "SOMEONE HAS ATTACKED OUR COUNTRY"
Courtesy of Modesto Bee (Sept 12); based on artible by July SLy
(ZNDA: Modesto) "Someone has attacked our country," said Modesto resident Sargon Dadesho, president of the Assyrian National Congress. "This is a vicious attack that should be answered."
But Dadesho worries that many people are not distinguishing between the many Assyrian Christians in the valley and the Muslim fundamentalists in Iraq.
Some angry residents seem to be ignoring geography as well as ethnic and religious differences.
An Assyrian student at Modesto Junior College heard a suggestion that all Middle Easterners should be shot. When he reminded the speaker that he was from the Middle East, the man responded, "Oh, not you."
"Basically, we are telling our people to be careful," said Dadesho, although he also urged Assyrians to donate blood and "do your share of the efforts as citizens."
One Arab mother cried as she described her fears for her children. "You don't blame the whole nationality for what one stupid group does," she said. "In our family, we believe the people who did this are completely disgusting."
By midafternoon Tuesday, Assyrian Rodney Babayoo had already waited three hours at the Delta Blood Bank to donate blood after finishing a class at Modesto Junior College. The 27-year-old moved from Iran in April 2000.
His wait at the blood bank was expected to be as long as five hours.

CHALDEAN REFUGEES HELD IN MEXICO, MOVED TO MILITARY BASE
Courtesy of Dow Jones International News & WorldSources Online (Sept 21)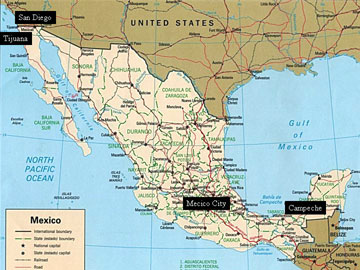 (ZNDA: MEXICO CITY) Mexican officials deny the arrest of 96 Chaldean refugees in Tijuana is related to recent terrorist attacks in the U.S., and U.S. officials say they didn't ask for the detentions.
But the Chaldean-Assyrians who allegedly face persecution in their home country - say their normally routine requests for U.S. asylum have fallen victim to the widespread mistrust and anxiety that have followed the attacks.

"The day after the attacks, they started rounding everybody up," said Besma Coda, an activist in San Diego's large Chaldean community, describing raids by Mexican migration police last week at Tijuana hotels.

The Iraqis, including 24 women and 13 children, were being held at an overcrowded immigration detention center in Mexico City, where some reported sleeping on floors or in bathrooms because there aren't enough beds.
"Why are they treating us like this? We're college-educated people, not criminals," Iraqi Hadeel Abed Haquel told a group of Mexican congressmen who toured the detention center last Tuesday.
Legislators expressed concern that Mexico is starting a witch-hunt of Middle Easterners, something authorities here deny.
"There is not any persecution or witch-hunt against people from the Middle East," said Mexican immigration official Raul Zarate in Tijuana. "It's just that they are noticed more and are more likely to be reported, given the sensitivity of the times."
Apart from the detentions in Tijuana, Mexican authorities have begun searches for groups of Middle Easterners reportedly staying in the southern state of Chiapas and the Pacific coast resort of Acapulco.
All the Iraqis detained so far had entered Mexico illegally, aided by immigrant smugglers.
Scott Hattfield, the representative of the U.S. Immigration and Naturalization Service in Tijuana, said his agency didn't ask Mexico for such detentions.
"Whenever they (Mexican police) come across any illegal aliens, that's their procedure," Hattfield said. "They send them back to Mexico City."
In the past, however, similar groups of Iraqi Chaldeans have been allowed to remain in Tijuana while their claims for asylum were processed at U.S. border offices in San Diego.
This year's situation is different in part because of a disruption of normal hours at those U.S. offices following the attacks, and a more scrupulous enforcement of immigration rules under President Vicente Fox, who took office Dec. 1 promising to combat migrant smuggling.
But a U.N. refugee official speaking on customary condition of anonymity also said increased security measures on U.S. borders "are filling up Mexican detention centers beyond their capacity."
Desperate to relieve the overcrowding, Interior Undersecretary Javier Moctezuma said last Thursday immigration authorities moved the 96 Iraqi men, women and children to an Army base in the southern state of Campeche to ease overcrowding in a Mexico City immigrant detention facility.
Moctezuma gave no indication of how long authorities would hold the Iraqis or whether their requests for political asylum would be granted.
Jimenez said the Iraqis only agreed to cooperate with the move after immigration officials "swore on the Bible"
they would not be shipped back to Iraq. Jimenez said deporting the group back to Iraq "would be delivering them to death."
This is the first time immigration authorities have sent immigrants to a military base, according to Liliam Jimenez, the director of the Tijuana-based human rights group Corporacion Corazon.
Because Campeche borders Guatemala, the Iraqis believed they would be deported to Central America, and refused to go. Campeche City is the capital of the State of Campeche. It is located 196 km southeast of Merida in the State of Yucatan by the federal highway 180, and 471 km northeast of Villahermosa in the State of Tabasco by the federal highways 186, 261 and 180 in Mexico.
They are now in a sort of limbo - not wanting to stay in Mexico, unwilling to go back to Iraq or any third country, and unable to reach the U.S. offices where they must apply for asylum.
Chaldean activists are asking U.S. officials to help resolve the impasse. "They know they have nothing to do with it (the attacks). They ran away from Iraq," said Coda, the San Diego activist. "Please don't send them back to the border of Iraq. They would be dead in a minute."
Jimenez, who has been working as a mediator between the Iraqis and Mexican immigration officials, said she would meet with members of President Vicente Fox's staff on Friday to try and negotiate an agreement that would declare the Iraqis political refugees.
The United States regularly grants political asylum to Chaldean Christian Iraqis, but Jimenez said last week's attacks and the group's switch to the military base have cast a pall of doubt on that likelihood.
ZINDA READERS & SYRIAN ORTHODOX RESIDENTS IN NY ARE SAFE

(ZNDA: New York) September 13 Based on individual phone calls, Zinda email responses, and the information received from the Syrian Orthodox Church, Zinda Magazine confirms that all its readers in New York City and the members of the Syrian Orthodox Church in Manhattan are safe and fully accounted for. One female member of the Syrian Orthodox Church from Long Island has sustained some injuries, but is now safe at home.
Assyrian violinist, David Yonan who was using a subway train in Manhattan, during the attack on the World Trade Center, writes the following: "the train suddenly stopped and all passengers were asked to leave. By that time, the second plane had already hit the World Trade Center... Then everyone was told that no more trains were running back to Brooklyn! All payphones were dead...Then, everyone including me, rushed upstairs, trying to find a bus, about 5 blocks away from the WTC. It was impossible and everybody told me to run and walk away, because a major catastrophe had happened. I started running and walking with hundreds and later thousands of people, walking over the very long Brooklyn Bridge, in heavy rain of ASHES! The ashes came down so hard, that everyone, bent his/her shirt in front of the mouth, in order to breathe normally."
ASSYRIAN SINGER LINDA GEORGE NOT AMONG VICTIMS
(ZNDA: Los Angeles) Zinda Magazine has confirmed that a passenger aboard the American Airline flight number 11, from Boston to Los Angeles was not the Assyrian singer, Linda George. The victim, 27 years of age, bears the same name and is a resident of Westboro, Massachusetts and an employee at TJX Company.
Another victim who has an "Assyrian-sounding" first and last name is Alona Avraham. Ms Avraham, 30, is not Assyrian. She was an Israeli citizen and lived in Ashdot, Israel.