Z I N D A

M A G A Z I N E
Shvadt 12, 6750 Volume VI Issue 39 February 12, 2001
Advertisement Info Contact Us Archives
To receive our weekly notification message or this issue in text format write to z_info@zindamagazine.com.
T H I S W E E K I N Z I N D A
All blue links throughout this issue are hyperlinks to other sections on this page or featured websites.
AGATHA CHRISTIE'S FILM DOCUMENTARY ON LIFE IN BET-NAHRAIN


The crime writer, Agatha Christie, visited archaeological digs in Syria and Iraq in the 1930s and the 1950s and shot a 40-minute reel of film each time. Apart from offering insights for archaeologists and fans of Christie, the footage features early use of color film. Some of the images - of archaeologists, locals and the treasures they found - are so clear they might have been filmed yesterday.
The films bring to life excavations in the Orient that inspired some of Christie's most famous novels, including Death on the Nile and Murder in Mesopotamia. There is even rare footage of the camera- shy novelist herself. For Christie, archaeology was like detective work because riddles are solved by unearthing and interpreting evidence.
Agatha Christie is the world's best-known mystery writer. Her books have sold over a billion copies in the English language and another billion in over 45 foreign languages. She is outsold only by the Bible and Shakespeare. Agatha Miller was born in Torquay, England on September 15, 1890. In 1914 she married Colonel Archibald Christie, an aviator in the Royal Flying Corps. The couple had one daughter, Rosalind, before their divorce in 1928. In a writing career that spanned more than half a century, Agatha Christie wrote 79 novels and short story collections. She also wrote over a dozen plays including The Mousetrap, which opened in London on November 25, 1952, and is now the longest continuously-running play in theatrical history. In 1971, she achieved her country's highest honor when she received the Order of Dame Commander of the British Empire.
Charlotte Trumpler, the curator of archaeology at the Ruhrland Museum in Essen, Germany, found out about the films when she talked to Christie's family about an exhibition focusing on the writer's fascination with archaeology. Christie's daughter, Rosalind Hicks, was persuaded to make the films and some of her mother's photographs available, and they will be put on show as part of the exhibition at the British Museum in November after a European tour that has begun in Essen. The exhibition also features 200 objects which Christie saw being dug up, helped to piece together, cleaned with her face creams and labeled.
Dr Trumpler said that Christie's lifelong fascination with archaeology began in 1928 after she read about sensational finds at Ur, a city of ancient southern Mesopotamia. She traveled there as a tourist and met her future husband, Sir Max Mallowan, described in his obituary in The Times as "one of the last giants of British archaeology". She married him in 1930. In her 1970s autobiography, Christie wrote: "The lure of the past came up to grab me. To see a dagger slowly appearing with its gold glint through the sand was romantic. The carefulness of lifting pots and objects from the soil filled me with the longing to be an archaeologist myself."
The first film, edited to 17 minutes for the exhibition, was made in 1938 at Tell Brak and Chagar Bazar in Syria. Christie and her husband were there between 1935 and 1938, unearthing remnants of a civilization dating from 6000 BC.
Half the film is in color. Dr Trumpler said that the first amateur color film went on the market in America in 1936, so she was one of the first to use it. "The fascinating thing is the focus on life on a dig. The film is really rare as it has not been done by a scientist or an archaeologist. Christie could make the film from a 'distance'. She showed daily life."
The second film dates from 1952 to 1957 - their period at Nimrud in Iraq, the Assyrian site where the most exciting finds dated from the 9th to 8th centuries BC. It is in this film, edited to 12 minutes, that Christie is seen standing in a red coat talking to colleagues.
John Curtis, keeper of the British Museum's Department of the Ancient Near East, praised Dr Trumpler, saying: "She discovered the movies by talking to the family."
Agatha Christie died on January 12, 1976.

Based on an article by Dalya Alberge
Arts Correspondent
The Times of London

Agatha Christie's 12 "Must-Reads" are:
The Murder of Roger Ackroyd (1926)
The Murder at the Vicarage (1930)
Lord Edgware Dies (1933)
Murder on the Orient Express (1934)
The ABC Murders (1936)
Death on the Nile (1937)
And Then There Were None (1939)
The Moving Finger (1942)
Crooked House (1949)
A Murder is Announced (1950)
A Pocket Full of Rye (1953)
Ordeal by Innocence (1958)


NORTHERN WATCH
Zinda News From Northern Iraq

February

The Assyrian Women's Union representatives meet with the Kurdistan National Women Association, Kurdistan Democratic Women Union and Women's Independent Organization.

Toma Tilya publishes an essay: "The Assyrian political Reality: Is it pluralism of thoughts and practice or just headlines".

Yokhanna Giwargis publishes his article: "Who is the Iraqi regime kidding? [On Baghdad's announcement of plans to donate 100 million Euros to the poor in the United States].

In an interview with Kurdish news sources, "Zowaa" representative, Hozaya Yonan, comments that the Assyrian journalists' participation at the Kurdistan Journalists Union's Second Congress was productive. Mr. Yonan is a member of the Central Information Bureau and former member of the Journalists Union.
---

SADDAM GUARANTEES FREEDOM OF RELIGIOUS EXPRESSION
Courtesy of Agence France-Presse; 11 Feb
(ZNDA: Baghdad) Iraqi President Saddam Hussein has guaranteed the freedom of religion for all citizens in his country, but warned that Zionism remained the "enemy of humanity". "Iraqis are free to practice their religion, whether they are Muslims, Christians or Sabeans. That is a constant of our politics," Saddam said Saturday while receiving a delegation from Iraq's Sabean community.
The Iraqi leader pledged to "construct an honorable place of worship (for the Sabeans), conforming to the values we defend in Iraq and which we hope to see applied throughout the Arab world."
But Saddam also warned Iraqis against efforts by "foreign forces, under the cover of religion, that seek to undermine their unity." "It is lucky that certain foreigners and some with bad intentions have not succeeded in blindsiding the vigilance of the Iraqis. They have failed to divide them," he said.
He was referring to the clashes following the Gulf War by the Shiites in the south and the Kurds in the north which were severely put down by Iraqi forces and led to the imposition of no-fly zones over the two areas. Saddam blamed the zones on "Zionism, the enemy of humanity, not only of Arabs and Muslims", and urged Iraqis to "instill this in their children".
Iraq's population of 22 million is mainly Muslim, the majority of whom are Shiites. There is a Christian community of over one million, mostly Chaldean-Assyrian, down from two million before the embargo was imposed on Baghdad after its 1990 invasion of Kuwait.
The Sabeans, who number up to 100,000 in Iraq, claim to be the oldest of the Semitic religions, predating the Jews and Christians, believe in God and all his prophets and have as their holy book the Guinza (The Great Treasure), written in Aramaic, the spoken form of Syriac.
Iraq's Jewish community, meanwhile, has fallen dramatically from more than 100,000 before the creation of Israel in 1948 to around 60 now, according to the head of the community.

---
THIEVES RANSACK ANCIENT NINEVEH, OTHER SITES
Courtesy of San Francisco Chronicle- Sunday, February 11, 2001
All Photos by Les Donison
(ZNDA: Baghdad) Atop a hill near the heart of the city, walls and foundations rise from the ground to tell stories of an ancient time. These are the excavated remains of the palace of Assyrian King Sennacherib, ruler of a once-great empire. In 612 B.C., the Medes and Babylonians marched on the storied city of Nineveh, site of modern-day Mosul. The city --and with it Sennacherib's glorious palace-- was laid to waste. Now, once again, the palace is under attack -- by looters desperate for quick cash.
"They are just destroying the heritage of mankind," bemoaned Donny George, one of Iraq's foremost archaeologists. "They are crushing it, turning it into this stupid matter called dollars."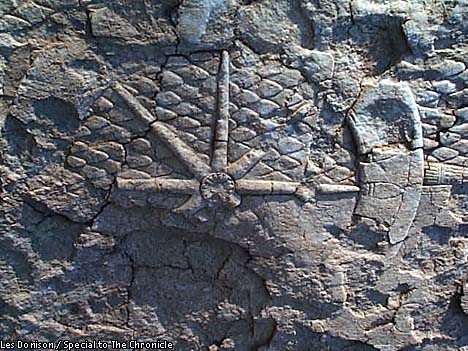 ***

Left Photo: A relief of a spoked wheel at the storied city of Nineveh was damaged by hunters of antiquities.
Right Photo: Top chunks of this trees-of-life relief at Nineveh were hacked off by vandals.
Since 1990, when the United Nations imposed sweeping economic sanctions on Iraq because of its invasion of Kuwait, world-famous sites such as Babylon, Hatra, Umma, Ur and Nineveh have become prime targets of looters. "Not only are things being destroyed, but the accumulation of knowledge at a breathtaking speed has been replaced by destruction at the same sort of pace."
Virtually no illegal trade in Iraqi antiquities existed after Saddam Hussein came to power in 1979. Hussein set about ensuring the country's rich heritage would be accessible to all Iraqis, ordering establishment of more than a dozen regional museums to house important local artifacts. In a nation with 10,000 historical sites, archaeology flourished.
Then came the invasion of Kuwait, the Gulf War and the ensuing sanctions. Throughout the country, all archaeological work halted abruptly. The regional museums were closed. The destruction began. The U.S.-led military coalition was responsible for some damage. Bombs from allied aircraft left large craters at Ur of the Chaldeans in the south, the site reputed to be the birthplace of Abraham. A ziggurat was blasted with more than 400 rounds of machine-gun fire. Trenching and bulldozing occurred at Tell el-Lahm in the north.
Amid the chaos immediately after the war, most of the regional museums were looted, some burned to the ground. In the years since, the thieving has continued nonstop. Some of the damage is caused by desperate people hit hard by the sanctions. Other sites are hit by highly organized, well-armed teams of looters.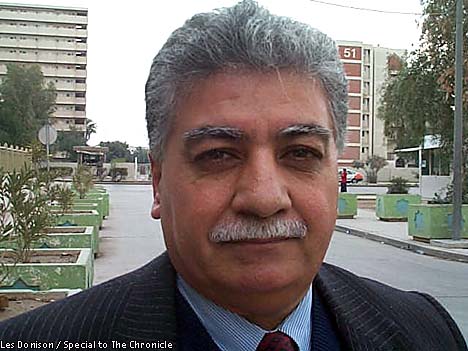 ***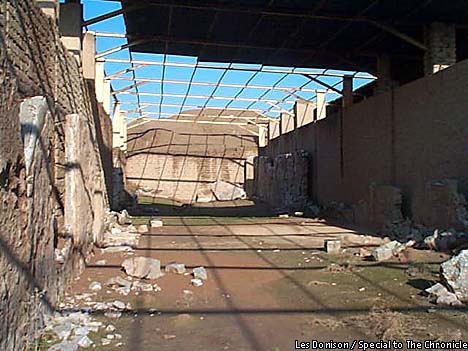 Left Photo: Donny George, one of Iraq's foremost archaeologists, says vandals are destroying heritage for cash.
Right Photo: Stone rubble littered the throne room at Nineveh. Looters hammered the walls to reduce images to movable pieces.
In stark contrast to the careful, time-consuming methods of modern archaeological excavation, the antiquity bandits use hammers, heavy earth- moving equipment and even dynamite to extract their booty.
Before the war, George and Russell worked together at Nineveh, producing a complete photographic catalog of the palace reliefs. The reliefs were in such good condition they were left at the site rather than moved inside a museum. Today, the evidence of looting is plain to see. The ground inside the palace throne room is littered with hammered remains of several reliefs -- proof that looters smashed the heavy stone slabs into smaller, easier-to-carry chunks. "This was part of a palace of an emperor who was encouraging science and literature," George said. "Now it's been destroyed by a hammer."
The destruction is not only physical. The "accumulation of knowledge," as Russell put it, ceases the moment any object, regardless of size, is moved from its larger context. "It's as if you took something out of Versailles and just put it out on the market," said McGuire Gibson, a professor of archaeology at the University of Chicago. "I mean, what do you learn?"
George, an official with the Iraqi State Board of Antiquities and Heritage, said about 10,000 looted objects have been seized at the border, "but we believe even double that, or more, have got out." The Iraq Museum in Baghdad houses evidence of what George cited as the single worst archaeological crime.
In 1994, archaeologists digging at Khorsabad, a city built by Sennacherib's father, Sargon II, found a huge stone statue of a winged bull in excellent condition. With the onset of the winter rainy season, the scientists decided to bury the statue and return later, when the ground was firmer and moving it to a museum would be easier.
Before they could return, bandits used saws to cut off the bull's head, then cut the head into 11 pieces for easier transport. The looters were caught attempting to cross the border and were executed. Today, the bull's head awaits the arrival of a team of German specialists who will try to reconstruct it.
Trade in stolen antiquities is a huge business. According to George, a common route transports the pieces to England for evaluation, then to Switzerland for auction, then finally into the hands of the purchasers -- often Americans, Japanese or Israelis. The Internet and small antiquities shops, especially in London, are used as clearinghouses for looted objects.
"The biggest problem you have," Gibson said, "is that some of the biggest collectors are also major millionaires, and they're major contributors to all sorts of political campaigns. They're movers and shakers. They also happen to collect stolen goods."
To date, there has been little international movement toward solving the problem. After the end of the Gulf War, the U.N. Educational, Scientific and Cultural Organization requested permission to go to Iraq to review the situation. The U.N. Security Council denied the request.
In 1995, experts in Mesopotamian archaeology sent a letter to the sanctions committee, asking permission to send photographic equipment to Iraq to make an inventory of objects remaining in museums. Again, the request was denied.
"We are often asked the question, 'Why protect monuments when people are dying?' " said Lyndel Prott, a UNESCO official in Paris. "The reason is, the people who are dying ring us up and say, 'Please protect our monuments.'
"If people feel that strongly about their heritage, we don't feel the international community can simply stand back and say, 'It's not important. As long as you're not dying, that's all that counts.' "
Article submitted by Mazin Enwiya
---

POPE TO VISIT SYRIA ON MAY 5
(ZNDA: Damascus) Archbishop Isidore Battikha, of the Greek-Melkite patriarchate of Antioch, Syria, announced Monday the date of John Paul II's visit. The Pontiff will arrive in this city as part of his personal pilgrimage in the footsteps of St. Paul. John Paul II should arrive in Syria after a stopover in Malta. Vatican Radio reported that Cardinal-designate Roberto Tucci, in charge of preparations for papal trips, is now in Malta.
Archbishop Battikha said during a press conference that John Paul will meet with President Bashar Assad and discuss the Mideast peace process, among other things.
Last week John Paul II received Gregory III, the new patriarch of Antioch and leader of the Greek-Melkite Church, and expressed appreciation for this Church's commitment to ecumenism. The Pope described the patriarch as an "ardent defender of the weak" and "tireless architect of peace," especially in the Middle East. This was the patriarch's first visit to Rome, following his recent election as leader of this ancient Church.
The Vatican News described the Greek-Melkite Church, of Eastern origin and Orthodox tradition, as "submerged in the Islamic world, is like a hinge between Eastern and Western Christianity." The Church reached full communion with the Apostolic See in 1724, but maintains its own rites, liturgy and canonical peculiarities. It numbers 1.26 million faithful, half of whom live in the Mideast.
For his part, in greeting the Pope, His Beatitude Gregory III, who succeeded Maximos V, made an appeal on behalf of Mideast Christians. The patriarch asked the Pope to "help Christians to stay in those lands." He added: "The Arab world needs your presence, your word, your ministry, your international influence." Lastly, the Pope had a pastoral recommendation for all Greek-Melkite priests and bishops: "Go out to all, not with the power and wealth of men, but only with the disarming love of Christ who, being rich, became poor to enrich all men."
Meanwhile, the patriarch of the Armenian Apostolic Church has said the Pope will visit his country in September.


MARONITE PATRIARCH TO ARRIVE IN U.S. THIS WEEK
Courtesy of St. Louis Post-Dispatch; article by Patricia Rice Post-Dispatch

This week, 90,000 American members of the Maronite Catholic Church, will mark the coming of age of the Maronite Church in America. The church's patriarch is expected to arrive this afternoon from Lebanon (Zinda press time on Tuesday) to preside at the episcopal ordination of Rev. Robert Shaheen, as a bishop on Thursday. "Father Shaheen is the first guy from America to become a bishop in the Maronite Church, and that brings a lot of pride to the whole Lebanese-American community," said a retired grocery store owner. It also will be the first time that a Maronite patriarch is conducting an episcopal ordination outside Lebanon. The Maronite Church is one of the 21 churches, including the most populous Latin Rite church, that in communion comprise the Catholic Church.
His Beatitude Cardinal Nasrallah Peter Sfeir, Patriarch of Antioch and All the East, arrives in St. Louis today for a variety of private celebrations leading up to the ordination at 1:30 p.m. Thursday at the St. Louis Cathedral Basilica.
"Now we are finally a native church, completely American," said Shaheen, 63, who has been pastor of the 1,000-member St. Raymond Maronite Catholic Church just south of downtown for 34 years. "The Maronite Church in America is no longer an immigrant church. Our parishioners are third-, fourth-, fifth-generation Americans. Our families have been here 100 years."
A dozen bishops from Lebanon and hundreds of U.S. and Canadian Maronite Catholics will attend the ordination Eucharistic service. The Lebanon national television network will beam the service to the Middle East. The church has 3.5 million members, in the Middle East and North and South America.
The Maronite patriarch has traditionally been a spokesman for Lebanon's Christians. At the end of World War I, the Maronite patriarch represented Lebanon at the Treaty of Versailles.
Upon ordination, Shaheen will become the spiritual leader of 24,000 families in the 35-state Maronite Church Catholic Eparchy of Our Lady of Lebanon of Los Angeles. His territory reaches from the Allegheny Mountains to the Pacific Ocean.
"Today, many American Maronites are only one-quarter Lebanese, others are entirely non-Lebanese," Shaheen said.
What ties the Maronite Church together is not nationality but the ancient Eucharistic rite of Antioch that they believe closely resembles the rites of the first century Christian Jews of Jerusalem, he said.
Shaheen went to Lebanon in January and persuaded the patriarch to hold the ordination in St. Louis. Many consider St. Raymond's the most active Maronite parish in the eparchy. Shaheen also visited the Vatican, where he concelebrated a Latin Rite Mass with Pope John Paul II in his private chapel.
The rites will be said in the ancient Semitic language of Aramaic, the language Jesus spoke. The patriarch will follow the Maronite Church's ancient laying-on-of-hands ritual with one hand on the consecrated Holy Communion and the other on Shaheen's forehead.
"The Second Vatican Council reinforced the idea that those rites are as much at home in America as in the land of our ancestors," Shaheen said.
The women of St. Raymond's parish did not need a council to tell them the importance of their ancient rites. In the 1890s, Lebanese immigrants settled in LaSalle Park just south of downtown. By 1911, they had pooled their money and converted a four-family flat on LaSalle Street into a church. Two successive pastors served the parish until World War II, when families began to move out of downtown. From the mid-1940s to the '60s, the bishops assigned no priests to the dwindling parish.
"For 23 years, we had no priest, and it was the women, the Ladies Sodality, that kept the parish going," Risk said. "They kept nagging the bishop for a priest. "
Finally, in January 1967, the bishop sent them Shaheen. The Connecticut native was the first American ordained a Maronite priest. With just 50 names on St. Raymond's roster, Shaheen got out the phone book and called anyone with an Arab-sounding surname. Along the way, he won over Jordanians, Indians and European-Americans.
"He told us that this was a place where we could return home, a place of the roots of our religion and our culture," recalled George Kerry, 56, a City Hall development official.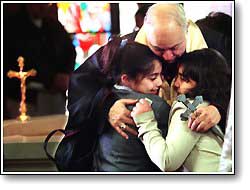 Kerry and his family joined, learned about Maronite holy men and women, and celebrated their lives at two haflis - religious festivals - each year. And, they learned to love Middle Eastern food.
Photo: Bishop-elect Robert J. Shaheen, Pastor of St. Raymond's Maronite Catholic Church, hugs sisters Kelly,8, and Jo Ann Bathani, 9, after Mass at St. Raymond's Sunday morning.
From the moment Shaheen arrived, the Ladies Sodality members supported his evangelical fire by firing up the parish kitchen. Many churches have a hard time mustering enough volunteers for one or two church fund-raisers a year. St. Raymond's does it weekly.
Every Wednesday from 11 a.m. to 2 p.m., as many as 800 people dine on Middle Eastern specialties. Women prepare food Monday or Tuesday, then return at 8 a.m. Wednesday to do the final cooking. By 11 a.m., when the church hall doors open, hungry people are in line to lunch on kibbi nayee (spiced ground beef and cracked wheat), stuffed grape leaf rolls, stuffed peppers, stuffed squash, tabbouleh salad, some Western selections and honey-laden Middle Eastern pastries.
When Nazha Hitti, 50, began her job as a saleswoman at Famous- Barr in Crestwood, she told her supervisor she would work any crazy hours as long as she could continue to volunteer at St. Raymond's Wednesday mornings.
"This is my second home," she said from behind the pastries table.
By 1975, the parish had sold enough meat pies to build St. Raymond's modern 450-seat church. Within the next four years, those lunch profits helped built a priest's rectory and a 700-seat banquet hall, The Cedars, which the parish rents for special events.
The excitement about the coming of age of the Maronite Church in America is tempered by the fact that Shaheen's new official residence will be Los Angeles.
"If it weren't for Father Shaheen, we wouldn't have this church," said Diana Deeba, 53, of Sunset Hills, the lunch volunteer manager. "He sees what others don't. He told us we could build the church."
---

ACSU LETTER TO EU PARLIAMENT Re Fr. ABKULUT
The Assyrian-Chaldean-Syriac Union has submitted the following correspondence to the European Parliament after meeting with Mr. Verhagen of the CDA, the Dutch Parliament. Mr. Varhagen promises the ACSU members that the Assyrian-Syriac question will be on the Parliamentary agenda on 1 May 2001.
Dear Ladies, Dear Sirs,
Through this letter we kindly would like to ask your attention for the following very urgent matter.
On the coming 22nd of February the Syriac Orthodox priest Yusuf Akbulut, of the Holy Mary church in the Turkish town of Diyarbakir, will be trailed for the second time in front of the court DGM in Diyarbakir. The first trial took place on the 22nd December of last year. According to the Turkish penal law, art. 312, he is accused of "causing racial hate."
This follows an article in the Turkish newspaper Hurriyet of the 4th October of last year, in which father Yusuf Akbulut is quoted to have stated that not only the Armenians but also the Assyrians-Suryoye were assassinated during the genocide of 1915. Following protests by Assyrians-Suryoye throughout Europe members of parliament from several European countries attended the trial, as well as journalists and representative of embassies, among them a representative of the Dutch embassy in Ankara. The Turkish media considered this broad attention as a statement of solidarity in support of the priest.
Because of the broad foreign presence, presumably, the Diyarbakir court did not dare to take a decision. The pending verdict is imprisonment during three up to seven years. This would have been in line with the Turkish policy since the seventies. During those decades an atmosphere was created in which 250000 Assyrians-Suryoye saw themselves forced to leave their villages and cities and had to flee. By now about 450000 there are Assyrians-Suryoye living throughout Europe.
A country that does not respect its minorities should not participate in the European Community.
This trial is not a trial of the state against a private person but is considered by the Assyrian-Suryoye community as a case against their right of existence and history in Turkey. As well as a part of the Turkish policy to try to cover up genocide in which more than half a million of people were assassinated.
We kindly but urgently request your political party to take a stand on this issue. Moreover we hope that your political party will consider this case urgent enough to send a representative to the trial. For further information you are kindly invited to contact the undersigned.
With kindest regards,
Fikri Aygur
Assyrian-Chaldean-Syriac Union
PB 884
7550 AW Hengelo (O)- NL
Tel/Fax: 0031 53 4283931
E-mail: acs_union@hotmail.com

---
MINGANA COLLECTION FINDS A NEW HOME
Courtesy of Birmingham Post Mirror Regional Newspapers; 12 Feb
(ZNDA: London) Microfilms of more than 3,000 ancient and medieval religious texts have found a new home in a pioneering graduate center at the University of Birmingham, England. The new Graduate Institute for Theology and Religion will also house the university's Mingana Collection, one of the largest collections of Christian oriental manuscripts in Syriac, Greek and Hebrew, and several important missionary papers. This collection was compiled by the Assyrian linguistic scholar, Alphonse Mingana (1878-1937).

---
ST. LOUIS UNIVERSITY CONFERENCE ENDS WITH DEBATE ON SANCTIONS
Courtesy of St. Louis University News; article by Joe Hahn
(ZNDA: St. Louis) Representatives from Iraq, the United Nations and the United States converged in St. Francis Xavier College Church ballroom on Monday evening to debate opposing viewpoints on the continuing sanctions against Iraq from the Gulf War.
The debate marked the conclusion of the third Mev Puleo Conference, sponsored by Peter and Evelyn Puleo, in remembrance of their daughter. Mev Puleo, a graduate of Saint Louis University, documented the lives of the poor throughout the world through photojournalism. She was the wife of Dr. Mark Chmiel, professor of theology at SLU. Mev Puleo died of a brain tumor in 1996 at age 32.
The conference consisted of a series of presentations that illustrated the cultural history of the Iraqi people and the effects of sanctions against Iraq. Speakers included Fr. G. Simon Harak, S.J., and Kathy Kelly, active members of anti-sanctions group Voices in the Wilderness; Dr. Laurie Mylroie, representative for U.S./U.N. viewpoints and expert on terrorism; Dr. William Foley, S.J.; His Excellency Mgr Mar Jibrail Kassab, Chaldean Catholic archbishop of Basra, Iraq; Hans-C. Graf Sponeck, former U.N. Humanitarian coordinator for Iraq; and Dr. Jack Renard, Jr., professor of theology at SLU.
Fr. James Blumeyer welcomed the audience of nearly 100 people to the debate. After a prayer led by Archbishop Kassab, University President Lawrence Biondi, S.J., introduced the two speakers, Dr. Mylroie for the pro-sanctions viewpoint, and Mr. Sponeck for the removal of Iraqi sanctions.
"The Gulf War is not over for the United States. We bomb Iraq on a regular basis," Mylroie said.
According to Mylroie, the war has continued for the past 10 years for Iraq as well, citing two primary reasons: acts of terrorism against the United States and attempts to stockpile weapons of mass destruction.
The World Trade Center bombing in February 1993 is an example of such terrorist acts, Mylroie said.
"The U.N. holds that the bombing is Saddam's unfinished business of the Gulf War," she said.
Mylroie said that states rather than independent groups conduct such terrorist acts, contrary to traditional terrorism. She terms such tactics "asymmetric warfare," meaning that each side confronts the other on different battlefields. In this case, the United States and the United Nations attack commercially, by sanctions, while Iraq attacks by terrorism and, potentially, weapons of mass destruction.
The inability of Saddam Hussein to comply with U.N. Security Council Resolutions, such as disarmament of weapons of mass destruction, results in the continued economic sanctions, Mylroie said. She cited the testimony of Khidhir Hamza, Iraqi defector and ex-head of Iraq's nuclear weapon design program, as evidence of Iraq's refusal to comply.
"A large dangerous unconventional weapons capability had survived the war," Mylroie said. "All Iraq lacks now to be able to make a nuclear bomb is the fissionable material."
She presented two possible routes for international relations with Iraq, both involving the maintenance of sanctions. One recommendation proposes arming the Iraqi population against Hussein. The other proposes rigorous and continuous U.N. weapons inspections.
To begin his counter-argument, Sponeck said, "I do and will exploit the fact that I lived 17 months in Baghdad because I felt that I was living under a faulty policy."
Sponeck, in addition to being the Humanitarian Coordinator for Iraq, held a position at the troops as a liberation army and directed the Oil-for-Food Humanitarian program.
The Oil-for-Food program directs revenue from Iraq's oil industry into a United Nations escrow account. All purchases made for the country of Iraq with this money must be approved by a committee, and the vendors receive payment through the escrow account.
Mylroie championed the program and said that it would be the model on which the United Nations would base its future humanitarian efforts.
Sponeck said that in the four years of the Oil-for-Food program, 17 months of which he was in charge, $8.8 billion was distributed to 22 million people, approximately $100 per person per year.
"What my colleagues and I stressed in Baghdad is that life is not about material needs. A person who is hungry has little time for the mind," Sponeck said.
Describing Iraq as "a society in refrigeration," Sponeck said that population and domestic violence have increased, while no new housing has been created. He said that 90 percent of untreated sewage flows into the Tigris and Euphrates Rivers. He said that since 1991, the number of deaths of children under 5 has increased from 56 to 131 children per thousand yearly.
"We must end this purely punitive approach and begin to have dialogue. We have become very dishonest," Sponeck said.
Following the two presentations, Mylroie and Sponeck were given time to question each other's arguments.
Mylroie, allowed to speak first, questioned Sponeck's dismissal of the weapons that Iraq retains, according to U.N. reports.
"Should we have a dialogue with Hitler?" asked Mylroie.
Sponeck said that no evidence permissible in a court of law proved anything of "perceived terrorists" and possession of weapons of mass destruction. Mylroie disagreed.
The debate was then opened to questions from the audience. All questions were directed at Dr. Mylroie.
To close the debate, Archbishop Kassab spoke to the audience in Aramaic, with a translator. Kassab compared the situation in Iraq to a house on fire, full of children, parents and grandparents, outside of which the firefighters stand.
"'Why is the house burning? Who is the one who started the fire?' That is how the firemen continued to argue amongst themselves. Do not spend your time arguing to do this or to do that. In the time that we have spent in this meeting, four children have died," Kassab said.
"Emotions have been cultivated over the past week against Dr. Mylroie," said freshman Michael McGrath in response to the debate. "It hindered the intellectual value of this debate. Some people were disrespectful and unprofessional. It was an embarrassment to our University."
"There is a distinction between Saddam and Iraq," said Zeiad Al-Hachami, P.E., an Iraqi-American for 10 years. "The people will welcome U.S. troops as a liberation army ... The Holocaust was preventable. The situation is the same with Iraq."


"I'm sending you two interesting pictures of Marona and his family. In the group picture you can see all members of his family, among them you may recognize Benyamin Arsanis (father), and two his sons sitting from L to R: Giwargis and Marona. The other picture (this week's magazine cover) shows Marona teaching Assyrian class in 1991.
He and his brother Giwargis were the first teachers in USSR after the Stalin Regime.
Marona was a very active nationalist in Former Soviet Union. I can say he was a founder and participant of all Assyrian organizations and activities in this country. He published several books for the teaching of Assyrian Language.
For the 20 years he taught Assyrian language in the Assyrian villages of Armenia and Georgia, Moscow, Ukraine.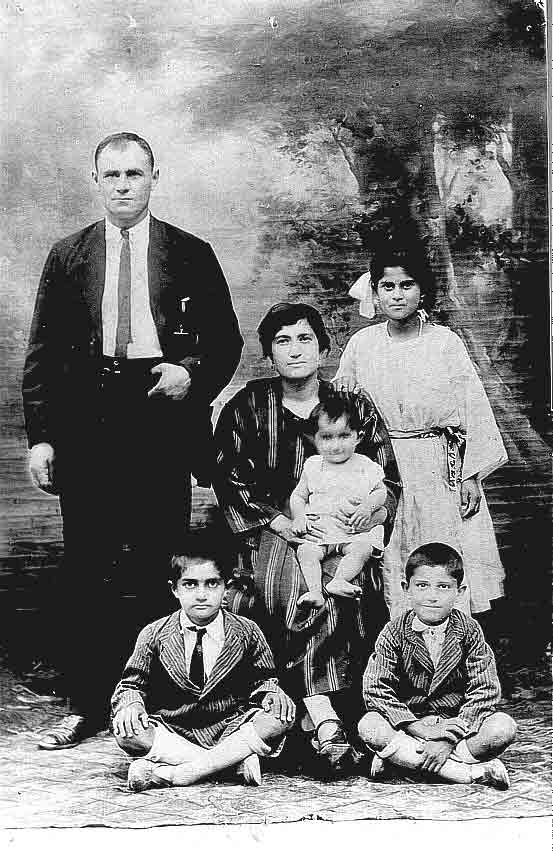 Also he was so kind and open-minded. I remember his small apartment in Moscow; he had only a studio, but in his home were received thousands of Assyrians from Russia, Sweden, Germany, USA, Iran, Iraq... He was a very hospitable man. He knew perfect Assyrian and Farsi. For many years he was a Persian news announcer for a radio program of Moscow. Later he became a founder and editor of the first Assyrian Radio in Moscow.
He also created the first Assyrian typing machine for the publishing of Assyrian books. Marona was a very active and talented person. He liked music and poetry. He wrote many poems and stories in Assyrian and Russian."
Vasili Shoumanov
Chicago
Mr. Shoumanov is the librarian of the Ashurbanipal Library in Chicago. Rabbie Marona Arsanis passed away last week in Moscow. For more information see last week's MILESTONES.


"No one "deserves" bad treatment. Not even if they "asked for it". I didn't mean to imply that Assyrians deserve to be mistreated, robbed or killed. I meant that if we expect fair treatment we have to rise to the occasion by behaving in ways which are "worthy". No...we did not deserve what was done to us, but then who has? My point was that, so far, we do not merit the world's serious attention. We wear our "victimhood" like a badge of honor, as if by being beaten by the side of the road we had "done" something noble. I suspect it's this "turn the other cheek" thing we're taught. I have no respect for anyone who turns his cheek for another slap. We were known as 'Lions in war, lambs in peace". We've become lions only in peace and lambs whenever there is real and difficult work to be done.
Our modern history is a lost book and it's tragic. The things you leave for me to research are things I'd love to know. As far as I know there is only hearsay evidence for any of it. I admit to being ignorant of much that happened to us in the last 200 years, but then I'm in good company for the rest of us have the same problem. I base much of what I say on what I see and have experienced from a fairly unique perspective. I've dealt with a lot of these leaders of ours and have seen, close at hand, the ugly little sides of their natures hidden from public review. They've counted on my "discretion", or rather on my being afraid to be "found out" also to keep me from revealing "trade secrets". It was a vain hope for we need to expose these frauds for just what they are. I still maintain that we are our only serious and worst enemy. No matter what was done to us in the past or might happen in the future, it pales when compared to what our OWN people do to this heritage.
Finally, I don't believe any Assyrian "cried" at the bombing of Iraq. I think Assyrians are naive enough to believe what America tells them about Saddam and hope that he will be ousted and a new "friendly" government take h is place. This new government, they hope, will bring peace to the region and respect for Assyrians' legitimate claims.
The Mid East will be kept in turmoil for as long as it takes to extract its oil. They will be forced to have only an oil-based economy so that when their reserves are depleted they will have nothing to show for the billions they will have earned. Saddam is not "evil", he was and is an ally of this country's plans, as was the Ayatollah, as was Noriega of Panama, Pinochet of Chile and several other small time crooks who could be counted on to allow their country's resources to be drained off and populations abused.
It's an uncomfortable fact that all this wealth we enjoy in America is built on the backs of the worlds struggling poor nations...and they don't "deserve" it either. The United States eats up the worlds resources at a grossly disproportionate rate to benefit its own population and make its billionaires even richer. Devastating South America, Asia and the Mid East is just part of the economic plan. America will keep its oil reserves intact as long as it can force others to sell oil at a price it deems favorable...it DOES make sense.
Once the fear of "communism" provided a good cover...we were bringing freedom to the world, remember? That meant finding some rascal willing to call the U.S. in to "save" his democracy -lovin ass, dividing the country into a "free" section and a "communist" section, helping one side against the other and, hopefully, picking up the contract to rebuild the shattered country once peace and "freedom" were attained That's very simplified but covers the base pretty well. With communism gone, this country has chosen "ARAB" as the next bad guy. It wont come out and say "Islam" because that's a religion and they'd look hypocritical 'cause they want the world to respect their own...so the evil guys are now Arabs and that doesn't just mean those from Arabia...it means anyone who speaks the language and believes in Islam. More to the point it means those people sitting on all that oil. And so we get extremist leaders and mullahs and fatwahs and terrorists until the world is almost convinced that Islam is an evil thing. Just ask these same people what they think of our ancestors and you'll get a sample of how this "education" works. Thank you for your thoughtful response and I hope we meet some day.!"
Fred Parhad
Zinda Magazine
Read Fred Parhad's essays each week at REFLECTIONS ON ASSYRIA.
A BOOK IN MEMORY OF MALFONO NAOUM FAYIQ (NAOM FAIQ)
"In Memory of Naoum Fayiz: The Master of the National Unity"
By Aprim Shapera
A new book, in Arabic, has just been published to commemorate Malfouno Naoum Fayiq's significant contribution to the concept of Assyrian national unity. The work is authored by Aprim shapera, a prolific writer and frequent lecturer on subjects relating to Assyrian national identity.
The book's appearance is enhanced by an attractive cover portrait prepared by Assyrian artist Hann Al-Hayik . Following the Introduction by Chamon Danho of Sargon House, the book comprises of three distinct sections:
Part I : Naoum Fayiq as Assyrian Martyr :
* A Question
* Concept of the Assyrian Martyr
* Naoum Fayiq : Straggle and Sacrifice
* Evidence of the Master's Sacrifices
* An Answer
Part II : Church and the Nation in Naoum Fayiq's Thought
* Preface
* Understanding Naoum Fayiq's Thought
* Fundamental Principles
* Resources of Naoum Fayiq's Thought
o Religious Resources
o National Resources
* Means of Achieving Naoum Fayiq's Thought
o Journalism
o Writing & Poetry
o Teaching & Oratory
* Applications of Naoum Fayiq's Thought
o On Churchly & Denominational Level
o On National & Political Level
* Conclusion
Part III : National Unity Among Naoum Fayiq and Fared Nus'ha and its Contemporary Applications:
* Preface
* Naoum Fayiq and National Unity
* If we want progress let us united : by Naoum Fayiq
* Fared Nus'ha by Fared Nus'ha
* The Meaning of "Syriac Aramaic Assyrian Chaldean" Nation and today's Applications
* A Comparative Review Between The Master and the Student
* Opinion on Church and Clergy
Conclusion: The Immortality of the Master

Copies of this new book may be ordered from Sargon House:
Sargons Bokforlag
Box 4107
151 04 Sodertalije - SWEDEN
Tel/Fax : + 46 8 550 86285


Fred Parhad's
REFLECTIONS ON ASSYRIA
JOHN NIMROD AND ME
The infamous lawsuit is over. These things are never victories. I did accept the last offer made, though I'm convinced they would have met my demand for the entire claim because the last thing John wanted to do was have to testify under oath to all the lies and distortions he'd made. Neither would Helen's sons have wanted to appear to be going against their mother's final request to me. It was never about the money...but try to convince anyone of that. I feel free to tell the entire story now. I don't know how interesting it will be, or useful. I like John personally, but I abhor what he claims to do in "our" name. For that reason I feel compelled to make it as "hot" for him and other leaders like him, especially those young crooks who see what an easy thing it is to swindle our people and how little they have to fear the consequences. We're so used to being spat upon , even by our own, that we prefer to find a kind of Christian nobility in enduring ins ults than in fighting injustice.
Helen Schwarten commissioned me, over a five year period, to create over $300,000.00 worth of sculpture for her collection...including money she paid to finish the Sumuramat Monument. You can imagine how this went down with the underpaid staff at her foundation who were all aware and all a twitter, no doubt. It pleased Homer Simpson least of all and he tried early on to "sour" her on me and my work. Her brother John, who still receives his monthly "allowance" from her estate, liked this arrangement even less. He saw any money spent anywhere but on his travel expenses as a waste. He also resented the attention he thought I would grab away from him. He tried several times to discourage Helen from commissioning work and flat out refused to go along with funding the Sumuramat. He did until she ordered him to do as he was told.
Just before entering the hospital for what proved to be her final illness, Helen asked me to make portraits of herself, her husband Jerry James, her two sons Ken and Ed AND her brother John. She also asked for a few other pieces including a maquette of the Hammurabi Monument. We agreed on terms over the phone, as we always had and she sent a deposit for me to begin work, again just as she always had in the past. At this time her brother John had been stalling the city of Chicago for three years over the site they'd chosen for the Sumuramat Monument. He'd demanded time to find a site of his own and had so far done nothing...neither had he raised a dime for the project. I knew Helen was anxious to have the monument installed. For one thing she was becoming more frail and I had promised that she would be the one to unveil it. To cheer her spirits I suggested we have an indoor unveiling of the monument along with a show of her entire bronze collection. The people with the city of Chicago Arts Council agreed to help and put us at the head of the line for the next available location for such a show. It would have been a chance to honor Helen and showcase her collection and the monument.
I spoke to her about it several times while she was in and out of hospital. Then her condition worsened and I stopped calling. I had a lot of work to do for her and a deadline for the show coming up. I cleared all other work and concentrated only on the several pieces I was doing for Helen. The deposit money ran out just as I completed some of the pieces in clay. I needed more to make the molds and begin casting them in bronze. It didn't seem right to bother her about it and so I called John for help and he told me to wait until Helen got out. More weeks went by, the city had bent the rules for us and I felt we HAD to deliver on time. I wrote letters to her sons explaining the situation and stating that the clay sculptures couldn't be expected to last long as they were and to please hurry and provide some direction. There was no reply from either of them.
I reached a critical point at which I would either have to abandon the project to move on to ones which would provide the money to keep me afloat (I make my living as a professional sculptor...it isn't a hobby) or I'd have to sink everything I had into the remaining work for Helen. I knew she would pay me as soon as she was able to write a check. But I wasn't sure she would ever be able to do that again...for anyone, yet I couldn't even hint at such a possibility. If I stopped work and she survived her ordeal...it would have been a poor return for all she'd done to have said. "sorry, when you didn't send another payment I went on to other things." She didn't have much time left and any delay would have meant she might not have seen the show or unveiled the monument at all. I decided to go ahead with the work using up my own meager resources to keep the project on track. If she didn't survive I counted on her sons or John to eventually do the right thing and honor her last wishes in regards to a bronze collection she obviously valued a great deal.
When she died I called John and her sons, urging them to have the show as a tribute to Helen. John refused and I never got through to her sons. I called the city and canceled the show. But I had another problem. I'd managed to cast only one piece in bronze and the other, a model for Hammurabi, was at the foundry and I owed them $1,500.00. All the other pieces were in clay, some of them for months, and were beginning to deteriorate. When I pressed John he replied that he certainly wasn't going to pay for any of them. He further stated that I'd acted on my own initiative...that Helen had never asked for any of those pieces and, he asked, where was my contract? I wrote to the sons again and again received no reply.
It so happened that John himself had confirmed the order for the model of Hammurabi at the Los Angeles convention...in front of his wife, and when I reminded him of that he agreed to send the money to pay THE FOUNDRY. As to me, he said I should wait until the sons got around to me, that they would do the "right thing". Needless to say all the work I'd done, the funds I'd expended myself, all were soon to be wasted. When I saw that John responded to the foundry's demands and ignored my own, I get a lawyer to write a letter to all of them. That at least got a response, but a strange one for they claimed the deposit had been a "gift" from Helen and if I weren't careful they would demand that it be returned.
So, a claim against the estate was made and John proceeded to try to destroy the Hammurabi project in retaliation, as he threatened to involve the city in a lawsuit if they tried to install the Sumuramat Monument. The estate first offered to settle last year but I refused. At the L.A. convention John upped the offer and said I could keep all of it...they didn't want any sculpture. I refused again for it was the sculpture Helen wanted that I was concerned with, not "free" money. She had asked me to make portraits of her family for the collection which she willed to Northwestern University in Evanston. As a result of donations both she and her first husband had made to that university, a building was to be named for them and their bronze portraits to be placed there. I was eager to fulfill my promise and by then I was just plain pissed off at the sneaky and underhanded way in which John had proceeded.
I'm certain that he had told her sons that I was golddigging, making claims about deals with a sick woman etc. Knowing now how much John craves money (other's) and power, I know he assumed I was put together the same way. He was thinking all along, as his sister was in hospital, that she might not survive, and wouldn't it be a shame and a waste of "his" money to pay for all these silly bronzes when he could fly to Geneva a thousand times instead. He stalled and stalled, regardless of how much she looked forward to the showing of her collection...he counted on me giving up when I received no further money from any of them. He knew that would damage me in her eyes, justifiably so, and I'd be gone from the scene. He even insisted that he knew all the deals Helen and I made and never heard of any of these so-called requests for sculpture. In truth, he knew very little of what went on and that's exactly what galled all of them at the foundation. Yet I had a letter from his own wife acknowledging John's awareness of Helen's request to me. It was for this reason that he tried desperately to avoid a court hearing, holding up the Sumuramat and hurting the Hammurabi in hopes that I would back down and he could thereby avoid having to testify to the lies he'd spread. That's also why he kept dangling increasing amounts of "free" money in front of me, marveling that I wouldn't take it and be grateful.
But it's settled now, and I've agreed to make the portraits of Helen and Jerry James. They don't want the other pieces even though Helen asked for them and is paying for everything anyway. They all have better things to do with the money she left them.
These kinds of things are usually kept private in our little community, but they shouldn't be. We wont rid ourselves of some these small time crooks and petty "leaders" until we convince them that they will be held accountable for their actions and words. I plan to make John as sorry as I can that he ever miscalculated me and what I would do. Let's have more of this kind of thing where it's called for.

GEOFFREY BIBBY
(1918-2001)
Courtesy of Deutsche Presse-Agentur; 9 Feb
(ZNDA: Copenhagen) The British archaeologist Geoffrey Bibby, known for his expeditions and digs in Bahrain in the 1950s with the Danish professor, P.V. Glob, has died at the age of 83, the Copenhagen newspaper Jylland-Posten reported on Friday.
As late as 1997, Bibby was in Bahrain for the 35th time to examine some of the 10,000 ancient grave mounds on the island in the Gulf that he had explored with Glob over the years.
Bibby was a classically trained archaeologist and an expert in ancient Assyrian scripts.
Bibby was also well-known for a book he wrote on the Grauballe Man, the well-preserved body of a hanged man dating from around 190 B.C. found in a bog 1950 in western Denmark.
Bibby, who married the Dane Vibeke Tscherning shortly after the Second World War, lived near the city of Aarhus where he was curator of the Moesgaard Museum until 1987.
The couple celebrated their golden anniversary last year during the annual Viking festivities, of which Bibby was a co-founder.
Apart from being an author of scientific and popular books, Bibby hosted television programmes on archeology and biblical history.
WHAT ARE WE TALKING ABOUT?
A Turkish Scientist Speaks Out for the Recognition of the Seyfo Genocide
I'm ashamed of my humanity. In the last few days, as I've followed the Turkish discussion of the United States Congress' discussion on the topic of Armenian Genocide, the first feeling that comes to mind is shame.
I'm trying to understand the hysteria, the wild attacks, the threats, the obscenities, etc. Perhaps all of these can be explained. However what strikes me as most odd are the "rational" discussions of this topic. It's as if a match is being played and each side is deeply analyzing what steps will be taken and what strategies will be made. The "Genocide" ball is in the middle and we are "playing" a game. And the "ball" we are kicking is the death of 800,000 people.
I'm ashamed! Because those who are discussing the topic either have no idea what they are talking about or they lack basic human emotions. I can find no other explanation. I want to remind you! The fact is that even if we fight over the amount and the cause, in the end, according to official Ottoman statistics, it is 800,000 people that have been killed. Yes sirs, we are talking about 800,000 people that have died and have been killed. And if you don't accept that figure, at least let us admit to the amount that we have lowered the figure to in past years: 300,000.
Do you have any idea what you are doing, what you are talking about? Ali Sami Stadium has a 35-40,000 person capacity. Let us fill and empty that stadium 10 times. Now consider that this is how many people died, were killed. We are talking about the fate of these people. Sirs, when talking about the death of even one person we become sad. Let us discuss with your numbers in mind. We are talking about the deaths of 300,000 people and again even you accept the fact that the deaths were due to rebellion and health conditions. Now reread what you wrote. Take a look at what you've discussed and said in regards to the deaths of 300,000 people. Does it not make you nauseous? Does it not make you want to vomit? Are you not ashamed of your humanity?
The way in which we discuss the Armenian Question shows the main problem in our country. We are far from being able to discuss massacre. We do not even have the moral foundation to condemn massacre. We do not even have the morality to feel the necessary sorrow for such tragic events, which is required in order to discuss them. Look at what has been written. Even according to their accounts, the death of 300,000 people is a tragedy, yet there is not even a single sentence acknowledging this event as one that is deserving of a feeling of sadness. There is not a single sign of sadness. In fact, they are almost at the point of dancing with bells on. What is the moral authority behind what is being written? Do you see anything beyond, "A number of traitors who were trying to destroy our government died during deportation; what's wrong with that?" Is there anything beyond, "Nothing happened, but even if it did Armenians are to blame for it"? Is there anything beyond, "We will do the same thing under the same circumstances"?
Regardless of what position we take, if we want to take another step forward, let us not forget that we are talking about the deaths of hundreds of thousands of people. If we can take on a way of thinking that is more in tune with this mindset, if we can adopt a morality that condemns massacre, we will come to find that the same people who we believe attacked us will start to converse with us. The only thing we are doing now is showing how deserving we are of the criticisms being made. To commit massacres or to bring about a situation which causes massacre are nothing to be ashamed of. Instead, they are things that can be done if necessary. And with this mindset, we want a place in the modern world? Is that it? Sirs, what we are doing is, in a word, immoral!
I want to underline 3 points concerning the "Genocide Argument":
First of all, I've noticed many columnists have suddenly become experts on this issue. But what really saddens me is how unashamedly and without even asking, "What is the truth behind this issue; let me ask and learn?" they blow smoke. Believe me, almost all of what they claim to be "historical facts" and "the fruit of deeper knowledge" are nothing but the nonsensical fruits of ignorance. If it is necessary I will give an example. They all claim that "the Armenians were only deported from Eastern Anatolia" (Guneri Civaoglu goes a little further in adding Central Anatolia). These words are complete nonsense. That which has no lining [backing] is made up. Kutahya, Afyon, Usak, Bursa, Edirne, Tekirdag, Balikesir, Bolu, etc. By consulting even 2 or 3 books on this topic, one will arrive at the knowledge that Armenians were deported from every imaginable city in Anatolia. If, out of curiosity, one is to look at official Turkish Republic Government documents they will find that these are even sufficient. Even from these documents it is clear that Armenians were deported from everywhere in Anatolia.
Secondly, there is something that has to be known in regards to these numbers. Honestly, arguing about these numbers is not right. What are we trying to prove? What is the difference between 1.5 million and 300,000? If 1.5 million is an exaggeration, does that then justify the death of 300,000? In regards to the numbers, because the records of that time are not very reliable, it is very hard to say something official. But at least when speaking, do so in reference to the official numbers of the Ottoman Government or Turkish Republic's Military. That way you will be taken more seriously.
In December 1918, the Interior Minister, Mustafa Arif, forms a commission to find out the number of Armenians that were killed during the war. On March 14, 1919 the commission announces that the number of Armenians killed is 800,000. The Interior Minister, Cemal Bey, makes the announcement. Many people, including Mustafa Kemal (Ataturk), make this figure public on various occasions. In 1928 the Turkish Military prints a book, translated from French, concerning the casualties of W.W.I. In the book published by Lt. Col. Nihat, the figures regarding Turkey are changed and altered. According to the Turkish Military, during W.W.I, "800,000 Armenians and 200,000 Greeks died as a result of deportations or died in labor brigades." The person who presented these findings, Y.H. Bayur says, "According to our official sources, these numbers are correct" (Y.H. Bayur, The History of the Turkish Revolution, Volume III, Section IV, page 787). In other words, according to our official sources the number of those killed is 800,000. And this figure only covers the period from 1914-1918.
The third point is whether or not there was an order given for the murder of the Armenians. There is proof to support this point by way of documents, despite the Ittihadist attempts, following the war, to clean up the archives and steal documents. Between the years 1919-1922 during the proceedings of the Military Tribunal in Istanbul, several telegrams and documents are read, and witness testimonies are heard. Many of these documents are published in the official journal of the Ottoman Government (Takvim-I Vekayi) as well as other newspapers covering the proceedings. The knowledge and facts found in German, Austrian, American, and British archives parallels that found in the Ottoman archives.
Here I would like to point out a document, which was probably accidentally overlooked and printed in a book published by the Archives Administration. It is entitled Armenians in Ottoman Government Documents (1915-1920). On June 29 (July 12) the Interior Ministry sends a coded telegram to Diyarbekir. The telegram states that "Of the Armenians and other Christian minorities being moved from Diyarbekir to Mardin, 700 were taken at night to the outskirts of the city and slaughtered like sheep," and its relayed that 2000 are killed in this manner. It is also stated that "If sudden and definite action is not taken we are afraid that the entire Christian population will be massacred." The telegram ends with this sentence: "If the policies that are being used towards the Armenians are applied to the other Christian minorities, it will leave a bad effect on the entire public. Especially, anything that threatens the lives of the Christians needs to be stopped." The document is very frank. They are being reminded that both the policies that were decided for the Armenians and the manner in which the Armenians are being slaughtered must not be applied to the other Christians. A branch of the Turkish Republic publishes this document. I am leaving the analysis of it to Sukru Elekdag and Gunduz Aktan.
Taner Akcam
According to Reuters, on Sunday Turkey complained to Athens about the passing of a decree accusing Turks of genocide against Greeks in the early 1920s, but Greece said the issue was historical and should have no bearing on current good relations. The decree, accusing Turks of the massacre of Orthodox Greeks in Anatolia during Turkey's War of Independence, was voted on by the Greek parliament two years ago. It has now been signed by ministers and is to go to the president for signing. Turkish Prime Minister Bulent Ecevit said he hoped it would not be signed. Turkey's Foreign Ministry had summoned the Greek ambassador to discuss the issue on Friday. Last month, Turkey was enraged when France passed a law recognizing claims that around 1.5 million Armenians were massacred in eastern Anatolia in 1915. Turkey rejects claims of genocide, saying far fewer people died and both sides suffered casualties in partisan fighting as the Ottoman empire collapsed.


| | | |
| --- | --- | --- |
| ENGLISH | MODERN ASSYRIAN | GENDER |
| Membership | had/da/ma/yoo/ta | Feminine |
| Oath of Office | mo/me/ta | Feminine |
BC (484)
Herodotus, Greek writer and historian, is born in south-west Turkey. He traveled to Babylon and provided his accounts of his travels to southern Bet-Nahrain in his Histories.
The Greatness That Was Babylon, Saggs

---

AD (1975)

Ashur Sargis releases his monumental album of Assyrian songs, "Ashur Sargis Sings For Ancient Assyria". The collection included such megahits as "Bet-Nahrain", "Roosh Jwanga" and "Brat d'Shamiram". Born in Baghdad in 1949, Ashur immigrated to the United States in 1969 where he has resided since. Last year, Mr. Sargis was voted by Zinda Readers as one of the most important Assyrian persons of the 20th Century.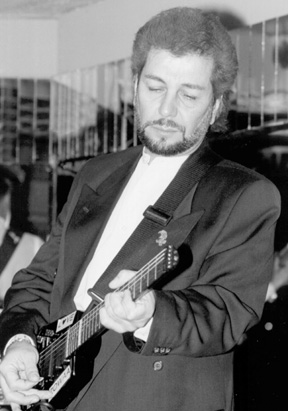 February 13, 1852: Times of London announces the arrival of the 15-ton Assyrian winged-bull statues at the Port of St. Catherine.

Thurs,
Feb 15

TORONTO
CANADIAN SOCIETY FOR SYRIAC STUDIES LECTURE

"Frescoes & Syriac Inscriptions in Medieval Churches in Lebanon"
by Dr. Erica Dodd, Victoria University
8:00 PM
Auditorium, Earth Sciences Centre, Room 1050
5 Bancroft Avenue
University of Toronto, St. George Campus

Sat,
Feb 17

SAN FRANCISCO
DANCE PARTY

Mar Narsai Parish, Church of the East

Bring your family and friends to join us for an evening filled with fun, music, and shaykhane! This is a good opportunity for your kids to warm up to Assyrian chain dancing. Pizza and beverages will be available for sale.

7:00 pm
Church Hall
3939 Lawton Street

For more information contact Edward Mikhail at (925) 485-0966.

Thurs,
Mar 29

TORONTO
CANADIAN SOCIETY FOR SYRIAC STUDIES LECTURE

"Syriac Heritage at the Northern Silk Road: TheArchaological& Epigraphic Evidence of Christianity in Kirghizia"
by Dr. Vassilios Klein, Bonn University
8:00 PM
Auditorium, Earth Sciences Centre, Room 1050
5 Bancroft Avenue
University of Toronto, St. George Campus

Sat,
Mar 31

TORONTO
AMERICAN ORIENTAL SOCIETY PANEL DISCUSSION

"Writing Syriac: From Stone to Bytes"
Chair: Prof. Amir Harrak, University of Toronto

1:00 p.m.-3:30 p.m.

1. Marica Cassis, University of Toronto
The bema in the West and East Syriac Churches

2. Amir Harrak, University of Toronto
Patriarchal Tombstones at the Monastery of Rabban Hormizd: Types and Origins

3. Wolfhart Heinrichs, Harvard University
Turkish Karshuni

(Break)

4. George Kiraz, Syriac Computing Institute
From Parchment to Open Type: The Development of Syriac Digital Types

5. Wassilios Klein, Bonn University
Writing Syriac and Speaking Turkic in Light of Central Asian Tombstone Inscriptions

6. Eden Naby, Harvard University
The Cultural Context for Writing Syriac During the 19th and 20th Centuries

Panel to be held at the 211th Meeting of the American Oriental Society
Toronto Colony Hotel
89 Chestnut Street

M-F,
Jul 2-6

FINLAND
XLVIIe RENCONTRE ASSYRIOLOGIQUE INTERNATIONALE

International Congress of Assyriology and Near Eastern Archaeology
"Sex and Gender in the Ancient Near East"
University of Helsinki

Registration Form: clickhere

Prof. Amir Harak (Canada)........Yakdan Nissan (Germany)

---

SHARE YOUR INFORMATIONWITH READERSIN 55 COUNTRIES BY INCLUDING ZINDA MAGAZINE IN YOUR COMMUNITYOR ORGANIZATION'SMAILING LIST.
SEE OUR MAILING ADDRESS BELOW.
ZINDA Magazineis published everyTuesday. Views expressed in ZINDA do not necessarilyrepresent thoseof the ZINDA editors, or any of our associated staff. This publicationreserves the right,at its sole discretion, not to publishcomments orarticlespreviously printedin or submitted to other journals.ZINDA reservesthe rightto publish and republish your submission in any formor medium.All lettersand messages require the name(s) of sender and/orauthor.All messagespublished in the SURFS UP! section must be in 500 wordsorless and bear thename of the author(s). Distribution of material featuredinZINDA is not restricted,but permission from ZINDA is required. Thisservice is meant for theexchange of information, analyses and news.To subscribe,send e-mail to:z_info@zindamagazine.com.
Zinda Magazine
12 South First Street, Suite B11
San Jose, California 95113
Voice (408) 918-9200
Fax (408) 289-9996