Z I N D A

M A G A Z I N E
Adaar 20, 6750 Volume VII Issue 4 March 20, 2001
To receive our weekly notification message or this issue in text format write to z_info@zindamagazine.com.
T H I S W E E K I N Z I N D A
All blue links throughout this issue are hyperlinks to other sections on this page or featured websites
ASSYRIAN OR SYRIAC?
Common Language & Heritage, Different Denominations
An interview with Dr. George Kiraz, Syriac Computing Institute
The following interview was conducted last month by the staff of Via Dolorosa Magazine (viadolorosa2001@yahoo.com), an independent monthly dedicated to the revival of Middle Eastern Christian cultures. Photo courtesy of Via Dolorosa Magazine.


Dr. George Kiraz

Born in Bethlehem, George Kiraz attended the local Lutheran School Talita Kumi in Beit Jala, near Bethlehem. He studied Syriac language at the local Syriac Orthodox church and at St. Mark's Monastery in Jerusalem during the summer months. He has served on the altar since he was 12.

Kiraz was ordained sub-deacon in 1983. During his high school years, he was a regular visitor to the library of The Tantur Ecumenical Institute for Theological Studies near Bethlehem that holds one of the largest Syriac collections of printed books in Palestine. At the age of 18, he authored his first book on the history of his community in the Holy Land.

Kiraz immigrated to Los Angeles in 1983. He studied engineering at California State University, Northridge, after which he went to England for his higher education. He obtained a master's in Syriac Studies from the University of Oxford under Dr. Sebastian Brock, who has a master's in Computer Speech and Language Processing, and a doctorate in Computational Linguistics from the University of Cambridge. He came back to the US in 1996 where he worked as a research scientist at Bell Laboratories, Lucent Technologies. Now, he is the technical manager of Nuance New York.

Beth Mardutho: The Syriac Institute (formerly The Syriac Computing Institute) was founded in 1992 by Kiraz who has authored a number of works on Syriac including a six-volume Concordance to the Syriac New Testament (1993), a four-volume Comparative Edition of the Syriac Gospels (1996), and a number of pedagogical books. He has written for international journals and conference proceedings in the field of computational linguistics and computer science. Kiraz implemented the first fonts suite that contains all the Syriac scripts for the DOS operating system in 1986. Kiraz lives in Piscataway, NJ. He is married to Christine, and they were recently blessed with a baby daughter named Tabitha Gabriela.

What is the Syriac language and culture, and what are its origins?

Syriac is a form of Aramaic, a language whose many dialects have been in continuous use since the 11th century BC. Aramaic is originally the language of the Aramean people, but by the 6th century BC it became the lingua franca of the Near East. Aramaic was used by many peoples and nations. It was the native tongue of the ancient Chaldeans, a second language to the Assyro-Babylonians, an official language of the Persian Achaemenians, and a common language of the Jews replacing Hebrew. Jesus and the Apostles spoke and preached in Aramaic.

Syriac is the Aramaic dialect of Edessa (present-day Urfa in southeast Turkey) and became an important literary language around the second and third centuries. The earliest dated Syriac inscription is from AD 6, and the earliest parchment, which is a deed of sale, is from 243.

The earliest dated manuscript is a Bible that was produced in November 411, which is probably the earliest dated manuscript in any language. Syriac spread due to at least two factors: the spread of Christianity in the Semitic-speaking world and commerce on the Silk Road, both activities sometimes combined. We see Syriac remains as far as China; even today, a few million Christians in India of various denominations follow the Syriac tradition.

The Syriac culture has made contributions in various fields of world civilization, both religious and secular. As we know, the fifth century witnessed the division of the Christian Church into many factions. It is worth noting that the Syriac tradition is the only one that represents the rich diversity which resulted from this division and which preserved it till this day.

The Syriac tradition encompasses the "left," "right" and "center" if we were to use such terms. For example, the Syriac Orthodox Church preserves the henophysite faith (Christ is from two natures, human and divine), the Maronite Church, as well as the Syriac Catholic and Chaldean Churches, preserve the Chalcedonian faith (Christ is in two natures), and the Assyrian Church of the East preserves the misnamed "Nesotrian" faith (union of two natures and their "qnumos" in one "prosopon").

Additionally, both the Antiochian Church (Rum Orthodox) and the Melkite Church have early roots in the Syriac tradition as their liturgies made use of the Syriac language as late as the 12th century. We possess today a good deal of Antiochian/Melkite Syriac manuscripts. I personally look at this rich diversity in a very positive and ecumenical way.

On the secular front, the Syriac-speaking world contributed to world civilization. During the Abbasid dynasty (750-1258), it was the Syriac scholars who contributed immensely in the translation of Greek scientific works into Arabic. They helped in shaping the Arabic and Muslim civilization, which in turn contributed to Western civilization.

You learned the Syriac language. How close it is to Aramaic?

As I mentioned before, Syriac in itself is a form of Aramaic. The Aramaic that Jesus spoke would be comprehensible to anyone who speaks literary Syriac today, and the Aramaic vernacular dialects spoken by the Assyrians, Chaldeans and the Syriac Orthodox from Tur Abdin in southeast Turkey. For example, Jesus would have said, "Talitha Kumi" (Mark 5:41) which means "Girl, get up." In literary Syriac one says, "Tlitha Kumi."

Aramaic continued to be the daily language in Palestine until after the Islamic conquest in the seventh century. The memoirs of pilgrim Silvia of Atheria, who visited the Holy Land in 385, tell us that the preaching was done in Syriac, Latin and Greek. It was customary for scripture readings and sermons, which were read in Greek, to be orally interpreted into Palestinian Aramaic in order for the people to understand them.

Palestinian Christians continued to use Palestinian Aramaic (sometimes called Palestinian Syriac) as a liturgical language, until we received manuscripts from as late as the 12th century. The Palestinians translated the Bible into their local Aramaic dialect, fragments of which from the seventh century survive.

Palestinian Christians will find that they have an indigenous Semitic Christian heritage of their own through many manuscripts that reached us.

What is the difference between Assyrian and Syriac?

The history of the difference and interchanging of the two terms, especially in English, is quite complex, and I may not be able to capture it in a short time here.

In the context of Eastern Christianity, the term "Assyrian" (its native form in Syriac is aturaya, in Arabic ashuri) has been used by the members of the Assyrian Church of the East as an ethnic designation since the 19th century, and more so after 1900. The term became formally part of the name of that Church in the 1970s. The term is also used by some Chaldeans as an ethnic designation, and some Syriac Orthodox, especially in the Diaspora, as a national or political affiliation. The term "Syriac" (its native form is suryoyo, in Arabic suryani) is used by the Syriac Orthodox, Maronites, Syriac Catholics, Syro-Malabarese, Syro-Malankarese and the Mar Thoma Christians to designate their ecclesiastical tradition, and by some as an ethnic designation as well.

The term "Syriac" is also used by Western scholars to refer to all the Churches mentioned above that employ Syriac as a liturgical language. As the native term suryoyo/suryani also translates into the English word, "Syrian." Some used to opt for mistranslating the former terms into "Assyrian" to avoid confusion with a reference to the Arab Republic of Syria.

The terms "Assyrian" and "Syriac" are sometimes misused interchangeably, intentionally or unintentionally, the result of which has caused confusion and unfortunately friction to some extent.

For instance, we sometimes read in Via Dolorosa phrases like "Assyrian priest of the Syriac Orthodox Church." We also read on the front page of the most recent issue the title: "Assyrian and Coptic Clergy named Cardinals," where the former clergy in question is Patriarch Mousa I Daoud of the Syriac Catholic Church.

Most readers probably get confused, as the Assyrian Church, the Syriac Orthodox Church and the Syriac Catholic Church, while they share a common linguistic and ethnic heritage, are quite different in their faith and ecclesiastical organization.

In fact, the Syriac Orthodox Church, in a 23-page patriarchal letter to its US faithful in 1952 and in a patriarchal encyclical in 1981, explicitly denounced applying the term "Assyrian" to the church and its faithful after a number of its own nationalist followers in the Diaspora began applying the term.

In the 2000 synod, the Syriac Orthodox Church stated that it be known in English as the "Syriac Orthodox Church." Similarly in the US, the Maronites and Catholics officially use the terms "Maronite Syriac Church" and "Syriac Catholic Church."

I do not wish to dwell historically on this issue, as it would require a great deal of analysis. The most important thing to remember is that all the communities that I have mentioned share a common language and heritage which bonds them together, despite their different formal names. My message is that one should respect the identity that others choose for themselves.

You founded the Syriac Computing Institute. What are its goals, and what role do you play?

The Syriac Computing Institute was informally established in 1992 when I was doing my doctorate in Cambridge, England. In 1996, I moved back to the United States, and the Institute moved back with me. At that time, it was formalized with a board of directors governing its activities. We are actually now in the midst of expanding it to become a center of Syriac studies, and we are renaming it to "Beth Mardutho: The Syriac Institute."

Our mission is "to promote the study of the Syriac heritage globally, and to serve the academic community and the heirs of the heritage: the Syriac Orthodox, Assyrians, Maronites, Chaldeans, Syriac Catholics, St. Thomas Christians, and the Antiochians and Melkites, transcending denominational diversity."

We publish semiannually a peer-reviewed e-journal on Syriac studies at http://syrcom.cua.edu or http://syrcom.cua.edu. We just released a suite of Syriac fonts for Windows 2000. We are working on building an e-library of books, journals and pictures on the Internet.

I am the founder of the institute and have been its director since its inception in 1992. We have a web site at www.BethMardutho.org.

What other steps are being taken to preserve the Syriac culture?

Today, there are many organizations, both secular and religious, that work for the preservation of the Syriac heritage among all the communities. St. Ephrem Ecumenical Research Institute in India holds a conference every four years, and acts as an educator and examiner for higher education in Syriac studies in local universities.

The Maronite academic institutions in Lebanon, such as Kaslik and St. Joseph, continue to offer courses on Syriac. The Syriac Orthodox Church completed the construction of a large seminary in Maarat Sydnaya in Syria in the past few years. The Chaldean Babylon College in Iraq contributes immensely to the Syriac heritage. The Assyrians of Northern Iraq have just published the first Arabic-Syriac dictionary. Today, the Syriac language can be heard on the Internet, and numerous singers produced tapes and CDs. This is indeed a joyful renaissance, and we hope that Beth Mardutho will be an integral part of this renaissance.

NORTHERN WATCH
Zinda News From Northern Iraq

March

Mr. San'an Ahmad Agha, president of the Turkoman Front, visited the headquarters of the Assyrian Democratic Movement to discuss the recent political developments.

Kurdistan Democratic Party (KDP) leader Mas'ud Barzani meets with the Assyrian Democratic Movement Secretary, and a delegation of the Movement of Kurdistan Farmers and Oppressed People.

---
CRADLE OF CIVILIZATION IS BEING PLUNDERED
A Special Report from Nineveh by Anton La Guardia for the Daily Telegraph; March 21
(ZNDA: Nineveh) The throne room of the great Assyrian emperor Sennacherib is a heart-breaking sight. The floor is a muddy mess, revealing the tracks of goats and other animals that wander freely in the inner sanctum of what was the capital of the greatest empire of its time.
A corrugated iron roof that protected this priceless Iraqi archaeological site was stolen soon after the end of the Gulf war, allowing the summer sun and winter rains to assault the crumbling carved reliefs.
What has not been destroyed by neglect has been smashed and stolen by looters. Little pieces of white marble litter the ground where robbers have torn off the carvings and broken off the slabs into manageable pieces.
Several pieces have made their way to the antiquities market and private collections in London, where they are the object of legal action by the Iraqi government.
British academics were among some 140 international experts who gathered in Baghdad yesterday for a conference marking the "birth" of writing in Mesopotamia 5,000 years ago.
The meeting is supposed to be a celebration of Iraqi culture after 10 years of debilitating international sanctions. But throughout the country the heritage of Sumer, Babylonia and Assyria is being stripped by antiquities smugglers.
As poverty has deepened, and the Iraqi government's control of more remote regions has weakened, the theft of antiquities has become a lucrative trade. Clay tablets and cylinder seals inscribed in cuneiform writing, many of them stolen from Iraq, are particularly popular objets d'art at online auction sites.
At the Iraq Museum in Baghdad, which re-opened only last year, the foreign delegates will find the 11 pieces of stone that made up the head of a large winged bull, a fabulous part-human and part-animal mythological creature guarding the entrances to Assyrian cities.
The head was lopped off a monumental sculpture in Khorsabad, another Assyrian capital, and then cut into small pieces about two years ago. Ten members of the gang that stole it were caught by Iraqi police in Mosul and executed.
In the mounds of dissolved mud-brick that dot the south of Mesopotamia, where Sumer and Babylon flourished, armed looters have sometimes used mechanical diggers, brought the earth away in lorries, and then sifted the material at leisure in search of saleable objects.
"In Umma, in the south, I have seen holes as large as this room," said Donny George, assistant director at the Baghdad Museum. "We believe this is being directed from abroad."
In a country obsessed by the supposed "imperialist-Zionist" conspiracy, Dr George suspected that the Israelis, in particular, had a hidden hand behind the theft of Iraq's heritage.
He recounted how, before the Gulf war, Iraqi officials had boxed their museum collections and dispersed them around the country. The idea was to reduce the risk of war damage, but the effect was to expose antiquities to theft in outlying areas when the Shi'ite Muslims in the south and the Kurds in the north rose up against the regime.
Several museums were attacked, and the Baghdad authorities have drawn up a list of about 4,000 missing objects. "Academics abroad have helped us, but we have found almost nothing," said Dr George.
Saddam Hussein has given approval for archaeological excavations to resume at dozens of endangered sites in order to demonstrate the presence of "the government" and deter thieves. As a result, claims Dr George, the problem of antiquities smuggling has been brought under control.
But in Nimrud, a major Assyrian city, soldiers guarding the site recounted how smugglers had slipped in last year and used an electric saw to cut up four large black basalt cuneiform steles.
"People who do this are betraying their country," said Farid Amjad, a soldier. "No punishment is harsh enough for them."
It is almost impossible to stop the trade in antiquities, as police need proof that they are stolen before they can act. Sometimes a piece is spotted by museum curators, such as a head from the Parthian city of Hatra that was seized at the British Museum.
The most notable success was the discovery in London of pieces from Sennacherib's palace. The Iraqi government is suing an antiquities collector to recover the looted carvings. The collector said he bought the pieces in good faith from an intermediary in Switzerland and had offered to lend them for exhibition in Jerusalem's Bible Lands Museum.
They were identified as stolen by Dr John Russell, an American academic who had meticulously photographed the reliefs in Sennacherib's palace in 1989 and 1990.
Iraqi government lawyers said they were trying to reach an out-of-court settlement to buy back the carvings.
The looting of Sennacherib's palace, said Dr Russell, amounts to "the modern sack of Nineveh", completing the task begun by the Babylonians who defeated Assyria and set fire to Sennacherib's palace in 612 BC.
The fire turned the marble reliefs into brittle gypsum. They lay buried until 1847, when they were discovered by the British adventurer Austen Henry Layard.
They are of immense historical importance, providing corroboration for the accuracy of the Bible. One relief confirms the story of Sennacherib's campaign against Judea recounted in the Second Book of Kings.
Layard was, arguably, the first looter of Nineveh's antiquities, carting away a section depicting the siege of Lachish which is now on view at the British Museum.
But the Iraqis may yet have cause to thank Layard. Because of his theft, the carving of the siege of Lachish has been spared the ravages of the weather and looters. It is now one of the best-preserved remains of Sennacherib's palace.
---
IRAQ CELEBRATES INVENTION OF WRITING
I swear by the sun God, Utu,
on this very day that I...
the first-born son,
am a fashioner of words,
a composer of songs,
a composer of words,
and that they will recite my songs as heavenly writings,
and that they will bow down before my words.

"In Praise of Shulgi" - an ancient Sumerian poem
A reprint of BBC article; written by Ed Butler - March 20


(ZNDA: London) Iraq is hosting an international conference to mark the 5,000th anniversary of the invention of the written word.
Organisers say the ancient city of Uruk, now in southern Iraq, was the birthplace of writing in the third millennium BC.

Dating the precise dawn of literature to a specific year is of course spurious, but the weight of scholarly evidence does suggest that this location was at least one of the cradles of early writing.

"In praise of King Shulgi" is one of the best examples of Sumerian writing and dates from the third century BC.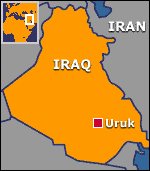 Professor Robert Englund of the University of Southern California believes that the culture that flowered in this region around the delta that flows from the Tigris and Euphrates rivers formed the basis for what is almost certainly the world's oldest literary culture.
"It is the case that at about 3200 BC the first cuneiform tablets were written that we really do recognise as being representations of language, that being the standard definition of writing," he said.
"There were many precursor forms of symbolic representation at periods that reach back many millennia and these small clay objects are conventionally called tags or tokens."
Historical challenge
The claims of ancient Iraq have been challenged in some circles, notably among Egyptologists who say that older hieroglyphs found in Egyptian tombs suggest it was the birthplace of literature. But Professor Englund disagrees.
"There have been some recent discoveries of some very old tags in a place called Abaidos in Egypt that have been dated back a little earlier," he said.
"But there is quite a lot of evidence of cultural wares imported from Mesopotamia, that is from Iraq, at about the time of the emergence of writing in Egypt, and there is no such evidence on the Mesopotamian side of things."
He believes the idea of writing was imported from the increasingly-structured culture of Mesopotamia into Egypt at about this time.
International Isolation
Western academics are among those expected to attend the conference, although exactly how many will make the trip is unclear.
The academic community is keen to improve links with one of the world's most archaeologically rich countries.
Iraq for its part would like to emphasise that its cultural life is continuing despite 10 years of UN sanctions.
The ruling Ba'ath Party still wants to portray Iraq as a historic centre of Arab cultural life, despite the destructive impact of the Gulf War and subsequent international sanctions.
Iraq has very few contacts even with its immediate neighbours in the Middle East.
The BBC's Middle East specialist Roger Hardy says an events like this, and the annual Babylon festival outside Baghdad, can help to end the isolation.
"But there is another political motive too, to ease the isolation, not only of the regime but also of the society itself," he said.
"All this is beamed onto Iraqi television to try to show the Iraqi people: 'Look, the rest of the world has not quite forgotten us', which is of course what most Iraqis feel."
ASSYRIAN MIGRANT SPENDING TIME IN AUSTRALIAN JAIL
Courtesy of theAge.com.au; Article by Rod Myer- March 19
(ZNDA: Melbourne) Vilperit Betkhoshabeh is sitting in Melbourne's Port Phillip Prison with no hope of immediate release, even though his 18-month sentence ended more than two years ago.
Mr. Betkhoshabeh arrived in Australia from Iran in 1992. Although he had visited Australia before, to stay with his brother and sister-in-law in Melbourne, immigration officials took him straight to Maribyrnong Detention Centre. He had a one-way ticket and officials feared he planned to overstay his tourist visa.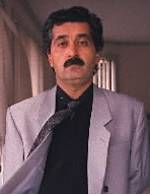 Mr. Betkhoshabeh had no history of crime or mental illness but, in detention, he became psychotic, forcing authorities to release him into the care of his brother. In 1995 Mr. Betkhoshabeh, a member of a persecuted group of Iranian Christians, was granted refugee status here. But, six months later, he broke into a woman's home after making threats to kill her. He was convicted and spent 18 months in jail.
His term finished, the government ordered his deportation but his lawyers appealed to the United Nations Human Rights Committee. While the committee considers his case, Mr. Betkhoshabeh stays in jail.
The Federal Court and Immigration Minister Philip Ruddock have rejected pleas to have the deportation order overturned, despite evidence that Mr. Betkhoshabeh's mental condition has been successfully treated and that his Australian family wants to take him in.
Mr. Betkhoshabeh is now entitled to prison leave to visit his brother but, in the nine years since his arrival, he has spent only 18 months as a free man.
Up to 70 overseas-born Australian permanent residents are in prison indefinitely, despite having served their sentences. The prisoners, all convicted of crimes with sentences of 12 months or more, are awaiting deportation.
The government's decision to keep these people in jail is indefensible, said Chris Maxwell, president of Civil Liberties Victoria. "It is contrary to basic human rights for people to be kept in indeterminate detention". Mr. Maxwell said it also contravened United Nations covenants that Australia has signed.
"It's a total travesty," said Professor Patrick McGorry, Mr. Betkhoshabeh's psychiatrist, of his patient's case. "The minister (Mr. Ruddock) rejected all the psychiatric evidence that he was not responsible for his actions at the time of the offenses. Now he's well, he's not a threat to anybody and quite happy to continue with treatment. He's a mild mannered and gentle person.
"I met Ruddock over the case and told him I'd be quite happy to look after him clinically, and give him the best public sector backup. But the minister refused to do anything and has recently written to confirm the deportation order."
The government has agreed not to deport Mr. Betkhoshabeh until the UN committee makes a finding. Yet Mr. Ruddock is not bound by the decision, and can still deport Mr. Betkhoshabeh if he sees fit.
Under immigration laws, people who commit a serious crime are deemed to have broken the terms under which they gained permanent residency. As a result they are usually deported. But most of these 70 people are in jail because their countries of origin are unwilling to take them.
Marie Tehan, a former Victorian health minister, has taken up Mr. Betkhoshabeh's case. "It's unjust that a man who has completed his sentence and has received refugee status should be maintained in a prison," she said. "I have grave reservations about our whole policy in this area."
Opposition immigration spokesman Con Sciacca does not oppose deportation for criminals. But he said locking up people indefinitely while they awaited deportation was crazy. "It's costing the taxpayer $70,000 every year per person." In some cases "It's punishing them twice; incarcerating them for longer periods again than their sentence ... There's got to be a better way."
He proposes expediting bureaucratic processes blocking deportation or, if offenders are not dangerous, releasing them under some sort of reporting regime.
A spokesman for Mr. Ruddock said the law was clear: permanent residents sentenced to jail for 12 months or more are "automatically looked at (for deportation); the law requires that to happen".
The spokesman said the minister was concerned by "the tendency of the Administrative Appeals Tribunal to overturn some of these deportation cases and he has, in quite a few cases, taken the decision to prevent them going to the AAT so they're not appealable. In some cases people with serious criminal backgrounds have had cases overturned".
The spokesman blamed bureaucratic inaction in the deportees' countries of origin. But he said some detainees made the delays longer by not signing travel documents and generally refusing to co-operate. "Therefore, it's their decision how long they remain in jail till they are removed."
Not all those liable for deportation are deported. Each case is examined and factors such as character, whether they have a relationship with an Australian, whether there are children involved and any history of recidivism, are taken into account.
Nevertheless, Mr. McGorry said the deportation policy should be reconsidered. "A lot of refugees have had their lives turned upside down and may offend in the early years. It's a very punitive attitude to turf them out again if they commit offenses."

Article submitted by David Chibo at Zinda Desk - Australia

---
CHALDEAN ACTIVIST TAKES UMBRAGE
Reprinted from the Detroit News; article by Luther Keith, March 21
(ZNDA: Detroit) Appearing under the headline "Arab-American Center to open," the first two sentences of the March 16 Detroit News article said: "A new academic center at the University of Michigan-Dearborn, the first of its kind in the nation, is intended as a focal point for the study of an often ignored and misunderstood group: Arab Americans. The Center for Arab-American Studies, where scholars, journalists and even the public can learn more about the Arab-American experience, should be up and running within the next month, said interim director Ronald Stockton, a political scientist at UM- Dearborn."
The story noted that: "Southeastern Michigan is home to about 280,000 people of Arab and Chaldean descent, the highest concentration outside the Middle East, a statistic most recently documented by the work of pollster John Zogby of Utica, N.Y.
"They include recently arrived Muslim Yemenis to Chaldeans, who are Iraqi Christians, to Lebanese, who might be Muslim or Christian, and whose families may have been here since the turn of the 20th century. Nowhere are they more concentrated or diverse than Dearborn."
Chaldean activist Ghassan Hanna, an online reader and activist who lives in Union City, Ca., was concerned that the article gave the impression that Chaldeans are Arabs, a view he has communicated previously to the Inside The News column.
Among his many points of clarification, he argues:
"As a Chaldean, and as a Census Bureau's "Member of Group of Experts for Census 2000" for tabulating the Chaldeans in U.S. Census 2000, I can assure you of the following: "Chaldeans do not consider themselves as Arabs. We speak Aramaic (Syriac), an alphabetically and phonetically different language than Arabic. Our history and culture is unique. Chaldeans live in Arab and non-Arab countries.
"U.S Census Bureau tabulated the Chaldean Americans SEPARATELY than the Arabs for purposes of Census 1990 (when Chaldean category was introduced for the first time). The same thing took place for Census 2000. Chaldeans were tabulated along with the Assyrians under one distinct ethnic category.
Ghassan concludes: "We Chaldeans have as much respect for our Arab neighbors as we have towards any other ethnic community that we live and share this beautiful land of America. I am only requesting that your newspaper simply show respect for our uniqueness. Chaldeans are not Arabs."
Detroit News editors are mindful of the concerns, and tried to reflect that perspective. The story noted that southeastern Michigan is the home of "280,000 people of Arab and Chaldean descent."
In the view of our editors, this indicated a distinction between the two groups, even if both originate from the Mideast and share some historic connections.
---
FEUD FROM AD 431 ENGULFS US CENSUS
Courtesy of The Daily Telegraph; article by Ben Fenton in Washington - March 14
(ZNDA: Washington) Efforts to record the ethnic composition of America have dragged the US Census Bureau into an ancestral dispute 1,570 years old.
As part of the 2000 census, which found that 281,421,906 people live in America, the government asked one in every six households to answer ancestry questions.
None has proved more troublesome than Assyrian and Chaldean Americans. Both claim descent from the original civilizations of Mesopotamia, and have gone to court over the bureau's decision to lump them together as Assyrian/Chaldean/Syriac. In the AD 431 Nestorian heresy split, Chaldeans looked to the Patriarch of Babylon and their rivals to the Patriarch of Antioch.
Chaldeans, about 120,000 around Detroit, petitioned for separate categorization. Assyrians, mostly in Modesto, California, objected.
After losing in court the Assyrians accused the Chaldeans of being Iraqi agents. They intend to take their case to Don Evans, the Commerce Secretary, who is responsible for the census.

---
IRAQI ARCHEOLOGISTS UNCOVER 4700-YEAR-OLD SUMERIAN TOWN
Courtesy of Agence France-Presse (Copyright 2001); March 21
(ZNDA: Baghdad) Iraqi archeologists have uncovered the remains of a Sumerian town dating back to 2,700 B.C., including what the head of the excavation team said could be the oldest cemetery known to mankind. "Remains show that the town stretched over six square kilometres (two square miles) and excavations started in 1999 have uncovered many houses, a palace, a temple and a huge cemetery," said Haidar Abdulwahad, head of the archeology team. "The cemetery has thousands of tombs dating from between 2,300 and 2,600 B.C., which is the oldest cemetery in the history of mankind. We found curled-up skeletons of men, women and children," he said. "The team has also found pottery, figurines, jars, glasses and jewelry as well as other items such as knives and axes."
Abdulwahad said the palace covered 2,500 square meters (26,900 square feet) and was surrounded by a wall 2.5 metros (eight feet) thick. But the head archeologist said that the site had been pillaged in 1991 in the thick of the Gulf War in which Iraqi occupation troops were expelled from neighboring Kuwait.
"Around 4,000 archeological pieces were stolen, with antiques traffickers smuggling some of their booty into Turkey."
Despite the looting, the head of Iraq's department of archeology and heritage, Donni George, dubbed the discovery as "an important event because it will throw light on the Sumerian era." "The town, whose name is not known, was probably an administrative and religious centre, given it had a temple, palace ziggurat and cemetery," he said. The town lies in the desert region of Um al-Aqareb, or "mother of the scorpions", almost 300 kilometres (190 miles) south of Baghdad and so called because of its large number of scorpions.
It is just 120 kilometres (75 miles) north of Ur, the most splendid of all the ancient Sumerian cities of Mesopotamia, witnessing its peak in about 4,000 B.C.
Ur, which contains the remains of the famous ziggurat -- a three- tiered edifice standing more than 17 meters (56 feet) high -- spreads out over nine square kilometres (3.5 square miles) and houses a mass of temples, palaces and royal tombs.
Ur, the Biblical birthplace of Abraham, has been linked to Gilgamesh, the king of Uruk, who is one of the main figures in Assyrian and Babylonian mythology.
Iraq and especially the northern Bet-Nahrain region, contain more than 10,000 archeological sites, most of which have still not yet been uncovered, according to official statistics.
Following the Gulf War, Baghdad accused US soldiers of having stolen some treasures from Ur.
Iraq has also repeatedly accused foreigners of financing the theft of archeological pieces and pointed an accusing finger at diplomats posted in Baghdad and UN employees.
Before the embargo imposed on Iraq in August 1990 for invading Kuwait, Iraq played host to numerous foreign archeological expeditions each year.
---
ASSYRIAN WOMAN FIGHTS THE RACE ISSUE TO ADOPT IN ENGLAND
Courtesy of the Evening Standard - Copyright (C) 2001 Evening Standard; article by Harriet Arkell; March 19
(ZNDA: London) With around 58,000 children in local authority care in England at any one time, and fewer than 5,000 adoptions per year, prospective adoptive parents might assume they would be welcomed with open arms by social workers.
But the experiences of one Assyrian family in the South-East who wanted to adopt children of ethnically-mixed backgrounds tell a different story.
Natalie Vartanpour, 40, is in good health, owns her own home on the outskirts of London, and works as a part-time media consultant. After deciding she wanted to adopt, she imagined it would simply be a case of proving to the social workers that she could provide a stable and loving home. In fact, her decision signaled the start of a two-year battle.
She said: 'While I am physically able to have children and I am not lesbian, I wanted to adopt because there are so many children in the world who don't have homes. I approached my local authority in 1998 and, as they were quite enthusiastic, I thought it wouldn't be a problem.
'But that enthusiasm rapidly died when they asked me about my cultural background - I am part Belgian, Italian, French, Russian, Armenian and Assyrian. Once I told them that, it was as if they regarded me as a sixheaded monster.'
Plans for Natalie to be accepted onto the adoption assessment program were put on hold as she was told the social workers wanted to discuss 'some issues'. 'These 'Issues' turned out to be about my background,' she said. 'I was told they couldn't take me on as it would be 'Very unlikely' that they could find me a child with a similar background to my own. I said I wasn't expecting them to, but I just wanted a child who was culturally mixed.
'From what I could gather it boiled down to money. The social workers had scant resources. If they were not going to find a child to match me, it would be a waste of money assessing me.' Natalie approached other authorities in the country, including three in London.
She said: 'With the London boroughs it seemed that unless you had a drop of black blood in you, you might as well not bother. I think everyone was worried that years down the line, the children might sue them for putting them with non-matching adoptive parents.'
It cost Natalie thousands of pounds to travel the country and talk to more than 20 local authorities and agencies.
Now the proud mother of two girls, whom she found in the North-East, she says the struggle was worth it but fears others might not take on such a fight.
A spokeswoman for the Department of Health said the new Adoption and Children Bill, which had its first reading last week, would improve the system. She said: 'The proposed legislation will seek to speed up the adoption system and help create permanent, secure and strong new families for children who cannot live with their birth families.'
"I just wanted to let you know that you are doing a great job with the magazine, and that it keeps me updated on Assyrian issues. I just had one question. I checked your calendar of events regarding the California State Convention, but I found nothing. Where is it being held this year (what city and hotel) and who do we contact regarding reservations? Thank you very much for your help!"
Christina
The Assyrian American National Convention will be held between August 29 and September 3, 2001, in San Jose, California. Zinda Magazine will make hotel reservation and calendar of activities available in the near future. No other official information is available at press time.
---

ACT

NOW!
Tayyibe Gulek, a deputy for Turkey's Democratic Left Party, is scheduled to speak at a few locations in the U.S. and Europe. She was scheduled to speak at Harvard University on March 20. Gulek is Harvard-educated and is also deputy chairman of the Council of Europe's human rights committee. Her maternal great-grandfather was a vizier in the Ottoman court.
She was also among the five Turkish parliamentarians who visited Washington D.C. during the House Committee on International Relations' review of the ARMENIAN GENOCIDE BILL last October.
Zinda Magazine urges its readers to picket Gulek's talks at any possible opportunities and publicize the plight of Father Yusuf Akbulut.
NEW VOLUME OF JOURNAL OF ASSYRIAN ACADEMIC SOCIETY
A Journal of the Assyrian Academic Society Announcement
The Journal of the Assyrian Academic Society (JAAS) is published bi-annually. JAAS is devoted to an interdisciplinary study of research on Assyrians. Its scope is wide ranging, both geographically and substantively. Areas of research interests comprise varying fields of study such as cultural studies, comparative and cross-disciplinary historical literature, and national and religious diversification. Both scholarly and innovative work is also encouraged in the social sciences and humanities, such as history, anthropology, sociology, political science and art.
The authors in Volume 13, No. 1, write thoughtfully and engagingly about many facets of Assyrian history, politics, culture, language and society. Future issues of JAAS will contain articles on writing Assyrians into the 21st Century; assimilation and acculturation; the impact of modernization on Assyrians; oral history, and the role of Assyrian women in history.
The Editors of the Journal of the Assyrian Academic Society are proud to announce that the forthcoming issue of JAAS will be available in June of 2001. If you are not an AAS member and wish to subscribe to the Journal, please send an e-mail message to jaas@aas.net and we will send you subscription information; or call us at (773) 461-6633.
Nadia E. Joseph
JAAS Editor

Forthcoming June 2001: JAAS, Volume 13, No. 1, 2001.
Table of Contents:
English Section
Eden Naby
"The Persian Cultural Setting and the Diversion of Assyrian Culture."
Abdul-Massih Saadi (2 articles)
"A Treasure Trove of Syriac Literature: Unearthing, Demystifying and Cataloguing A Wealth of Manuscripts at the Lutheran School of Theology."
"From Survival to Revival: In the Aftermath of The Assyrian Genocide."

Peter Betbasso
"30 Assyrian Folk Dances."
Oraham Yalda Oraham
"The Word Became Flesh and Dwelt in Us:" A Homily by Mar Narsai (?-502 AD)."
This article also appears in Classical Syriac within the Assyrian section.
Assyrian Section:
Zaia Kanon
"Ramsha." (Evening). Translated from a poem in Arabic by Abu Maathi. Abu Maathi was a well known Lebanese Christian Poet.
Malko Khoshaba
"Qa'im 'it Zmarta Atooreta." (The Representation of Assyrian Songs).
Oraham Yalda Oraham
"Milta Hwa Bisra W'agginban: Mimrat Mar Narsai (?-502 AD)."
Arabic Section:
Saad Saadi (2 articles)
"Dirasa Etmologia Fi Atasnia as-Syriania." (Etymological Study on Syrian/Syriac Appellation).
"'Ou Fakeero Fik." (Thinking of You)
Zaia Kanon
"Abrohom Nuro Wa' Kitab Tawldotho." This article is an analysis of Abrohom Nuro's book entitled, 'Tawldotho'.
Hurmiz Aboona
"Mathbah Badr Khan Fi Tiyari Wa Hakari, 1843-1846." (Badr Khan Massacres in Tiyari and Hakari, 1843-1846)
A Brief History of the Assyrian Churches
WITNESSING LIFE!
As an American Assyrian growing up in Chicago I found that my experience, outside of my family, was filled with a certain emptiness that I will try to explain. When I was a little girl we attended the Assyrian Pentecostal Church where I remember there being some very old folks and very few children and without much or many ages in between. I can also remember going to the AAA (Assyrian American Association) where most people seemed to be the age of my parents or older. Again there were not too many young folk; there was a very big generation gap. I remember feeling empty. In looking back, perhaps part of the reason for this was that the young folk were absorbed into America. Also, many of the young families hadn't come from over seas yet. These memories hold an uneasy sadness for me. It seemed like I was watching the death of a nation, of a people. My people! But by the time I was sixteen years old, many had come and I had gained the friendship with Assyrians my own age (and that is another story all of its own). After this I was hooked for life!
Last year, I went to visit my family in Chicago and I had decided to visit the Church of the East on Touhy Avenue. I went alone and it was an experience I shall never forget! First let me say that the building itself was gorgeous, it had the massiveness and structure of an old Chicago library. I was so impressed! When I entered, I found the people to be very warm and helpful. I did remember to bring a scarf to wear on my head; at least I knew this tradition! Upon entering the chapel and I saw pews filled with hundreds of people. I was shocked! This was not my childhood memory of an Assyrian church. There were people of all ages. I saw men and women, the very old, the very young infants, and I also saw young women about to give birth. I was enjoying this new experience of this big beautiful Assyrian church filled with so many wonderful people. My people! And then toward the end of the service, when the communion was beginning, was the point that I saw true life. Entering the chapel and pouring down the two aisles were children of all sizes, from the very small to the very tall. I was overwhelmed with emotion. I felt a knot form in my throat as the tears swelled in my eyes and rolled down my face. There stood before me the life of a nation, of a people, who were not dying, but who were filled with life. I saw the whole life cycle in front of my eyes, from the beginning of the circle right back to where it began again. I knew then, that for Assyrians, this was not the end.
As I stood there, I found I had a few wishes. One was that my children could be there with me then and to be a part of this whole. And also, I found myself wishing that as a child my parents had taken me there. I realized that I had missed the greatness of being a part of this wholeness.
Susan Warda
California
THE TYARI TRIBES
a translation
Tyari Takhteta (Lower Tyari) was divided in five sections or districts. The first, Bnae Bet Ulati, that is, Salabakan gully or valley. This was the centre district of Malik of Tyari Takhteta. The second was Lizen gully which included the people of Lizen matta or town and the people of Lagippi matta. The third was Ashita. The fourth were Hilmun and Geramun and the fifth Barwar. The fourth district, Geramun and Helmun were considered as part of Tyari Elaeta or Upper Tyari when Malik Ismael expelled the Turks from that part of the country.
Hermun and Geramun were included as part of Tkhumi, that is, in the boundary of Tyari Takhteta. They were nearer Tkhumi and west of Ashita.The people of Hermun and Geramun used to deal with Tyari Takhteta particularly with Ashita which was near them.
The dialect of Helmun and Geramun was similar to the dialect of Barwarnayi which originally the dialect of Tyari.
Bnae Helmun and Geramun were the most industrious in all Tyari Takhteta. They used to spin wool into thread and weaved clothes and shawls. They used to spin the wool themselves. Their women were the most talented in spinning wool. Even today (1982) (the year the book was printed) There are some women of Helmun and Geramun who have preserved this ancient craft of spinning wool and weaving clothes. It was most profitable industry and their livelihood depended on this trade.
The district of Barwar falls south of Tyari Takhteta and extends east of Upper Zab (Zava) River and west near Khabur River. The standard of living of Bnae Barwar was similar to all Tyarayi except their farmlands were extensive, richer and bountiful. But sometimes they were threatened by their Kurdish neighbours.
The laws and customs of Barwarnayi were similar to those of all Tyaris. There was close relationship among them. Like all towns of Christians or Muslim, Barwar was under the the orders and authority of Kurdish Emir of Barwar region appointed by Ottoman government.
Ashita was the largest town and had many buildings. It was the largest town not only in Tyari but also of all the Assyrian towns. They were farmers and sheep breeders.
Bnae Ashita were the hardest workers because their land was smaller with regard to the number of the families and buildings. This little space of land obliged them to go harder work to exist. No other men of Tyari could work as hard as the men of Ashita, particularly in cutting hay for their sheep. The fields where hay grew were about 3 to 5 miles distant from where they lived and they had to carry the load on their backs the hay to the town. This was the heaviest and the hardest work. Each load of hay weighed about 150 pounds and they had to make two trips each day up and town the steep mountains.
In summer times they had other heavy work such as collecting fire wood for winter also from far distances. But during the whole cold winter they had nothing else to do but to care for their sheep feeding the sheep hay which usually children did. Most of the winter they played various games in the snow.
Ashita was in seven sub-districts and in each dub-district liv ed a particular clan of Tyaris. Some were from Upper Tyari, others were Bnae Mata, Lizen, Zirni, Bnae Lagippa and some from Bet Ulata, that is Salabankan gully. All were however under one name, Ashita or Ashitnayi.
Ashiya was under the administration of a headman, Rayis (which in Arabic means president). The Rayis was recognized by all the clans. Sometimes the Rayis was appointed by Malik of Tyari Takhteta and in later years by the Patriarch himself.
Ashita had only one church, Mar Gewargis which was situated in the centre of the town. The population of Ashita was sometimes about 8,000 or about 600 families. According to Austen Henry Layard, the British archaeologist, Ashita had a population of 10,000 in 1840.
The standard of living, work, farming and sheep breeding was same in all towns of Tyari Takhteta except it was less hard than that in Ashita due to the restricted and hard terrain of the district of Ashita (Note: Bnae or Bani in ancient Assyrian means Son Of. Mata means country. Nashi Mata Ashur is translated by Assyriologists as "People of the country of Ashur").
Now (1982) the number of Bnae Ashita is about 25,000 scattered in various parts of the world. They have 8 villages north of Mosul, Iraq. A large number is in Baghdad. In education they are more advanced among the Assyrians in Iraq. They have 37 doctors, many engineers and about 200 teachers in Iraq. In America there about 200 in Chicago and Modesto.
Bnae Ashita were mainly sheep breeders and farmers. In summer they used to take their sheep to Zumani, grazing lands where it w as cool. In winter they would come down to their houses or in warmer places.
When Bnae Ashita reached Iraq (in 1918-1919) few of them returned tl their villages. In 1950 most of them concentrated in sending their children to government schools and as a result most of them are literate.
In 1909 Malik Yosip of Tyari Takhteta was invited by Rashid Beg, the Kurdish Emir of Barwar for a meeting. (Kurdish emirs were appointed by Ottoman government) On his way to Emir`s residence Malik Yosip was assassinated as vengeance against the Tyaris. Khoshaba, son of Malik Yosip returned from Urmi where he was studying in American mission school and was informed about that his father was assassinated by the Kurds.. To avenge the assassination of this father Khoshaba raised a group of men from Tyari Takhteta, attacked Barwar and stole all the sheep belonging to Rashid Beg. Kurds chased them but could not recover the sheep. The brother of Rashid Beg, Saeed Beg, tried to recover the sheep and was killed in the skirmish.
Consequently Rashid Beg raised a large force of Kurds and attacked a part of Tyari Takhteta. They burned seven villages including Lizen, Kkhoshaba`s village. A number of Tyari men were killed. Due to the outbreak of World War I the Tyaris were not able to avenge.
Life in Tyari Elaeta, Upper Tyari, was similar to life in Tyari Takhteta, Lower Tyari. Tyari Elaeta was divided into four parts or districts: Bnae Kaleta, Bnae Rumta, Bnae Dadosh and Bnae Walto.
Bnae Kaleta covered a large part of Tyari Elaeta.. A number of Bnae Kaleta used to live in Ashita and were considered as part of Tyari Takhteta. It was said that Bnae Kaleta of Mar Beshu were part of Tyari Elaeta but we have no evidence to support this. Bnae Kaleta themselves used to claim that they had come from Arbel Citadel. It is not known when this took place.
This group of Bnae Kaleta was numerous and stronger. Maliks were usually elected from them. No Malek was elected from other clans of Tyari Elaeta except once. This was when Khiyyu of Bet Khiyyu of Rumta was elected as Malik. Khiyyu was from a famous family. He was the first man to be elected as Malik not only for Tyari Takhteta but also for Tyari Elaeta. Khiyyu was intelligent, able and cultured.
It was told that once all the men of Tyari had assembled and had decided to attack a Kurdish tribe that had troubled them in the grazing lands They had decided to attack in the morning. In the morning Sulmo, Rayis of Lizen of Tyari Takhtea had changed his mind and had left the assembly. It was said that he had received a bribe from the Kurdish agha. It was said that the Kurdish agha had told Rayis Sulmo not to join in the attack and that he did not care if the others came to attack him.
Malik Khiyyu stood by the decision taken by the assembly and had said that he alone would go and whoever joined him he would thank him and those who did not he would also thank. He added: " If I go and lost, there will be weeping on the face of all Tyari but if I win the face of those that did not join us would be black." He said that if he lost all the Tyari and the name of Tyari would be disgraced. If he won it would bring shame to those who refused to join in the attack and help them he explained.
The assembled clans joined in the battle. In the morning the fighters went led by music of zurna and drums. When they approached the Kurdish village, the Kurds heard the sound of drums. They told the agha that Tyaris were coming. The agha told them to shut up that the sound of they heard was of of JUDA (The sheep skin in which masta (yogurt) was being made. How can the Tyaris come there he said.
When the Kurdish village guards me the fighters, the Tyaris were beaten back and retreated. Khiyyu told the fighters: "This is how you fight?" He drew his sword and led the fighters to the attack. Three times the Tyaris attacked and were beaten back. They brought bags of filled flour and held them before them as protection against the Kurdish bullets. In this way the attack was successful and they beat the Kurds. Until this day that place where the battle was fought is called KHVARA DQAMKHA. That is, the field of white flour from the flour that had covered the land. The Tyaris avenged all the past evil deeds committed by the Kurds of that village and its agha, Smaelo was killed, the village destroyed and ransacked.
In the family of Bet Khiyyu of Rumta many brave men had risen. The men of Rumta were always ready to fight whenever there was a battle with the Kurds.
In 1909 Lizen was attacked and burned by Rashid Beg of Barwar. No other clans of Tyari came to aid Lizen except the men of Rumta. Whenever there was a cry for help, Rumta men were ready and rush to help. Bnae Rumta were the most disciplined and obeyed the orders to their leaders.
Odishu of Rumta, Tyari Elaeta, was reputed to be the bravest and most courageous young man in Tyari Elaeta. Odishu, aged 22, together with his uncle Mushi, had one day taken a load of apples to the Kurdish grazing , called Billy. In this place something like a bazaar or trade fair was sometimes held and people used to take what they wanted to sell or buy to that place. On their way to Billy Odishu would pick a stone and sharpen his dagger. His uncle asked why he was doing that?. They may need it Odushu answered. They reached Billy and laid down their load of apples for sale. A group of Kurds gathered around them and wanted to take the apples by force. Odishu and his uncle resisted and Mushi was killed. Odishu jumped out of the groups of Kurds upon a high ground. He told the Kurds that you altogether have attacked two of us and cowardly killed my uncle. If you are men of honor you would come to me one by one. One of the Kurds, with dagger in his hand, attacked Odishu but before he could raise his dagger , Odishu dispatched him with rapid dagger strokes in his chest and the Kurd fell dead. One by one Kurds attacked Odishu and ten of them were killed. A Tyari woman who had converted to Islam was there and told the Kurds to wet the lumta (felt) and cover themselves with it. The dagger would not penetrate the thick wet felt covering. They did this and when Odishu hit at the attacking Kurd his dagger would not penetrate. Thus Odishu was killed by the treachery of a Tyari woman`s treachery.
Later with great honor men from all the surrounding grazing lands came and dug 12 graves and buried the 10 Kurds in one row. On the right side of the row Mushi was buried and on the left Odishu.
All Tyari was under the leadership of one Malik who was in Kampa town. The chair of Malik was hereditary from one family. Under the leadership of this Malik, Bnae Elaeta fought many battles against the Kurds and were always victorious.
During the leadership of Malik Yaku uncle of Ismail the second, Turks had come to take the grazing lands of Helmun and Geramun. This was a new act of aggression against Tyari. Ismail called up all Tyari Elaeta fighters and attacked the Turks in Geramun , expelled them and captured all that they had including their tents and arms. The Turks retreated to their fort in Amadia fortress. That was the last time the Turks had dared to step in the mountains of Tyari.
For saving them from the Turks, families of Bnae Helmun and Geramun used to give each year one head of sheep to the family of Malik Yaku and from that day they considered themselves as of Tyari Elaeta even though they were in the boundary of Tyari Takhteta and were proud of it.
Once Ismael, son of Malik Yaku´s brother and without the knowledge or approval of Malik Yaku had gathered around him all the young men of Tyari Elaeta to fight against the Kurdish town Maronis. Maronis was a large and strong town in the neighborhood of Tyari. The men of this town were hardy thieves. During summer grazing period they used to attack and steal the sheep of Tyaris even the sheep of Malik Yaku. After the robbery stock was taken of the sheep stolen. All families donated sheep to those that had lost them.
While Ismael was visiting villages to collect sheep for donating to families whose sheep had been stolen one of the men accompanying him heard a man say that what was the use, next year the Kurds will steal them again. This word reached the ears of Ismael. A young, brave youth of 25, was much hurt and saddened by what he had heard. He returned home without collecting any sheep. He felt much shame in not avenging the theft of the sheep year after year. Without the knowledge of Malik Yaku he gathered all the young men of his age of Tyari Elaeta and early morning in mid-winter raided Maronis burned and ransacked it. The Maronis Kurds did not avenge this act. They realized that they would be more severely punished if they did. Thereafter they stopped robbing Tyari sheep.
When a Malik died another was elected by all the tribes. After the Maronis raid, all the people of Tyari requested that Malik Yaku give up his post to Ismael. Thus young Ismael became Malik of Tyari Elaeta.
Near the Kurdish village, Pyanus, there was a village of Christians. The Rayis of this village had turned out of his house his brother and not given him any inheritance from their father. The brother went to Malik Ismael and told him that his brother had expelled him and the village and deprived him of his inheritance. Malik Ismael sent 12 men with him to the Rayis to find out the facts. Rayis warmly received the Tyaris but at night secretly he send word to Tajir Agha of Pyanus that Tyaris had come to rob his house. Tajir Agha took with him some armed men and some Turks went to the Christian village and arrested the Tyaris. Some of the Tyaris were killed and others were captured and taken by the Turks to Julemary where they were accused of robbery and imprisoned for two years.. Malik Ismael tried in many ways to free the men but without success.
After two years the imprisoned men were released and they returned to their homes in a state of poor health as a result of bad treatment in the Turkish prison. Malik Ismael gathered up his men and attacked Pyanus burned it and killed Tajir Agha and thus avenged the 12 Tyaris wrongly accused and killed.
Shamasha Gewargis Bet Benyamin Bnae Ashita
| | | |
| --- | --- | --- |
| ENGLISH | MODERN ASSYRIAN | GENDER |
| Spring | Nee/sa/neh | Masculine |
| Season | aq/ma | Masculine |
BC (721-700)
The conquest of Palestine by the Assyrian armies was consolidated during Kings Sargon II and Sennacherib. Judah (except for Jerusalem) was conquered and destroyed and the way to Palestine was closed to Egyptians. Assyrians built four settlements during this period: the Gilead, Megiddo, Dor, and Samaria.
Archaeology of the Land of the Bible (VOL II), Stern

---

AD (585)

Synod of Mar Eshooyow, the Catholicos Patriarch of the Church of the East:

"And we decree that any Metropolitan, Bishop, priest or layman that may belittle, reject or refuse to obey anything which has been decided upon or command according to the will of Christ by the Patriarch, such a person we all excommunicate, and by the word of Christ we decree him out from his office until he is contrite and repentant his guilt and subjects himself to the supreme of the Church. We also wish to make the point clear to those who may be concerned with this canon, namely, that a priest CAN NOT suspend his fellow priest, nor a Metropolitan his fellow Metropolitan, nor the Bishops can suspend their own Metropolitan without an official command in writing from the Patriarch. Nor the Metropolitan by himself without the Bishops under his jurisdiction, that is, either all or the majority of them, can suspend a Bishop of his diocese without the command of the Patriarch. The Patriarch should also suspend a Bishop or a Metropolitan who is needful of correction in conjunction with a Bishop, but when it is absolutely necessary for the administration and the peace of the Church, he ( the Patriarch ) is endowed with authority to suspend any Metropolitan or Bishop."

www.Atour.com (History Section)


March 20, 1843: born, Joseph Dorna, a president of the Assyrian American National Federation, in Amidya, Turkey.



Sat,
Mar 24

SAN JOSE / SANTA CLARA
KHA B'NEESAN PARTY

Assyrian American Association of San Jose presents
Kha b'Neesan Dinner Dance Party with Walter Aziz

David's Banquet
5151 Stars and Stripes Drive
Santa Clara
$45 member $50 non-member

Tickets sold every Tuesday and Thursday
From 8-10 p.m. at AAA of San Jose
For information please call: (408)927-8100 or (408)927-9100

Sun,
Mar 25

CHICAGO
ASSYRIAN ACADEMIC SOCIETY LECTURE

The Assyrian Academic Society in conjunction with the Syriac Cultural Center proudly host a lecture entitled:

"History of the Syriac Church and its People"
Lecturer: Father Yousif Abdhulmasih
Pastor of St. Mary Virgin Immaculate
Syriac Catholic Mission

5:00 PM
Assyrian National Council
2450 W. Peterson

For more information, call AAS at: (773) 461-6633
or E-mail: staff@aas.net

Sun,
Mar 25

SYDNEY
GILGAMESH CULTURAL CENTRE LECTURE NIGHT

"The Aramaic Language, its origin and history"
Miss Ruth Lewin, University of Sydney

"Father Abraham, Isaac and Ismail"
*Rabbi Woolstone

6:00 PM
Nineveh Club
Smithfield Rd

For more info contact Alfred Mansour at
(00612) 9832-9888 or Mobile 0410461755.

Thu,
Mar 29

TORONTO
CANADIAN SOCIETY FOR SYRIAC STUDIES LECTURE

"Syriac Heritage at the Northern Silk Road: The Archaological & Epigraphic Evidence of Christianity in Kirghizia"
by Dr. Vassilios Klein, Bonn University
8:00 PM
Auditorium, Earth Sciences Centre, Room 1050
5 Bancroft Avenue
University of Toronto, St. George Campus

Since the 1890s Kirghizia has attracted the attention of scholars in the field of Syriac epigraphy, when Daniel Chwolson published about 600 Syriac funerary inscriptions found there. The discovery of these inscriptions came as a surprise since there was little literary evidence that Christianity had played any important role in the lands located to the north of the Tianshan Mountains. In recent years archaeological excavations in the Middle Age capital revealed a church with three naves and the grave of a holy man. Taking into consideration these excavations, the other religions coexisting with Christianity in Central Asia, and the political history of that region at that time, we shall describe the role played by East Syriac (so called Nestorian) Christianity and the Syriac language in the daily life of the Sogdian and Turkish people.

Fri,
Mar 30

CHICAGO
HANNIBAL ALKHAS LECTURE & ART EXHIBIT

Sponsored by the Center For Middle Eastern Studies
University of Chicago

Pick Hall
4-6 PM
For more info contact Mrs. Saboori: 773-381-2065

Sat,
Mar 31

TORONTO
AMERICAN ORIENTAL SOCIETY PANEL DISCUSSION

"Writing Syriac: From Stone to Bytes"
Chair: Prof. Amir Harrak, University of Toronto

1:00 p.m.-3:30 p.m.

1. Marica Cassis, University of Toronto
The bema in the West and East Syriac Churches

2. Amir Harrak, University of Toronto
Patriarchal Tombstones at the Monastery of Rabban Hormizd: Types and Origins

3. Wolfhart Heinrichs, Harvard University
Turkish Karshuni

(Break)

4. George Kiraz, Syriac Computing Institute
From Parchment to Open Type: The Development of Syriac Digital Types

5. Wassilios Klein, Bonn University
Writing Syriac and Speaking Turkic in Light of Central Asian Tombstone Inscriptions

6. Eden Naby, Harvard University
The Cultural Context for Writing Syriac During the 19th and 20th Centuries

Panel to be held at the 211th Meeting of the American Oriental Society
Toronto Colony Hotel
89 Chestnut Street

Sat,
Mar 31

CHICAGO
HANNIBAL ALKHAS LECTURE & ART EXHIBIT


Assyrian Universal Alliance Foundation
Clark Avenue
co-sponsored by Khaneh Iran
6:00-9:00 PM
For more info contact Mrs. Saboori: 773-381-2065
Sun,
Apr 1

FAIRFIELD, AUSTRALIA
AKITU ASSYRIAN FESTIVAL

Organized by a network of Assyrian youth, the Assyrian community and the wider Australian multi-cultural community

AKITU ASSYRIAN NEW YEAR 6751
Fairfield Showground
Smithfield Road

9:00 AM
Parade 12:00 PM

Games, rides, shows, drama, & Fireworks
Information and international food booths
Assyrian and English musical bands and DJ music.

For more info: Nina @ 0416041432 or toomani@cba.com.au
Maji @ 0404124930

Mon-Wed,
Apr 2-4

CHICAGO
HANNIBAL ALKHAS LECTURES & ART EXHIBITS

Northeastern University
University Art Exhibition Center

For more info contact Mrs. Saboori: 773-381-2065

Sat,
Apr 7

HOLLAND
A MASTERS THESIS PRESENTATION

Presented by the Assyrian Aid Society of Netherlands

Speaker: Ms. Adrin Takhsh
Topic: "Are Assyrians a Nation?"

5:00 PM
Delft Centrum
Koorn Markt 48a
in 2612 VJ Delft

For more information contact: ++31-(0)628-225 123

Until
May 6

DETROIT
TREASURES FROM THE ROYAL TOMBS OF UR


Objects from one of the most important archaeological finds

The Detroit Institute of Arts
5200 Woodward Avenue

Adults $8, Children $5: includes audio tour and museum admission

Thu,
May 24

KALU SULAQA : Bride of the Ascension Festival

This year marks the 600th anniversary of the remembrance of the men and women who died in 1401 A.D. when Timurlane attacked the Assyrian villages near Nineveh. Each year children dress-up as brides and grooms and go to homes in the neighborhood to collect sweets.

Nakosha "Assyrian Holidays" Calendar

Sat-Sun
Jun 2-3

NEW BRITAIN, CONNECTICUT
TAKA ARDISHAY WEEKEND

Dinner on Saturday -
Catered dinner (American) and Middle Eastern music (a mix of Assyrian, Turkish, Greek and Armenian)

Picnic on Monday - Lots of fun, food, and music

Tickets $35 for adults (less for students)
After 9:30 - 10 PM, just $15 for dancing.

Location: Church Ballroom of St. Thomas Assyrian Church

M-F,
Jul 2-6

FINLAND
XLVIIe RENCONTRE ASSYRIOLOGIQUE INTERNATIONALE

International Congress of Assyriology and Near Eastern Archaeology
"Sex and Gender in the Ancient Near East"
University of Helsinki

Registration Form: clickhere

Jul 22

NOOSARDEL

A festival celebrating the descent of the god Tammuz to the Underworld and the end of spring in Bet-Nahrain. It is customary to sprinkle water on friends and family members, wishing for Tammuz' safe return to his beloved Ishtar.

Aug 7

MARTYRS DAY

A day to commemorate the Assyrian martyrs throughout history.

Aug 28 - Sept 3

SAN JOSE, CALIFORNIA
ASSYRIAN AMERICAN NATIONAL CONVENTION

Sharokin Betgevariz (Chicago)......Dr. Eden Naby (Harvard University)......Tomy Doomany (California)
Edmond Williams (Chicago)

---

SHARE YOUR INFORMATIONWITH READERSIN 55 COUNTRIES BY INCLUDING ZINDA MAGAZINE IN YOUR COMMUNITYOR ORGANIZATION'SMAILING LIST.
SEE OUR MAILING ADDRESS BELOW.
ZINDA Magazineis published everyTuesday. Views expressed in ZINDA do not necessarilyrepresent thoseof the ZINDA editors, or any of our associated staff. This publicationreserves the right,at its sole discretion, not to publishcomments orarticlespreviously printedin or submitted to other journals.ZINDA reservesthe rightto publish and republish your submission in any formor medium.All lettersand messages require the name(s) of sender and/orauthor.All messagespublished in the SURFS UP! section must be in 500 wordsorless and bear thename of the author(s). Distribution of material featuredinZINDA is not restricted,but permission from ZINDA is required. Thisservice is meant for theexchange of information, analyses and news.To subscribe,send e-mail to:z_info@zindamagazine.com.
Zinda Magazine
101 E. San Fernando Street
Suite 505
San Jose, California 95112
Voice (408) 918-9200
Fax (408) 289-9996