BROOKINGS-SAIS RELEASES REPORT ON THE INTERNALLY DISPLACED PEOPLE OF IRAQ

Courtesy of the U.S. Newswire (20 October)

(ZNDA: Washington) Among the legacies Saddam Hussein would leave any successor are the one million or more forcibly displaced persons who remain within the borders of Iraq. Over the past thirty years, the government of Iraq has relied upon a policy of deliberate expulsion of people from their homes in order to punish and subdue recalcitrant populations (i.e., the Kurds and Shiites), secure valuable land and oil-rich areas (i.e., Kirkuk, southern marshes), and stamp out political opposition. As a result, an estimated 600,000 to 800,000 persons are displaced in the North and an estimated 300,000 in the Center/South.
A new 55-page study, The Internally Displaced People of Iraq, published by the Brookings Institution-SAIS Project on Internal Displacement, points out that these forcibly displaced persons represent "the political fault lines of the country." According to the authors, John Fawcett and Victor Tanner, addressing the problems of these internally displaced people will have to be a priority for any government of Iraq that aspires to stable and democratic rule. The report is available on the Brookings website: www.brookings.edu.

The main victims of state expulsion policies are members of the Kurdish minority in the North and members of the substantial Shiite majority in the Center/South, including the Marsh Arabs. But also affected are the smaller Turkmen and Assyrian minorities.
Although the original homes of most of those displaced in the North are within the confines of the Kurdistan Regional Government, they cannot return to their homes because of the Iraqi army's widespread destruction of their villages, the planting of landmines, or continued hostility between Kurdish factions. According to the study, an eventual solution for this group will lie in de-mining, rebuilding the countryside, and the effective resettlement of the displaced in cities.
Even more challenging will be finding solutions for those expelled from Kirkuk, both an oil-rich area and Iraq's breadbasket. Prior to the government's campaign to "Arabize" the area, Kurds and Turkmen comprised the majority, and Assyrians lived there, too. Among the study's suggestions are a population census, creation of an official body to put together property records, a compensation fund for those arbitrarily dismissed from oil field positions, and an organized return program.
Other recommendations in the study focus on the Shiites forcibly displaced in the Center/South and the Marsh Arabs of the lower Tigris and Euphrates rivers, most of whose habitat has been deliberately destroyed by Iraqi government campaigns. Recommendations include return and resettlement programs, environmental surveys, and a compensation scheme.
Overall, the study urges the United Nations to devote greater attention to the most vulnerable parts of the Iraqi population, the internally displaced. Although the Oil-for-Food Program generates $6 billion a year, the study finds that UN agencies have insufficiently targeted the displaced. More than 400,000 displaced persons in the North are reported to live in "collective centers," many in an advanced state of decay with insufficient infrastructure. A further 57,000 live in barracks, including more than 6,000 still in tents. More than 50,000 in the North are without access to health centers. In the Center/South, displaced persons have difficulties registering for food rations.
The study calls for more targeted use of Oil-for-Food funds to help the displaced, special visits by UN officials to assess the conditions of the displaced, the publication of data on the displaced, and the designation of a UN focal point for displaced persons in Iraq. It calls upon UN officials to be more "outspoken" in demanding access to and protection of the displaced, especially in the Center/South as well as prevention of new expulsions. It says, "The international community and its institutional embodiment, the United Nations, have an obligation to meet the needs of the internally displaced Iraqis, and to seek to stem further displacement."
The study is part of a series of publications and activities by the Brookings-SAIS Project on Internal Displacement designed to focus attention on internally displaced persons in areas largely closed off from the view of the international community. The two authors are experts in humanitarian issues. John Fawcett has worked for more than twenty years in the private sector for groups engaged with humanitarian assistance and human rights, including the International Rescue Committee and the International Crisis Group. Victor Tanner is also an experienced aid worker and teaches Humanitarianism, Aid, and Politics at the Johns Hopkins School of Advanced International Studies.
[Copies of "The Internally Displaced People of Iraq" study can be found via this direct web-link: https://www.brookings.edu/fp/ projects/IDP/articles/iraqreport.htm. Hard copies of the report are also available by calling 202-797-6105.]
CHALDEANS DESERT IRAQ FOR PROMISE OF METRO DETROIT
(ZNDA: Tel Kaif) About 100 people, mostly old women with black lace head scarves and a few old men wearing black-and-white head wraps, gather for Saturday morning Mass at the Sacred Heart Chaldean Rite Catholic Church.
The church's red domes are such a dominant feature of this dusty northern Iraqi town that most residents don't even know its formal name. They just call it Eata, the word for church in their ancient language of Aramaic.

The 7 a.m. service is held entirely in Aramaic, a dialect of the language that Jesus spoke. The priest and his assistant call to parishioners in song, and they respond in lyrical chants asking God's forgiveness and guidance. The sound of the ancient prayers gives a sense of something that will last forever here.
But in reality the Chaldean community in Tel Kaif is dying. This church could easily hold a thousand people -- and not so long ago, it did. Some in this service aren't Chaldeans, just nearby Christians who come to the church because it's close.
Of the remaining Chaldean congregants, almost every man and woman is trying to leave Tel Kaif for a very specific haven: Metro Detroit.
Chat with any Chaldean and you will hear something similar to the words of Khalid Ali Backal, 42, a short, well-dressed man with a trim mustache. "I'm waiting for my papers," he said. "I want to move to Detroit to be with my family."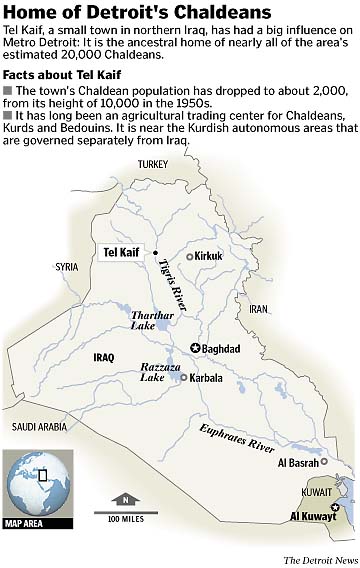 Tel Kaif is a dot on the map even by Iraqi standards. But through the twists and turns of history, it has spawned a flourishing community of grocers, liquor store owners, business people and professionals 6,000 miles away in southeast Michigan. Most of Metro Detroit's Chaldeans -- estimated to be at least 20,000 strong -- were either born in Tel Kaif or are the children or grandchildren of someone who was. After the first handful of Chaldeans came here for auto-industry jobs in the early 1900s, the Chaldean community in Metro Detroit has grown into the largest in the world.
Today, Metro Detroit has four Chaldean churches. Chaldean communities also have developed in California and Arizona.
Detroit's gain has been Tel Kaif's loss. In the 1950s, the village of about 10,000 was entirely Chaldean. By 1970, the Chaldeans here had dropped to about 7,500.
The church's head priest, Lucien Jamil, estimates today that he has about 2,000 parishioners. Most of the town now are other Christians or Muslims.
With the threat of another war between Iraq and the United States and economic hardship pressing those remaining in the small town, he expects his parish to dwindle even further.
"Many people don't want to go from here; they cry that they have to go," he said. "But you almost have to leave these days because your family probably already is in Detroit."
Guns and borders
Tel Kaif, called Tel Keppe by Chaldeans, which means "Hill of Stones" in Aramaic, looks much the same as 40 years ago, said Tom Simaan, a Detroit grocery owner who comes to Iraq periodically as head of the American-Iraqi Friendship Federation. Simaan was born in Tel Kaif and left with his family in 1963.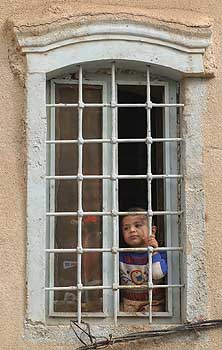 2-year-old Yousif Asaam peers from an ornate gated window of his parent's bedroom in Telkaif.
A few more of the roads are paved, a little more trash is noticeable in the streets, but most of the old buildings haven't changed, except for his own home, which was knocked down years ago because of structural problems. Cows and sheep still rummage in the market refuse for food, and the air still is scented with the mingled aroma of turned earth, fresh fruit, rotting vegetables and burning wood.
Everyone, as they have for decades, still talks about a mythical place called Detroit.
But unlike previous times, when those who talked of leaving were young, today middle-age and older Chaldeans talk of getting out.
With strained relations between the United States and Iraq making immigration much more complicated, the talk is more urgent.
War also is on everyone's mind. For generations, only occasional Bedouin families inhabited the neighboring hills. Since the Persian Gulf War gave the Kurds semi-autonomy, the Christian areas of northern Iraq have become a militarized zone. The town of Tel Kaif has Iraqi soldiers dug into the south, north and east of it.
Tel Kaif is in the northern no-fly zone, imposed on Saddam by the United States and its allies after the Gulf War, that bans Iraqi aircraft. Every day, British and American warplanes patrol the skies and have dropped bombs on targets around Tel Kaif and other northern towns.
Nabil Bashbagwd, 51, the childhood neighbor of Simaan who never used to think of leaving, now has his papers to go to Detroit. He doesn't know what Detroit will be like, and he doesn't ask his family there many questions.
"We just hear they are safe and working hard. That's enough," he said.
His sister, Firyal, worries that the U.S.-Iraq tensions are holding up her immigration papers. "We just want to go to be with our families," she said.
Jamil, who visited relatives in Detroit in 1997, is no fan of Metro Detroit or the United States. He said Chaldeans in Tel Kaif have heard stories of how it snows six months a year, a far cry from the scorching temperatures of Iraq. They repeat the rumor that 150 Chaldeans have been killed in store robberies in Detroit in recent decades. They hear stories of Chaldean teen-agers bringing boyfriends or girlfriends into their parents' homes.
"This to us is something of a crime," he said, laughing and shaking his head.
But the scary stories aren't stopping the last Chaldeans here from trying to immigrate.
Samir Bashi, 57, has just been notified that his immigration papers await him at the U.S. Embassy in Amman, Jordan. Because of the hostilities, the United States has no embassy in Iraq.
He is making preparations to go soon.
Bashi doesn't know what to expect in Detroit. And he doesn't care.
"I'll be happy there I know because all my relatives and friends are there," he said. "You can be safe in Detroit if you just mind your own business."
Ancient Beginnings
This rural hamlet about 240 miles north of Baghdad has been home to the Chaldean Rite of the Catholic Church for so long that the priests don't even know exactly how this small but resilient branch of Roman Catholicism started.
A monk, St. Matthew, brought Christianity to northern Iraq in the 400s. Numerous sects of Orthodox, Catholic and eastern Christianity have survived for centuries in the mountains and valleys despite being ruled by various Muslim governments for 1,300 years.
Today, Christians make up about 3 percent of Iraq's total population. Tel Kaif arose as a center for a special Aramaic branch of Roman Catholicism at least by the 1800s, probably after French Catholic missionaries visited the area from Lebanon.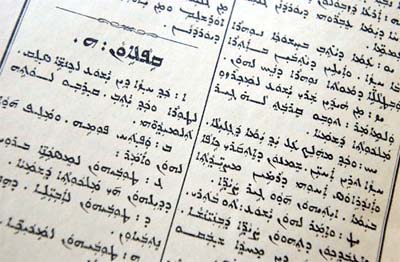 Despite difficulty farming the low arid hills surrounding the town and harassment by the ruling Ottoman Turks, the Chaldean population grew and the town thrived as a small market center for Christians, Kurds and nearby Bedouins. But by 1910, economic troubles and government harassment made some leave for the United States.
"The Turks always treated them like second-class citizens," Jamil said. "That's why they left."
A small group of Chaldeans came to Detroit after hearing about auto-industry work and following Lebanese Christians who had already arrived. From that beginning, a trickle of Tel Kaif residents began immigrating to Detroit. Whenever the Iraqi political situation became unstable or drought set in, a few more would leave for Detroit.
Golden Age
But despite the migration, Tel Kaif flourished. In 1931, the current church was built. By the 1950s, the community had reached its peak of 10,000.
This Tel Kaif is the one that older Chaldeans in Detroit recall fondly as some of the best times in their lives. Weddings at the church became village festivals, with the newlyweds being led by horse to every house for drinks and gifts. The church was packed for two Masses every day.
Hundreds of children attended Sunday school, and children who came even a few minutes late to any of the masses or the classes could expect a crack from the priest's switch. Thousands in the town made annual pilgrimages to nearby Christian holy sites such as the monastery of St. George in Mosul or the monastery of St. Matthew, Iraq's holiest Christian site, up in the mountains.
From Farms To Liquor Stores
Though children at the time remember life in Tel Kaif fondly, their parents sometimes found making a living a struggle. During poor harvests, the land could not easily support all Tel Kaif's residents. Sometimes the town was harassed by Kurdish toughs riding into town and extorting money from the wealthier Chaldeans.
So beginning in the late 1960s and early 1970s, as immigration restrictions eased in the United States, large numbers of Chaldeans began moving to Detroit. Others moved south to Iraqi cities such as Baghdad and Mosul.
In Detroit and Iraq, they started running small liquor stores and restaurants. In Iraq, Muslims cannot sell and are not supposed to consume alcohol.
Chaldeans quickly developed the drive and business skill to become major players in both urban business environments. They took on businesses few others wanted. Through a combination of tenacity and long hours, many succeeded.
In Detroit, Chaldean markets filled the void left by major grocery chains that left the city during the 1967 riots. In Baghdad, Chaldean and Christian shops filled a void left by Iraqi Jews who had fled to Israel.
Those who got ahead in Metro Detroit looked back to Tel Kaif and brought family and friends. They sent money to the remaining villagers. They also sent immigration papers.
More people left, throughout the 1970s and 1980s, but for those who remained life was not bad. Saddam Hussein, since seizing full control in 1979, was lenient with many Christians, including Chaldeans. This leniency served his political ends.
The Christians in the north proved a counterbalance to Kurdish guerrillas in the mountains. Also, Christians brought into his circle, such as Deputy Minister Tariq Aziz, proved extremely loyal because any attempt to seize power by the tiny minority in Muslim-dominated Iraq would be suicide.
Before 1991, Saddam's Iraq was a stable place for Christians and Chaldeans. Chaldean businessmen in Detroit traveled frequently back to their home country, providing cash to relatives still here and investing in various ventures. Business people brought so many gifts of clothing and other items from southeast Michigan to Tel Kaif that townspeople jokingly called it Little Detroit.
Some Chaldeans had no problem with Saddam's regime, while others, both in Metro Detroit and in Iraq, grew to hate it.
Then came 1991 and Iraq's invasion of Kuwait. Today, few Chaldean-Americans are able to visit Tel Kaif -- the U.S. State Department prohibits most travel to Iraq except for journalists and those on humanitarian projects.
Travel the other way is difficult, too. But Iraq's Chaldeans are still leaving for Michigan when they can.
Many fear instability and Kurdish aggression should Saddam's regime collapse. If the Iraqi army in the north retreated, Kurdish forces could take Tel Kaif within half an hour.
The Rev. Asa'd Hannona, 32, the second priest at the Tel Kaif church, knows many Chaldeans want to leave, but he believes the small community here will survive. He teaches about 13 children here every day to read and write in Aramaic.
"The church will be here. It's not going anywhere," he said. "There always will be some Chaldeans in Tel Kaif."
Simaan, who keeps in close contact with Chaldeans here and visits the village every few years, doesn't think so.
"In 15 or 20 years," he shrugged, "they will all be gone."
A Detroit News Special Report
Article by Cameron McWhirter
Photos by Max Ortiz
28 October 2002
[For more photos visit: http://pc100.detnews.com/newsgallery/frame.hbs?project=Telkaif_Iraq.
Contrary to information given above, the nearly 1.2 million Assyrian-Chaldean Christians in Iraq make over five percent of Iraq's total population.]
JOHN KANNO DISCUSSES SADDAM AND WAR WITH IRAQ
Courtesy of San Francisco Chronicle (24 October); interviewed by Jonathan Curiel
(ZNDA: San Francisco) John Kanno is an electrical manager in Modesto, whose parents were born and raised in Iraq. An active member of the Assyrian National Congress, Kanno has attended meetings in Washington, D.C., with prominent Iraqi opposition groups such as the Iraqi National Congress and the Kurdish Democratic Party, which have been identified by the Bush administration as key players in the Iraqi opposition to Saddam Hussein, and as part of the planning for a post-war Iraq. Kanno helps run an Assyrian TV station and radio station in the Modesto area, KBSV-TV and KBES-FM, and a Web site that promotes Assyrian culture, www.betnahrain.org. Assyrians are Christians whose have lived in the area around Iraq for thousands of years.
What's been missing from the debate has been the voices of the Iraqi people who have experienced Hussein's brutality. We got a glimpse of it this week with those pictures of wives and mothers pleading for news of their missing loved ones in Baghdad and all over the country.
Last weekend in San Diego, I spoke with a number of Iraqis who have come to the United States over the past few years. One woman saw her husband and brother-in-law hanged in Iraq. One woman's kid said, "Please don't ever take us back to Iraq." You've seen what's been happening with the sniper attacks in the Washington area. That's one person doing it. The people in Iraq have lived with the equivalent of thousands of snipers on the streets of Baghdad. They are continuously faced with torture and rape from people on Hussein's payroll.
We, as human beings, should not stand for this -- never mind the question of whether he has nuclear capabilities. The brutality of his regime alone warrants some kind of action.
There are places in Iraq that still only have four hours of electricity a day. But now, you've got one of Hussein's sons, on the day of (last week's) referendum, rolling up to a polling place in a brand new Rolls Royce and telling people, "The sanctions are really hurting you," and yet he can afford a new Rolls Royce? Where is the justice?
I still have second cousins who live in Iraq. My parents and their family grew up in Mosul, Baghdad and small tribal villages in the very north of Iraq, near the border with Turkey. After Hussein is gone, I'll volunteer my services to help rebuild the electrical system of Iraq, which is my specialty.
We believe in a free democracy. It's not like we're war-mongers. It's not like we want military action, but sometimes military action is the only course of justice. Do we wait until he gases more of his own people, as he did the Kurds in northern Iraq? We've seen the videos of mothers clutching their children and dying in gas attacks. How much more does this man have to do before we take action? It's not right. It's not fair that he's been allowed to get away with this. Let's send U.N. weapons inspectors in, and if Iraq doesn't comply, then you bomb. If they start complying, then the bombing would stop.
To those who say the United States should not take any military action in Iraq, I say, "That's what was said about Adolph Hitler." We left the Taliban alone for years, and we left Osama bin Laden alone, and look what happened on Sept. 11. Iraq is a country that has much more money (because of oil) than bin Laden could ever dream of having. Do we wait until Husssein has nuclear capability, until he comes around with a suitcase and drops it off in an American city?
It's important that Americans support President Bush and not protest at a time like this. Can you imagine if Saddam Hussein is watching CNN and he's seeing these protesters? He's got to be having a field day and saying, "Look. Even the Americans cannot agree on coming to bomb me."
I'm 200 percent behind the president.
CZECHS MAY HAVE DISCOVERED SUMERIANS MYSTERY PRESS
Courtesy of CTK Daily News (24 October)
(ZNDA: Prague) Czech scientists have probably discovered the mystery of material which the Sumerians used for the construction of their stepped temple towers, zikkurats, more than five thousand years ago, the daily Pravo writes today.
The team of Tomas Hanzlicek from the Academy of Sciences Institute for structure and mechanics of minerals has managed to produce a material which remarkably resembles the samples from the Sumerian buildings.
The material, which they called Geolit 100, could replace expensive and energetically demanding production of construction materials one day, the team think.
"It is a strategically very important material. It does not have to be baked but is produced from waste of ceramics production," team member Michaela Steinerova told the daily. In addition, "it has a number of brilliant qualities," she added.
According to researchers, Sumerians used raw clay bricks which they dried in the sun. However, the technology of unburnt bricks disappeared together with the Sumerian civilisation almost two thousand years before Christ.
Only in the recent decades laboratories all over the world started trying to find the lost recipe for dried bricks which would last five thousand years.
"Several labs are dealing with this but as far as we know none of them besides us has published its discoveries so far," members of the Czech team said.
"The unique material resists a temperature of at least 800 degrees centigrade. It copies the mould exactly. We suppose it has durability of up to 3,000 years. It can be used in, for example, health care. It is porous so it can be easily linked to a bone," student Martin Mikes said.