ASSYRIAN POLITICAL PARTIES DECLARATION AT THE LONDON CONFERENCE
D E C L A R A T I O N
16 November 2002
The following declaration by Assyrians was adopted unanimously at a conference held on November 1, 2 & 3, 2002 in London, England. In attendance at the Conference were the Assyrian political parties, organizations, federations and observer activists.
The Assyrians of Iraq including Chaldean and Syriac are the indigenous people of Iraq and the remnants of the Assyrian Empire. They number over four (4) million scattered throughout the world with two (2) million still in the homeland of Iraq. They are the second largest minority after the Kurds and as Christians the second largest religion of Iraq.
The declaration adopted was as follows:
1. That we support the integrity of Iraq.
2. That we be assured that the Iraq Government will be democratic and secular.
3. That we be constitutionally recognized. (The present Iraq constitution recognizes Arabs and Kurds only. For Assyrians to be first class citizens they must me constitutionally recognized in any constitution which includes recognition of people).
4. That Assyrian must receive all ethnic and religious rights (The terms ethnic minorities or religious minorities must be interpreted to have the same meaning in all languages).
5. That Assyrians be recognized and acknowledged as the indigenous people of Iraq.
6. That a fair Assyrian population percentage representation be recognized (Population figures of Assyrians in Iraq must include all Assyrians by whatever name they are known, be it Chaldean, Syriac, etc. and include those that have been forced to flee the country these many years).
7. That Assyrians in any Iraq Government where autonomy is declared for any group or should a Federal Government be established in Iraq then the Assyrians must be provided autonomy or given a State accordingly (see map at http://www.zindamagazine.com/graphics/map.jpg).
8. That Assyrians under any new government must be able to retain their customs, traditions, language and religion.
9. That Assyrians must have a part in any coalition government that is established for Iraq.
10. That the homes and lands illegally taken be returned to all including those at home and abroad.
11. That any constitution for Iraq must include a bill of rights for all citizens.
Adopted unanimously this November 2, 2002 London, England.
For more information Contact Carlo Ganjeh ganjeh@aol.com or Fax 1-408-369-0186

COMMUNIQUÉ OF THE ASSYRIAN PARTIES AT THE LONDON CONFERENCE
Representatives of nine Assyrian political parties and organizations met in London, United Kingdom, for a three-day period on November 1-3, 2002. Presidents of the Assyrian American National Federation, the Association des Assyro-Chaldeen's de France, and the Assyrian Society of the United Kingdom all attended the meeting. The letters of Support from three Assyrian parties were acknowledged.
The participants studied and analyzed in depth the status of the Assyrian Cause and the vital duties, ways and means of its development to achieve our legitimate national rights and ambitions. The current situation surrounding the political future of Iraq was discussed and our strategy for taking part in the Iraqi Opposition was argued. The participants concurred that the expected regime change in Iraq presents us with an opportunity to attain our national goals. It was agreed that a democratic, multi party, constitutional alternative in Iraq that guarantees the welfare of all segments of the Iraqi Society and maintains Iraq's national unity and sovereignty would be in the best interest of the Assyrians.
The participants studied, revised and adopted the drafts that were prepared for the Iraqi Opposition Conference. The participants asserted the injustice that was expressed upon our people in regards the representation percentage in the upcoming Iraqi Opposition Conference.The representatives also agreed to formulate a unified Assyrian political agenda and to work toward bringing about a cooperative working mechanism that serves our common national objectives.
The meeting concluded with important deceleration on Assyrian national issues.
All sides agreed to continue the dialogue in the future to ensure a unified Assyrian effort for attaining a better future for our people.
November 03, 2002
London, United Kingdom
Assyrian Universal Alliance
Assyrian Democratic Movement
Bet Nahrain Democratic Party
Assyria Liberation Party
Assyrian Patriotic Party
Shuraya Party

BNDP PRESS RELEASE
Bet-Nahrain Democratic Party
Press Release
16 November 2002
On Sunday the eleventh of November Bet-Nahrain Democratic Party celebrated its 26th Anniversary in a special banquet, held at the Assyrian American Association of Chicago, the guest of honors were Mr. Shimon Khamo the Secretary General of Bet-Nahrain Democratic Party and Mr. Nageb Al-Salhi the Secretary General of the Free Officers and Civilian Movement, both Mr. Khamo and Mr. Al-Salhi addresed a large number of invited guests, Mr. Khamo stressed that the political and civil rights of the Assyrians must be guaranteed in any future goverment in Iraq,Mr. Khamo renwed his call for one united Iraq where the rights of all the Iraqi People are protected. On the subject of the Assyrians groups participating in the up coming Iraqi Opposition Confrence which was schuled to be held on the 22nd. of this month, Mr. Khamo, made clear that BNDP will firmlly oppose any involvement from any entity in the process of selecting our representives, the Assyrians must select their Representaitive! s.
Mr. Al-Salhi stressed on National unity, Practice of a real and true Democracy for the the people of Iraq.
While in Chicago, Mr. Al-Salhi met with the representatives of the Assyrian Coalition and a number of Intellectuals and members of the Assyrian American League, Mr. Al-Salhi emphsized that the objective of all Iraqi Opposition groups must be the removal of Sadam's regime.
Finaly Mr. Khamo, extended his appreciation to Mr. Al-Salhi and to the guests
Bet-Nahrain Democratic Party,
Political Bureau

ASSYRIANS -- NOT JUST PART OF ANCIENT WORLD
Courtesy of the San Francisco Chronicle (18 Nov); article by Rob Morse
"I didn't think there were so many Assyrians in the world," said a non- Assyrian guest to Narsai David at the Ritz-Carlton on Friday night. David, the Berkeley food expert, had drawn 430 Assyrian Americans from all over the West to a banquet to raise money to build school buildings in their homeland in Northern Iraq.
"We don't get together often," said Dr. John Aivaz of Palos Verdes, president of the American Assyrian Chamber of Commerce.
It was an interesting time for an Assyrian get-together. Their brethren in Northern Iraq soon may be in the middle of an American invasion and, if all goes well, finally get a voice in Iraqi affairs. The Assyrian Americans at the Ritz-Carlton were still joyful that a month ago, for the first time, the president had recognized their role in a future Iraq.
"The oppression of Kurds, Assyrians, Turkomans, Shi'a and Sunni must be lifted," said President Bush in a speech on Iraq.
Immediately afterward, I got a call from David. Despite his not being a big Bush fan, he was bubbling over, saying, "Did you hear the president mention us?"
I have to confess that before August, when I wrote a column about David's visit to Northern Iraq on behalf of the Assyrian Aid Society of America, I thought Assyrians were something from ancient history.
It turns out they're a part of whatever history is to come in the next year.
We mentally isolationist Americans somehow missed the fact that the 20th century -- the world's most criminal century -- has been tough on this great civilization that became the first Christian nation.
Assyrians were slaughtered by the Turks, a mass murder more forgotten than the Turkish genocide of the Assyrians' fellow Christians, the Armenians. Surviving Assyrians trekked to Baghdad, where they were massacred again and forced to Northern Iraq, along with Assyrians from Iran. There, along with the Sunni Muslim Kurds, they have suffered Saddam Hussein's depredations.
At Friday's dinner, Youel A. Baaba, a literary scholar and patriarch of the Assyrian Aid Society, spoke in the Assyrian language about how few people knew of the 200 Assyrian villages destroyed by Hussein and people forcibly relocated to undesirable places. "Sadly, not too many people are aware of the atrocities committed against Assyrians or their deplorable living conditions in Iraq," he said.
Baaba spoke of the need to support their countrymen in the homeland to secure their language and culture. Or else, he said, "We, like millions of other people before us, will melt away in this beautiful pot called the United States of America."
The handsome, well-dressed people in the audience applauded Baaba, most without having to look at the English translation. They hadn't entirely melted in this beautiful pot.
A children's dance troupe ended its spirited interpretations of Assyrian folk dances by appearing with American flags and singing "God Bless America." They were greeted with the applause of immigrants and children of immigrants for whom the flag means what it's supposed to mean.
This was one of the few large gatherings in the Bay Area where you could find mass support for a U.S. invasion of Iraq. These are people who know a thing or two about Hussein's branch of the axis of evil.
"Assyrians and other groups should have their right of survival, property and democracy," said Aivaz. "They are just surviving. In the 21st century, that is not acceptable. They are looking for the greatest democracy in the world to do something."
"Whatever happens, it will happen for the best," said Los Angeles developer Pierre Toulakany. "It couldn't be worse that what we've had, with chemical weapons used against our people."
This is America, though, and you could find healthy dissent. Dorothy Clark and Julia Roberts of Modesto, both Assyrian Americans, said they feared a Bush invasion of Iraq. "That man will do what he wants," said Roberts.
There are many things I fear, among them America's power to fire and forget, to use a missile metaphor. The world doesn't need more peoples used for our strategic purposes, then consigned to ancient history.
[Z-info: Rob Morse's column appears Mondays, Wednesdays, Fridays and Sundays in the San Francisco Chronicle newspaper. His e-mail address is rmorse@sfchronicle.com. Zinda Magazine urges a thank you note to Mr. Morse for his sound and skilled coverage of the Assyrian opinion and the fundraiser event.]

SYRIAC-SPEAKING ISRAELI STATESMAN DIES AT 87
Courtesy of the Daily Telegraph (18 November)
(ZNDA: London) Abba Eban, Israeli statesman who made the special relationship with America the cornerstone of Israel's foreign policy, died this week at the age of 87.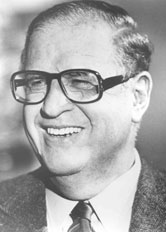 A highly skilful diplomat, he was also a considerable scholar, an elegant and successful writer and one of the foremost orators of his day. Yet in a strange way Abba Eban's many gifts impeded his advancement, and though he attained high office, he never rose quite to the heights for which he felt destined.
He was born Abba Solomon at Cape Town, South Africa, on February 2 1915, the child of Lithuanian immigrants. He lost his father when he was still an infant, and his mother took him to live in England. She remarried, and Abba, known in England as Aubrey, was brought up in south London, where his step-father, Isaac Eban, was a doctor.
As Aubrey Eban, the boy attended St Olave's school, near Tower Bridge, and from there won a scholarship to the Queens' College, Cambridge. He graduated with a Triple First in Classics and Oriental Languages, having won prizes in Hebrew, Syriac and Arabic along the way. His immersion in Arabic, he later wrote, made it impossible for him "to adopt the routine Zionist stereotype that regarded the Arab nation with intellectual condescension". He was elected a Research Fellow in Persian Studies at Pembroke College, Cambridge.
He represented his country at the United Nations from 1948 to 1959, in Washington as Ambassador from 1950 to 1959, and served as Israel's Minister of Foreign Affairs from 1966 to 1974.
He is survived by his wife, and by their son and daughter.


LANGUAGE OF THE ANCIENTS HANDING DOWN ARAMAIC TO ALL
Courtesy of the Los Angeles Daily News (17 November); article by Susan Abram
(ZNDA: Los Angeles) Within the peaceful walls of a Burbank church banquet hall, the soft murmurs of a language spoken by Jesus and his disciples can still be heard.
And in a church classroom in Tarzana, the scene is the same. Children memorize prayers and train the muscles of their tongues to learn the language spoken by their forefathers.

Despite a slight difference in pronunciation taught to the students of both churches, the goal is the same: to speak, read, write and preserve Aramaic, a 3,000-year-old language that has quietly survived, even as war, assimilation and time have almost silenced its speakers.
"My grandfather translated a lot of books into Aramaic," said 25- year- old Tracy Grair, who drives from Camarillo each Monday night to take classes at Burbank's St. Ephraim Syrian Orthodox Church. "Learning the language helps me to understand who he was. It's a part of who I am."
Once the lingua franca of the Middle East, Aramaic thrives now within church walls of villages of Northern Iraq, Eastern Turkey and Syria, and also in the United States, where Assyrians, Chaldeans and Aramaens still use the language as part of their liturgy.
But scholars believe its very existence hangs by a fragile thread.
"I wouldn't say Aramaic is a dead language now, but it is in a precarious situation," said Yona Sabar, professor of Hebrew and Aramaic languages at the University of California, Los Angeles. "I think the chances of its survival are doomed."
Sabar points to several factors, including centuries of persecution of Middle Eastern Christians, which has forced speakers of Aramaic to scatter across the world.
In the Mideast, Aramaic-speaking villagers who move to big cities in search of better opportunities must learn to speak Arabic in order to survive, Sabar said.
Under Iraqi strongman Saddam Hussein's regime, Assyrians, who speak a modern version of Aramaic, have been assimilated. Many have been forced to take on Arab surnames and are referred to as Christian Arabs, which they are not, Sabar said.
At one time, Assyrian priests were killed if they were caught copying Bibles written in Aramaic, said the Rev. George Bet Rasho of St. Mary's Assyrian Church of the East in Tarzana. Priests and deacons memorized the words and passed them down orally.
"Our people have been struggling so much to preserve our language, which is a part of our culture," Bet Rasho said. "Because we have no land, no real country of our own, we are losing the language. We have mixed in the languages of the regions where we have lived."
And yet, like hope, Aramaic lives on in some corners of the United States.
"Living in the West has helped us a lot," said Bet Rasho, who teaches Aramaic to children, some of whom he hopes become deacons and priests. "In church, we use books that are pure Aramaic and that have never been translated. And the Internet is a safe place for us. That is where we unite. The opportunities for us there have been great."
Indeed, for many of the students who attend the Rev. Joseph Tarzi's weekly classes in Burbank, learning Aramaic is like reuniting with ancestors.
The irony here is that despite the fact that many hail from all over the Middle East, such as Jordan, Turkey, Iraq and Syria, for example, they have found themselves in Burbank, all Christians united in learning Aramaic.
"I like the language," said Souzan Mirza of Van Nuys. "My parents could not teach it to me when I was young. Now I have the chance. I'm proud of myself."
Despite the difficulty of relearning an alphabet, reading right to left and pronouncing words that the students joke is hard on the throat, many said they have found wisdom and pieces of themselves within the ancient words.
"We have a lot of valuable books we want to read and be able to understand," said Daniel Sengul of La Crescenta, who is from Turkey.
"It was a challenge to learn," said Liliana Khoury of West Hills. "The men in my family were the ones who learned it, so I am the first woman to learn it. I started learning this when I was 30."


BOOK ON TRAVELS IN ASSYRIA SOLD IN MELBOURNE

(ZNDA: Melbourne) A number of travel books were auctioned off at Melbourne's Malvern Town Hall recently.
The books were relatively recent, dating from early in the 20th century, bound in pictorial cloth rather than leather and are in unusually fresh condition.

They were offered as part of a 1500-lot sale of books, maps and prints held over three days by Australian Book Auctions. J.S. Buckingham's Travels in Assyria, Media and Persia (London, 1830) reportedly brought $1515 at this auction.