IRAQI ASSYRIANS SPEAK THE LANGUAGE JESUS SPOKE — BUT FOR HOW LONG?
In the high mountains and plains of northern Iraq, a region above which U.S jets enforce the Kurdish "no-fly" zone, an ancient, minority Christian community still speaks the language once spoken by Jesus Christ.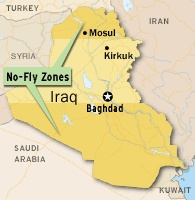 Called the Assyrians, they are one of the world's oldest Christian communities, and scholars believe the Aramaic language they speak today is a dialect of the language Jesus of Nazareth and his early disciples spoke.
In the Christian villages and hamlets dotting the northern enclave, historic churches and monasteries today conduct their services in classical Aramaic, presenting a picture of a people and their culture untouched by time.
But nothing could be further from the truth.
Linguists warn that the Aramaic language is in its death throes, battered by centuries of persecution and marginalization by a range of conquerors from Persian armies and the Ottoman Turks to Saddam Hussein's Ba'athist regime.
And these days, while the Bush administration makes repeated calls for a "regime change" in Iraq, the talk in Assyrian households across the world is getting increasingly urgent as a community that has preserved its culture through the centuries braces for another milestone in their long, often tormented history.
"Our greatest fear if there is a regime change in Iraq is if there will be a substitution of Saddam Hussein's tyranny for a new tyranny," says Ronald Michael, president of the Assyrian American League, an Illinois-based organization representing the Assyrian community in the United States.
'Correcting' Ethnic Identities
Human rights groups say the Assyrians — like the Kurds — have suffered under Saddam's systematic attempts to "Arabize" the north, a process that includes driving ethnic minorities from their lands and seizing some of their properties, especially in the strategic, oil-rich northern region bordering the Kurdish enclave.
"The Iraqi government has also forced ethnic minorities such as the Assyrians, the Kurds and the Turkomen to sign 'national correction forms' that require them to renounce their ethnic identities and declare themselves to be Arabs," says Hania Mufti of Human Rights Watch. "In a way, it is a form of ethnic cleansing by clearing an area of its ethnic minorities."
Unlike the Shiite Muslim majority concentrated in southern Iraq and the empowered Sunni Muslims primarily based around Baghdad, the Kurds, Assyrians and Turkomen comprise Iraq's non-Arab populations — a group whose loyalties have always been a cause for Saddam's concern.
The Politics of Numbers
Through centuries of conquests as well as forced and voluntary migrations, the Assyrian community has been plagued by the politics of numbers.
Assyrians define themselves as a broad category of Christian groups speaking Aramaic — or Syriac, as it is sometimes known — including followers of the Chaldean Catholic Church, the Syrian Orthodox Church and the Church of the East, among others.
But scholars such as Naby Eden, an Assyrian-American specialist on minorities in the Middle East, say there have been attempts on the part of several Middle Eastern governments to categorize Christian groups by their churches in an attempt to break up an ethnic category along religious lines.
Not surprisingly, reliable figures for the number of Assyrians in the world today are hard to come by. In the Middle East, Assyrians are spread across Iraq, Syria, Turkey, and Iran, where rights groups say they live as small, often discriminated-against minorities under governments that are largely unsympathetic to their religious and cultural aspirations.
But an estimated 4 million Assyrians live in the United States, Europe and Australia today, in a steadily growing diaspora that dates back to the 1915 massacres of Armenians and Assyrians in the Middle East by the Ottomans.
'The Arabs on One Side and the Kurds on the Other'
In northern Iraq, where an estimated 1 million Assyrians still live in towns and villages, the situation slowly improved when the northern enclave was established after the 1991 Gulf War, and the Kurds were allowed to build an autonomous region free from Saddam's control.
In the current regional Kurdish parliament, there are five seats reserved for the Assyrian community, four of which are occupied by the ADM (Assyrian Democratic Movement). And where Aramaic was once banned by Saddam, today the language is taught in about 35 schools in the northern autonomous zone.
But while the bridging of Assyrian and Kurdish interests in northern Iraq has been wobbly at best and troubled at worst, with Washington's renewed calls for political change in Iraq, the country's Christian minority has serious fears for the future.
"We are in a critical stage today," says Edward Odisho, a linguist at Northeastern Illinois University in Chicago and an Iraqi Assyrian who fled Saddam's Iraq in 1980. "We have the Arabs on one side and the Kurds on the other. And although we have good relations with our Kurdish brothers in northern Iraq, unfortunately, now the Kurds are behaving in the role of a big brother."
The Land Festers
Experts fear that in the event of a collapse of Saddam's regime in Baghdad — a common enemy for the Kurds and the Assyrians — historic differences between the two groups could resurface.
An estimated 1 million Assyrians live in towns and villages in northern Iraq. Turkish nationalist politicians have threatened to seize the oil-rich cities of Kirkuk and Mosul. (ABCNEWS.com)

And one of the greatest causes of concern is the festering issue of land ownership in the oil-rich north.
"There are outstanding issues of Assyrian villages and lands, which were vacated under Baghdad's forced repatriations during the 1970s and '80s," says Mufti. "Those issues have not been resolved when the Kurdish authorities took over and they are a bone of contention between the two groups."
Experts warn that in the event of a war, control for the northern Iraqi city of Kirkuk — currently under Baghdad's control — is a particularly troubling pressure point, which is being closely watched by neighboring Turkey.
Earlier this month, in a run-up to last weekend's Turkish general elections, nationalist Turkish politicians and senior generals threatened to seize Kirkuk and Mosul in the event of war, citing Ottoman-era claims to the two oil-rich northern Iraqi cities.
Some Iraqi Assyrians are also concerned that the Kurdish parties might seek an independent state if the United States attacks Iraq.
"If the Kurds use the chaos of the war to try to grab land and if they are given a federal state, then we want our own state," says Michael, "because they [the Kurdish parties] have not proven themselves to be democratic."
For their part, the leaders of the KDP (Kurdish Democratic Party) and the PUK (Patriotic Union of Kurdistan), the two leading Kurdish parties, have maintained that their aim is not to set up an independent government or entity, but an Iraqi federation made up of an Arab region and a Kurdish region.
Fears of an Islamic Backlash
Some experts concede that Assyrian concerns about the democratic credentials of the KDP and the PUK are not unfounded.
Over the past few years, Assyrian groups in northern Iraq have recorded a number of attacks against the community, primarily by militant Kurdish Islamic groups, including the Jund al-Islam (Soldiers of Islam), a group suspected of having ties to Osama bin Laden's al Qaeda network.
Although the KDP and the PUK have outlawed the Jund al-Islam following a series of assassinations and armed clashes with the PUK, many Assyrian community leaders say the two Kurdish nationalist parties fail to administer justice in cases of attacks against the Christian population.
"The nationalist parties don't want to lose the support of the Kurdish people," says Michael. "If the KDP is in power, we expect justice to be served. But the KDP turns a blind eye to these attacks out of fear of an Islamic backlash."
A Matter of Identity
But by far the biggest complaint, according to Mufti, is the Assyrian fear of being "lumped together with the Kurds."
Particularly egregious from the Assyrian point of view are recent Kurdish attempts to classify Iraq's Christians as "Kurdish Christians."
"They started calling us 'Kurdish Christian,'" says Odisho. "Then we should call them 'Assyrian Muslims.'"
For a community that has had a minority status for centuries under different empires and has dispersed across the world, identity is a critical issue — for Assyrians living in and outside the Middle East.
With approximately 4 million Assyrians living in the West and speedily assimilating the cultures of their adopted lands, experts say a shared language can play the role of an emotional state, binding members in the absence of a geographic concentration.
By all accounts, the continuation of the Aramaic language has been a linguistic feat, significant credit for which goes to the Assyrian exile communities who have refused to lose their mother tongue.
"Aramaic has retained its place as a form of cultural identity because of the importance of the language to the people," says Stuart Creason of the University of Chicago. "Within history, there are very few examples of languages that are spoken for this long a period of time, maintained by the community."
But Creason warns that the very future of Aramaic is at stake. "I would call Aramaic an endangered language," he says. "It's a language whose future existence is uncertain, and it could die out within a few generations because of the political situation."
History has shown that the fate of languages is inextricably linked with the political power of the people who speak it. And Iraqi Assyrians hope their future will ring to the sounds of their ancient language.
Leela Jacinto
ABC News
6 November 2002
[To comment or thank ABC and Ms. Jacinto, Zinda Magazine readers may use the email address at: leela.jacinto@abc.com. ]
ONLY SQUEAKY WHEELS GET OILED
"With signs of war with Iraq increasing every day, lost amidst the fog of war are a small, once proud and once very influential people.
"Almost completely ignored in the current discussions are 1.2 million Assyrian Christians. Scattered throughout Iraq, but with many near the city of Nineveh, currently known as Mosul, these remnants of the great Assyrian Empire are frozen in time.
"It is their history that is little known. It was to them that Jonah came to bring the message of repentance and they repented. It was to them that the Apostle Thomas came and their King Abgar repented for his people and Assyria in the first century became the first Christian nation."
Those are the words of Ken Joseph, Jr., a Christian missionary in Japan and grandson of Stephen Joseph, an Assyrian Christian who fled a Kurdish massacre in 1919 which destroyed two- thirds of the nation. Stephen came to America, settling in Chicago, and for 50 years to the day he died, awoke at night screaming of terrors he refused to describe to his descendants.
Does another massacre lie ahead for today's Assyrians, the second largest group of Christians in the Middle East, second only to Egypt's Christians?
That's the fear of an international group of Assyrians meeting in London as you read these words. From America, Europe, Asia, and Iraq, the Assyrians and their descendants are gathering to develop recommendations for the U.S. Department of State which is expected to hold a conference in November on "The Future of Iraq" after Saddam's demise.
Within Iraq there are two Christian groups: "The Church of the East," of about 200,000 and a million Chaldean Catholics who recognize the Pope.
Approximately 150,000 now live in northern Iraq amidst 4 million Kurds who have fought for independence from Iraq. Hundreds of Kurdish and Assyrian villages were destroyed by the Iraqi military from 1961-1979, forcing surviving Assyrians to flee abroad or to central Iraq. Saddam Hussein used poison gas against northern Iraqi villages in 1988 to douse rebellion.
Under the "no-fly zone" protected by British and U.S. air forces, a new era of peace has settled in for a decade. Churches are being rebuilt and Assyrians have built 40 schools for 8,000 children who are being taught in Aramaic, the language Jesus spoke. Such schools and the teaching of any non-Muslim language is strictly forbidden by Hussein.
An informal Kurdish Parliament has emerged, with five of its 105 seats assigned to Assyrians. No such political freedom exists in the Iraq controlled by Saddam. Even the economy is thriving in the region. While Muslims are prohibited from paying interest, Christians have borrowed money and built small businesses - grocery stores, restaurants, gas stations.
Few realize that Christianity's respect for the individual has been the soil out of which the fruits of democracy and economic growth have emerged. Conversely, as Christians have been persecuted in Iraq, Egypt, Lebanon and Israel and fled to other countries, unemployment has grown, adding to the radicalization of Islam.
However, what could happen to the Iraqi Christians if war breaks out?
Saddam might exact revenge on the people of northern Iraq with more poison gas attacks. After Saddam, the fate of Christians in the hands of militant Muslim majorities could be horrific. There are three warring Muslim factions in Iraq. Three-quarters of the Arab population are Shi'ah Muslims, but political power is held by minority Sunni Muslims loyal to Saddam, who assassinated Shi'ah leaders and blocked access to many Shi'ah mosques. The Muslim Kurds are implacable foes of both Sunni and Shi'ah.
In a post-Saddam Iraq, the one thing 21 million Muslims might agree upon is to snuff out the million Christians in the world's oldest Christian community.
"We have four goals," says John Nimrod, Secretary General of the Assyrian Universal Alliance: " having one name, one language, one homeland, one representation."
Why aren't America's Catholic bishops and the National Council of Churches issuing any pleas for the safety and future of Assyrian Christians?
A basic political rule is only squeaky wheels get oiled.
Bob Thomas
Daily Journal
6 November 2002
[Michael McManus is a syndicated columnist and a weekly contributor to The Daily Journal. He may be reached at 9311 Harrington Drive,Potomac, Maryland 20854.]
IRAQIS IN U.S. BACK PUSH TO OUST HUSSEIN
Amid the drumbeats of war and the boisterous opposition, thousands of Iraqi refugees like Talib Aljabiri of Chicago worry that their calls for military intervention have gone unheard.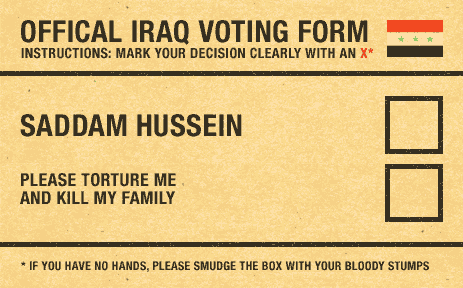 "Unfortunately, we don't have the power so the media will hear us," he said. "We are asking for the help of the United States to help the Iraqi people live in peace."
Now many Iraqis are becoming more active in capturing the ears of politicians and the general public who are weighing whether the United States should go to war.
This activism has put Iraqis at odds with many fellow Muslims, whom they consider friends and spiritual colleagues. Most national Islamic organizations have been on the front lines of the anti-war movement.
But Iraqis continue to make their case.
Iraqi House, an Albany Park agency that works with refugees, is seeking funds to present local lectures in schools, churches and bookstores about Iraqi leader Saddam Hussein's brutality.
Activists hope to build on the momentum of a recent pro-war rally in Washington that drew busloads of Iraqi immigrants, including a contingent from Chicago.
And members of Chicago's Assyrian community, an ethnic minority of Christians in Iraq, made the case for military action at meetings with State Department officials and a fundraiser they held last month for U.S. Rep. Jan Schakowsky (D-Ill.).
"The U.S. is a superpower. They have their own agenda and their own vision. In the end, they will do what they want," said Rommel Aliah, a leader with the Assyrian Democratic Movement, in an interview. "But we want to offer our support to the U.S. to use thei r full resources in Iraq."
Muslim groups, however, have spoken out against war, accusing the United States of pro-Israel bias and a desire to control oil in the Middle East. They also fear that many Iraqi civilians will perish if the United States attacks.
Iraqi activists say Muslims oppose the war because Hussein has provided financial support for the Palestinian cause against the Israeli government. About 95 percent of Iraqis are Muslims, according to U.S. government research.
Iraqi refugees, both the majority Shiite and minority Sunni, say they back military action. Refugees say they do not think the opposition to war is rooted in the fact that Hussein is a Sunni Muslim, like most Muslims worldwide.
At a Northwest Side mosque that draws hundreds of Iraqi worshipers, some Iraqis said recently that this political division has caused tension among Muslims who normally found common ground in their religion and culture.
Abukamal Faraj, a Lebanese immigrant, said he realizes that many Iraqi worshipers cannot stomach his misgivings about going to war against Hussein.
"I don't want to see American B-52s dropping bombs on Iraq," he said. "The Arab and Islamic people, we will not accept that. I'm also worried about the [U.S.] motives."
But Hamid Muhsin of Iraq said he is fed up with fellow cabdrivers from Palestine or Morocco who display pictures of Hussein and consider him a hero.
"We try to explain that Saddam Hussein is a very bad man, but they say he is the best man," said Muhsin, who was shot twice by government police during a failed uprising in 1991. "All other Arabs should just shut up and stay out of this issue."
Many of about 3,200 Iraqi refugees who resettled in Illinois since 1991 rose up against Hussein after the Gulf War but then fled for their lives after the revolts failed.
The Washington-based Iraq Foundation said Chicago ranks behind only Detroit and Phoenix in the size of its Iraqi population. The census estimates about 9,600 Iraqi -born residents in Illinois, although advocates call that figure low.
As the Iraqi community has matured, community agencies such as Iraqi House have formed to offer social services, such as English classes, immigration aid and job training.
The center has been a hotbed for activism too.
Representatives from the Iraq Foundation were in town Friday to meet with local Iraqi community leaders to discuss future events.
Despite the fervor, Rahman Aljebouri, a coordinator with the foundation, said the Iraqis' passionate support of deposing Hussein is tempered by the sad realization that many of their loved ones could be caught in the crossfire.
"We have really mixed feelings," Aljebouri said. "We want to get rid of that regime. We want our country back. But we also worry about war because we have families there."
Several refugees also said they are trying to keep their hopes in check after they were dashed in 1991. Many Iraqis said the United States, by failing to remove Hussein from power, did not properly finish the Gulf War.
Still, almost all of the 30 Iraqis at the mosque said they hope to return to Iraq if Hussein is deposed.
"If they finally get rid of Saddam," said Muhsin Hamza of Bensenville, "I would walk all the way to Iraq to celebrate."
Oscar Avila
Chicago Tribune
2 November 2002
AS THE THREAT OF WAR GROWS, ARCHAEOLOGISTS MAKE PLEA TO SPARE IRAQ'S TREASURES.
The names evoke ancient kingdoms past, the empires of Babylon and Assyria from the times of Nebuchadnezzar and Alexander the Great.
Most of the palaces and temples and mosques of those ancient civilisations crumbled many centuries ago. But something between 10,000 and 100,000 archaeological sites hold the enduring remains.

They are, of course, in modern-day Iraq. And, as the United States prepares for war, an international band of curators and historians anxious not to repeat the damage inflicted on Iraqi treasures during the Gulf War 11 years ago are appealing to the American government to take the historic sites into account.
Specialists concerned about potential threats to the thousands of archaeological ruins and architectural monuments scattered throughout Iraq are supplying maps and other information to the American Defence Department.
And the initiative, co-ordinated by Arthur Houghton, a former antiquities curator at the J Paul Getty Museum, aims to highlight the most important with the hope that the military might just be able to give them a miss.
"Based on the last Desert Storm, if a battle plan involved an invasion from Kuwait or Saudi Arabia, there would certainly be a likelihood of emplacement or trenching in sites," John Malcolm Russell, an American archaeologist told The Art newspaper.
"In southern Iraq, the highest ground is often on top of archaeological sites. If you have bulldozers creating earthworks on these sites, that's going to destroy things."
The threat is very real. Many treasures lie close to air bases or oil refineries or laboratories that were targeted in the Gulf War.
The Kerbala Shia shrine to Imam al-Hussein, the most renowned of Iraq's sacred Islamic attractions, lies near a chemical weapons plant and missile range that were bombed in 1991. Ur, Iraq's most famous site and perhaps the earliest city in the world, is near a major air base that was also attacked. At Basra al-Qurna, a gnarled old tree, known as Adam's tree, stands on the reputed site of the Garden of Eden. A chemical weapons plant stands nearby.
Helen McDonald, of the British School of Archaeology in Iraq, based at Cambridge University, said that last time the Iraqis had tried to move a great deal of their most important objects out into stores in the countryside. They have already begun to do so again.
"But some things are immovable - such as huge stones. If a bomb hits a museum or something, that would be it," she said.
The consequence is the potential obliteration of generation after generation of history stretching back to 4,000 years before Christ.
"The Near East in general, including Iraq, is one of the first areas to be settled by agricultural communities, one of the first areas to have civilisations with cities and writing and complicated structures like temples," Ms McDonald said.
"People talk about Egypt but there were lots of similar but different things going on in Mesopotamia. If people go to the British Museum and see the Assyrian reliefs - they come from places in Iraq. And there are still reliefs like that in the National Museum of Antiquities in Baghdad.
"The British School of Archaeology in Iraq has written [about this]. They wrote to the Foreign Office during the Gulf War to express concern, not just on the humanitarian grounds but the effects that it would have on the culture."
It is not only bombing that is a danger. Charles Tripp, of the School of Oriental and African Studies in London, warned that in the wake of the Gulf War, sanctions had inadvertently caused as much damage to the archaeological sites of Iraq as direct attack.
The conditions of poverty had led to much looting of archaeological sites and site museums, which often contained significant finds even after the best items were removed to Baghdad. Numerous finds have turned up on the art market in the West. "There is a lot of temptation in a destitute country to rip something out that has a saleable value in the West," Dr Tripp said.
American scholars are pointing to the Hague Convention of 1954, which prohibits the targeting of cultural and religious sites in war, to further their cause with the American government.
Washington never ratified the accord but there were efforts during the Gulf War to avoid cultural monuments - although the experts feared that American commanders did not have the archaeological information they needed to know which sites to avoid.
Britain signed the convention but did not ratify it so is not legally binding. However, a Foreign Office spokeswoman said it did abide by international statutes, including Article 53 of the 1st Additional Protocol to the Geneva Convention, that prohibited acts of hostility against historic monuments, artworks and places of worship. "Obviously we do our utmost to honour our international obligations," she said.
A Ministry of Defence spokesman said it could not discuss the situation in Iraq. The official British line remains that we are not preparing for conflict. But, in general terms, British forces attempt to be sensitive to cultural sites, the spokesman said.
"In the targeting process, places of historical, religious or cultural significance are always taken into consideration as is their vicinity to legitimate military targets. The process is kept under constant review."
The irony is that it is the British who helped encourage an Iraqi interest in its history and it has been British scholars, such as Max Mallowan, the husband of Agatha Christie, who have helped research many of the sites.
Dr Tripp said: "From the time the state was founded by the British in the early 1920s, there was a very determined effort to develop something of an Iraqi identity by impressing upon them the incredible richness of the land they lived in."
Saddam Hussein had gone on to use the past glories of the country to help build his nation, encouraging the people of the north to revel in the glories of Ninevah and those of the south to acknowledge the great history of the city of Ur.
Dr Tripp added a grim prediction. He said: "Old Mesopotamia was the birth of civilisation. Clearly what might happen there is quite ghastly."
Louise Jury
The Independent - London
7 November 2002

DAM ON THE TIGRIS PUTS ASSYRIAN PAST UNDER THREAT.

As war looms again over Iraq, the country's archaeologists have appealed for international help to salvage the ruins of the ancient Assyrian empire before a dam to plug the river Tigris swamps them in 2007.

"We must scramble to save ancient Assyria before the flood," says Donny George, who heads the research department at Iraq's state board of antiquities and heritage. "Otherwise we will condemn our glorious civilisation to mud."
Mr George has sent out his appeals to archaeological departments across Europe, warning that 65 sites, including two royal Assyrian cities, are in danger of being submerged.
The Makhoul dam is being built near the confluence of the Lower Zab with the Tigris, 45km downstream from the ancient Assyrian capital of Ashur, which at its acme 3,000 years ago governed an empire stretching from Nubia to Iran.
Pleas by Iraqi archaeologists to delay construction have fallen on deaf ears. Officials say the dam, due to span 3,600 metres, is a matter of national security. The dam is expected to create a reservoir of 13m cu metres of water, which the authorities say is vital to minimise dependence on supplies from Turkey, which has dammed the upper reaches of the Tigris.
Iraqi archaeologists say the prospect of a US strike on Iraq - together with 12 years of cultural isolation caused by United Nations sanctions - has set back the prospects of saving the site.
After months of negotiation they have persuaded Unesco to assess the dam's impact on what it calls a "tentative world heritage site". A three-man Unesco team is due to begin a 10-day mission to the site on November 17.
"Iraq is not easy," said a UN official. "The United States is due to resume its Unesco membership next year, which could block rescue efforts."
UN sanctions have also caused a sharp reduction in the number of foreign teams digging in Iraq. Since 1990 the British Archaeological Expedition to Iraq, which this year celebrates its 70th anniversary, has cut all official ties with Iraq.
Iraqi archaeologists say only a salvage operation comparable to Unesco's operation ahead of the opening of Egypt's Aswan dam in the 1960s can spare the Assyrian remains. The operation to shift the 3,000-year-old Abu Simbel temples cost $40m in the 1960s, a sum Unesco officials say is far beyond its budget today.
Even if funds were available, western archaeologists already working in Iraq doubt that they could meet the four-year deadline to excavate what 3,000 years ago was a trading and spiritual centre of the ancient world.
The UN is also concerned at the impact of the dam on the local population, many of whom are Assyrian Christians. Christian community leaders in exile have denounced the dam as "a conspiracy against the Assyrian people" and accused the Iraqi authorities of wilful destruction of the Iraqi heritage. They are also bitter that the dam could exacerbate Iraq's displacement of the Assyrians from their traditional homeland.
"No one has assessed how many villages and how many people will be displaced by the waters," says the UN official.
Iraqi archaeologists say they have received assurances that the dam will not be filled to capacity, sparing the promontory on which the royal palace of Ashur was built. But they fear that the waters could flood the low-lying southern rim of the city, threatening the foundations of its largely unexplored commercial and residential quarters.
"The underlying areas will be soaked in water and the entire structure could be lost," says a western archaeologist already in Iraq.
The other royal city faced with submersion is the largely unexcavated Kar-Tukulti Ninurta, the empire's capital in the 13th century BC. Engineers expect the dam waters to rise 156 metres above the present level of the river, submerging both the city's ziggurat temple complex and a royal palace decorated with ancient wall paintings.
Partial excavations already offer unique insights into the antecedents of Iraqi regimes. Royal inscriptions on stelae record that Assyria's ancient rulers regarded themselves as gods and had a penchant for taking prisoners of war.
"I trod on his royal neck with my feet like a footstool," boasts one ruler after capturing a Hittite king and his 28,000 soldiers in an earlier mother of all battles.
Nicolas Pelham
Financial Times
1 November 2002

PREPARATIONS FOR WAR IN NORTHERN IRAQ TAKING A BACK SEAT TO BUSINESS IN THE LOCAL REGION

KAI RYSSDAL, anchor: From Los Angeles, this is MARKETPLACE. I'm Kai Ryssdal.

The British news agency Sky News reports today Iraqi President Saddam Hussein is open to Americans participating in United Nations weapons inspections in his country, as long as they respect UN rules and international law. President Bush has said war there may be unavoidable. Borzou Daragahi spent some time recently in northern Iraq, an area where preparations for war are taking a back seat to the region's historic business, business.

BORZOU DARAGAHI reporting:
Getting into northern Iraq takes weeks of planning. At first, the Kurds who run the ground below the no-fly zone are optimistic about getting us in. Suddenly, they become discouraging. With war imminent, little is getting across the border now. But in these parts, everything's flexible, especially if you can find the right outstretched hand. For $150 a person, a fixer agrees to use his connections to get us legally into northern Iraq. My heart races as we're hustled across the dusty and barren border. A group of Kurdish soldiers rushes up to greet us. `Welcome,' they say. `Welcome to free Kurdistan.'
Unidentified Man #1: (Foreign language spoken)
DARAGAHI: Their commander orders a cabdriver to take us to the city of Arbil. He also orders him not to charge us to too much for the three-hour drive. A guy at a checkpoint tries to shake us down for $20 a person. He backs off when we list the people we know. They include the nephew of the local warlord. In Arbil, I'm shocked by what I see.
I don't see refugees fleeing a war. I do see shops filled to the brim with electronics and foodstuffs. I see new construction and late model cars.
You can get pretty much anything here. Music stores carry pirated Kurdish, Persian, Turkish and Western CDs and video movies. Titles include "Shanghai Noon," "Spider-Man" and all the James Bond flicks. Each costs around $3. In the Christian neighborhood of Onkowa, liquor stores are well-stocked with Johnnie Walker and Smirnoff Vodka. It seems everything is available and at a reasonable price.
Unidentified Man #2: (Foreign language spoken)
DARAGAHI: A Sony digital camera costs around $500, what you might expect to pay at Circuit City or Best Buy. Arbil is an ancient city, dating back to the Assyrian empire. It's been a center of commerce and competition for millennia. And in its bazaars, there are deals to be had. I buy a pair of sunglasses for a buck 50. I buy a new pair of shoes for around six bucks and change, made in Iraq. Yes, they're torture on my feet, but they're actually kind of chic.
Northern Iraq feels normal and busy. Still, people confide that they're worried about the possibility of war. Everyone keeps a war suitcase with clothes, blankets and first aid supplies. Everyone keeps extra stocks of water and fuel. They know any war with Saddam could easily spill over here, and in a space of a few hours, they know their homes and businesses could disappear. In northern Iraq, I'm Borzou Daragahi for MARKETPLACE.
RYSSDAL: And in Los Angeles, I'm Kai Ryssdal. Thanks for being with us.

Minnesota Public Radio
Marketplace Morning Report
5 November 2002