U.S. RECRUITING ASSYRIANS IN NORTH IRAQ FOR WAR WITH SADDAM
Courtesy of the New York Times (21 Dec); C.J. Chivers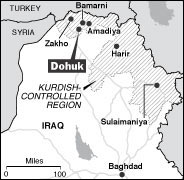 (ZNDA: Dohuk) Mr. Youra Mossa, a local leader of the Assyrian Democratic Party in the city of Zakho in North Iraq, says that senior ADM officials have met with an unspecified group of Americans about enlisting Assyrians at the local ADM offices for possible war with Iraq.
Local officials say that apart from the C.I.A presence, there has been the American-sponsored effort to recruit guides, civil affairs specialists and translators to work with Western forces should they enter Iraq.
"We have registered some names, and we have told them we are ready to register some other names, and to send young people to help America," Mr. Mossa said. "In the case of ousting Saddam Hussein, all the people of Iraq — Kurds, Assyrian, Arabs — will be ready to help."
Mr. Mossa said that none of the men his office had signed up had departed for training and that they were awaiting further instructions.
American intelligence officials have been working alongside Kurdish officials in recent weeks, and recruiters for an American-sponsored opposition group have been selecting candidates for a program to train scouts and translators that one day may help American forces inside Iraq, according to Kurdish and Western officials.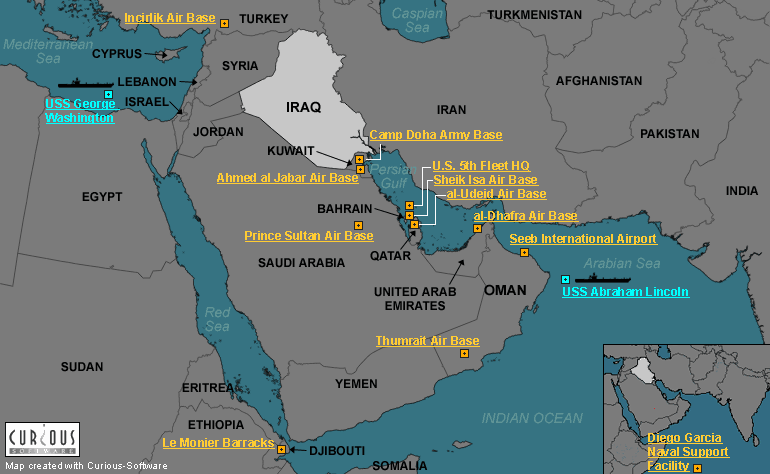 The program, underwritten by the United States Congress as part of Iraq Liberation Act of 1998, would provide training, perhaps in Hungary, for the recruits.
American military planners have visited secluded corners of the country to examine potential basing sites for use in a war, according to a Western expert familiar with the activity.
No American military forces are based here yet, Kurdish officials say, and recent Turkish and Arabic news reports of sizable military deployments appear unfounded.
But teams from the Central Intelligence Agency have been working with the principal political parties in the Kurdish region — the Patriotic Union of Kurdistan in the east, and the Kurdistan Democratic Party in the west — for upward of two months. The C.I.A. teams have become a familiar sight for Kurds, who see them traveling in convoys with armed local guards.
A Western expert familiar with the region said the recruiting was coordinated by the Iraq National Congress, an opposition group based in London, and was unrelated to the C.I.A. teams here.
"We have to be very careful," a senior official said. "If there are people who want to overthrow Saddam Hussein, we do not want to be too far from them. But we do not want to provoke Saddam Hussein in any way. We know him, and we are responsible for our people, and must be very careful about what we say and do."
The sense of uncertainty briefly deepened this week, when Turkish and Arab media reported that 50 military trucks entered Iraq at the border crossing near Zakho, ferrying American troops and equipment into village bases. Some reports said American soldiers were improving airfields in anticipation of war.
Turkish military officials and Western diplomats said the reports were false, and Kurdish officials investigated and then dismissed them as baseless. "Until now I have not seen these military trucks," said Akher Shekh Jamal, Zakho's mayor. "If American troops came to Kurdistan, we would see them. We would have witnesses."
A Western expert said military activity had been limited to surveys of airfields some weeks ago by American planners near the villages of Bamarni and Harir in northern Iraq. Tours of northern villages appeared to confirm a low level of activity.
The Turkish Army has operated inside northern Iraq since the late 1990's, under an agreement with the Kurdistan Democratic Party. The deployments are part of the army's counterinsurgency against the Kurdish Workers Party, or P.K.K., which has engaged in a long campaign for Kurdish rights in Turkey.
With their armored vehicles, including American-made M60 tanks, Turkish soldiers were visible on Thursday near the airfield in Bamarni and at the mountaintop village of Amadiya, both roughly 15 miles south of the Turkish border.
But villagers said the Turks were part of deployments that began in 1997 and that have not recently changed in size or composition. The troops seemed lazily deployed, with few guards. Most of their tanks were idled and under tarps. Fighting positions had clearly been dug long ago.
Moreover, the dirt-and-gravel airstrip at Bamarni showed no signs of improvement. It had drainage problems, was littered in places with melon-sized stones, and in sections had shin-high shrubs.
"We haven't seen American forces come here," said Nori Fatah Abdullah, of Bamarni, looking down from a hilltop at the Turkish tanks. "We would like it if they came, because they are good people, but they are not here yet."
IRAQI CHRISTIANS FEAR INVASION BACKLASH
Courtesy of USA TODAY (20 December); article by Vivienne Walt
(ZNDA: Baghdad) Saddam Hussein's visage stares down at customers from a wall above shelves of Johnnie Walker whiskey and Russian vodka in Yonan Ibrahim's liquor store. The Saddam calendar, showing the Iraqi president in a Tyrolean-style hat and firing a carbine in the air, doesn't just keep track of the date. It lets shoppers know that this Christian shop owner is a patriot.
During the 23 years of Saddam's rule, Ibrahim's fealty has served him and hundreds of thousands of other Iraqi Christians well. But as a U.S.-led war against Iraq looks increasingly likely, Ibrahim believes the Christians' luck might finally be running out, along with their leader's.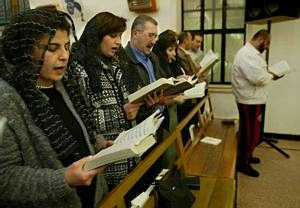 ''Until now this has been a very good place to be a Christian,'' says Ibrahim, 50, a soft-spoken man with thick spectacles and a natty business suit.
His father opened the liquor store decades ago on Baghdad's Aqaba Square. ''The government likes us because we don't cheat or lie.''
As Christmas approaches, Iraq's 1 million Christians feel threatened. Saddam, for most of his career a moderate Muslim, is beginning to appeal to the country's growing number of devout Muslims. A U.S.-led war, the Christians here believe, could pit orthodox Islam against one of the Middle East's largest and oldest Christian communities.
With many involved in trade, Iraq's Christians are known for being trustworthy, Ibrahim says. Ibrahim and other Christians interviewed during two weeks in the capital say they believe a U.S.-led war would be seen by many Iraqis as a battle between the Christian and Muslim worlds. ''People will think we are with the Americans,'' he says. Iraqi officials say there is ethnic harmony in the country. Ibrahim believes many Christians hesitate to mention tensions publicly, for fear of conflicting with official thinking on religion.
In fact, Christians in this country long known for its Western links and secular culture already have sensed a shift toward Islam. ''Right now, Christians are afraid of the future, of what will happen. Most of the Christians are preparing to leave,'' Ibrahim says. Hundreds of thousands already have. From the moment the 1991 Gulf War (news - web sites) ended, Christians from one of the world's most ancient communities began a stampede to the USA, Canada, Europe and Australia.
About 1 million of Iraq's 24 million people are Christian. An estimated 500,000 Christians live in central and southern Iraq. That's 50% fewer than the number that lived in that area a decade ago. About 500,000 live in northern Iraq's three provinces, which comprise a semi-autonomous territory governed by two Kurdish parties. The area, which is under U.N. protection, is patrolled by British and U.S. jets. Many of the Christians are Assyrian Catholics, known as Chaldeans here, similar to those in Syria and Lebanon. Their liturgy is in Aramaic, the language Jesus Christ is believed to have spoken.
A large number of Christians fled the economic crash caused when the United Nations (news - web sites) imposed economic sanctions after the Gulf War. The sanctions, designed to prevent Iraq from rebuilding its military, blocked all normal imports and exports. Baghdad now has to barter a limited amount of oil for goods. Many Christians were businessmen and traders. They were used to taking vacations in Europe and driving new cars. Unlike many Iraqis, they had the money to emigrate or had relatives in the West to help with visas. Ibrahim's brother lives in Detroit. Others among his 11 siblings have scattered to Canada, Australia and Sweden.
The exodus of Christians from Iraq slowed by the mid-1990s. Those able to move already had left. Christians who stayed hoped the situation would improve. Having lived here since Biblical times, they say life in Iraq has been surprisingly secure since the Gulf War. Until now, they've seen few signs of prejudice. But they fear a U.S. military offensive could quickly lead Iraqis to become far more religious amid anti-American sentiment.
"I wouldn't choose to live in any other country in the Middle East," says Bob Shaya, 38. He runs a computer parts store in Baghdad's high-tech district with his brother Samir. "This is the best thing about living in Iraq. There is no differentiation between Christian and Muslim." The Shaya brothers have hung a cross next to the racks of software programs, which they copy and sell for $1.50 each. They say hanging a cross in a store in the neighboring Islamic republics of Iran and Saudi Arabia would be a risky move. "I don't even like going outside to nearby countries," says Samir Shaya, 40.
Iraq has until now been one of the most secular countries in the region. Saddam's Baath Party has a policy of secularism. Tariq Aziz, the deputy prime minister and one of the Iraqi leader's closest aides, is Christian. Christmas is an official holiday, although only Christians take the day off. Baghdad's art galleries openly exhibit nudes.
Liquor stores like the one run by Yonan Ibrahim have catered to Christians and moderate Muslims -- among them, government officials buying for government functions -- who don't follow Islam's ban on alcohol. Islamic extremism has been heavily restricted under Saddam, a Sunni Muslim who has always regarded his greatest threat as coming from the religious Shiite majority that has close ties to Iran.
Iran and Iraq fought a seven-year war during the 1980s that claimed 1 million lives. The West saw Baghdad as a buffer against the fundamentalist Islamic leadership that removed the pro-Western government of the shah in 1979. Saddam, in turn, saw Iraq's Christians as a counterbalance to any Shiite Muslim fervor. Because of their secular traditions, many Iraqis say they are baffled by the Bush administration's claims that al-Qaeda terrorists might receive help from Iraq.
But cracks in Iraq's moderate Islamic culture began surfacing a few years ago. Some Iraqis have turned to religion for relief from the poverty caused by the sanctions. Masterful at sensing the popular mood, Saddam has changed too. He banned alcohol from restaurants and cafes, which long gave Baghdad, a city of 5 million people, a buzzing nightlife. The government-controlled Iraqi television began broadcasting hours of clerics reading the Koran. Last year, a cleric went to the holy Muslim city of Mecca, Saudi Arabia, to perform a pilgrimage on behalf of the Iraqi president. And Saddam has spent tens of millions of dollars building several mammoth mosques in Baghdad. One is the largest in the world outside Mecca.
Christians say they sense that the shift toward Islam here has accelerated since the Sept. 11 attacks. They believe some Iraqis identified with the strong anti-American feeling. Others were swept up in a move to more radical Islam in the region. Ibrahim says his business has been pummeled as people have become more observant. "It's unbelievable, my business has gone down more than 50% since Sept. 11," he says. "Sometimes I can't pay the salaries of the workers."
Perhaps the greatest shock to Christians came in August. A 71-year-old Assyrian nun, Cecilia Moshi Hanna, was knifed to death and then decapitated in a botched robbery of church relics in Mosul, about 250 miles north of Baghdad. The city, which is known as Nineveh in the Bible, houses priceless Christian relics. Three men were publicly hanged in Mosul's main square for having carried out the murder, according to Ibrahim. "It was a way (for the government) to say that nobody must do this again," he says. Government officials would not confirm the hangings.
In an attempt to bring some Christmas cheer, a group of French missionaries traveled to Iraq last week with the bones of St. Theresa of Lisieux, a French saint best known as "the little flower of Jesus." She died from tuberculosis in 1897 at the age of 24. She was canonized for her devotion to teaching spirituality. Iraqis packed churches to see the box of bones lying on the altar.
In the Saint George Chaldean Church in New Baghdad, a relatively prosperous part of the city, about 500 people crowded into the pews for a special Mass for the bones last week. In a hall filled with incense smoke, they crossed themselves and chanted ancient Assyrian prayers.
For a brief moment, the community was at peace. In his private office, the parish priest admitted the church has been through rough times.
"Our parish has 2,500 families. But it is a lot smaller than it was 10 years ago," said Habib al-Nofaley, sitting at his desk in his long black robes. "Many are leaving for economic reasons." Whether they begin leaving for political reasons, too, will depend on what happens during the next critical months.
Ibrahim says many Christians believe they will be targeted if a U.S.-led war ousts Saddam, who has until now shielded them from discrimination.
Some fear a post-Saddam Iraq could bring a far less tolerant country toward Christians if anti-American feelings run high. "Our government likes us, and they protect us," he says. "But if something happens, we don't know what it will be like. We are really afraid."


ATTACK ON IRAQ MUST BE AVOIDED, SAYS VATICAN OFFICIAL
Courtesy of Zenit Vatican News Agency (23 December)
(ZNDA: Rome) Everything possible should be done to avoid an attack on Iraq, says Archbishop Jean-Louis Tauran, Vatican secretary for relations with states.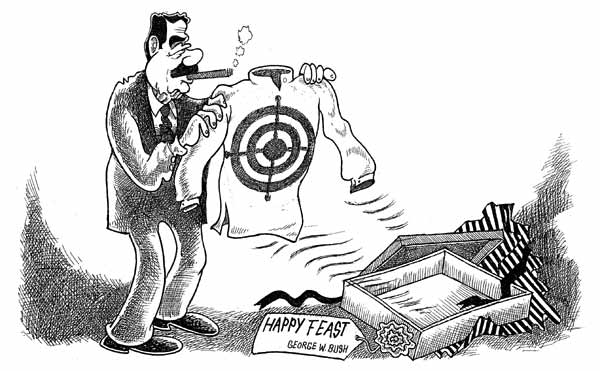 "The use of arms is not an inevitable fatality; what is more, no provision is made in the United Nations Charter for a preventive war," he contended Monday in an interview with the Italian newspaper La Repubblica.
"It is important that Iraq's leaders know how to regulate their political action according to the code of conduct that membership in the U.N. community imposes," the archbishop said.
However, he added, "nothing should be decided without the consent of nations and international institutions, from whence derives the irreplaceable role of the U.N."
The archbishop revealed that two months ago he expressed to the U.S. government "the need for dialogue and the appropriateness that it be the international community, as international community, that assumes the responsibility in face of Iraq's eventual default."
"A member of the international community cannot say: 'I will do this and you will help me, otherwise you stay home,'" he said. "If it were so, the whole system of international rules would crumble. The risk would spell a jungle. It could happen that tomorrow in a dispute with another state, a country could start saying: 'I am going to put things in order.'"
Archbishop Tauran used harsh words when referring to the threats coming from Washington to use the atomic bomb in response to Saddam Hussein: "It would be better not even to echo this hypothesis, as it seems so monstrous to me."
The Vatican official said that in his contacts with representatives of European and Arab countries there is a common conviction: "War is not the solution to the problem." The archbishop went on to clarify that it is "necessary to think of the repercussions that [war] would have in the Muslim world. It could unleash a sort of anti-Christian, anti-Western crusade, as some illiterate masses get it all confused."
CNN REPORT: CHRISTIANS IN IRAQ
Courtesy of CNN Saturday Night (21 December); A report by Carol Lin & Rym Brahimi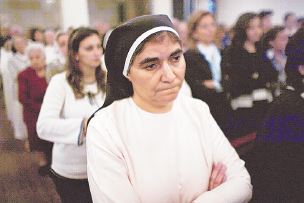 CNN Anchor: Take a casual glance down the streets of Baghdad, and you're liable to see anxiety written on faces everywhere. Today, we caught up with some Christian goers crusading against war. They say they want the world to know that everyday Iraqis would suffer the most.

CNN Voice-over: On this evening at St. Joseph's Chaldean Church in central Baghdad, a special kind of service.
(SINGING)
An appeal to God to prevent war, American and Iraqi Christians together. The Americans, mainly leftist U.S. religious leaders. The Iraqis, mostly senior leaders of the Chaldean Church here.
The prayers for peace, not just for Iraq's dwindling Christian minority, they say, but for Iraqis as a people.
Simone Campbell, Sister, Exec. Dir. Jericho: Look into the eyes of the people of Iraq. See the Jesuit trained doctor, who can barely contain his despair and the Muslim mother who grieves for her dying son.
CNN Voice-over: Roy Bourgeois has long campaigned against U.S. military activities in Latin America.
Bourgeois: I would invite my president, President Bush, to come to Iraq and to meet the people here, not -- and to also talk with Saddam Hussein. But first to meet the people, to go into those hospitals we went into, to go to that orphanage, to go into the homes that we went into.
Voice-over: Strong emotions among some Iraqis here.
"I cry," she says, "because there will be a war and our sons will die and we will die. And we feel comfortable in our country. They come to hurt us and damage our country," she says.
(on camera): By organizing a service in a church that members of this American religious group said they were hoping to send a powerful message back home, calling on their fellow citizens to see Iraqis as people like themselves.
Voice-over: This peace group, one among more than a dozen that have visited the country since September. Notably absent from the service, any mention of Iraqi President Saddam Hussein and of the efforts by U.N. weapons inspectors to verify Iraq no longer has weapons of mass destruction.
(END VIDEOTAPE)
CNN Correspondent: Carol, that lady you saw there crying in church, it seems we've actually here to a different phase. There's been a lot of bravado. There is still when you go into the streets of Baghdad. A lot of people will tell you and that might also answer on this end of the story what you were asking General George Harrison there, is the war -- is this war, if it happens, going to be different?
Well, a lot of people here say well, hey what can the Americans do to us this year that they didn't do in 1991? So there's a lot of bravado. On the other hand, there is beginning -- we are beginning to feel a lot of anxiety, a lot of people here wondering if they should start taking their children to the countryside if there's a war, if they should stay in town.
So there is, I think we're moving into a different phase as far as how people see things. Those peace groups, Carol, by the way, there's dozens of them that have come into the country since roughly September. A lot of them not just American, also Australian, Canadians and a few Europeans -- Carol.
CNN Anchor: Yes, lots to think about and deal with in the holiday season.
Rym, here in the United States, Christians are preparing for the Christmas holiday just days away with our own rituals and customs. I'm just wondering how the Christians, the Iraqi Christians are preparing for the day?
CNN Correspondent: Well, we caught up with a few of them, actually in the streets of Baghdad. They were selling Christmas trees in the streets. And you know, there's not a very big Christian minority. There's only three percent of Iraqis that are Christian, Carol, but they're really preparing for a nice celebration. There's a lot that they can go and fine in shops here in terms of Christmas decorations, for instance, a lot of little Santas here and there. But of course, you know, amid this atmosphere, as I was saying, and a lot them kind of wanting to forget their worries and enjoy Christmas, and then talk about it next year.
But also on the other hand, a lot of them knowing that we were an American network, saying why does America do this? The Americans as Christians should know that attacking a people is not a Christian thing to do -- Carol.
CNN Anchor: That's fascinating just seeing those pictures of Iraqi Christians shopping for Christmas trees, and to think that, you know, we're so different, but yet we have so much in common with many people there. Thank you very much, Rym Brahimi, reporting live in Baghdad.
[Z-info: To order a video of this transcript, call 800-cnn-news or use our secure online order form located at www.fdch.com.]