IRAQI ARCHAEOLOGISTS ASK WORLD TO SAVE ASSYRIA'S CAPITAL
Courtesy of Iraq Press in London; (14 May)
(ZNDA: Arbil) An international campaign to save the city of Ashur has already been launched. Ashur was the ancient Assyrian capital, which gave its name to the Assyrian Empire whose borders once stretched from the present-day Egypt to Iran.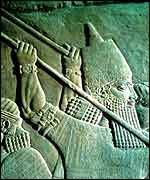 King Ashurbanipal of Assyria
If not saved, Assyria's splendid capital will be no more in five years time. The rising waters from a dam currently under construction will inundate and destroy the city.
As work on the Makhol Dam proceeds, Iraqi archaeologists want to draw the world's attention to the dangers facing the fascinating ruins of a city which for almost 2000 years served as the religious center of one of the greatest empires the world has ever known.
With its empty coffers and meager resources, there is little the department can do to save Ashur. And it is hard to persuade the authorities to give up work on the dam.
Iraq started the construction to store water and provide supplies for agriculture and the towns as water levels in the Tigris River have fallen drastically recently.
The Makhol Dam is being built some 150 kilometers south of the northern city of Mosul, spanning the Tigris valley between the Jebel Makhol and Jebel Himrin. On completion, it is expected to create a lake which will run back for more than 35 kilometers and flood most of Ashur.
The department has already written to UNESCO, reminding the international cultural organization of its obligations. It has also sent letters to international institutions in both American and Europe for help.
In its messages, the department reminds the world of the archaeological losses that will result from the dam which it believes will be far greater than those caused by the Aswan High Dam in Egypt in 1970.
While UNESCO and other institutions launched an international rescue operation to save Egyptian treasures threatened by inundation, a similar move in the current political situation would be impossible in Iraq.
Nonetheless, Iraqi scientists say they will keep up efforts to lobby the United Nations and the world for help to save Ashur, which they have described "as the most important archaeological site in the whole of Near East."
German archaeologists began excavations in Ashur as early as 1903. Since then the city has seen a stream of foreign and local excavations teams.
But despite a century of extensive excavations, large areas of the city remain virtually untouched.
Iraqi scientists say only a third of the 34 temples which were recorded shortly after the Babylonian invasion of 612 BC have been found.
The department has drawn up plans to save the city but it says their implementation is very expensive, possibly several times more than the main Makhol Dam.
One proposal calls, for example, for the construction of a cofferdam or dyke around the entire site of Ashur.
But it is difficult to persuade the government to divert resources for a costly project, given the shortage of funds because of the economic problems resulting from international sanctions.
U.N. COUNCIL APPROVES REVISION OF IRAQI SANCTIONS
Courtesy of the Washington Post, FoxNews, and Detroit Free Press (14 May); articles by Colum Lynch & Edith Lederer
(ZNDA: New York) The U.N. Security Council this week unanimously adopted a U.S.-crafted resolution to reinforce military sanctions against Iraq while at the same time eliminating most restrictions on Baghdad's trade in civilian goods.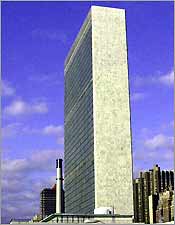 United Nations Building in New York
The resolution - which passed by a vote of 15 to 0 - also permits Iraq to continue exporting its oil for an additional six months. It will also set the stage for the implementation of the most extensive overhaul of U.N. sanctions against Iraq in more than five years. The vote represented a partial victory for U.S. Secretary of State Colin L. Powell, who has argued for 16 months that an overhaul of U.N. sanctions would limit Iraqi President Saddam Hussein's ability to reconstitute his chemical, biological and nuclear weapons programs while lightening the burden of Iraqi civilians enduring an 11-year-old U.N. embargo.
Comprehensive U.N. sanctions were imposed on Iraq in 1990, following its invasion of Kuwait. In 1996, the council established an exception to sanctions that permitted Iraq to sell oil to purchase humanitarian goods, finance the activities of U.N. weapons inspectors and pay billions in compensation to governments and businesses for losses incurred during the Persian Gulf War. The so-called oil-for-food program, which expires at the end of the month, requires renewal every six months.
More than $5 billion worth of contracts are currently on hold -- about 90 percent by the United States and about 10 percent by Britain -- on grounds that the goods have a potential military use.
The vote capped months of negotiations between Russia, which wants sanctions against Iraq suspended, and the United States, which is committed to removing Hussein and has threatened to use force if he doesn't allow UN arms inspectors to return.
In an interview with local Detroit press, Bishop Ibrahim Ibrahim of the Chaldean Catholic Church in North America commented that "The most important thing is to relieve the people of Iraq and to lift the sanction all at once.
SKOKIE FESTIVAL TO UNITE CULTURES UNITE WITH COMMON CAUSE
Courtesy of the Chicago Tribune (8 May); article by Maureen Martin

(ZNDA: Chicago) Participants in Skokie's annual Festival of Cultures say they usually experience a few emotional moments amid the festival's otherwise light-hearted celebration of diversity, but this year they expect a special poignancy.
This year, the festival will honor those who died or were wounded on Sept. 11. Under the theme of "United We Stand," the American flag will be carried onstage during the opening ceremony by Skokie police officers and firemen.
In its 12th year, the festival is an extravaganza of exotic food, folk dancing, international merchandise, ethnic arts and crafts, storytelling and music from around the world.
The event will be held from 11 a.m. to 9 p.m. May 18, and 11 a.m. to 7 p.m. May 19, at Oakton Park, 4701 W. Oakton St., Skokie.
The opening ceremony has included a parade of national flags from the participating cultures, including the Assyrian flag, against the backdrop of an enormous American flag, and has always been moving and emotional, Kessler said.
Linda Sargon, a member of the festival's executive board representing the Assyrian community, said, "This is how I think of the United States. She is a very big mother with very big arms, and she hugs us--all of us. We are all of us united under that flag."
The festival's board expressed this year's theme in the following resolution, adopted Nov. 21: "In reaffirmation of our mission, with strengthened resolve, we will endeavor to set an example of unity in diversity in our daily actions and we will work together to produce the 12th Annual Festival of Cultures in Skokie."
This year, Kessler expects 27,000 people will attend and learn about 25 countries or cultures: Assyria, Armenia, Bangladesh, Baha'i, China, Croatia, Cuba, Denmark, Finland, Greece, India, Ireland, Israel, Jamaica/West Indies, Japan, Korea, Norway, Mexico, Pakistan, the Philippines, Scotland, Sweden, Thailand, Turkey, and the United States.
"I still have feelings for Iraq. That country isn't doing anything to anybody--it's the government," says Linda Sargon.
"But I'm American," she said. "This country has been so good to me--better than my own country has been to me.
"The United States of America is the hope of the whole world."