RUSSIAN ASSYRIANS PUT ON A BIG WELCOME AT A WELL-PLANNED AND EXECUTED ACADEMIC CONFERENCE
Could this conference have been planned for a lovelier time of year in this capital city of Russia and the old USSR? The dazzling green of the chestnut trees, the colors of St. Basil's cathedral and the red brick walls of the Moscow Kremlin greeted Assyrians staying at the Rossiya Hotel, in the heart of the city. Assyrians came from many parts of the world: but for those of us with jet lag, we could only think that we were dreaming to meet activist Assyrians from St. Petersburg, from Vladimir, from Krasnodar, from Kazan (in Tatarstan), and even from Alma Aty (Kazakhstan) as well as Erevan, Arzin and Tiflis, place names which are more familiar. And the wonder of it all was that we could actually communicate with each other, forgiving the words thrown in Russian or English. The planning for maximum convenience, comprehension and entertainment had begun nearly a year ago in Kazan, hosted by the Assyrians of Tatarstan (with state funding), headed by its president Arsen V. Savva. From there, the organizing committee, consisting of scholars, lawyers, businessmen, had worked to provide participants with a printed program, tasty coffee breaks, and for those on the program, good seats at the Bolshoi Ballet on a Friday night, and an unforgettable boat ride with dinner and music on the Moscow River that went from early evening to well past two am.
Yes, there was little problem with the simultaneous English/Russian/English translation, especially given the proclivity of Russian for the double negative. After presenting our papers in English, some of us were politely pulled aside by members of the audience who asked us in Assyrian why we said such and such. We protested we had said just the opposite and wished all the talks had been given in Assyrian. But there were a handful of non-Assyrians or Assyrians whose native language is not up to the level of our main host Prof. Sarkis Osipov or that eloquent Assyrian from London and Dubai, Aprim Shapira.
The delegation from Dubai included four persons, from Iran one, from Sweden two, from Germany one, from the US six. The only non-Assyrian making a presentation was the respected Dr. Gabriele Yonan whose lecture about Identity and Genocide garnered great interest. There is much talk of a follow-up conference at a number of locations. Where there is cooperation, so much can be done, in good taste and with respect to all. This is a lesson to all Assyrians.
Dr. Eden Naby Frye
Harvard University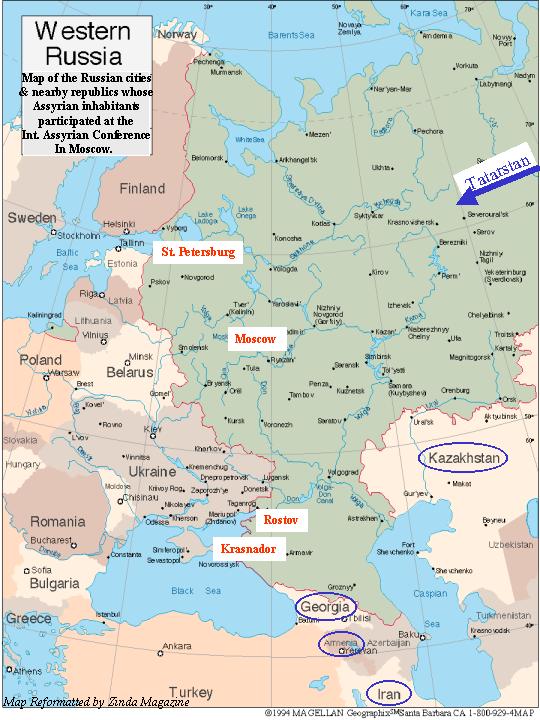 A REPORT OF THE ASSYRIAN INTERNATIONAL CONFERENCE IN MOSCOW
10-11 May 2002
In today's time where the Assyrians have been living in all the corners of the world and under the present situation of globalisation, the importance of conferences and international gatherings comes as a democratic and practical method of exchanging ideas and experiences among intellectuals in order to preserve national identity and develop Assyrian existence in homeland and Diaspora. Thus the Assyrian conference in the Russian Federation comes as a consequence in this direction.
The Editorial board of "Melta" Bulletin organized the conference with support of a steering group of the Assyrians of Russia held under the title (The Assyrians Today: Issues and Perspectives) at the Moscow Hotel conference room. The agenda of the conference was based on four streams; The Issue of the Assyrians in the Middle East, Assyrian Communities in Diaspora, Perspectives of Development, and The Way to Rapprochement of the Different Tribal and Confessional Groups. The official conference languages were Assyrian, English and Russian - simultaneous interpretation was provided.
The arrival of the delegations and guests started earlier in order to meet and see how their brothers, as small minorities among different and dominated national majorities, have lived and preserved their national traditions in the region for nearly two hundred years. The first day of the conference started by introductions of the organizing committee and the invited speakers whom arrived from different countries of the world such as USA, Europe, the Middle Eastern countries and the republics of the former Soviet Union namely, Armenia, Georgia, Tatarstan and Kazakhstan. The four sessions spread over the conference's two days covered some interesting subjects delivered by prominent professors, scholars and writers as:
· Assyrians Today (Dr. Gabriel Oussi - Sweden)
· Genocide and Identity (Dr. Gabriele Yonan - Germany)
· Perspective of Development (Dr. Khoshaba P. Jasim - Chicago, USA)
· Legal Status of Assyrians in Russia (Advocate Walter Veniaminove - Russia)
· Assyrians in the Central Asia (Dr. Anzor S. Ivanov - Kazakhstan)
· 5000 years of writing (Dr. Norman Solhkhah - Chicago, USA)
· A Global Strategy for Assyrians (Professor Ronald Thomas - Tehran, Iran)
· Prospects for Development: Reaching Out of Our Ghetto (Professor Eden Naby-Frye - Harvard, USA)
· Assyrian Diaspora and Perspectives of its Development in Contemporary World (Dr. Irina Sagradovea-Gasparyan - Yerevan, Armenia)
· Alienation of Assyrian Political Performance in Diaspora (Aprim Shapera, London, UK)
· A Phenomenon of Scanty Assyrian Community in Tatarstan: Present and Future (Rabi Arsen V Savva (Kasan, Tatarstan)
· Arts as an Important Factor of a Successful Development of the Assyrian National Movement (Professor Tamraz N. Ivanov (Tbilisi, Georgia)
· Sports as a Factor of Consolidation of World Assyrian Diaspora (Mr. Igor Bar-Sliva - Moscow, Russia).
· Economic Mechanism of Raising the Assyrian Social Status (Mr. Nugzar Khoshabaev-Tziklauri - Moscow, Russia)
· Forming a Political Elite is the Main Mechanism of National Revival (Mr.Edward A. Badalove - Moscow, Russia).
· Repression against the Assyrians in the USSR: 1920 - 1953 (Professor Mikhail Sado - St. Petersburg, Russia).
Professors Sargis Osipove, Eden Naby-Frye, Ronald Thomas, Mikhail Sado and Tamraz Ivanov all participated in chairing the sessions.
On the last day of the conference and during the open discussion a unanimous decision was taken that the conference should become an annual event due to the fact that many constructive discussions took place and fruitful results reached during the sessions which need further details and persistently pursuing and studying.
The conference program included not only the above sessions but a number of social and cultural activities starting with attending a ballet performance at "Bolshoy" - The Grand Opera House, in Moscow and visiting Red Square & Kremlin, historical churches & museums, a dinner cruise across Moscow River, and above all visiting Assyrian families of whom some had preserved their Assyrian way of life, traditions, food and even "Raweh" and "Lilyanah", the oldest Assyrians songs.
A special thanks and credit should be forwarded to the Assyrians who financially supported this conference.
Professor Sargis G. Osipove
For the Organizing Committee
Moscow
12 May 2002

ALIENATION OF ASSYRIAN POLITICAL PERFORMANCE IN DIASPORA
The following paper by Mr. Aprim Shapira was submitted at the Assyrian International Conference in Moscow.
Every Assyrian who leaves the homeland carries with him his most treasured personal articles. He also takes along with him a less visible suitcase, one that contains the ideas, methods, behaviours, beliefs, and memories stored in his brain. This "mental suitcase" may also include some aspirations, thoughts and feelings, particularly as concerns politics and Assyrian nationalism, which due to tyrannical policies of today's regimes in the Middle East, have been stored in the back compartments of his mental suitcase (subconscious mind). Once socially and financially established in the Diaspora, in due course he will replace personal effects with new ones, thereby giving him an appearance in keeping with his new surroundings. But what becomes of the mental baggage? Is it as easily altered as the contents of the first suitcase? It does happen in some cases; the individual thoroughly merges into the new society. But it would seem that, for the most part, this does not occur for a period of time - may it be short or long. The ideological baggage brought from the old world remains unaffected, and this has a bearing on his national and political outlook. In effect, the immigrant finds himself in the Diaspora, but his brain is preoccupied with the homeland. This is what is meant by "alienation".
Current studies in political sociology have concluded that as soon as an emigrant arrives to his new adopted country, contents of his "mental suitcase" gush out. Emotionally and in yearning, he will remember his old house, the street or the alley where he played football or marbles with his childhood friends, and the school where he studied with his colleagues. In the event of meeting one of these colleagues, the past memories will come to the present, and I believe many Assyrians have experienced such flickers of memory. Some will try to re-establish the past in a new form. Habbaniya reunions and the Kirkuk gatherings are good examples. On the national and political side, the "Return of Subconscious" is another remarkable phenomenon of the Assyrian nationalism in Diaspora. In a democratic environment, national identification that is confined in the subconscious mind will flourish and reappear. As a result, overnight we see many "Oomtanaye" and political parties appearing in the Assyrian political arena, regardless of whether they are a "true political party" or just a "one man party". In such cases, the Assyrian immigrant alleges that he was always a nationalist, but the tyrannical regime rejected and oppressed his sense of nationalism. In Diaspora while out of dictatorial regime's reach, he will exaggerate his love for Ashour with abundance of care and loving feelings toward his nation.
As such, the Assyrian might no longer be living in Ashour, but Ashour will continue to live within him, in his thoughts and conscious, as an important spiritual and moral element. Ashour, as result of his emigration, is now transferred from an objective matter to a subjective element, from a geographical factor to a spiritual motive; therefore, the spirituality of Ashour will be strongly reflected in his national and political behaviour and performance. Such Assyrian resembles a man who is in despair and romantically in love with the first girl that he met, but is married to someone else. One can imagine the contradictory and confused life his may be. To be more specific, if we take a quick glance at the Assyrian political parties, we easily find that Ashour is the core of their bylaws, aims, programs and agenda. Meanwhile, there is no reference to facts or reality, and to objective elements of the Assyrian society in Diaspora, where these parties are established and function.
Most obvious proofs of the Assyrian political alienation are the Assyrian political party bylaws. Through a quick glance of these documents, we find that apart from the name, the ideologies and the contents have been adopted from bylaws of the Middle Eastern political parties. A reference to the philosophy of these political party bylaws will attest to this claim. Political scientists usually classify political parties based on many components, bylaws being the most common. In accordance with basic structures adopted in their bylaws, political parties in general are categorized into two types: First, parties which adopt cells as their basic structures, and second, those that adopt committees, sections, or branches as their basic structures. The first type was created by Lenin, the founder of the Russian Communist Party, and was imposed since 1920's on all Communist and affiliated parties. The "cell system" are convenient in the politically and socially backward countries where the totalitarian policies dominate. The structure is based on small number of members with close and very limited association, which in turn provides better security against government break-ins and any pursuits against party members. Since discipline and strict commitments are necessary, the bylaws of these parties are very important elements in political performance. Most political parties of the Third World countries adopt this type of bylaw including Ba'ath Arab Socialist Party, Kurdistan Democratic Party, Assyrian Democratic Movement, and the Assyrian Democratic Organization.
The other type of political party structure is based on committees, sections or branches. It comprises a larger number of members, and is mostly adopted by democratic societies that are politically advanced, and where political freedom is practiced. Contrary to the "cell system" party, the bylaw is less significant, and more flexible. Unaware of those theories, most Assyrian political parties have adopted the first type of bylaw that was transferred or copied from the Middle Eastern concept of political parties, or was carried in their mental suitcase. Such political parties and their bylaws can only succeed in dictatorial environments and will not be valid and practical in democratic societies. Thus, Assyrian political parties are known to the public through one or two of their prominent members, and not their ideology, beliefs, agenda or bylaws. In other words, they are without clear and observable guidelines, and portray a very ambiguous vision and objectives.
I would also like to reflect on two evident facts (one positive & one negative) in the life of the Assyrian society in Diaspora: First, Assyrians who live in the Diaspora, in general and with a few exceptions, live as Assyrians and with strong feeling of nationalism. Even those who do not keep up with traditions, or do not speak the Assyrian language, or those who were born in the Diaspora and have never seen the homeland, see Ashour as a strong spiritual and mental resource for their ethnic belonging. Ashour is reacquiring its characters of godhood among the Assyrians of the Diaspora. Second, it is real and evident that social contradictions and diseases such as tribalism, denominationalism, selfish individuality, and biased partiality are aggravating, and in many cases are forming in national organizations or political parties, and even in media.
These contradictory conditions of the Assyrians in democratic environments provide Assyrian political parties the opportunity to actively function and achieve their national aims. Yet, most of them are following their unreachable spiritual and subjective aspirations, and completely neglect and ignore the practical and achievable objectives. Implementing the subjective or spiritual nature of Ashour that lives in every Assyrian's mind to the objective nature of the Assyrian society in the Diaspora is impossible. In other words, Assyrian political parties objectively exist in one dimension, yet mentally in another - miles and miles away. Human performance cannot be productive when spiritual (or subjective) and material (or objective) elements are in separation. Thus, achievements of the Assyrian political parties are imperceptible, and very limited in the Diaspora, such as irregular newsletters, occasional press releases, and participation in an annual celebration. Even worse, there are few Assyrian political parties, established for many years, capable of publishing even a one page newsletter. Yet they claim they act for the liberation of Ashour. As result of their failure, these political parties experience constant retreats, division, decrease in membership, and therefore, their credibility and popularity vanishes among Assyrians.
It is true that Assyrians are not the only ones in the Diaspora establishing political parties, and struggling to secure national and human rights in their homeland. However, there are few facts that make the Assyrian case an exceptional one and different from others. First, Assyrians live and establish their political parties in the Diaspora. Political parties or liberation movements of other nations are established in exile, not in the Diaspora. Diaspora is a permanent situation, a new land of citizenship for those who choose to emigrate, and not necessarily for political reasons. Diaspora soon becomes their new homeland. Exile on the other hand, is a temporary situation, and mainly a foreign land to its emigrants that are smaller in number than those in their homeland. An exiled group is normally very politically involved in the liberation of its homeland from outside occupiers or from existing regimes. As soon as this goal is achieved it is very likely that the exiled group will return to its homeland in order to participate in the new government or perform politics.
Second, The most exceptional fact regarding the Assyrians is that their number in Diaspora is greater that those who remain in the homeland, and the number of emigrants is constantly rising. Majority of the Assyrians live in the Diaspora, and have already established themselves socially and economically in their new home in order to enjoy a stable life for an invisible future. All aspects of their lives indicate that there is no willingness to return to their homeland. Perhaps in today's times, we can hear many Assyrian politicians claiming that as soon as Saddam is removed from power, they will immediately return to Iraq. Today, the phrase "Return to Homeland" is no more than an "emotional dream" of the alienated Assyrians.
Third, it is odd that almost all Assyrian political parties claim an independent or autonomous state for the Assyrians, or they promote the "liberation of Ashour". At the same time, the party leaders and members enjoy all the comforts of the West, and try their best to have the rest of their family or relatives that still remain in the homeland to join them. The same is true about the so-called national and church leaders who are preaching to the despaired Assyrians in the homeland to withstand and bear all ordeals and sufferance for the sake of Ashour. Meanwhile, they have already pitched their tents in the West, and are enjoying all its welfare and benefits, and are trying legally or illegally to fetch their families to join them. How do we expect our unfortunate Assyrians in the homeland to believe in such claims and appeals that are known to them as no more than "deceitful tears for Ashour"? This truly is not only a national problem, rather a moral dilemma for Assyrians. Such claims without any clear objectives, and no minimum sacrifices are simply "national hypocrisies", the clearest character of alienation of the Assyrian political performance. Moreover, there are many national claimants, who were not born in Ashour or have never been there even as a visitor and hardly know what their true claim is. It is fair to mention that few Assyrians involved in the national cause, and one or two members of the political parties have traveled to North of Iraq (Garbia) in recent years, and have supported the national cause in North Iraq financially and morally. However, these are only exceptions and conclusions cannot be reached based on exceptions.
Political scientists confirm that any nation without active political parties will mortgage its national determination to other nations, and consequently will remain a nation without a national will. As Assyrians, we cannot afford to give up our national and self-determination, or be controlled by others. We must be our own masters; that is our legitimate right, and we need active and strong political parties to support this cause. Since our currently established parties are not performing adequately due to the alienation from their objective and practical reality, must we establish new ones?
The number of Assyrian political parties whether in a true sense, or as "one man parties" or "occasional parties" relative to the size of our population is rather large. The concept of "population control" in demography should be applied to the Assyrian political parties. In other words, we need "political party control". On the other side and based on history and experience, it is evident that a "single-party" system regardless of its power and strength cannot represent the entire people of a nation. As a result, the interests, national and political objectives will be jeopardized and sooner or later the nation will be led to destruction, as we have witnessed through the fate of the dictatorial regimes throughout the history. Assyrians need a small and sufficient number of real political parties proportionate to the size of their population, their economic & financial capabilities and social & cultural mentality. (My study in details on this subject will be coming soon).
In order for Assyrian political parties to succeed in achieving their goals, they must liberate themselves from their political and mental alienation. Firstly, they must replace their old, stagnant and alienated agenda and bylaws with new ones that are compatible with living in democratic societies. They need to rearrange their priorities and find a way of balancing the objective and subjective elements of their actions. They must realize that they no longer live in Ashour, and Ashour should be the subjective element of their goals and aspirations. Their objectives and goals should be concentrated on the Assyrians in the Diaspora. Once they understand and put in practice the art of balancing the two elements, then they will realize that their goals are achievable. Once they achieve the goal of reviving the Assyrian society in the Diaspora, only then will they strengthen the position of the Assyrians living in the homeland. Revival of the Assyrian society in the Diaspora will strengthen the Assyrians in the homeland, and vice versa.
I would like to use a theoretical analysis to illustrate how it is possible for an Assyrian political party to practice real politics, and achieve its political goals. Politics as any other social concept has many definitions and theories. I will use the following two definitions for our purpose. Political scientists define politics as "Demography on Geography" and as "Technique of Possible". Demography on Geography defines politics as all things related to a population, their life, progress, and activities on a specific plot of land known as a country or homeland. Technique of Possible defines politics as a matter of wise dealings with practical choices, facts and realities. Politics is how to use the available means and resources in dealing with facts and diverting them to a practical status, and eventually to achievable goals. Politics based on this understanding never deals with wishful thoughts and dreams. Accordingly, we can say that the Assyrian Democratic Movement (Zowaa) in the homeland is a true political party practicing real politics. Why? Firstly, Zowaa was established and is performing its politics on a plot of land that Assyrians call homeland "Ashour". Secondly, Zowaa as a political party is using all possible and available resources to achieve practical national objectives. Thus, Zowaa has successfully achieved important objectives, many first in their kind for the Assyrian nation.
Contrary to Zowaa, Assyrian political parties in the Diaspora are not practicing real politics. As a result, nearly all of their political agenda is far from being achieved. The Assyrian political parties must realize that they exist in the Diaspora, and they should make this fact the objective element of their goals, not Ashour that is geographically so distant from the demography that they ought to tend to and serve. In addition, most of their activities are directed toward impossible goals, while they are neglecting the practical goals that could be successfully achieved given all the support and protection offered by the Western governments to the minorities and immigrants. Therefore, it does not come to us as a surprise when we see that our social institutions are more successful in achieving their goals than our political parties. The Assyrian Aid Society, and in particular Atra project of the honourable Dr Ashour Muradkhan, is a great and clear example in serving and protecting Ashour. The reason for their success is that their goals are based on reality and not on dreams and romantic illusions.
In conclusion, for Assyrian political parties to practice real politics with achievable goals based on the balance of objectivity and subjectivity, they must realize the simple fact that Assyrians of the Diaspora should be placed in the center of their political arena. The issues that they need to tackle are tribalism, religious denominationalism, and other social and mental diseases. They need to encourage the Assyrians' involvement in national causes, and their support for their brethrens in the homeland. They must take on projects to assist and encourage the Assyrian youth to pursue higher education, and to sponsor cultural and linguistic projects. Moreover, the leadership and the members of the political parties must be aware of the current political events of the country that they live in, to actively lobby or nominate the individuals that they support who can benefit the Assyrian political cause. Or even take roles and positions in governmental posts as an American Assyrian, Australian Assyrian, British Assyrian or German Assyrian. This should be the path taken by the Assyrian political parties to serve and protect Ashour, not by serenading romantic poetry, fiery words, and meaningless slogans directed at the liberation of Ashour. Mr. Yeilmas Karemo is a perfect example. He is an attorney who holds a Swedish citizenship, and was a member of the Assyrian Democratic Organization (Mtakasta). He joined the Swedish Socialist Democratic Party, and in 1988, he was elected in the Swedish National Parliament, and is planning to run for the European Parliament. Mr. Karemo is an active Assyrian and a great supporter of the Assyrian cause in the homeland and around the world. We are in desperate need of more Karemo's, and of active & strong political parties in order to control and determine our national destiny.
Aprim Shapira
United Kingdom