HARIRI AND KHAIE MENTIONED IN AMENSTY INTERNATIONAL REPORT 2002
(ZNDA: London) Last week Amnesty International released its annual report on worldwide human rights violations. Under the country report for Iraq, the "2002 Report" refers to the arrest of Mr. Youkhana Yalda Kahei and the assassination of Franso Hariri, the Assyrian governor of the Arbil region. However, there are no references to the arrest and trial of Assyrians in Turkey. Father Yusuf Akbulut's trial and the on-going case of Soner Onder, who has been imprisoned since 1991 for having ties to the Kurdish separatist groups, are completely forgotten. Ankara continues to prosecute Mr. Onder and other Christian inhabitants of Turkey in an effort to intimidate the small Assyrian population of southeastern Turkey and Istanbul.
The following are the two references made to two Assyrians in the Amnesty International's "Report 2002" under the country report for Iraq:
Political arrests
In April Youkhana Yalda Khaie, a 32-year-old Assyrian Christian landowner from the Duhok area, was arrested by the KDP. He was held in solitary confinement, blindfolded, and allegedly subjected to torture before he was released in September. He was accused of having links with the Turkish opposition group, the Kurdish Workers' Party (PKK). However, his family said that the real reason for his arrest was to expropriate his land and prevent him from raising funds to build a church.
Assassination and abduction by armed groups
In February Faranso Hariri, the Governor of Arbil and member of the KDP's Central Committee, was shot dead by unidentified gunmen while driving his car in Arbil. Scores of people were arrested and interrogated in connection with the assassination. The KDP later blamed armed Islamists belonging to the Islamic Unity Movement of Kurdistan who, it alleged, later joined Jund al-Islam.
The report in PDF format - Amnesty International Report 2002 - This report covers the period January to December 2001
THE POPE APPOINTS FR. SARHAD JAMMO AS NEW CHALDEAN BISHOP
(ZNDA: Vatican City) According to the Vatican news service, the Holy Father Pope John Paul II recently erected the Eparchy of St. Peter the Apostle of San Diego of the Chaldeans, USA with territory taken from the Eparchy of St. Thomas the Apostle of Detroit of the Chaldeans, USA. The Eparchy of St. Thomas the Apostle of Detroit of the Chaldeans covered all of the United States for the Chaldeans since 1982. The Pope appointed Fr. Sarhad Jammo as first bishop of the new Eparchy.
The bishop elect was born in Baghdad, Iraq in 1941 and was ordained a priest in 1964.
According to sources close to the Chaldean Church, Zinda Magazine was able to learn that, on the evening of Thursday; July 18, 2002, Father Sarhad Jammo will be elevated to the rank of bishop during a liturgical consecration which shall be presided over by the Chaldean Patriarch, His Beatitude Mar Raphael I Bidawid. It is also expected that a large number of bishops and priests both Catholic and from various Eastern Churches, including the Holy See (Vatican), will be present at this celebration. The ancient ceremony of bishop consecration will take place at Mar Yosip Church, in Troy, Michigan, which in November 1996 was co-consecrated by both Church of the East Patriarchs, His Beatitude Mar Raphael I Bidawid and His Holiness Mar Dinkha IV, the Patriarch of the Assyrian Church of the East.


ASSYRIANS TARGET OF HATE CRIMES IN KRASNODAR, RUSSIA
Courtesy of the San Francisco Chronicle (21 May); based on a report by Anna Badkhen

(ZNDA: Krasnodar) The number of hate crimes committed by skinheads against foreigners and Russian-born ethnic groups is steadily increasing in Russia. Recently some Assyrians have been targets of verbal harassment and vandalism. Visitors to Russia get assaulted on the basis of the color of their skin, the shape of their eyes or the curve of their nose. Last month, an unidentified band of Moscow skinheads sent threatening e-mail messages to several embassies -- including the U.S. Embassy -- declaring a "war on foreigners." Five Jewish synagogues across the country have been vandalized and one has been set on fire in the past four weeks.
While the Russia law enforcement officials have promised that they would crack down on racist thugs, they routinely arrest darker-skinned people and sometimes beat and torture them while in detention, turning a blind eye to the skinheads, according to organizations such as Human Rights Watch and Amnesty International.
President Putin condemned racial violence in his annual state of the nation address last month, declaring, "Gangs of extremists act, in effect, as organized criminal communities and must be persecuted similarly." But human rights groups say that Putin must translate words into action. And at a time when Russia is seeking more acceptance from, and cooperation with, the West, they hope Bush will strongly urge him to do so.
Abdulfat Quliev, the Azerbaijani consul, quickly went on television to tell his fellow Azeris: "Do not go out in the street at night." Gabriel Kotchofa, president of the Association of Foreign Students, gave foreign students the same warning.
The British Embassy also recently cautioned visitors from the United Kingdom about the increased number of hate crimes in Russia. "It's an ongoing situation, and people need to be aware of it," said embassy spokesman Richard Turner. "It's something we take very seriously."
Police officials say there are about 10,000 skinheads across Russia, but human rights groups say their number may be several times higher than that. No one keeps track of the number of hate crimes committed by extremists.
Two weeks ago, a Moscow court released Alexander Ivanov-Sukharevsky, the former leader of a small nationalist party, after giving him a three-year suspended sentence for inciting racial and ethnic hatred.
Alexander Tkachev, mayor of the southern town of Krasnodar - home to several hundred Assyrian families - has been openly urging all nonindigenous ethnic minorities -- tens of thousands of Armenians, Kurds, Georgian Muslims and Assyrians -- to leave his area. Unlike his predecessor, former Mayor Samoilenko, who was a friend of the Assyrians in Krasnodar, Tkachev is a extremest nationalist and is continuously pushing an anti-ethnic minority agenda in his region.
Police officials roundly have denied the allegations and note that they headed off what skinheads promised would be a weekend of bloodshed to coincide with Adolf Hitler's April 20 birthday. That week, law enforcement flooded thousands of officers onto the streets of all major cities. Assyrian families in Krasnodar were afraid to leave their homes during this time and did not send their children to school. In the meantime, skinheads encouraged by Tkachev's statement, attacked the cemeteries in Krasnodar where Armenian and Assyrian families bury their dead. Many grave sites were desecrated.
In Moscow, Abdul Hakim Hakrid, a 35-year-old Afghan interpreter for the Russian Interior Ministry's migration service, was beaten to death by a group of young ultranationalists. Two Pakistani students in the central town of Tula and four Afghans were brutally beaten at a Moscow market.
No one so far in the Kremlin has spoken against Tkachev, and the Kremlin was similarly mum when copies of an anti-Semitic book by David Duke, the former leader of the Ku Klux Klan, were offered for sale at bookstalls in the Russian parliament last year.
In March, the Moskovsky Komsomolets newspaper alleged that Moscow anti-riot police were training the capital's skinheads.
Last week, Russian Prosecutor General Vladimir Ustinov denounced "law enforcement agencies, government bodies and municipal structures (for neglecting) to prevent the activities of organizations and individuals spreading the ideas of social, racial, ethnic and religious hatred."
In March, 18 students from Africa, Asia and Latin America left Rostov State Medical University in southwest Russia, fleeing constant beatings and insults by local teenagers and indifference by the police, the Chronicle of Higher Education reported. Rostov is home to a significantly large community of Assyrians.


ANCIENT MESOPOTAMIAN TABLETS FOR SALE ON THE INTERNET, STARTING ONE DOLLAR
Courtesy of Salon Technology (11 May); article by Katharine Mieszkowski
(ZNDA: San Jose) Iraq's economic collapse means the oldest writing in the world can be bought for a song on eBay (www.ebay.com) and has scholars racing to digitize Sumerian artifacts before they become paperweights (see last week's Zinda Magazine).
The opening bid for a cuneiform cone that allegedly hails from 2000 B.C.E. starts at $1. A square tablet recording a sale that took place more than 4,000 years ago of a sheep, or maybe some grain -- it's a little hard to read -- well, that receipt will set you back less than $10.
Every day on auction sites like eBay, the artifacts of the ancient Sumerian world -- some of the earliest examples of human writing -- are being sold off like so many mass-produced Tinkerbell tchotchkes. And these tidbits of the past are shockingly inexpensive: for less than a 1960s Donald Duck pinwheel from the Mickey Mouse Club, history plunderers can purchase their very own treasure.
Are these all patent fakes? Made of clay that hails not from ancient Mesopotamia but from contemporary Albuquerque, chipped and scuffed to look "ancient" to suckers eager to buy a trinket from the past? Or are there so many of these hoary artifacts flooding the antiquities market that authentic cuneiform on clay really has a lower fair market value than plastic Disney Americana?
Robert K. Englund, an Assyriologist and Sumerologist at the Department of Near Eastern Languages and Cultures at UCLA and a principal investigator on the Cuneiform Digital Library Initiative, says that many of these artifacts are real, but he wouldn't recommend buying them.
Even a cursory look at the images of those artifacts by a scholar of the ancient languages of Sumerian and Akkadian, like Englund, reveals that they are probably authentic. Rogue forgers don't usually bother to spend the years it takes to learn cuneiform before they chisel their fakes, and copying from photographs of an original is harder than it sounds. Glancing at a dozen images of cuneiform objects being auctioned on a recent day on eBay, Englund spots only one likely fake. And these days, there's almost always some cuneiform up for bid.
But while these cuneiform artifacts may be real -- actual writing from millennia past -- that doesn't make them clean. Many of these treasures are cultural fallout from Iraq's geopolitical isolation since the Gulf War brought on U.N. sanctions. Since the early '90s there's been a flood of cuneiform artifacts onto the international antiquities markets, some probably pilfered from archaeological sites, others lifted straight out of regional Iraqi museums.
"Everything is coming out of Iraq these days -- statuary, cuneiform tablets, cylinder seals," laments David I. Owen, a professor at the Department of Near Eastern Studies at Cornell University.
Bidding at auction for that tantalizing tablet puts you at risk of trafficking in hot antiquities. "Much of it is certainly material that's resulted from illicit excavations since 1990," says Englund. "The government controls all excavation sites, but the war there resulted in the collapse of security." The regulations that do exist against exporting such cultural artifacts simply aren't enforced. And the amount of looting that's taking place makes some scholars suspect official corruption as well as outright theft.
"Given the quantity of material that has come out of the country," says Owen, "it's hard to imagine that this is happening without the cooperation of border guards."
An impoverished and isolated country is selling off its ancient history on the black market. The beginnings of civilization are surfacing only to disappear from view into private collections. But in a truly odd twist of fate, one of humanity's newest forms of communication, the Internet, may be the key to preserving the oldest of written words.
To collectors and novelty seekers looking for trinkets from the past, the sell-off represents a great -- if morally questionable -- boon. Bargain hunters alert! Rock-bottom prices for your own piece of the past! But to scholars of ancient Sumer the upsurge of availability has created a sense of urgency in a rather sleepy field. Can a record of these artifacts be captured and documented before they disappear into private collections forever?
"You don't want this stuff to end up as paperweights on someone's desk," says Owen. "They're so common today, I've found them in garage sales."
Reputable museums around the world have agreed not to buy up and "save" treasures likely to be hot. A 1970 UNESCO convention has tried to stem illicit trafficking in the import and export of cultural objects, with 92 states agreeing to return cultural objects shown to have been ripped off from other countries since then.
Translation: The great cuneiform museum collections outside Iraq collected by looting American, French, British and German colonialists in the 19th century will remain intact. But items discovered by excavations after 1970 that weren't on the up-and-up with local governments are contraband.
Paradoxically, this hasn't curbed the market for stolen treasures -- it's just redirected the treasure into private collections, creating archives to which scholars don't have access. So who knows whether those objects were excavated in 1910 or illicitly in 1999?
"If you know that you have got a stolen good, then you are committing a crime, but it is hard for anyone to know that, and probably most people don't want to know whether that is the case or not," says Englund.
The contradiction is galling. Many of these Sumerian artifacts may be discovered only to have their meaning lost. The rush of objects out of the country in the past decade has meant a race to try to record their existence before they disappear into obscurity again. "It's something like an island that has emerged from the sea for a short while," says Englund. "You want to make very good records of this material because it will sink into private collections, where you won't see it again. A lot of unbelievably exciting material has been made available to us through illegal operations inside and out of Iraq through the tablet trade."
Englund and his colleagues at the Cuneiform Digital Library Initiative have actually captured images of these artifacts for posterity right off sites like eBay.
The scholars may never see the object as it passes from some British antiquities dealer to the fireplace mantel in a computer programmer's living room in Boise, Idaho. But it will not be totally lost.
The scholars who devote their lives to deciphering these texts don't fully begrudge the Iraqis who might be raiding archaeological sites. Englund, who says that he would never buy such a "dirty" tablet, adds that he can understand why they're being sold: "I would want to feed my child any way that I could."
The study of ancient Sumer seems an unlikely field to be transformed by a new technology. To call it specialized is to put it mildly. It's simply a tiny field. According to Englund, there are maybe a thousand individuals in the world with any passing knowledge of the relevant languages, and only 200 positions in universities on earth devoted to Assyriology.
Scholars who devote themselves to translating and interpreting cuneiform tablets have long favored old-fashioned 3-by-5 or 4-by-6 index cards and pencils as their primary tools.
An Assyriologist parsing an early cuneiform tablet at the Yale Babylonian Collection or the Hermitage would copy the words on each tablet by hand, writing a transliteration in Latin characters of what it said on the same card, noting the relationships between words and characters. It's a process much like creating your own index-card dictionary.
Photographing and publishing images of the tablets was prohibitively expensive, given the small potential audience. So usually only tracings or drawings of the tablets saw publication in academic books and journals, when they were published at all. And the print runs for those publications averaged 200 to 500 copies, so they quickly went out of print.
Over the decades, legendary scholars would amass thousands of index cards in their personal collections, piling up hundreds of them in their university offices, their handiwork and documentation accessible to themselves alone and maybe a few students. It was a monastic existence with a scholar passing down his knowledge of the language and culture to a few students who might carry on the tradition.
But romantic as this sounds, the form factor of index cards made cross-referencing one's own work, much less sharing it with other scholars, a challenge. Sometimes the scholars' work literally died with them.
"There were some famous file collections," Owen recalls. "Enormous collections of files. Unfortunately, a lot of them were lost when the professors died. Sometimes the families trashed them. There were some pretty grim stories about people whose scholarly work was destroyed -- sometimes consciously -- in a vindictive fashion."
But now that scanning technology, digital photography and the Web have lowered the incremental cost of producing and sharing an image to almost nothing, ancient Sumer is going online. Snatching images of plundered artifacts being sold off eBay is just the beginning.
"We have a collection of 600,000 file cards," says Steve Tinney, director of the Pennsylvania Sumerian Dictionary Project at the University of Pennsylvania. "But we don't look at them anymore, because we have everything online."
The Cuneiform Digital Library Initiative, which focuses on works from the beginning of writing, circa 3200 B.C.E., until the end of the third millennium or 2000 B.C.E., is in the process of digitizing the early cuneiform collections of the Vorderasiatisches Museum in Berlin, the Hermitage in St. Petersburg, the Louvre, the Yale Babylonian Collection and the University Museum of the University of Pennsylvania, among other museums. It now has digital records of 60,000 of the 120,000 tablets that are thought to exist from this period.
Venturing into these museums' collections can be its own kind of archaeological expedition, since many of the tablets have never been translated into Latin characters or fully categorized. They're just so many tablets in drawers.
Earlier scholars in the field concentrated primarily on the literature of the time, while most of the writing actually had to do with more mundane, but historically intriguing, financial transactions -- the sale of a sheep or some grain. "In a sense, you have to go excavate at the British Museum to bring out the old tablets that have never been published, that have been sifted through to find the literary material," Englund explains.
Endless numbers of receipts, which might bore a literary historian searching for another Epic of Gilgamesh or biblical scholars looking for confirmation of the flood story, are gold to an economic historian. They include records of the administration of very large, organized households as well as bookkeeping documents recording imports from Persia. How did the labor market value grinding grain vs. fishing in 3000 B.C.E.? The tablets know.
It's been understood for decades that going digital might help interpret these masses of financial data from history. The attempt to computerize cuneiform began as early as the late '70s at the Max Planck Institute of Human Development in Berlin, where computer punch cards were used to record about 2,000 transliterations of proto-cuneiform texts. Those punch cards are the roots of the Cuneiform Digital Library Initiative.
Assyriologists hope that the new digital archives and dictionaries, online collections of images and documentation that now number in the tens of thousands, will open up their field, if not to laypersons then to other scholars in fields such as economic history. Allowing the data from the documents to be studied and analyzed in the aggregate could lead to new discoveries about how the ancient society functioned.
"With a large number of receipts, it's hard to make sense of any particular one," says Englund. "But if you put a lot of them together, you have something like a monthly statement. Then you can see why you were losing so much money!" It's a whole new way to read the plumbing receipts circa the third dynasty of Ur, despite what's being lost forever to the economic and political realities of the present.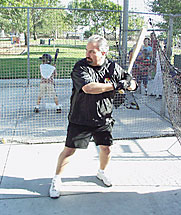 Dave Shabaz, who hopes to raise $3,000 in 7-hour stint in batting cages, practices his swing at Pedretti Park.
ASSYRIAN MAN GOES TO BAT IN CANCER FIGHT FOR HIS SISTER
Courtesy of the Modesto Bee (8 May); article by Patrick Giblin

(ZNDA: Turlock) Dave Shabaz does not want to hit just one home run for his sister. He hopes to hit a few thousand, and bring in thousands of dollars.
For the second year in a row, Shabaz, an Assyrian from Turlock, says he will spend several hours batting balls to raise money for the American Cancer Society. He will be doing it for his sister, a cancer survivor.
"I think my brother is awesome," said Sharon Warda, also of Turlock. "Without a doubt, I'll be out there this year cheering him on all the way."
Shabaz, classified advertising manager for The Union Democrat newspaper of Sonora, came up with the idea last year when his sister solicited money for the cancer society's annual Relay for Life.
Warda, coordinator of Family Medical Group Urgent Care in Turlock, received treatment for breast cancer, and has been cancer-free for about seven years. Family Medical Group has sponsored a Relay for Life team every year since she was treated for cancer, she said.
Relay for Life, set for the weekend of June 22-23 in Turlock and Modesto, typically involves running and walking. Team members take turns circling a track for 24 hours, from 9 a.m. to 9 a.m., in return for monetary pledges. Turlock's event will be held at California State University, Stanislaus, while Modesto's will be at Johansen High School.
Shabaz carries out his Relay for Life in the batting cage at Pedretti Park, which lets him accomplish his fund-raiser without charge.
Last year he batted nonstop for five hours.
"I was in the fast-pitch cage, and the operators estimated that I hit about 2,000 balls," Shabaz said. "The next morning, my hands swelled up and I couldn't make a fist for a day and a half."
He raised $1,500, making him the top fund-raiser for the 2001 Relay for Life in Turlock.
"This year I'm shooting for $3,000," Shabaz said. "I'm going for seven hours straight."
He has picked June 1 for the fund-raiser, from 9 a.m. to 4 p.m.
He said he is upping the ante because he turns 40 this year and wants to prove that he can still go to the extreme.
"I'm taking some pride in that I can still do this," he said. "Several people have already told me I'm too old to be doing this."
Besides his sister, his 7- and 10-year-old daughters will be on hand to cheer his progress.
Relay for Life proceeds are spent locally. The American Cancer Society offers rides to doctor offices and chemotherapy appointments; a wig-purchase program for women going through chemotherapy; and a home visit program, in which cancer survivors spend time with people battling the disease.
People interested in contributing to the batting fund-raiser should make checks payable to the American Cancer Society and mail them to Dave Shabaz, P.O. Box 3544, Turlock 95381. Donations also will be collected at Pedretti Park on the day of the event.
To participate in Relay for Life, call the American Cancer Society, (800) 227-2345.
JEWISH AMERICAN WHO DEFENDED BESIEGED YASSER ARAFAT WEDS PALESTINIAN ACTIVIST IN A CHALDEAN CHURCH

Courtesy of the Associated Press (27 May)

(ZND: Detroit) Adam Shapiro, 30, of New York, a Jewish American who joined Yasser Arafat at his besieged West Bank office married Huwaida Arraf, 26, a Palestinian-American activist in a ceremony blending Christian and Jewish rites at St. Joseph Chaldean Catholic Church in Troy, Michigan. Huwaida lives in the Detroit suburb of Roseville.

About 300 relatives and friends attended the ceremony, in which a passage from the book of Genesis was read in Arabic and the groom followed the Jewish tradition of stepping on a glass.
"It is not political in any way, shape or form," said Arraf. "I don't even think along those lines. I'm marrying someone from a Jewish background. I have many friends who are Israeli.
Arraf and 12 other foreign supporters of the Palestinians were arrested May 2 in Bethlehem, after 10 other members of their group got into the Church of the Nativity in defiance of the Israeli soldiers surrounding the shrine.
The activist couple's path to the altar began in Jerusalem, where they first met two years ago. Shapiro was director of Seeds of Peace, an international organization that promotes peace between cultures. Arraf was a program coordinator.
The couple plan to begin their married life in the Middle East.


RAMIN ODISHO VICTORIOUS IN STANISLAUS COURT
Courtesy of the Modesto Bee (22 May); article by Patrick Giblin

(ZNDA: Turlock) Judge Al Girolami, a Stanislaus County Superior Court judge, last Monday ordered detectives to return property taken from the home of Ramin Odisho, former president of the Assyrian-American Civic Club, as part of the investigation into the club's finances.
"It's a relief to get the order," Odisho said last Tuesday night. "We've been trying to get my stuff back for months and we've been getting the runaround."
Odisho's attorney, Bruce Perry, confirmed last week's ruling: "This was his personal property, credit cards and stuff," Perry said from his Modesto office. He declined to comment further.
The judge ordered detectives to return all personal property, with the exception of documents and guns, to Odisho within seven days.
He gave detectives 30 days to copy any documents that deal with the investigation and 20 days to return the guns.
The investigation began in November 2000 when Turlock detectives searched Odisho's home and the Assyrian club and seized papers, computers and other items, including firearms, according to court documents.
The investigation was triggered by complaints of financial improprieties with the Assyrian American Civic Club of Turlock which hosted this year's annual Assyrian State Convention last weekend.
In August, detectives again searched the club and Odisho's home, as well as Farmers & Merchants Bank in Modesto and the home of another club member.
A review of documents from the club revealed that the club did not have the proper nonprofit status to run a bingo game in California, so police pulled the club's bingo permit -- shutting down a three-day-a-week game.
Earlier this year, Odisho sent club members a series of letters defending his name and blaming the club's problems on other members. No one has been arrested in the investigation and no charges have been filed.

KARL SULEMAN ABOUT TO BE SUED; ASIC ASSESSING CRIMINAL CHARGES
Courtesy of the Daily Telegraph (21 May); article By Peter Gosnell
(ZNDA: Sydney) Karl Suleman Enterprizes (KSE) liquidator, Horwath, produced a report last week indicating that Karl Suleman is about to be sued for damages. The Australian Securities and Investments Commission is in the process of assessing if criminal charges should be laid against him.
There is an estimated 85 million Australian dollar missing and Mr. Suleman is reported to be ready to declare himself bankrupt. Horwath estimates that Suleman's creditors, mostly Assyrians from Australia, could recover between 15 to 19 cents per dollar owed. There have been 1,208 proof of debt claims for a totla of 54.8 million Australian dollars and another 1,000 investors who have yet to provide proof of claim against Mr. Suleman's company, KSE.
Horwath's Paul Weston and Neil Cussen even contacted Bill Clinton by letter. They are trying to recover an autographed picture of Mahatma Gandhi worth $50,000 which Suleman gave to the former US president during their exchanges surrounding a fundraiser for the New Children's Hospital at Westmead last year.
Suleman's business partners, Jessie George and Adam Oshana, who were last heard of in Canada and the Persian Gulf respectively, are also being saught by Horwath.
Last week, George's wife Elizabeth said in a public examination that Suleman had arrived at their home in his white Mercedes-Benz, wearing slippers, and warned them to leave the country and take their family with them. Suleman has since denied this.
The liquidators have unearthed more than 20 vehicles, including numerous Ferraris, one variety of Lamborghini and several specimens of BMW and Mercedes-Benz, all of which Suleman has disclosed to them.
Suleman's Cessna Citation is being sold for $1.6 million, though his stink boat was passed in at $2.3 million when it went to auction at the weekend. Unfortunately, the Beech Sierra aeroplane went down in a paddock in Victoria and as far as the liquidators can ascertain it's still sitting there, sans engine.
The two Rolex watches are still being authenticated and the jewellery, well apparently the men's dress rings would be most suited to a fancy dress party.
Weston and Cussen are also now effectively the proud owners of four racehorses which aren't expected to sell for as much as Suleman paid.
As for the men's clothes shop, Karl for Men, selling the stock has reaped $150,000. The jewel in the KSE crown, the supermarket trolley recovery business, has been sold for the massive sum of $278,300.

The liquidators said in their report. "Within the records of KSE it is now clear that many people received regular payments under a contract without having paid for an investment. We will continue our efforts to recover these funds.'' An interim dividend of 2 cents to 3 cents in the dollar will be paid in July this year. The liquidators announced that a meeting of creditors will be held on May 28.


Note: on 28 May, 1 Australian dollar = 0.56 U.S. dollar = 0.60 Euro

OBITUARY: MARGARET BADAL

(ZNDA: Chicago) Margaret Badal, beloved wife of the late Lenny; loving sister of Helen (the late Robert) Johanan, the late Nellie (the late John) Sargis and the late Joseph (the late Fran) Shabaz; dearest aunt of Eileen Sargis and the late Bob (Ann) Johanan. Family and Friends met at Elmwood Cemetery, 2905 Thatcher Rd., River Grove on Saturday at 11 a.m. for entombment services. Margaret was a longtime employee of Sunbeam Corp. In lieu of flowers, donations to the Presbyterian Home, 3200 Grant St., Evanston, IL 60201 or charity of your choice would be appreciated. Arrangements by Smith-Corcoran Funeral Home, 773-736-3833 .
OBITUARY: WILFRED J. JACOBS
May 15, 1937 -- May 24, 2002
(ZNDA: Turlock) Wilfred Joseph Jacobs, 65, of Delhi, California died of natural causes last Friday at Doctors Medical Center. Mr. Jacobs was a native of Iran. He had lived in Delhi since 1993. He was a welder for shipyards in the Bay Area. He was a member of the Assyrian Church of the East Mar Adai and the Assyrian American Civic Club. He enjoyed fishing and gardening.
He is survived by his wife, Amelia Jacobs of Delhi; children, Wilfred Jacobs Jr., Ronald Jacobs and Shamiran Jacobs, all of Delhi, Anna Wilson of Modesto and Joseph Jacobs of Japan; sister, Rosa Allaverd of Denmark; brothers, William Jacobs, Daniel Jacobs and Valodia Jacobs, all of Turlock; and two grandchildren.
A funeral service was held at 11 a.m. Friday at Church of the East Mar Addai. Burial was at Turlock Memorial Park.