RAMIN ODISHO ACCUSES CURRENT BOARD, PLEADS TO MEMBERS
Courtesy of the Modesto Bee (20 April)
(ZNDA: Modesto) Ex-President of the Assyrian American Civic Club, Mr. Ramin Odisho, recently sent another personal letter, fourth in a series, to club members. Odisho has been under investigation for more than two years by the Turlock Police Department, Stanislaus County district attorney's office and the California Department of Justice.
Police detectives said the investigation was started after they received complaints of the mismanagement of funds at the club.
Last year, the club's bingo permit was pulled after the investigation revealed the club did not have the proper state non-profit status to be conducting bingo games.
In the latest letter, dated April 10, Odisho accuses the current club board of bouncing checks, misstating revenue, buying landscaping without proper club authorization and holding the annual Assyrian New Year's parade on the wrong day. Club members had no comment.
Odisho served four years as the club president, but stepped down in January after club members rejected a proposed change to the club's charter that would have allowed him to run again.
His previous letters -- also sent to club members -- have accused other members of illegalities and of trying to smear his name in public.
The Assyrian American Civic Club bills itself as the largest Assyrian club in the United States, with more than 1,200 members.
According to sources to Zinda Magazine the contents of these letters and accusations made to current board members may by discussed at the upcoming Assyrian State Convention to be held in Turlock. The letters have become an endless source of hearsay and somewhat comic relief in an uneventful year for the Assyrian community in Turlock.
KARL SULEMAN BANNED FOR LIFE FROM RUNNING A CORPORATION
Courtesy of the Australian Financial Review (7 May); by Jason Clout

(ZNDA: Sydney) The business career of entrepreneur and former head of Froggy.com Karl Suleman has come to an abrupt end after he consented to a life ban from managing a corporation.
The New South Wales Supreme Court disqualified the once high-flying Mr Suleman for life after an application from the Australian Securities and Investments Commission.

The director of enforcement at ASIC, Allen Turton, said he would have asked the court for the life ban but that had been made unnecessary, as Mr Suleman had consented to the decision.
The Supreme Court declared that Mr Suleman and Karl Suleman Enterprizes Pty Ltd, which is under administration, operated a managed investment scheme which should have been registered. Suleman's Froggy Group was a high-profile mobile telephone and Internet business that expanded into retailing and construction.
A securities and investment advice business was also carried on without the appropriate licences, the court declared.
The court made permanent injunctions restraining Mr Suleman and Karl Suleman Enterprizes from operating the unregistered managed investment scheme, or any similar scheme, or carrying out a securities or investment business.
Much of the attention on Mr Suleman centred on his links to the Assyrian community and his extravagant lifestyle.
But Mr Turton said the case was unusual only due to the large amount of money involved: "The size of this was much different, but we have seen a number of schemes like it… They offer a high rate of return, way above market rates. They also tend not to be mass-marketed and instead are often distributed through a close-knit community by word of mouth."
Mr Suleman reportedly raised more than $130 million for his managed investment scheme.
The application for damages has been adjourned until July 22, as has the case involving Mr Suleman's wife, Vivian.
The Supreme Court has restrained the Sulemans from dealing in any of their assets.


GOVERNOR PATAKI HONORS 102 YEAR-OLD GENOCIDE SURVIVOR
Courtesy of the Armenian National Committee of America (26 April)
(ZNDA: New York) In an emotional tribute to the Seyfo Genocide of 1915 -- in which over one million Armenians, 750,000 Assyrians, and 300,000 Greeks perished in the hands of the Turkish troops -- New York Governor George E. Pataki presented his annual Armenian Genocide Proclamation to Lucy Derderian, a 102 year-old survivor, during an April 25th ceremony at his Manhattan offices.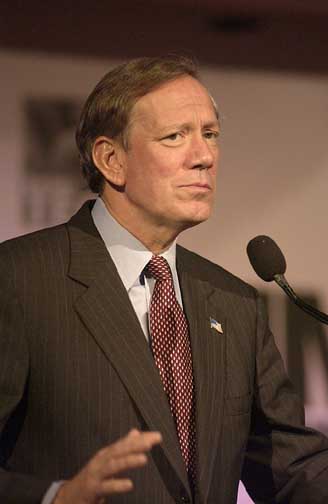 Speaking to an intimate gathering, Governor Pataki recalled the suffering of the Armenian people at the hands of the Ottoman Turkish government and called for recognizing the Genocide for what it was, "genocide."
The Governor's powerfully worded proclamation stated that, "the Armenian Genocide of 1915-23 was an organized extermination campaign employed by the Ottoman Turkish authorities." The proclamation further noted that, "the final result of the Armenian Genocide of 1915-23 was the near extermination of the Armenian people, the loss of the majority of their ancestral lands and the dispersing into many areas of the world the scarred survivors of this extreme crime against people."
Condemning the Turkish Government's denial of this great crime against humanity, the Governor's proclamation explained, "[this denial] is an abomination that occupies no proper place in debates carried out by New Yorkers, who represent some of the most intellectual and also the most morally certain people anywhere; as the movement toward full recognition of the Genocide follows its steady pace, every human being wanting to be counted as an Armenian Genocide recognition supporter can be considered a citizen of New York or an honorary citizen of New York."
Governor Pataki made no mention of the Assyrians in his speech.
Zinda Call For Action: Please take a moment to write to Governor George E. Pataki using the form at (http://161.11.3.75). Thank Governor Pataki for his courage to recognize the 1915 Genocide and bring to his attention the fact that two out of every three Assyrian lost their lives between 1915 and 1923 along with over one million Armenians and 300,000 Greeks. For "Subject of Your Email" use the topic "1915 Genocide". Please forward a copy of your letter to Zinda Magazine for publication in our next issue.
To write a letter to the Governor use this mailing address:
Governor George E. Pataki
State Capitol
Albany, NY 12224

NORWEGIAN BOOK CLUBS AUTHORS RECOGNIZE GILGAMESH ON TOP 100 FICTION

Courtesy of the Associated Press Newswires (7 May)

(ZNDA: Oslo) The Norwegian Book Clubs have recently selected the 100 best works of fiction, alphabetically as determined by a vote among 100 noted writers from 54 countries. "The Epic of Gilgamesh" (1800 BC), considered world's oldest written story was among this list. The list was not ranked, rather provided in alphabetical order according to the name of the author. Other books included Miguel de Cervantes Saavedra's (1547-1616) "Don Quixote", Jane Austen's (1775-1817) "Pride and Prejudice"; Fyodor M. Dostoyevsky's (1821-1881) "Crime and Punishment," "The Idiot," "The Possessed" and "The Brothers Karamazov."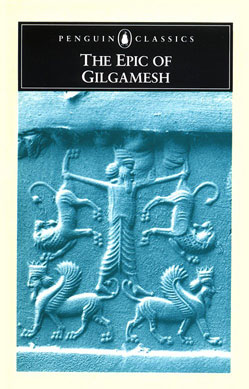 "The Epic of Gilgamesh" is a masterpiece of literature from Bet-Nahrian (Mesopotamia), describing the adventures of Gilgamesh, King of Uruk, in the pursuit of fame and immortality. According to the later version of the story the gods create a wild creature named Enkidu to challenge Gilgamesh. Gilgamesh confronts Enkidu in a fight, but later become friends. They begin a journey into unknown world in the west where they meet the evil monster, Humbaba, in the Cedar Forest. Enkidu slays Humbaba, an act which angers the gods. So they take his life. Enkidu's death saddens Gilgamesh and so he undertakes his greatest journey to seek eternal life. On his quest for eternal life he encounters many more adventures and meets Utnapishtim, the hero who had survived a flood.
For learn more about the "Epic of Gilgamesh":
From Amazon.com: http://www.amazon.com/exec/obidos/tg/browse/-/297518/ref=br_dp_/103-4951047-5891000
An outline with bibliography and links: http://www.hist.unt.edu/ane-09.htm
A musical interpretation by Tony Garone: http://www.garone.net/tony/gilgamesh.html
OBITUARY: BABA G. BADAL
(ZNDA: Turlock) Baba G. Badal (27 Jan 1910 - 4 May 2002), 92, died of natural causes on Saturday at Emanuel Medical Center in Turlock, California.
Mr. Badal was a native of Iran. He lived in Turlock 11 years. In Iran, he was a deacon at a church and a school teacher. He was a member of St. Thomas Assyrian Church.
He is survived by his wife, Maral Badal of Turlock; children, Walter Badal, Joann David, Victor Badal and Elshua Babakhan, all of Turlock, and Ator Badal of Santa Clara; and 13 grandchildren and one great-grandchild.
A funeral service will be at 11 a.m. Tuesday at St. Thomas Assyrian Church. Burial will be at Turlock Memorial Park. Private visitation.

OBITUARY: SHUSHAN BABANEJAD
(ZNDA: Modesto) Shushan Babanejad (20 March 1907 - 28 April 2002), 95, of Modesto died of an extended illness Sunday at Doctors Medical Center.
Mrs. Babanejad was a native of Urmia, Iran. She lived in Turlock since 1971, and also lived in the former Soviet Union. She was a homemaker. She was a member of the Assyrian Church of the East Mar Addai Parish of Turlock.
She is survived by her children, Mary Danapour of Los Angeles, Sarah Morad of Turlock, Samreda Babanejad of San Francisco, Freda Badal of Sunnyvale, and Dr. Fred Adams and Hilda Papion, both of Modesto; sister, Valintine Bebla of Turlock; and 18 grandchildren and 11 great-grandchildren. She was preceded in death by her son, Nicola Babanejad.
A funeral was held at 10 a.m. last Friday at Assyrian Church of the East St. George Parish, Ceres. Burial was held at Turlock Memorial Park.
OBITUARY: FLORA SHAHBAZ
(ZNDA: Turlock) Flora Shahbaz (10 October 1915 - 27 April 2002), 86, died of natural causes at Emanuel Medical Center in Turlock, California. Mrs. Shahbaz was a native of Urmia, Iran. She lived in Turlock since 1974. She was a homemaker. She was a member of Modesto Covenant Church.
She was preceded in death by her daughter, Miriam Rustam, and a sister. Graveside services were held at Turlock Memorial Park. Allen Mortuary was in charge of arrangements.