ASHURBAN PRIMARY SCHOOL
Among the flat fields and towering mountains between Diana and Hawdian in North Iraq there is a rather mysterious looking mound. The fields are flat for hundreds of metres and from the middle of nowhere rises a truncated pyramid-shaped mound of earth covered in grass. The residents of Hawdian village call it "Roomta d'Hawdian" [The Hawdian Mound] . They have passed on its story by word of mouth. While there is no conclusive archaeological evidence to suggest otherwise, locals say it was left behind by Malkoona Ashurban, an Assyrian ruler of the area in the 8th century A.D.
A fifteen minute drive away in the neighbouring town of Diana is an all-Assyrian school named after this ancient ruler - the Ashurban Primary School. The school's founder was the late Qasha [Father] Benyamin Hormiz Tazhdin, priest of Diana's Church of the East.
Father Benyamin had been trying for years to establish a school in the area. Under Saddam Hussein, for a school to have the right to simply go ahead and teach Syriac as a subject, a 51% majority of Assyrian students was needed. Assyro-Chaldeans never made up more than 26% of any school's numbers. Needless to say, prior to 1991 it was impossible to get a school to teach Syriac. Forget about an all-Syriac school.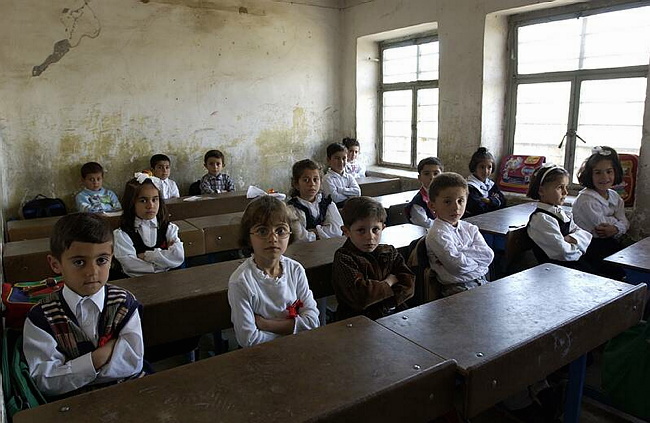 Events would change dramatically after 1991. Under the new Regional Parliament (RP) and the guidance of the Assyrian Democratic Movement (ADM), Assyrian students would enjoy the birthright of freedom of language and culture denied to them under Saddam's regime.
Ashurban School was officially founded in 1995, but teaching had actually begun there unofficially in 1993. The entire curriculum was taught in Syriac those first two years. After the 8th of April 1993, formal approval was given by the RP for Syriac to be taught wherever there are Assyrians. Qasha Benyamin, backed with a paper signed by 26 Assyrian families, applied to the local mayor for the go-ahead. Two months later, he, along with Rabi Fraydon B avid set up Syriac classes alongside the Diana Secondary School. The teachers then were totally funded by the Assyrian Aid Society.
By 1995 the number of Assyrian students had increased to a level where the classes became a school in their own right and the Ashurban Primary School was born. The principal for the last 7 years of its existence is Rabeeta (female teacher) Jacklin Kuda David, a mathematics teacher with 20 years experience. She told me that the school presently has 44 students from Grades 1 through 6. The Shamiram Secondary School, housed within the same building, currently has 15 students. There are also non-official mashmiyane (literally, listeners ) or preparatory classes of 8 students.
In all, there are 38 Syriac schools in North Iraq. Eleven of the schools teach the entire curriculum in Syriac. The Assyrian language is the means of teaching not just the end. Just like the other ten schools, Ashurban School translates all its books from Kurdish. Obviously, only religious studies are unique. This method ensures standardized course content across the whole region. The books are provided free of charge to students by the General Directorate of Syriac Education.
The school runs from Saturday to Thursday, Friday being the only rest day. Because the school is shared with Kurdish colleagues, who use the school in the morning, the hours for Ashurban are limited to the afternoon from 1-5pm. There are 11 teachers, all female! Shamiram Secondary School has 5 to 6 teachers, but more are needed. There is a current shortage of teachers in subjects like chemistry, English, physics and Syriac. Fortunately though the students never miss out on anything. The teachers at Ashurban just work that extra bit harder to make up for the insufficiency. Other times, the AAS pays for lecturers to fill in gaps. Lecturers are paid 5 dinars/hour (18 dinars equal one U.S. dollar).
The teachers are officially paid by the RP. Initially, when the school was just getting off the ground in 93-94, the AAS funded the teachers. The AAS now supports the schools with monthly payments for top students or by assisting needy families.

The school itself is a charming set of little buildings set among the scenic mountains of Diana. Sitting in the principal's office talking with Rabieh Fraydon and Jacklin, there were ear-splitting noises coming from a few doors down. I just had to investigate.
It turned out to be my first class, Grade 1 Kurdish. The loud noises were drills in the Kurdish language. The students automatically stopped as I entered the class, politely stood up and without cues from the teacher greeted me at the top of their voices with Khayit Atran, Khoobah oo Shlama!! ( Long live our Nation, Love and Peace!! )
Assyrian Rabeeta Warina Michael took the class through the lesson "Qalarash" (the Black Bird) and the students recited the story in turn or all together.
When Assyrians in the West hear that there are all-Assyrian schools in North Iraq, the response is often one of pleasant surprise. But, some ask, after the initial elation settles, isn't this putting Assyrian students, who are living among a majority of Arabs and Kurds, at a linguistic disadvantage? Won't they be weak in Arabic and Kurdish? Won't this be a problem when they enter university?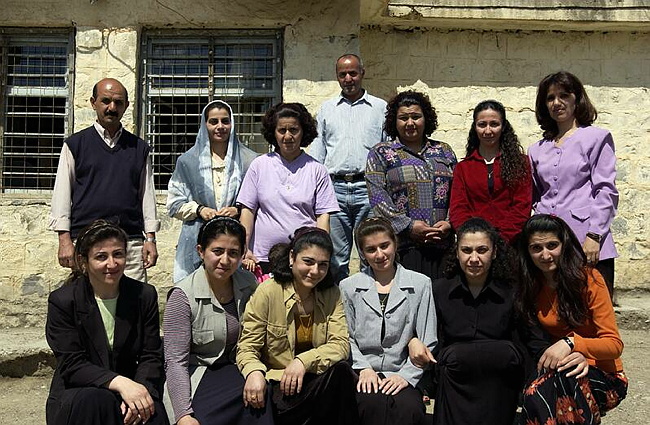 Nothing could be further from the truth.
All subjects are taught in Syriac, that is, subjects like mathematics, physics, biology, chemistry and so on. Apart from these subjects the students also learn Arabic, Kurdish, English and Syriac (as a subject)! These students are true polyglots.
In Shamiram School's Grade 5 class I had the chance to speak to some of the students while their teacher Jinan Giwargis had left the room for a few minutes. I asked eleven-year old Giwargis Fraydon: "What s your favourite topic at school?"
"Syriac," he said, in the most eloquent Syriac I've heard from an 11-year old. Because it's the language of my parents and my forefathers. Another class member, Rita Romi, wearing a red ribbon designating her as top student, said her favourite subject is geography: "I like to learn about places around the world. I want to be a teacher one day…" What struck me, visiting the various schools, is the students' amazing maturity for their age, their eloquence and intelligence. A result of the combination, no doubt, of good teachers and parents.

Before leaving the school, I asked Jacklin if she had any message to give to Assyrians in the Diaspora. I'd like to ask Assyrians in the West, she said to give us their support . Not financial support, but moral support. The worst thing for us is not a lack of finances, but hurtful, untrue stories by those who don t want us to succeed.
Even if these people are one in a thousand, added Fraydon, it's still hurtful. I've seen the schools first hand, witnessed the students skills and seen the hard work and dedication of all those Assyrians who have stayed in our homeland and worked against all odds for negative financial reward, so it's easy for me to pooh-pooh any damaging criticism from those sitting comfortably in the Diaspora. But it's harder to undo the harm it does to the moral of the people here.

Malkoona Ashurban left behind mounds as kudos of his rule (an ancient Assyrian word meaning a marker of one's presence). Much later, his memory lives on in a kudo of a different sort, the Ashurban School in Diana. For the first time since Ashurban's time, the Assyrian language and culture live on today and will be taken forward by a clever generation of young Assyrians.

I'm sure Malkoona Ashurban would have been pleased.

Sennacherib Daniel
North Iraq

Notes:
1- Malkoona (Ruler; literally diminutive of king) Ashurban, a little-known Assyrian ruler in the area probably in the 8th century, he left behind mounds to mark his presence and traveled all the way up to Iran.

2- Qasha Benyamin was born in 1957 in Bidyal, a village completely destroyed during the uprising of 1961. The entire village was relocated to Diana where Qasha Benyamin devoted the rest of his life working for the people of Iraq. He had cordial ties with all political factions among the Kurds and the varied denominations within the Assyro-Chaldeans. His life came to a premature end when he was caught in the cross-fire of Kurdish in-fighting a stray PUK bomb landed in his front yard, killing him instantly. He was 39. Tragically, the fighting ended shortly after.

3- Rabi Fraydon B David, principal of Diana Secondary School since 1989. A teacher with 27 years experience and a Diploma in English, he works full time for the School. Along with Father Benyamin he was also instrumental in establishing Ashurban, and continues to be an important consultant in its running. Because of his excellent knowledge he is frequently consulted by Kurdish schools in other areas for his know-how.

TASHISH

Barwar, you make flowers bloom.
Oh mother of lions like the tiger Maggie,
Only in you do eagles fly
Only in you do eagles sleep
Hear the tale of Barwar,
I will tell it with my tears.
A region of the Assyrians:
From its apples I remember it.
The region was ruined,
Carried away by the enemy's hand.
Its land was pillaged,
And its people taken away brutally-
They became foreigners,
Beggars in their own land.
Searching for the Barwar way of life,
They left and worked for ages.

The church of St. George,
A millennium old,
Lies today in ruins
At the hands of the vicious enemy.
They burned its trees,
And lied to its people.
They made them sleep homeless.
Old men, crying, asked,
Where are you, oh great Maggie?
See this your ruined village!
Your Assyrian nation
Has today become homeless.
Forced out of their villages,
They went and lived in the cities.
To hide their trampled rights,
They were paid money.
But Doori will never be lost,
It will sink in the blood of its youths.
And its sky will go red,
With the force of the youth's bullets.
Barwar's weddings shall return,
Around its apple orchards.
And the mother of every one of us
Shall twirl her spindle there.
---
Barwar, minnakh warde paqkhi.
Ya yimma d-arye akh nimra Maggie,
Akhchi gawakh nishre i-parkhi.
Akhchi gawakh nishre i-damkhi.

Haqyat d-Barwar shmemunnah,
B-dimeh d-ayni b-tanyannah.
Khda pneeta d-Aturaye:
Bd-an khabusho i-takhrannah.
Eh pnita pishla tlikhta,
B-ida d-dishmin muTyinta.
Eh aro pishla slibta,
Shqilta nasho b-kupruta-
Pishlun nasho nukhraye,
B-arato geewaye.
Bar khayyuta d-Barware,
Khishlun plikhlun qa dore.
Umra d-Giwargis brikha,
Kha alpa shinneh teeqa,
Idyum ha pishleh tleekha
B-ida d-dishmin oh Sreekha.
Ilanu qam maqdeelun,
Nashe d-gaweh uldeelun.
D-la beta mudmikheelun.
Sawe b-bikhya mirrun,
Kelakh Maggie gabbarta?
Khzela ah matakh tlikhta!
Millattakh Atureta
Idyum pishla d-la beta.

Qam palTilun m-matwate,
Khishlun tiwlun b-mdinate.
Qa Tashayta d-haqooyatay,
Purreelun zuze qatay.
Eena Doori leh talqa,
Bi dimma d-jwanqo b-gharqa.
Oop eh shmayyo bid samqa,
B-khela d-pushange d-jwanqa.
B-deri khloolane d-Barwar,
Khadirwana d-khabusho.
Oop yimma d-kul kha minnan
Tama b-zaqraleh kusho.
Gooh Barwar!
"Barwar"
Linda George
1993
The story of Tashish is not a unique one. Nor is it a new one. Not everyone may know this village by name, but its story will be familiar to most. It has been repeated hundreds of times in other villages around North Iraq. It is a story of flight and destruction, of homecoming and rebuilding. A story repeated countless times throughout the Assyrians' long history, made famous through song and poetry.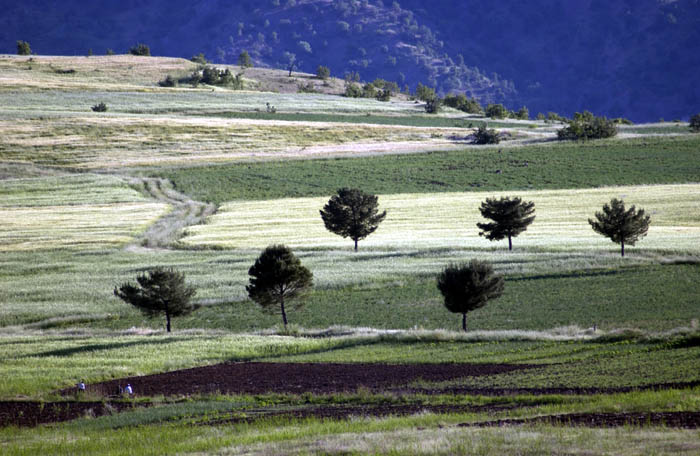 Tashish lies in the far north of Iraq. It is part of Barwar1, a region near the Iraqi-Turkish border, renowned for its beauty, its apple-orchards, its hot-blooded people.
My driver was Esam Youkhana, a 39-year old father of two young children, originally from Tashish, but now living in Nohadra (Dohuk), one of the three governates of North Iraq. A three-hour drive from Nohadra, Tashish lies north on the top-most part of a C-shaped route that traverses some fairly well-known, historical Assyrian towns. Simele, home to the notorious massacre of 1933 lies west towards the Tigris; traveling further north we passed the old town of Zakho, with its wonderous Dalal bridge. Along the top of the C we drove past Dere Hosan, Gerek and the mountains of Zerezah.
We then crossed the Khabur (Khawura) River (not to be confused with the Syrian Khabour), which slices down the middle of the villages almost vertically.
We were now in Barwar.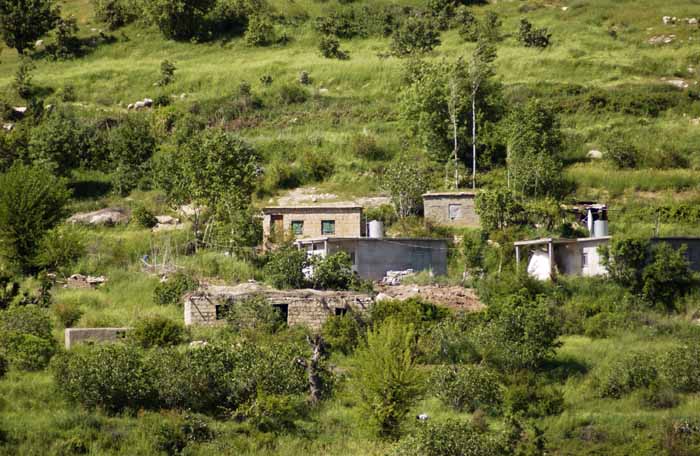 A field full of apple tree saplings were growing healthily in freshly cultivated land. We were in Chaqala, and the thousands of trees were supplied by Dr. Ashur Moradkhan and the Atra Project. Tashish, our destination, was the next village down.
Tashish is a village of 2 families sitting on large land of the Youkhana Sargon and Nissan families. Both families have been here at least six generations. Where they exactly came from isn't clear. Some say from the Sarspeedo area in Tiari (Ashita), but others aren't too sure. Around the 1960s, there were about 450 people, or 90 families, in Tashish. Esam led me up a hill that has a dominating view over Tashish to explain further.
On the hill are the remains of what look like a grand house. This was a historic, grand house, built from around 1959 to 1962. "It was the centre of the village," Esam said. Unfortunately, Saddam's regime made sure it didn't last long. In 1987, this village, like so many others, was razed to the ground. Its land was pillaged, and its people taken away brutally.
The views around Tashish were stunning. "How does each village know where it starts and ends?" I asked. "Just prior to the 1970s," he explained, "the Iraqi government's Agricultural Department put down borders. The once impressive double story house on this hill was the village's midpoint and distances were measured against it." Standing on the ruins, I commanded a view of the entire circumference of the village as we traced the outline of Tashish. In front of us were the houses of the two Assyrian families now living here. To their left were the ruins of the regime's agriculture department building. Behind us were a handful of houses and a school within Tashish's borders.
"These are Kurdish homes and a school within Tashish," Esam told me, "They came here in 1993. These settlements are clearly illegal, if you go by the age-old borders between villages and those delineated by the government in the late 1960s. The late Oraham Talia and I went to the Iraqi Kurdistan Front and brought some of their members here. After examining maps, they agreed that the Kurdish settlement is against the law. The villagers agreed to move once there is an official request for them to leave." Needless to say, there has been no such official declaration yet. "In Western countries," he continued, "laws are abided by. Here, the law is not followed so striclty. I wish it were, but it's not, I'm sorry…" Just the same, the neighbouring villages live in peace.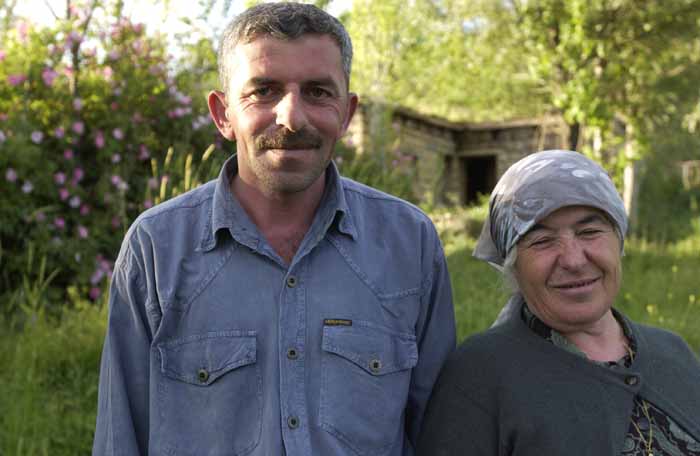 We made it down to Esam's home. His brother Sargon, mother and sister all live in the house, for about 10 months of the year. They were all born and raised in Tashish. For two months, usually winter, they move to Esam's house in Nohadra.
The village is so beautiful, I said to Sargon as we sipped some strong black coffee. And to think that not so long ago this was the scene of devastation and destruction. "One day in the Assyrian New Year month of Nissan (April) in 1987, jets were flying overhead, there were jeeps and tanks parked over there," he said pointing to a peaceful looking road in the middle of striking grassland, trees and mountains. "In those days, we had a fine house, a qasrah [literally, castle] with six rooms. Then the commandos came and said: 'leave now, take what you can, we are going to burn the village'. Behind them, I could see a soldier burning dry grass and houses. It was that easy. If you dared resist, they would say 'OK, jets are going to come and bomb this place'. Speaking into a walkie-talkie I could hear him issuing orders to the jet-fighters. There were tanks on the road in front with the cannons pointed right at our home. On the mountains behind Saddam's army were Kurdish peshmergas (fighters). On the mountains behind us were more Kurdish soldiers. Kalashnikov bullets whirred just over our heads from both sides. We were literally stuck in the middle." Sounds like a nightmare, I thought. This nightmare has happened again and again over the last 40 years to so many other Assyrian villages I visited.
"I gathered what I could and my mother, late father and about 20 others were gathered by Saddam's commandos and transferred to the Kurdish village of Gerke in Barwar. It was a plain field. We were left there, in the rain. We slept overnight in the open field. Some Gerke villagers brought us food and water. We weren't allowed to go to Nohadra. The following day, we left for Nohadra to stay with relatives."
Forced out of their villages, they went and lived in the cities.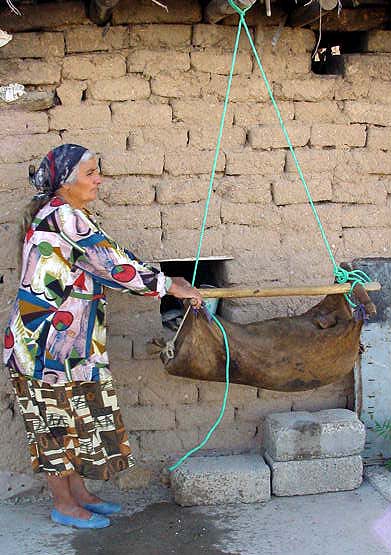 Mariam Nissan, a Tashish villager in here 1960s, said, "We wanted to come back to Tashish in 1987 but the government didn't allow us. In the meantime all our men went to the army. We finally came back in 1991-92, and the village was abandoned for five years. If we tried to come back, the government assumed you were with the enemy."
"When we came back," Sargon continued, "it was a depressing scene of total destruction.. houses were burnt out; our church, dating back to the 1800s was bulldozed. There was just rubble and some walls standing." The church lies today in ruins at the hands of the vicious enemy.
The village looks so serene and beautiful now, I couldn't visualise the mayhem that took place. "Some NGOs (Non-Governmental Organisations) helped us build shelters back in 1992," said Esam. "Slowly, we've rebuilt our farms with what they're so famous for: apples, grapes, figs and apricots." The church still remains in ruins. A small, simple chapel set among grape vines fulfils the villagers' spiritual needs for the time being. The rusted hub of a wheel struck with a hammer serves as the village's nakosha (bell). Organisations such as the Urhai Club in California are potentially working on rebuilding the church.
The fields are worked by the two families and some local Kurds who use the fields and pay the owners with money or with part of their harvest, a sort of antiquated form of rent. One of the Assyrians who works on his land is Sargon Nissan, an 18-year old former student at Nissibin. Sargon completed year 8 and studied no further, wishing instead to work on his father's land. He spends about 90 per cent of the time on the farm, the other time in Dohuk. Must be hard for a young teenager with no friends his age around, I proposed. He agreed and said, "There are no young people around here. Most of my relatives are either in Sydney, Canada or America. They've all gone to foreign lands. But things are so much better here now. We can call ourselves Assyrian, learn our language. Before we were too scared. We have our rights now."
"What do you feel about this situation?" I asked. "They'll come back. We want them to come back. We want them to raise Atour here, not overseas! This is our country, not there!"
What does the future hold for Tashish and Barwar? I then asked his barshi (name's sake) Sargon Youkhana. "These are our lands, we'll never leave. But to get more people coming back, we need equipment. We don't have a tractor for example. Work that needs 30 people digging for half an hour will be done by one tractor in less than that time. If we had more machines here, I believe people would come back."
After countless generations in their homeland, and after so much hardship, it would be a tragedy to see Assyrians leave this blessed land. It's up to us, living in the west and having all the opportunities in the world, to support these guardians of our lands. Their needs are few and simple, their cause and responsibility immeasurable. Organisations like the Assyrian Aid Society and Atra Project have helped maintain our heritage and forever reverse the words of that great song: "Its land was pillaged, And its people taken away brutally- They became foreigners, Beggars in their own land."
Footnotes:
The Barwar region consists of around 30 villages, with an Assyrian population of around 200; there are more people in summer. Helwa, Sardasht, Aqri, Khwara, Be-Baluk, Malikhtha, among others, are occupied only in summer. There were many, many more people in the past, especially prior to the 1970's. Qumrieh, Tirwanish (Der-Wanish), Der-Shirish and Aden are villages once with an Assyrian population, but now completely Kurdish for over 100 years. Helwa, Sardasht, Aqri, Khwara, Be-Baluk and Malikhtha have been abandoned as they are in PKK territory. Villages more or less continually inhabited by Assyrians today are Tashish, Chaqala, Challek, Jedideh, Be-Qulkeh, Musaka, Bas, Duri, Ain-Noone, Bishmayaye, Derishki and Kani-Balav.

Sennacherib Daniel
North Iraq
[Assyrian Translation of Ms. George's Song: Nicholas Al-Jeelo & Sennacherib Daniel]