FORMER IRAQI MILITARY OFFICERS GATHER IN LONDON

Courtesy of the The Canadian Press, CNN, and Reuters (13 July); based on articles by Jonathan Wright & Beth Gardiner

(ZNDA: London) Former Iraqi military officers and opposition groups met in London's Kensington Town Hall last week and asked the international community for help restoring democracy in Iraq and discussed efforts to topple Saddam Hussein. More than 200 people attended an open forum organized by the Iraqi National Coalition, a group co-founded by the Assyrian activist, Mr. Albert Yelda. The attendees discussed how to bring down Saddam's regime in Baghdad and secure democracy.
"Iraq has bled for far too long, and now we are ready to heal her wounds,'' former Iraqi Maj. Gen. Khalid Shams al-Din said through a translator before the session began with a chanted prayer. "We exiled military officers realize the extent of the task ahead. We therefore ask the international community to support us in our quest for a democratic Iraq.''
``It has been forced upon us to convene this meeting in exile and not in our beloved, beautiful Iraq,'' he said.
The meetings were arranged by the Iraqi National Coalition Military Alliance and not the Iraqi National Congress, a London-based confederation of Iraqi opposition groups that has received $97 million in U.S. aid, they said.
However, INC members including its head, Ahmed Chalabi, were in attendance. He said he hoped news of the meeting would bolster the hopes of Iraqis who wanted Saddam to fall. Also present was Prince Hassan bin-Talal of Jordan, who said he was there as an observer and did not represent the Jordanian government. He wished the gathering success and said he was pleased to see its diversity, a translator said. Prince Hassan and the remaining former Iraqi royal family members share a common ancestry stemming from the Faisal patriarchy of the 1920's. The Prince noted that "The people of Iraq themselves have to take their own decisions about their own future."
Mr. Albert Yelda said the meeting would be the largest gathering ever of exiled Iraqi officers. He said they hope to unify those in exile and still inside Iraq in "establishing a democratic regime where the Iraqis, Assyrians, Christians, Muslims, Arabs, Kurds and Turkomans can live peacefully and equally.'' Yelda said some of the exiled officers participating in the meeting had escaped from Iraq within the past year, while others have been out of the country for more than five years.
Soon after Washington's scrutiny of the INC's management of funds received through CIA, Mr. Yelda co-founded the Iraqi National Coaltion - an independent group which does not receive funds from U.S. Congress and the CIA.
Representatives from the Pentagon were present, yet the United States did not support the conference financially. Bush, who seems focused for now on covert action, signed an order earlier this year directing the CIA to increase support to Iraqi opposition groups and allowing possible use of CIA and Special Forces teams against Saddam. If covert attempts fail, some expect Bush to try military action.
London Times reported Friday that if the United States attacks Iraq, British special forces would participate by sabotaging Iraqi plants making weapons of mass destruction. The newspaper quoted a senior British military source as saying Washington has not formally requested British troops.

The main military organizers of the meeting were Generals Tawfiq Yassiri and Saad Ubeidi, who have been active in opposition circles. General Yassiri and his units took part in the mainly Shi'ite Muslim uprising against Saddam in southern Iraq after the Gulf War of 1991 and later escaped to the West through Saudi Arabia. General Ubeidi was the head of psychological operations in the Iraqi army and has a doctorate in psychology.
Earlier in the week a former commander of the Iraqi Republican Army, General Najib al-Salhi, had commented in "al-Hayat" that "The U.S. will launch a military strike against Iraq within a few months…to root out the head of the regime and not the infrastructure or civilian targets." He was one of the attending Iraqi officers at this meeting.
Mr. Albert Yelda was appointed by the Assyrian delegates at the Iraqi National Congress in 1999 (Assyrian Democratic Movement, Assyrian Universal Alliance, Assyrian Democratic Organization, & Bet-Nahrain Democratic Party) to represent the Assyrian coalition at the INC's Central Committee. The Assyrian National Congress was left out of such meetings, despite its founder Dr. Sargon Dadesho's efforts. On 15 June of this year-- two week's before the London meeting of the Iraqi officers-- General al-Salih's Free Iraqi Officers Movement and the Dr. Sargon Dadesho's Assyrian National Congress agreed on a common political agenda through a "Declaration of Confederation" (see Zinda's 1 July issue).
Notes:
ANC = Assyrian National Congress, headed by Dr. Sargon Dadesho
INC = Iraqi National Congress, headed by Ahmed Chalabi. An umbrella organization consisting of many Assyrian, Kurdish, Turkoman, Shiite, independent, and military Iraqi groups opposing Saddam Hussein. This group is funded by the U.S. Congress via the CIA.
AUA = Assyrian Universal Alliance, headed by former Senator John Nimrod
ADM = Assyrian Democratic Movement ( Zowaa), headed by Rabbie Yonadam Kanna, residing in North Iraq
ADO = Assyrian Democratic Organization (Takasta)
SARHAD JAMMO TO BE ORDAINED CHALDEAN BISHOP THIS WEEK
(ZNDA: Detroit) Msgr. Sarhad Jammo, 61, the pastor of Troy-Michigan's St. Joseph Chaldean Catholic Parish, will be ordained the first Bishop of a new Eparchy in California on Thursday, July 18 in Detroit, Michigan. Rev. Jammo was appointed by Pope John Paul II in May of this year as the First Bishop of the new Chaldean Eparchy in California. The announcement was made May 21 in Washington by Archbishop Gabriel Montalvo, Vatican's apostolic nuncio to the United States.
The new eparchy consists of the 19 westernmost United States: Alaska, Arizona, California, Colorado, Hawaii, Idaho, Kansas, Montana, Nebraska, Nevada, Oklahoma, New Mexico, North Dakota, Oregon, South Dakota, Texas, Utah, Washington and Wyoming. The territory was carved from the nationwide Eparchy of St. Thomas the Apostle, based in the Detroit suburb of Southfield, Mich.
The May 21 announcement from the Eparchy of St. Thomas the Apostle said the creation of the new eparchy was "done in concurrence with the decision of the Synod of Bishops of the Chaldean Church" held last December in Rome.
Bishop-designate Jammo, born in Baghdad, Iraq, March 14, 1941, was ordained a priest in Rome in 1964. He returned to Iraq in 1969 to serve as a parish pastor in the Baghdad suburb of Dora. In 1974, he became rector of the St. Peter Patriarchal Seminary in Baghdad. He moved to the United States in 1977 to serve the Chaldean Catholic community in Michigan. His first assignment was at Mother of God Chaldean Parish in Southfield, first as associate pastor then, in 1980, as pastor.
In 1983, he became pastor of St. Joseph. During his tenure at St. Joseph, a new church building, social hall, meeting hall, rectory and office facility were built, while the old church was remodeled into a cultural center.
When a U.S.-based Chaldean exarchate was formed in 1982, Bishop-designate Jammo was named its vicar general. In 1993, he was named a professor of Eastern liturgies at the Oriental Institute in Rome. He is currently a member of the Eparchial Liturgical Committee, and of the Joint Committee of the Catholic Church and the Church of the East.
According to Bishop Ibrahim N. Ibra-him of the Eparchy of St. Thomas, the new eparchy will have about 35,000 Catholics with six parishes in California and Arizona. One Chaldean religious order, the Daughters of Mary Immaculate, has convents in two California cities.
His Holiness Mar Raphael Bidawid I, the Iraqi-based Patriarch of the Chaldean Catholic Church and His Holiness Mar Dinkha IV, Patriarch of the Church of the East; Mar Bawai Soro, a Bishop of the Church of the East; several Catholic bishops and Chaldean Catholic priests will be attending the episcopal ordination ceremony in Detroit.
ASSYRIAN PROMOTED TO VICE PRESIDENT OF CALIFORNIA BANK
Courtesy of the Stockton Record (8 July)
(ZNDA: San Francisco) California's Union Safe Deposit Bank announced last week that it has promoted Ms. Monica Givargis to Vice President of Business Development. Ms. Givargis was recently with Wells Fargo Bank and will oversee the territory including Central California region where a substantial Assyrian population resides.

Ms. Givargis attended California State University, Stanislaus in Turlock and serves on the Education Committee of the Assyrian American Civic Club and has been involved with the Manteca Chamber of Commerce and Manteca Crime Stoppers. She is married and has three daughters.
P C ALEXANDER LOGS OUT OF PRESIDENTIAL RACE

Courtesy of the Economic Times (10 July)

(ZNDA: New Delhi) The Assyrian-Christian governor of a south Indian region, Dr. P.C. Alexander, resigned his post last. India's newspapers hail Dr. Alexander as the "Syrian-Christian" candidate, while India's Congress strongly opposed his candidature when his name was considered for the post of President.
Mr Alexander submitted his resignation to deputy prime minister L K Advani. In his interaction with reporters after the meeting, the governor refused to divulge reasons for his resignation but made it clear that he was not in the running for the vice-presidentship.
The 81-year-old former bureaucrat, who served as Principal Secretary to the late Indira Gandhi and Rajiv Gandhi, was the NDA's original choice for the President's post. The stiff opposition from several other political parties was also one of the reasons for the withdrawal of his name from the race.
ASSYRIAN MAN ARRESTED AFTER HIGH-SPEED CHASE IN CALIFORNIA

Courtesy of the Los Angeles Times (6 July)

(ZNDA: Los Angeles) Police arrested two people last Friday after an early-morning pursuit that reached 110 mph on Pacific Coast Highway in Californa (Highway 1). Mr. Tony Younan, 20, of Rowland Heights and Vivian Gallegos, 27, of El Monte were held Friday on suspicion of felony evading. They could also face charges of child endangerment because Gallegos' 15-year-old sister was in the car, authorities said. The girl was released to her parents, officials said.
Huntington Beach Police Lt. Bill Peterson said officers began tailing the car about 1:30 AM because a computer check indicated that the 1993 black Acura Integra had been involved in a domestic violence incident in El Monte, California.


DIG INTO THE TOMBS OF UR
Courtesy of Boston Herald (12 July); article by Joanne Silver
(ZNDA: Boston) With several dozen attendants to accompany her, and gifts for those on the other side, Lady Puabi departed this world in regal fashion. She made her final journey decked out in an elaborate gold headdress, a gold comb, large crescent earrings and a cape strung with beads of gold, carnelian and deep-blue lapis lazuli. No more than 5 feet tall, and only 40 years old at her passing, Lady Puabi clearly commanded respect in life - as demonstrated by her lavish accouterments and the lapis cylinder seal bearing her name. The inscription on this seal, as well as on those belonging to her retinue, was carved in the little wedge-shaped cuneiform signs of Sumerian, the first known written language.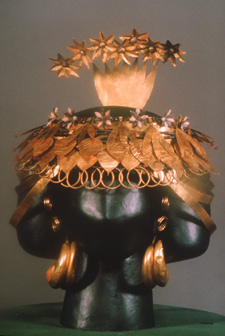 Puabi's Headdress' of gold, lapis lazuli, andcarnelian

Now, 4,500 years after her death, Lady Puabi is the star of a dazzling exhibit at Harvard University's Fogg Art Museum through Sept. 1.
"Treasures from the Royal Tombs of Ur" excavates an extraordinary culture from the so-called "cradle of civilization," Mesopotamia. This land between the Tigris and the Euphrates rivers was at various points the legendary home of the Garden of Eden, the biblical patriarch Abraham and the epic hero Gilgamesh, in addition to historical figures such as Puabi and her fellow Sumerians.
An urban culture developed in ancient Sumer in the third millennium B.C., thriving in such city-states as Ur. Inland today in what is now Iraq, Ur was in antiquity at the head of the Persian Gulf. From this ideal spot, agricultural exports could be shipped out in exchange for the imported gold and gemstones that delighted the illustrious Sumerians and survived to tell their story.
Partly because of their intimate scale and partly because of their exquisite craftsmanship, the hundreds of objects on display have a stunning immediacy. Through eyes of lapis and shell, a silver lion's head engages the viewer's attention with its mesmerizing stare. Silver tumblers and a golden drinking tube evoke ceremonies and celebrations. Cosmetic powders, caked by age, still linger in conch shell containers. Elaborate game boards feature plaques of mosaic and incised shell, along with playing tiles resembling dice.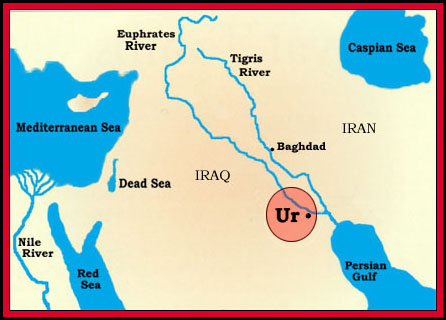 Although far less notorious than the treasures of Tutankhamen, the royal tombs of Ur rank as one of the great archaeological discoveries of the 20th century. The artifacts at Harvard hail from the 1920s and 1930s expeditions led by Sir C. Leonard Woolley - who had, among his crew, the husband of Agatha Christie. In fact, Christie based her "Murder in Mesopotamia" on her experiences as a visitor to Ur.
Mysteries continue to swirl around the sand-swept civilization, despite the wealth of material uncovered at the Near East site. Questions range from the customs and beliefs surrounding burial practices to the role of women within this very early society.
Was Puabi a queen or a priestess or both? Would the combination golden tweezers-and-stiletto found in one tomb have been intended for use in the netherworld? Was the majestic bull-headed lyre, with its blue beard of lapis ringlets, an indication that music served as a link between the human realm and the divine? What sort of rituals required the many spouted vessels made of silver, gold and translucent calcite?
Exploring the most distant past can also shed light on certain universal qualities of human culture. Whatever its original function, a finely sculpted statuette of a goat nibbling branches of a tree illustrates the age-old need to create things of beauty. A headdress' gold leaves engraved with tiny veins, a golden bull amulet and an inlaid vessel in the form of an ostrich egg reveal artisans carefully observing nature and abstracting its elements to make useful objects magnificent as well. Museumgoers need not understand cuneiform to unlock these ancient desires.
Even thousands of years ago, those burying their dead were hoping their efforts would not go unnoticed. A Babylonian text from a little after the tombs of Ur pleads, "If ever, a long time from now, in the days to come, till the end of time, anyone should find this tomb, let him not destroy it. He should restore it. On earth may his name prosper! In the Netherworld may his ghost drink fresh water!"
BRITISH MUSEUM STUMBLES ON LOST SUMERIAN TREASURES
Courtesy of the Daily Telegraph (10 July); article by Nigel Reynolds
(ZNDA: London) Two 4,500-year-old gold head-dresses from ancient Sumer have been found in a store room at the British Museum where they had lain unexamined and wrongly labelled for 73 years.

Recovered by British archaeologists from a giant burial site at Ur, now in southern Iraq, in the 1920s, they were wrongly described as "crushed skulls" when registered at the museum in 1929.
It was only when experts from the Natural History Museum recently asked their British Museum counterparts to X-ray the skulls to establish the age of the victims that the head-dresses, with flowers and leaves made of gold and lapis lazuli beads mounted on silver combs, were revealed.
"They are stunning, very colourful and delicate, and it is wonderful to imagine how beautiful they must have looked while they were being worn," said Alexandra Irving, a curator in the British Museum's department of Ancient Near East.
The ceremonial headgear was part of an enormous find of human and decorative artefacts by the British archaeologist Sir Leonard Woolley at Ur.
The site became known as the Great Death Pit. Sir Leonard found evidence of rich funerals. In exercises in mass human sacrifice, individuals were buried along with their attendants or servants.
The two head-dresses were found in a tomb containing the remains of no fewer than 74 attendants, 68 of them women.
Many of the skeletons went to the Natural History Museum while decorative objects went to the British Museum. Because so much material had been recovered, no one thought to look at the mislabeled head-dresses, which were covered in wax to prevent damage.
The British Museum intends to keep the finds inside their wax cocoons. "The X-rays have told us everything," said Dr Irving.