ASSYRIAN DELEGATION, IRAQI OPPOSITION TO MEET IN ARBIL
(ZNDA: Tehran) Mr. Jalal Talabani, head of the Patriotic Union of Kurdistan (PUK), told Iran's official news agency this week that the Iraqi opposition groups are to meet soon in Erbil, North Iraq to plan for the eventual overthrow of Iraqi President Saddam Hussein.
Talabani said opposition groups had rejected a proposal by Turkey to host their meetings, and he rejected any cooperation with Ankara to allow its army to enter Iraq.
Turkish newspapers reported Tuesday that Ankara wanted to send 20,000 soldiers, in addition to the 2,000 soldiers stationed in northern Iraq, backed by armored vehicles into northern Iraq to ensure the security of its border region in the event of a war.
A 75-member committee will meet in Arbil on or around 15 January to setup several sub-committees and a 15-member leadership committee. Mr. Yonadam Kanna of the Assyrian Democratic Movement (Zowaa) and Mr. Albert Yalda will be representing the Assyrian-Iraqi population, including the Chaldean Catholic and Syriac Orthodox constituencies at this meeting.
Reliable sources to Zinda Magazine report that a few "Chaldean" community leaders have begun efforts in the United States in demanding full recognition of the Chaldean Catholics in Iraq as a unique ethnicity, separate from the comprehensive "Assyrian" representation agreed at the London Conference in December 2002. An official statement is expected later this week.

BNDP REP GREETS LOCAL ASSYRIAN & CHALDEAN LEADERS
(ZNDA: Dohuk) According to a report from the Information Center of the Bet-Nahrain Democratic Party, Mr. Barkho Shimshon, the representative of Bet-Nahrain Democratic Party in Iraq, met with the Assyrian political parties, social and educational organizations in the Dohuk Governorate and exchanged Christmas and New Year greetings.
Mr. Brkho and other members of the BNDP-Iraq Branch also visited the office of Mar Iskhaq, Bishop of the Church of the East in North Iraq, and other church leaders in North Iraq. During these visits, Mr. Barkho and members of the Party, distributed gifts to the needy Assyrian families.
On one such visit, Mr. Barkho and the BNDP members visited Mr. Ablahaad Afram, the head of the Chaldean United Party in North Iraq and a member of the Kurdish Democratic Party (KDP). Mr. Barkho thanked the Assyrian and Chaldean organizations for the support received and offered his holiday greetings. .

IRAQ'S CHRISTIANS CELEBRATE UNEASILY
Courtesy of the Washington Post ( 25 December); article by Peter Baker
(ZNDA: Mosul) A nun was on her knees at the altar, not praying but scrubbing, getting everything ready. A man trained a spotlight toward the ceiling to test it. In the back of the church, a creche had been set up, the empty crib waiting for the Baby Jesus.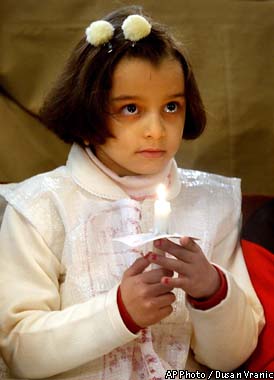 Christmas has arrived in Iraq, the moment when its relatively small Christian community takes center stage in a predominantly Muslim society. At the Clock and Latin Church here in Mosul, hundreds of Dominican Catholics gather annually amid the marble columns and stained-glass windows for Mass on Christmas Eve.
Peace is at the top of the list in their prayers this year, all the more so because of the threat of another war with the United States. But the Christians who live in Mosul and elsewhere in Iraq say they have an additional reason to pray this Christmas: Beyond the death and destruction delivered by war generally, another conflict could generate disorder and perhaps anger directed against Iraq's Christian population.
"Some people are afraid if there's something serious, what will happen in the city with the people -- Christian and Muslim, Sunni and Shiite. It's very difficult," said Brother Rame Simon, 35, who is studying philosophy and theology in preparation for the Dominican order. "We are afraid that they use this time when the government cannot control all the country. Most people have very good relations. But in this situation it only takes one fool, one crazy person who can make a lot of trouble."
Christians used to make up almost 1 million of the 23 million Iraqis, although the number has dwindled to below 800,000 in recent years as many left for Europe and the United States. Dominant among those remaining are Assyrian Catholics, who are called Chaldeans here. In addition to Arabic, many of them speak Aramaic, the language of Jesus.
Christians have risen to the top ranks in Iraq under President Saddam Hussein, with Deputy Prime Minister Tariq Aziz prominent among them, and anti-Christian violence has been largely suppressed by Hussein's Baath government. But religious conflict has been a fact of life through the centuries in the Middle East.
Mosul has as much cause for concern about what might happen if war breaks out as anywhere. Located about 250 miles north of Baghdad, near a semi-autonomous Kurdish enclave protected by U.S. and British air patrols, Mosul hosts perhaps the most vibrant Christian community in Iraq, estimated to number as many as 50,000 in the greater region. It also plays home to Muslim Kurds, Turkomen and Arab Muslims from both the Sunni and Shiite branches of the religion. What seems a harmonious diversity in peacetime could turn volatile if Iraq begins to collapse.
"If there is a war, it will be a complicated situation," said Philippe Khoshaba, 35, a Dominican priest at Clock and Latin Church. "We're afraid the Kurds will be here and the Muslims will be here. We don't know what the situation will be." Khoshaba added, "We're not afraid of our neighbors here, but we fear Iran or other groups that will provoke troubles here to profit from the situation."
Straddling the Tigris River, Mosul traces its history back to ancient times long before the prophet Muhammad and the advent of Islam. A major Mesopotamian trading stop on the route from India and Iran to the Mediterranean, it was known as Nineveh in the Bible, the third capital of Assyria and the cultural center of the Sumerian and Babylonian empires.
Devastated by the Mongols in the 13th century, Mosul was rebuilt and became one of three provinces under the Ottomans that would later be combined to create Iraq under British rule in 1920. After the departure of the British, Iraqi Muslims set upon the Christians in 1933 in retaliation for their collaboration with the colonial power. In 1959, political unrest also led to clashes in Mosul pitting Muslims against Christians.
Today, it is Iraq's third-largest city, a center of the oil industry but also still famous for its cotton and marble. The Serai bazaar teems with people at midday shopping for food or clothes. Tourists, when there are some, can visit a leaning minaret built in 640 or the Mosque of Nebi Yunus, believed to be the burial place of Jonah. Also noted for its churches and Christian antiquities, Mosul has begun storing away its most precious artifacts to protect them against any U.S. bombing.
Among its most distinctive churches is the Clock and Latin, built by French Dominicans in 1872 and known for its clock tower. A renovation completed last year has restored the limestone and marble house of worship to its once grand state.
Suhar Alyas, 32, a housekeeper, dressed up in her finest clothes and came to church today with her 9-year-old daughter, Milad Behnan, who carried three candles to light at the Virgin Mary statue in the church courtyard. Milad wants new shoes for Christmas; her 11-year-old brother, who has leukemia, wants a pair of birds. Their mother wants no more war.
"What do they get in benefit just to kill kids?" she asked. "We are praying to God to protect us and our children."
Around town, other Christians made final preparations for the holiday. It will not be a white Christmas, but it has grown chillier here in the north. Customers wore their coats to shop for last-minute gifts at Allah Faraj's shop. His is one of two in town that sell Christmas items, and he was too busy to think about geopolitics. "We're not worried about war," he said.
Ziad Tariq, an 18-year-old finishing his last year of secondary school, picked up some musical Christmas tree lights as well as small handmade ceramic creche figures. "For my gift, I just want that there won't be war," he said. Tariq wants to be a doctor. If there is war, though, he will be a soldier. At school, he received two months of training in how to use a gun.
Ban Wadi Said, 35, was looking for ornaments. Afterward she planned to go home and bake a traditional cake with dates for her three daughters, then cook a large meal and put music in the cassette player. While war looms, she said, she remains optimistic that it will not result in divisions with her Muslim neighbors.
"Thank God, we live in a country that respects us, and we respect them," she said.
Most Christians interviewed in the presence of a government translator said the different religious groups in Mosul live in harmony. Just as Christians congratulate their neighbors every Ramadan, they said, Muslims congratulate them at Christmas.
The man who sells many of the Christmas trees in town happens to be a Muslim. Mohammed Ali Hussein, 56, has been selling about 15 per day, and by this afternoon was left with just a half-dozen short, withered baby trees that could not support a string of lights.
Hussein said he has nothing but love for his Christian neighbors. "Our blood is about the same," he said. In the old days walking down the street he could tell who was Christian and who was not. "Now," he said, "we can't. The Muslims are without veils, the Christians are without veils. Everything has changed. Now sometimes even Christians are putting on veils as fashion, so you can't tell the difference."

CHRISTMAS MASS CELEBRATION IN DAMASCUS
Courtesy of the Arabic News (26 December)
(ZNDA: Damascus) A great Mass in celebration of Christmas day was held at the Cathedral of the Greek Catholic in Al-Zaytoon quarter in Damascus.
After the Mass the patriarchal vicar of the Greek-Catholic Archbishop Izidor Battikha pronounced Christmas sermons and urged people to consolidate their fraternity, solidarity and unity for the good of the society, the homeland and the humanity.
Archbishop Battikha greeted President Bashar Al-Assad national stances and his continued efforts for reinforcing the national unity on the basis of the real sincerity and love.
Meantime, Syrian Minister of Awqaf, Islamic Trusts, Mohammed Ziada yesterday visited representatives of the Christian communities in Damascus on the occasion of Christmas.
The Minister visited Greek Orthodox Patriarch Agnatius IV Hazim, Patriarch Zakka Iwaz I of the Syrian Orthodox Church, Patriarch Assador Battikha, Archbishop of Syriac Catholics Elias Taber, Pastor of the Maronite Patriarchate Rymond Eid; Representative of the Latin Community, Romaldo Fernandes; and Pastor Secretary General of the Anglican Church in Syria and Lebanon, Adib Awad.

IRAQI CHRISTIANS FEAR BEING SCAPEGOATS FOR U.S. WAR
Courtesy of San Francisco Chronicle (25 December); article by Robert Collier
(ZNDA: Baghdad) Christmas comes for Iraqis with plenty of tinsel, packed churches and the mournful, mystical tone of millennia-old chants.
A veneer of normality prevailed everywhere in Baghdad on Christmas Eve. Christmas trees were sold on several street corners, and liquor stores -- almost all of which are owned by Christians -- were doing a brisk business as people stocked up for holiday parties.
Beneath the surface, however, is the gut-wrenching fear of war -- and, perhaps worse, what might happen after the bullets stop flying.
For Iraq's approximately 800,000 Christians, today is truly a Christmas like no other.
By any measure, Christians, who constitute 4 percent of Iraq's population, are a privileged minority, and they may have much to lose if the United States invades the country in the coming weeks, as appears increasingly likely. Despite their cultural links to the West -- most Iraqi Christians are relatively wealthy and have relatives living in the United States -- they have been protected by Saddam Hussein from fundamentalist Islam, and they are broadly loyal to his regime.
"This is a very sad Christmas, and we are very afraid of the New Year," said Bishop Constantine Delli, deputy patriarch of the Chaldean Catholic Church, which represents most of Iraq's Christians.
The Chaldean Catholics, who are loyal to the Vatican, trace their roots to the fourth century A.D., when their creed became the official religion of the Mesopotamian region of the Roman Empire.
Delli voiced the widespread concern of Iraqi Christians that if the United States invades, the resulting chaos could cause the Muslim masses to carry out pogroms against Christians.
"Unless the government is able to act with a very strong hand, there could be violence against Christians," he said. "They may be influenced by Saudi Arabia, becoming fanatic."

CHRISTMAS EVE SERVICE
Those fears were right below the surface during the Christmas Eve service at Our Mother of Sorrows Church in downtown Baghdad, the country's largest.
The pews were packed, tree boughs were hung overhead, and creches were in the corners. But there was an otherworldly timelessness, too -- as always for Chaldeans, the liturgy and music were in ancient Aramaic, the language Jesus Christ is believed to have spoken.
The location of Our Mother of Sorrows is symbolic of Iraqi Christians' current state of mind. The church is squeezed among narrow streets clogged with handcarts and honking vehicles, hemmed in by the enormous Souk Araby on one side and a large mosque on another.
The Rev. Nidheer Dakko, Our Mother of Sorrows' priest, said: "Some traditional Muslims hate Christians. Not the government, no. They protect us.
"But this time, some Muslims see us as the enemy. Because America is Christian, they say the Christians are bombing Iraq," he added, referring to the sporadic attacks by U.S. and British planes enforcing the no-fly zones in northern and southern Iraq. "If there is war now, many, many Muslims will try to kill Christians because of this."
Iraqi Christians note anxiously that 60 percent of Iraq's population is Shiite, the version of Islam predominant in neighboring Iran. If the United States succeeds in overthrowing Hussein's regime, Dakko says, the new government may be dominated by Shiites. Several southern Shiite clerics have recently said that Iraq should adopt Shariah, or fundamentalist Islamic law.
"The Shiites hate the Sunnis and Christians," said Dakko. Sunni is the branch of Islam predominant in central and northern Iraq. "This is a problem. Iran likes the Shiites because it wants to make Iraq part of Iran."
Fears were compounded after the Aug. 15 murder and beheading of a Catholic nun, Cecilia Hanna, in the northern city of Mosul. The motive was later determined to be robbery, not religion, and three culprits were sentenced to long prison terms -- only to be set free when Hussein gave a mass amnesty to thousands of prisoners in November.

CHRISTIANS DO WELL IN IRAQ
Christians have more status in Iraq than in any other Arab nation except Lebanon, and they constitute a large part of the country's merchants and intelligentsia. Prominent Christians include Deputy Prime Minister Tariq Aziz, the most powerful man in the regime after Hussein, and the late Michel Aflaq, the Syrian founder of the ruling Iraqi Baath Party, who was the mentor of young Saddam Hussein when he was in exile in Damascus in the 1950s.
Christmas Day and the day after are official holidays for Christians -- Muslims don't get the day off. The Orthodox Christmas, Jan. 6 and 7, is also a holiday for Christians.
Since the Gulf War, the internationally isolated Hussein has increasingly embraced conservative Islam -- a political gambit, his critics say.
In 1994, with his regime becoming imperiled by the economic crisis brought about by U.N. sanctions, he ordered the closure of all nightclubs and bars and banned the sale of alcohol in restaurants.
He has spent large sums in building mosques, including one in Baghdad, that when completed will be the largest in the world outside Mecca. The Muslim call to prayer is broadcast on state television five times daily, after which quasi- Muslim homilies written by the dictator are read.

MUSLIM, CHRISTIAN FRIENDS
A few blocks away from Our Mother of Sorrows, one of many conversations taking place at the same time showed how Iraqi secular tolerance will not die easily.
Gathered around an elegantly appointed table in a 200-year-old house was store owner Amal al-Khedairy and her friends Selwa and Sana Wazir. Al-Khedairy is Muslim; the other two are Armenian Catholic.
"We have never had anything to fear in this country," said Selwa Wazir. "People here are friends. We are all Iraqis, just like the people here in this room."
"But there are plenty of people who keep on saying we are not good Muslims because we are so tolerant," said al-Khedairy. "They keep saying this, and if you Americans come here, they will say it even more, and my friends will be blamed for anything that happens."
"This is the wrong time of year for such thoughts," said Sana Wazir. "Why can't we just love each other?"

LITTLE CHRISTMAS CHEER FOR IRAQ'S CHRISTIANS
Courtesy of Reuters (25 December); article by Nadim Ladki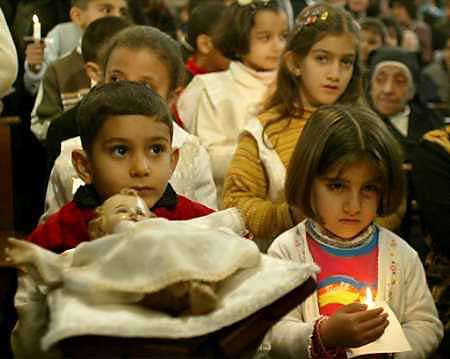 (ZNDA: Baghdad) Iraqi Christians put on a brave face to celebrate Christmas on Wednesday but there was little joy as the shadow of war with the United States loomed large.
Members of the minority Christian community held mass in churches across Iraq, sang carols to celebrate the birth of their savior and prayed for peace.
But with President Saddam Hussein, in a Christmas message to Iraqis, warning that the drums of a U.S.-led war against Iraq were beating louder, the mood was somber.
"We are celebrating Christmas like any other people in the world and we are praying for peace to all," Maria Mardic told Reuters.
Some said they were celebrating Christmas as an act of defiance.
"We celebrate Christmas and practice our normal life despite the American threats and the embargo," a restaurant owner in Baghdad said.
But the fear of what might be around the corner was all too clear.
"I am going through the motions here," said a man who identified himself only as Marwan.
"I know it is Christmas but it doesn't feel like Christmas. All what we can think of is the looming war."
The United States has threatened to lead a military coalition to disarm Iraq if it does not obey U.N. resolutions. It is building up its forces in the Middle East as U.N. weapons inspectors looking for alleged banned weapons.
Iraq denied it has any nuclear, chemical and biological weapons.

LOST JOY
"We want to live in peace and these things spoil our lives and take away the joy of Christmas," Anglican priest Ikram Mahni told Reuters.
"We pray to the Lord to halt this war and let us live in peace together, Christians and Muslims, in Iraq," he said at Baghdad's Anglican church.
Flower shops and restaurants in the posh Karradah neighborhood of Baghdad were decorated for the occasion. Santa Claus made several appearances in the area and his portraits joined pictures of Saddam on some shop windows.
Christians number about 1.5 million out of a total Iraqi population of about 23 million, the vast majority of them Muslims. The colorful mosaic of Christian sects includes Chaldeans, Copts, Roman and Melkite Catholics, Maronites and Greek Orthodox.
Among the most prominent Iraqi Christians is Deputy Prime Minister Tareq Aziz.
In his Christmas message, Saddam said the festive season this year was marked by special circumstances "created by the powers of evil and darkness to spread chaos and create states of destabilization and tension" in many parts of the world.
To achieve the goal of controlling the wealth of countries, he said the "forces of evil" resort to "various ways and means of lies and deception, fabrication and false accusation, as well as threats and military aggression."
"It is in this context that the American-Zionist campaign against Iraq is being launched while the tone of a threatened, large-scale military aggression against our peace-loving people is growing louder," he said.