Two International conferences regarding "The Assyrians Today", which were devoted to "Issues and Perspectives" and "Historiography and Linguistics" were organized in Moscow in 2002 and 2003, respectively.
By the decision of the Organizing Committee, the Third World Assyrian Conference entitled "The Assyrians Today. National Issues and the Mass Media" will take place in May 2005. Such a decision is connected with the fact that the Assyrian organizations in Russia and CIS have planned to hold in 2004 two important meetings, which will also have a national character, and many guests from the entire Assyrian Diaspora will be invited to these meetings.
In the year 2004 the village of Urmia in Krasnodar Territory will be 80 years old. The village was founded in 1924 by the decision of Soviet Russia government, which gave a chance to the Assyrian refugees from Iran and Turkey to live in proximity, keeping their traditions, their language and national culture. The village was founded not far from the city of Armavir, where soon a teachers' training school started training teachers of the Assyrian language, not only for the village of Urmia, but also for the Assyrians living in Georgia and Armenia.
Next year the Assyrians of Armenia and Georgia will also celebrate another important date – the 175th anniversary of the first settlement of the Assyrians in the Russian Empire, particularly in Armenia and Georgia.
The ties of the Assyrians with their coreligionists in these countries have centuries–old history of brotherhood. Yet, mass migration of the Assyrians from Iran (then Persia) began in 1829 after signing of the Turkmanchay Peace Treaty between Russia and Persia, in compliance with which the Christians of Persia were permitted free migration to Russia. In order to sign this Treaty, the mission with the Great Russian writer and diplomat Alexander Griboedov at the head, was sent to Tehran. The Treaty was signed in 1828, and the following year the Moslem fanatics attacked Griboedov's mission and punished him brutally. Griboedov was also killed. His body was brought to Tiflis where he was buried.
This incident confirmed that the religious fanatics were very dangerous, and could have resulted in the bloody massacre of Christians, Assyrians and Armenians in Persia. That is why rather a big number of the Assyrians began migrating to the neighboring cities of Yerevan and Tiflis (Tbilisi). Thus the Assyrian villages of Dugyun (Dvin), Koylasar, Arzny in Armenia and villages of Kanda, Karayaz in Georgia were founded.
For 175 years the Assyrians were able to preserve their heritage, language, customs and traditions in these villages. As time went by, their descendants gained an opportunity to receive good education, many of them graduated from the best universities of St. Petersburg, Moscow, Kiev, Kharkov, Saratov and other cities in Russia.
Today all traditions are kept in these villages and after the collapse of the Soviet Union there appeared an opportunity of close collaboration with the people of their own tribes living in other countries. Also there appeared a chance to return to the bosom of their native church – the Assyrian Church of the East. Today public prayers in the Assyrian language are conducted entirely in all Assyrian villages.
Jubilee celebrations in the village of Urmia in Krasnodar Territory are planned for May 2004, including the festival of the Assyrian art and sport games. In September of the same year jubilee celebrations with participation of guests from the numerous Assyrian Diaspora will take place in Tbilisi and Yerevan. Among holiday celebrations holding of the meetings with guests' participation are planned in every Assyrian village of Armenia and Georgia. Lectures and concerts of the Assyrian science and art figures will be considerable events in social life of these sister nations, which are the second motherland of the Assyrians.
The Organizing Committee is applying to all people and organizations involved with a request to send suggestions and applications about their participation in these celebrations.
melta@aport2000.ru
undi@tb.ru
daniel_sarkisov@yahoo.com (in Tbilisi, Georgia).
[Z-info: In conjunction with next year's jubilee celebrations in Russia, Armenia, Georgia and other former Soviet Union republics, Zinda Magazine is pleased to announce the launching of the Russian edition of this publication on January 2004. At presstime the "Z-Russia Crew" is busily working on the development of our Russian website and the first all-Russian issue. The Assyrian communities of Russia and CIS comprise the second largest collective Assyrian population outside of the Middle East.]

(ZNDA: Tehran) The general membership of the Assyrian Association of Tehran or "Motva d'Tehran" recently held elections for the new executive committee. A team of nine officers, under the leadership of Mr. Albert Kochoei, who ran on a single ticket received a majority of votes and was voted in as the new Board of the AAT. Mr. Kochoei is a well-known Assyrian-Iranian journalist and radio-television commentator. The other members of the elected board are as follow:
1. Mr. Albert Kochoei Chairman
2. Mr. Avshalim Avrahim Vice Chairman
3. Mr. Albert Badal-Davood Treasurer
4. Mr. Yosip Amirian Secretary
5. Mr. Mleelan Amirkhas Member
6. Mr. Carlin Eshoo-Nejadian Member
7. Ms. Jacklin Mirzaei Member
8. Mr. Yourbert Toumasian Member
9. Mr. Yazdan Sarhadi Member
Three other officers" were also elected to assist the elected Board. They are:
1. Mr. Johnny Sheer-Abadi
2. Mr. Polous Bet-Mamou
3. Mr. Sargon Ramesh
Each member assumes a term of three years in office. Of the 1,200 paid members over 700 cast their votes at the Bet-Motva in Tehran between 9 am and 4 pm.
The elections for the office of the "Representative of the Assyrian and Chaldean minorities to the Majlis (Iranian Parliament) will be held in March 2004. His Honorable Yonatan Bet-Kolia is the current representative in the Majlis .

AUSTRALIA: ASSYRIAN FAMILY MEMBERS ARRESTED IN POLICE RAID
(ZNDA: Sydney) In the minutes before 5am on Thursday an armoured vehicle more likely to be seen on the mean streets of Belfast moved slowly through Fairfield.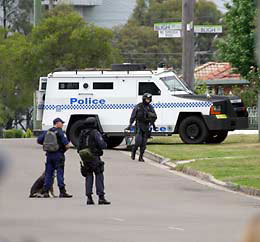 The high-powered vehicle, packed with heavily armed police officers in bullet-proof vests, was there to search for the people responsible for a number of shootings caused by a family feud in Sydney's west.
The spectacular raid, as dawn first coloured Sydney's sky, had nothing to do with the death of a man gunned down at a Punchbowl service station last week.
The police where there because of another bloody Sydney family feud – this time among members of the Assyrian community.
While the new police armoured vehicle spearheaded the raid on three adjoining houses in Mandarine St, Fairfield, dozens of uniformed officers and detectives stormed three homes and a workshop in Villawood, Bossley Park and Seven Hills.
Police closed off the entire length of Mandarine St and pyjama-clad women and children were led to safety before they entered the three, unrenovated weatherboard homes.
Police earlier met at Fairfield police station for a briefing before heading to their designated locations in an operation designed to end the cycle of retaliation violence.
Yesterday's raids follow a number of drive-by shootings, the first in December last year when 28-year-old Dimitri Debaz was shot dead outside a hotel in Clapham Rd, Sefton. A later attack on a Fairfield car sound shop left customers injured.
"There's been a number of drive-by shootings and persons who have been shot," said Superintendent Mark Henny from Taskforce Gain – which is also investigating several drive-by shootings and attempted abductions linked to people associated with Lebanese Muslim families in the area.
"All matters of a violent nature that are linked to these crimes are being investigated."
Two men were arrested during yesterday's raids.
A 19-year-old man who was still being interviewed by police last night and 58-year-old Pierre Debaz – the father of murder victim Dimitri Debaz – was taken to Fairfield Local Court.
Looking tired and speaking through an Arabic interpreter Mr Debaz faced firearm, attempted murder and abduction and maliciously inflict bodily harm charges.
Detective Sergeant Greg Berry from the State Crime Command opposed bail, saying Debaz was charged with very serious offences.
He said there would be "a very real fear . . . that witnesses will be interfered with" if Debaz was granted bail.
He said there was a "relentless pursuit of other people he [Mr Debaz] feels are responsible for the death of his son Dimitri".
Magistrate Anthony Spence refused bail – for "the welfare and the protection of the community" – and adjourned the case for mention to Liverpool Local Court on November 21.
Yesterday police Commissioner Ken Moroney warned criminals: "When you least expect us, expect us."
And Premier Bob Carr promised that Sydney's gangs and gun culture would be defeated.
"Our police force – professional, well equipped, well armed – is coming after you with the support of the people of Sydney," he said.
"We will run this taskforce as long as is required, until these criminal cowards are surgically removed from the streets of Sydney and put where they belong and that is behind bars."

(ZNDA: Sydney) Periodically Zinda Magazine returns to the justice halls of Sydney, Australia and while keeping an eye on court proceedings against the Assyrian entrepreneur, Karl Solomon, provides readers with fresh insight into the trial.
According to the minutes of meeting of creditors of Karl Suleman Enterprizes on Monday, 3 March 2003 in Sydney, the year 2002 was spent mainly in gathering information and publicly examining individuals in relation to the financial affairs of Mr. Karl (Khalid) Suleman. In February 2003, the Australian Securities and Investment Commisson began taking actions against the major agents and advisors.
Horwath, an association of independent accounting practices in Australia, in a report explains the flow of money in and out of Karl Suleman Enterprizes (KSE) bank accounts as follows (m = million, $ = Australian Dollar):
• Investors contributed a minimum of $138m. to the failed scheme with $123m. passing through KSE bank accounts and $15m. identified in cash.
• $91m. was returned to investors and agents.
• $4m. was spent on property and $1m. on luxury cars.
• $10m. has been identified as being invested in the Froggy Group of Companies.
• $4m. was withdrawn in cash from ATM's to finance lifestyle and gambling activities.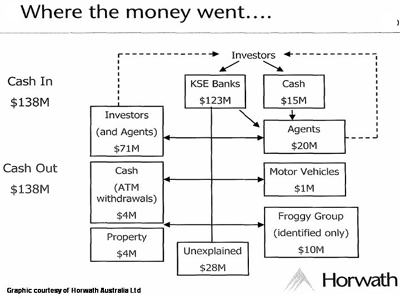 A difference of twenty eight million dollars still cannot be explained, but the Horwath investigators believe that these funds have probably been put back into the Froggy Group and the purchase of Karl Suleman's lifestyle assets.
Paul Weston & Neil Cussen Liquidators on 31 October 2003 reported that claims totaling $38.8 million have been admitted in full or in part and a total of $970,312 has been distributed to investors. The timing of a second dividend wa not confirmed. They anticipate several hundred claims will ultimately be rejected.
The Liquidators' report also explains that action against Ms. Suzy David, Dominic David Stamfords and others in respect to their role as legal advisor to Karl Suleman has begun. Suzy David is the Deputy Secretary General of the Assyrian Universal Alliance. The claim is similar to the claim against Philip Pham (and others) which was commenced late 2002. Karl Suleman has been committed for trial next year in respect to earlier charges laid against him. Mr. Adam Oshana's whereabouts are still unknown, according to the report, and he has failed to respond to the claims against him. Recovery action was started against a number of individuals.

(ZNDA: Los Angeles) Jack Tarwardy — longtime owner of Jack's Shoe Repair in Playa del Rey, California — was struck and killed in a crosswalk near his Culver Boulevard shop at 5:55 p.m., Thursday, October 30th.
A city spokesman said street lights in the area of the accident had not been operating because of an earlier transformer fire.
The incident is highlighting concerns about pedestrian safety and traffic issues on Culver Boulevard in the Playa del Rey "village" area.
Tarwardy was 74 years old and lived in Hollywood, according to Los Angeles Police Department (LAPD) Detective Terry Pearson of the LAPD West Traffic Division.
Tarwardy had operated the shoe repair shop at 324 Culver Blvd. for more than 25 years.
On Friday, as word of the fatality spread in the area, mourners brought flowers and memorials to the shoe repair shop.
A memorial for Tarwardy is scheduled for 11:30 a.m., Sunday, November 9th, at La Marina, 119 Culver Blvd., Playa del Rey.
Tarwardy was struck by an eastbound 1997 Buick as Tarwardy crossed Culver Boulevard at Pershing Drive.
The driver, a 19-year-old Playa del Rey woman, was not cited and no charges have been filed.
"She didn't see him," Pearson said. "It's a tragedy."
Tarwardy sustained massive blunt force trauma and was taken to Daniel Freeman Marina Hospital, where he was pronounced dead at 7:09 p.m., Pearson said.
Pearson said the incident is still under investigation.
Residents complained that street lighting was poor at the site of the accident.
"There have been no street lights for the past three nights," said local resident Larry Farris. "There should have been light at the crosswalk."
Sharon Sandow, field deputy to Los Angeles Councilwoman Cindy Miscikowski, said that a transformer fire occurred in the area the day before the incident and the streetlights had been shut off until the transformer could be fixed.
"The problem is being immediately remedied," Sandow said Friday, October 31st.
Tarwardy was considered "a fixture" in the Playa del Rey village, an eclectic area of apartments, small shops, service businesses and restaurants catering to the local beach community.
"Jack was part of the fabric of this town, a real character," said Bob Hughes, a local resident and acquaintance of Tarwardy.
"He had a great sense of humor and liked to tell women [customers] that he wouldn't fix their shoes very well because he wanted to see them again," Hughes said. "A lot of people have great stories to tell about him.
"It's a great loss for the community."
Farris said that Tarwardy had been trying to sell the shoe repair business and retire.
Hughes said Tarwardy often jokingly asked if Hughes wanted to buy Tarwardy's shoe repair business.
"When I'd say that I didn't know anything about repairing shoes, he'd say he didn't, either," Hughes said.
CLOSE CALLS — In the wake of the incident, many in the area feel that traffic problems in the congested village area have been ignored.
Area merchants and residents say they have had many "close calls" in the village because of the high volume and high speed of vehicles — especially commuters who pass through the village on their way to and from major roadways.
Shop owner Merry Duclos says she has tried in the past to get a signal at the crosswalk where Tarwardy was struck, but was told that the intersection was too close to another signalized intersection.
"A lot of people have been hit but nobody had been killed" when she requested the signal, Duclos said.
Farris said he recently witnessed an incident in which a dog being dropped off at a local grooming business ran into Culver Boulevard and was struck by a vehicle, but the dog's owner could not retrieve the injured dog for some time because other vehicles didn't stop.
"People don't stop and you can't get out of your driveway," Farris said.
Hughes echoed other comments that the area is in need of more pedestrian safety features.
"The traffic issue needs to be addressed," Hughes said. "There is habitual speeding and too much traffic, and nobody's watching.
"We need a blinking light at that crosswalk so drivers will at least put their feet over the brake and off the accelerator," Hughes said. "Maybe now something will be done, but it shouldn't take a tragedy" to focus attention on traffic issues.
Tarwardy is survived by his brother, William Tarwardy, of Hollywood; and sisters Tamara Moushoul and Valentina Karam, of Granada Hills.
A funeral service was conducted at 10:30 a.m. Friday, November 7th at St. Paul Assyrian Caldean Catholic Church, 13050 Vanowen St., No. Hollywood, 91605.
He was buried at Forest Lawn Memorial Park, 6300 Forest Lawn Dr., Los Angeles.