(ZNDA: Sydney) On the occasion of the visit to Australia by His Holiness Mar Addai II, Patriarch of the Ancient Church of the East, His Grace Bishop Mar Meelis Zaia, Parish Priests, Deacons and committee members, met with His Holiness and discussed matters of closer Church relations. The Patriarch, Parish Priest and Deacons received his Grace Bishop Mar Meelis on 29 October 2003 at Mar Zaia Cathedral in Sydney, Australia. His Grace participated in prayers at the Cathedral and the invitation was reciprocated.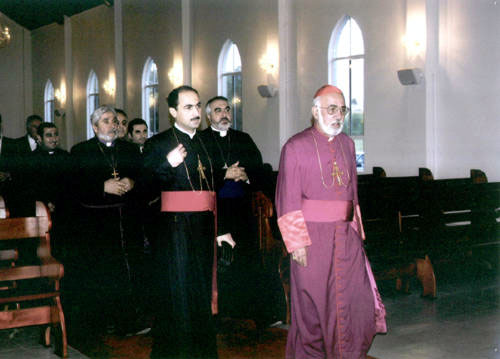 His Holiness Mar Addai II and His Grace Bishop Mar Meelis Zaia visit Mar Zaia Church in Sydney.
His Holiness Mar Addai II was received at St Hurmizd Cathedral on 4 November 2003 and after the blessing ceremony His Holiness met with church officials at the Edessa Hall. His Holiness was also invited to officially open the completed second stage of the St. Hurmizd's Assyrian Primary School, on 16th November but was unable to attend due to prior engagement.
As a symbol of the close ecclesiastical relationship between the two Assyrian Churches, His Grace Bishop Mar Meelis recommended for members of the Property Trust Committee to add to the list of Trustees the honorary name of His Holiness Mar Addai II.

For Immediate Release
11 November 2003
Please contact: Lisa Mirza Grotts
415.812.4888 cell
415.434.5715 bus
(ZNDA: San Francisco) The Bay Area's Assyrian community joined local dignitaries and socialites last Friday evening at the Ritz Carlton Hotel in San Francisco for the 2nd Annual "Narsai's Taste of the Mediterranean" charity dinner. Hosted by Bay Area culinary expert and KCBS food and wine editor Narsai David, the event raised over $120,000 on behalf of the Assyrian Aid Society, which supports needy Assyrians in their ancestral homeland in Bet Nahrain.
Celebrity chefs and winemakers of Mediterranean descent in the spotlight. The event featured a sumptuous five-course dinner inspired by the cuisine of the Mediterranean region and prepared by an all-star lineup of top chefs. Guests were treated to such dishes as Crab Lady Bug in Chinese Spoons and Saffron Chicken with Yogurt, courtesy of the Ritz-Carlton's own award-winning Chef Jean-Pierre Dubray. Justine Miner of RNM created a special Roast Sablefish in Saffron Broth with Harissa. Frank Proto of Layla ventured from New York City to serve up a sumptuous Grilled Coriander Quail with Roasted Sweet Potatoes and Pomegranate. San Francisco's own Hoss Zare of Zare Restaurant created a Roast Rack of Lamb Tabriz with Basmati Rice Pilaf and Barberries. Narsai's own wine, the 2000 Narsai, Napa Valley Cabernet, made its debut at the dinner, and the label is in honor of his mother, Shulamith. The dessert course provided homemade pastries from Assyrian women in the Bay Area and Central Valley as well as truffles from Joseph Schmidt.
San Francisco Mayor Willie Brown gives accolades. Flanked by a group of City officials, Mayor Willie Brown attended the festivities and gave the welcome address. He added, " I love the Assyrian community and hope I will be invited back next year sans the mayoral title." A standing ovation followed.
Entertainment. Assyrian American Sherene Melania, who studied with San Francisco Ballet, was the evening's soloist, performing a dance created in part for the event. There was also a special performance by the Presidio Children's Dance Theater along with a performance by Assyrian soloist Walter Aziz and music by Daniel Eshoo & The Ancient Echoes.
Live Auction. With items ranging from a European flyaway on Delta Airlines Business Class to a San Francisco Giants Luxury Box for twelve, the live auction alone took in over $66,000. The most popular item had guests vying for a chance to have lunch with Mayor Willie Brown and Narsai David at Moose's which went for $3,200. Also a popular item was dinner for ten at the home of Venus and Narsai David. While one dinner was originally up for auction, the unique opportunity created a flurry of excitement, with each top bidder pledging $5,000. Explains David "One additional bidder offered to match the $5,000 price, and we will be happy to host two dinners!"
Event Recap. "Narsai's Taste of the Mediterranean" was held on Friday, November 7th at the Ritz-Carlton San Francisco, the City's only five-star and three-diamond hotel. The event was hosted by Narsai David and chaired by Mona Malik and Lisa Mirza Grotts. Major event sponsors included The Ritz-Carlton, KCBS, The Nob Hill Gazette, Hanna Winery, California Home & Design Magazine, Joseph Schmidt Confections, Taylor Family Foundation, Miner Family Vineyards and Delta Airlines (partial list).
About the Assyrian Aid Society: The Assyrian Aid Society of America (AAS-A) is a 501 (c) (3) dedicated to helping Assyrians in need, preserving Assyrian culture and heritage, building a structure capable of responding to unexpected crises that require immediate mobilization and focusing American and international attention on the needs and humanitarian concerns of the Assyrian people. For further information about the AAS-A and volunteer opportunities, please call 510.527.9997 or visit www.assyrianaid.org.

(ZNDA: Mosul) At city hall, the Iraqis who interpret for the Americans were silent, and other employees who cooperate with the United States refused to identify themselves to a reporter.
Even the media relations official who usually speaks to the Iraqi press gave his name only reluctantly. "I guess a media representative who doesn't represent himself isn't doing his job," Yaarub Ghanem said. "But you have to understand. We are all scared. We are under threat. Our families are in danger. It's easy to kill us."
Two days ago, gunmen killed Khalid Victor Paul, an interpreter, and his teenage son, Leith, as they were driving to a school. It was the third time since Oct. 29 that Iraqis supporting the occupation had been killed in Mosul, about 215 miles north of Baghdad. A journalist and a judge investigating human rights abuses under deposed president Saddam Hussein were previously gunned down.
A week ago, assassins tried to kill a manager in charge of distributing fuel products throughout northern Iraq while he was driving his college-age son to school. The manager escaped death but his son was killed.
Iraqis under the pay of U.S.-led occupation authorities are deeply worried. Some interpreters have quit, Ghanem said, and others are thinking about it. "I consider it myself all the time. I feel I am being watched," he said. "Of course, I would try to find a replacement first, to keep things running smoothly."
Mosul, the largest city in the north, is heavily populated by former high-ranking army officers and members of Hussein's Baath Party. The U.S. military suspects they are trying to create the kind of insecurity that has infected Baghdad and towns in central Iraq.
The killing of Paul, the interpreter, was intended to hinder the work of U.S. troops, Iraqis say. "Translators are the ears and mouth of the Americans," Ghanem said. "Without translators, they are working in a vacuum. The people who killed Khalid understand this. The occupation can't work without them, foreign contractors can't operate here without them."
Paul, 41, had been under threat for weeks. Letters had been slipped under the door of his Mosul home telling him to quit. A week ago, someone broke into his house and stole only one item: a rifle. "Khalid believed the message was clear," his widow, Shada Konstantin Abdullah, said during an interview. "You have no protection."
Cars filled with glowering men followed his son and daughter home from school. Paul had only days ago transferred his son to a school close to home.
It made no difference. At 7:30 a.m. Saturday, as Paul's Toyota pulled onto the main road, a blue Volkswagen Passat reportedly pulled alongside him. Someone inside opened fire.
"The fear is such that no one on the scene has said anything to police," Ghanem said. "We only know about the car by someone who heard it from someone who heard it from someone." Iraqi police have not visited the Paul family to gather testimony.
Family members and friends gathered for a Catholic memorial Mass on Monday. The priest at Annunciation Church, Najeeb Michael, gave an emotional homily. "The evil hand is at work. Terrorism is killing the innocent, killing for nothing," he said. "They carry out their murders, it's true. We must fight with the sword of justice."
After Mass, he told a reporter: "There is a clear effort to separate the Americans from the Iraqis. Khalid used to say that all the translators were targets. He said he did not want to be the one to quit." Michael said he did not believe Paul's religion determined his fate in this overwhelmingly Muslim city.
For three years before the U.S. occupation of Iraq, Paul made a living driving a taxi. He had been laid off from his job as interpreter for a foreign company. He saw the interpreter job for the Americans as a way to get ahead in the work he had prepared himself for in school, his wife said. "He was happy at work," she said.
Ghanem said Paul worked long hours and was constantly on the streets with U.S. troops.
The need for work keeps many Iraqis on the job with occupation authorities, said a young computer programmer in city hall. "I stay, because with Saddam Hussein, there was no place for my skills. There were no computers for the public. Now I have a chance. I have a pistol to defend myself. But I don't believe in it. Only Allah can defend me." He echoed Ghanem's words about their predicament, saying, "We are easy to kill."
The widowed Shada Konstantin Abdullah offered a warning for those who remain with the Americans. "You are staying to help your family and your country, but others don't see it that way. Be afraid. Be afraid," she said as she wept.

The First Documentary film of its kind, "Assyrians of Armenia", tells the story of the formation of the Assyrian colony in Armenia from ancient times until today. Ms. Lina Yakubova, the film-maker and producer, says: "I would like to tell the story about the history of the Assyrian people in Armenia."
Ms. Yakuova has graduated from the Yerevan Institute of Theatre and Cinematography. After the completion of her studies she worked as a journalist and produced 3 documentary films. She is now conducting research on the first Assyrian immigrants from Urmia, Iran to Russia after 1828.
"Assyrians in Armenia" is filmed in Armenian and in English. The film shows valuable archival documents and photographs from the past. It shows the Assyrian faces from yesterday and today. The photographs in this film were shot in Armenia, Iraq and Iran.
Two weeks ago the film was shown on the State Armenian TV with great success.
Ms. Yakubova has already begun working on her next documentary which will narrate the lives and history of the Assyrians of Iran.
In the near future "Assyrians of Armenia" is scheduled to appear in Chicago, New York and California. Read Zinda Magazine for further detail in the coming weeks. The film can also be purchased in video or DVD format.
To order and or general information please contact:
In St. Petersburg, Russia:
(0117812) 540-2016 (Lina Yakubova).
In Chicago, USA:
(773) 274-9262 (Vasili Shoumanov).

TROOPS RECOVER NARAM-SIN PERIOD'S 4,300-YEAR-OLD STATUE
(ZNDA: Baghdad) The Bassetki Statue sits in Baghdad's Iraqi National Museum after a tip from a man held in a separate case led to its recovery.
But American military police hunting stolen antiquities here didn't expect to be shoveling feces as part of their investigation.
It paid off, however, when the MPs uncovered one of the Iraqi National Museum's most valuable pieces at the bottom of a Baghdad cesspool.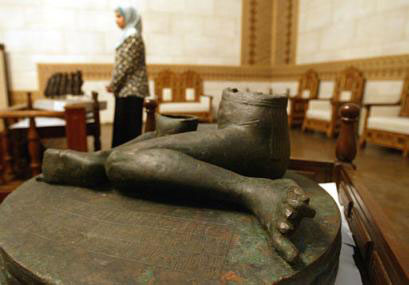 The Bassetki Statue (around 2300 B.C.) is now on display in Baghdad's Iraqi National Museum. Photo by Anja Niedringhaus
The 812th Military Police Company, a reserve Army unit from Orangeburg, N.Y., is tracking antiquities that were stolen from the Iraq Museum during looting that followed the U.S. invasion. About 14,000 pieces were stolen, and about a third have been recovered. Many still missing are irreplaceable items from when Iraq was the cradle of civilization.
One of the most important missing relics, until now, was a partial statue of a sitting boy dating back about 4,300 years. The Bassetki Statue, made of cast copper, has an inscription on the base that indicate it decorated the door of the palace of the Akkadian king Naram-Sin, in southern Iraq.
Although it weighs more than 300 pounds, the statue was hauled away by looters. Museum officials worried that they'd never see it again. But like many of the museum's big items, it hadn't gone far.
On Nov. 3, the 812th MPs, working with local Iraqi police, got a tip. Three men in southern Baghdad had another museum piece: a portable fireplace in the shape of a miniature chariot. It had kept an Assyrian king warm more than 2,800 years ago.
The Americans and Iraqi police busted the three. One of the men gave up a bigger secret: the location of the Akkadian statue.
"It just happened to be buried in human feces. So we dug it up, loaded it up on a Humvee and drove it back," Cpl. Cory Hassler, 21 of Guthrie, Okla, recalled on Tuesday, when their find was made public.
Sgt. Emmanuel Gonzales, 35, who in civilian life is a sergeant in the New York City Police Department, said the statue had been coated with grease before it was buried in a cesspool, apparently to protect it from the elements. "I guess some thought process went into it," he said.
The museum director, Donny George Youkhana, praised the work of the police as he showed off the treasures.
Also newly brought to the museum were more than 800 small artifacts that the Italian government retrieved through its anti-smuggling efforts. The pieces were smuggled out of Iraq but were bought and returned.
Youkhana said it was a "bright day" for the museum. But reopening its exhibits to the public is still at least two years away, mostly because the museum's air-conditioning, security and other systems all need replacement.
By then, officials say, much more of its missing collection should be back where it belongs.
"If people are selling artifacts in Baghdad, sooner or later we're going to find out about it, and we're going to be knocking on their door," said Capt. Vance Kuhner, commander of the 812th.