(ZNDA: London ) The Honorable Yonadam Kanna , the Chaldean Assyrian Christians representative in the Iraqi Governing Counsil and other members of the IGC visited Europe , Syria , & the United Arab Emirates on a 10-day tour starting 14 December for talks on bilateral political and economic cooperation. Other members included the current President of the Iraqi Governing Council, Mr. Abdelaziz al-Hakim, president of the Supreme Council of the Islamic Revolution in Iraq and Mr. Jalal Talabani president of the Patriotic Union of Kurdistan.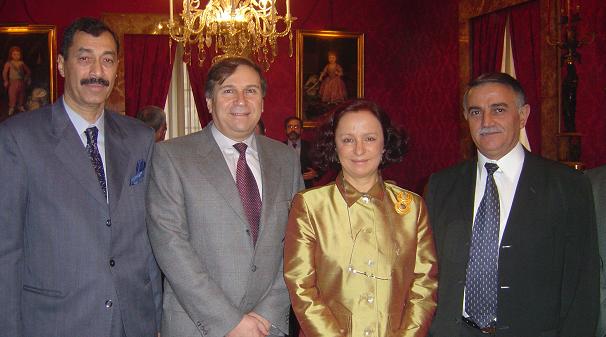 Yonadam Kanna standing next to the Spanish Foreign Minister, Ana Palacio
On Sunday 14th December, the delegation met with Prime Minister Jose Maria Aznar of Spain and the Spanish Foreign Minister Ana Palacio.
On Monday 15th December, the delegation met with President Jacques Chirac of France and the French Foreign Minister Dominic de Villepin. Meetings were also scheduled with the speakers of the Senate and National Assembly, and the chairman of the National Assembly Foreign Affairs Committee. A meeting with French business leaders was also organized by MEDEF. France does not recognize the IGC as it recognizes only states, not governments.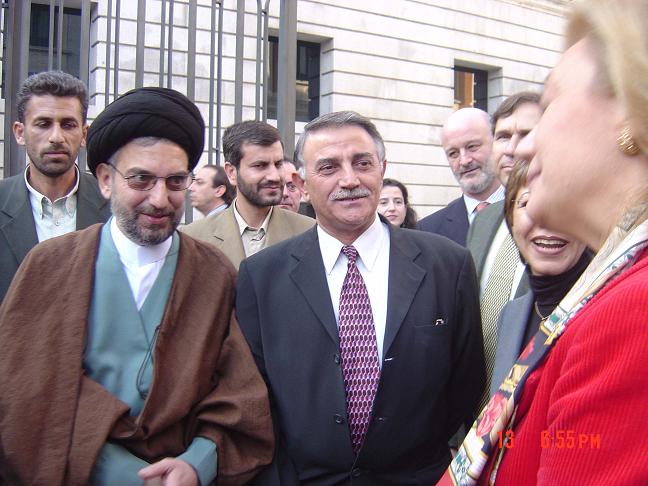 The Honorable Yonadam Kanna and the current president of the IGC, Mr. Abdelaziz al-Hakim

The delegation arrived in London on 16 December for further high-level talks with the British Government. Mr. Kanna met with Foreign Minister Jack Straw and Prome Minister Tony Blair on 17 December.
During an interview with the Jerusalem Post's Paris Bureau, Mr. Kanna told Michel Zlotowski – a JP reporter - that Saddam Hussein had a team of scientists working on a nuclear weapons program. Mr. Kanna also noted that: "One nuclear engineer out of the team of 14 on this project is now on our side…We know they were working on an nuclear weapon." Mr. Kanna met with President Jacques Chirac in an effort to secure French support for the rebuilding of Iraq .
Mr. Kanna met the Chaldean-Assyrian communities of France on 18 December, where he was welcomed by François Pupponi, Mayor of the city of Sarcelles, the representatives of the Assyro-Chaldean associations in France; the Assyro-Chaldean youth associations in France, and the Chaldean Churches.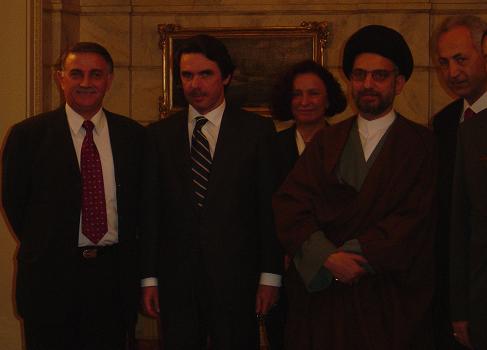 Yonadam Kanna stands next to the Spanish Prime Minister, Mr. Jose Maria Aznar
On 19 December the delegation travelled to Germany and met with Chancellor Gerhard Schroder.
On 21 December the delegation met with President Bashar Assad of Syria . IGC President Al-Hakim, accompanied by Mr. Kanna and Mr. Samir al-Soumaidai, another IGC member, arrived in the Syrian capital of Damascus from Tehran . Mr. Hamid Bayati, a spokesman for al-Hakims Supreme Council for the Islamic Revolution, told reporters that the delegation's visit to Syria was aimed at strengthening bilateral ties between the neighbouring countries.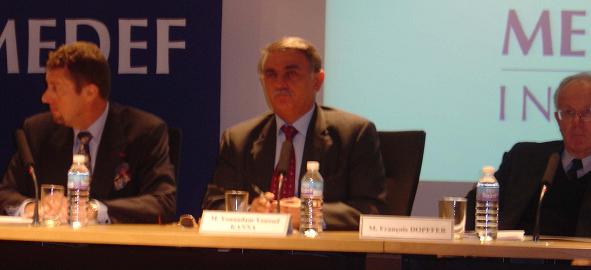 Mr. Kanna meeting German business leaders at a conference sponsored by MEDEF
Earlier in the day, Syrian Vice President Abdul Halim Khaddam met with an Iraqi delegation of intellectuals that included artists, actors, musicians and politicians.
On 22 December the delegation met with President Vladimir Putin in Russia .
On 23 December, the delegation ended their official visit to Europe and the Middle Eat with a meeting with Sheikh Zayed Bin Sultan Al Nahayan, ruler of the United Arab Emirates.
[Z-info: The following is the text of the interview conducted by the French paper La Croix with the Honorable Mr. Yonadam Kanna on 16 December. The interview was conduced by Mr. Alain Guillemoles. Special thanks to our colleagues at the Assyro-Chaldean Voice in Paris , France . The text is translated from French by Zinda Magazine]:
Mr. Yonadam Kanna , the leader of the main Christian political movement in Iraq , believes that " France 's role will be important in the political process ". Yonadam Kanna is a member of the Iraqi Governing Council and the head of the Assyrian Democratic Movement.
Croix: Along with the delegation of the interim Iraqi authority, yesterday you met Jacques Chirac and Dominique de Villepin. Do you think that the attitude of France is changing about Iraq ?
• Kanna: Yes, we made big progress. The IGC members are henceforth accepted as the representatives the Iraqi people by the French authorities. The Americans had already accepted us as such. They did not appoint us; it is necessary to underline this. All of us do appreciate the efforts made by the United States to remove Saddam Hussein from Iraq . It is not good for us if France stays away.
What results did you reach on the renegotiation of the debt of Iraq ?
• Iraq 's debt is 120 billion dollars. We tried to negotiate to lower this. Here, the role of France is important and there is a certain understanding. If France helps us to find all the funds which were stolen by the dignitaries of the Baathist regime, we shall have more opportunities to paid it off … The role of France will be important in the political process also. For the next six months, we will be in full process of transition before receiving the full sovereign power. During this period, we need the expertise of France for the editorial staff of the new Constitution (bylaws), as well as observers during the elections.
Do you wish for France to send troops to Iraq ?
• It may not be so necessary. To participate in the training of our police is more important than to bring new foreign forces to Irarq. Until now, our police was directed to protect the leaders and oppress people. Now, we it is re-formed to protect the population. France promised us soon to open such a training school in Iraq .
At the time of Saddam Hussein ' s fall, the Christians of Iraq were afraid of becoming victims of settings of scores. Is it still the case?
• The regime had spread a poison: it was this belief that, without it, the Shiite Moslems would come to power and kill the Sunni Moslems and the Christians. It was not true and will never be the case. Naturally, the end of a regime of oppression which lived for thirty five years brings a certain instability. For the first time in our history, we have respect for our religion, our ethnic groups or our culture. We are represented in all the new institutions. Until now, we were treated only as unwanted guests. Now, this country is our house.
Are you afraid of the institution of an Islamic republic?
• No. The Moslem leaders agree to separate the religion and the State. And we respect the principles of the religion of the majority of the Iraqis which is Islam.
Do you prefer that Saddam Hussein be condemned to capital punishment (death)?
• It could contribute to the protection of the Iraqis. We experienced thirty five years of terror and it is necessary to carry out a strong signal to put a stop. It would not be about a revenge. I was condemned to death by the former regime myself. My judgment was personally signed by Saddam Hussein. I managed to escape. But I have no desire of vengeance today. I think simply that it is necessary to keep the capital punishment for a period of transition of two years, until we eradicate terrorism.
(ZNDA: Zurich ) The House of Representatives in Switzerland has voted to officially recognize the Seyfo Genocide of 1915 which resulted in the death of millions of Assyrians, Armenians, and Pontic Greeks in the hands of Turkey .
The move comes almost three months after Ankara snubbed the Swiss foreign minister, Micheline Calmy-Rey, over a similar decision taken by a cantonal parliament.
Last Tuesday, the House decided with 107 votes in favor, 67 against and 11 abstentions to recognize the massacre of the Christians in the Ottoman Empire . Armenians say around 1.5 million people were killed; Turkey disputes this, putting the figure closer to 200,000.
The parliamentary chamber asked the Swiss government to inform Ankara of the vote through diplomatic channels.
The cabinet has in the past opposed adopting such a measure, arguing that it would "add to already charged relations between Turkey and Armenia ".
Reacting to the parliamentary decision, the foreign ministry said it hoped it would not have an adverse effect on relations with Turkey .
In a statement, Turkey ' s foreign ministry said it "strongly condemned and rejected the decision."
"It is unacceptable to unilaterally present as a genocide... these events that came out of the special conditions of the First World War and which caused great pain both for Turks and Armenians," the statement said.
"Parliament took this decision by considering domestic politics and by ignoring relations between Turkey and Switzerland and the feelings and thoughts of Turks in the country."
Ankara , which strenuously denies that the deaths constituted a genocide, has warned Bern in the past about giving official recognition to the massacre.
In 2001, the Swiss parliament narrowly voted against calling it a genocide, preferring to refer to the killings as "tragic events".
The parliaments of a number of European countries, including France , Italy , Sweden , Russia , Greece and Belgium , have all recognized the killings as genocide.
(ZNDA: Sudertalja) According to information received at Zinda Magazine's offices in Sweden , on 16 December at least six Swedes of Iraqi origin who were spying for Saddam Hussein for years helping the former Iraqi leader to keep tabs on members of Sweden ' s Assyrian minority were arrested.
According to Sweden 's P1 radio the Iraqi intelligence agency documents which identified the Iraqi agents, also contained detail reports on many of the 60,000 people of Assyrian origin in Sweden , including doctors, teachers, politicians and journalists.
The documents were found in the Baghdad headquarters of Saddam Hussein ' s son Qusay, who died in a firefight with US forces in the northern Iraqi city of Mosul on 22 July 22.
One of the agents named in the documents worked for the Swedish Migration Board and was in charge of finding housing for asylum seekers. The man told the radio station he had been approached by Iraqi intelligence but insisted that he had never spied for them.
Last week the Swedish Broadcasting company aired a series of stories on the six Swedes who were recruited to spy on Swedish citizens with Iraqi and Assyrian ancestry. The alleged spies hold high official positions within the Swedish authorities and organizations. From Sweden , they operated through a well-organized network linked to several European and overseas locations.
The Swedish Broadcasting company's investigation included interviews with the accused agents; the people reported they spied on; a member of the Iraqi transitional government; a former US Senator who was registered in the Mahabharat (Iraqi Secret Service) archive files; members of the Swedish parliament and government; and one man who operated inside the Iraqi Intelligence Services.
The first segment aired last Thursday at 06.00 on MHrz 92.4 Transcripts, in Swedish and will be available on www.sr.se/ekot.
(ZNDA: Turlock ) Last Friday's 6.6-magnitude earthquake in the south-eastern Iranian city of Bam sent shockwaves through Turlock 's Assyrian population, including Emanuel Oushana, who helped construct some of the buildings in the ancient city more than 30 years ago.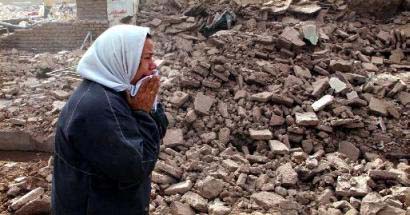 The earthquake killed more than 20,000 people and hospitalized more than 10,000. Iranian officials fear the death toll could rise as high as 40,000.
"It's a sad story," Oushana said. "I feel very sorry for the people that lost their families."
Oushana, a 56-year-old volunteer at Turlock 's Assyrian-American Civic Club, hails from Northern Iran . His father owned a construction company that did work in Bam, nearly four decades ago. As a young man, Oushana spent time in Bam, both to buy dates and to help his father's company with some projects there.
"Bam, 35 years ago, was a small town," he said. "The people treated me right there. They're very nice people, very kind people."
Oushana said he spent much time in Bam's tea shops getting to know the town's locals. Having been acquainted with some of Bam's citizens gives Oushana a sense of what has been lost amid the rubble.
Of particular note, Oushana said, was the fact that Friday was a holiday in Iran .
"People usually, on Friday, don't go to work," Oushana said. "They rest."
Oushana said Bam is known for some of its agricultural products, including pistachios and dates.
"That town is famous for its red tomatoes," Oushana said. "Some of the best tomatoes come from that part."
(ZNDA: Tehran ) Iran ' s announcement or Majlis on Saturday approved equal blood-money for Muslims and non-Muslims, a move that was cheerfully acclaimed by the country ' s religious minorities – including the Assyrian Christians.
MP Morris Motamed, who represents the Jewish community in the Majlis, said the Expediency Council verification will have "a very positive effect" on the image of the Islamic Republic in the international community.
Motamed said that he was happy that the efforts of Majlis deputies had materialized a "long-sought wish" of Iran ' s religious minorities.
He thanked the Majlis deputies, particularly members of Majlis judicial commission, for following up the issue of equal blood-money for Muslim and non-Muslim Iranians.
The Expediency Council (EC) on Saturday approved a Majlis bill on equal "blood-money", or diyeh, for Muslim and non-Muslim Iranian nationals.
EC Secretary Mohsen Rezaei said that under a state verdict by the Supreme Leader of the Islamic Revolution Ayatollah Seyyed Ali Khamenei, Iran ' s religious minorities can enjoy a "blood-money" equal to that of Muslims.
MP Yonathan Bet-Kolia, who represents the Assyrians and Chaldeans in the Majlis, said the approval of the bill was the greatest Christmas gift that the Supreme Leader Ayatollah Khamenei had given to the Iranian Christians.
Bet-Kolia said the law on equal blood-money had materialized one of the `long-sought ' wish of Christians in Iran .
Bet-Kolia further stressed that Ayatollah Khamenei has proved that he is following the path of Prophet Mohammad and the Seventh Century Shiite Imam, Ali, by approving the bill.
He recalled the charges of violation of human rights against the Islamic Republic stressing: "Today, we can strongly say that the religious minorities are free and equal in our country, and need no custodian".
(ZNDA: Turlock ) Christmas or Eida Sura - "small holiday" - as Assyrians call it, has finally arrived, and the Assyrian community in Turlock has been working hard to have everything ready.
The holiday season is very important for the Assyrian people - it's a time of family gatherings and feasting.
Christmas means a lot of cooking, baking pastries, decorating the house, and attending church, though traditions do vary within the Assyrian community.
One of the most important traditions the Assyrian people have kept for many years is preparing the Christmas meals. Every Christmas Eve the women make two types of meals - one is called Reesheh w ' Akleh and the other is called Harissa.
Turlock resident Janya Younan has been making both meals for 17 years.
"I started making these meals for Christmas when I was 23 years old," she said.
Younan got both recipes from her mother when she got married, so that she could pass the tradition along to her own family.
"We eat both Reesheh w'Akleh and Harisa as a family on Christmas Eve," she said. "That is the tradition that my family and I have held to for many years."
These meals are not simple to make, however.
"Each one takes about four to six hours to prepare." Younan said.
Another important tradition are the pastries that are made for Christmas.
Yonya Dawad of Turlock has made it a tradition in her family to cook different kinds of pastries every year.
"About a week before Christmas I start baking my pastries," she said.
It takes Dawad a total of three days to make the dough then bake the pastries.
"I usually make two types of pastries every year, but within those main types are different flavors," she explained.
One of Dawad's most favored pastry is called Klecheh, which can be made three different ways, with coconut, walnuts or dates.
Dawad has been baking these pastries since she was 18 years old.
"These recipes have been passed down from generation to generation, but there is always room for improvement," she said with a laugh.
The new generation of Assyrian mothers are coming up with new ways to cook these pastries, she added.
But for Assyrians living in Turlock , there are more modern traditions that have been adopted by both young and old alike.
Every year at Christmas, the Assyrian American Civic Club, on Golden State Boulevard , hosts a party for children and adults. Santa Claus pays a special visit and brings with him a bag filled with lots of candy for the children.
"We have been hosting this event for over 10 years," said Dr. Fred Adams, president of the Assyrian American Civic Club.
It's been a tradition for Assyrians to attend this party in the evening once everyone has gone to church and visited all their family members.
"About 1,000 people gather every year for this celebration," said Adams .
All the children form a long line and wait anxiously for their turn to receive their stocking filled with candy, which is donated by the Civic Club. The celebration then continues with singing and dancing.
[Z-info: Ms. Jesika Farhadi, an Assyrian-American, is a reporter for the Turlock Journal.]
Courtesy of the Modesto Bee (25 December); by Melanie
(ZNDA: Modesto ) In the mid-1990s, Morin Jacob spearheaded an effort that led to the elimination of all human imagery associated with the Warriors, the name of athletic teams at California State University , Stanislaus.
The campus ' American Indian club, with fewer than a dozen members, brought the matter to her attention when she served as student body president at Stanislaus State in 1996, she said.
Today, as a family law attorney in Modesto , she is still advocating for people who have a tough time being heard.
Before moving back to Modesto in May, Jacob worked for a big firm in San Francisco doing business law. The 29-year-old said she would not have gotten the same depth of legal experience if she had stayed in Modesto .
"I ' ve always been very open to opportunity, and I don ' t fear change," she said.
Her goal was to start her own law firm, so she jumped at the chance to join longtime attorney Betty Ann Reed to form Reed & Jacob Associates at Law.
Jacob said she is happy to be home and working with people -- as opposed to the more detached laws of trademarks and patents.
"You feel like you ' re making a difference," she said.
Jacob is truly homegrown. Born in Modesto , she graduated from Beyer High School in 1992 and from Stanislaus State in 1996, with a major in political science and a minor in philosophy.
While in college, she lived at home and commuted to the Turlock campus. As a student leader in 1995, she collected more than 400 signatures on a petition calling for the reopening of the on-campus pub.
Though the pub remained closed, Jacob went on to have a string of successes.
As Associated Students president in 1996, she led a charge to rid the school of its athletic team name, the Warriors, which American Indian students said was demeaning to them. The name still is used, but all human imagery associated with the name, including a logo featuring an American Indian headdress, was eliminated.
"I got death threats about that," Jacob recalled. "I was really surprised by all the attention it got. In my mind, it was a matter of fairness."
Jacob graduated summa cum laude and was named outstanding student leader for 1996.
Her experience advocating for people helped solidify her decision to go to law school, she said.
The daughter of Assyrian immigrants, Jacob was the first person in her family to go to college.
Jacob started law school in the fall of 1996 at the University of San Francisco and graduated in 1999.
"It was a great experience," she said. "It was the first time I ' d left Modesto . It was culture shock, to say the least. I was exposed to things (exotic food, arts, culture) I ' d heard about but hadn ' t seen."
It was her experience with moot court that made her realize she wanted to litigate. She also was a teacher ' s assistant for a first-year torts class and for civil procedure, and worked as a law clerk and a research assistant.
"Most people don ' t work in law school, but I had to," she said.
Her first job out of law school was with Curtis & Arata in Modesto , but what with owing tens of thousands of dollars in student loans and jobs booming in the Bay Area, she took a job there doing intellectual property work, an emerging area of law with all the new Internet start-up companies and patents being produced.
Now, besides working in family law, she deals with sexual harassment and discrimination cases and bankruptcy.
Jacob has taught Women in American Law at her alma mater since 2000, after one of her former professors recruited her.
"That ' s the unique thing about Stanislaus," she said. "You can get a lot of attention from the faculty. It ' s rare these days."
Jacob said she is an "avid exerciser," waking up at 6 a.m. to work out or do yoga, and she recently joined a book club in Modesto .
One of the first things she noticed after returning to Modesto was the "insane" traffic. But she said she thinks all the other changes she has seen are for the better. She said she has heard at least one native Modestan say, " ' Everybody leaves at least once, but they all come back. '
"I really do feel like I ' ve come home," she said. "I ' ve been welcomed back with open arms. I feel like everyone says, ' Welcome home. ' "