Although Iraq's future remains uncertain, it can be said at least that the long Ba'athist nightmare is now over. Moderate and secular Islamic voices now have an opportunity to foster a new pluralistic political system which simultaneously acknowledges the fact that Iraq's population is overwhelmingly Muslim and guarantees Christians the same legal and religious rights as the majority. Such a move would go a long way toward helping democratize Iraqi society and could prove to be an important turning point in Muslim-Christian relations.
A pluralistic political system is particularly important for letting flourish Iraqi minority communities, such as the 1.5 million Assyrian Christians, a Semitic, Aramaic-speaking community indigenous to Mesopotamia. As captured Iraqi intelligence documents clearly show, the Assyrians were ruthlessly suppressed by Saddam Hussein's regime. They were subject to religious persecution, particularly during the Iran-Iraq war. Assyrians were denied the most basic of rights in Saddam's Iraq; indeed, they were not even allowed to speak their own language, familiar to Jews as the language of the Talmud.
It was thus no surprise that many Assyrian exiles, particularly in the United States, championed the American-led effort to overthrow the Ba'ath regime and remain deeply appreciative for the opportunity to build a better Iraq. Late last year, President Bush invoked the Iraqi Liberation Act of 1998 and designated the Assyrian Democratic Movement, a political party now represented on the Iraqi Governing Council, as an officially recognized opposition movement eligible for American assistance. Ronald Michael of Chicago, president of the Assyrian-American League, remains optimistic that "the final result will have been well worth it."
While Assyrians are pleased to have seen the fall of Saddam's regime, they realize that there are difficulties ahead and are concerned about their status as a minority in post-war Iraq — particularly given several recent, unfortunate acts of anti-Christian violence, including the recent kidnapping and murder of an Assyrian Democratic Movement official in the southern city of Basra and a shooting attack against a bishop in Mosul. It remains difficult to ascertain whether these acts are spontaneous or part of a larger campaign, whether by former members of the regime to intimidate the Assyrian population or by fundamentalist Islamic agitators determined to stoke intercommunal violence. It is thus incumbent upon the American-led Coalition Provisional Authority, particularly in light of the legitimacy recently bestowed upon it by the United Nations Security Council, to provide for the safety of the Assyrian community.
The security concerns of the Assyrians extend beyond harassment and attacks. Assyrians face the possibility of institutionalized discrimination and persecutions should Sharia, or Islamic law, become the guiding principle of the new Iraqi polity. With a population that is perhaps 90% Muslim, it is not inconceivable that a large number of Iraqis would like to see their Islamic heritage incorporated into the basic framework of the new government, as has happened in post-Taliban Afghanistan. The task facing both the provisional authority and the Iraqi Governing Council, however, is to make sure that Iraq's Christian minority does not needlessly feel sidelined. Such a balancing act will be delicate, but it is not impossible.
It will not be easy, of course, to draft a centralized legal framework that will be amenable to all of Iraq's citizens. This is particularly true given the ethnic and religious cleavages within Iraqi society, not to mention the fact that the country is emerging from decades of totalitarianism. The provisional authority should do its best to guide the process of turning power over to the Iraqi people without seeming heavy-handed and unfairly critical of some aspects of the emerging political system that might seem culturally foreign to Western observers. It must also be sensitive to the concerns of the Shi'ites, who constitute a plurality of the population and were repressed by the Sunni-dominated Ba'ath regime.
The Bush administration, for its part, should now do as much as possible to make all Iraqis, regardless of ethnicity or religion, feel included in the new polity. Given that ethnic strife and persecution of Christians and Jews were hallmarks of the nominally secular Ba'ath regime, the creation of a pluralistic Iraq should be endorsed by all members of the international community who wish to see a state at peace with its neighbors. An Iraq in which Assyrian rights are not adequately protected will likely not be the democratic, pluralistic society that is needed in the region.
[Z-info: Jonathan Eric Lewis, author of the Middle East Quarterly policy paper "Iraqi Assyrians: Barometer of Pluralism," is completing a forthcoming study of ethnic minorities in the Middle East. This article appears in the 28 November issue of Forward.com.]

As Saddam's gigantic statue toppled to the ground, it suddenly dawned on me that my long and yearning desire to return to my homeland was about to be fulfilled. And so it was, I stepped foot inside Iraq again after almost 37 years. Words will fail me if I attempt to describe the emotions that overcame me; it was a journey that I shall never forget.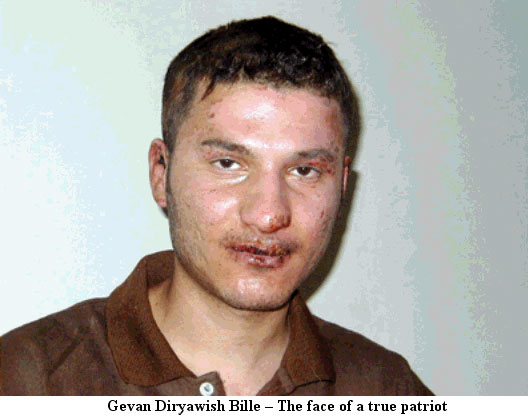 It is important to stress at the outset, that I am not a member of, nor owe allegiance to any political organisation, moreover, what I am about to portray is an accurate reflection of my experiences during my visit to the homeland.
I traveled with one or two burning questions that begged answers. What of our nation's future in Iraq, and were our political organisations well prepared to face the challenges that our tomorrows will inevitably bring? Obviously the million-dollar question being: Are our people living in Iraq proponents or opponents of unification under the compound name AssyrianChaldean, or perhaps there was an alternative, another manifesto being touted by another political organisation that offered more hope and made more sense that we in the Diaspora were oblivious to.
On Sunday October 12, I went with a friend who had traveled with me from the United Kingdom to visit Romeo Hakkari, Secretary-General of the Bet Nahrain Democratic Party at his BNDP HQ in Ankawa. We were warmly greeted, sat down, drank tea and talked politics. He started off by emphasizing that he bore no grudges towards Yonadam Kanna, that they enjoyed good relations and that their only difference was one based on policy - BNDP's rejection of the compound name. I asked him what he thought of Sargon Dadesho, head of the Assyrian National Congress, and whether he agreed with the deluge of personal attacks directed towards the AssyrianChaldean Representative within the Iraqi Governing Council. I was totally blown over by his response, on the contrary, he said he was furious with Sargon Dadesho and had asked him to stop and told him in no uncertain terms that this was detrimental to our national cause. In fact, he had ceased all forms of communication with Sargon. Were his remarks the politically correct thing to say or did he mean it, only time will tell!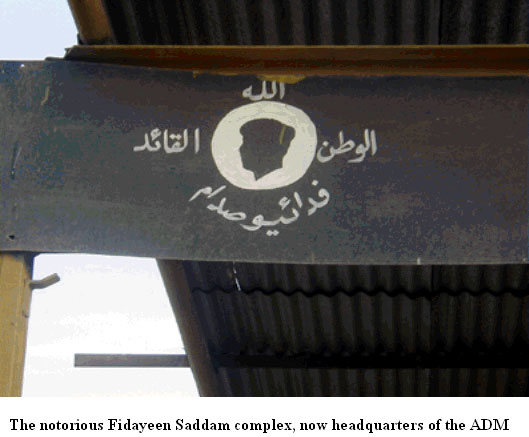 We discussed the upcoming "Chaldean Syrian Assyrian General Conference" (CSAGC) and its significance, "BNDP will not attend, and we will not compromise on the name issue" he said. Allow me to digress; there is no doubt in my mind, that whilst our political parties are at loggerheads with each other, the main beneficiaries are the Kurds, and it is true to say, that it is they that lure and motivate financially certain individuals of our nation to further drive the 450 year old wedge of division through our one and ancient nation. Romeo agreed with me that the status quo was having an adverse effect on our nation, and yet he was unable to table an alternative "unification" plan that would pave the way towards healing the rifts that have existed for centuries and subsequently establish our place in Iraq. I asked his opinion about the level of support the CSAGC enjoyed throughout Iraq, he responded by saying that 80, if not 90% of our nation were against this conference and its objective. This claim I would put to the test, and at that we left in peace, but I was to meet Romeo once again in Baghdad.
Ankawa is a village by and large inhabited by the Chaldeans. I spent a few memorable days there and met with many of the locals. I was welcomed by my people and in my own language; I saw no difference between us! Interestingly, it was those with whom I spoke that pointed this out and they are right, we are one. Until very recently they were unable to talk of unity or of nationalism out of fear of severe repercussions. Now that the conditions in Iraq have changed, now that democracy beckons, all Iraqis are invited to be more forthcoming. Our AssyrianChaldean nation is called upon to rise up to the challenge of re-establishing our just and irrevocable place as one nation, under one national leader in the undisputed land of our forefathers. It would not be far fetched to say that perhaps we are witnessing the prophecy of Isaiah (19: 23-25)* unfold in our time. The "September 11" terrorist attack in the United States prompted President Bush to take the battle to the terrorists and rogue nations. Regime change in Iraq hastily became the official US policy, and the following year in December 2002, the President of the United States added the name of the Assyrian Democratic Movement to receive assistance under the Iraqi Liberation Act of 1998. In July 2003 the Iraqi Governing Council was formed and amongst its 25 members was Mr. Yonadam Kanna, Secretary General of the Assyrian Democratic Movement. I believe you would agree that the pattern of events thus far corresponds with Isaiah's prophecy, but another critical part of this prophetic plan would be revealed at the conclusion of the CSAGC.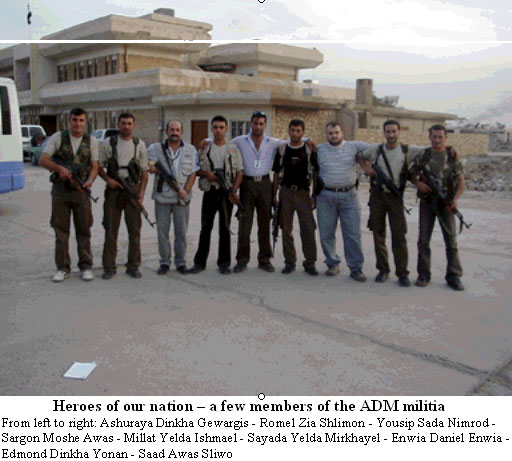 The day after meeting with Romeo Hakkari, I went to the Assyrian Democratic Movement's headquarter in Arbil. The first thing that struck me was that the place was buzzing, it was alive and active, certainly a marked contrast to the day before, but I was not about to judge the book by its cover. I needed more and more was to follow. Whilst in the North of Iraq, I went to visit a few AssyrianChaldean villages and cities of Keremlish, Beghdede, Bartilla, Telkef, Nineveh and Kirkuk. I realised that the ADM was more than just a 'movement', it is a national institution with its roots firmly embedded in all levels of the AssyrianChaldean nation and out of this sturdy foundation have branched academic societies, schools, cultural organisations, media, armed militia, a democratically structured political leadership and hope. I heard stories of individual acts of valour and sacrifice, spoken by ordinary men and women, young and old, it was at that time that I truly understood the meaning of patriotism, for even when faced with the threat of death, the men of our AssyrianChaldean nation took arms to defend our people in their villages as soon as the war of liberating Iraq had begun, under the command of the Assyrian Democratic Movement. I met with many of our heroes, a point that was repeatedly emphasised to me everywhere I visited was that the ADM had made plans well in advance of the war, "once we heard the American air bombardment begin, my two brothers and I took our weapons and went out to undertake our predetermined assignment, in fact all of our people able to fight in the Nahla district ( Dohuk province) did likewise, not one able youth stayed behind" said one ADM militia member. This was the trend all over Iraq, including Baghdad.
At 3:10 am, on Sunday October 19, the ADM centre in Kirkuk came under a rocket propelled grenade (RPG) attack. On guard outside the ADM centre was the 22-year-old Gevan Diryawish Bille (photograph below taken October 26, seven days after the incident), he described how a fraction of a second before the grenade struck the air conditioning unit 8 feet to the right of his guard spot, he had leaned forward and turned his head to his left facing away from the impact area, this (divine intervention) had saved his life. A mother almost lost her son just as she had lost her husband Diryawish, murdered by the barbaric Baath regime in 1987, I was amazed by the courage of this woman - devout in her faith in our Lord, and make no mistake – it was as her faith through prayers that had saved her son. I asked her if she would deny her son returning to his position with the ADM after recovering from the burns suffered on both hands and face, she looked at me and with a sad and anguished voice uttered: "If our sons do not protect us, who will?" The days of being a national warrior whilst living outside Iraq are over, warriors are today summoned to Iraq, and the face of our warrior Gevan is a reminder to us all in Diaspora of what can happen to those that trumpet their nationalism inside Iraq.
If we are unable to go back to Gevan's mother with a solemn pledge of protection, at least let us provide this widowed mother of an injured son our best wishes for their future. They deserve and are entitled to determine their future, for it is they and not us that have suffered for so long, and I for one will do my bit to ensure that their misery of years gone by turn to joy in time to come. I ask that you too do your bit.
We must refrain from paying too much attention to the claptrap of Sargon Dadesho and other extremists, the man lives in a bubble and that bubble is about to burst. He is far removed from reality and most of his news are based on "hearsay and innuendo", my message to Sargon is why don't you go back to Iraq and smell the reality for yourself. Perhaps that way you'll afford yourself more credibility when you speak. That is the least you can do for your people, you owe it to them to speak the truth not as you imagine it to be from California but as it is in Iraq.
We all agree that Assyrians and Chaldeans are of one ancestry, one nation but that the passage of time solidified the mold of division, many notables of our nation had in the past chipped away at this division, but ultimately failed. Their failure is not attributed to their lack of dedication and of purpose, but that the prevailing conditions of their time made it literally an impossible task to accomplish. I am convinced that today's conditions are fertile for the re-birth of our one and indivisible AssyrianChaldean nation, and as I mentioned earlier, the United States was the power that reinforced our demand to be (constitutionally) recognized as the indigenous people of Iraq paving the way forward towards our legitimate national demands. We also know that Ambassador Paul Bremer has told certain separatists from within our nation to unite, and others that have written to him complaining of non-representation, they he totally ignored. So the message is clear, and to quote the immortal motto of the Assyrian National Congress (Sargon Dadesho), "Let us unite and gather the fragments that nothing be lost". Indeed!
Whilst in Baghdad, I went to visit the Assyrian Patriotic Party (Atranayeh), BNDP, Chaldean National Congress, Beth Nahrain Patriotic Union & ADM. With the exception of BNDP, all the other parties agreed that a national & political formula uniting our nation under one name was essential for our future in Iraq. The General-Secretary of the APP, Mr. Nimrod Baito told me that he was having trouble coming to terms with the compound name. On the other hand knowing as he does the sheer complexity of our nation's makeup, he agreed that in order to assert ourselves alongside the Arabs, Kurds & Turkemans as equal partners in Iraq, we have no choice but to unite as one AssyrianChaldean nation. We must commend Nimrod Baito and the APP, he was the only one who was willing to remove his party's political garments and don his national colours for the sake of our nation. For sure, Nimrod has had his ding-dong with Yonadam Kanna, as have all of the above and others, but he cast aside their yesterdays for the benefit of his nation's future, and for this I say, may God bless you and the members of the Assyrian Patriotic Party!
The CNC & BNPU were not as keen as the APP to settle old scores, but from what I gathered, I am willing to predict that both parties will at some point fall in line with the national trend. A vibrant nation feeds off a multi-party democracy and we should not be seeking anything different, it's healthy to have diverse political opinions and debate on a range of subjects, but ultimately decisions need to be made and only one must take charge and lead the way.
Whilst respecting our nation's political status we also need to agree, no matter how bitter the pill is for some to swallow, that for now the Assyrian Democratic Movement is our only real hope of determining our future in Iraq, without them there would have existed a void, without hope, and no future.
An eerie feeling overcame me as I was driven into the huge ADM complex, formerly occupied by Uday Hussein and his infamous Fidayeen Saddam in Baghdad. The main building is surrounded by dozens of smaller buildings (including prison cells) some bombed to rubble during the air campaign, spread throughout a vast area. In fact until it was pointed out to me I had missed seeing the soccer field within the complex. One of the proudest moments of my life was looking up at the main building and seeing the AssyrianChaldean flag swaying from side to side. It truly was a humbling sensation, as I had once only dreamt of such a time.
Before continuing I need to make a very important point clear, especially to the minority extremist element of our nation that wishes to put daylight between our one and indivisible AssyrianChaldean nation. This is the Kurdish policy you are employing, and I will provide two examples of this. During the Iraqi Opposition (IO) Conference in London, December 2002, the Kurdistan Democratic Party (KDP) in a provocative move after they had formed the Chaldean Union Democratic Party under the leadership of one of its own KDP members, Abdel Lahad Afram, tried in vain to include the Chaldeans as a separate national minority to the Assyrians in the final declaration of the conference. Clearly the intentions of the KDP was to deliver a crushing blow to the aspirations of the ADM by dividing and ultimately weakening our nation and therefore strengthening their desired territorial ambitions. The second example is further testimony via a declaration by the Central Committee of the ADM dated November 8, 2002:
Declaration regarding the stance of the Assyrian Democratic Movement towards the approval by the parliament of the Iraqi Kurdistan region of the plans for constitutional federal republic of Iraq and the constitution of the region of Iraqi Kurdistan:
The parliament of the region of Iraqi Kurdistan discussed the joint federal plan presented by the ruling parties in the region, Kurdistan Democratic Party and the Patriotic Union of Kurdistan and approved this plan as a proposal during its session of 7th November 2002. Considering that the Assyrian Democratic Movement - through the purple list – together with the two parties established the region's parliament in 1992 and since the purple list won four seats out of the five seats allocated to our people with their several nomenclatures and according to the founding laws relied upon by the parliament, it is necessary to inform ADM bases, supporters and in general our people together with the friendly and allied forces, Kurdistani, Islamic and Iraqi patriots and the friends of our nation both inside and outside Iraq to be aware of the position of our movement towards this issue and its aspects.
In general, we were hoping that now we are approaching a turning point concerning the future of Iraq, that the position towards the cause of our people in such projects would have taken in to consideration the level of our alliance and long tormenting struggle as fraternal nations, the justice of our cause and the persecutions that have been inflicted on the Assyrian people over centuries. However, based on objective and realistic evaluation of the present situation of our nation and its historical weight and struggle, its right to share and based on deep understanding of current international circumstances and concepts, which is contained in the proposal do not meet the aspirations of our people, but rather are in line with our experiences during the past years, that is to say attempting to marginalize our cause.
The Assyrian Democratic Movement presented a communiqué to the leadership of the two allied parties, who originated the draft constitutions, in response to their request. In that communiqué, we have addressed our reservations and observations, which covered the following:
The proposal suggests that the make-up of the Iraqi nation consists of Arabs and Kurds, considering them to be the "two main nations" and mentioned other nations as "ethnic groups" (this was later amended in parliament as "national groups") this includes Assyrians and Turkmen, both these descriptions mean inferior nations. This takes much away from them as national rights are not measured by size, particularly in the case of indigenous people and is contrary to the principle of equal national partnership.
The proposal refers to the rights of ethnic nationalities without specifying the details or process of implementation.
The proposal dealt with our people as two different nations (Assyrian and Chaldean) overstepping the historical fact of unity of our people and bypassing the laws of the parliament which are still in effect in the region. Additionally, this is considered to be interference in the internal affairs of our people, known by several different names (Assyrian, Chaldean, Syriac). Our nation consists of several different church denominations, Chaldean Catholic, Syriac Catholic and Orthodox, Eastern Assyrian with two calendars, Protestants and others. Regarding this issue, the only point raised by the representative of the Purple List (ADM) whilst parliament was in session and during his discussion with the respected leadership committee of the parliament was in reference to the identification of our people, in which he requested that the word "and" be removed from between Assyrian and Chaldean, as an expression of unity of our people. This was rejected, which means an insistence in dividing our people.
The proposal stated that Iraq consists of Arabic and Kurdish Federals and the regions' council consists of representatives from the two regions. This eliminates the roles of other nations. We are for an administrative and political Federal system that guarantees the rights of all the people of Iraq, a system which enables all the groups to exercise their unique aspects, strengthening the national character and hence serve Iraqi unity. Additionally, we are for a Federal Council in which all ethnic nationalities are represented. These remarks and others, in our opinion, are complicated points which are not possible to be resolved at this stage especially when it is required that we all stand together for the sake of the desired change that we all seek. Therefore, it was our decision to vote against the proposal.
Our objection to the main issues within the proposal does not mean our rejection of the aspirations of the Kurdish people and their rights to express the formula by which they envisage within the Iraqi national unity. Our movement has accepted, through the purple list, the decision of federalism for the region of Iraqi Kurdistan in parliament in 1992, at the Salah-Al Din conference in 1992 and at the New York conference for Iraqi opposition in 1999 and together with the four Kurdistani parties as part of the Joint Work Committee which was announced recently.
At the same time, we participated in establishing the parliament and its continuation as a legitimate institution in the region, especially during the internal fighting and at other critical stages, to restore unity. This participation and partnership in the democratic process in the region is what gives this experiment a democratic overview, as it reflects the ethnic diversity, fraternity and mutual respect between the ethnic components. We were hoping that the parliament would have stood by the rights of our people and their internal unity.
We, the Assyrian Democratic Movement, promise our Assyrian-Chaldean nation that we shall remain faithful to our principles and political path which we have taken since the establishment of the movement, who's noble and immortal martyrs contributed to erect its pillars. We will endeavour to strengthen the relations of our people with the fraternal Kurdish nation. We will safeguard our national agenda with all the fraternal nationalities in Iraq, Arab, Kurd and Turkmen and with all the patriotic factions regardless of their ideology for a free democratic Iraq."
Two interesting points emanate from the above declaration, the first and most obvious is the ADM's unequivocal rejection of the Kurdish proposal in its entirety and secondly the use of the compound name, albeit slashed. The following month at the IO conference in London the Assyrian G8 unanimously elected Yonadam Kanna as our nation's representative. Knowing as they did that the ADM's political path was destined towards unification under the compound name, it puzzles me, particularly in the case of Sargon Dadesho, as to why he did not kick up a fuss back then, surely he had an inkling of what was to be – we all did, the nomenclatural debate had begun in earnest months before the IO conference, and yet he gave his vote of approval to Yonadam Kanna. I personally had a great deal of respect for Sargon, but much of that has been overshadowed by his fascist ranting, to me at least, I cannot discern between AssyriaSat and Iraq's former Baath TV- biased and totally one-sided news, broadcasting lies, propaganda and devoid of a national agenda.
As I headed towards the Sheraton hotel in Baghdad on the morning of October 22, for the start of CSAGC, I noticed that the Americans had cordoned off the area surrounding the hotel with soldiers and armored vehicles, they screened everyone that entered the hotel compound. Inside the hotel was swarming with people, the main conference hall was packed full which overflowed into the hotel foyers, the numbers were certainly close to a thousand if not more. All of our nations religious denominations were represented, including Sheik Satar Jabar Hallou of the Mandaeans, Ibrahim Al-Jafari of the Iraqi Governing Council and Ambassador Paul Bremer's representative Patrick Kennedy. Amongst them were political parties, federations, organizations, human rights groups, prominent individuals, technocrats, academics and many more that had come to this historic conference from all corners of the globe. It truly was a representative conference. The main deliberations commenced later that afternoon at the Babel hotel and only the 250 or so delegates were present. It truly was a spectacle to behold, because irrespective of our nation's rich diversity, the overwhelming consensus is that we are one nation known by various glorious names, and that the time had come to travel together through Iraq's future as one nation, united under one name and with one common purpose. I trust that the date 24 October 2003 will be marked in our nation's calendar as the day of national resurrection, as it was on this very day that the conference determined and declared (see Zinda Magazine volume IX, issue 34 dated 27 October 2003) our unity as one indivisible AssyrianChaldean nation.
I am convinced that Isaiah foresaw this day and we are living it, day to day – our nation's history in the making. Jesus taught us that a tree is known by its fruit, and if we are to justly examine the ADM, we should all be able to recognize and persevere to preserve this magnificent tree as it continuously produces the fruit of our sustenance nurtured by the blood, sweat and toil of its martyrs and present day vanguards.
For what it's worth, I would like to offer some sound advice. Before we dive headfirst into the Kurdish trap of inner conflict, we need to be able to separate the wheat from the chaff, discern fact from fiction, and know right from wrong, and this can only be established whilst living inside our homeland and under the same life threatening conditions that the likes of Yonadam Kanna have grown very much accustomed to. It's true that seeing is believing, I saw and became impressed – surpassing my expectations of the divinely inspired Assyrian Democratic Movement. I will not pluck numbers out of thin air as some randomly do, but I will say that the overwhelming majority of our people in Iraq subscribe to the unity of our nation under one name. There is no conspiracy and no dark sinister forces lurking in the shadows seeking our destruction - what is left after 2600 years of corrosion, resulting from genocide, persecution and other forms of inhumane cruelty committed against our nation to be destroyed. This is uniting and gathering the fragments so that nothing is lost evermore of one proud and ancient people. This is about staking our undeniable claims in Iraq as one, this is about strength through unity, this is nation building!
Albert Michael
United Kingdom