ASSYRIAN MAN FATALLY SHOOTS HIMSELF IN STANDOFF WITH POLICE
Courtesy of Daytona Beach News Journal (12 February)
(ZNDA: Daytona Beach) An Assyrian man believed to have burglarized a Port Orange home in Florida fatally shot himself in a motel room during a standoff with police early Tuesday.
Jako Israel, 33, of Daytona Beach, Florida was pronounced dead at 1:19 a.m. after he shot himself one time in the chest, police said.
Israel's suicide occurred after Port Orange detectives investigating a burglary found him at the San Souci Motel at 1020 S. Ridgewood Avenue.
Port Orange police were in the process of obtaining a warrant for Israel and had learned he was staying at the motel in Room 1, police said.
With guns drawn, Daytona Beach police and a Port Orange detective surrounded the room and tried to negotiate with Israel through the open door to drop the .357-caliber handgun he held to his chest.
When told to drop the gun, Israel repeatedly threatened suicide and then fired, police said. Police found two other handguns in the room.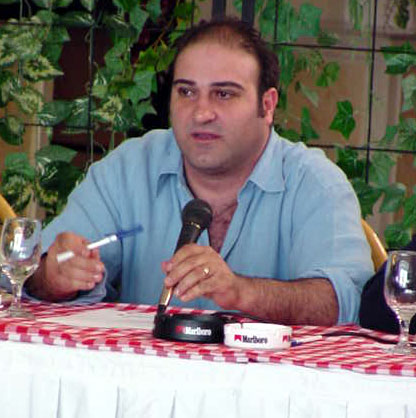 ASSYRIAN FILM PRODUCER AT OMAN FILM FESTIVAL
Courtesy of Times of Oman (23 January); based on article by Sharifa Al Kindy
Assyrian-American film producer Beni Atoori joined Director Roger Christian (Battlefield Earth, Nostradamus, Monty Python's Life of Brian) and Scriptwriter Mitchell Cohen (The Toxic Avenger) at the Sultanate of Oman's Muscat Film Festival 2003 to promote their upcoming film "Gilgamesh", scheduled to be released early next year.
Oman's Ministry of Commerce and Industry had invited the U.S. Embassy to participate in the 3-year old film festival. The US State Department has nominated this the team led by Beni Atoori to introduce the U.S. film industry and Hollywood to the Arab film world. The Muscat Film Festival was held between 18 and 25 January.
International filmmakers representing 15 countries took part in the two-hour long workshop where Director Christian, Mr. Atoori, and Script Writer Mitchell Cohen discussed independent filmmaking in America.
Mr. Atoori tells the Times of Oman: "It's a great opportunity for us to be associated with the festival and to see the differences between American and Arabic films in terms of freedom of expression, story telling, women's issues, etc. It offered us a forum to share our views.' Mr. Atoori's films "Thirteen Conversations About One Thing" & "The Jimmy Show" produced by his southern California company – Stonelock Pictures – were featured at the Muscat Film Festival.
"The Jimmy Show" is about an inventor who tries and fails at comedy, then struggles to keep his family together. Frank Whaley stars and directs the film. The film was released theatrically in December 2002.
A Dennis Hopper film, "The Spreading Ground," was shown on Showtime in December. The movie depicts the pursuit of a serial killer of little girls.
"Thirteen Conversations About One Thing" in which Matthew McConaughey, Alan Arkin, John Turturro and Amy Irving appeared, received excellent reviews. The Chicago Tribune called it "a film about ideas, about human frailty and, ultimately, a film about spirituality."

"Our movies arc basically related to the state or human condition,' says Cohen, the writer of Gilgamesh. Mr. Christian is directing "Gilgamesh" shot on location in Morocco and India. Beni has been working in India since November.
Roger Christian will direct and Michael Madsen ("Die Another Day", "Reservoir Dogs) will play the title role. Robert Davi ("Profiler" and "Columbus") also co-stars. Omar Sharif (Lawrence of Arabia, Dr. Zhivago), Egyptian actor with international renown, will appear in the film Gilgamesh also.
The Epic of Gilgamesh was written some 4,000 years ago on clay tablets found in the second hald of the 19th century. The tablets describe the story of a Mesopotamian god-king who rules over the people of the city of Uruk, from which the name "Iraq" is derived. Gilgamesh begins a search for immortality with the help of his friend, Enkidu, and along the way meets a monster in the Cedar Forest, Goddess Ishtar, and Utnapishtim (Mesopotamian Noah). The Epic of Gilgamesh is world's oldest written story, and a deeply philosophical journey through human mind searching for the meaning of life and that which makes a living being- human.
A former resident of Modesto, California, Beni has two children, a son Aiden, 3, and a daughter Nikki, 7.
HIGHWAY 99 STRETCH IN CALIFORNIA IN MEMORY OF AN ASSYRIAN
Courtesy of Modesto Bee (11 February); article by John Holland
(ZNDA: Turlock) California State lawmakers will consider naming an 8-mile stretch of Highway 99 in memory of Joash Paul, a 12-year Stanislaus County supervisor.
The Joash E. Paul Memorial Highway would extend between Faith Home Road near Keyes and the county's southern boundary. The designation would recognize Paul's service on the board from 1968 to 1980 and his involvement in business and civic affairs.
"I think many agree that Supervisor Paul did quite a bit for our area," said John Lazar, a Turlock City Council member, and an Assyrian leader in the effort. "Not only was he involved in government, he was involved in the community."
Assemblyman Greg Aghazarian, whose district includes the south county, introduced a bill last week to name the segment for Paul. The backers would have to raise an estimated $5,000 for highway signs noting the designation.
"The assemblyman thinks it would be a good thing," said Carl Fogliani, chief of staff for Aghazarian. "(Paul) made some solid contributions."
Paul, who died in 2000 at 80, was a Turlock native and a rancher for 50 years. He also worked in real estate and for 25 years helped run a family business, Paul's Motel and Pixie Pancake House, along what was then Highway 99 through the heart of Turlock.
Paul was an active member of the Assyrian-American Civic Club of Turlock, a board member and fund-raiser for county-owned Scenic General Hospital in Modesto, which has since closed, and Sacred Heart Catholic Church and the Portuguese Union of the State of California. He was an Army veteran of World War II.
Aghazarian's bill called Paul "a good man who was dedicated to his family and community and was a tremendous leader for the Assyrian community and the Central Valley of California."
The bill, Assembly Concurrent Resolution 19, has not gone to a committee.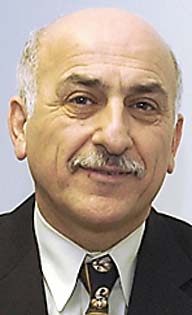 ASSYRIAN DOCTOR IN OHIO STANDS AGAINST SADDAM
Courtesy of Canton Repository (12 February); article by Charita Goshay
(ZNDA: Jackson Township) If the world was willing to go to war to liberate Kuwait, and even France, it is only fair that Iraq be given the same consideration. So argues Dr. Nashat Y. Gabrail of Jackson Township, who lived for a time under Saddam Hussein's dictatorship.
Gabrail said Iraqis want democracy, but need the world's help to make it happen. Countries like France, he said, are hypocritical to deny Iraq what they enjoy.
A Christian of Assyrian descent, Gabrail was born in Ninevah, Iraq, where his mother still lives. A sister lives in Baghdad.
Gabrail said Saddam's reign of terror through murder, torture, and oppression, is no secret.
"That's why I don't understand why people are against this," he said.
He charges that some nations' opposition is rooted in economics.
"France and Russia are owed billions by Iraq," he claims. Gabrail said Iraqis want democracy, which they practiced up until 1958. If the West invades Iraq, it will have to remain there for several years to ensure its success.
"If the U.S. goes there and leaves, it will be chaos," he said.
The socialist Baath Party made an unsuccessful attempted coup of Iraq in 1959. In 1968, Gen. Ahmed Hassan Bakr and the Baaths led a bloodless revolt which became known as the "White Revolution."
Saddam, who was the vice president, deposed Bakr in 1979.
"At first, the country did well," Gabrail said. "There was a lot of construction. There was no more poverty because of the oil reserves. The universities were free. Even in our little town, there isn't a family that doesn't have two or three college graduates."
Things turned for the worse in the 1980s, sparked by the war between Iraq and Iran.
"That was the beginning of hell," Gabrail said. "You know how in this country, you're innocent until proven guilty? In Iraq, it's the opposite. Thousands of innocent people were executed. He made sure he eliminated all opposition.
"You resisted them, you disappeared."
In 1981, Gabrail left Iraq for Scotland. He arrived in the United States in 1984. He taught briefly at St. Louis University in Missouri, and relocated in 1990 to Stark County, where he specializes in oncology.
Gabrail is proud of his heritage. One wall of his office is covered by a mural of an oasis. A small, stone Assyrian sphinx stands on a bookshelf. He is among many Iraqis who believe that civilization began in Mesopotamia, and that the Garden of Eden was in Iraq.
Gabrail said he keeps in touch with his family in Iraq by phone, or by e-mail, which is screened first through a government clearinghouse.
Asked whether there is public support for Saddam as shown in some news reports, Gabrail laughed.
"It's a joke. The Iraqi people hate him with a passion," he said. "But if you say that in Iraq, you're dead."
Gabrail predicts most Iraqi soldiers will surrender the moment they encounter opposition forces.
Gabrail said the West's policy on Iraq during the Gulf War was an "error of strategy." He charges that the West opposed democracy for oil-producing countries then because it was easier to deal with a dictator than an entire government.
"No one back then mentioned a change of regime," he said. "There were American soldiers within 40 miles of Baghdad. He (Saddam) had chemical weapons, but he didn't use them on U.S. soldiers because he was told, 'You do, and you're gone.' "
Gabrail hopes Saddam will consider exile.
"If it takes that Saddam goes into exile to save thousands of lives, it's worth it," he said. "But he will not go into exile."
Gabrail said he hopes a post-Saddam Iraq will unite in peace the way America reunited following the Civil War.
He predicts that democracy in Iraq will spread to other Middle Eastern countries.
"Democracy is like grass," he said. "It grows. I think they're all scared of it."
ANALYSIS: TURKS EDGE TOWARD FAITH FREEDOM
Courtesy of United Press International (11 February); article by Uwe Siemon-Netto
(ZNDA: Washington) Turkey gradually seems to adjust its religious freedoms to European norms as it tries to win acceptance into the European Union, Rev. Hans Voecking, Islamic affairs adviser to the Conference of Catholic Bishops in Europe and a top Roman Catholic expert notes. "Curiously, Christians and radical Islamists in Turkey favor their country's attempt to get into the EU because they know the Turkish authorities would have to play by its rules."
While there is little discrimination against Jews and most Christians in daily life, according to a U.S. State Department analysis, religious freedoms in Turkey are far from complete. For example, neither members of religious minorities nor radical Islamists may become officers in the military or attain senior positions in the state bureaucracy, Voecking related.
The reason for this is the secular nature of the Turkish state. "The Turks would like Europeans to believe that their country adheres to similar principles as France (whose constitution affirms the strict division between church and state). This is not quite so," explained Voecking, a member of the White Fathers, a missionary order.
To begin with, the government's Directorate of Religious Affairs, called the Diyanet, oversees Muslim religious facilities and education, the State Department reports. Some groups claim that the Diyanet reflects only the beliefs of the Sunni Islamist mainstream.
It regulates the operation of the country's more than 70,000 mosques, whose imams are civil servants, as are the muftis (religious jurists). Many of the sermons delivered every Friday from Turkish pulpits were written at the Directorate, Voecking said.
Helmut Wiesmann, a senior official in the Catholic Bishops Conference of Germany, claimed in a recent article in Herder Korrespondenz, a Catholic publication, that the Diyanet employed 123,000 people from theologians to cleaning men. According to Voecking, the government finances more than 20 university-level Muslim divinity schools.
"Mosques are mushrooming all over the place, often paid for by Saudi Arabia," he continued, "while no new churches are allowed to be built and the cost of the renovation of olds ones must not exceed $400." United Press International tried to verify these and other claims in telephone calls to the press and religious affairs counselors at the Turkish Embassy in Washington. They did not return UPI's calls.
The State Department says that 99 percent of the 65.6 million Turks are Muslims, primarily Sunnis. However, some 12 million Turks adhere to the Alawi Muslim minority, an offshoot of Shiite Islam. Their religious leaders do not receive government salaries.
The Alawis claim that their doctrines are not taught in the religious instruction classes that are mandatory at secular schools for all Muslims and also members of those Christian denominations that are not covered by the 1923 Lausanne Treaty between the Turkish government and the Greek Orthodox, the Armenian Orthodox and the Jews.
This means that young Protestant and Catholic pupils at primary and secondary schools must submit to instruction in the Islamic faith. The same applies to young members of the ancient Syrian Orthodox (Syriac) Church, which -- like the Chaldeans (Assyrian Christians affiliated with Rome) -- have been caught in the Turkish-Kurdish conflict in southeastern Anatolia, according to Freedom House scholar Paul Marshall.
Most of its members have fled to Istanbul and other large cities, where they have no churches of their own. They may not build new sanctuaries and if they use the churches of denominations recognized by the Lausanne Treaty, these can be confiscated. Should they celebrate Mass in private dwellings, they risk arrest.
Wiesmann reported that Christians in Turkey were stigmatized by the numerical code 31 in their identity papers -- much as the letter "J" in passports or ID cards identified Jews in Nazi Germany. "This has stopped several years ago," said Voecking, with some satisfaction.
Perhaps it is worth remembering that more than 20 percent of all Turks at the beginning of the 20th century were Christians; today their share has dwindled down to 0.6 percent. Much of the decline was of course due to the genocide of between 500,000 and 1.5 million Armenian Christians immediately following World War I. There are no more than 45,000 Armenians left in the country.
The State Department, Voecking and Paul Marshall are cautiously laudatory about Turkey's advances in the area of religious freedom. But, as Voecking says, "much has to be done to make Turkey a pluralistic society according to European standards -- and that may take decades."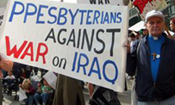 IRAQI PRESBYTERIANS ARE USING EMAIL TO STAY IN TOUCH
Courtesy of the Presbyterian Church -U.S.A. News (7 February); article by Evan Silverstein
(ZNDA: Louisville) As war looms, people in the Presbyterian Church (USA) are finding that the Internet is a useful tool for connecting with their Presbyterian counterparts in Iraq.
A minister in Vermont, a congregation in Michigan, a retired campus chaplain in Ohio - they and many other Presbyterians nationwide are punching buttons on computer keyboards, sending prayerful email messages of support, hope and peace to Iraqi Presbyterians.
"There are people in this congregation who are concerned about the potential of war with Iraq," said the Rev. Scott L. Barton, pastor of First Congregational Church in Bennington, VT. "I communicate through email that we're keeping them (Iraqi Presbyterians) in our prayers."
The email well-wishes are a show of Christian solidity and friendship that crosses international borders and rises above disputes between governments.
The effort also assures Iraqi Presbyterians that not all Americans favor war or consider residents of the Gulf nation enemies.
"It is to talk to them on a one-on-one basis, so that they know we're not all war mongers," said elder Joe Tierno, who last year exchanged a handful of emails with an Iraqi congregation on behalf of New Hartford Presbyterian Church in upstate New York. "We want them to know that there are people in the United States who are suing for peace, and we don't want to have a war."
The U.S. correspondents say they have been touched by heartfelt replies from the Iraqis, including electronic Christmas cards, quotations from scripture and descriptions of the hardships faced by the people of Iraq.
The email contact has helped many American Presbyterians put a human face on the nation with which the United States may soon be at war.
"Whenever we do anything like this, we give witness to our faith that in Christ we're not strangers to other human beings," said Barton. "If we can put names and faces to other human beings, it seems like it ought to be a lot harder to go to war with them."
Iraq, which is about 95 percent Muslim, has five Presbyterian churches. All are part of the newly registered national General Assembly of the Presbyterian Church of Iraq.
The five congregations have more than 2,000 members (Presbyterians in Iraq tally membership by numbers of families).

Overall, Christians make up about 4 percent of Iraq's population - about one million people. Tradition has it that the apostle Thomas evangelized the region now known as Iraq during the first century. Presbyterian missionaries first came to Iraq in 1836.
National Protestant Evangelical Church, in Mosul, in northern Iraq, is the oldest Presbyterian church in the country, founded in 1840. It now has just five to 10 member families. National Presbyterian in Baghdad (The Arab Presbyterian Church), founded in 1952, has more than 300 families. The Assyrian Evangelical Presbyterian Church, also in Baghdad, was founded in 1921 and has 36 member families. Kirkuk's National Evangelical Church, founded in 1958, has 36 families. The only church in the south, National Presbyterian Church, in Basra, was established in 1940 and has 32 families.
The Rev. Victor E. Makari, the Presbyterian Church (U.S.A.)'s coordinator for the Middle East and Europe, returned just last month from a visit to Iraq. He said it is imperative that Presbyterians in this country reach out to their brothers and sisters in Iraq. "Even though we may not be in a position to avert a war," he said, "it is important for them to know that they are not isolated or forgotten or neglected."
Others who have exchanged emails with Iraqi Presbyterians said the experience has proven educational, because many Americans were not aware that there are Christians in Iraq, let alone Presbyterians.
"There is still surprise here that there are Christians in Iraq," said the Rev. Linda A. Knieriemen, associate pastor of Westminster Presbyterian Church in Grand Rapids, MI. "That's part of the whole learning (experience). And
specifically that they're Presbyterians."
Last month, Barton sent electronic mail to the four Presbyterian congregations with email addresses. He got a reply a few days later from an elder at National Presbyterian Church in Basra, in southern Iraq.
"He mentioned that they celebrate Christmas with the music of the siren warning of air raids," said Barton, referring to Dr. Zuhair Fathallah, an elder. "This is the usual story every Christmas."
Fathallah's email included an electronic Christmas card picturing 15 young Iraqi children holding large colorful letters that spelled out "Merry Christmas."
Barton said he got the idea of contacting Iraqi Presbyterians from his congregation, New Hartford Presbyterian, where Tierno is an elder. The church has published excerpts of the exchange in one of its newsletters.
"Part of what has been powerful for me is the fact that here we have two groups of people who live in totally different worlds," said New Hartford's pastor, the Rev. Janet Hoover. "(Two groups) who speak totally different languages, who are still trying to find what we have in common through Jesus."
In November and December, Tierno, a member of the congregation for more than a quarter-century, had email conversations with Dr. Mazen Saleem, a physician, and Monther Saleem, elders at National Protestant Evangelical
Church in Mosul.
New Hartford's misson committee later contributed $200 to the Iraqi congregation's Christmas project for underprivileged children.
"I am writing to let you know that there are many people in our congregation praying for peace and hoping that we can find a way to come together soon," Tierno wrote on Nov. 9. "We pray that Christ will intercede and bring peace to your entire region of the world."
Two days later, he got a reply in which Mazen and Monther said they were moved by the message of support and the call for peace.
"We are very thankful to God," they wrote. "To know that in this time still there is a believer who can share with us our praying to God to prevent war and (that) peace with love (may) come to the world . . ."
In another email exchange, Mazen replied wrote: "I'm happy to know that there are many believers (who) try to pray for us and (want) to know about us and encourage us in this situation. We believe that if we unite in our prayers, God will listen to us."
In Grand Rapids, Knieriemen received a colorful holiday greeting from one Iraqi Presbyterian church. After emailing four of the congregations the first of the year, she got a response from Mazen of the National Presbyterian Church in Mosul, in northern Iraq.
"We wish you a peaceful Christmas and peaceful New Year," the Iraqi church elder wrote. "This is our greeting in the church of Iraq, and we pray that God will do (the) same thing . . . (let) you see He is bigger than we
dare imagine . . ."
Attached to Mazen's message, which incorporated several Bible verses, was an electronic holiday greeting depicting angels, signed "from Iraqi children."
"I felt all of a sudden so connected and closer to people in Iraq - Christian, Presbyterian or otherwise," said Knieriemen, who also serves on the PC(USA)'s General Assembly Council. "I wanted them to know in my own small little way that they weren't alone."
As the war drums grew louder, a chaplain and professor emeritus at Hiram College in Hiram, OH, also wanted to let Presbyterians in Iraq know they are not alone.
"I just think in conflict situations that we need to make a witness to God's spirit, which calls us to mend those and to heal the brokenness," said the Rev. Thomas Niccolls, a retired Presbyterian minister and member of Eastminster Presbytery in northeast Ohio.
Niccolls, who is active with the Peacemaking program, sent letters by regular mail last month to all five Iraqi Presbyterian churches and also sent digital copies to the four with email service. So far he has had no replies.
He said he will urge his presbytery's social justice and peacemaking committee to encourage church sessions to send "letters of support and Christian unity" to the Iraqi congregations.
"I see that as an opportunity to do a little consciousness-raising among the churches," he said. "It makes people think twice about where our fellow Christians are, particularly in difficult situations like this, with an impending war on the horizon."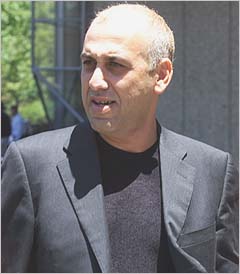 KARL "KHALID" SULEMAN FACES FOUR CRIMINAL CHARGES
Courtesy of Sydney Morning Star (12 February); article by Anne Lampe, photo by Edwina Pickles

(ZNDA: Sydney) Karl Suleman, the investment promoter and telecommunications entrepreneur - who offered spectacular returns of 17 per cent a month before his empire collapsed two years ago - faces four criminal charges that, if proven, could land him in jail for up to 10 years on each conviction.
Suleman was in court when magistrate Clare Farnan set stringent bail conditions.
Suleman must not apply for a passport, not approach any points of departure from Australia, must notify the Australian Securities and Investments Commission if he changes legal representatives or his address and has been ordered to hand over his passport to ASIC if the NSW Supreme Court returns it to him.
Suleman, whose investment schemes included a commission-based deposit scheme marketed by Karl Suleman Enterprises as well as Froggy.com, last year was banned from being a director of a company for life, ordered to pay KSE compensation of $17.5 million and bankrupted.
Yesterday, he appeared in Downing Centre Local Court on four Crimes Act charges.
One charge alleges that he used a false instrument. He also faces three counts of obtaining a financial advantage for himself as an officer of the company.
Suleman was not required to plead and will appear in court again on April 29.
The court was told that Suleman was living apart from his family and wanted his address to be kept confidential after receiving death threats since the collapse of his investment empire.
David Thomson, counsel for the Director of Public Prosecutions, pressed for bail to be imposed on Suleman and handed up three pages of facts outlining the charges.
He said the charges related to "a set of transactions" in which Suleman gave the impression that his personal worth at the time was $2.9 million.
He also applied for a loan of more than $250,000 that was not repaid.
The court was told Suleman was living with his new employer and was required to travel interstate from time to time.
A NEW PARK IN SKOKIE TO HONOR ETHNIC HERITAGE
Courtesy of Pionner Press (11 February); article by Kathy Routliffe
(ZNDA: Skokie) A new sculpture park planned along the Chicagoland's North Shore Channel will honor the city of Skokie's diverse ethnic groups and demonstrate their peaceful coexistence. Heritage Park is planned for McCormick Boulevard, between Dempster Street and Church Road just north of the village's Sculpture Park.
The new park is to include locations for 13 sculptures, each sponsored by a village ethnic association, including the Assyrians. Two other pieces of art would be picked by the village. Groups which raise sculptures there will be responsible for their upkeep.
Village officials expect the first park sculpture will be a larger-than-life representation of Indian statesman and peace activist Mahatma Gandhi, financed by the Indian Community of Niles Township.
An Indian Community official said Tuesday the group hopes to raise $100,000 for the project, pick a sculptor and have the statue in place by Oct. 2, the anniversary of Gandhi's birth.
The Village officials have met with the Indian group for the past year and a half, but the Greek and Assyrian groups have not followed up yet.
The statues cannot promote religious beliefs, depict or advocate violence or law-breaking, provoke anger, resentment or hostility or disrespect other residents' views.
Groups would have to apply for a permit to raise their statue. Statue plans will be reviewed for aesthetic purposes, by the committee that oversees selections for the Sculpture Park or others qualified to review art.
Sculptures could stay in the park as long as Skokie holds lease, set to expire in 25 years.