ASSYRIANS HOPE FOR U.S. PROTECTION
Courtesy of the Los Angeles Times (17 February); reprint of an article by Teresa Watanabe
(ZNDA: Los Angeles) They regard themselves as heirs to an ancient Mesopotamian tradition that produced early legends of creation, a great flood and a boy in a basket, set adrift in a river and rescued. But those traditions have virtually vanished from widespread public awareness, they say, eclipsed by later biblical stories.
Their history is rife with massacres -- including attacks by the Ottoman Turks and Kurds in the early 20th century that wiped out much of their population. But their problems have been overshadowed, they say, by the Armenians who suffered alongside them.
After losing their empire and wandering stateless for more than 2,600, years they were promised a homeland, they believe, by the League of Nations after World War I. But the promises were betrayed, they say, their interests cast aside.
Now many of the world's remaining Assyrian Christians, several thousand of whom live in Southern California, fear they will become an afterthought again as the United States prepares for a possible war against Iraq, where nearly half their compatriots live.
In the drive to oust Iraqi President Saddam Hussein, Assyrian spokesmen say, the United States must stay engaged long enough to ensure that whatever regime comes next protects the country's ethnic and religious minorities.
Otherwise, "at the end of the day, all of the other people in Iraq are Muslims, and they will discriminate against us and try to get rid of us," said Carlo Ganjeh, U.S. secretary for the Assyrian Universal Alliance. "This is the sad reality of the Mideast."
More than two millenniums ago, their ancestors created one of the world's great empires, covering much of what is now Iran, Iraq, Syria and Turkey. Among the earliest peoples to convert to Christianity, they claim inventions including the wheel, the Zodiac and fractions. But today, with their people scattered in 40 countries, Assyrians are one among many peoples who survive from the ancient days of the Middle East, half forgotten by the world.
"I don't know anybody who's ever heard of Assyrians," said Anil Varani, 20, youth group vice president of the Assyrian American Assn. of Southern California. In the 13 years since she emigrated from Iran, she has usually told others that she's Babylonian -- a related people at least vaguely familiar to more Americans, she says.
Some Assyrians say Jews are one group of people who seem to be more familiar with them. But because the Hebrew Bible describes Assyrians as cruel and ruthless conquerors, people such as the Rev. William Nissan say he is invariably challenged by Jewish rabbis and scholars about the misdeeds of his ancestors.
Asked whether many Jews still bear grudges against modern Assyrians, Yitzchok Adlerstein, an Orthodox rabbi who teaches at Loyola Law School, replied: "They still survive?"
The scant public awareness puts Assyrians in the position of frequently fighting to assert their proper identity, even among themselves. Some argue for a common Assyrian identity for all the non-Arab, Christian groups that trace their ancestries to ancient Mesopotamia and surrounding lands. Others who would fit into that blanket identity regard themselves as distinct from Assyrians, both ethnically and religiously. For example, some Chaldeans, most of whom are Roman Catholic, say they should be considered separate from Assyrians, who belong to the Church of the East, the Syriac Orthodox Church, the Syriac Catholic Church and some Protestant denominations.
The internal divisions are noted as one of the community's greatest challenges by both U.S. government officials and Assyrian leaders such as Ronald Michael, president of the Assyrian American League. "My greatest criticism and challenge" to fellow Assyrians, he said, "is to put aside personal differences and come together and coalesce."
At the same time, Assyrians say they must fend off efforts to "Arabize" them, both here and abroad. The Assyrian International News Agency, for instance, has chastised the Washington, D.C-based Arab American Institute for saying Assyrians, including Chaldeans and Syriacs, are Arab Christian minorities. The news agency called such attempts an "egregious, willful and deliberate mischaracterization of Assyrian identity" to enhance the Arab demographic "and, by extension, political clout in the U.S."
"Assyrians are not Arabs," the news agency wrote. "Assyrians, including the Chaldeans and Syriacs, are the indigenous Christian people of Mesopotamia and have a history, spanning 7,000 years, that predates the Arab conquest of the region."
After Sept. 11, 2001, in what the Assyrian news agency called "an erroneous association with the Arab identity," St. John's Assyrian Church in Chicago was set afire and another Assyrian church in a nearby town received a letter asking, "Are you with the U.S. or with the enemy?"
More than two decades earlier, said Noray and Elgret Betbaba, who emigrated from Iran in 1969, their former sandwich shop and home in Oxnard were vandalized while Iran held U.S. hostages in the early 1980s. At one point, Noray Betbaba said, he and his friends were threatened in a North Hollywood bar by a man wielding a knife who told them: "You dirty Iranians. You leave here or I'll cut you up."
Identity Threatened
Assyrians say the assault on their identity is most pronounced, however, in their ancestral lands. Michael said Iraqi President Hussein has cleansed textbooks of Assyrian history and accomplishments, denied government benefits to those who refuse to use Arab or Muslim names, uprooted Assyrian villages and banned the Assyrian language from the workplace.
Many Assyrians say they fear even greater persecution in a post-Hussein Iraq if the United States withdraws too quickly and leaves the country to chaos.
Their fears of persecution are grounded in the living memories of many Assyrians. On a recent Sunday, several dozen Assyrians gathered to share their family stories at the Assyrian center in North Hollywood, a social hall decorated with the Assyrian flag, winged bull statues and portraits of ancient kings.
According to cultural anthropologist Arian Ishaya, Assyrians first came to California in 1910 as farmers in the Turlock area of the Central Valley. They have since moved into the "solid middle class" as small-business owners and professionals in computer science, law, engineering and medicine. The nation's largest Assyrian populations are in the Detroit and Chicago areas, but Assyrian spokesmen claim a population of 7,000 in Southern California.
For Assyrians like William Warda, a 62-year-old graphic designer, success in America has not diminished memories of a horrific past. At the recent Assyrian center gathering, Warda said he was a 4-year-old boy in the northwestern Iranian area of Urmia when he saw his village plundered, his father shot through the head and his 6-month-old sister bayoneted by Turks in 1946. Prevented from burying his father's corpse, Warda said, the family watched helplessly as dogs picked it apart.
"They said, because you are Christians, you are supposed to die," Warda said -- adding that Muslims in another village sheltered them and helped the rest of the family escape.
Manon Dooman, a 67-year-old artist and former nurse, said most of her family was massacred by the Ottomans in 1915, but her grandmother survived, escaped to Russia and passed down stories of seeing sword-wielding soldiers ruthlessly slaying Assyrian Christian boys and men.
Assyrians say they lost 750,000 people to the Ottomans; the Turkish government denies any atrocities, just as it rejects Armenian assertions of genocide. Assyrians commemorate the 1933 slaughter of 3,000 Assyrians in Iraq on their Aug. 7 "Martyr's Day," but that history, too, is little known outside their community.
Ever so slowly, however, Assyrians appear to be coming together -- and drawing more attention.
Ganjeh, of the Assyrian Universal Alliance, said a meeting in London last November for nine of 14 major Assyrian political organizations represented a milestone in unity efforts and that follow-up meetings are being organized. Though many Assyrians still dream of recovering a homeland or autonomous state, others say guarantees of democratic freedoms in a Muslim-ruled state may be the best they can hope for.
Signs of Hope
In the United States, Assyrians had been neglected by Washington policymakers crafting plans for a post-Hussein Iraq.
But that changed after intense lobbying by groups such as the Assyrian American League, which was established last year and has won the backing of some prominent politicians, including Rep. Henry Hyde (R-Ill.), who represents a district outside Chicago.
Assyrians are now formally mentioned in speeches by President Bush and included in Iraqi opposition meetings convened by the U.S. State Department. The Assyrian Democratic Movement has qualified for federal funds under the Iraq Liberation Act, which funnels federal money to Iraqi opposition groups.
"We basically got in the face of everyone," said Michael of the Assyrian American League. "Our rights, which have been trampled on for so long, need to be secured."
Meanwhile, Assyrians say other Christian groups are beginning to rally behind them. A worldwide day of prayer for the protection of Assyrian Christians was observed Sunday and supported by the Rev. Pat Robertson's Christian Broadcasting Network.
"Western Christians must show some interest in what's happening and help us out," said Shamiram Tabar, president of the Assyrian American Assn. of Southern California. "Otherwise, sooner or later the Mideast won't have any Christians left whatsoever."

MEXICAN AUTHORITIES DETAIN 6 CHALDEANS
Courtesy of Fox News
(ZNDA: Tijuana) Mexican authorities have detained five men and one woman who claimed to be German citizens whey they arrived in the Tijuana airport last Tuesday night on a flight from Mexico city. All six are Iraqi citizens, believed to be Chaldean Christians and intended to cross into the United States from Tijuana. Immigration authorities sent the Iraqis back to Mexico City for questioning.
Chaldean Christians often seek U.S. asylum, but many say these requests have been complicated by security concerns in the United States. San Diego area in southern California across the U.S.-Mexico border is home to the second largest Chaldean community in North America.
Mexican authorities were investigating whether the Iraqis might have violated Mexican immigration laws.
SYDNEY'S IRAQIS PONDER THE DILEMMA OF WAR
Courtesy of the Daily Telegraph (17 February); based on an article by Linda Morris
(ZNDA: Sydney) To bomb or not to bomb their homeland is the important question for the Iraqis in Australia. Arab, Assyrian, Kurd and Turkoman alike, the Iraqis condemn the madness of their leader, dream of an end to dictatorship and worry that liberation may come at great human and financial cost.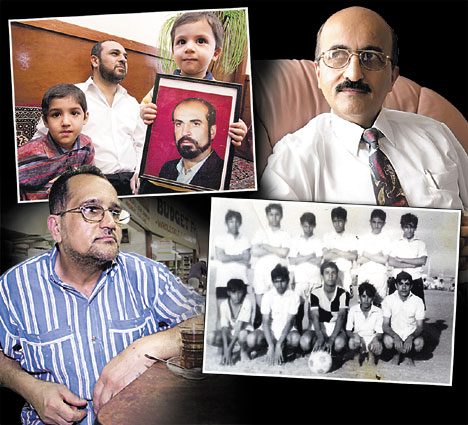 TOP RIGHT: Hermiz Shahen who fled from Iraq with his family in 1981.
Mr. Shahen is the Secretary of the Assyrian Universal Alliance for Australia).
But they remain divided on the need for a United States-backed war to topple him.
Arab Muslims are the single largest ethnic group in Iraq. The Kurds, based in a region of northern Iraq they call Kurdistan, make up 23 per cent, and the remaining 5 per cent comprise a melting pot of Turkomans, Assyrians and Armenians, all non-Arabs.
Assyrians fleeing the violent Ba'athist Arab nationalist regime of Colonel Abd as-Salem Muhammed Aref, Saddam's predecessor, were among the first Iraqis to settle in Australia.
The trickle of refugees became a minor flood after the Gulf War when Kurds from the north and Shi-ites from the south were attacked and joined the exodus.
Refugees fled the dictatorship for neighbouring Turkey, Iran, Syria and Saudi Arabia before making their way to havens in Australia, the US, Britain, Sweden, Denmark and Canada.
More recently, Iraqi asylum seekers have arrived illegally in the boats of people smugglers.
The 2001 census reported about 24,832 Iraqis living in Australia, more than half of them in Sydney where they were scattered in fragmented ethnic pockets in Auburn and Arncliffe.
Mr Abood says the figure is more likely 120,000 to 150,000 once members of nationalistic ethnic groups whose homelands lie in Iraq are included.
In Sydney, most of Iraq's newly arrived refugees have settled in Fairfield and Auburn.
The mixed businesses and restaurants which have sprung up at the southern end of Auburn Road have added a touch of Baghdad to the row of shops known locally as "Little Istanbul".
Most Iraqis believe Washington's support of Saddam during the Iran-Iraq war disqualifies it from a future role in Iraq.
There is also a deep-seated belief among Iraqi-Australians that the US blundered during the Gulf War when it encouraged Iraqis to rebel, then allowed Saddam to reassert his authority and abandoned the rebels to their fate.
The six-week war, which killed 100,000 Iraqi soldiers and destroyed the country's infrastructure, only tightened Saddam's grip.
Iraqis boast of Iraq's status as a centre of learning, of its large class of professionals and technocrats, its hospitable and moderate people who had never before the Iraq-Iran conflict waged wars of conquest.
Many Sydney Iraqi exiles are members of its agricultural and middle classes, university-educated teachers, doctors, engineers and scientists who would be more than willing to return to help rebuilding efforts.
Said Stephan, an Assyrian Christian with a PhD in electrical science, is offering to return for up to a year to help with the reconstruction of hospitals, airports and office blocks. His children would remain in Sydney.
Dr Stephan is likely to be joined by recently arrived asylum seekers, angered by their failure to win permanent residency.
It is a question that resonates among lonely fathers walking Auburn Road. In these uncertain times they cannot risk returning to the families and losing their visas and they cannot bring their families to Australia.
In any event, they feel that Iraq is not Australia's business.
"We cannot see any benefit to Australia or the Australian people to participate in that war," says Mr Abood. "Saddam is a criminal, a dictator, but he didn't do anything to Australia."

COUNCIL WILL GIVE AUSTRALIAN IRAQIS A SINGLE VOICE
Courtesy of the Sydney Morning Herald (18 February); article by Linda Morris
(ZNDA: Sydney) Leaders of several Iraqi communities in Australia have decided to form a council to help each other in "difficult times". The council will represent various ethnic and religious groupings, including Muslim, Arabic, Christian, Kurdish, Assyrian and Chaldean communities of Iraqi origin.
The chairman of the Community Relations Commission, Stepan Kerkyasharian, said the council would be a unique forum for Australian Iraqis. "They are of the view, given the potential for war in Iraq, that there will be times when they need to present themselves as people with a common interest," Mr Kerkyasharian said.
"This means everything from advocating the safety of friends and relatives suffering for many years, to possibly providing assistance to those displaced as a result of the war."
The council is preparing to draft a constitution and is to be registered under company law.
The council's spokesman, Kassim Abood, said: "We're proposing to establish a single contact point for dealing with issues - anything from welfare to education and training - and as an umbrella for all Iraqis to hopefully speak with one voice."

ASSYRIAN MAN FROM CALIFORNIA REFLECTS ON LAST IRAQ WAR
Courtesy of the Tri-Valley Herald (18 February); article by Scott Smith
(ZNDA: Modesto) When asked, Kamal Thomas avoids any talk about Saddam Hussein or the political thundercloud hanging over America's impending war on Iraq, his native country.
The 49-year-old Manteca businessman says he just doesn't want to get involved in that debate.
But Thomas can talk about the cost of the American war in 1991 that brought his country to a grinding halt: Bombed-out electrical plants darkened homes. Drinking water didn't flow from faucets. Plants that supplied gas for cooking and heating were knocked out.
Thomas knows because when that happened, he was in Iraq.
That wasn't the worst, he said. Bombs dropping from the dark skies night after night brought a fear that the next one was coming at you.
"It's terrible," said Thomas, drinking coffee in the small office of his used-car lot in downtown Manteca [few miles north of Modesto, California].
"You don't know when you're going to die."
Before war comes again to his native country, Thomas said he prays that political leaders first explore every last attempt at a peaceful resolution.
Thomas now lives in Modesto with his wife and four children, who are between the ages of 16 and 22.
But 12 years ago, he was in Baghdad on the phone with his parents calling from California.
Monitoring news developments, they told Thomas to get out of Baghdad. Bombs would start dropping the next day, they told him.
So, Thomas, a graduate of the University of Baghdad who in quieter times traded rice, flour, cigarettes and alcohol from Cypress, Greece and Europe, fled to his family's home village of Arbil in the north of Iraq.
Tuning in his radio, Thomas heard about the bombs dropping at 2 a.m. the next morning.
He stayed in the village for three weeks before making his way back to his home in Baghdad still under siege.
Returning, he found Baghdad a ghost town.
"There was no electricity, no water, no sewer, no gas -- you name it, you cannot find it," said Thomas, adding that he was fortunate because he sent his wife and children to the United States before the bombings in 1990.
Most Iraqis understood that the bombs weren't targeting civilians, Thomas said. Of course, in war, mistakes happen. And mistakes happened.
Fortunately, none of his relatives suffered more than a few broken windows in their Baghdad homes.
The allied coalition bombs did successfully cripple public services, making everyday life difficult, especially for children and old people, he said.
The next round of bombing will be just as paralyzing for his relatives and millions of Iraqis who have no chance to leave, he said.
"I am completely against war. What I saw last time, I don't want anybody else to see," said Thomas, who acknowledges there are problems in Iraq.
If there were no problems, Thomas says, he wouldn't have had to leave Iraq and start a new life while middle-aged.
Thomas is Assyrian, an ethnic group of Christians living within the modern-day borders of Iraq. Of the Assyrians worldwide, only 30 percent remain in Iraq.
A large population of Assyrians live in the Central Valley between Modesto and Turlock.
Fluent in Arabic, Assyrian and English with a smattering of German, Thomas said that a couple of times each week, he maintains contact with his cousins, aunts and uncles still living in Iraq.
He offers them support and sometimes sends money, he said.
"What can we do more than that?" Thomas said.
Like he did, they want to leave Iraq, he said. And with the United States gearing up for another war, the pressure to leave only increases.
"Everybody is scared and waiting for the minute war will come," said Thomas. "They're preparing."