IRAQI OPPOSITION LEADERS CONVENE IN NORTHERN IRAQ
(ZNDA: Dohuk) At press time the Follow-up and Coordination Committee with at least 50 delegates out of the elected 65 were to meet within 24 hours in North Iraq. The meeting already has been postponed twice since January. Among the elected representatives are two Assyrian delegates: Mr. Albert Yelda and Secretary General of the Assyrian Democratic Movement, Mr. Yonadam Kanna. Delegates from the U.S., United Kingdom, Turkey, and Iran are also expected.
The most sensitive issue discussed during the "exploratory meeting" Saturday afternoon in Salahuddin was the U.S. plans for an Iraq after the potential ouster of Saddam Hussein. The American proposal to replace the Baghdad government with a U.S.-led military government has been severely criticized by the influential members of the Iraqi National Congress, the Kurdish groups, and the Shiites.
At a news conference Saturday, a high-ranking Assyrian representative expressed similar concern. Mr. Romeo Hakari, head of the Bet-Nahrain Democratic Party in Iraq (BNDP-I) said: "We would not support any military regime in Iraq, whether by Americans or anyone else. We would not like to replace the current regime with another general."
Iraqi opposition figures insist the meeting will not wind up declaring a provisional post-war government with ministerial titles.
On Sunday night Mr. John Nimrod, Secretary General of the Assyrian Universal Alliance, announced at a public rally in San Jose, California that he has called for the Assyrian delegation's dismissal of this meeting in a show of support for the U.S. policy in Iraq.
TURKEY'S MOUNTAIN VILLAGE CHRISTIANS
Courtesy of CWN (20 February); article by Chuck Todaro, photos by Karen Legerquist & Chris Hellier & Chuck Todaro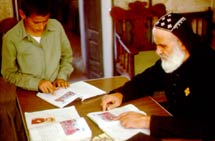 "We lived in terror" is how a Syriac Christian villager in the Tur Abdin region of southeast Turkey described life there for the last 16 years – years spent caught in the middle of a dogged guerrilla civil war between Turkish military forces and the secessionist Kurdistan Workers Party (PKK).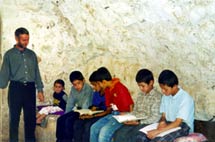 This conflict threatens to empty the Syriac Christian heartland and is one more case of the pressure on Christians to leave Turkey. Memories of the massacre of 1.5 million Armenians in Turkey in the early 20th century and the violence unleashed against Greeks in Istanbul in September 1955 are fresh enough to inspire Tur Abdin's Christians to flee.
Tur Abdin's once vital Syriac Christian population of about 80,000 has fallen to about 2,500. Yet, to those Syriac Christians who remain in Tur Abdin (Syriac for "Mountain of the Servants of God"), the arid mountainous land between the Tigris River and the Syrian border is their holy land. Christianity there dates to the early first century and to this day Syriac Christians celebrate liturgies in Turoyo – a dialect of Aramaic, the language used by Jesus Christ and the apostles.
A cease-fire between the Turkish govern-ment and the Kurds means conditions in the region are slowly improving. Fighting dropped off sharply since the 1999 capture of PKK commander Abdullah Ocalan, who ordered his followers to withdraw from Turkey into northern Iraq.
The PKK has changed its strategy and says it wants to campaign peacefully for the rights of Kurds and has dropped the demand to establish an independent Kurdistan. In 2002, it changed its name to the Congress for Freedom and Democracy in Kurdistan (KADEK). However, the move has been dismissed as a sham by the Turkish authorities; the European Union has placed it on its list of terrorist groups.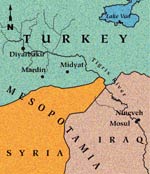 With the help of an economic recovery program, dirt roads have been paved and the number of bus routes into area villages has increased.
Virtually all military checkpoints have been removed and freedom to travel has returned. The spin-off to these improvements is that the tourist industry has been revived and new hotels, restaurants and even Internet cafes have opened.
Turkey has applied for European Union membership, but the EU says Turkey still needs to improve its political and human rights record and to reform its oppressive minority laws before the country can be admitted.
In the decades following World War I, many of the region's churches fell into disrepair, becoming unusable. Muslim extremists and local Turkish government officials hindered restoration efforts often by denying construction permits.
Further restrictions were imposed on the Syriac Christians after the Lausanne Treaty of 1923, when the community was not listed as a distinct minority whereas official status was given to Turkey's Armenian, Greek and Jewish citizens. For this reason, the government prohibited Syriac Christians from operating its own schools and interfered with church administration.
Now suddenly, after decades of being denied basic rights, the Syriac Church, Catholic and Orthodox, is permitted to teach freely its own language – a century-old ban that has threatened the survival of the ancient language.
"We have big hopes for the future because the political climate has changed," said Father Gabriel Akyuz of the Syriac village of Hah. "If we are accepted into the EU our future will be even more secure."
In Tur Abdin's two main cities, Mardin and Midyat, dusty marketplaces are busy with shoppers. Boys weave through the crowds energetically chasing down scuffed footwear with offers of a quick shoe shine. Inside the shops, people are bargaining, buying and selling – a sure sign of the improving economy. The language shifts from Arabic, Kurdish and Turkish – only the Christians understand Aramaic, which is used for the liturgies of the church.
Mixed in the crowded streets are Kurdish women with facial tattoos as well as devout Muslim women in their all-covering black peces or burkas. Yet each community shares respect and understanding for the other. They speak the same mix of languages, shop at the same stores, attend school and play together. The differences are fewer than the similarities. One 12-year-old Kurdish girl playing outside a church gate said: "The only difference is that we go to mosque and they go to church."
"We have no problems with Muslims. They are our neighbors, friends, colleagues and students," a schoolteacher from Mardin said. She added that her Christianity has never caused a problem.
But these are not the views of all Christians from Tur Abdin. Opinions differ, sometimes drastically, depending on the city or village, or who may be listening.

"We are not free," said one church official who spoke on the condition of anonymity. Then he added, "I am not comfortable talking about these things," citing a Tur Abdin priest who, after speaking to a journalist about the 1915 Christian genocide in Turkey, faced criminal charges.
The hillside city of Midyat looks down over the valley as a great amphitheater.
Its decorative houses, crafted by traditional Christian stone carvers, ascend the hillside step-like – one a little higher than the next. Dome-shaped bell towers and slim minarets pierce its skyline. But the city's famed Christian stone carvers have all left. The Christian population, once a majority, now numbers some 100 families.
Midyat is also famous for its tradition of Christian artisans specializing in the fine art of filigree – fashioning silver wire into jewelry, vases and bowls. With fewer and fewer Christians to pass on the tradition, it is being taught to Muslim apprentices. Muslims now own most of the shops surrounding the city's central square.
One of the few remaining Christian shop owners is Gebro Tokgoz. When he was a child, he learned the silversmith trade from his grandfather. He can only guess how far back the tradition goes. Mr. Tokgoz hopes to continue it for at least one more generation with his eldest son.
Conversation inside the shop shifts between Turkish, Arabic and Kurdish.

Mr. Tokgoz gets along well with his Muslim clients and neighbors, including the police who stop in for tea and a chat. But Mr. Tokgoz is uncomfortable with discussing the future of Turkey's Syriac Christians. In fact, the moment the police enter the shop, any conversation about Christianity comes to an abrupt halt.
Once the police leave, the conversation picks up again. When he is asked again about the future, Mr. Tokgoz stares back with sharp hazel eyes and just shrugs. For him and most people in the area there is little time to think about politics. Their days are consumed with making a living – he spends 12 hours a day, six days a week tending to customers and crafting jewelry – until Sunday when all the Midyat jewelry shops close. A wall of metal security doors then hides the silver and gold sparkle of shop windows.
The main roads leading out from the center of Midyat curve through the hilly countryside into a vast network of little villages – some exclusively Christian, others mixed.
Sixteen miles outside Midyat is a hairpin turn where the road rises into the hills. What follows is a roller coaster of hugging curves and hair-raising drops. It is hard to believe this was a dirt road until 2001.
Along this road the splendid bell tower and church of the village of Hah appear. Fifteen Christian and two Kurdish families live here, but in spite of its small size, it has a rich history dating to the beginnings of Christianity. Once known as "the place of 40 churches," a casual stroll through narrow streets reveals ancient carved stone blocks layered between rock walls.
"We can only imagine what is buried underneath here," the village mukhtar, or mayor, Habip Dogan, said while standing before a row of ancient columns recently dug up during church renovations.
In the center of the village stands a castle. It is the home of four Christian families. Each family occupies a corner. To the villagers of Hah the castle represents a part of their history and, more important, it is a symbol of their suffering and great will to survive.
In 1915 the villagers barricaded themselves behind the castle's walls as militant Turkish nationalists brutally murdered the region's Christians. For two months they held fast and when it was over everyone from Hah survived.
Through the castle's main gate a staircase leads to the corner home of the mayor, his wife and six children. It is a traditional home consisting of two large rooms and a kitchen.
The family room is the largest room of the house with aqua walls and a high domed ceiling. Opposite a colorful replica of da Vinci's "Last Supper" looms a larger than life portrait of modern Turkey's founding father, Kemal Ataturk, who glares over the sitting area. Mr. Dogan admires him but admits the portrait is there mostly for the benefit of visiting government officials.
This one room is where most of the family's activities happen – where they eat, receive guests and sleep, except during the summer when the sleeping area shifts outside to the courtyard, beneath the stars.
Summer is a busy time of year for the villagers. From the break of day to evening the entire village empties into the fields – the mayor included. He too has to look after his plot of land. In his spare time, he can be found at the church teaching Aramaic to children or acting as a tour guide. Last summer, the village had nearly 4,000 guests – and for these hospitable people that does not just mean pointing out landmarks and answering questions. Hospitality often means offering lunch or even a place to sleep.
The village's schoolhouse is in a small rectangular building next to the church. Its one room is where Hah's 17 children, from grades one through five, are taught.
"This is not as difficult as you might think," said the school's teacher. Yet he does complain of the few materials the Turkish government gives students, forcing children to share books.
After graduating from primary school, village boys board at a monastery and attend middle and high school in either Midyat or Mardin. But for the majority of girls, education ends with fifth grade.
Shaking his head Mr. Dogan admits that, after this year, his daughter, Victoria, will be staying home with her mother.
"I am afraid for her," he sighed. When asked what could happen he shoots back: "Who knows. I just hope it will be better in the future for the younger ones."
The fear he and most Christian villagers feel for their children stems from a history of marriageable girls being kidnapped.
Though Mr. Dogan will not utter the word, the village priest, Father Gabriel Akyuz, does. "Kidnapping," he blurted out, but only after checking to see that no one was listening. "It has happened before. Yes, 20 years ago, 15, 13 years ago. We are now very aware."
Archdeacon Melfono Gulten from Mar Gabriel Monastery acknowledges that kidnappings took place but said: "It is a fear that belongs in the past. I think the teachers are better trained now and this new generation is a more understanding one. But it needs time."
And other village children seem to agree – including Christians Hazni and Nahir, both 17, who attend Midyat high school. They say that they have never had a problem in school caused by their religion. They even seemed a bit surprised by the question.
From the outsider's point of view this is an exciting period for the Syriac Christians of Tur Abdin. But those living there feel frightened; they find themselves at a crossroads. They are not really sure which road to take, not knowing where it will lead.
"I wish to be optimistic about the future, but that is not reasonable," said one church official. "All the decision-making is essentially out of our hands and we find ourselves living a wait-and-see reality."
"There is nothing certain about our future," added Mr. Dogan.
"It is an open book."
Chuck Todaro reports from the Middle East and Eastern Europe.
Syriac Christians in Turkey
Turkey's Syriac Orthodox Church is the nation's largest Christian denomination. According to a 2001 report by the U.S. Department of State, there are an estimated 15,000 Syriac Orthodox Christians in the country.
The Syriac Orthodox Church is led by Patriarch Ignatius Zakka I Iwas, who resides at the Mar Ephrem Monastery in Ma`arat Sayyidnaya, near Damascus, Syria.
Some 2,000 Syriac Catholics, whose ancestors embraced full communion with the Church of Rome, remain scattered in small communities in Turkey's southeast.
Both of these churches use Aramaic in their liturgies, which are dominated by the twin themes of sinful unworthiness and majestic redemption.
Syriac Christians trace their origins to the early Christian community at Antioch, mentioned in the Acts of the Apostles.