IN A LETTER TO PRES. BUSH AUA SUPPORTS U.S. ACTION IN IRAQ
March 7, 2003
George W. Bush
President of the United States
The White House
1600 Pennsylvania Avenue NW
Washington, DC 20500
Dear Mr. President;
Thank you for the excellent press conference of last evening. Your presentation was impressive and your message that Saddam is a threat to the United States and that he is a threat to the Iraqi people is accurate. Your stance is a reassurance to our fellow Americans that our President has put our safety as his first priority.
I believe that the future will show that your actions in the case of Iraq will have resulted in the saving of millions of lives including those of Americans. For a change America is standing for something in the beginning and demonstrating leadership as a super power of the world. I know it is not easy but don't let them compromise your rightful position on disarming Iraq.
Thank you for giving the Christians of Iraq (Assyrians) hope that they will be included as equal citizens in the future government of Iraq. Assyrians are the indigenous people of Iraq. They have been persecuted and discriminated against because they are Christians, because they are considered to be pro-western and finally because they are pro-American. This is valid because it was proven in WWI that they were the smallest ally of the West. In WWII the British Levi (Assyrians) saved Baghdad from being taken over by the Germans. They were betrayed and did not receive their promised independence at the Paris Conference. Assyrians were forgotten when Iraq was created and ignored their promised rights by the new Iraq government.
You have shown that you are a moral God fearing man and I thank you for telling the world that you pray for peace in Iraq. I might ask if you and the White House family will join with us on Sunday March 9, 2003 in the Worldwide Day of Prayer for Christians of Iraq. I have included the announcement for your information. We have received hundreds of e-mails from around the world stating that they would join us in prayer for the Christians of Iraq.
My only disappointment was that you mentioned the Sunni, Shiites and Kurds and did not mention the Assyrians as you had done previously. When we get mentioned the world takes notice and Assyrians are encouraged and know that you will stand behind your statement that "Christians and Jews must remain in Asia and Africa."
Our Assyrian Nation in Iraq and those around the world will continue to pray for your Presidency, your safety and your family.
Respectfully,
Sen. John J. Nimrod, Ret.
Secretary General

OXFORD GRADUATE, MONK BECOMES SYRIAC ARCHBISHOP
Based on an article by Nismettin Kaplan in Mardin, Turkey; translated for Zinda Magazine from Turkish by Isa Nahroyo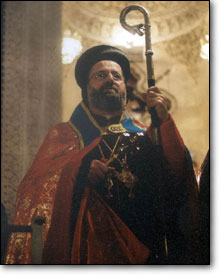 (ZNDA: Mardin) Oxford University graduate Nuri Saliba Özmen, with the approval of 22 religious leader world wide, in the Syrian capital Damascus, was ordained an Archbishop of the Syrian Orthodox Church. Özmen's ordination was celebrated with with chanting of hymns and songs.
In Turkey the followers of the Syrian Orthodox Church have increased in number and now have three Archbishops serving their communities. The Assyrians in Turkey have been inhabiting this land for over five thousand years. The Syrian Orthodox Church also enjoys a substantial membership in Syria, Iraq, Lebanon, Jordon, Israel, India, the U.S. and various European countries.
In turkey, Assyrians mainly live in the cities of Mardin, Diyarbakir, Hatay, and Istanbul. Until now there were only two archbishops serving the Istanbul and Midyat (a province of Mardin). Archbishop Özmen will also be serving the Mardin district.
After the death of Archbishop Mor Hanna Dölapünü in 1969 the Archdiocese of Mardin had become vacant. Archbishop Nuri Saliba Özmen is a graduate of Oxford University and has a Masters Degree in Semitic Languages.
The Syrian Orthodox Church representatives together with the clergies corresponded with twenty two religious representative worldwide requesting the consecration of Monk Saliba Özmen as archbishop. Following the arrival of the religious leaders in Damascus, His holiness Patriarch Zakka 1 Iwas conducted the religious ceremony and
Monk Saliba Özmen was consecrated as archbishop by the attending dignitaries. After the consecration Archbishop Özmen was presented with a gold cross.
After 34 years Archbishop Özmen has become the first archbishop to be appointed to the head of the historical monastery where he had received his religious education in earlier in life.
After the ceremony in Syria, on his return to the monastery in Turkey Archbishop Özmen was met with the welcoming of the Assyrians who had come from several cities and towns to meet their new religious leader. In the monastery he preached to the people the message of peace and called on his flock to unite in peace and love.
Archbishop Özmen was congratulated by Turabdin Archbishop Mor Samuel Aktas and other community members who had come to greet him with a kiss on the the cross in his hand.

ASSYRIANS FIGHT TO BE NOTICED
Courtesy of the Chicago Tribune (10 March); article by Sean D. Hamill

(ZNDA: Chicago) Assyrians around the world held a day of prayer Sunday to bring attention to oppression faced by their Christian friends and family in predominantly Islamic Iraq.
Many Chicago-area Assyrians also hoped Sunday's global effort would illuminate a basic fact about them.
"We want the attention because people think we don't exist anymore," said Linda Mamook, 34, of Morton Grove, after attending a service with more than 800 people at St. George's Assyrian Church in Rogers Park.
Thousands attended similar services, lighting prayer candles and attending meatless and dairy-free Lent breakfasts afterward, in the four other Chicago-area churches, which together make up the largest concentration of Assyrians in the United States.
Everyone interviewed at St. George's, 7201 N. Ashland Ave., expressed the hope that Saddam Hussein is removed from power. Nearly everyone with Iraqi origins had a story to illustrate Hussein's brutality.
"Even our [Assyrian] flag, you were not allowed to put it in your house," said Eilen Sommo, 39, of Chicago, who left Iraq 12 years ago. "If you did, they'd arrest the men in the house."
Her son, Gilbert, 13, was born in Iraq, but he was too young to remember anything of it. Still, he talks with his relatives who still live there and has an opinion on what should happen next. "The thing is, I want them to attack to get rid of Saddam," he said after attending an Aramaic language class at St. George's on Sunday. "I was born there, but I've never been back, and I want to go back some day."
For now, that's impossible, his mother said.
"Maybe someday," she said, "when Saddam is gone."
As Christians, Assyrians are an ethnic and religious minority in the Middle East, where more than 2,000 years ago the Assyrian state controlled the region. They are quick to point out that they are neither Muslim nor Arab, and the language they speak is a modern relative of the ancient Aramaic that, scholars say, Jesus spoke.
But Assyrian-Americans have battled not only cultural suffocation in Iraq, where they can't teach their language, but confusion once they have settled in the United States.
"My name is Christina, but [after people look at me] everyone always asks if I'm Muslim," said Christina Abraham, 22, a political science student at DePaul University.
Abraham, who has black hair and olive skin, was born in the United States. Her parents immigrated here in the late 1970s from Lebanon and Syria, countries that, like Iraq and Iran, many Assyrians call their ancestral homes.
Since Sept. 11, 2001, the confusion has been dangerous and pervasive.
Leaders of another Chicago Assyrian church, St. John's, 1421 W. Lawrence Ave., believe that an arson there less than two weeks after Sept. 11 was a hate crime directed at them because someone thought the congregation was Islamic, despite the Christian cross that stands in front of the church.
"We had notes left at the church before the fire saying `Are you with US or them?'" said Rev. Charles Klutz, St. John's pastor. "Even the policewoman who responded [to take the fire report] called us a Muslim mosque."

IRAQI EXILES TO HELP LIBERATE HOMELAND
Courtesy of the Arizona Republic (5 March); article by Daniel González
(ZNDA: Phoenix) They live comfortable lives in the United States, playing soccer on the weekends and working at good jobs.
They haven't forgotten, though, about the plight of their countrymen still living in Iraq or their own memories of terror and persecution under Saddam Hussein.
So when the United States sent out a call for Iraqi volunteers to help the American military liberate their homeland, at least a dozen Iraqi exiles living in the Valley were among the first to sign up.
As many as 3,000 Iraqi exiles nationally will be trained at a military base in Hungary to work as mediators, translators and guides both during a possible war and its aftermath, according to a Defense Department official.
"I told my wife, 'If something like this happens, I'm going to be the first one to sign up and help America,' " said Biton Biton, 38, an Iraqi exile in Glendale. "We are all happy about it. . . . This is the happiest moment because for us it means the beginning of the end."
During an interview last month, Biton and five other Iraqi exiles who have signed up to assist the U.S. military spoke excitedly about the prospect of helping overthrow Saddam, even though it will mean leaving behind their wives and children, their jobs, and, in some cases, their businesses.
"If we are going to die or not, we don't care," said Iraqi exile Paul Odisho, 36, of Glendale, who owns a swimming-pool and repair business. "We are living a beautiful life in America. We want the same freedom for the people of Iraq."
Odisho and the other Iraqi exiles are Christian Assyrians, a minority group within Iraq, a predominantly Arab nation. All said they are naturalized U.S. citizens.
An estimated 8,000 to 10,000 Assyrian Americans live in the Valley, home to the nation's fastest-growing Assyrian population.
In September, the U.S. official recognized the Assyrian Democratic Movement, one of six major Iraqi opposition groups.
It began recruiting locally for volunteers to assist the U.S. military. Sam Darmo, the group's Phoenix representative, said he knows of a dozen Assyrians from the Phoenix area who have signed up.
"There are volunteers from Phoenix who have left already and are getting training somewhere. It's undisclosed," said Darmo, a 47-year-old Phoenix real estate agent.
Adam Benjamin, a member of the Assyrian Democratic Movement in Chicago, did not want to discuss details of the call-up to protect Assyrians still living in Iraq.
"As Americans, as Iraqis and as Assyrians we are backing President Bush 100 percent," Benjamin said. "We need to get rid of the regime of Iraq because Saddam Hussein is a ruthless president that killed thousands of Iraqi people without reason."
Several Muslim Iraqi refugees have also signed up or want to sign up to assist the U.S. military, said Jabir Algarawi, president of the Arizona Refugee Community Center, a social service agency in Phoenix that primarily serves Iraqi refugees.
"Believe it or not, I received a call from a woman. She has four kids, but she wants to be part of the liberation," Algarawi said.
American officials have reportedly ruled out the possibility of using the exiles in combat, but some may accompany ground forces in Iraq.
The exiles said they understand the dangers and are willing to fight.
"If that's what it takes, we are willing to do that," said Zaya Zowaa, 41, of Glendale, who received word recently that he has been selected for the training and to report on March 15.
The actual training has begun, and the recruits were told to expect to be gone six months to a year.
The call-up of recruits begins the largest known U.S. effort to train Saddam's enemies since passage of the 1998 Iraq Liberation Act, which called for his overthrow and designated $97 million to train and equip his opponents.
Biton says he is motivated to assist because he said the Iraqi dictator killed his father in 1982.
As a teenager, Biton said he played soccer for the Iraqi national team but he was kicked off after he refused to join Iraq's ruling Baath Party. Fearing reprisals, Biton and a brother fled to Turkey and eventually to the United States.
"The government started asking my father questions," Biton said. "Where are your two sons? They came and took him away. He never returned. They said it was a heart attack. But my aunt says they injected him with something in the arm."
Odisho said he traveled to northern Iraq, a region outside the control of Saddam's regime, to visit relatives he hadn't seen since 1982. Two sisters living in Baghdad met him there. Odisho said he was appalled by the poverty they described in Iraq, where war, sanctions and mismanagement have destroyed the economy.
Zowaa said he left Iraq in 1978 at age 16 because he feared he would be forced to join the Iraqi army. An uncle was jailed under Saddam's regime for 10 years for not joining, he said.
Zowaa, father of four children ranging in age from 3 to 12, said he hopes he has the opportunity to return to Iraq as part of a U.S.-led liberation force.
"It's a dream," said Zowaa, who drives trucks for a living. "We lived there. We know what these people are going through. We want to see Iraq free."
[Z-info: Zinda readers can reach the reporter at daniel.gonzalez@arizonarepublic.com or (602)444-8312.]

ASSYRIANS KEEPING THEIR CULTURE ALIVE
Courtesy of the Chicago Tribune (9 March); article by Deborah Horan
(ZNDA: Chicago) With the unsteady hand of a 6-year-old boy, Sargon Hermez is learning to trace the sharp angled letters of his ancestors' ancient alphabet onto wide-lined paper at a North Side church.
The script is one of the last vestiges of the Assyrian empire, which covered much of the modern Middle East more than two millenniums ago, produced epics and invented one of the world's earliest writing systems.
Like many other Assyrian parents, Sargon's mother wants to make sure her son can read the language, a modern relative of the ancient Aramaic that scholars say Jesus spoke. Fearing that their culture will disappear from Iraq, the seat of ancient Assyrian power, they are determined to preserve their traditions in exile.
Many find hope in the Bush administration's drive to oust Saddam Hussein from power, even if it means going to war, because it offers Assyrians a better chance at survival in their homeland.
A minority in Muslim Iraq, Assyrians are Christian--among the first peoples to accept the faith--and do not consider themselves Arab. Massacred by Turks and Kurds in the early 20th Century and forbidden from teaching their language by Hussein's regime, about 1.5 million Assyrians live in Iraq today.
On Sunday the Assyrian community--including an estimated 80,000 in the Chicago area, more than in any other American city--is planning a worldwide day of prayer to bring attention to their plight.
If war does bring a change of regime, leaders say, the United States must help guarantee that any new government in Baghdad safeguards the region's religious and ethnic minorities. Otherwise, they say, Iraq's Assyrians--the largest concentration in the world--may be in danger of vanishing through forced assimilation.
"We need to make sure that whatever government comes after Saddam is democratic," said Ronald Michael, president of the Assyrian American League in Chicago. "If we don't, we will have no way to protect our rights."
Already, Assyrian history and contributions to Iraq have been erased from school textbooks, community leaders say. The Assyrian language is a dying tongue. Iraqi censuses do not count Assyrians as a category, because the government does not consider them a separate ethnicity.
"You do not have the right to call yourself Assyrian in Iraq," said Aprim Rasho, who produces a weekly Assyrian-language television program.
Many Assyrians are not granted Iraqi citizenship, particularly if they refuse to join the ruling Baath party, but also for lesser infractions, such as taking a traditional Assyrian name.
"Sometimes, when they wanted to get rid of us, they would put us on the Iranian border and say, `Now you are Iranian,'" said Rasho. "They forced us to move to Baghdad and encouraged Arabs to live in our villages."
While they wait and hope for change in Iraq, Assyrians abroad cling to their culture.
In Chicago, Assyrians first began settling north of the Loop in the 1860s, when their homeland was governed by the Ottoman Turks. Later generations moved to the suburbs of Skokie, Niles, Roselle and other areas as they joined the middle class.
Over the years Assyrians have kept a strong sense of identity centered on churches, where women wear colorful veils and prepare feasts of stuffed bread and dolma, or stuffed cabbage and grape leaves. Chicago is also home to the patriarch of the Assyrian Church of the East, Mar Dinkha IV.
Elders teach youngsters how to write the ancient Assyrian language in twice-weekly classes held at four of the five Assyrian churches in the Chicago area. The script looks like a cross between Hebrew and Arabic and probably derived from an ancestor alphabet common to all three languages, according to John Huehnergard, a linguist at Harvard University.
In addition to the classes, Assyrians in Chicago produce two television programs, Rasho's "Ashur TV" and "Assyrians Around the World," which feature Assyrian-language plays and comedies, sports, entertainment and news, from the Middle East and from Assyrian communities in 40 countries.
Other community members print textbooks in Assyrian, and priests use the language when they recite the liturgy. Most Assyrians speak it at home, so their children grow up bilingual.
"If we don't use it, it's going to vanish," said Christina Yousif, a kindergarten teacher at Boone Elementary School and one of a half-dozen adults who teach Assyrian to children at St. George's Church, 7201 N. Ashland Ave.
Their diminishing numbers in Iraq, and Iraqi government attempts to "Arabize" them, have made Assyrians sensitive to how they are identified by outsiders. Most Assyrians prefer to count among their ranks other Christian groups whose ancestors came from ancient Mesopotamia, including Chaldeans and Syriacs. Some Chaldeans, however, consider themselves a distinct group whose ancestors split from the Assyrian Church of the East in 1552.
Although such divisions have strained relations, the groups have been working to create a united front, hoping their combined strength will allow them a voice in any future Iraqi government. Some talk of joining forces with Yazidis and Turkmens, two other minorities in Iraq, to increase their political power.
"We would like to see both branches of this one nation unite since all their requests are the same," said Glenn Younan, founder of an Assyrian-Chaldean organization called Bet Nahrain in Chicago. "They both want their villages and churches [to remain]. They both want autonomy."
To that end, several Assyrians have been working with the State Department's Future of Iraq Project to create a blueprint for a post-Hussein democracy that they hope will safeguard Christian rights in Iraq.
After years spent feeling invisible, even to other American Christians, and neglected by more powerful Iraqi opposition groups, Assyrians were heartened in October when President Bush mentioned them by name during a speech in Cincinnati.
"We're raising awareness about the plight of Assyrians," said former Illinois state Sen. John Nimrod, secretary general of the Assyrian Universal Alliance.
Assyrians have little patience for anti-war protests, which they find insulting to the Iraqi people.
"Those people demonstrate because they have not tasted the brutality of Saddam's dictatorship," said Edward Odisho, a professor of teacher education at Northeastern Illinois University who sits on the education committee of the Future of Iraq Project. "Believe me, none of those demonstrators are Iraqis."
Rasho agreed. "The Iraqi people are sitting in their windows waiting for the American soldiers to come," he said.
Since the U.S. began protecting the Kurdish enclave in northern Iraq following the 1991 Persian Gulf War, the roughly 50,000 Assyrians in that area have fared relatively well compared with others in Iraq, Assyrians say.
With help from Assyrians in the United States, they have opened 44 schools in the north, some of which teach entirely in their language, Odisho said.
Assyrians here hope these freedoms will survive the political upheaval a war may cause. Meanwhile, they will continue to teach the Assyrian language.
At St. George on a recent Sunday, two dozen children listened attentively while Yousif pronounced the sounds of the letters she drew on a chalkboard. Dozens of other children and a few adults sat in different classrooms separated by white partitions in the church basement.
Jackie Coma, 30, attended one of the adult classes "to refresh my memory," she said. Her two children, Maryann, 8, and Peter, 7, practiced writing in a third-year class nearby.
"It's my language. It's my parents' language. It's the language Jesus spoke," Coma said. "I don't want it to die with me. I want it to live on."

ASSYRIAN-AMERICAN CIVIC CLUB OF TURLOCK REGAINS BINGO LICENCE

Courtesy of the Modesto Bee (6 March); article by John Holland
(ZNDA: Turlock) The Assyrian-American Civic Club has a bingo permit once again, but when the games will resume is unclear.
The Turlock Police Department had suspended an earlier permit in August 2001 because the club did not have the required nonprofit status. That status has since been obtained, and the department issued the new permit last week, police spokeswoman Rosemary Howser said.
"They have met all of the requirements to get the bingo permit," she said.
A recorded message at the club, on North Golden State Boulevard, said the bingo games "will soon reopen." The new permit puts the club under revised rules that the City Council adopted in November for all bingo operations in Turlock.
The new rules require monthly financial reports to the city, annual audits of bingo records and maintenance of separate bank accounts for bingo revenue. Also, armed guards hired for the games cannot be affiliated with the operators.
Meanwhile, the Stanislaus County district attorney's office continues to look into the Assyrian-American club's bingo operation. Authorities have not disclosed the nature of the case.

ANTI-WAR ARTISTS HONOR ANCIENT ASSYRIAN RELIEFS
Courtesy of the Dartmouth (7 March); article by Holly Shaffer
(ZNDA: New Hampshire) As part of a nationwide demonstration by artists against war in Iraq and its potential effects on ancient artwork, Elizabeth Mayor -- a New England-based artist -- organized other local artists to bring their protest to the Hood Museum at Dartmouth College in New Hampshire last Wednesday afternoon.
The event allowed artists to sketch the Assyrian reliefs on show temporarily at the Hood Museum. Taken from what is today northern Iraq, the reliefs are an example of the type of art that would be devastated by a bombing campaign in the region.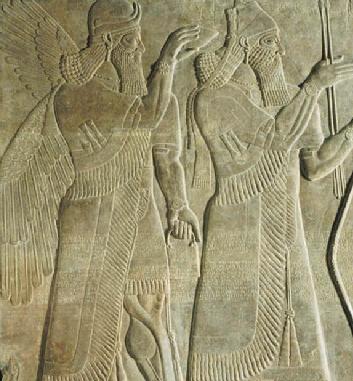 Although very large, the works are often overlooked at museums, Mayor noted.
Similar conscience-raising events, in which artists sketched art from Iraq, have recently taken place across the country. The largest protest so far was held at the Metropolitan Museum in New York.
Joyce Kozloff, a painter who has also worked in mosaic and ceramic tile, organized the event in New York before attempting a national commemoration of the history of Mesopotamia and present-day Iraq. The Hood Museum visit was one of the national stops.
Iraq contains a vast amount of ancient art, much of it still under excavation.
The reliefs in the Hood, originally from the 8th century B.C. palace of King Ashurnasirpal II, are an example of such work.
The six reliefs in the collection are taken from four rooms of his palace and show a variety of events glorifying the king's life.
Among the themes reflected in the reliefs are fertility, hunting and the association of the king with genies.