APP REPRESENTATIVE DISCUSSES THE GERMAN-FRENCH FACTOR
Courtesy of IC.Wales (25 February); article by David Williamson

(ZNDA: Wales) Would anyone visiting Germany and Japan in 1945 believe that half a century later each of the states would be economic powerhouses and proponents of democracy?
Poisonous Nazi ideology had led ordinary Germans to participate in the Holocaust, and deluded Emperor worship had encouraged young Japanese men to become kamikaze pilots.
Yet a combination of American military occupation and massive investment brought freedom and prosperity to millions. Today, Japan is helping rebuild Afghanistan, and Germany's Foreign Minister is a member of the Green party.
President George Bush and Prime Minister Tony Blair believe the success can be repeated in Iraq.
If a swift war is won with minimum civilian casualties and Iraq becomes a bastion of democracy in the heart of the Middle East, the two men are hoping current massive misgivings about the conflict will be forgotten and their respective re-elections will be assured.
But a democratic Iraq will be a pipe-dream if the five main people groups cannot work together.
Of the Iraq population of just over 23m, 60-65%, are Shia Muslim and 15-20% are Sunni Muslim. There are also 5 million Kurds, many of live in two effectively autonomous regions in the north; 2 million Turkomans; and 2 million Christian Assyrians.
The dissidents are convinced that France and Germany are pressuring the Bush administration to guarantee their energy companies continued access to some of Iraq's most lucrative oil fields, and also to award contracts to German and French construction firms.
They are adamant that opposition by Arab states to the war is fuelled by the fear that a free Iraq will intensify pressure on neighbouring regimes to bring in democratic reforms.
Terry Botros of the Assyrian Patriotic Party says: "Support from Gaddafi is nothing new, but to find France and Berlin fighting so much - I feel ashamed. They are blackmailing the United States."
Mr Botros, like nearly all Assyrians a member of the 3% Christian minority, claims to understand why the Vatican and millions of protesters are actively opposing the war, but he believes their understanding of the situation is deeply flawed.
"It assumes that we are living in a peaceful situation and this cowboy is coming from Texas to destabilise us," he said. "We as Iraqis are in a war every day."
Mr Botros does not think a war will usher in a utopia, but his colleagues and he are resolved that Saddam must go as soon as possible.
"To change from a totalitarian regime to a democratic one is not like an electric switch. We need to build an infrastructure," he said.
"But whatever this transition era brings, it will be better than what we have because it will be a multiparty society committed to human rights."
Mr Botros is concerned that any new regime may not separate religion from politics, and is also fearful that Christian minorities throughout the Middle East may be targeted in revenge killings.
But he looks forward to the rule of law being established in Iraq, and hopes that crimes of the past will be investigated.
He said, "Whatever morality you have, it's very difficult to forgive the people who committed these crimes - 150 Christian villages were demolished for nothing. They should be punished, at least to prevent others form committing these crimes again.
"But it must be realised that an officer who had no choice other than following orders should not be treated like the people who ordered him."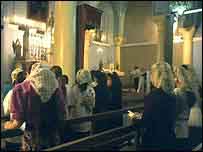 CHALDEAN CHURCH INVITES EPISCOPAL BISHOP TO PRAY IN IRAQ
Cuortesy of Financial Times (4 March); article by Roula Khalaf
(ZNDA: Baghdad) Pierre Whalon was the first western bishop to take up an invitation from the Iraqi Chaldean church to join prayers for peace in Baghdad.
In a passionate appeal against the horrors of war in one of the city's modern churches, he told a calm and solemn group of worshippers that they should not feel alone. "War is never, never God's will," he said.
But between prayers, mainly in Arabic, and the sermon delivered in English and French, he sent a broader message to a troubled country bracing itself for more confrontation - that preventing war alone would not be enough to create peace.
"Peace is when we understand each other and when we can speak what's in our hearts among us," said Bishop Whalon, a French-American who is in charge of the convocation of American Episcopal churches in Europe. "It is when we ask why are you afraid of me and why am I afraid of you."
His recent visit to Baghdad was part of the mobilisation of Christian leaders around the world against a war that many refuse to bless as "just" under Christian doctrine.
It was also a reflection of concern for the fate of Iraq's Christian minority, a community that fears the worst from a military conflict.
The Iraqi regime's persecution of Shia Muslims, Kurds and Marsh Arabs is cited by the US and UK as part of the moral case for war. But the country's Christian leaders worry that their tiny minority will be caught in the crossfire.
They could face a religious backlash from die-hard regime supporters who might perceive them as accomplices of American invaders of the same faith. But they also risk a political backlash from those who have considered them allies of President Saddam Hussein.
"The concern is that Christians will disappear," said Bishop Whalon. "The present regime gives them some tolerance, who knows what the next one will do."
Part of his message, to Iraq's Muslim communities as well the Christians, was that the possible war should not be seen as an attack against Islam. "If there's a war here it's not Christians against Muslims," he said. "Americans are afraid of weapons of mass destruction."
The alarm over Iraq's Christians - the most generous estimates put their numbers at 800,000 people in a country of more than 23 million - has given added impetus to Pope John Paul's efforts to find a peaceful solution to the Iraq crisis. A Vatican envoy met Mr Hussein last month and delivered a letter from the Pope. It is said to have urged full compliance with the UN disarmament demands.
Later this week a papal representative will meet President George W. Bush to hand over an appeal for a peaceful solution. The Pope has also declared tomorrow, Ash Wednesday, a day of fasting and prayer for peace.
Iraq's Christians say their roots go back to the first century when the apostle Thomas evangelised the land of Iraq, then known as Mesopotamia. A majority of them are Chaldeans, an old Catholic rite that originated in this region and is in union with Rome.
The ruling Ba'ath party in Iraq was co-founded by a Christian and it took over in 1968 on a platform based on a radical pan-Arab nationalist and deeply secular ideology.
As citizens, Christians have shared the same grievances with the government as other Iraqis. But, dominated by the Sunni Muslim minority, the regime has also looked for support among other minorities willing to show their loyalty, as most Christian leaders have done.
Over the past two decades, however, life has become harsher for the Christians. After repeated wars and more than 12 years of UN sanctions many have gone into exile.
According to Emmanuel Dely, an adviser to Patriarch Rafael Bedawid, the head of the Chaldean Church, up to 100,000 Christians - some say even more - have emigrated in recent years. "We strongly feel the loss when people leave because we are not that many," he said.
Also troubling has been the rising wave of Islamist sentiment in the country. In an effort to prevent the emergence of a strong Islamist opposition, the regime itself, including the Ba'ath party, has adopted Islamic slogans, built grand mosques and introduced a ban on alcohol.
Some attacks by radical Islamists against Christians have been reported, particularly in the northern city of Mosul. Bishop Dely said that some rules, such as the ban on alcohol, are unfortunate. He blamed aggression and discrimination against Christians in the administration on individual "fanatics".
"We've always lived peacefully with Muslims here but there are always extremists, in every society. We tell the government if anyone bothers us and they deal with it," he said. As for the future, he added: "All that's left to do now is pray and put in the hearts of those in positions of power the will to sit down and work things out."

AN INTERVIEW WITH RT. REV. PIERRE W. WHALON
Courtesy of the Episcopal News Service (27 February); interview was conducted by Rev. Jan Nunley, deputy director of the Episcopal News Service.
The Rt. Rev. Pierre W. Whalon, received an invitation to Iraq February 19-23 to pray with, meet and talk with the leaders of major Christian groups in that country. Traveling with him were Jean-Michel Cadiot, Iraq specialist for Agence France-Presse, and Yako Elish, a Chaldean Christian businessman who served as guide and translator.
Whalon met with bishops of the Chaldean, Syrian Catholic, Armenian Catholic, and Assyrian churches; the Latin Archbishop (Roman Catholic); a Protestant church council; the mullah of the Mosque of al-Kadham; and the Shaik of the Mandaeans (disciples of John the Baptist). He declined an invitation to meet with Deputy Prime Minister Tarik Aziz and the Mufti of Baghdad as both are officials of the Saddam Hussein regime. He also led an ecumenical prayer service at the National Protestant Church in Baghdad and inspected the closed Anglican church in the city, St. George's. On his return, Whalon spoke with Jan Nunley of Episcopal News Service.
ENS: What motivated you to go to Iraq at this time?
WHALON: It wasn't my idea. I got an invitation, along with the president of the French Catholic Episcopal Conference, the president of the Orthodox bishops, and the president of the French Protestant Federation, and me, being the Anglican bishop living in France, from the Patriarchate of Babylon, which is the Chaldean Church--they're uniate Catholics.
ENS: And represent a considerable percentage of Iraqi Christians.
WHALON: The Chaldeans are 85 percent of the Christian population, yes. You have a very small percentage of Roman
Catholics and Protestants there, Presbyterians--very small numbers on those. Then the rest, you have the Assyrian Catholic Church; the Nestorian Church, which is a result of a split in the 19th century; the Armenian Catholic Church; the Syrian Catholic Church; and also then you have the Armenian Orthodox and the Assyrians also have an Orthodox church.
ENS: Any Anglicans?
WHALON: I was told there was only one in Baghdad when I was there.
There is a church, St. George's, in Baghdad. It's been closed since the Gulf War. In terms of permanent chaplain presence they do come by every once in a while to see if the building is still standing. I asked to have it reopened so I could look at it and take some pictures so I could report back to Clive Handford, the bishop of Cyprus and the Gulf.
The Protestant church where I led the ecumenical service [on February 21] was once an Anglican church, and when it became clear that they were going to be under the Diocese of Jerusalem in those days and Jerusalem was going to become the capital of a new Israeli state, they decided they really didn't want to be Anglicans any more. But they asked me to start talking about 'can we come back,' because they've had a lot of trouble going it alone.
I was going to decline this invitation, because I thought, who am I? The Convocation of American Churches in Europe is my mandate. But when I talked it over with the presiding bishop and John Peterson [of the Anglican Communion Office in London] they were very encouraging, and so my mind changed as a result of that. The other invitees did not go.
It was strange being the only American bishop who's been to Iraq since the crisis began--of any stripe. So it took on an
importance that I had no idea an amazing experience.
ENS: What was your sense of the mood of Iraqi Christians?
WHALON: They have a very significant problem. Like all Iraqis, of course, the prospect of another war is very scary. But on the other hand they're all resigned to wars--they've had a lot of them. But for the Christians, what they're really afraid of is after the war, the reason being that the government that Hussein essentially completely co-opted is based on the Ba'athist principles--like Syria is. In other words, the state should be secular, it should not be run by the Muslims, and that there should be religious tolerance.
So they have official tolerance. There are about 50 church buildings in Baghdad. Nobody bothers them, they don't bother other people, and the bishops walk around town in their clerical garb. I walked around, nobody gave me a hostile glance or gesture. And they think that after Hussein is gone and after the Americans are gone, it's going to be a hard-line Muslim government who's going to expel them, massacre them, persecute them.
They're between a rock and a hard place because they end up looking like supporters of Hussein--Tariq Aziz is probably the greatest example of that; certainly he is a collaborator. So they're afraid if there's an American military government they'll be seen as a million collaborators with Hussein. Whereas privately they you could hardly call them enthusiastic supporters.
ENS: Is Saddam someone to fear?
WHALON: Saddam really is somebody who's a menace. The stories I got told would curl your hair. He and his sons have profited enormously from the embargo. They do not want the embargo to be lifted. We're always talking about how we're killing these kids with medicine that we're not giving them and all this other stuff. But on the other hand, they were very clear with me--in private, of course--that the last person in the world who wants the embargo lifted is Saddam Hussein, because he's made more money off this, because he controls the black market, than anyone else.
Meanwhile, his people go without all kinds of things. If you can imagine everybody test-driving the worst used cars you'd ever seen at once, that's what Baghdad's streets look like. We were driving in the car of the brother of the Chaldean who came with us from Paris, and he had a new car, a Peugeot. I said, 'You like your new car?' and he said, 'Yeah. It took me 20 years to get it. In 1983 I put a down payment on this car and about three months ago it arrived. Sometimes they lift the embargo to let some cars in.'
ENS: Do you think Saddam can be fairly compared to Hitler, as he often is?
WHALON: If you think about Hitler you also have to think about the entire philosophy of the Nazi party, the racial component, the weird mysticism of it. And in that sense, no, Saddam is not like Adolf Hitler. He certainly is as ruthless as Hitler or Himmler or Goebbels--or Stalin, for that matter.
But on the other hand, unlike Hitler, Hussein has no knowledge of the outside world. He's never really been educated outside of Iraq. He really sees everything mostly on his own personal canvas: 'what it means to me.' And whatever you think of Hitler, Hitler at least thought in big terms; Saddam doesn't. He thinks in terms of 'me,' I was told.
And he mostly lives underground now. He's got about 20 palaces and each one of them has a very deep subterranean living space and he moves from each one unpredictably. Each palace has to have a meal and a woman waiting for him, should he happen to show up, and if they don't then they just throw out the food and tell the lady to come back or something. So he is really cut off from anything now.
I also was told that his grip seems to be loosening. The Muslims have gotten him to accept portions of sharia law, which are now applied to the Christians--intermarriage, for instance; if there are any intermarriages, the Muslim always wins and always gets the kids to become Muslims. We were hit up for baksheesh [bribes] by the border guards, and my friend who went with me, a French Iraqi specialist, said that didn't happen before. We were also asked for money by beggars, and he said there were never beggars 20 years ago or street crime. So in that sense, Saddam isn't totally in control, as he once was.
ENS: Did anyone give private indications that Saddam does have weapons of mass destruction?
WHALON: When I went to visit the mullah at the al-Kadham mosque, he launched into this diatribe about 'we have no weapons of mass destruction, they'll never find any because there aren't any, all Bush wants to do is kill us,' on and on. Of course, French TV was filming him, and there was a guy from the ministry of religion sitting there.
Whenever I talked to Christians more informally, they always started out by saying, 'What are these weapons?' and I would say, 'they're the ones Iraq declared after the '91 war.' 'Oh.' And either the discussion would end there or they would say, 'Well, yeah maybe he had some stuff ' One person said to me, 'Well, of course he has these things, and when your troops come he's going to set them off on you. But they're going to blow back to our people and all our civilians are going to get killed, and it will be your fault.'
The other thing they said is that, while nobody's really willing to die for Saddam, they are willing to die for their homes. And it occurred to me that, while Arab soldiers in pitched battles are apt to drop their guns and run if they think things aren't turning their way, in front of their wives they'll fight to the death. I remember when the Israelis used to have women in combat. As soon as the Arabs found out they were going to surrender to women, they became the best fighters in the world.
So if we think we're going to waltz into Baghdad and everyone is going to say 'thank you for liberating us,' after a bloody street battle, it's not going to work. Baghdad's five million people, and it's a very spread-out city, about 50 kilometers in diameter or 30 miles. That's a lot of miles--about twice the size of Paris. So to have that kind of fighting is just a nightmare.
And the worst part for me is now that I went and met these people and started to become friends and was extremely warmly greeted, now I have a personal problem when we start to shoot. I'm going to be dying to find out what's happened to all these really nice, fine, hardworking people. They have the best hospitals, they have the orphanages, the nursing homes--Muslims don't do those things, or they do them minimally.
[Christians] are the elite of the country. I met the wife of the president of the Protestant Council. I asked her what she did. She said, 'I teach medicine. Let me introduce my sister, the pediatrician, and my other sister, the dentist.' If the Muslims take over, they're not going to be exercising any more.
ENS: Can they leave the country?
WHALON: I think the last thing they want to do is leave. They've been there for two thousand years. The official language is Aramean--like Jesus'. One person said to me, 'We used to be 100 percent Christian in Iraq. Then the Muslims came. Now we're five [percent].' They've seen people continue to leave, and they think they're going to have a warm welcome from people overseas and they don't. So I don't know about evacuation.
They took me to their seminary--all the churches have one big seminary and it's packed. A number of women students, by the way, even though at this point none of the churches ordain women. Nevertheless, they were there, studying theology along with the men, and they asked me questions just like the men did. They want to build a library, and I knew right away one thing they need is some technical help in how to build a modern theological library. We really need to support the hospital efforts with medicine, if we could gather up medication. And of course if the churches get damaged in the bombing, help rebuild them--maybe a diocese could take on a church to rebuild.
The most important thing is to get to know these folks, because we don't have any contacts with them. We don't know them, they don't know us, and I just scratched the surface there. There need to be a lot more people besides me that go.
ENS: Is the church in Iraq a 'persecuted church'?
WHALON: In the sense that they're not perfectly free. They have to deal with encroaching sharia provisions. The problem with 'selling' that right now is that some people will say the Christians are involved in the government, because you have Tariq Aziz, so they're not really persecuted. By the time they become candidates for being in that list of persecuted churches, there's not going to be anybody left.
ENS: How do they feel about American Christians supporting a war with Iraq?
WHALON: I was asked about that, and the way the question was framed was, 'isn't it true that the non-Catholic Christians are strongly influenced by the Jews?' The person who asked this was a very serious and well-educated person, and I burst out laughing. And I said, 'Why do you say that?' And he said, 'Well, among other things, don't they really control all the support for Israel, and fundamentalist Christians are also interested in the survival and prosperity of Israel for their own reasons?'
And I said, 'You know, whether there were fundamentalist Christians or not, the Jewish people in America who support
Israel would give a quart of blood a day if they felt it was necessary for the survival of Israel. You've got to understand,
these people are very, very serious in the United States about Israel. They see themselves as temporary residents of the
States, when their hearts are in Jerusalem."
I don't think that has anything to do with fundamentalists. Yes, there certainly is some connection there and some of the people around [President] George Bush are in that camp. But to see it as some kind of plot or conspiracy or some kind of big joining of forces is really unrealistic.
ENS: There is a perception, though, that this conflict represents 'the clash of civilizations,' Christian versus Muslim.
WHALON: What I'm trying to get across to people in France, and I also said to al-Jazeera and Abu Dhabi and the other Arab networks that interviewed me--I said I don't think people really understand that what's driving general American support for this war is fear. Specifically, having been attacked twice in a couple of months in spectacular ways--the 9/11 attacks and then the anthrax in the envelopes attacks. Americans are reacting in fear, saying 'We are going to make sure and we are going to use all our power to take out anybody who can threaten us in this way again.' And that has broad support across the board and it has nothing to do with religion.
And you know, people don't understand that. They're just not used to thinking of American foreign policy or anything being driven by fear. They don't see us as as the French say to me, 'We always see the Americans as sort of a cut above, and we don't understand that they would be afraid.' Well, of course--think about your own history!
ENS: How do the French react to increasing criticism of France? Does this surprise them, dismay them?
WHALON: I think both. The viciousness of it is rarely seen before, and they're bemused by it more than anything else.
Personally, being somebody who's a citizen of both countries and raised in both cultures, it's been extremely difficult for me to deal with. But I also think that one thing is for sure: in France, if you want to sell papers, say something against America; if you want to sell papers in America, say something against France. It's a formula that both media are very good at exploiting whenever their income's down.
I think the other thing that Americans aren't aware of is that the French are very quietly marshalling their forces. French
troops are on maneuvers right now in Qatar, and the De Gaulle, the new nuclear aircraft carrier, has just finished maneuvers with the [USS Harry] Truman, and has gone home but it's not giving anybody leave; they're filling up again and turning right around and going somewhere, they're not saying where. I can't see the French wanting to be sidelined if it comes down to it, it's just not their style.
ENS: What, if anything, can Christian communities do to support Christians in Iraq?
WHALON: I think there's several things we can do.
The first is that we can start to publicly pray for them, so that, among other things, besides God hearing about them from us, we will begin to tell ourselves, 'Hey, there are a million Christians in Iraq'--because I don't think most people know that.
Secondly, I think we need to start thinking right now about what kind of aid we can give them post-war. It's possible that there won't be a war. War's not inevitable till the first bomb is dropped, and nobody knows how this endgame is going to play out now. But in the event of a war, and probably then an ensuing American military occupation, I think we need to make it very clear to the general staff that we expect that the Christians of Iraq will be protected, and they will not be accused generally of collaborating with Saddam any more than anyone else in Iraq.
We took a flight on this Boeing 707, must be 50 years old, in an airport with exactly one flight leaving--huge airport; of course it's called 'Saddam International Airport.' I went in the duty-free shop, where there was a young woman cashier who asked my guide in Arabic, 'Is that the bishop who was on TV last night?' He said yes, and she asked him to have me come over, and when I came closer she grabbed my hand with my ring on it,
kissed it, pressed it to her forehead and said in English, 'Thank you, thank you, thank you,' and started to cry. She was
wearing this little cross around her neck. She was a Christian.
She asked for my blessing, she asked for my autograph, and she explained that an American bishop coming to Iraq to pray for peace really strengthened her faith, and that maybe this war could be avoided. Then she grabbed my hand again and kissed my ring again. I had to sit down, I was so overwhelmed.
If we can scream loudly that there are a million Christians in Iraq and they're really in a tough spot, if we start doing that, start praying for them publicly and get that word out, I think that's the most important thing we can do for them. And the second part is to plan how we might be able to help them.
CHRISTIANS IN SADDAM'S IRAQ HAVE LONG SUFFERED LOSSES
Courtesy of the Associated Press (3 March); article by Richard N. Ostling

(ZNDA: Baghdad) Saddam Hussein's Middle East region is home not only to 150 million Muslims but to a minority remnant of 10 million to 12 million Christians.
Their heritage extends to the biblical beginnings depicted in the Book of Acts. The new faith quickly spread to Syria, where "the disciples were for the first time called Christians" (Acts 11:26), across present-day Turkey and into Europe and points eastward.

But in modern times, Christians' status in the region has long been precarious. The Iraq situation makes matters worse.
A timely primer is "Who Are the Christians in the Middle East?" (Eerdmans) by Betty Jane and J. Martin Bailey, a U.S. Protestant clergy couple who spent four years in the region helping the Middle East Council of Churches. "The church was born in the East" and Westerners should never forget it, they say.
Mideast Christianity's diverse denominations fall into four families: Eastern Orthodox; Armenians and the other Oriental Orthodox (who accept only doctrines from the first three ecumenical councils); Catholics (in various ethnic "rites"); and scattered Protestants, called "Evangelicals" in these countries.
The Middle East Council's Beirut-based General Secretary Riad Jarjour (a Protestant clergyman) provided one chapter that says Christians "are being decimated, dispersed, depressed and disempowered."
Jarjour says Christianity's long-running "demographic hemorrhage" through emigration stems from the West's past "intrusion"; "political Judaism" with its "exclusivist claim" to the Holy Land; and the rising "political Islam," which "threatens all Arab Christians."
In Saddam's Iraq, the Baileys report, Christians, largely Chaldean Catholics, are 5 percent of the citizenry. They face "ambivalent and difficult circumstances" and have often emigrated. Though Islam is the recognized state religion, the secular Ba'athist regime has "tightly controlled" Christians and Muslims along with everyone else. The Christians are highly educated but with few exceptions "are virtually excluded from public life."
The Baileys' status reports on Iraq's neighbors:
-Iran: Christians are less than 1 percent of the population; the biggest groups are the Armenians and Chaldean Catholics. Most Christians "practice their religion without hindrance" despite the Islamic revolution. However, local courts "very often favor the Muslims" and one Protestant pastor was executed in 1990 for converting from Islam.
-Jordan: Islamic values are officially affirmed, but from its 1946 founding the nation has guaranteed freedom of worship. Christians, 4.2 percent of the population, are largely middle- and upper-class Palestinians and many are prominent in politics, public administration and the professions. More than half are Eastern Orthodox; another third are Catholic.
-Kuwait and Saudi Arabia: Forsaking the Prophet Muhammad's tolerant example, contemporary Saudi Arabia's Muslim regime allows only very private or secret Christian meetings. Kuwait, however, lets several small denominations operate openly. In the Persian Gulf states overall, evangelism is forbidden, governments control other church activities, and the Christian population of 5 percent to 10 percent consists almost entirely of transient foreign workers.
-Syria: One of the oldest Christian communities constitutes up to 10 percent of the population. About half the Christians are Eastern Orthodox, alongside Armenians, other Oriental Orthodox and Catholics. The secular Ba'athist regime closely supervises all organizations. However, Muslims and Christians "are equal before the law." Churches practice their faith openly and receive public aid and even occasional time on state television.
-Turkey: Though Turkey has been an important land since New Testament times, Christians today are a mere 0.2 percent of its population, living mostly in Istanbul. Earlier in the century the 2 million-plus Armenians were "virtually annihilated" and today number a mere 60,000. Eastern Orthodoxy's historic prime see now has 3,000 parishioners. The state is officially secular but "Christians experience many constraints, both formal and informal."
[Z-info: Middle East Council of Churches: http://www.mecchurches.org ]

CHRISTIANS BLOCK PLANNED MOSQUE IN NORTH IRAQ

Courtesy of the Toronto Star (3 March); article by Sandro Contenta

(ZNDA: Arbil) Behind the Roman Catholic church in this Kurdish village of stone houses is a shallow hole that brought a generation of peaceful co-existence between Muslims and Christians to a end.
For the two religious communities here, the days of working and mourning together are over, and Ramadan and Christmas celebrations are no longer shared.

The break occurred last May, when the 30 Muslim families here decided to build the village's first mosque.
The diggers barely started work on the foundation when leaders of the 50 Christian families got wind of the plan.
They appealed to regional Kurdish authorities, and work on the mosque was ordered stopped.
Since then, relations between the two groups are as cold as the wind that lashes down from the snow-covered mountains above.
"This is a village that belongs to Christians," says Danha Jabbar, 65, Hermuta's primary school principal.
"This mosque would deform the appearance of the village"
Muslim resident Mahmoud Rasoul says, "We didn't want to build a mosque to compete with the Christians. We just wanted a place to pray."
The religious dispute in Hermuta, about 60 kilometres east of Arbil, is a local example of the ethnic and religious fault lines that have made Iraq a fragile nation since it was pieced together by the European powers after World War I.
It remains an artificial collection of competing tribes, faiths, regions, languages and ethnic groups.
Held together for the past 20 years by the brute force and terror of Saddam Hussein's regime, it risks falling apart if the United States and Britain proceed with war plans to topple the Iraqi president.
In a post-Saddam Iraq, British and American forces occupying the country could be embroiled in a long-term effort to prevent Iraq from breaking into a Shiite Muslim enclave in the south, a Sunni one in the centre, and a Kurdish one in the north.
Hermuta's dispute shows just how powerful religious or ethnic divisions can be, even in a village of 80 families where everyone is a Kurd.
Politics has long divided the Kurds.
Rival militias of the Kurdistan Democratic Party and the Patriotic Union of Kurdistan launched turf wars in the mid-1990s that saw more than 100,000 people expelled for their political loyalties from towns controlled by either side.
Now in Hermuta, the common Kurdish bonds of language, culture, and decades of repression at the hands of the Iraqi regime do not seem strong enough to overcome the religious divide.
According to its residents, Christian Kurds have inhabited the spot that is now Hermuta for centuries. Its Christian residents today are Roman Catholic Chaldeans, who say they are descendents of the ancient Mesopotamians.
Christians make up 3 per cent of Iraq's population of 22 million. Those in Hermuta lead a typical village existence, living off the land and clinging hard to their traditions and faith.
Women who have trouble getting pregnant make a pilgrimage to a nearby holy shrine, and a constant source of irritation is the lack of a resident priest since the last one died seven years ago.
Since then, Hermuta's Catholics have been able to attend mass only once a week, when the priest comes from Arbil, capital of the Kurdish autonomous area in northern Iraq. To their endless offence, he comes on Fridays, not Sundays.
"The priest must be a Muslim to come and celebrate mass on Fridays," complains Zachia, Jabbar's wife, noting that Friday is the traditional day of worship for Muslims.
About 30 years ago, Muslims began arriving in Hermuta to work the fields of Christian landowners. They eventually built homes and settled.
Co-existence was complete, except for certain rules, which Catholics considered part of the natural order of things.
"Marrying a Muslim is forbidden," Jabbar said. "If a Christian girl wants to marry a young Muslim, for us, it's a crime and she will be cast out of her religion."
In Zakho, a Kurdish town near the Turkish border, a Christian father killed his daughter recently for such a transgression, Jabbar said.
Asked if Catholic parents in Hermuta would do the same, Jabbar thought for a while, then said: "We would not kill her"
Still, Jabbar invited Muslims to his Christmas dinners and, in turn, was invited to break fast with his Muslim neighbours during the holy month of Ramadan.
But then, Muslims started digging a hole for their mosque, and everything changed.
Jabbar said incidents he considers threats suddenly occurred after the Patriotic Union of Kurdistan (PUK), which controls northeastern Iraqi Kurdistan, blocked building of the mosque.
Someone put the magazine of an AK-47 automatic rifle against the door of the church, and later, part of its courtyard wall was demolished in the middle of the night.
The Christian landowners then fired the Muslim residents who worked in their fields. Jabbar let go 15 Muslim workers who tended his wheat and lentils, and brought in Christian ones from nearby towns.
Rasoul, 47, lost the work he got from Christians as a driver.
"It has all been very sad," said Rasoul, sitting on floor mats close to a space heater in the tidy living room of his home.
The Catholics went further. They successfully lobbied PUK authorities to refuse building permits to any new Muslim family wanting to settle in the village.
"Halas," said Jabbar, using the Arabic word for enough.
It's a sorry end for a village whose residents, regardless of religion, have felt the iron first of Saddam's army.
Kurds have been gassed and mass executed by Saddam's forces during the 1980s and early 1990s in at least 77 Kurdish villages.
It happened during the Iran-Iraq war and, again, when the northern Kurds staged an unsuccesful revolt after the last Persian Gulf War.
"When it comes to killing, Saddam doesn't discriminate," Jabbar said.
Added Rasoul: "We are united in suffering"
But divided, it seems, by religion.
'This (Hermuta) is a village that belongs to Christians. This mosque would deform the appearance of the village.'