DR. KATRIN MICHAEL SAYS IRAQIS MUST CHOOSE OWN LEADERS
Courtesy of Cybercast News Service (9 April); by Jeff Johnson
(ZNDA: Washington) Leaders of the Iraqi opposition to Saddam Hussein said Tuesday that two conditions are essential for the success of democracy in Iraq: No one from Hussein's government or military can be involved, and the Iraqi people must eventually choose their own leaders.
Dr. Katrin Michael, an Iraqi Chaldean Christian and member of the group Women for a Free Iraq, suffered eye, lung and nerve damage from a chemical weapons attack by the Iraqi Army on Iraqi Kurds in 1987. She wants Saddam Hussein gone but is also concerned that the future Iraqi government not be dominated by Islamic fundamentalists like those of its neighbors.
"As a minority in Iraq, I think the single biggest threat, post-Saddam, is going to be Islamic fundamentalists," she warned. "American assistance forces must be sure to secure the minority's rights in the process of reconstruction and especially in writing a new constitution."
President George W. Bush met with British Prime Minister Tony Blair Tuesday to discuss what part the U.N. would play in the rebuilding of Iraq. Santorum believes that, while the U.N. should have a supporting role in humanitarian efforts, the coalition that freed Iraq should have the final say over military and political matters.
BELGIAN MINISTER SHOWS SOLIDARITY WITH ASSYRIANS
(ZNDA: Belgium) On Monday, 31 March, the Belgium city of Luvanne Lannove witnessed a reception party commemorating the Assyrian New Year 6753. In attendence were Mr. Andra Vlaho, Belgium Defence Minister; Mrs. Mary Joza Lalwa, Member of Belgium Senate; and the delegates from the Belgium Socialist Party.
The official speaker of the Assyrian Democratic Organization (ADO) and its representative in Belgium, began the event by welcoming the guests. He gave a brief description about the Assyrian people and the Assyrian community in Belgium. Then he talked about the dangerous situation in the Midle East and the tragedies experienced by the Iraqi people with all their ethnic groups especially the Assyrians. He added that the Assyria existence as an original ethnic group and Christian minority is threatened under Saddams' regime hammer, war's anvil, and the plans for future Iraq. The ADO speaker ended his speech by praising the courageous stand of the Belgium government that supported the international legitimacy in handing the Iraqi crisis, protesting war, and its humanetarian initiatives done today to suport the Iraqi people. The gathering stood one minute in silence in support of the Iraqi people. Then, the official speaker of the ADO presented his excellency the minister a copy of Prof. Joseph Yacoub book "Threats Against Iraqi Christians" published recently.
The Belgian Defense Minister made a statement in which he openly explained the reasons for conflict and disparity in NATO in regards to the Iraqi crisis. He emphasized on the Belgium's position on the exhaustion of all possible peaceful and diplomatic means and to refer to the Security Council to ending the war and rebuilding of Iraq.
Mrs. Lalwa spoke about Belgium' Socialist Party's political stand which supports and endorses the struggle of nations and ethnic groups to obtain freedom, democracy, and human rights. She added: "I am with all oppressed people and I do not believe that there exist any regime in the world that has the right to impose its control and domination by force on other people ... your people's case has attracted my attention and I am ready to support it."
At the conclusion of the speeches, a bouquet of flowers was presented to his excellency the minister and a red rose to Mrs. Lalwa in the name of the Assyrian chidren of Iraq.
On Sunday, 6 April, "The Voice of Assyrians" radio broadcast an interview conducted with the Belgian Minister of Defense and Mrs. Lalwa.
The presence and participation of Mr. Andra Vlaho, Mrs. Mary Joza Lalwa, and the accompanying delegates in the first of April 6753 continued late into the night. The Minister stated: "My message to you in commemoration of the Assyrian New Year is that I wish the Assyrian nation will regain peace, tranquility, and prosperity and happiness for all her people and loved ones."

CHURCH OF THE EAST CONTRIBUTES IN SUPPORT OF RESERVISTS' FAMILIES
Courtesy of the Mercury News (15 April); by Rodney Foo
(ZNDA: San Jose) San Jose Mayor Ron Gonzales encouraged the city of San Jose, California on Monday to lend a financial hand to families of reservists serving in Operation Iraqi Freedom.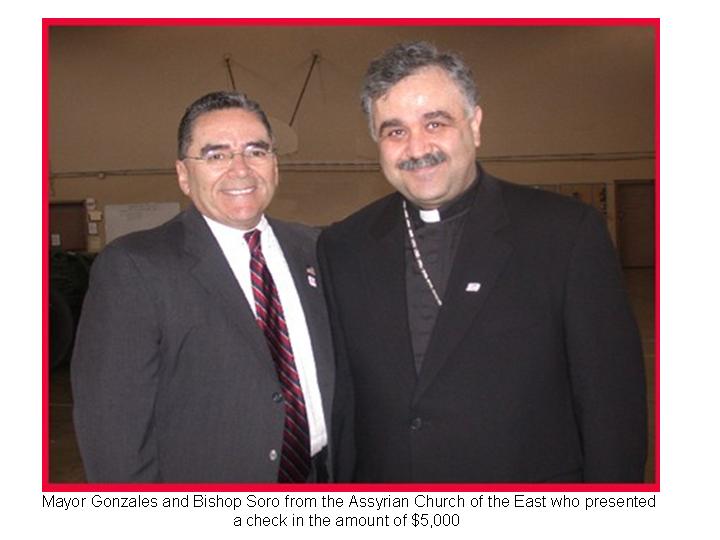 At a news conference at the Army National Guard's headquarters on Hedding Street, Gonzales and a host of community and business leaders announced a partnership of businesses, unions, the military, and various organizations that will generate support for reservists' families who may need help financially or otherwise.
Gonzales asked companies and citizens to sponsor discounts or provide donations to the families. The Church of the East in San Jose pledged $5,000.
[Z-info: To listen to Mar Bawai Soro's recent interview with the Vatican Radio click here: 04_14_ohzone ]
To download RealPlayer, click here.

ASSYRIAN PRIEST FOUGHT FOR SADDAM – NOW ROOTS FOR AMERICA
Courtesy of the National Catholic Register (6-12 April), by Andrew Walther
(ZNDA: North Hollywood) Like many Iraqis living in the United States, Father Noel Gorgis is following the war in his homeland with special interest.
And he is watching it from a very different vantage point than the last time the United States fought Iraq.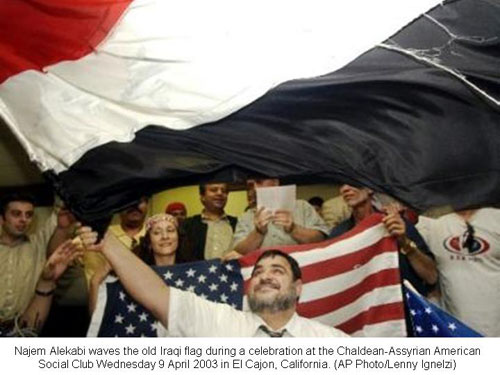 Father Gorgis, a priest at St. Paul Assyrian Chaldean Catholic Church in North Hollywood, had to serve with the Iraqi army in the 1991 Gulf War.
He was stationed at the H3 airfield, the suspected Scud headquarters in western Iraq that allied special forces seized in the early hours of the war to expel Iraq from Kuwait. Though he was a priest, he was given no special status in the Iraqi army.
"The Iraqi army has no chaplains; I was a regular soldier," Father Gorgis said. He endured air bombardments and, as the war continued, he fled to Turkey. From there he made his way to the United States in 1992.
Like many Iraqis living in the United States - Christian and Muslim alike - Father Gorgis sees the current war as an opportunity for improvement in his country, an opportunity the American government has vowed to see through to the end.
"Most people here are looking for change in Iraq," Father Gorgis said of his parishioners who are almost all of Iraqi origin. "Ninety-nine percent don't like Saddam."
He believes Iraqis back home want change, too, though they cannot voice their feelings for fear of the current regime's henchmen. Iraqis "don't like Saddam, except in Tikrit," the town where the dictator was born, he said.
Reports from Iraq indicate Saddam's Baath party is forcing men to fight by holding their families hostage, but "if they had their choice," Father Gorgis said, the Iraqis "would rise up" all over the country.
So great is the fear of Saddam's security apparatus that even Iraqis here in the United States are unwilling to speak out for fear of reprisals against their families, according to Father Gorgis.
"Last night I talked to my sister in Baghdad," he said March 27, "but I cannot say 'wait for freedom' because she might be harmed." He said his sister was leaving Baghdad for the relative safety of the north ahead of the ground assault on the city.
Father Gorgis said Christians still in Iraq have real concerns.
"[Iraqi] Christians are afraid from the bombing, the embargo and their Muslim neighbors," he said.
Don't Repeat '91
Because among Muslims "there is much hostility to Christians," Father Gorgis said he hopes "the Americans will stay longer" than in 1991 and a government is established that will ensure Christians can live in peace.
A senior Bush administration official, who wished to remain anonymous, confirmed that President Bush and many in government do indeed intend to stay long enough to make things work.
The administration's strategy is to "identify moderate Muslims who can speak for the heart of Islam," to help them promote a message "of tolerance and peace" and to "amplify their voices," the official explained.
The moderates, he said, have been squelched between their own governments and Islamic extremists.
Christians make up only about 3% of Iraq's population. They include Assyrians, an Orthodox Church, but the majority of Christians are Chaldean Catholics, who left the Assyrian Church to come into communion with Rome 450 years ago.
As many as 250,000 Iraqi Christians now live in the United States.
Bishop Bawai Soro of the western diocese of the Assyrian Church of the East was born in Kirkuk, Iraq, and educated in Baghdad before emigrating. He came to the United States in 1976 and lives in San Jose, Calif.
Like Father Gorgis, he looked with hope to a post-Saddam Iraq. He said Assyrian Christians, even more than Chaldeans, have been "Western-oriented" since World War I, when they helped the British drive out the Turks and form the state of Iraq.
Mideast Model?
"The time is right to transform global politics in the Middle East," Bishop Soro said, adding that he believes Iraq is the perfect place to start that transformation.
Once the initial anger about casualties wears off, people will welcome the Americans as liberators, the bishop predicted.
He is heartened by the resolve of the Bush administration to create a free Iraq.
"The wisdom of the administration is providential [because] everybody in the Arab world looks at Iraq as the model," he said.
According to Bishop Soro, Iraq is looked up to because it has the best combination of advantages of any Middle Eastern country: It is wealthy, well educated and business savvy, he said. Its riches include not only oil but also its agriculture, minerals and well-educated people.
"It is shocking to see Iraq sunk to [its current] level," he said sadly.
The bishop explained that many Iraqis are angry at Saddam because of the political repression and the fact that his government has gone about a program of "Arabization" in which the other cultures in Iraq - Assyrian, Turkish and Kurd - are ruthlessly suppressed.
The persecution, he said, is not so much religious as it is cultural and political.
Entifadh Qanbar, a Muslim who is the Washington representative of the Iraqi National Congress, an expatriate opposition group that hopes to be at the forefront of the political restructuring of Iraq, said his vision of Iraq is one of religious freedom and democracy.
Though some have praised Saddam for not persecuting Christians outright for their faith, Qanbar insisted a new regime "will be more tolerant: It will be democratic."
Even the prosecution of the war itself gives Bishop Soro hope.
After "being abused by [Saddam] for 35 years and before that 10 years of coups," the people of Iraq are conditioned to accept force, he said.
The way you change that "is through love," Bishop Soro said, and the way the war - which he characterized as "a charitable war" - is being fought, "accepting surrenders, avoiding civilian casualties," will go a long way toward healing the citizens of Iraq.
And while the politicians and military commanders make their plans, Father Gorgis said he wants people to remember to take part in that which brings the greatest hope of all: prayer.
"Prayer," he said, "is our most powerful weapon for peace and justice."
[Z-info: Andrew Walther writes from Los Angeles.]

PROF KAMBER: IRAQI EXILE HOPEFUL FOR HIS NATION'S FUTURE
Courtesy of the Kalamazoo Gazette (5 April); Tom Minehart
(ZNDA: Kalamazoo) Iraq could become a "catalyst for peace, democracy and prosperity" throughout the Middle East not long after Saddam Hussein is toppled, says an Iraqi exile in Kalamazoo who could become part of a postwar Iraqi government.
"That's what we are hoping," said Emanuel Kamber, a professor of physics at Western Michigan University. "Iraqis deserve a better government, a pluralistic, parliamentarian government that guarantees human rights for all citizens irrespective of ethnic background or religion."
Kamber is a member of the London-based Iraqi National Congress, an assembly of 500 Iraqis representing various ethnic and religious groups of Iraq. He is deputy chairman of the 65-member INC Council, which serves as a liaison between the assembly members and a seven-person INC leadership council headed up by Iraqi opposition leader Ahmed Chalabi.
Chalabi is backed by the U.S. Defense Department, but State Department officials say most Iraqis do not support him.
Some Arab-Americans contend that democracy will not take root in Iraq or elsewhere in the Middle East anytime soon because Arabs are too individualistic. But Kamber said, "That's not true.
"We have to think Iraq will be a catalyst for peace, democracy and prosperity," he said. "If we think Iraq will be a disaster after Saddam Hussein, then why would we be working all these years to get rid of him?"
Kamber said the 4 million Iraqis who have left Iraq in the 35 years since Saddam was named vice president of Iraq (he succeeded President Al-Bakr in July 1979) have been absorbing Western ideals of democracy, human rights and the rule of law.
"Even if we assume only 50 percent of these people go back to Iraq to help the process of democracy ... that will help the process," he said.
Democratization will require time and struggle, he said, noting that the United States did not achieve democracy until well after the Civil War. "We hope it will be a peaceful process after what we call the liberation," he said.
Kamber said his meetings last month with U.S. officials convinced him that Americans sincerely want Iraq to be liberated. And he said American help will be needed for some time.
"It's very important for the Americans to be there until Iraq can establish a democratic government and conduct its own affairs," he said.
Kamber is Christian and an Assyrian, an Iraqi ethnic group also known as Chaldeans or Syriacs. More than 75 percent of Iraq's 24 million people are Arab, more than 15 percent are Kurdish and 5 percent are Assyrian, Turkoman or another ethnic group, according to the CIA World Factbook 2002. More than 60 percent are Shiite Muslim, more than 32 percent are Sunni Muslim and 3 percent are Christian or another religion.
Iraq's future government may require a loose federal system to deal with that diversity, Kamber said. For example, the Kurds may end up running their own affairs in northern Iraq, while members of the Iraqi royal family may be invited back from exile to lead a central government, he said.
Rumsfeld has proposed to President Bush that an interim Iraqi authority composed of exiled leaders be quickly installed in the southern part of the country now largely under U.S. control, the Washington Post reported Friday.
Kamber said Iraqis should choose their own government.
"The future political system is the sole responsibility of the Iraqi people," he said. "As long as it is a constitutional country that recognizes the rights of all minorities."
Kamber has worked with the Iraqi opposition for many years, but he was never a political prisoner. He left Iraq in 1979 and worked in London and Kansas before he came to WMU in 1989.

KAMBER: PROFESSOR AIDS RECONSTRUCTION OF IRAQI GOVERNMENT
Courtesy of Western Herald (9 April); Heather McLain
(ZNDA: Kalamazoo) One Iraqi-born Western Michigan University professor and member of the Iraqi National Congress (INC) is collaborating with members of the Bush administration to plan for a new Iraqi government, as American forces work to tear down Saddam Hussein's regime.
Emanuel Kamber, WMU physics professor, said the Bush administration would like to have a unified, democratic and sectarian government in Iraq. He has been helping the U.S. government plan for rebuilding Iraq since June 2002.
Kamber is involved with the "Future of Iraq Project" and was part of a group that met with Vice President Dick Cheney, National Security Adviser Condoleezza Rice and Secretary of Defense Donald Rumsfeld on March 6 at the White House in Washington, D.C.
Kamber said the group wanted to ensure that coalition forces would minimize civilian casualties and avoid causing excessive damage to the country's infrastructure. However, he said he strongly supports the war effort as an attempt to liberate the Iraqi people from Saddam Hussein.
"Americans are there to build a better Iraq," Kamber said.
Kamber has been involved in efforts to free Iraq for years. He left the country in 1979 to complete his master's degree and Ph.D. in the United Kingdom, and came to the United States in 1985. Before leaving Iraq, he was involved in underground efforts by students and academics to spread democracy to the Iraqi people.
Kamber is the deputy chair of the central council of the INC, which last met in July of 2000. He said he is frequently in touch with members of the group, and that the leader of the INC is currently in Nasaria working with Iraqi freedom fighters. He estimated that there are currently 700 to 1,000 free Iraqis joining American forces fighting Hussein in Iraq. Recently the INC has been talking to Iraqi citizens about how a transitional or interim government may work once the war is over, he said. The question of who will lead the new government is still under discussion.
"We would like to see a transitional government for a short time," Kamber said, estimating that this might last between six months and two years. Although he said it is uncertain exactly what this government will look like, he said he expects U.S. involvement until Iraq establishes a stable government.
Kamber said Iraqis should first work on building a civil society based on the principles of democracy, human rights and the rule of law. He hopes Iraq will eventually build a government that holds democratic elections. He added that Iraqis will eventually need to write a new constitution.
Once the war is over, Kamber said he plans to participate in the process of rebuilding Iraq, perhaps in an advisory position. He said that unlike countries such as Afghanistan, Iraq has many things in its favor when it comes to rebuilding. There are many universities in Iraq, the population is well educated and the country has a good infrastructure to build from, he said.
Iraqi-born people all over the world will want to be involved in the rebuilding process once the war is over, Kamber said. There are already Iraqi professionals in neighboring Jordan who plan to go to Basra, and many human rights groups want to participate as well, he said. "We hope this government will be multi-ethnic and based on rule of law," Kamber said.
Kamber, an Assyrian Christian -- an Iraqi ethnic group that he said comprises 7-8 percent of the Iraqi population -- is hopeful that the future of Iraq is looking up. Iraq is rich in culture, and before Hussein took power the country's diverse religious and ethnic population thrived, he said.
"Iraqis have been working together and living in peace for centuries," he said.