FINAL STATEMENT OF IRAQI OPPOSITION MEETING IN NASIRIYAH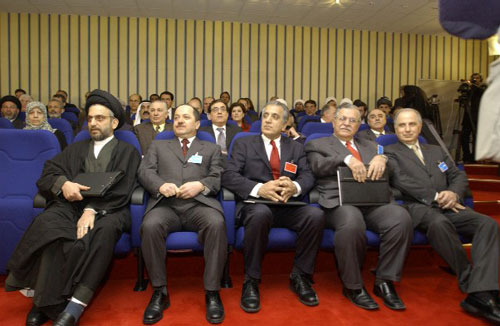 (ZNDA: Ur) Iraqi leaders opposed to former Iraqi President Saddam Hussein convened last Tuesday in the ancient southern Mesopotamian city of Ur - the first of several U.S.- sponsored meetings on the nation's future. Following is a 13-point statement released by the U.S. Central Command about the proposed new Iraqi government and future meetings:
1. Iraq must be democratic.
2. The future government of Iraq should not be based on communal identity.
3. The future government of Iraq should be organized as a democratic federal system, but on the basis of countrywide consultation.
4. The rule of law must be paramount.
5. Iraq must be built on respect for diversity including respect for the role of women.
6. The meeting discusses the role of religion in state and society.
7. The meeting discussed the principle that Iraqis must choose their leaders, not have them imposed from outside.
8. Political violence must be rejected, and that Iraqis must immediately organize themselves for the task of reconstruction at both the local and national levels.
9. Iraqis and the coalition must work together to tackle the immediate issues of restoring security and basic services.
10. The Baath party must be dissolved and its effects on society must be eliminated.
11. There should be an open dialogue with all national political groups to bring them into the process.
12. The meeting condemns the looting that has taken place and the destruction of documents.
13. The Iraqi participation in the [Ur] meeting voted that there should be another meeting in 10 days in a location to be determined with additional Iraqi participants and to discuss procedures for developing an Iraqi interim authority.

ZOWAA OPENS OFFICES IN BAGHDAD
(ZNDA: Baghdad) The Assyrian Democratic Movement (Zowaa) has opened two offices in Baghdad in the quarters of Zayoona and Dora, according to a report from the ADM Information Office in North Iraq.
Reports from Baghdad and Northern Iraq indicate that the Assyrian people have been visiting at the ADM offices in Kirkuk, Mosul and Baghdad.

SIX ASSYRIANS APPOINTED TO KIRKUK CITY COUNCIL
(ZNDA: Kirkuk) On 17 April the Kirkuk City Council comprised of 24 members was appointed to oversee the local civic authority during the post-Saddam transition period.
The 24 individuals represent four main ethnic populations of the oil-city of Kirkuk: Arabs, Kurds, Assyrians and Turkomen.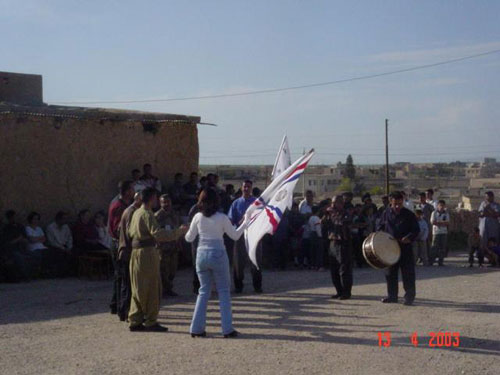 The Six Assyrian representatives are:
1. Dr. Emil Nasir Azo
2. Mr. Sabah Nasir Hindi (Raabie)
3. Mr. Edward Oraham Odisho (Raabie)
4. Mr. Sargon Lazar Sliwa (Engineer)
5. Mr. Ashour Yalda (Attorney)
6. Mr. Issac Poulus Mansour (Raabie)
The council has since established many sub-committees to oversee Kirkuk's various service groups. The first of such is the Security Sub-committee, in which two members from each ethnic group are reperesented. The Assyrian representation is headed by Colonel Wa'el, an engineer; and Captain Ezaria, an attorney.


BODY OF ASSYRIAN BOY FOUND IN NORTH IRAQ
(ZNDA: Arbil) On 18 April, the body of Julian Afram Yacoub, 13, a 7th-grade-student, was found in Ba'sheeqa in North Iraq. Shortly afterwards a suspect was found with bloodied clothes, and arrested on charges of murder. The body was found in a location where a year ago a Yezidi man was also found dead.

IRAQI CHRISTIANS WORRY ABOUT SHIITE SURGE
Courtesy of the Associated Press; by Charles J. Hanley
(ZNDA: Baghdad) Christians crowded into churches across Iraq on Sunday to celebrate Easter, the feast of new beginnings, nervous over what the new Iraq has in store for their resilient but dwindling minority in an overwhelmingly Muslim land.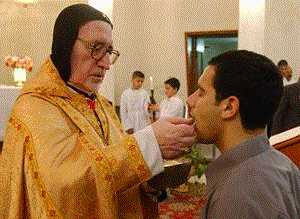 An Iraqi man takes communion from a bishop during the Easter mass at the Lady of Salvation Church for Assyrian Catholics, in Baghdad, Iraq, on Sunday. Some of Iraq's minority Christians say they may face uncertain times if Islamic fundamentalist gain political power in the wake of the fall of Saddam Hussein.(AP Photo/Hussein Malla)
A longtime bishop of Baghdad used the occasion to ask that President Bush help introduce an Iraqi constitution that treats Christians the same as Muslims.
At Baghdad's Sacred Heart Church, meanwhile, the Chaldean Catholic pastor told a congregation overflowing out the doors that re-establishing law and order was everyone's first concern.
"Jesus rose from the dead saying, `I give you peace'," the Rev. Basic Shamoun said. "We're in a time when we need peace."
But in the courtyard outside, parishioners spoke frankly of a deeper worry, that the U.S. promise of democracy to replace Saddam Hussein's dictatorship might lead to rule by Iraq's poor, downtrodden Shiite Muslims, a majority whose fundamentalists are prone to religious intolerance. Saddam's regime was dominated by Sunni Muslims.
"If they come to power, we'll leave the country," electrician Jacob Koda, 51, said of the Shiites.
"They're brainwashed with religious ideas. To them, Christians are bad people," said pharmacist Noel Kadu, 51.
Christians, most of them Chaldean Catholics, total 700,000 in Iraq, about 5 percent of the population. Although they have generally coexisted peacefully with their Muslim neighbors over the centuries, they also have been persecuted at times, and many have emigrated to the United States and Europe.
As recently as the 1960s, before Saddam's Baath Party came to power, many prominent Christians were imprisoned. Under the Baath, Christian schools were nationalized, official discrimination was perpetuated in marriage rules, requiring Christians to convert to Islam in order to marry Muslims, and unofficial discrimination persisted in hiring, job promotion and other areas.
In northern Iraq, Muslim mobs are reported to have attacked Assyrian Catholics several times in recent years, according to U.S. State Department human rights reports.
In the southern city of Basra on Sunday, sunlight filtered through the stained glass panels of St. Therese Catholic Church as Archbishop Gabriel Kassab led parishioners in a prayer to remember war victims. "We must not forget those who have died," he said, waving a gold cross in one hand.
About 500 people crowded into well-worn wooden pews, voices raised in prayer and song during a three-hour service. Though Basra is a Shiite Muslim stronghold, it also has a sizable Christian community.
"There's nothing nicer than peace," said Boushra Thomas, 46, as she waved a lace fan to cut through the morning's heat. "We could not come to church during the war because there was so much shelling and bombing. Danger was everywhere. Now we can come anytime we like."
"As Iraqis we have to be united more than ever during this Easter," said the Rev. Emmanuel Delly, freshly retired after 40 years as Baghdad's Chaldean bishop.
But Delly, in an interview, said a top priority now must be to recover confiscated Christian schools and associated property - some 30 schools in Baghdad alone - and establish equal rights for Christians in a new constitution.
"We can't meet Mr. Bush. But please tell Mr. Bush, `I am asking you in the name of all bishops to give us a good constitution," Delly said.
An Iraqi constituent assembly, chosen through a still-unannounced process, is expected to adopt a new constitution by next year.
Arriving for mass at Sacred Heart Church, black-clad Nahida Issa, 54, talked nervously of recent protests by young Shiites in Baghdad's streets demanding that U.S. troops pull out. "They've done a lot of the looting, you know," she said. "They might grow frenzied."
Another woman, with her husband and four children, said she heard about the new Shiite activism, now that the repressive, Sunni Muslim-dominated regime has fallen. "I'm worried," said Ahlam Abed, 47. "The fundamentalists are forming political parties."
At a nearby convent, Sister Philip Kirma, general superior of a tiny international order of Chaldean nuns, the Daughters of Mary Immaculate, threw up her hands when asked about the Christians' future: "We don't know what our destiny will be."
The 53-year-old nun learned just two days earlier that a beloved Muslim guard at another of her convents, a young father, was killed when someone picked up a U.S. "bomblet"- a canister-size piece of a cluster bomb.
As with many others, for her it wasn't a joyful Easter.
"In Mass today, I cried the whole time," she said. "All the miseries of the Iraqi people came to me ... all the thousands and thousands lost, fathers and mothers and brothers and sisters."

IRAQI CHRISTIANS PRAY FOR PEACE AS GUNFIRE RINGS OUT
Courtesy of the Daily Telegraph (19 April); by David Blair
(ZNDA: Baghdad) The sound of gunfire accompanied a sermon on war and hymns blended with the whirring of generators yesterday as Baghdad's Christians attended Good Friday services.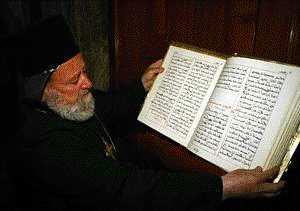 Father Adda, an Assyrian Orthodox Christian, prepares for Palm Sunday at his ancient monastery on Mount Maqloub, just outside the northern Iraqi city of Mosul. The monastery was built in 363 A.D. and its renovation was funded by ousted Iraqi leader Saddam Hussein, whose regime tolerated other religious groups. The Orthodox church will celebrate Easter one week after other strands of Christianity. Reuters/Nikola Solic
Iraq's Christian community, numbering about one million, has survived countless storms over the centuries. Yesterday they gave thanks for surviving the latest ordeal.
Inside the cool, whitewashed nave of the Syrian Catholic Cathedral of Our Lady of the Deliverance more than 600 people gathered in prayer. Veiled women held the hands of smartly dressed children. Elderly men in pinstriped suits, wreathed in clouds of incense, gazed into the blue dome above the Cathedral's altar, ringed by eight marble pillars. Every one of the heavy wooden pews was crowded and the congregation spilled over into the cathedral's entrance.
They listened as Matti Shaba Matoka, the Syrian Catholic Archbishop of Baghdad, called on God to "save the Iraqi people from all of this war". The congregation sang every hymn and recited the Creed in Aramaic, the language of Christ. The Lord's Prayer was said in Arabic. Yet the entire service was conducted against the cacophonous background noise provided by the cathedral's generator, switched on to power the fans and ward off the day's heat. Nine days after the American troops captured Baghdad, most of the capital is still without electricity.
Looting continues, although at a much reduced level, and gunfire was faintly audible during the service. Afterwards, Archbishop Matoka described the Good Friday of 2003 as " special for us, because of the war". "During one month, not yet finished, we didn't know what the future would bring," he said. "We pray that our country will see a future better than the past. We want peace. Peace, that is all we ask for." Among the congregation were people who lost friends and relatives during the war. Noor Henry, 17, narrowly escaped death when a bomb killed her neighbour and destroyed his home in the Baghdad suburb of al-Daura. Her school has been closed for a month and there is no sign of it re-opening.
"Things will not be the same again, she said. "I want to go abroad. Iraq is finished for me."

FOR IRAQ'S CHRISTIANS, EASTER IS MARKED BY SORROW, DREAD
Courtesy of the Washington Post (21 April); by Carol Morello
(ZNDA: Baghdad) In all his 57 years, Samir Ahad had never experienced an Easter Sunday so filled with sorrow, hopelessness and dread as this one.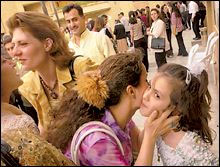 Chaldean Catholics exited the Virgin Mary Church in Baghdad Saturday after celebrating Mass. It was held in the afternoon instead of at midnight due to security concerns.
ANDY NELSON – STAFF
At every turn was a reminder of the war that left lives in shambles and usurped a government that had cosseted Iraq's small Christian minority. Parishioners arrived today at the Evangelical Protestant Church, where Ahad is the secretary, in cars pockmarked by shrapnel. The absence of the chocolates, colored eggs and new clothes that usually mark Easter services at the Presbyterian church underscored the poverty of the parishioners. The Italian organ donated by ousted president Saddam Hussein sat silent, for lack of $2,000 to repair it.
Under a gloomy sky, nobody could muster even a perfunctory "Happy Easter" greeting. Instead, many wept through the sermon on a day meant to celebrate resurrection.
"This is a sad Easter," said Ahad, sipping tea in the church office where ceiling fans rotated lazily under a generator's power. "We have suffered, not only from Saddam but from pollution of the air and the water, from having no jobs and no income. And in my mind I keep seeing my son carrying a Kalashnikov to protect the church from looters. I didn't want this for him. We are all afraid, for today and for the future."
A smothering blanket of loss and worry stripped joy from Easter services at churches in this city, where the promise of rebirth seems a distant dream. Even those who managed a show of cheer upon seeing old friends acknowledged they didn't feel like smiling -- inside, they said, they were crying.
Like most Iraqis, Christians are reeling from the double blow of the war and the massive looting that ensued. But many Christians are also concerned that the new, free Iraq will be dominated by Islamic parties. Some already predict they will feel less welcome here and are considering leaving the country. At the same time, many of the nation's Christian leaders say they are relieved to be rid of the despotic leadership of Hussein and his Baath Party followers.
During his 24-year reign, a symbiotic relationship existed between the government, which was dominated by Sunni Muslims, and the Christian minority of less than 1 million out of 24 million Iraqis. One of the founders of the Iraqi Baath Party was a Syrian Christian, Michel Aflaq, who later converted to Islam. Christians held prominent positions in the government, including that of the deputy prime minister, Tariq Aziz. Hussein hired a Christian nanny when his two sons, Uday and Qusay, were young, and retained several Christian bodyguards and aides.
Many Iraqi churches had a benefactor in the government. It gave land on which to build churches and sometimes paid for their construction. Their water and electricity were free. About a decade ago, Hussein gave every major church in the country a new organ.
The largesse went beyond material goods. According to religious leaders, government-controlled newspapers were prohibited from publishing anything derogatory about Christians. In return, Hussein counted on their acquiescence, if not outright support. Iraqi television frequently showed Christian leaders warmly greeting him, shaking his hand and praising his leadership.
"Saddam loved Christians," said Ikram Mehanni, the minister of the Evangelical Protestant Church. "He didn't abuse our religion. To the contrary, he gave us money."
Asked why Hussein was so generous, Mehanni replied, "Christians didn't give problems to the government."
Now that is all over, and many Christians worry about what comes next.
"Christians are afraid of the new government, and what it will do with us," said Wisal Kotta, as she left Easter services at Our Lady of Rescue, a Syrian Catholic church. "There may be many political parties, religious parties."
The concern is not limited to Christians. A tiny number of Iraqi Jews still live in Baghdad, which before the creation of Israel in 1948 had about 60,000 Jews.
A knock at the heavy metal door in a wall about 15 feet high around the city's only functioning synagogue was answered by a Muslim watchman. He said it was forbidden for anyone to enter. Services were held every Saturday until about two months ago, he said. But the Jews who live in the area either fled to other parts of the city before the war or went abroad, he said. He did not know how to contact them.
To a degree, the concern is as much about the perils and sorrows of the present, as about dread of the future.
"Of course we are sad," said Jusef Waad, an agricultural engineer attending Easter services at the Syrian Catholic church with his wife and two teenage daughters. "We have no security. We have no electricity or water. We have no jobs. Everything is gone. There is no Easter this year. This smile on my face is false. It is only there so I can carry on with life and do my religious duty. But inside ourselves, we are still afraid."
At the nearby Armenian Catholic church, Vicar Antoine Atamian kissed the cheeks of hundreds of parishioners after Easter services. Many people in the church knew someone who had died, he said. Among the dead was one of his two drivers, who apparently was killed in crossfire during the war. During the worst of the bombardment, he said, hundreds of Iraqis, among them Kurds and Muslims, sought shelter in the church's underground meeting hall.
Atamian said he feels "betrayed" by Hussein, who he believes fled the city rather than stay to the death as he had vowed. But before the war, Atamian felt gratitude and even affection for the president.
"He was a dictator," said Atamian, pulling out a letter of appointment as vicar signed by Hussein. "The Shia were afraid. They couldn't move. But he respected us as religious men."
Atamian said the Iraqi president never failed to dispatch greetings and gifts on religious holidays. "For Christmas and Easter, he sent greeting cards and a big box of dates and gifts," said Atamian, sitting behind a large desk in his office, which was furnished with red velvet sofas. "Very high officials, directly from the presidential palace, would come and ask us if we needed anything. I believed Saddam Hussein was a nationalist. We used to be beside him. I had many meetings with him. We used to express our feelings and love to him. Now, we are changed. He talked about staying with us, to the last bullet. He was on TV. 'Live or die with pride,' he said. But we heard he left the city."
Atamian said he does not fear Christians will be ostracized or made to feel uncomfortable by the Muslim majority.
"We don't have any problems between Christians and Muslims," he said. "Everyone knows that in every country, Christians are loyal citizens."
Not everyone shares his feelings.
At Evangelical Protestant Church, a widowed parishioner said he was preparing to leave Iraq, hoping to provide his grown son with a better future.
"It's going to be like Iran," warned the parishioner. "Even Christians will have to wear head scarves. There will be no alcohol. No dancing. All Christians are afraid now."

IRAQI CHRISTIANS WARY OF ISLAMISTS
Courtesy of the Christian Science Monitor (22 April); by Peter Ford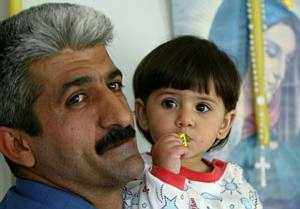 (ZNDA: Baghdad) Iraqi Christians, feeling vulnerable in the wave of lawlessness that has swept this city, celebrated Easter Sunday with a special sense of joy and gratitude that the war, and the looting that followed the fighting, are over.
But their happiness was tinged with foreboding for their future, with some voicing fears that Islamic fundamentalists could win power in the new Iraq and stifle their religious freedom.
"This Easter has a special taste," said Vaghinak Vahanian, a leader of the Armenian orthodox church. "People are coming out, breathing, laughing, and seeing each other. It's a good sign."
But other Christians were less sanguine. "We are afraid that the fanatics could do something bad, especially among our Muslim brothers," says Bishop Ishlemon Wardouni, head of the Chaldean Catholic church. "We have a long history of persecutions here," dating back to Genghis Khan and earlier.
Keeping a low profile
The power vacuum that has left Iraq without any authority since Saddam Hussein's regime fell 10 days ago is unnerving local Christians, who make up about 3 percent of the population and tend to be better educated and more prosperous than their Muslim neighbors. The prospect of sectarian religious violence is especially frightening to them.
So they are keeping a low profile. The Chaldeans, members of a church founded by St. Thomas in the first century, celebrated their traditional midnight mass on Saturday afternoon, so as to be home by nightfall.
The Armenian Orthodox archbishop chose to hold his service not in the main Armenian church downtown, an area still infested with thieves, but in a quieter outlying district of Baghdad.
The soaring voices of the Armenian choir filled the ochre brick church Sunday morning as the congregation, dressed in Sunday best, overflowed onto the parched lawn outside. Worshippers who had not seen each other since the war began hugged and kissed one another, relieved to know they were safe.
The evening before, Chaldean Bishop Shlimon Wardouni had preached a sermon of caution. "I told people to be especially reasonable and wise, because this time is very difficult," he said after the Mass. "I asked them not to spread rumors, but to speak constructive words."
Muslims and Christians have lived peacefully side by side in Iraq for many years, Bishop Wardouni points out. "We must cooperate in love and unity for the good of our people," he says.
But he is alarmed. Shiite Muslims in his neighborhood, who he says are followers of the late Ayatollah Khomeini, have said they want to convert a building next to his church - formerly belonging to the ruling Baath Party - into a mosque.
"If this sort of thing happens, maybe later there could be problems," Wardouni worries. "We have heard their slogans, 'No Saddam, No Bush, Yes to an Islamic State.' "
Christians here say they enjoyed as many rights and freedoms as any other Iraqi under Saddam Hussein, who made one of their number, Tariq Aziz, an influential deputy prime minister.
"We enjoyed total religious freedom and there was no religious discrimination" against Christians, said Armenian Archbishop Avak Asadourian.
The current sense of uncertainty about their future that most Iraqis feel today, however, means that "anything could happen now," says Sarmed Hazem, a pharmacist who teaches Sunday school at the Chaldean church.
"We want to stay, we don't want to emigrate, we just want to be free and safe," he adds.
There are 650,000 Christians in Iraq, most Chaldeans but also Syrian, Latin, and Armenian Catholics, and members of a variety of Orthodox sects. Their numbers have fallen from more than a million during the past 20 years, as emigration has taken its toll.
"We are few, and they [Muslims] are more than us," says Raad Rassam, a commercial translator who wears a pearl crucifix on a gold necklace. "I don't know what to expect, but in these days we fear many people from the outside."
American marines and soldiers, to whom most Iraqis had looked for security, are present in only a few neighborhoods of Baghdad. In other parts of the city, armed Shiite Muslim militiamen have taken upon themselves the duty of preserving public order.
"We are very afraid that the Americans will withdraw from the cities and leave them in the hands of those people," says Kevorg Zeretzian, an Armenian tire merchant in Baghdad's souk. "That would be very dangerous."
Anxious for dialogue
Christian leaders say they are anxious to talk to their Muslim counterparts, to establish a dialogue that could help ensure their future. "In this time we have no contacts, but I will try to do something because we cannot stay like this," says Wardouni.
In the back of his mind, he explains, is the fate of Chaldean Christians in Turkey. There, a once-vibrant community has been reduced by governmental pressure over the past 80 years to 150 families led by a bishop who is forbidden to wear a cassock or crucifix in public.
But Wardouni says he has grounds for hope of peaceful coexistence between Iraq's various religious groups.
In the corner of his church courtyard, for example, a shrine to the Virgin Mary attracts a handful of Muslim supplicants every day, seeking divine intercession.
"I think Iraqi people are smart and studious enough" to avoid sectarian conflict, says Archbishop Asadourian. "There will be some difficult times, but I have belief in the Iraqi people and their ability to overcome them."


IRAQI CHRISTIANS FEAR FOR FUTURE
Courtesy of Zenit News Agency (20 April)
(ZNDA: Baghdad) Iraqi Christians are worried about the state of their country, given the general disorder and the fear of a rising Muslim fundamentalism.
"The concept of freedom as a right does not exist here," explained Catholic Latin-rite Archbishop Jean Benjamin Sleiman of Baghdad. "Also the concept of laicism, often applied to this country, must be understood with caution."
"If the influence and pressure of extremist groups, which are regaining their vigor, increases in the future, I don't know what kind of future can be envisioned," he said.
According to Archbishop Sleiman, in the Arab world the concept of laicism is different from that of the West, as Arabs are used to a close relation between religion, society and the state.
"I certainly don't see a democratic prospect being close," he added, expressing the general feeling of 800,000 Christians in the country, who nevertheless express satisfaction over the fall of Saddam Hussein's regime.
Among the Church agencies coping in the postwar era is the House of Love. The small orphanage at 52 Al Wada Street, run by four nuns of the Missionaries of Charity, looks after 22 children with mental disabilities and physical malformations.
Sister Carol explained: "During the war, the children understood that things were not going well. During the bombings we told them that it was a bad storm. Some of them asked us to let them see the rain."
Over the three weeks of the war, churches were open to shelter all those in need, regardless of religion. Once the bombings were over, they all went home.
There is only one hospital in Baghdad, St. Raphael's, which has not been the object of lootings, perhaps because it had two armed guards -- or because of the Franciscan nuns there who inspire respect.
When the bombings were over, they asked the Americans to guard the clinic.
"We lack nothing," said Sister Maryanne Pierre, who is in charge of the hospital's administration. "We have medicines, food, water. We are only worried about the generator of electric energy. We have only one and it is working a lot."
"During the war, we were especially worried about the maternity department," she said. "The fear caused many women to have premature births; 350 babies were born in two weeks."
The women arrived, gave birth, and returned home after two hours, as they refused to be away from the rest of their families, the nun explained.
Archbishop Sleiman said: "On one hand, Christians did not want the bombs to fall on them, but on the other, they wanted a change."
Warned Sister Maryanne: "For a Muslim, the American soldiers are Christians and the conflict is seen as a war against Islam."

BAGHDAD CHRISTIANS PRAY FOR PEACE ON GOOD FRIDAY
Courtesy of Reuters (17 April); Edmund Blair
(ZNDA: Baghdad) Iraqi Christians marked Good Friday with prayers for a resurrection of peace and normality in the war-torn country where they enjoyed relative religious freedom under Saddam Hussein's secular rule.
"We are praying that the Lord helps us. We need peace and security for Iraq. We pray everyday that the Lord protects our homes, our people and our country," said 53-year-old Edward Fransu Abu Ramir after a protestant church
service in Baghdad.
"We don't have electricity and water. We don't have the basics for living. We still don't have stability," he said, standing near a small church garden where roses were in bloom -- - a rare area of tranquility in the war-torn
country.
Baghdad's streets were busy on Friday as Christians marked the suffering and death of Jesus. But many shops remain closed for lack of power, many buildings have been ransacked by looters or are blackened by fire and water
supplies are still disrupted.
So far, churches -- like mosques -- appear to be off limits to looters and there are no signs that Christians were deliberately targeted in the chaos that engulfed Baghdad after U.S. troops arrived.
But many Christians worry that the collapse of Saddam's government and the advent of democracy in a Muslim majority nation could spell an end to the relative religious freedom they enjoyed under the secular Baath Party.
Some fear a backlash from those who considered them allies of Saddam.
"We hope that the Lord will answer our prayers and return the situation to normal," said 34-year-old Saad Behnam, holding his 10-month-old daughter.
Roots in Mesopotamia
Iraq's Christians say their roots go back to the first century when the apostle Thomas evangelized Iraq, then Mesopotamia.
But today, there are only an estimated 700,000 Christians in a country of some 26 million people, most of whom are Muslim.
Ishlemon Warduni, Chaldean auxiliary bishop, said Christians accounted for roughly 400,000 of the five million people in Baghdad, most of them Chaldeans -- an old Catholic sect that originated in Iraq.
But there are many other denominations, including protestants.
Some denominations celebrate Good Friday, followed on Sunday by what Christians believe was the resurrection of Jesus, on different days of the year.
Warduni said many thousands of Christians left the country in recent decades as war and sanctions battered the economy.
"Today, especially, our prayer is to pray for peace... because I think our war is not finished yet," he said, adding that Pope John Paul II had called for such prayers on Good Friday.
Prayers For the Dead
Warduni, who was due to minister at a church service later in the day, said he would also be praying for all those killed, including Iraqi, U.S. and British soldiers.
"They (the people) are happy at the change of regime, the bad regime, but they are sad because until now nothing has been done -- only destruction, killing and trouble until now."
He was voicing the sentiments of many Iraqis, who have welcomed the end of Saddam's harsh rule, but are baffled that the U.S.-led invaders have still not put any form of government in place to restore full order and services.
In the protestant church, 32-year-old Bashar Francis Josef was praying to see his wife and two children, now in the Netherlands. They fled five years ago as conditions deteriorated in Iraq. He has not seen them since.
Like many others, he has not even been able to speak to them by telephone recently because the national network has broken down.
"God willing, I will see them. Maybe the situation will get better and I can go to see them. It would be even better if they could come back," he said.