THE AMSTERDAM DECLERATION
(ZNDA: Amsterdam) On Sunday, a declaration of the Amsterdam Conference was adopted unanimously by the attendees of the first All-Assyrian political conference in the post-Saddam era. The following is the full text of this declaration: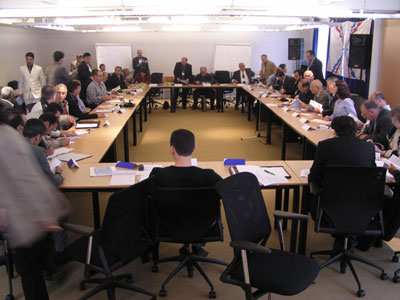 This declaration by delegates working for national unity in regard to our people in Iraq was adopted unanimously at a conference held in Driebergen, The Netherlands on April 2003. In attendance at the conference called and hosted by the Assyrian Universal Alliance (AUA), were observer activists, government dignitaries involved in the Assyrian Question, and the undersigned political parties, organizations, and federations. The Assyrian Nation is comprised of Assyrians, Chaldeans, Syriacs … The declaration points adopted are:
1. That we support the integrity of an undivided Iraq.
2. That the Iraqi Government must be democratic and secular.
3. That the constitution recognizes equally all Iraqi citizens.
4. That Assyrians receive all ethnic and religious rights (The terms ethnic minorities or religious minorities must be interpreted to have the same meaning in all languages).
5. That Assyrians be acknowledged as the indigenous people of Iraq.
6. That all living Assyrians who left Iraq be granted dual citizenship, thereby allowing a fair representation.
7. That Assyrians in any Iraqi government where autonomy is declared for any group or where a federal government established, then the Assyrians must be provided autonomy or given a state named Assyria accordingly. (See map).
8. That Assyrians must be able to freely exercise their customs, traditions, language and religion.
9. That Assyrians be entitled to representation at all levels of Government.
10. That the homes and lands of Assyrians illegally removed be returned to all including those at home and abroad.
11. That any constitution for Iraq must include a bill of rights for all citizens.
12. That the statement of basic principles adopted at Ankara on March 19, 2003 by the governments of the United States and Turkey and by the Iraqi opposition groups be included in the interim Iraqi regime and any subsequent government.
13. That all Assyrians have the right and are entitled to resettle in their ancestral homeland, Iraq.
14. That we Assyrians support the inclusion of the Yezidis in our Assyrian nation.
Adopted unanimously on April 27, 2003
Driebergen, The Netherlands
[Z-info: For photos and more information on this conference visit: http://www.furkono.com/modules.php?name=News&file=article&sid=72&mode=nested ]

IRAQIS, ASSYRIANS MEET WITH PRESIDENT BUSH IN MICHIGAN
(ZNDA: Detroit) Seventeen Iraqi-Americans from different ethnic and religious groups met with President Bush on 28 April at the Ford Community and Performing Arts Center in Dearborn, Michigan. Among these were Prof. Emanuel Kamber and Mrs. Jenny Golani- both from Michigan.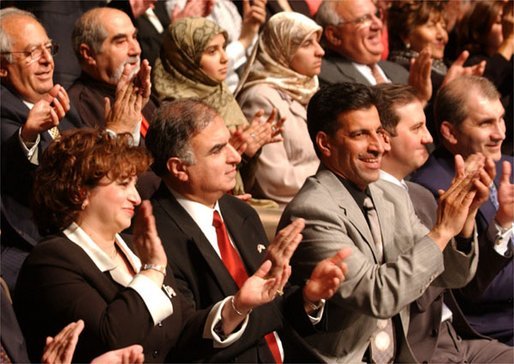 Amid screams of support, President George W. Bush addressed Iraqi-Americans and the nation, saying "The days of repression from any source are over. Iraq will be democratic."
Dearborn has the largest Arab-American community in the nation (over 200,000) and is home to the first Islamic mosque in the U.S.
In a brief message, Prof. Emanuel Kamber stated: "Sir, I am an Assyrian, Assyrian is also known as Chaldean and Syriac." He then went on to say: "Mr. President I would like to thank you for your commitments, your leadership and magnificent work in liberating the people of Iraq from the evil regime of Saddam and opening a new chapter in the history of modern Iraq. Since the liberation of Iraq started few weeks ago, much attention has been devoted to the demands and expectations of the Iraq's Shia, Kurds, and Turkomen. But little has been said about Iraq's Christians. The majority are the Assyrian-Chaldean-Syriacs. They have to be taken into consideration and we have to consult with them about a vision of post-Saddam Iraq. Assyrian-Chaldean-Syriac people of Iraq would hope and support the establishment of a unified, democratic, secular, pluralistic and parliamentarian government in Iraq that will guarantee human rights and equality for all citizens, irrespective of their ethnic background and religion: an Iraq that's multiethnic and based on the rule of law: an Iraq that enjoys full sovereignty and territorial integrity. Thank you again for this opportunity".

At the end of the meeting, Prof. Kamber presented Ari Fleischer, the White House Spokesperson, with a letter to be delivered to President Bush concerning the Assyrian position.
In her two-minute speech, Mrs. Jenny Golani of the Assyrian American National Federation stated: ""Mr. President, it is an honor and a privilege to be here with you. As a young girl who witnessed Saddam's agents in my home three times right here in Michigan handing over blank checks to my father if he would only pledge his allegiance to Saddam and his Baath Party, I am proud that because he denounced Saddam back then, I am able to celebrate freedom today.
I am Assyrian. We are the indigenous Christian people of Mesopotamia. We are the original inhabitants of today's Iraq, having established mankind's first civilization over 7000 years ago, and everyone else has been our guests. We have contributed greatly to modern civilization and therefore our people are very industrious and will be great assets in the rebuilding of Iraq, not only the men but also the women."
Ms. Golani then went on to say: "A secular democratic and constitutionally protected right environment will induce our people to be extremely productive as they have been all over the world in free lands. It is important that if there are going to be regions distributed to ethnic groups then our people should be recognized as such and treated equally in the distribution. Our museums should be restored and resurrected since they belong in part to our ancestral artifacts and world history. This is the history that we teach our children and it belongs to them….The security of our Assyrian people is very important. We must do all we can to protect them. Self-determination must be granted. We should be treated equally and recognized in the new constitution, not as a token but as a right. The contracts that are to be granted for the rebuilding of Iraq should be going to minority groups and we should be part of that group.
Mrs. Golani ended her speech by saying: "Last but not the least, Mr. president, I have with me a picture to give to you of two U.S. soldiers who are praying in an Assyrian church in Iraq. This Mr. president is freedom.
Thank you and God bless the USA."
Hanny Choulagh, a Chaldean electrical engineer for the city of Detroit and the president of his union, said he would have liked for Bush to have included Chaldeans in his discussions. But Choulagh said this was outweighed by his joy at Saddam Hussein's deposition.

CHALDEAN GROUPS PREPARE TO DELIVER FOOD, MESSAGE TO IRAQ
Courtesy of the Associated Press (29 April)
(ZNDA: Detroit) With the demise of Saddam Hussein's government, Christian churches across Michigan are gearing up to send help to Iraq.
Most of the religious groups emphasize their goal is to help the Iraqis, not convert them. But missionaries are often part of the aid package.
"A hungry man needs bread first," said Deacon Farrukh Khan, Michigan area director of the People of the Book Lutheran Outreach. People of the Book is the Koranic term for Christians and Jews.
"We aren't going there with hidden motives," Khan told The Detroit News for a Tuesday story. "It's not based on helping them so they can become Christians, but to help them because they are humans. We don't want them to feel that their new freedom has no food in it."
The local churches plans straddle denominations, and follow smaller-scale Christian relief for Afghanistan after the U.S. defeat of Islamic Taliban rulers there.
Locally, the Lutheran World Relief program will send at least three missionaries to Iraq. And Archdiocese of Detroit Catholic churches have raised $3,000 for food and medical supplies as part of Catholic Relief Services, said Carol Hofer, coordinator for international and social action for the archdiocese.
The five Chaldean Catholic Churches of America in Southfield, Detroit, West Bloomfield, Oak Park and Troy began collecting money to help Iraqis on Easter Sunday. They plan to collect money each Sunday from now on to raise $50,000 for food, medicine and other supplies, said Saad Marouf, chairman of the Chaldean Federation of America in Southfield, which is coordinating fund-raising.
Chaldeans are Iraqi Catholics and are considered Iraq's third largest ethnic group behind Arabs and Kurds.
"We are still attached to Iraq," Marouf said. "We are obligated to help in this time of crisis. War is devastation and catastrophe, and many Chaldeans don't have excess food and they are going through emotional and physical trauma."
Conditions were dire in Iraq even before the war. It is estimated that 60 percent of people in Iraq depended on donated food, said Myles Fish, president and chief executive officer of International Aid, a non-denominational Christian relief society based in Spring Lake, near Grand Rapids.
Medical supplies are desperately needed. A large number of Iraqis suffer from chronic diseases such as polio, measles, tuberculosis, meningitis and malnutrition. And only two of Baghdad's 19 hospitals have enough equipment to operate, according to International Aid.
The organization has carefully monitored the situation for months.
Last week, the agency shipped a 40-foot semi-truck filled with food and over-the-counter medical supplies to Iraq. The group also sent a portable medical clinic and laboratory unit to Jordan, with plans to send it to Iraq as soon as medical staff can be deployed there.
"We believe that every Iraqi has infinite worth and the world is not against the Iraqi people, but the regime there," said Fish, whose organization sent two missionaries to Iraq in March. "We are trying to communicate that there is more to America than bombs."

ASSYRIAN PRIEST WARNS ABOUT DANGER OF AN ISLAMIC STATE
Courtesy of Zenit News Agency (29 Agency)
(ZNDA: Baghdad) The international media described the recent Shiite pilgrimage to Karbala "as a symbol of victory." But many Iraqi Christians see it differently. They are increasingly concerned about the future of religious freedom in the country.
"The journalists reporting the events did not fully understand the situation and what a demonstration of this sort actually meant," said Father Nizar Semaan, an Assyrian priest of the Diocese of Nineveh.
"We see these events with apprehension, not because we are against freedom of belief and religion which we want as the foundation for the new Iraq, but because we are familiar with the mentality and culture of Shiite Muslims and we know that what they want is a theocratic Iraq founded on Islamic law," Father Semaan explained.
"There is a danger that we Christians may have to choose between remaining in Iraq as second-class citizens deprived of our rights, or leaving this land of our fathers," he added.
"We were sorry to see that while the Shiite gatherings were broadcast far and wide, no media attention was given to Christians in Iraq who at the time were celebrating Easter," the priest said.
"While we were praying for peace and true freedom and democracy, our Shiite Muslim brothers were chanting slogans for an Islamic state and a new war," he noted.
The priest added: "I hope the rest of the world will see the danger and continue to help Iraq become a truly secular and democratic country where all groups are respected."

FOREVER A PRISONER OF UDAY
Courtesy of Time Magazine ( 26 April); by Aparisim Ghosh. Photo by Spencer Platt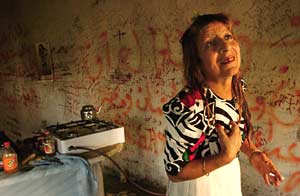 (ZNDA: Baghdad) The walls of Lahib Nouman's home don't just talk, they howl. They scream in terror, shout with rage, moan in pain and sob with frustration. All the emotions overloading this tiny woman's brutalized mind she projects onto the walls of her living room. She scrawls on them with maroon lipstick, ocher spray paint and gray lumps of charcoal, in Arabic and a sprinkling of French. It's the only way she knows to exorcise her mental demons, to preserve what remains of her sanity. "There's so much inside here," she says, slapping violently against the side of her head. "I have to take some of it out and put it down somewhere, or I will burst."
The effort seems to have taken over Nouman's life to the exclusion of everything else. Her small home in Baghdad's working-class al-Ghadeer district is filthy; the rooms are damp and smell of rotting garbage. Her pets, a mangy brown pup and two molting cats, have shed clumps of fur on her bed, an old foam mattress on the living-room floor. There are pieces of stale bread everywhere.
But the squalor doesn't seem to bother Nouman. She has lived in much worse places—a succession of prison cells, torture chambers and mental-hospital wards. Her living room may be fetid, but it is home, and she's free. "Nobody bothers me here. Nobody does bad things to me," she says. "I can say and do and write whatever I want."
Even by Iraqi standards, Nouman, 48, has enjoyed little freedom, at least not since 1985, when she ran afoul of Uday, Saddam Hussein's barbaric eldest son. A criminal lawyer, Nouman had the temerity to defend a man Uday wanted punished for insulting his girlfriend, and Nouman paid for it with nearly two decades' worth of torment. In prison, she endured rape, beatings and unspeakable torture. In the hospital, she was subjected to countless sessions of shock therapy and powerful sedatives. Along the way, her mind became unhinged, her memories scrambled and her face frozen in a mask of permanent terror. "They have turned me into a witch," she says, ruefully pulling at her stringy hair, which she has dyed the color of tea. "They have made me horrible."
Until three weeks ago, Nouman was incarcerated at al-Rashad, Baghdad's main mental hospital. When U.S. forces began taking the city, the staff ran away, enabling inmates to escape. Nouman made straight for her house in al-Ghadeer, and has been holed up there ever since, scrawling furiously on the walls. "This is my work now," she says. "This is what I have to do."
Already she's running out of space. She set out to write the story of her life, but the narrative is lost in a maze of digressions. There are religious motifs—a number of crooked crucifixes (she was raised a Chaldean Catholic) and exhortations to Mary and Allah. There are homages to her favorite mutt, Sandi. There are political slogans calling for solidarity among Iraq, the Arab nations and France, where she was educated. And then there are some doggerel verses that don't always make sense but are apparently designed for self-motivation: In the grave, there are no cowards. I will never give up.
This isn't how Lahib Nouman's life was supposed to turn out. Her father was a wealthy dealer in engineering tools. The Noumans lived in the then tiny district of Saadun and sent their 13 children to the city's best schools, where they learned Arabic, French and English. Lahib's genteel upbringing is clear. She uses demure terms even to describe the depraved treatment she has endured. Her torturers "made pee-pee and ca-ca" on her, she says in English, and they "made love" to her against her will.
Although the Noumans were Assyrians, an ethnic minority suppressed by Saddam's regime, they were careful to toe the official Baath Party line. Lahib joined the party in 1973 and become an enthusiastic apparatchik. She remembers participating in political debates at Baghdad University, arguing forcefully for Baathist principles like secularism and socialism. She remained loyal even after her father blamed the collapse of his business on the government, which took away his exclusive distribution deals with British and American toolmakers.
After completing a law degree, Nouman took a job as a criminal investigator at the Justice Ministry. Later she pursued a doctorate at the Sorbonne. Her studies were cut short in 1985, when she broke a hip in a traffic accident. Back in Baghdad, she began to take on criminal cases, mostly pro bono. That's how she came upon Naadi, a young Egyptian bellhop who had crossed Uday Hussein. Naadi was being held at a police station and being tortured even as Nouman waited to see him. "They were touching his fingers with a live wire, and I could hear his screams in the waiting area," she recalls. "When they finally let me see him, his first words were, 'Please help me to kill myself.'"
Naadi's trouble began when he barred one of Uday's girlfriends from entering the Babylon Hotel, where he worked, because she was drunk. Soon after, he was accused of stealing videotapes out of Uday's house. Nouman persuaded Naadi to let her represent him. The charges were so obviously false that the court threw them out without much argument. But the clock had begun to run down on Nouman's liberty. "My friends told me I had cut my own neck," she says. "But I thought Uday wouldn't dare to touch a lawyer, a respected member of society."
How wrong she was. Barely a month after the Naadi verdict, in a casual conversation with law colleagues, Nouman said the fateful words, "There's no justice in this country." Someone informed the police, and within hours she was arrested for contempt of court. Taken to al-Zafaraniya police station, she was, she says, brutally beaten for several days in a row, raped and had a hot candle forced into her rectum. "I kept telling the police, 'You can't do this to me. I'm a lawyer,'" she says, smiling sadly at her own naiveté. "They said, 'Once you become an enemy of Uday, you are nothing.'"
After a week of near constant torture, Nouman recounts, she was taken to al-Rashad hospital on the outskirts of the city. There she had the first of countless sessions of shock treatment. When she was released a month later, Nouman recalls, she felt "like a nightmare was over." It was just beginning. She had been out only a few months when the police picked her up again, this time for allegedly saying (she denies it) "I hate Saddam." She was taken, she says, to the Khadamiya Prison for women, for a six-month spell with long stretches in solitary confinement. She was tortured and beaten by other prisoners.
"The wardens told the other women that since I was an enemy of Uday, they had permission to do whatever they wanted to me," Nouman says. "The women wanted to please the wardens, so they were constantly slamming me against the walls." Again she was sent back to al-Rashad.
Nouman's life settled into a pattern. She would be arrested, thrown into prison for a few months of torture, then forced to spend a month in the mental hospital. She would be released for a few months, and then the cycle would begin again. Looking back, she has difficulty remembering the chronology and duration of her incarcerations. "There were too many," she says, "and after all those years of taking drugs at the hospital of madness, my memory is mixed up." But if the repeated punishment was meant to silence Nouman, it had the opposite effect. "When I realized that they could arrest me whether or not I did anything wrong, I thought, Why not speak my mind?" She recounts how she tore up Saddam posters in the street, chanted anti-Uday slogans and, on one occasion, refused to take a 100-dinar note in change from a shopkeeper, declaring, "I don't want another picture of Saddam Hussein."
Her most famous act of defiance came in 1988, after Uday personally murdered Kamel Hanna Jajjo, Saddam's majordomo, for acting as a go-between for Saddam and one of his mistresses. Word of the scandal spread through Baghdad—even to Nouman, in prison. At her next court hearing, she stood up and delivered an impromptu speech. Uday had killed a man, she said, and he should be brought to trial and imprisoned. "I said what every Iraqi was thinking," she says. "I just had nothing to lose. What could they do to me that they were not already doing?"
In Baghdad's working-class districts, Nouman gained a certain amount of fame as the crazy woman lawyer who dared to stand up to Uday. Even some of the staff at the mental hospital came to admire her tenacity. "She never stopped speaking against Uday, not even when she was getting shock treatment," says Jabar Rubbaiyeh Lefteh, an ambulance driver at the mental hospital. "She was braver than any man I know."
like all of Iraq's prisons, the Fudeiliya facility on the northeastern edge of Baghdad now stands empty and wide open. After the Americans entered Baghdad, looters quickly stripped it of furniture and electrical fittings. Returning, along with a journalist and photographer, to the prison where she spent most of 1991, Nouman quickly draws a crowd of curious onlookers from the neighboring houses. She confronts them angrily: "When I was tortured here and screamed for help, did you not hear me?" The crowd remains mute.
She turns away scornfully and strides to the women's wing of the prison, where a number of large cells open onto a courtyard. A net of barbed wire hangs over the yard. The cells, now empty, are deceptively light and airy. "When they were full, I could only sit like this," says Nouman, crouching against a wall and pulling her knees against her chest. Set off from the main courtyard is a row of isolation cells. She spent several weeks in one, and hesitates before entering it now. It is relatively big for an isolation cell, 15 ft. by 10 ft., with one small barred window close to the ceiling and no toilet. ("I had to make pee-pee and ca-ca in the same room," she says.)
Nouman points to an officer's room, now deserted, where she says she was tortured, "every day, sharp at 10 a.m." The officer, she relates, made her sit on an empty beer bottle until it had penetrated her rectally and filled up with blood. The officer also "made love" to her, she says, shuddering at the recollection. He was a big bear of a man and smelled of cooked meat. "I thanked God when they took me from here to the hospital of madness," she says.
While her parents were alive, Nouman, who never married, had family to return to whenever she was released from the hospital. But after her father died in 1988 and her mother passed away in 1991, her siblings refused to have anything to do with her. Over the years, most of them emigrated, without leaving forwarding addresses. Only three of her sisters remain in Baghdad, and she says they won't allow her into their homes. "What her brothers and sisters did was worse than what Uday did to her," says Mushtaq Zanbaqa, parish priest of the Chaldean Catholic church Nouman frequents. "Maybe they were afraid that Uday would punish them, but to turn your back on your own sister is a terrible, terrible thing." The three sisters declined to talk to TIME. Neighbors said none of the three ever married because Nouman's reputation frightened away potential suitors. Unless the sisters have a change of heart, Nouman may wind up in the mental hospital again. With the Saddam regime gone, she would probably be treated more gently, but the thought of returning fills her with dread. Although she was happy to walk a journalist through the prisons she has lived in, she refused to visit al-Rashad. "That is Satan's place," she says. Besides, she says, she can't go anywhere until she has written the story of her life on her walls. "I have to finish this, to get everything out of my head," she says. "Then I will be at peace."
She has one other ambition. In all the years she suffered his vengeance, Nouman never met Uday. Before the war, she says, she didn't want to. Now she would love to confront her tormentor. "I want to see him, and I want him to see me," she says, thumping her chest. "I want to tell him, 'Look, I am still here, still saying what I want to say. You tried to stop me and couldn't. What can you do now?'"

IRAQ CHAOS MARS HOLIDAY FOR YONKERS CHURCH
Courtesy of the Yonkers Journal News ( 14 April); by Ernie Garcia
(ZNDA: Yonkers) Having lived through seven years of Lebanon's civil war in the 1970s and '80s, Yonkers resident Jeannette Shomonnedzad finds reports of lawlessness, looting and revenge killing in Iraq painfully familiar.
"Whatever is going on there, I witnessed it in my own country," said Shomonnedzad, whose Assyrian ancestors fled anti-Christian pogroms in northern Iraq and southeastern Turkey almost a century ago. "I'm worried about our own people because they are in the land of the Kurds. The Kurds were the ones who did this."
Like many Christians around the world, Shomonnedzad and the rest of the congregation at Mar Mari Assyrian Church on Buena Vista Avenue celebrated Palm Sunday yesterday, but it was a holy day rendered mournful by a weekend death in the parish.
Children were joyful and excited by elaborately decorated Easter breads topped with chocolate crosses prepared by the ladies' auxiliary of the parish. Yet the events unfolding in Iraq, where there is a significant Christian Assyrian minority, dimmed adults' holiday spirit.
Mar Mari's pastor, the Rev. Demitry Eskandar, said no phone calls could be placed to Iraq, so neither he nor other Iraqi immigrant parishioners could determine their relatives' fate.
News of the looting of the National Museum of Iraq last week also was painful.
"The sad part for Assyrians is that a lot of ancient Assyrian artifacts were looted last week," said Long Island resident Zaya Givargidze, president of Mar Mari's parish council. "It's not just our people's history, it's the world's history."
The destruction or theft of the museum's collection is a blow to Assyrians, an ethnic group scattered throughout the world because of persecution.
Assyrians were massacred and driven out of Turkey and Iraq after World War I, when their Muslim neighbors suspected them of siding with the former Ottoman Empire's Christian adversaries. With Iraq virtually defeated by the United States and Great Britain, Muslims' fingers of accusation could once again point to Assyrians.
New Rochelle resident Joe Akalski, 29, a deacon at Mar Mari, said he hoped the United States would prevent any sectarian conflict.
"If the new government is a true democracy and secular ... I would hope there wouldn't be reprisals on anyone," said Akalski, as he and the congregation enjoyed a meatless Lenten meal.
Mar Mari is a parish of the Holy Apostolic Catholic Assyrian Church of the East, a denomination descending from St. Thomas the Apostle.
Assyrians are a Semitic people who trace their ancestry to Mesopotamia and speak modern Aramaic, an ancient version of which was used in the Talmud and spoken by Jesus Christ.
Assyrians began arriving in Yonkers in the mid-20th century, mostly from Iran and Iraq. Mar Mari, which has about 200 families from the tri-state area as members, was founded in 1952, and construction on the current building began in 1966.
The 2000 census documented 82,355 people of Assyrian ancestry in the United States, with 179 in Yonkers and 429 in Westchester County.
In contrast, the Assyrian International News Agency estimates 3.2 million Assyrians worldwide, with 1.5 million in Iraq and 400,000 in the United States. The organization said the discrepancy between the census figures and its numbers might result from Assyrians being counted as Iraqis or other Middle Easterners.
After yesterday's Mass, Yonkers resident Ivan Mirza accepted condolences for the death of his brother, Boris, who suffered a heart attack. Mirza, 71, supported President Bush's decision to overthrow Saddam Hussein, but lamented the ensuing chaos as a bad omen for Iraqi unity.
"I can see looting government buildings," said Mirza, who arrived in Yonkers from Iran in 1964, "but looting museums, universities and hospitals? It shows that they are not a nation proud of its possessions."

ASSYRIAN LENDS SUPPORT TO BUSH, FINDS HERSELF ON DEPORTATION LIST
Courtesy of the Washington Post (23 April); by Peter Carlson
(ZNDA: Washington) On March 14, when President Bush was seeking international support for an invasion of Iraq, he summoned Iraqi exile Katrin Michael to a meeting in the Oval Office, where she recounted her horrific story of being gassed by Saddam Hussein's troops in 1987.
That day, White House spokesman Ari Fleischer and State Department spokesman Richard Boucher both used the meeting as an opportunity to issue statements attacking Hussein for his use of chemical weapons. And Michael told her story on National Public Radio and ABC-TV.
A week later -- on March 21, the day after the war began -- Michael received a letter from the Immigration and Naturalization Service demanding that she report to a deportation officer.
"I was scared, I got crazy," says Michael, 53, who works as a translator for the Iraq Foundation in Washington. "I asked the deportation officer, 'You're going to deport me in this war situation?' And he said, 'No, you should be detained.' I said, 'I met President Bush last week and now I'll be in jail in America?' "
This morning, Michael is scheduled to meet with her deportation officer. "I'm going to take a picture of me with President Bush and show it to him," she says.
The White House declines to discuss Michael or the deportation action against her. A White House press officer referred inquiries to the National Security Council, which referred inquiries to the State Department, which referred inquiries to the Department of Homeland Security, where Greg Gagne, spokesman for the Executive Office of Immigration Review, uttered this on-the-record comment:
"We don't discuss these things."
Michael's deportation problem is just the latest crisis in a life filled with turmoil and horror. She was born in 1950 in northern Iraq, a member of the Assyrian Christian minority in that predominantly Muslim nation.
During her childhood, she says, her father, an oil company auditor, was jailed several times for his political activities in support of equal rights for Christians. At 14 she, too, was briefly jailed, she says, accused of smuggling food and information to her father, who was in hiding.
In the early '70s she studied geology at Mosul University, where she acquired a reputation as an outspoken feminist.
"She was very active and very vocal," recalls Audisho Khoshaba, a Chicago doctor who met Michael when they were both students at Mosul. "She was harassed by the Baath regime. They tried to intimidate her."
In 1976, Michael won a scholarship to study geology and petroleum engineering in Azerbaijan, then part of the Soviet Union. By the time she returned to Iraq with a PhD in geology in 1982, Hussein had seized power, her father had died after another brutal stint in prison, and two of her brothers had joined the Peshmerga, the Kurdish guerrillas fighting Hussein's army. She, too, joined the Peshmerga, she says, organizing support among women in Kurdistan.
Sitting in her small Arlington apartment, she pulls out a photo album filled with snapshots from her guerrilla days. In one picture, she stands on a rocky mountainside, holding a rifle. In another, she's smiling broadly, cuddling a friend's son, a little boy named Sim-Sim, who was, she says, later injured in a gas attack by the Iraqi army.
She turns the page to a photo of guerrillas and points to a smiling young woman. "This is me," she says. She points to another guerrilla. "This is a friend of mine. He was killed."
She flips to another page, this one a photo of people sitting in a stone house. "This is me," she says. "This is my friend. Her brother was killed in a fight. We were having a ceremony for him, a funeral."
When she closes the album, her eyes are glossed with tears. "Through all my travels, I lost everything else, but I kept these photos," she says. "I feel this is my wealth."
All through the 1980s, while Iraq was at war with Iran, the Peshmerga guerrillas fought Hussein's army in the rugged mountains of Kurdistan. On June 5, 1987, the Iraqi army, which had already used poison gas against Iranian troops, dropped bombs containing mustard and cyanide gas on Kurdish guerrillas in the Zewa valley. Michael was there.
"Every day they were bombing us," she says. "This was not something strange. This was for us a usual day. But it was the first time they used chemical weapons."
She takes out a piece of paper and draws a rough map -- squiggly lines for two rows of mountains, a couple of straight lines for the stream that ran through the valley in between.
"Here is the stream and here are the Peshmerga sites and here are the civilian villages," she says. "It was a valley, so the poison gas didn't blow away. It stayed in the valley."
The bombs fell about 7:30 that night. At first, the guerrillas didn't know the bombs contained poison gas. There was an odd smell -- like rotten garlic, she says -- but they figured it was sulfur from the explosions. Then one guerrilla, her friend Rebar Ajeel, said he felt ill.
"He said, 'I took a lot of the sulfur,' and he vomited everything from his stomach and I took him some water and we put him on a blanket."
She stops, takes a deep breath, continues. "We didn't know it was chemical weapons. We just give him some water."
It was a summer night and the guerrillas slept outdoors on a terrace, she says, but she decided to sleep inside. She doesn't know why she did, but she figures now that it might have saved her life.
At 2 in the morning, she was awakened by someone screaming, "Get up!" She stumbled outside to find hundreds of people -- guerrillas and civilians -- gathered around a bonfire. By then, they realized they'd
been gassed and they hoped the smoke rising from the fire would draw the gas up and away.
But it didn't work. All around her people were vomiting, their stomachs twisting in pain, their eyes swollen shut, their skin covered with a rash. Her own eyes swelled, too, until she could barely see.
"You feel like they're infected," she says. "They are swollen and red and it really hurts."
They fled into the mountains, where they hoped the air would be cleaner. Stumbling, sick and nearly blind, the guerrillas and villagers climbed, with those who could still see leading those who'd gone blind. Her friend Rebar Ajeel, the first person to feel the symptoms, was carried on a mule.
By the time they reached the top, Michael was blind. For three days she couldn't see, she says, then her vision returned. She was lucky. Some people stayed blind for a month. Two people died -- one of them Ajeel. "The poor man was 28 years old," she says.

Michael says she still suffers aftereffects from the gassing: trembling in her hands, damaged lungs that cause her to wake up gasping for air and -- worst of all, she says -- nightmares. "I can't get rid of the pictures I have in my head."
That attack was merely an early, crude experiment. Over the next year, the Iraqi army learned to make its gas attacks more lethal. On March 16, 1988, Iraqi troops gassed the Kurdish town of Halabja, killing 5,000 civilians and injuring 10,000, according to State Department figures.
The attacks sent thousands of Kurds fleeing to Turkey. Michael, then 38, joined the exodus and ended up in a Turkish refugee camp. It was a terrible place, she says, so she sneaked into Syria, where she was briefly jailed for entering the country illegally. After being released, she arranged for a job teaching geology in Algeria, here, she says, she was harassed by Muslim fundamentalists who frowned on Christian women teaching college. In 1991, she fled to Bulgaria, then later to Russia, then Romania, then Greece, where she found work as a translator for three years.
In December 1997, at 47, she came to the United States, hoping to find a translator and a publisher for her memoirs, which she'd written in Arabic while in Greece. Living with cousins in Southern California, she applied for asylum in 1998, but her application was denied. She filed an appeal.
While her appeal was pending, she moved to Washington in 2000 and found a job at the Iraq Foundation, a nonprofit organization devoted to bringing democracy to Iraq. She works translating Iraqi government documents captured by Kurdish rebels in 1991.
Last year, as America debated the prospect of war in Iraq, Michael wrote an op-ed essay that was printed in several newspapers. "As an Iraqi woman who wages peace and has fought in war, I am compelled to support a
U.S.-led action to remove Saddam Hussein," she wrote. "After 26 years of resistance against Saddam, I have come to the conclusion that only forces from outside Iraq can bring an end to the nightmare of his rule."
In March, Michael and several other Iraqi refugees met with national security adviser Condoleezza Rice and Vice President Cheney. Then, on the eve of the 15th anniversary of the Halabja attack, they were summoned to meet Bush.
That night she called her brother Basil, who lives in Toronto with her mother. "When I walked into the Oval Office," she remembers telling him, "it was like a dream."
The rude awakening came a week later, when she received the letter demanding that she report to a "deportation officer." Stunned, she called the officer and learned that her asylum appeal had been rejected by the Board of Immigration Appeals in December.
She contacted Riva Khoshaba, a Washington lawyer who is the daughter of her old Mosul University friend Audisho Khoshaba.
"She was pretty scared," says Riva Khoshaba, who agreed to take her case without charge. "This is a pretty scary thing for someone who has been a refugee for 20 years."
Khoshaba hopes to reopen Michael's case, and she has enlisted the aid of veteran Chicago immigration attorney Robert De Kelaita.
"This woman should not be deported or detained," De Kelaita says. "This could be very embarrassing for the Bush administration. It could spark an interesting debate in the Arab world over how Iraqis are treated in
the U.S. and what democracy will be like in Iraq."
Michael admits that she's a little scared about the prospect of deportation. She'd like to return to Iraq eventually, she says, but she worries about her safety there now.
"Where should I go?" she asks. "Should I travel to Iraq? I give you a question: Where should I go?"


BINGO SET TO RESUME IN TURLOCK
Courtesy of the Poker Magazine (28 April)
(ZNDA: Turlock) The Assyrian American Civic Club plans to resume its bingo games Sunday, more than a year and a half after police shut them down and a month before the Assyrian State Convention of California– to be held in Turlock this year.
The club has obtained nonprofit status -- the lack of it prompted the closure -- and will have to follow tightened rules the City Council adopted in November for all bingo operators. "We really want to keep our name clean and go on a clear path," said Peggie Jacob Hernandez, secretary of the club's educational foundation, set up to provide the games.
Meanwhile, the Stanislaus County district attorney's office continues to look into possible misdeeds in past bingo operations at the club. The nature of the case has not been disclosed since it was opened in October 2000, and Deputy District Attorney Brad Nix declined Thursday to comment on it.
The bingo games have been a popular activity at the club, at 2618 N. Golden State Blvd. Hernandez said as many as 500 people of various ethnic backgrounds have turned out, playing for prizes the state caps at $250 for all operations.
Over about 20 years, the club has given several hundred thousand dollars from bingo to causes such as Emanuel Medical Center and scholarships for Turlock High School students, Hernandez said. Now the proceeds will go through a foundation with nonprofit status, which shields the money from state and federal taxes.
"Its sole purpose is to promote education and culture and to help the community at large, like we've always done anyway," Hernandez said. The May 4 reopening will feature a free chicken dinner. The doors will open at 4 p.m., and bingo will go from 6:30 to 10 p.m.
The club will offer bingo from 6:30 to 10 p.m. every Sunday and Tuesday. The new police permit allows Thursday evening games, but they are not planned for now, Hernandez said. The games previously were on all three days. Players will pay $10 for three sets of cards, each with six bingo grids. Extra sets will sell for $2 each.
Police suspended the previous permit in August 2001 and issued the new one in February. In the meantime, the council adopted citywide rules that require monthly financial reports, annual audits and maintenance of separate bank accounts for bingo revenue. Also, armed guards hired for the games cannot be affiliated with the operators.
Hernandez said leaders of the club expect a lot of scrutiny from police to ensure it adheres to the permit conditions. "We're hoping for the best, and we're urging our customers to all come," she said.