ASSYRIAN AFRAID FOR RELATIVES STILL IN IRAQ
Courtesy of Daily Herald (31 March); article by Cass Cliatt
(ZNDA: Chicago) The fear invades her sleep. A bomb blast flashes behind closed eyes. Smoke shrouds the scorched crater that was her family's home in Baghdad. Soldiers march past civilian dead. She can't see the faces. Could it be her uncle, her brother's wife?
Ashtar Shamoon wakes. The clock reads 5 a.m. when she turns on the news in her Arlington Heights home. Shamoon abandoned her vigil here just four hours earlier, but worry compels her to watch a war progress toward the city she used to call home.
"If I don't watch the news, it's like I don't care about it," the 44-year-old Shamoon said. "It's still your country."
But fear has kept the hair stylist away from her homeland for more than 20 years. She is tormented by reports about other U.S. families sending letters to their fathers, sisters and sons in military service in the Middle East. For Shamoon, the hold Saddam Hussein has over Iraq grips her, even here, stifling her with fear of maintaining too much contact with her own family.
She is among thousands of Iraqi expatriates who carried their sense of oppression to the Northwest suburbs, away from Iraq's borders. They harbor a dread here that continues to alienate them from families back home. "I have my brother's wife, his sister, her daughter, my uncle, many cousins," Shamoon said. "Now with the war starts, I've been talking to them every two days, but I'm scared even to mention their names. Maybe the government of Saddam Hussein just go after them.
"Shamoon is one of about 80,000 Assyrian Christians in the Chicago area, a large majority of whom fled Iraq because of political persecution, according to the Assyrian National Council of Illinois. As much as they fear that their families could fall victim to the ravages of the war, some worry even more that they could unleash torment on their own relatives. "Sometimes, for example, if someone is talking against the government or against the regime in Iraq, they cut his tongue," said Isho Lilou, director of the Assyrian council. "If a man doesn't want to serve in the army, they cut his ear." The punishment can be much worse for families seen as American sympathizers, Lilou said. "Basically, the government point of view is, whoever is outside, especially in America and they have relatives there, they treat them as if they are all Americans," he said. "And the regime hates America. "If there is communication, you don't know what will happen. Some people will either disappear or they get hit by a car," Lilou said. "One way or another, they are gone."
It's the main reason Shamoon hasn't been back to Baghdad since she left in 1981. She and her family were among the estimated 1 million Assyrian Christians in a country that's 97 percent Muslim. She says she left because Hussein's government asked her to spy on other Christians who were customers in the hair salon where she worked. "To see what the people say about Saddam Hussein, if they like him," Shamoon said. "I say I can't do that. I say I am a Christian. I do my job and come home. I said I can't talk politics." Yet they kept at her for five months. Shamoon had to get out.
She came to the United States with her teenage sister in 1981 and became a U.S. citizen 10 years later. Shamoon, her sister, now 40, and her 73-year-old mother now live in Arlington Heights, afraid to ever return to Iraq. But tomorrow, Shamoon will make one of her increasingly frequent calls home to Baghdad. Since the war started last week, Shamoon's questions are always the same. "Are you safe? Nobody is killed and nobody is bombing there? How is uncle, how are nieces and nephews? ... Do not go outside. Stay at home." Three minutes on the phone with her family is all Shamoon will risk - five at the most. "I don't say anything about what's going on here," Shamoon said. "They (the government) listen on their phone when you talk, and maybe someone here, the Muslim people here contact them. You never know."
Louise Cainkar, a professor at the University of Illinois at Chicago, said many people might classify the fear felt by Shamoon and others as paranoia. But that doesn't make their fear any less real. "It's the nature of the society when you live under oppressive conditions and you know people are watching other people and reporting on each other," said Cainkar, who specializes in Arabs and Muslims in the United States. "I think it's how most Iraqis feel, whether they're Muslim or Christian," she said. "They're afraid to call their families. They have been traumatized by a watchdog society."
The potential to regain open lines of communication with her family makes Shamoon welcome the war, in a way. "I'm glad they're going to get Hussein and they're going to kill him, but I'm feeling bad for a lot of people who are there - my family, the other Assyrian Christians and a lot of poor people," Shamoon said. "They're going to die, too." The last time Shamoon risked talking to her relatives, they told her they sit huddled inside, wondering how long the groceries they bought a month ago will last. All of the businesses are closed and no one is working. "They don't know what's going to happen to them, if they're going to bomb everything there," Shamoon said. She rushes from work today, as she does everyday, and immediately turns on the news when she gets home. Troops remain on the outskirts of Baghdad. Shamoon will probably stay glued to her television until 1 or 2 a.m. again. She'll definitely try to call her family in Iraq tomorrow. The phone lines have remained clear so far, but Shamoon doesn't know how long she should rely on them - rely on the peace of mind so many other families get from hearing their relatives' voices on the other end of the line. "If I can't hear nothing from them, I can't go to work," she said. "I would be nervous every day. I can't sleep."

MAR IBRAHIM, COALITION FORCE WILL LOSE PEACE IN IRAQ
Courtesy of Catholic New Service (3 April); article by Robert Delaney
(ZNDA: Detroit) The spiritual leader of Chaldean Catholics in the eastern half of the United States predicts the United States and Great Britain will win the war being fought in his homeland of Iraq, but he is equally confident they will lose the ensuing peace.

Before the war began, Bishop Ibrahim N. Ibrahim was opposed to the use of military force to oust the regime of Iraqi President Saddam Hussein, but he said March 29 that he at least thought the United States and Britain had probably planned it so well it would all be over within the first week.
"Now, from what I am seeing and hearing, I think it's going to drag on for months, and it will be very harsh for both sides, but the main victim will be the Iraqi civilians," said Bishop Ibrahim, who heads the Eparchy of St. Thomas the Apostle, based in suburban Southfield, which numbers about 120,000 faithful -- about 100,000 of those in the Detroit area. Eparchy is a term for a diocese in the Eastern Catholic churches.
Had the war been over in a week, U.S. hopes for the cooperation of a grateful Iraqi people might have been realized, but a lengthy conflict will mean the destruction of the country and the loss of loved ones for many Iraqis.

"Suppose you say to somebody, 'Let me destroy your house and then rebuild it back' -- that might be accepted," he told The Michigan Catholic, newspaper of the Latin-rite Archdiocese of Detroit. "But if you kill my kids, you kill my father, you kill my mother and my brothers, what good is it that you rebuild my house?"

What good is it to build "a new Iraq" or build "a democratic Iraq if half of the Iraqi people are affected that way by the war?" he asked.

Instead of fostering feelings of gratitude, he predicted Americans would foster feelings of hatred toward them.

"Maybe in theory it is true that the coalition forces are making their best possible effort to avoid hitting civilians, but in practice, in fact, it is not true. Because where are those governmental buildings -- are they in the desert or are they in the middle of the people?" Bishop Ibrahim said.

He pointed to damage to the Chaldean patriarch's headquarters in Baghdad. Although not the target of a U.S. air strike, it was close enough to a targeted government building that all of its windows were blown out. While no one was seriously injured, the building had to be closed; Patriarch Raphael I Bidawid has been in Beirut, Lebanon, for treatment of a serious kidney ailment.

Bishop Ibrahim called it sad that many people of the Middle East have a sense of vengeance. And while Christians stress the importance of forgiveness, they make up only 5 percent of Iraq's population.

He predicted "a very somber" future for the United States in Iraq. Had there been a homegrown revolution inside Iraq, with the United States coming in to support it, he said, the Iraqi people might have accepted accidental deaths in a different light but not when they came about as part of an invasion.

"We cannot give happiness to people with war," he added.

Bishop Ibrahim said he still cannot understand why the United States could not have waited at least another couple of months to see whether Iraq would make good on its pledges of cooperation with United Nations weapons inspectors.

"Disarming Iraq of weapons of mass destruction -- all agree on that, even the Iraqi government agrees; every Iraqi agrees on that. So, why didn't we give the opportunity to see whether it is true or not?" he asked.

Regime change was not a high priority for Iraq's Chaldean Catholics. In fact, considering that Christians are such a small segment of the population, the Chaldeans counted themselves fortunate to be living under a secularist regime at a time of rising Islamic fundamentalism, the bishop explained.

Still, Chaldeans have been leaving Iraq at a rapid pace in the past 20 years -- and with more of them moving to Detroit than any other destination -- but that is because of the poor economic conditions, concern about rising Islamic fundamentalism, and the fear that their sons would be drafted into the Iraqi army, Bishop Ibrahim said.

"From a state of prosperity, now it is poverty all over Iraq," he said, explaining that the eight-year war with Iran in the 1980s, the Gulf War, and then the ensuing sanctions ruined the economy.

He added Iraqi military conscription does not work the way it did in this country when there was draft. Rather than serving a two-year stint, draftees are locked into an involuntary military career that can last for decades.

"Can you imagine, young men drafted at age 19 have stayed 12 years or 16 years, or 20 years, and they can't get out? There are men who have been in the army since 1980," the bishop said.

Asked what the U.S. government might do to lessen Iraqis' ill will toward Americans, Bishop Ibrahim did have some advice: "They should stop all operations immediately, and go through the United Nations -- to get Saddam and his relatives to step down, and to set up a temporary government and prepare the country for elections."

FAMILY WORRIES ABOUT ARCHBISHOP BROTHER IN BASRA
Courtesy of the Michigan Catholic; by Robert Delaney
(ZNDA: Detroit) Figuring that war with Iraq was inevitable, Joseph Kassab tried to get his brother Gabriel to come to the United States back hi January, but his brother said he had to be in Basra with his people.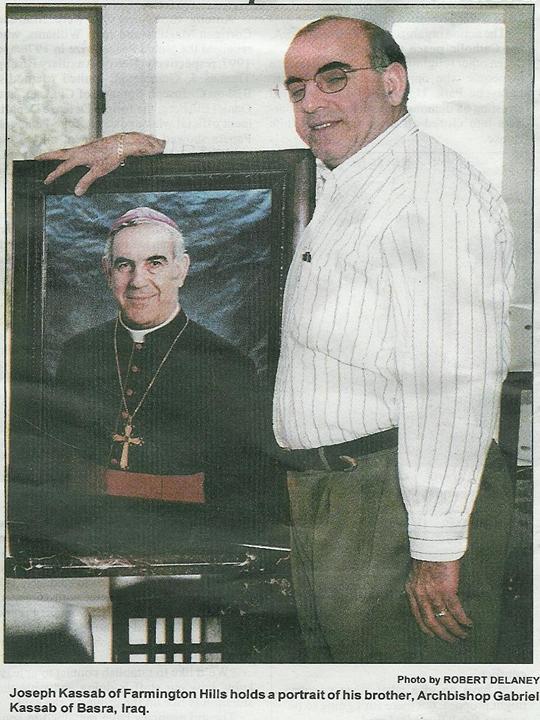 "I-us people" are the Chaldean Catholics of southern Iraq. Joseph Kassab's brother is Archbishop Gabriel Kassab of Basra.
As Coalition forces step up efforts to take control of Basra, Joseph Kassab's worries have only increased.
Kassab was able to reach his brother Saturday night, March 29, and found him unharmed at his residence at Basra's cathedral.
"He said he barely had ally food or any good water, and no electricity at all," said Kassab, 52, of Farmington Hills, a member of Mother of God (Chaldean) Parish in Southfield.
Kassab said his brother was reluctant to give any impression of the fighting in his area, lest the phone call be monitored and officials interpret his words as communicating sensitive information to the West.
"He's a man of religion, he's a man of humanitarian aid and he doesn't want to do anything but protect his flock," Kassab added.
Making the call took several hours of repeat dialing, and it was the first time Kassab had been able to get through since March 25.
In that time, he and his two brothers and three sisters on this side of the ocean became increasingly concerned about news reports of ferocious fighting in and around Iraq's second largest city.
Recounting last Saturday's call, he said, "I asked him, 'What can we do for you?' and he said, 'local! you can do is pray for us here.' So, we prayed on the phone together.'
Kassab said he quickly called his brothers and sisters, and told them, 'He is good, he is all right, and the main thing is that he is still alive'"
From what he can glean from the news about Basra, Kassab called it "a devastating situation, a humanitarian disaster." He added that he hopes to work with other Detroit-area Chaldeans to make some aid shipments 'when this thing clears up."
Not that things were great before the war started— one of Archbishop Kassab's greatest concerns has been the privations brought on by the U.N. sanctions. His animal trips to the United States have raised money for food and medicine — for both Catholics and Muslims, Kassab said.
"Besides giving people food, clothing and water to people, he opened a pharmacy last year,' Kassab said.
Although Basra is a mostly Shiite Muslim
city, there are enough Catholics among its 1.2 million people to support five churches.
Kassab also recalled his previous conversation with his brother "He came to the phone rapidly breathing. He had been flying to fix a water pump. I said, 'Why don't you take care of yourself' But he said, [have to take care of my people first. I want water for my people."'
Kassab spoke of the happier time, just a few years ago, when his archbishop brother was able to present Pope John Paul II with a stone from the ruins of ancient Ur, where Abraham was from, on a papal visit to Jordan.
While no defender of Saddam Hussein Kassab is opposed to the war: "War dismantles everything. War is meant to destroy things and kill people. Chaldeans are known to be people of peace. We are definitely against this war."
Kassab is worried his brother's reputation for helping could endanger him. "What if some desperate people comes to him for help, and he has nothing left to give? What if they misunderstand why he can't help them?' he asks.
"War makes people violent, angry, on the edge — these are not normal times' Kassab adds.

SARGON DADESHO RECEIVES $2.4 MILLION AS VICTIM OF IRAQI REGIME
Courtesy of the Associated Press and the Modesto Bee (6 & 8 April); Brian Skoloff & Melanie Turner
(ZNDA: Modesto) A few days ago, Sargon Dadesho saw $2.4 million deposited in his bank account from the confiscated assets of the Iraqi government, one of a number of victims to finally collect judgments from lawsuits filed after the first Gulf War.
The payments last Friday came after President Bush issued an executive order that took control of $1.7 billion in frozen Iraqi assets. Some $302 million of that was set aside to satisfy legal judgments. Sargon Dadesho of Ceres (between Turlock and Modesto) who fled Iraq nearly 40 years ago, now runs an Assyrian satellite network that beams news and anti-Saddam Hussein commentary into Iraq.
He was awarded the money after a failed assassination attempt by a hired Iraqi hit man 10 years ago. In 1995, Dadesho won a $1.5 million judgment against Iraq for "emotional distress" suffered after the assassination attempt, which was foiled by the FBI.
Iraq appealed the decision, but a federal appeals court later affirmed the judgment.
Dadesho is the president of the Assyrian National Congress and president of Bet-Nahrain Inc., the nonprofit organization that operates Assyrian television station KSBV Channel 23, out of Ceres. Dadesho said he hasn't decided what he'll do with the money. "My only regret is that Saddam Hussein will not live long enough to find out that I got even with him," Dadesho said. "He has been after me for a long time."
Last Friday at 3:50 p.m. Mr. John Kanno and Mr. Sargon Dadesho, were being interviewed on CNN. The reporter toured the Bet Nahrain Cultural Club and the AssyriaSat TV station. The two men talked about their role in a future free Iraq.
"Finally, the nightmare is over for me and the Iraqi people," 53-year-old Dadesho said at a news conference at the Assyrian Cultural Center in Ceres yesterday.
Dadesho said he might donate part of his judgment to the Assyrian Welfare Committee in Iraq. The committee helps rebuild churches destroyed by Saddam's people, he said.
Dadesho said he intends to go back to Iraq for a time to help his people rebuild.

ARIZONA ASSYRIAN TRYING TO QUALIFY AS INTERPRETER, REPAY U.S.
Courtesy of the Arizona Republic (3 April)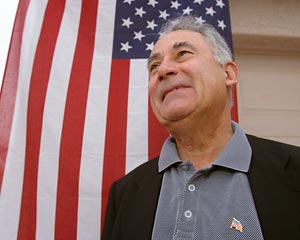 (ZNDA: Phoenix) Edward Rehana hasn't been back since he fled Iraq in 1964 at age 21.
Now, the 60-year-old Peoria resident is eager to go back. He wants to help the U.S. military liberate his former homeland.
"People there have been suffering under this regime for more than two decades, and this is the United States fighting to liberate my country," Rehana said. "I think I owe it to this country to help complete this mission."
Yesterday, he left behind his wife, Glyniss, and their three grown children and boarded a United Airlines flight for Fairfax, Va., where he will undergo a series of written and physical exams as well as a background security check.
If he passes, Rehana could be deployed within the next two weeks to the Middle East, where he could spend a year or more working as an interpreter.
Rehana is one of thousands of immigrants from Iraq who have volunteered during the past three months to work with U.S. military forces as interpreters, translators and guides.
If he qualifies, Rehana was told he will receive a $70,000-a-year salary.
Rehana acknowledged the salary is appealing: It's more than he makes selling windshields.
But he's not doing it just for the money. He sees this as a chance to help liberate the people of Iraq from Saddam Hussein's regime and play a role in rebuilding the country after the Iraqi dictator is removed from power.
Rehana reads, writes and speaks English and Arabic. He also is a U.S. citizen with a U.S. passport, two of the other qualifications needed to assist the military as interpreters, he said.
Rehana was born in Habbaniyah, a town about 25 miles west of Baghdad. He fled to Kuwait in 1964 to escape escalating persecution and discrimination against Assyrian Christians under the Iraqi Baath Party. Four years later, he came to the United States and settled in Chicago. Rehana became a naturalized U.S. citizen on July 4, 1976, during a bicentennial ceremony in Chicago.
Rehana and his family moved to Arizona in 1985 and were among the first wave of Assyrian-Americans to migrate to the Phoenix area from Chicago.
The valley's population of Assyrians has since grown to more than 8,000 people, according to their estimates.
Rehana said he doesn't know what dangers he will face if he is sent to Iraq, but he is prepared to work with front-line troops, if necessary.
He also is prepared to stay as long as he is needed. "It could be six months. It could be a year. It could be longer," he said.
"She had mixed emotions," Rehana said about his wife. "She doesn't want me to go, but she said if you want to go, 'I'll let you make the decision.'"