CHRISTIANS IN PAKISTAN SUFFERING FALLOUT FROM IRAQ WAR
Courtesy of Zenit News Agency (30 June)
(ZNDA: Islamabad) The Washington Times reports that Christian girls in Pakistan in particular in this overwhelmingly Muslim country are feeling the fallout of Islamic anger for the war that deposed Saddam Hussein.
The newspaper (www.washtimes.com) told of photos showing signs of recent attacks.
One showed a 9-year-old girl with large black burns on her legs and a heavily bandaged right arm. Another depicted a 14-year-old with a face partly melted away like candle wax -- the result of an assailant throwing acid into her eyes.
The 9-year-old, Razia Masih, was beaten and raped in April in the town of Faisalabad, ending up in the hospital with burns, a lacerated left eye, a broken right arm and rope marks around her hands and mouth.
"She was working as a maid in a Muslim house," said Shabazz Bhatti, chairman of the All Pakistan Minorities Alliance, the Times reported.
"When the Iraq war happened, it was on the TV," Bhatti said. "The family [she worked for] would call her into the TV room and start torturing her. Her skin was burned by the irons, her body wounded by a cricket bat and a medical report showed 15 wounds on her body. She was told by them, 'You are Christian and infidel, and we will take revenge on you for the killings of Iraqi children.'"
"The case has been registered [with police], but the culprits have not been arrested," Bhatti said. "Meanwhile, the girl's family has fled elsewhere, just to save their lives. The government authorities are not giving them protection."
According to International Christian Concern, a religious-persecution watchdog group, the girl's family had unsuccessfully tried to get her out of her employers' home several times. After beating and burning her for a final time, the family sent her home to die.
The All Pakistan Minorities Alliance, representing Christian, Hindu, Sikh, Balmeek, Bheel, Maingwal, Zoroastrian, Bahai and Kelash communities, has compiled a "catalogue of terror" on attacks against female Christians, beginning with the May 2000 gang rape of eight Christian girls by militant Muslims near Lahore.
"Christians in Pakistan are increasingly vulnerable to religiously motivated hate crimes, and Christian girls and women seem to be specially targeted," said Stuart Windsor, director of Christian Solidarity Worldwide in London. "We are outraged by the unwillingness of the police to investigate the complaints as this only emboldens extremists to continue to victimize Christians and other non-Muslims."
Fearing such reprisals, the U.S. Commission on Religious Freedom wrote Secretary of State Colin Powell in March, asking him to remind foreign governments of their responsibility to protect religious minorities. There are only about 3 million Christians among Pakistan's 140 million citizens.
"The commission is concerned that extremists have tried to portray military action against Iraq as part of an alleged U.S. attack on Islam," they wrote, "and that retribution will be sought against Christians, Jews and others throughout the Islamic world."
The panel also asked President George W. Bush to bring up the matter with Pakistani President Pervez Musharraf during their meeting this week near Washington, D.C.

MARDIN REMOVED FROM WORLD HERITAGE LIST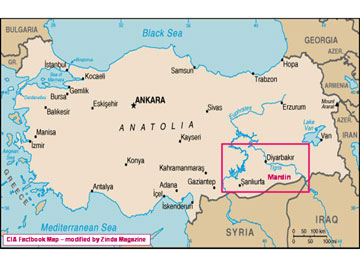 (ZNDA: Ankara) According to a report in the Turkish newspaper, Hurriyet, the United Nations Educational, Scientific and Cultural Organization (UNESCO) has decided against including the southeastern Anatolian city of Mardin on its "World Heritage List". The decision was based on a recent negative report by the International Council on Monuments and Sites (ICOMOS). UNESCO's decision has shocked the Turkish government and Assyrian observers as Mardin's inclusion on the list was believed to be definite.
Mardin is associated with seven thousand years of history and was a cradle for numerous ethnic groups, among them Armenians and Western Syriac-speaking Christians. The city reflects the highlights of ancient Assyrian civilization and is famous for its historic houses made out of golden stone.
In April of this year, a 300 year old Book of the Gospels in Syriac was stolen from the Cathedral of the Forty Martyrs in Mardin.

CHALDEAN-AMERICAN CHAMBER OF COMMERCE
Courtesy of the Detroit News (25 June); by R.J. King
(ZNDA: Detroit) When Chaldeans started arriving in Metro Detroit from the Middle East more than 80 years ago, most turned to the Associated Food Dealers of Michigan to provide for legal referrals, networking opportunities and business seminars.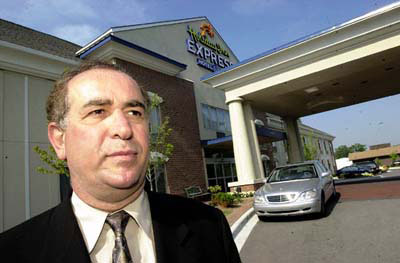 Jamal Kalabat, owner of Holiday Inn Express in Waterford, is part of the steering committee for the Chaldean-American Chamber of Commerce. The Chamber expects to enroll about 2,000 members in the next five years.
But as more second-generation Chaldeans in the region branched away from their roots in the grocery business, the food dealers trade group found it couldn't handle the needs of members who owned inns, cellular phone stores or service stations.
"We were getting requests for hotel consultants, and it was getting away from our roots as an organization that represents the state's grocery industry," said Michael Sarafa, president of the 3,000-member Associated Food Dealers in Southfield, founded in 1917.
"We're not an ethnic organization, but (roughly 40 percent) of our members are Chaldeans who own grocery stores. We're very supportive of Chaldeans, but we couldn't represent all the various businesses."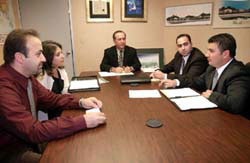 Najib Atisha, from left, Renee Denha, Jamal Kalabat, Anthony Mona and Martin Manna discuss the new Chaldean-American Chamber of Commerce
Enter the newly formed Chaldean-American Chamber of Commerce in West Bloomfield. The group, with 100 founding members, is the first of its kind in the nation to provide Chaldean business owners with educational and networking opportunities along with discounted services on such items as insurance, telecommunications and energy needs.
The Chamber, which joins the American Arab Chamber of Commerce in Dearborn to represent the needs of Middle Eastern business owners, is scheduled to select a 15-member board of directors in the fall. Already 11 founding businesses each have contributed $5,000 to start the Chamber.
Sarafa said he didn't believe the Associated Food Dealers would lose too many members to the new Chamber. "I think a lot of companies will want to be part of both organizations," he said.
Close to 120,000 Chaldeans -- the term used by Catholics of Middle Eastern descent -- live in Metro Detroit, with most immigrating from Iraq, Jordan and Lebanon, Chaldean community leaders say.
Traditionally, Chaldeans owned grocery and liquor stores in the Middle East because the Arab Muslim populations in the area were prohibited from consuming or selling alcohol because of religious beliefs.
Today, about 6,000 Chaldeans operate businesses in Michigan, including grocery stores, cellular phone outlets, hotels, professional practices and service firms.
"We need a chamber for Chaldean Americans so we can create more business and wealth opportunities for all of Metro Detroit," said Ronald G. Acho, partner with Cummings McClorey Davis & Acho PLC, a law firm in Livonia and a founding member of the Chaldean-American Chamber.
"If we're successful, it means we're creating jobs for people, paying more taxes and helping families. We do plan to partner with other chambers so we all benefit."
The Detroit Regional Chamber, the largest chamber in the country with more than 20,000 members, has partnerships with six area chambers. It already has met with the Chaldean-American Chamber to explore possibilities, said Amy Hennes, spokeswoman for the Detroit Regional Chamber.
Current partners include the Arab American Chamber, Booker T. Washington Business Association, Hispanic Business Alliance, National Association of Women Business Owners-Greater Detroit Regional Chapter, Michigan Hispanic Chamber of Commerce and Asian Pacific American Chamber of Commerce.
The Chaldean-American Chamber expects to enroll about 2,000 members in the next five years. Martin F. Manna, interim executive director of the Chamber, said the group is scouting office space in Southfield for its permanent headquarters.
"We have a steering committee in place, and we're meeting twice a month," Manna said. "We have many Chaldean-owned businesses, but also large public companies like Standard Federal Bank and DTE Energy."
Amir Denha, a founding member of the Arab American Chamber, said he welcomed the Chaldean-American Chamber.
"By partnering with various chambers, we should all benefit," said Denha, publisher of Chaldean Detroit Times, a biweekly newspaper in Southfield.
Annual dues for the Chaldean-American Chamber will range from $200 for individuals to $1,500 for corporations, Manna said.
Chaldean Businesses in Michigan
The number of stores or units and business type:
Food stores: 2,500
Retailers: 2,000
Professional services: 1,000
Service stations: 400
Hotels: 150
Total: 6,050
Source: Chaldean-American Chamber of Commerce

RESIDENTS OPPOSE BUILDING OF SYRIAN ORTHODOX CHURCH
Courtesy of North Jersey Media (26 June); by Monsy Alvarado, photo by Carmine Galasso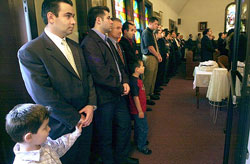 (ZNDA: New Jersey) A standing-room-only service at St. Gabriel's Syrian Orthodox Church in Hackensack. A different kind of standoff is blocking the church's move to Haworth.

When the Rev. Aziz Hadodo leads Sunday services at St. Gabriel's Syrian Orthodox Church in Hackensack, he can't help but notice the young members who stand in the back.
"I pray for them. I say to them, even with these conditions, you come to church,'' he said. "They deserve better than that."
In an effort to better accommodate the 450-member congregation, church officials want to build a larger house of worship with a community hall in Haworth. But the church's plans have gotten a chilly reception from Haworth residents and members of a nearby golf club, who have filled Planning Board meetings since February expressing their objection to traffic, noise, the loss of trees at the site, and the size of the proposed building and its dome.
The church wants to erect a 5,000-square-foot building on 3.4 wooded acres on Sunset Avenue, a residential zone. Plans call for the single-family house on the property to be torn down. Churches are permitted in residential neighborhoods.
"I don't think it's the right place for a church,'' said Ruth Benvent, a next-door neighbor to the site who, along with her husband, Joseph, hired a lawyer to fight the plan. "To knock down a home that is well over a million dollars to build a church, it just doesn't conform to the neighborhood."
The White Beeches Golf and Country Club, which abuts the property, has also hired a lawyer.
Hadodo said he understands neighbors' concerns and respects their need to question the church's proposal. But, he said, he is optimistic that eventually, neighbors will warm up to the plans.
"It's going to be a first-class church, nothing of an eyesore,'' he said. "It's nothing to be ashamed of. It will be a beautiful building."
Sunset Avenue residents have said that having a house of worship among single-family homes could negatively affect their property values and bring unwanted cars to the area.
"There is already enough traffic on Sunset Avenue, and we don't need any more traffic," said Nick Fazio, who lives in the neighborhood and has not missed a Planning Board meeting.
Hadodo tried to alleviate concerns that cars would be lining the streets, saying the church probably wouldn't use more than 60 of the 150 parking spaces it is required to build.
Other residents pointed to the loss of tax revenue, since property belonging to churches and other religious organizations is tax-exempt.
Hadodo said that although the church won't be paying taxes, there is a benefit to having a house of worship on the site.
"We're not burdening the school budget, because we are not bringing children to educate,'' the cleric said.
St. Gabriel's has been in Hackensack since 1994 and has outgrown the former Protestant church on Fairmont Avenue that it now occupies.
Most of the church's members are first-generation immigrants from southern Turkey. The congregation was formed so they could attend Mass in Syriac-Aramaic, the language that Jesus spoke.
"Our people, they wanted their own church, because they wanted to understand the Mass,'' Hadodo said, about holding services in their native tongue.
He said the congregation includes a number of self-employed jewelers who are hard-working. He said the parishioners, who live in such towns as Dumont, New Milford, Bergenfield, and Haworth, raised the money through donations to build the church and buy the site, which cost $1.15 million.
Hadodo said he doesn't expect the number of congregants to grow much bigger, a concern expressed by several Haworth residents.
"When our people increase in numbers, they look for another church,'' he said, noting the church is composed of about 120 families. "Our people like small groups."
Furthermore, he said, he expects younger members to seek out other parishes, which conduct Mass in English, as they get older. St. Gabriel's holds the one Sunday service in Syriac-Aramaic.
"Newcomers attend church, but as you go through generations, the attendance falls,'' he said. "Our people are going to be Americanized sooner or later."
In addition to a 450-seat sanctuary and community hall, the proposed building would have a kitchen, an area for Sunday school, and a library in the basement.
Hadodo said the church would be used primarily on Sunday mornings for Mass and Sunday school. It also would be used Monday evenings for Bible study. Church events during Christmas and Easter would be held in the community hall, he said.
The hall also would be rented to parishioners for weddings, but Hadodo said he usually performs only four weddings a year. He said most members would prefer to have weddings at restaurants or banquet halls where they don't have to worry about hiring caterers.
"Even with baptisms, they go to restaurants,'' he said.
The plans also call for a dome that would extend approximately 30 feet. The dome is supposed to represent Christ as the head of the church, according to testimony at one of the Planning Board hearings. Church officials said having one dome was conservative for the Orthodox Church.
Another hearing on the church's proposal is scheduled for July 16.

LARGEST CHALDEAN BUSINESS IN DETROIT SOLD
Courtesy of the Detroit News (25 June): by R.J. King
(ZNDA: Detroit) One of the largest Chaldean-owned companies in Metro Detroit has been sold. Melody Farms (www.melodyfarms.com), a large producer of milk, ice cream and other dairy products, was acquired by Dean Foods Co. in Dallas for an undisclosed sum. Dean Foods is a publicly traded food, beverage and ice cream producer with about $9 billion in annual revenue.
Founded in 1950 by Tom George, Melody Farms was a fixture in the Metro Detroit Chaldean community. The company's products include Melody Farms milk, Stroh's Ice Cream and the Sander's brand of confections.
[Z-info: To learn more about the origins of the Melody Farms visit http://www.melodyfarms.com/History.html.]