Shuraya Celebrates 25th Anniversary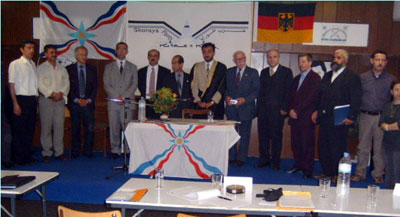 (ZNDA: Wiesbaden) On 26 July the Shuraya political party celebrated its 25th year of inception in the German city of Wiesbaden. Several other Assyrian political parties attended the celebrations. The speakers at this event included:
Retired Senator John Nimrod of the Assyrian Universal Alliance
Malfono Ninous Hanna of the Assyrian Democratic Organization
George Maraha of the Assyrian Liberation Party
Mr. Teri Botrus of the Assyrian National Party
Prince Anwar Muawiya al-Amawi, Prince of the Yezidis
Mr. Elie Baraghid, a representative of the Lebanese military forces
Shamasha Ghassan Younan of the Shuraya Party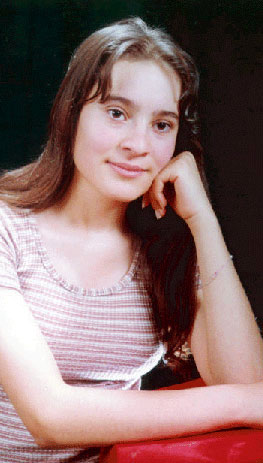 Lina Nissan Passed Away on Martyrs' Day
(ZNDA: Hasaka) Lina Nissan, the 18-year-old Assyrian girl from Syria, who was diagnosed with Chronic Myeloid Leukemia (CML) in 2000, passed away last Thursday in her hometown of Hasakah, Syria.
Since a bone-marrow transplant was not readily available in Syria, Ms. Nissan was brought to Canada and then the United States for treatment in 2001.
The surgeons at University of Chicago offered to perform the $250,000 operation for the $100,000 raised by the Nissan family through charity events in Chicago and from international donations.
With the help of many Assyrian families, doctors, and the generosity of several humanitarian organizations including the Assyrian Aid Society of America, Ms. Nissan was able to receive the required treatment in the United States. Her brother, Daniel, was identified as a matching donor for the crucial bone-marrow transplant.
Lina Nissan received her brother's bone marrow in October 2002 and began a 7-week chemotherapy treatment. She returned home to Syria. Lina's condition deteriorated again this year and she passed away on 7 August surrounded by her family members and friends.
Lina Nissan is survived by her mother Wardeh, father Shimon, brothers, Daniel and David and sister Helen.
[Z-info: See Ms. Stella Alkhas' essay "The Day I Met Lina" at http://www.zindamagazine.com/html/archives/2002/10.21.02/index.php#TheLighthouse].
Christian Science Monitor Interview with Yonadam Kanna
Courtesy of the Christian Science Monitor (6 August); by Ann Scott Tyson
(ZNDA: Baghdad) Like many Iraqi politicians, Yonadam Kanna has a flair for the theatrical.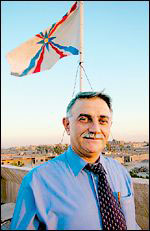 During a meeting over sugary tea in his spacious, well-appointed office, the member of Iraq's new 25-person Governing Council abruptly rises from his plush armchair. He steps into a back room, and returns gripping a three-foot- long sword.
"Don't be afraid," he says, his gray moustache curving mischievously. "This is the sword of Uday. He used it to cut women's heads off." In fact, "You are sitting in Uday's office," he tells a female visitor.
"I sent another sword to [Defense Secretary Donald] Rumsfeld to put in the US national museum to show people how criminal he [Uday] was," Mr. Kanna continues, referring to the late son of deposed Iraqi leader Saddam Hussein.
The usually mild-mannered Kanna can be forgiven for a little victor's bravado. After repeated jail terms followed by two decades in the wilderness as an Iraqi opposition leader against the Hussein regime, Kanna relishes the irony of his new position: His Assyrian Democratic Movement (ADM) now occupies the sprawling Baghdad compound that formerly belonged to Uday Hussein's paramilitary group, Saddam Fedayeen.
"An empire of terrorists has collapsed," he says.
Still, the question for many Iraqis is whether Kanna's gusto will be matched by concrete achievements, as Iraq's fledgling Governing Council begins to create from scratch the framework for democratic rule in the nation of 24 million people.
The hurdles to genuine effectiveness by the council, which convened July 13, are many. First, it is an interim body approved by the US-led Coalition Provisional Authority (CPA), which as the occupying force retains the ultimate decision-making power in Iraq.
Major international and regional groups, including the United Nations and - this week - the Arab League, have declined to recognize the Governing Council. Last month, the UN Security Council decided not to give the interim Iraqi body a seat. On Tuesday, Arab League Secretary-General Amr Moussa called the Governing Council "a start" but opted to withhold recognition until post-Hussein Iraq has an elected government.
Among the Iraqi people, the power of the body remains a question mark, interviews with residents suggest. On the extreme end of the political spectrum, some strident Shiite Islamic clerics have derided the Governing Council as a tool of American tyranny.
Finally, Iraq's very ethnic and religious diversity - reflected in the council's makeup - makes reaching consensus difficult for Kanna and others as they debate key steps in the transition to a permanent elected government in Iraq.
In one of its first major decisions, for example, the council failed after an all-day discussion late last month to select a single president. Instead, it established a rotating presidency, with nine different members serving for one month each in the order of their names in the Arabic alphabet.
"Maybe it would be better if we had one president plus some deputies," Kanna said, "but we are trying to keep the coalition together, so to keep our momentum we agreed on nine people who roughly represent the majority of the council," he said. "We did this for the sake of unity."
The council's 25 members represent all Iraq's ethnic groups including the roughly 75 percent who are Arab, 15 percent who are Kurdish, and the rest who include Turkomans and Assyrians. More than 60 percent of Iraqis - and council members - are Shiite, with more than 30 percent Sunni. Three council members are women, or 12 percent of the total, a high ratio for Arab Islamic countries. About two-thirds of members come from long-time Iraqi opposition groups, while the rest were chosen for their technical expertise.
Collective leadership is the priority, with the president mainly serving to run meetings, Kanna said. The upshot, however, could be a continued lack of decisiveness by the council.
Other primary tasks of the council include: establishing ministries and appointing ministers - which is ongoing this week; selecting Iraqi envoys to other countries; setting national economic, education, and health policy; and creating a commission to draft a new national constitution.
A new constitution, Kanna and others agree, must ensure fair representation for all groups in order to secure Iraq's long-term political stability. This week, the council is discussing a constitutional preparatory committee of 15 diverse experts who will take approximately six months to rewrite the Iraqi constitution, Kanna said.
One sensitive issue will be the role of Islam in the constitution. While the constitution should uphold religious freedom, it is also likely to include a clause expressing respect for "the Islamic culture of the majority of Iraqi people," says Kanna, who is a member of Iraq's Christian minority.
Once the constitution is complete, the plan is to hold a national referendum for Iraqis to vote on it. National elections will then take place, possibly within a year from now, according to coalition and Iraqi officials.
Relations between the interim council and the CPA have been good, Kanna says, although he and other members voice some criticisms of the coalition's handling of security problems in Iraq. After the war, Iraqis looted vast arms warehouses, "taking their pick" of weapons ranging from AK-47s to grenades, he says. Hussein released thousands of criminals before the war.
The council will meet with top coalition generals this week to push for a greater Iraqi security role, he says. One plan calls for sending an Iraqi civil defense battalion to each of the country's 18 governorates.
"The people will never be happy with tanks in the streets every day," Kanna says. "A national Iraqi force will be much more active and productive," he says, adding that Iraqi forces can better sort out "bad guys" unwittingly hired by the US-led coalition.
Despite an ambitious agenda, the council faces practical obstacles to its work. It still lacks a spokesman, has no by-laws, and has yet to define its basic institutional relationships with the CPA or local governments in Iraq. Phone communications are limited, e-mail remains a novelty to some, and security is a constant concern - one reason the council is moving to new offices this month.
Still, Kanna is optimistic as he stands on the roof of his compound. An Assyrian women's movement building and TV station have taken the place of Uday's torture chambers, and children play soccer on a field where Iraqis five months ago feared to tread.
Creating a democracy in Iraq will take time, but at least, he says, the worst is over. "We suffered 35 years," he says. "Now the best job is done, there is no more Saddam Hussein and his regime."

FlowCom to Buy Karl Suleman's Froggy
Courtesy of AustraliaIT (13 August)
(ZNDA: Sydney) FlowCom is bidding for Karl (Khalid) Suleman's Froggy internet business for an undisclosed sum, more than 18 months after it walked away from a previous bid. Better known as a small broadband network operator serving the corporate sector, Flowcom provided the underlying Internet service for Froggy.
In May 2002, the NSW Supreme Court banned Mr Suleman from from running a corporation for life over an unregistered investment scheme that cost more than 2,000 people, mainly from Sydney's Assyrian community, an estimated $65 million.
Froggy was last put up for sale in late 2001, along with the rest of the business empire of the Assyrian businessman Karl Suleman whose assets were liquidated after he was caught running a fraudulent investment scheme.
"This acquisition is an obvious next step in diversifying our user base, which we were not quite able to make in January 2002 when Froggy last changed hands," FlowCom chairman Neil Tuckwell said.
"We're better placed to make this sort of move now, with the support of Crown Financial, our secured creditor."
FlowCom had been the frontrunner to buy Froggy in January 2002, but walked away at the last moment and instead struck a four-year service agreement with Froggy's successful buyer, Bluejoy.
In January 2001 FlowCom was bidding against a range of parties, including OzEmail and Hotkey Internet Services, a subsidiary of US telco Primus. It offered less than $100 for each of Froggy's 30,000-strong Internet customers.
FlowCom this week announced it was acquiring Froggy's 30,000-strong customer base, as well as its infrastructure, domain names and brand.
Froggy's biggest shareholder Tim Berry had agreed to remain with the business.
FlowCom said the acquisition would help extend its presence among internet users.
"This continues the company's strategy of deriving the majority of its revenues from end-user services rather than from the carrier and reseller sector, which was the company's main market two years ago," it said.
FlowCom said Froggy already operated on its network, so the transition for Froggy's customers would be seamless.
Froggy staff and operations would continue as at present.