Our Moral Obligation
Wilfred Bet-Alkhas
Editor
Pat yourself on the back! Your voice was heard loud and clear in Washington D.C. last week.
The Petition Campaign was a great success indeed. The result? See this week's "The Lighthouse" & "Literatus" sections!
The article written by Ms. Nina Shea of the Freedom House Center for Religious Freedom and Dr. Paul Marshall's testimony before the House International Relations Committee were the unswerving consequence of the lobbying efforts of an unyielding group of Assyrian volunteers.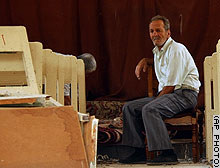 A man looks over damage in the St. Thomas Church in western Baghdad on Saturday.
Members of a few concerned Assyrian (Assyrian, Chaldean, and Syriac) organizations in the United States and several independent activists converged under a single objective to put forth the goals of the "Action Alert" which Zinda readers came to know so dearly last month.
This group, deserving our praises for their brilliant planning and teamwork, attended an important conference in Washington on 1 October (see Bravo) and met with several Congressional representatives that weekend. They produced several documents and maps, collected signatures, and showed up at the doors of the government representatives to communicate our ideas and anxieties.
Less than a week later, the four R's noted in our earlier editorial (21 September 2004) were reflected in Ms. Shae's article and Dr. Marshall's testimony.
* * * * *
On Saturday, five more Chaldean and Syriac churches were damaged by a series of calculated bombings in Baghdad. No one was killed. ChaldoAssyrians of Iraq may not be the only targets of such bombings, but unlike their Moslem neighbors they still do not enjoy the protection provided elsewhere by the well-armed Kurdish and Shiite militia.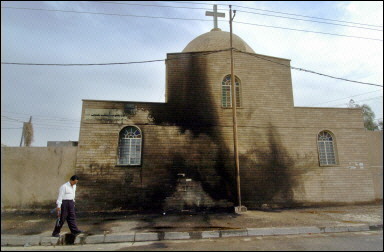 The attacks came at the beginning of the ninth month in the Islamic calendar, namely Ramadan. The bombs were planned to detonate before the start of the ritual fasting which commences everyday at sunrise. Ironically, this is the month during which the Moslem believers through fasting and self-reflection undergo a spiritual healing. The healing of the attackers began with the destruction of the Christian holy shrines.
History repeats itself. The Ottomans' committed a hideous genocide against the Assyrians, Iraqi monarchs massacred us, Saddam Hussein destroyed our villages and churches, and now the Moslem insurgents are terrorizing us by kidnapping and beheading our children and blowing up our holy parishes. For the last thirteen centuries Christians in the Middle East have suffered much oppression under intolerant regimes.
The attackers now are obviously not Iraqis. An Iraqi believes in the unity of his or her nation under a single purpose, an honor attributed to the people of Mesopotamia and their sophisticated culture. Neither are these attackers connected to the Mesopotamian values of progress and justice. They revel in attacking children and women while praying in churches and kidnapping little boys to finance their future attacks. Not much has changed since their glorious past fighting one other in the hot sands of Arabia.
The prospects of a free society in Iraq shakes the foundation of their immoral beliefs in the subjugation of the helpless and withers their clannish masters' abundant coffers. Christians of Iraq represent decency, progress, innovation, freedom of thought, prosperity, free will, and everything else despised by the fundamentalist Moslems.
An internationally-recognized and protected safe haven for the defenseless Christians of Iraq is not just a good idea; it is the obligation of the free world for the protection of the oldest Christian nation in the world and the only remaining indigenous population of Iraq.
Surrounded by hostile neighbors, Assyrians are now compelled to defend themselves. Today, Moslems and Christians may be equally target of hatred in Iraq; but in a not so far a future this ignoble insult will be displayed against the ChaldoAssyrians alone. History attests to this truth.
Assyrians will stay in Iraq, to the dismay of these brainless executioners and their even less gifted title-holders. We possess a certain dignity that results from millennia of enjoying an advance culture and humanity unknown to these senseless murderers. For the last seven thousand years, we have been a light and a source of hope unto all the civilized nations of the world. We will not fall short of our martyred ancestors' expectations now.
Clearly, ChaldoAssyrians of Iraq no longer wish to exist as the landless victims within their own ancestral lands. They do not want to be dependent on the kindness of strangers from across the oceans and from the lands nearby.
We may be stateless, defenseless, and small in number, but we possess something very sublime and inspirational that gives us a reason to survive the atrocities committed against us: we have a moral purpose to exist in the face of injustice and cruelty. We wish to defend our children, our home, churches, and our children's future in Iraq.
No one dreams of a more powerful, democratic, and prosperous Iraq than Iraq's ChaldoAssyrian citizens. A safe haven will protect our vulnerable masses, while the rest of us labor to rebuild Iraq as a beacon of optimism and success.
* * * * *
Every single signature, online or on a paper copy, was a point of light, a message of hope sent to the ChaldoAssyrians of Iraq – that we care for their safety and the future of their children in our ancestral land of Bet-Nahrain. Your unequivocal voices brought us closer to the reality of a safe haven in Iraq.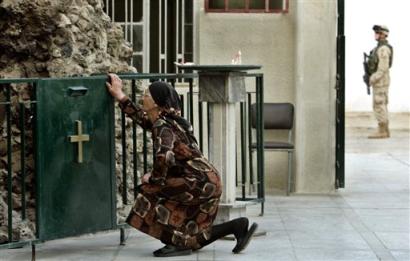 An Iraqi woman kneels down for prayers as an U.S. Army soldier guards the Syrian Christian Church prior to a church service in the center of Baghdad, Iraq. (AP Photo/Anja Niedringhaus)
The political action group applauded above is tirelessly moving ahead in several U.S. cities and Washington D.C. Soon it will need more patrons and supporters – in the U.S. and in every country where the Assyrian struggle for justice and human rights is kept alive.
As in every political movement it was not an easy task to pull together a consensus of opinions on the common identity of the Syriac-speaking people in the Middle East, their names, etc. But these few alarmed groups and individuals put aside their differences and focused on the most important issue at hand: the safety of the Christians of Iraq.
As Assyrians (Nestorian, Chaldean, and Syriac) we must be outraged at the violent attacks on our churches in Baghdad. Our political groups everywhere must condemn these attacks this week and governments and churches be asked to join us in this condemnation.
We must also ask Moslems, Jews, and Christians in the U.S. to join our national organizations and churches to run an ad in the New York Times to publicly condemn terrorism directed at the Iraqi Christians during the month of Ramadan.
ChaldoAssyrians of Iraq are devoted to the unity of all peoples of Iraq in a free and democratic country. Assyrians in the Diaspora are similarly devoted to the protection and the safety of the ChaldoAssyrians of Iraq. Together we will participate in the reconstruction of the land between the twin rivers and help bring end to the dominion of the misguided assassins in our homeland.
Canary in a Coal Mine
Nina Shea
Center for Religious Freedom
Freedom House
Hundreds of Middle Eastern-American Christians gathered in Washington earlier this month to discuss events in their former homelands. One of the principal organizers, Walid Phares — a Lebanese-American scholar and activist with the Foundation for the Defense of Democracies — had been working to build such an alliance since before September 11. About three quarters of Middle Eastern-Americans are Christians, but, divided along ethnic and national lines, they have had little discernable influence on foreign policy. Now galvanized by Bush administration initiatives promoting democracy in the region, Christians of Lebanese, Iraqi, Syrian, and Egyptian descent have come together to find their voice. This is a momentous time for these communities, which are neither Arab nor Muslim. At the Friday night dinner their enthusiasm was palpable.
Iraqi-American Christians — or "ChaldoAssyrian Americans," as they now prefer to be called, in recognition of the new solidarity between their Chaldean and Assyrian churches — came to the Washington summit in full force. Numbering about half a million in the United States, they are both exhilarated and apprehensive. They are exhilarated because America liberated Iraq after 35 years of tyranny. For the first time in that country's modern history, the ChaldoAssyrians are now explicitly recognized and given full rights as citizens under its basic law, the Transitional Administrative Law adopted under Coalition auspices last spring. This interim constitution provides them with basic rights to religious freedom, in contrast to the stunted confinement within church walls that characterized Christian expression during the Hussein era. It also recognizes them as a distinct "ChaldoAssyrian" ethnic group with full "administrative, cultural and political rights." This generation of Iraq's native Christians are daring to hope that there is a future for them in their ancestral homeland.
At the same time, they are apprehensive about the short-term survival of their community, citing church reports that due to terrorist attacks targeting the ChaldoAssyrian Christian community, as many as 40,000 of them have fled in the past two months.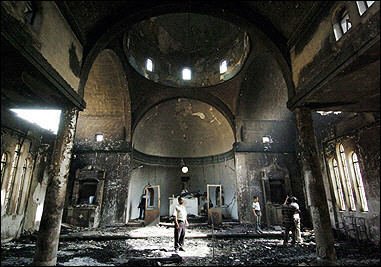 Iraq's Christians have long been a persecuted and marginalized religious and ethnic minority. In August 1933, soon after the formation of the Iraqi state, several thousand Assyrians were massacred by the army in Semele and other villages north of Mosul. One Iraqi-American told me he came all the way from his home in California to the Washington conference in memory of his great grandmother and her mother, both of whom had been beheaded in the not-so-good old days. Over 200 Chaldean and Assyrian villages were destroyed under Baathist rule, especially during the Anfal campaign of 1987-88 when, as the Iraq-Iran war was winding down, Saddam Hussein undertook a ruthless military offensive against perceived domestic opponents in the north. In 1977, Hussein eliminated the Chaldeans and Assyrians from the census, forcing them to register as either Kurds or Arabs. Such attacks and relentless discrimination between the 1960s and the fall of Hussein regime drove a full half of Iraq's indigenous Christians into the diaspora.
An estimated 800,000 ChaldoAssyrians remain in Iraq and constitute the country's largest non-Muslim minority. They have found the last two months especially traumatic. On Tuesday, according to the Catholic press outlet, Fides, Islamic fanatics broke into a Chaldean Catholic home near Mosul and killed a ten-year-old boy while shouting, "We've come to exterminate you. This is the end for you Christians!" In prior weeks, ChaldoAssyrian workers were murdered for "collaborating" with the United States. Three others were kidnapped and beheaded. Christian girls were assaulted with acid for not wearing the veil. A Chaldean Catholic priest was forced at gunpoint in his church to convert to Islam. Christian homes were targeted by mortar attacks that killed and injured children sleeping in their beds.
Of course, as the country's first democratic election approaches, the security situation for everyone throughout the country has been volatile. Many Iraqis, irrespective of religion, have been attacked and threatened by terrorists. But Iraqi Christians are being targeted for their faith. They worry that this may be the beginning of either a jihad by Muslim extremists or an ethnic-cleansing campaign by Kurds, with whom they live in close physical proximity, or both. Their fears crystallized when five of their churches were bombed during Sunday services on August 1. It was reminiscent of a similar coordinated bombing attack on synagogues in 1948 — an attack that led to the mass exodus of Iraq's Jewish community.
Christianity in Iraq dates from the first century and the ChaldoAssyrians are the world's last remaining community to speak Aramaic, the language of Jesus. The Assyrians are an ethnic group, the Chaldeans a religious designation; both groups indigenous to the Iraq region, their presence there predating Christianity. It was their ancestors who built the tower of Babel and some people in Mosul, ancient Nineveh, continue to fast each year in repentance as the Prophet Jonah exhorted them to do.
Most relevant for U.S. foreign-policy considerations, the ChaldoAssyrians form one of the most politically modern, skilled, and educated communities in Iraq today. An exodus of these Christians would substantially reduce Iraq's prospects of developing as a pluralistic and democratic society. Their leaving would be not only a "brain drain" but a "sane drain" as well. Without a sizeable non-Muslim minority, moderate Muslims who want to keep religion out of government — Iraq's silent majority — will encounter far greater intimidation in raising their voices against the imposition of medieval Islamic law, favored by Iranian-backed parties and clerics.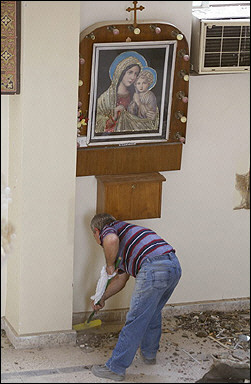 The ChaldoAssyrians are the canaries in the coal mine for the greater Middle East as well. The extent to which they are tolerated in the new Iraq is being watched closely by the Maronites of Lebanon, the Copts of Egypt, and other non-Muslim populations of the region.
Keeping the ChaldoAssyrians secure in Iraq should be a paramount concern for the United States. One way to help them can be found in the interim constitution. The Bush administration had the foresight to insist on including article 53D in the basic law — an overlooked provision that establishes the legal basis for creating an administrative unit explicitly for the ChaldoAssyrians, which could serve as a safe haven. The community needs U.S. help to create such a district, which should encompass the traditional community villages located near Mosul, in the Nineveh Plains. They believe that thousands of their members who have fled to other countries in the Middle East over the decades but are not permanently resettled could be persuaded to return to such a secure place.
The State Department should make the implementation of article 53D an urgent priority. It also must start providing directly to the ChaldoAssyrians the congressionally authorized funds needed to rebuild their destroyed villages, roads, schools, and clinics as well as to undertake start-up economic-development projects. Because State's funding practices favor Arab and Kurd groups, the ChaldoAssyrians have been shut out of U.S. reconstruction aid.
The next few months will be critical, as the Iraqi people undertake a census, elections, and the drafting of a permanent constitution. The State Department cannot afford to be indifferent to the persecution facing the ChaldoAssyrian religious minority. Doing so risks the demise of one of Iraq's — indeed the world's — most ancient cultures, and it undercuts President Bush's goal of building a more tolerant, democratic Iraq.
[Zinda: Nina Shea is the director of Freedom House's Center for Religious Freedom. Her article appears in the National Review's October 14th issue.]
Terrorists Attack 5 Churches in Baghdad
Courtesy of the Associated Press
16 October 2004
From an article by Scheherezade Faramarzi
(ZNDA: Baghdad) Blasts from five homemade bombs rocked five Christian churches in four Baghdad neighborhoods early Saturday between 4:20 to 6:00 a.m. Baghdad time-- as a string of violent incidents marred the start of the Muslim holy month of Ramadan. No casualties were reported. In an apparently coordinated attack on the second day of the holy month of Ramadan, the church of Saint Joseph was hit at about 4:00 am followed by similar explosions over the next two hours outside four others.
Extensive damage was reported to St. George's Church (Mar Giwargis). Soldiers believe 60 pounds of explosives was used in that attack.
St. Jacob's Church (Mar Yacoub), St. Joseph Church (Mar Yosip), St. Thomas Church (Mar Toma), and the Church of Rome were also struck.
One of the buildings, the Chaldean Catholic Church of St. George's parish in the central Baghdad district of Karrada, was engulfed in flames, leaving the wood-built sanctuary completely charred.
"My family and I fled from the fire," said the church's priest Nabil Jamil Sulaiman, wandering around the mangled debris. "Thanks God, there were no wounded or dead."
On the wall inside the charred remains of the church could be made out some words from the Bible talking of the broken body of Jesus Christ.
Saturday's "explosions will no doubt push people to immigrate," said the Rev. Raphael Qutaimi, acting bishop of the Syrian Catholic Church. "But this country has been ours for thousands of years. Our ancestors shed blood defending it. We mustn't leave it."
He and all the dozen Christians interviewed Saturday said the attacks were not the work of Muslim Iraqis, but foreigners.
"The foreigner is trying to create division and enmity between Christians and Muslims. We must stand hand in hand and heart to heart and not give the outsider cause to divide us," Qutaimi said.
"They want us to leave Iraq," said Surah Samaan, a 25-year-old lab technician, referring to the attackers.
Merchants who sell liquor are usually Christians, seen as a transgression by hard-line Muslims.
No one has claimed responsibility for the church attacks.
In August, insurgents launched deadly attacks on four churches in Baghdad and one in Mosul. Pascale Isho Warda, a ChaldoAssyrian who is the interim government's Minister for Displacement and Migration, estimated as many as 15,000 out of Iraq's nearly 1 million Christians have left the country since August
Those attacks were blamed on the Abu Musab al-Zarqawi terror network. Two weeks ago, men armed with Kalashnikov assault rifles killed seven Christians leaving their jobs at a social club in Baghdad.
But Yonadem Kana, secretary general of the Assyrian Democratic Movement, said the general security situation of the country had chased away many Christians.
"They figure instead of staying and paying $50,000 to kidnappers for ransom, they can spend $5,000 in Latakia or Damascus," he said, referring to two cities in neighboring Syria.
He said more than 100 Christians had been murdered after the U.S.-led war, including 35 liquor vendors and others who worked for coalition forces. About 200 more have died in the general violence that has gripped Iraq. Insurgents have been targeting many Iraqis who are seen as helping the U.S.-led forces, and extremist militiamen have often targeted people in occupations seen as breaking Islamic rules.
Never in Iraq, Kana said, had a church been attacked, not since the days of the Mongols, who massacred 800,000 of Baghdad's residents and destroyed the city in the 13th century.
For the first time in their lives, Widad Mikho and her sister Neshwan will not attend Mass on Sunday, too frightened after a series of church bombings in Baghdad.
But fear will not keep Dana George away. "It would be better to die in church than anywhere else," she said.
Neshwan Mikho, 46, has been cleaning the Saint John's Church in the working class neighborhood of Bataween every Saturday for the past seven years undeterred by rain, sandstorms or even shellings. "But today, I was afraid to go when I heard the news," she said.
She said she and her sister, Widad, 60, who lives with her, will not catch the 6:30 a.m. bus that takes them to church every Sunday.
"I am sad in my heart because tomorrow I will not be attending mass," said Widad, a Chaldean Christian. "They are denying us what is most important thing in our lives."
She has been living in a state of near paranoia since the August church attacks. At night, she said, she wakes up four or five times to look out the window to make sure no one's standing outside.
"We are targets from both sides - for being Iraqis like everyone else and for being Christians in particular," said Widad, a retired nurse.
She and her sister would like to leave for good for Australia, where their two other sisters live. But they cannot afford it.
"What can we do? They are shelling our church, they might break into our homes tomorrow and the next day force us to wear the veil," Widad said.
Christians Talk of Leaving Iraq After Church Bombs
Courtesy of Reuters
17 October 2004
(ZNDA: Baghdad) Explosions that damaged five churches in Baghdad have prompted some Christians to wonder whether it's time to leave their ancient homeland.
''If they don't want us in Iraq, let them say it and we will leave,'' said Samir Hermiz, 40, standing next to a church that was reduced to ashes. ''I'm really thinking of leaving Iraq.'' The series of explosions caused no casualties but they further unnerved Christians already shaken by coordinated church bombings that killed 11 people in Baghdad and the northern city of Mosul in August.
There was no immediate word on the identity or motives of the assailants who struck five churches, including a Roman Catholic church in Karrada that was gutted in the attack.
Iraq's Christians had little power under Saddam Hussein's rule but they did not feel threatened by sectarian violence.
Now Christians feel they have no protection in a country where the interim government is struggling to quell the bloody chaos of suicide bombings, shootings and kidnappings.
Like others in his community, store keeper Nabil Khawam believes ''Christians are the true Iraqis'', but he fears they can no longer risk staying.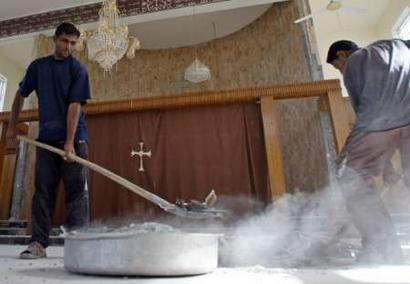 ''We are a minority and we have no power. We are peaceful people. If attacks continue our numbers will decline,'' he said.
''They are infidels...infidels... They have no faith,'' Kamil Shabo, a 40-year-old labourer, said of the bombers.
''It is a religious sanctuary, how could they attack a religious place?'' If he gets the chance to work abroad, Shabo said he will leave Iraq and never return.
After independence in 1932, the Iraqi military massacred Assyrian Christians in villages around Mosul for what was seen as their collaboration with former colonial power Britain.
Some Christians, like former Deputy Prime Minister Tareq Aziz, a Chaldean, rose to prominence under Saddam.
After the latest bombings, Christians fear they may no longer be welcome in the land they believe their ancestors inhabited for about 2,000 years.
Housewife Khamina Nanno, 24, was always proud of her faith, studied the Bible every Friday at the now-ruined Catholic church in Karrada, as well as attending weekly mass.
''They want to create a sectarian war and unrest between Islam and Christianity,'' she said, wiping away tears as she surveyed the destruction.
''I will come tomorrow for the mass. I don't care if I die. At least I will die in a place of worship and go to Paradise.''
Assyrian Boy Beheaded, Burned in North Iraq
Courtesy of Bahzani.net & Ankawa.com
6 October 2004
(ZNDA: Mosul) On October 5 the Christian residents of Ba'asheeqa and Bahzani, near Mosul in north Iraq, were shocked when they discovered the body of Fadi Shamoon. The 'Aaid Khidir Shamoon family was devastated as they witnessed the body of their 15-years-old son, who was found burned after he was beheaded.
Fadi was kidnapped while he was riding his bike, which his father had given to him as a present, in the 'Ain 'alaq orchards in Ba'asheeqa around 12:00 noon.
His body was treated in the most barbaric way; he was mutilated, burned, and thrown in the Ba'asheeqa-Teez Kharab road in front of al-'Azzawi ranch.
Earlier, Ba'asheeqa mourned another victim, Julian Afram Yacoub, aged 14, when he was hit in the head with a concrete block and then burned.
The murderers have been targeting innocent children, which are forcing many Christians and Yezidis to flee their homes and villages.
Vatican News: Life is a Nightmare for Christians in Mosul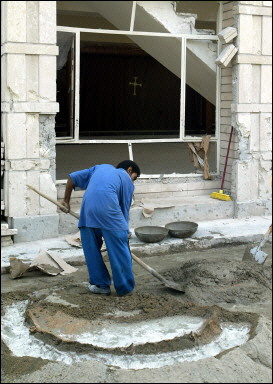 An Iraqi worker mixes cement outside the damaged Saint Thomas church a day after it was bombed in the Mansour neighborhood of Baghdad. (AFP/Awad Awad)
(ZNDA: Mosul) "The situation is serious. Christians live in constant fear of being attacked, kidnapped, and killed by radical Islamic groups of terrorists. Once Mosul was a quiet town; now life is impossible," an Iraqi Catholic nun--who asked not to be named for the safety of the community--told Fides, Vatican's official news agency.
"Armed groups of Islamic fundamentalists break into homes of Christians to kill and steal. This is also because we know that in some mosques Imam teach that it is not a crime to kill a Christian," the frightened nun told Fides.
The nun speaks out of personal experience. "This is a manhunt for Christians, and life is a nightmare. Not long ago one of my relations was taken hostage and kept tied up and blindfolded for 5 days without food. They tortured him to convince him to convert to Islam. He refused, and eventually the family paid ransom money, and he was released. But many other less fortunate people who were kidnapped were killed."
"All our families feel threatened. The situation is chaotic and Christians are an easy target because they do not react with violence, they are unarmed. Our families are too afraid to send children to school and the women hardly ever leave the house. One of our Chaldean priests was threatened and forced to move away because he held a funeral for a Christian youth who was killed. In fact many Christians are leaving for Syria, Jordan or the Kurdish region of northern Iraq."
"There is total anarchy in the absence of police and civil authorities. Many fundamentalists are known to all but no one does anything. Our peaceful Muslim neighbours can do nothing. All we can do is pray."
In 2003 Fides reported several episodes of Islamic fundamentalist pressure on Christians in Mosul. A year ago, after months of threats, the Chaldean Catholic bishop's residence in Mosul was attacked by a group of armed men. The bishop had received many letters threatening Christians with death if they did not convert to Islam. After the attack Christian religious leaders appealed to all the people of Mosul to isolate the extremists.
Sunni Cleric Threatens Jihad Against Iraqi Christians
(ZNDA: Baghdad) U.S. forces stepped up operations on October 12 across Sunni insurgent strongholds in Ramadi and supporting Iraqi troops in raids on seven mosques suspected of harboring terrorists, storing illegal weapons caches, promoting violence, and encouraging insurgent recruitment. U.S. aircraft attacked a mosque after insurgents hiding in the shrine opened fire on American Marines, the U.S. military said.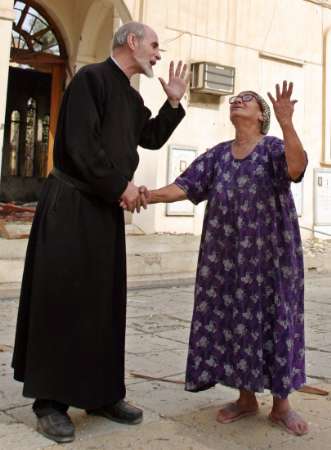 According to Reuters, the U.S. military raided a Sunni mosque in western Baghdad and said it had seized arms and explosives in an operation that sparked an angry Muslim protest. Brigadier General Mark Kimmitt, a U.S. military spokesman, said U.S. troops had conducted the operation after a tip off from Iraqis and netted a wide array of weaponry to be used against occupying forces facing a relentless insurgency. "Over recent months, the U.S. 1st Armored Division has received numerous reports from Iraqis that the al-Tabool mosque was being used for criminal and terrorist activities." He said troops, led by the Iraqi Civil Defense Corps and the Iraqi police, had found several sticks of high explosives, hand grenades, AK-47 rifles, rocket-propelled grenade launchers, and thousands of rounds of ammunition.
Meanwhile, demonstrations erupted in Baghdad to protest U.S. military raid on another capital mosque and detention of a number of prominent Sunni scholars. Sheikh Mahdi Al-Someidah, a member of the Supreme Authority for Religious Guidance and Awareness (A newly-founded Sunni Gathering), was detained along with 20 of his followers and worshippers in a massive sweep that lasted for six hours. The protestors called for holy struggle against the American occupation forces during prayer at the Ibn Taimiya mosque in the Yarmuk district of Baghdad.
Certain fundamentalists and Islamists took advantage of the sensitive situation and repeated their threats against the Christian population in Iraq. The Arabic Al-Jazeera Satellite TV broadcasted on 10/12/2004 the news of the raid of the mosques. Muhammad Bashar al-Fayadh, a Sunni cleric who is member of the Muslim Scholars Association, a prominent group made up mostly of Sunni clerics, threatened to declare a direct war on the Christian minority in Iraq due to the actions of the American crusaders, their presence, and attack on mosques.
Women Fleeing Baghdad University Under Islamist Threats
Courtesy of the Washington Times
17 October 2004
(ZNDA: Baghdad) Islamist extremists are targeting the city's universities by threatening and even attacking female students who wear Western-style fashions, setting off bombs on campuses and demanding that classes be segregated by sex.
At least 1,000 of an estimated 3,000 women who want to postpone their studies for fear of violence will be granted leaves of absence, a student affairs official here said.
Guards at al-Kindi University in Baghdad last week arrested a man carrying nearly 10 pounds of TNT in a bag.
"The terrorist admitted that he belongs to an Islamic group," university security chief Sameer al-Sumaidai said. "When we asked him about the one who sent him, he replied, 'It is God who sends me.' "
Pamphlets found on campus declared: "If the boy students don't separate from the girl students, we will explode the college. Any girl student who does not wear a veil, we will burn her face with chemicals."
At Mustansiriya University, a bomb exploded earlier this month in the college of sciences, injuring two students, one seriously.
The explosion occurred shortly after pamphlets also appeared on that campus demanding that men and women students be separated and that women abandon Western clothing and cover their heads when in public.
Two days later, student Rana Fuad was abducted as she was leaving the campus. Within an hour, the young woman, still dressed in blue jeans, was found unconscious at the college gate.
Miss Fuad stopped going to classes and refuses to talk to the press.
"Rana is in bad psychological condition," friend Sheatheh Ahmed said. "She was kidnapped by three masked men who told her they would burn her face with chemicals if she puts on such clothes again, and that this was her last chance."
The campaign of intimidation already is leading to an exodus of students from campuses.
"According to the reports of the Ministry of Higher Education and Scientific Research, 3,000 women students want to postpone their studies for this academic year because of the lack of security and the threats," said Ali Abdul Zahra, the official in charge of student affairs in Baghdad.
He said the ministry will approve leaves of absence for at least 1,000 women.
Some female students feel obliged to wear the veil when going to and from school for fear they will be identified and targeted by terrorists watching outside the gates.
Even non-Muslim women, who are not normally expected to cover their heads in a strict Islamic society, do not escape the threats, students said.
Vian Kiryakus, a Christian electrical-engineering student at Baghdad University, wears a veil outside the college when waiting for her father to give her a ride home.
"I have no choice but to wear the veil; the terrorists keep watching and targeting the unveiled girl students," Miss Vian said.
"The terrorists get more powerful day by day," said Fadwa, a Christian chemical-sciences student at Baghdad University who asked to be identified only by a single name. "They can put their threats into practice. I'm afraid of them because I know what they mean by 'chemical liquid.' "
The threats and attacks are causing resentment even among female students who already wear the veil out of religious conviction.
They say that whether to wear the veil should be a choice, not enforced by compulsion or fear.
Rasha Yaqoob, a Muslim and an engineering student at Baghdad University, has for seven years chosen to wear the veil.
"It in uncivilized to impose wearing veils on the girls; it is anti-women's rights and undermines their role in leading the Iraqi society," she said.
Said another engineering student who also wears a veil: "These [terrorist] elements are foreigners from Syria and Jordan. Why don't they apply these rules in their countries, where corruption and improper fashions are prevailing?"
Mar Delly : "We Must Stay in Iraq to Build Peace"
Courtesy of AsiaNews
16 October 2004
(ZNDA: Baghdad) "Iraq is our country, our homeland: why should we leave, why should we not stay?" Though saddened by this latest episode of violence against Christians, the Catholic Chaldean Patriarch, Monsignor Emmanuel Delly, stresses that terrorism has struck and continues to strike Muslims as well. Monsignor Delly reaffirms that Christians are firmly resolved to remaining in Iraq and to building, along with their Muslim brothers, a future of peace for their country: "This is our homeland: at the moment, dark clouds are crossing over it, but they will surely pass. Peace will return to this martyred land."

Mar Emmanuel Delly, Patriarch of the Chaldean Catholic Church
In an interview with AsiaNews, the Catholic patriarch confirms that there was extensive damage but no victims in last night's attack against churches.
"Just as they have attacked mosques, they attacked churches also, but we thank the Lord that no one was killed or injured. There is a lot of damage to property, but no victims.
An attack carried out at the hour makes one think of a demonstrative act.
Indeed, I think so. The attack occurred at 4:30 a.m. and the church at that hour was deserted, as everyone was asleep. There was certainly material damage, but that can be fixed: what counts is that there were no victims.
Who stands to gain from attacks against churches?
These are inhumane acts, but on behalf of Iraqi Christians, I ask everyone to pray that those who do such things see the light. We must work together to build peace and the good of our country.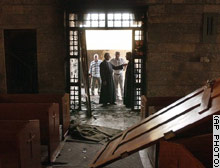 Iraqi priests survey the damage to one of five churches damaged in attacks Saturday.
This is a significant moment for Muslims: Ramadan has just started...
Their homes too have been attacked, therefore these difficulties are shared by both groups and by all those who want peace. Religion is in favour of God and peace, not violence . . .
Do you think there will be an increase in violence during the month?
Let's hope not, because the month of Ramadan is a chance for reflection and prayer. I really hope it will be a month of tranquility and stability and that such episodes of violence never happen again.
What do you ask of us, as Catholics, and of the West in its entirety?
I would like to make an appeal: I ask you to pray for Iraq. All I ask is prayer, because nothing else can prevent such acts of violence from happening again in the future. May the Lord touch the minds of these people, those who do not want the good of Iraq.