Fortune Favors the Bold
Wilfred Bet-Alkhas
Editor
Few events in the political life of the Assyrian nation have caused so many changes so quickly as the liberation of Iraq and the end of the Baathist regime. This was the result of decades of struggle against tyranny inside and outside of Iraq and finally due to the U.S. and British governments' intervention. For us as Assyrians (also known as Chaldeans and Syriacs), the sudden changes since March of 2003 prompted a significant shift in our mobilization plans. In short, we were not prepared for the tremendous pressures coming from Baghdad and Washington D.C. The elections in January will now stretch out our resources to oblivion if we do not assess our positions realistically and plan a major offensive early in the game.
For the citizens of Iraq the landscape is changing day-by-day. For Assyrians in Iraq this change happens faster and with greater impact. It began with the bombing of the churches on 1 August. Some Assyrian families, to the cheers of the Sunni insurgents, foreign murderers, and some Kurdish leaders in the north, began deserting their homes in the big cities and leave for Jordan and Syria. Had we been prepared for this, we could have easily diverted their escape routes from western to northern Iraq. We wasted our time fighting over what our families in Baghdad should call themselves, while they were preparing to leave Bet-Nahrain and take the same escape route all of us living in the west began taking three decades ago.
Basically, most of our successes in Iraq are superficial attempts to alleviate our agonizing pains in reacting to unexpected events. Our official representatives are powerless, our demands unrealized, and the agreements among our political groups as permanent as those of our Moslem counterparts. Allow me to frankly address a few possible scenarios that may be played out in the next few months or years:
1. One by one, every Iraqi city may be subjected to the same treatment Fallujah received earlier this month, to be destroyed and then rebuilt per U.S. / U.K. plans. The "destroy and rebuild" strategy, under the auspices of Pentagon, worked in Germany and Japan during and after the Second World War.
2. The U.S. will embark upon (if it has not already) an aggressive campaign to emphasize the pre-Islamic Iraqi identity in order to increase appreciation of a multicultural society. Such films as Alexander (two of them coming out this and next year), Gilgamesh, rebuilding of historical sites, funding of archaeological excavations, and so on are only the tip of the iceberg.
3. Turkey will be allowed to enter the European Union and in exchange forced to put on a kinder and gentler face in welcoming its minorities back to their villages, private schools, churches, and even political positions.
4. To equalize the population numbers along the religious and ethnic differences, the U.S. and U.K. will vigorously help bring back some of the three million dissident Iraqis, the non-Shiites in particular. The targeted populations will include the Kurds, Sunnis, and Assyrians.
5. Israel will continue to invest in northern Iraq to help carve out another non-Arab nation-state that sits on a vast amount of oil and does not care for Saudi brand of Islam or generosity.
6. To ensure that the Iranian mullahs will not be able to affect their Shiite followers in Iraq, an artificial barrier may be created between Iraq and Iraq, beginning with a regime change in Iraq's western neighbor and a series of political maneuvers to deem Iran as an enemy of democracy, Iraqi people, and the free world. All contacts between Iraq and Iraq will be terminated from Baghdad.
7. France, Russia, and Germany will place greater pressure on U.N. to re-enter into the arena of the Mesopotamian politics. The Islamists, the anti-U.S., and even anti-Pentagon liberals directed by the State Department will bring their laptops and mobile phones back to Baghdad and begin planning a post-U.S. reconstruction plans.
8. Vatican will increase its efforts to bring greater recognition to "Arab Christianity" in Iraq and elsewhere in the Middle East through its prelates in Baghdad and Damascus. The "other" brands of Christianity will be allowed to leave the country and re-establish themselves in North America. A "Nestorian" patriarch in Baghdad will hinder such plans and may even invigorate a slowly vanishing non-Roman Catholic orthodox form of Christianity in the Middle East.
9. Iraq may be divided into several geographical "stans" (Kurdistan, Shiastan, Sunnistan etc) along the ethnic and religious lines controlled from a single central government in Baghdad or possibly Kirkuk. Bush may not like this, but a segmented Iraq may be a more stable power player than either an occupied territory (as is now) or one that disintegrates into two or more newly formed nation-states.
10. U.S. will not pull out of Iraq unless it secures a semi-permanent base of operation within this borders, most likely in an area between Mosul and Baghdad.
Are we prepared for any of these possible changes in the future?
In the absence of a well thought of plan, there are universal precautions we can all apply to avoid the worst. But we must first try our best to plan for the worst. Bringing all our resources together - political, intellectual, religious, and even artistic - and outline a global plan of action should be our first task. The participants should thoroughly and open-mindedly examine all possibilities and then plan out a strategy to cope with all possible outcomes. They should then work locally with their teams to implement the decisions reached in this meeting.
In this case, a group of project managers will act as our generals reporting to a central committee in the "command and control center". The teams will be divided into planners, publicists, writers, speakers, administrators, lobbyists, technical experts, legal and medical professionals, teachers, and so on. So how do we get involved and ask to be on any specific team? Who can act as our commanders, generals, and warriors?
Operation Tammuz is Zinda's contribution to this global effort. Delayed twice before in order to accommodate other equally important efforts this year, Operation Tammuz will be officially deployed on December 12th. You will be asked to enlist the largest campaign to save the Assyrian people, heritage, and identity on this planet.
We expect well over a thousand registrations in the first two to three weeks from at least 35 countries around the world. Our technical team is testing an online registration system that will obtain your information and in ensuring your privacy, process your information that can only be revealed to one or more individuals with your prior permission.
You will be asked to make selections for involvement in several projects to combat any harms that may come to the Assyrian population in Iraq and elsewhere. The list of things you can do is endless, but the time you may be asked to volunteer will not be.
If any good comes of this, it might be a reexamination of our nation's limited resources and perhaps new political and economic policies to encourage greater production. We are of course shooting for a much greater good.
Today, The Remnants of Assyria Emerge in the Middle East
[Zinda: The following is an excerpt from the speech given by Sen. John Nimrod, Secretary General of the Assyrian Universal Alliance at the Assyrian International Conference in Moscow in May 2002 - almost one year before the start of the second Gulf War.]
Senator John J. Nimrod
Secretary General
Assyrian Universal Alliance
Chairman, Unrepresented Nations and Peoples Organization (UNPO)
In this text we are proposing some of the issues facing the Assyrians in the Middle East and looking at some of the perspectives on their future. When we write about the remnants of Ancient Assyria we are referring to the Assyrian people by whatever name they are called today, Chaldean, Syriac, Jacobite, etc., which number over 4,000,000 today. If we were to include the Yezidies, Maronites etc., the number becomes quite significant.
We Assyrians know that we are the remnants of the people of Assyria but the world has not accepted this fact. Therefore it presents us with the problem of recognition even though our nation has been in existence for the past 6752 years. Confirming our roots as the remnants of Assyria for the period of year 1 to 2,000 A.D. has been generally accepted by all including the academic world, but proving the prior 612 years B.C. becomes more difficult. Our Heritage Museum at the AUA Foundation has documented our existence from the year 2000 going back to the years 25 or 50 B.C.. Dr. Simo Parpola heading a group of Assyriologists are attempting to prove the existence of any remnants of Assyria today. They are starting with 612 B.C. and coming forward to establish any existence of Assyrians in today's world. Hopefully their effort will result in confirming that we Assyrians of today are the remnants of the ancient Assyrians. Not only our identity needs to be recognized and attained but also our rights both human and legal would then be recognized by the world especially those in our homeland, the country of Iraq.
Today our people are scattered in over forty countries with three quarters of them still living in the Middle East. The two million Assyrians still living in Iraq had hundreds of their villages destroyed, their land confiscated and almost of their population displaced to urban areas in and surrounding Baghdad. Today some 30,000 to 50,000 Assyrians still remain in the North of Iraq successfully holding our place in light of the major presence of the Kurdish majority. This so-called safe haven area governed by Kurds can be our salvation or downfall. The two major Christian churches in Iraq are the Assyrian Holy Apostolic Church of the East and the Chaldean Church of the Roman Catholic Church. These Churches are forbidden by the government from teaching the Assyrian language in the church or in any private or public schools. The Assyrians are not referred to as a people or a nation by the government but only as a Christian Minority.
For the last one hundred and fifty years in the Middle East we have had opportunities and promises to be recognized as a people and a nation. We failed to gain recognition and be accepted as first class citizens or be identified as a minority or as the indigenous people of Iraq. Instead, by friend and foe alike we were dealt broken promises, genocides, massacres, and persecution for our loyalty. This was partly our own fault because we would not stand unified as a people. We divided ourselves and allowed our enemies and governments to further divide us because we worked against our own interests causing us to fail in our quest for political recognition. The countries of Iraq, Iran, Turkey and Syria recognized us only as a Christian minority or Arab Christians. These governments followed with population transfers of Assyrians to urban areas as previously mentioned and those governments continued in their efforts to Arabize the Assyrian Christians which forced many of them to flee the countries of the Middle East abandoning the homeland leaving behind treasures of Assyrian culture and heritage. This is very evident when looking at western Turkey in the Mardin and Tur-Abdin region and in Urmia in northwestern Iran and along the Khabour river villages of Syria and the Christian mountain areas of Lebanon. This trend has continued over these many years leaving behind thousands of stateless Assyrians and refugees around the globe.
Today we find that the new world as a result of 9-11 has also caused changes to take place in the life of Assyrians. Sometimes at the darkest moments, events happen that offer unexpected opportunities and cause us to re-evaluate our priorities. Such is the case for we Assyrians. As a result of keeping our faith and Christian principals it has caused us to be persecuted for the past several hundred years by the Middle East rulers and governments. We now find that having kept our faith and language that these two items are the very vehicles that open the door for we Assyrians to recognized and emerge as the remnants of Assyria.
George W. Bush, President of the United States, one of the most powerful countries in the world stated in his speech before Congress shortly after 9-11 that, "Christians and Jews must be able to remain in Asia (Middle East) and Africa". This statement of President Bush is very significant and important to the Assyrians. The reason for this is that in Iraq there are about two million Christians. Most if not all of the Christians are Assyrians. Therefore, we can expect and should demand that assistance and security for the existence of Assyrians in Iraq be guaranteed and provided for by the United States Government or/and United Nations. Some logical questions follow that need to be addressed. Are we (Assyrians) equipped at this time to accept this opportunity? Are we prepared to have Assyrians as part of the new Government in Iraq? The most important question is, have we learned our lesson from our forefathers that only with a unified effort, putting aside pride and any differences, can we emerge as victorious Assyrians gaining a place in the homeland, Iraq, and becoming a permanent part of the new Middle East.
In the past it has been difficult for Assyrian political parties to work together to achieve a common goal. One suggestion comes to my mind that will help to resolve this problem. I would ask that all Assyrian political parties, social organizations, religious administrations representing all facets such as Chaldeans, Syriac, Tribal entities, established parties, new parties, old Federations, New Federations, etc…join forces and be one voice all supporting the same cause. To this extent AUA is calling a conference to be held...of all the Assyrian Political Parties for the purpose of selecting Iraqi Assyrians with expertise and experience to participate in the several working groups being set up by the United States. These working groups will make recommendations and advise new members of government should the sanctions be lifted and a new government of Iraq be in place...
While a spirit of cooperation is prevailing and with a political victory in hand we can then propose a further discussion at the conference on the subject of why we need to be unified on our request to the USA and UN for assistance and support for the Assyrian Christians to remain in Iraq. If there are differences among us let us not try to resolve them at this time. Let us first acquire our requests and then if we choose to divide ourselves and not agree on the requests that we have obtained we can decide our own fate among ourselves. We must close knowing that this solution is different this time from what history has recorded in the past. This time if we decide to divide ourselves, or fight it out again, let us do it after we have obtained our requests or rights. It is far better for us to divide something that we have acquired - than have nothing to divide. The Assyrians and the world must wait and see if the Remnants of Assyria are to Emerge in the Middle East.
| | | |
| --- | --- | --- |
| | | |
Kanna Proposes Limited U.S. Involvement
Courtesy of the Boston Globe
22 November 2004
By Bryan Bender
(ZNDA: Baghdad) A growing number of national security specialists who supported the toppling of Saddam Hussein are moving to a position unthinkable even a few months ago: that the large US military presence is impeding stability as much as contributing to it and that the United States should begin major reductions in troops beginning early next year.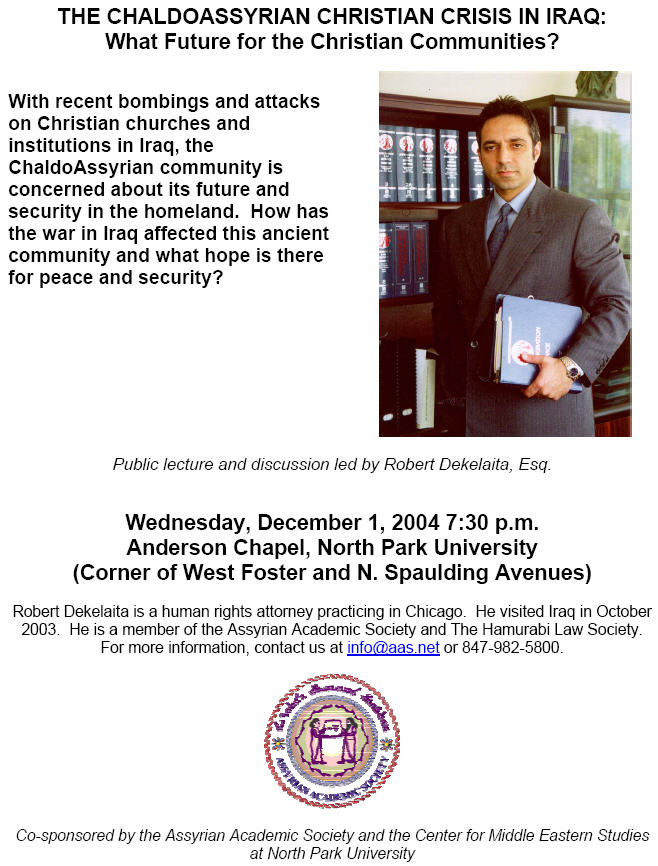 This sentiment is also voiced by prominent Iraqis, among them Mr. Yonadam Kanna.
Yonadam Kanna, Secretary General of the Assyrian Democratic Movement and a member of Iraq's Interim National Assembly, also backed the US-led removal of Hussein. He now says Washington must "prove that the United States is a liberator, not an occupier."
Kanna wrote in an e-mail interview on Sunday that the elections and expanded training of new Iraqi security forces "must go in parallel with the partial withdrawal of multinational or US forces." He added that the remaining forces should be kept "away from daily and direct dealing and friction with the people, which lead sometimes to sensitivity and problems or clashes with the innocent."
The core of their arguments is that even as the US-led coalition goes on the offensive against the insurgency, the United States, by its very presence, is stimulating the resistance.
Evidence is growing of an anti-American backlash that threatens Iraq's stability. Dozens of Sunni political leaders, angered by the recent military onslaught of Fallujah, are threatening to sit out the nationwide elections.
Iraqi People Will Decide the Future, Say Church Figures
Courtesy of the Zenit News Agency
22 November 2004
(ZNDA: Baghdad) Even as the international community discusses Iraq's future, key Church figures think the country's future is in the hands of its people.
Archbishop Fernando Filoni, papal nuncio in Iraq, and Archbishop Emmanuel III Delly, Chaldean Catholic Patriarch of Baghdad, shared that view with AsiaNews.
"The main problem is not support for the Allawi government, which has already been confirmed by the international community," said Archbishop Filoni.
"This government represents the present, but the great unknown remains the future, or rather future possibilities," he said.
Elections set for Jan. 30 will be a milestone, but the nuncio's uncertainty about the vote is betrayed by an emblematic expression he uses: "Inshallah [God willing], if elections take place, the country will take a decisive step forward."
There can be no certainties until the very end, even if "the political will for elections exists," he cautioned.
The archbishop stressed that Iraq's situation must be addressed "day by day, because there are hundreds of parties and the nuances and positions of all of them are not known."
Every day, the Western media report on carnage and attacks, but life goes on in the country.
"Violence is only one aspect of Iraq today," Archbishop Filoni said. "There are millions of people who are trying to live in peace. In the provinces, for example, life is simpler, while in Baghdad and Mosul, things are more complicated."
Greatest concern goes to large urban centers, he added, since "there is no guarantee of security. We are still at the mercy of terrorists."
The nuncio contrasted the Allawi government, which is supported by the international community, and parts of the Iraqi people.
"It is Iraqis themselves who must push forward the country's democratic process and today," the nuncio said. "The overall picture is certainly not positive."
Archbishop Delly, the Chaldean patriarch, supports Prime Minister Ayad Allawi's efforts and stresses that he will do whatever possible to ensure that government directives are carried out.
The patriarch reiterated that the Chaldean Church "has always been obedient to the government and trusts its efforts."
"The whole population wants peace and is tired of violence and conflict," he said. "Everyone must act for the good and the security of Iraq, even those who do not support the government's work."
He added: "We must all work together to bring Iraq to new life and government efforts are to be supported for the good of everyone.