Assyrian Youth Volleyball Tournament in Germany
The Assyrian Youth Federation of Central Europe (AJM) invites all youngsters once more to a volleyball tournament to be held between 5 and 7 November in Gutersloh.
The event begins on Friday evening with a small welcome party at the Assyrian Mesopotamia Association of Gutersloh.
On Saturday the volleyball tournament commences in the Carl Miele Gymnasium where a lecture and party will start after the games. Noman Hanna, Ninos Cacan and Michael from Giessen will provide this evening's musical entertainment. The program will also include handing of the winner's cup, a raffle, and a performance by the dance group Ishtar.
Not Receiving Zinda Email Notifications Anymore?

Welcome party
Friday, 5 November, 8 PM
Assyrian Mesopotamia Association of Gutersloh
Sedanstr. 2a, 33330 Gutersloh
Volleyball Tournament
Saturday, 6 November, 10 AM - 5 PM
Gymnasium of the Carl Miele-occupational lecture
Wilhelm wolf str. 2-4, 33330 Gutersloh
Celebration
Saturday, 6 November, 9 PM
Reethus Floria Westfalica
Mittelhegge 11, 33378 Rheda-Wiedenbruck
For more information contact:
Grigo Simsek +49 / 0 179 51 51 422 grigo6750@yahoo.de
Ninos Cacan +41 / 787 34 66 59 ninosjakob@hotmail.com
Urgent Appeal from Barnabas Fund:
Iraqi Christians Face Escalating Violence
Barnabas Fund Rapid Lobbying Network
Action 12
3 November 2004
United Kingdom
Details
The Christian community in northern Iraq is facing ever mounting intimidation and violence. Since the beginning of the Muslim fasting month of Ramadan (15th October) the situation has escalated, with the apparent aim of forcing the Christians out of their homeland. Churches have been bombed, church leaders threatened, Christian women attacked for failing to wear the hijab, money has been extorted from Christian families and death threats made against them. The situation has reached an extreme and desperate level.
Urgent Action
1. Please send a letter or fax to your MP or other local political representative.
Then if you have time please also write to:
2. The President of the US and the British Prime Minister (as the leaders of the two main nations in the coalition in Iraq) 3. The US and UK embassies in your country (if you live outside of the US or UK)
4. Your MEP (if you live within the European Union)
Points to Make in Your Letter
General Points in All Letters
1. Christians in Iraq are facing a marked increase in intimidation and violence at the hands of Islamic militants. Use some of the examples from the Background section below to show what you mean. (You can even enclose the whole Background section on a separate piece of paper if you like.)
2. The US, UK and Iraqi security forces and authorities in Iraq should be fully briefed on this situation and should redouble their efforts to do all they can to ensure the full protection of the Christian community, to bring to an end these threats and attacks and uphold their human rights.
3. Urge the recipient of your letter to do all they can to call for this and to work to end the suffering of Iraqi Christians as a matter of urgency (see Specific Points below).
Specific Points for Some Letters
1. Ask your MP (or other local political representative) to raise the suffering of Christians in Iraq as a matter of utmost urgency with the Foreign Secretary (or equivalent in your country) and call for their immediate intervention to protect Iraqi Christians. 2. In writing to the President of the US, the British Prime Minister or the US and UK embassies argue that they as the two main nations in the coalition in Iraq have a special responsibility to ensure the protection of Iraqi Christians. 3. Ask your MEP to urge the European Commission to look into the suffering of Christians in Iraq urgently and do all it can through diplomatic and political channels to urge the coalition nations to pay special attention to the persecution of Christians and to ensure their protection.
Points to Remember in Letter Writing
* Be polite and calm: facts and reasoned argument will be more effective than emotive phrases and pleas
* Be clear and keep it simple: firstly identify what the problem is, secondly tell the recipient of your letter what you would like them to do about it (adapt the above points)
* Be concise: your letter should certainly be no longer than one side at the very maximum
Please write a letter using your own words. A personal letter from you will be much, much more effective than a standard one, which are often ignored.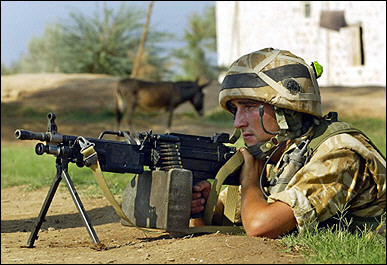 Contact Details
MPs for British Supporters
Your MP
House of Commons
Westminster
LONDON
SW1A 0AA
Find out name of MP by calling House of Commons Information Line: Tel: 020 7219 4272
Send fax or e-mail via http://www.faxyourmp.org
President of the US and the British Prime Minister
President George Bush
The White House
1600 Pennsylvania Avenue NW
Washington, DC 20500
USA

president@whitehouse.gov
vice.president@whitehouse.gov

The Rt Hon Tony Blair MP
10 Downing Street
London
SW1A 2AA
UK
US Embassies
Australia:

J. Thomas Schieffer
Ambassador
American Embassy
Moonah Place
Yarralumla ACT 2600
Fax: 02 6214 5970

Canada:

Paul Celluci
Ambassador
American Embassy
490 Sussex Drive
Ottawa
Ontario K1N 1G8
mailto:ottawacomments@state.gov

Germany:

Daniel R Coats
Ambassador
American Embassy
Neustaedtische Kirchstr.4-5
10117 Berlin
Fax: 030 8305 1215

Ireland:

James C. Kenny
Ambassador
American Embassy
42 Elgin Road
Ballsbridge
Dublin 4
Fax: +353 1 668 9946

New Zealand:

Charles J. Swindells
Ambassador
American Embassy
POBox 1190
Wellington
Fax: +644 499 0490

UK:

David T. Johnson
Charg' d'Affairs
Ambassador
American Embassy
24 Grosvenor Square
LONDON
W1A 1AE
UK Embassies
Australia:

Sir Alastair Goodlad
High Commissioner
British High Commission
Commonwealth Avenue
Yarralumla ACT 2600
Fax: 02 6273 3236

Canada:

David Reddaway
High Commissioner
British High Commission
80 Elgin Street
Ottawa
Ontario K1P 5K7
Fax: 1 613 237 7980

Germany:

Sir Peter Torry
Ambassador
British Embassy
Wilhelmstr.70-71
10117 Berlin
mailto:info@britischebotschaft.de

Ireland:

Stewart Eldon
Ambassador
British Embassy
29 Merion Road
Dublin 4

New Zealand:

Richard Fell
High Commissioner
British High Commission
POBox 1812
Wellington
Fax: 04 473 4982

USA:

The British Ambassador
3100 Massachusetts Ave
Washington DC
20008
MEPs
Your MEP
Phone the UK Office of the European Parliament on 020 7227 4300 or check out for the address of your local MEPs. Supporters from other EU countries please go to the European Parliament homepage.

Background
The Christian community in northern Iraq is facing ever mounting intimidation and violence. Since the beginning of the Muslim fasting month of Ramadan (15th October) the situation has escalated, with the apparent aim of forcing the Christians out of their homeland.
International media reported the first incident, when explosions occurred at five churches in Baghdad just after 4.00 a.m. on Saturday 16th October (2nd Ramadan). But the other threats and attacks on Christians go largely unreported. Photographs of three senior bishops in Mosul are being circulated around, with the message that they are agents of the USA, infidels, and action must be taken against them. The church leaders serving the Christian community of Karakush, Mosul have received two letters from the Islamic militants. The first ordered them to allow Christian women to marry Muslim men (which in Muslim eyes means the women effectively convert to Islam). This, said the letter, would enable the women to be "blessed" and "purified" by their marriages.
New Books from

Gorgias Press

The second letter to church leaders, received yesterday 2nd November, announced the militants' intention of killing one person in every Christian family, as a punishment for the women not covering their heads and not going to university. This follows up pressure and threats from Islamic extremists against all women in Mosul, requiring them to cover their head with the hijab (Islamic headscarf). A Christian woman was killed around 26th October for having her head uncovered. Two other Christian women who were seen bareheaded in a market had nitric acid squirted in their faces. Specific threats about the clothing of female students at Mosul University have so frightened the Christians that an estimated 1,500 Christian women have stopped attending their classes.
Islamic militants are knocking on the doors of Christian homes in Mosul, demanding money. They argue that since the Christians do not contribute weapons and do not fight, they must make a financial donation instead. This follows exactly the model of classical Islam, whereby Christians and Jews were excluded from fighting for the Islamic state but instead required to pay a special tax - jizya - to cover the costs of their protection.
Leaflets are being distributed with the message: "Christians go; leave Iraq." Word is being passed around in the mosques, telling Muslims not to buy anything from the Christians. Not only are they infidels, it is said, but also they will soon be leaving, so the Muslims will be able
to take their homes and property for free.
Pray
In this grave situation, the Christians in Iraq beg for the prayers of their Christian brothers and sisters elsewhere.
* Pray that Iraqi Christians (especially women) will have a special sense of the Lord's presence near them at this time. Ask that they will receive an abundance of faith, courage, strength and enduring love from the Lord to enable them to continue on with their faith in these dark days.
* Pray for the protection of Iraqi Christians. That no further attacks or violent incidents will occur.
* Pray for the US, British and new national authorities in Iraq. Ask that through your letters and the other reports they receive, their hearts will be moved to a special concern for Iraqi Christians. Pray that in the midst of many other serious problems the authorities will take seriously their responsibility to also protect the Christian community and do everything that is in their power to achieve this.
* Pray for the Islamic militants who are currently targeting Christians in Iraq. Pray that God will soften hard hearts and that they will be convicted with the horror of what they have done and turn to the Lord in repentance. Pray that they will come to faith in Christ, and in years to come (like Paul of Tarsus) will turn from persecutors to great champions of the Gospel.
Please do share these requests with your Christian friends and churches. All lobbying requests are available on our website in a more colourful user-friendly presentation format which you can access, print and pass on.
The World of Our Artists
Samuel Yalap
France
All Assyro-Chaldeans, from the age of 7 to 77, know and appreciate the exceptional music of Linda George, Janan Sawa, Juliana Jendo and Manuel Simon. But very often, we know them only by their songs or their names. What do we know about them personally? Who are they really? What are their opinions, their dreams? What life did they have before they became celebrities? What are their passions, their plans for the future? What do they think of our people that suffer and our young people?
I wanted, as a fan and a producer, with my team (Ayten Karatay & Antoine Yalap), to try to find answer to all these questions! Very often, we devoted ourselves so much to our politicians that we forgot to speak about those which make our moments of joy, of sadness, who accompany our unhappy love affairs, our strong moments. These people who accompany our loneliness are exceptional people with pure hearts. The politicians certainly do much for our people. But, our singers deserve our homage for their devotion to the Assyro-Chaldean art and music? They sing the hope of our people and this sometimes dangerously, like Linda George or Lida Lawando who did not hesitate to go to accompany the difficult life of our people in Iraq. As David Kas, the organizer of the last great Assyro-Chaldean evening of France said: "Singers are the sun of our life; if the sun does not exist, the man cannot live".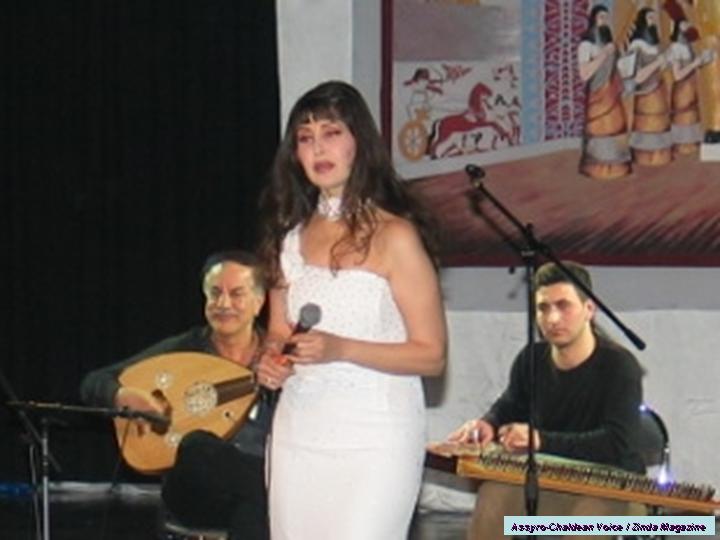 Juliana Jendo spoke to us about her faith; I saw in her a woman of courage, a cultured woman who handles in an exceptional way both beauty and the French language. She spoke to me, very frankly, about her life! If I should compare this Assyro-Chaldean diva with another diva of another time, I would do it with Dalida!
Linda George, called Kawkha D' Ninwé (Star of Nineveh), is the embodiment of gracefulness. She is a woman who skillfully combines simplicity and perfection. Her voice warms our hearts, as when one falls in love and does not know what to say. The young Assyro-Chaldean people feel the same thing that a French or an American feel standing before Celine Dion. Linda is not only a beautiful woman, but also a woman to be loved, simple and extraordinary at the same time.
What can we say about the modesty and humour of Janan Sawa, Arya d'Babel (Lion of Babylon)? Under his moustache, always so well groomed, his smile cannot be missed. He laughs at this world. He has not forgetten his past, the sufferings of his people on his native land. He has not forgetten how he has arrived at this place and time!
I did not see any complexity in his glance when he spoke to me very frankly about his past, the exile, first jobs. His daily life is like ours. When he spoke about women, he had the charm of Alain Delon and the charisma of Jean-Paul Belmondo! He will be for ever the man who left an undelible mark on the Assyro-Chaldean music.
Manuel Simon spoke to us about his last child, the 15th called "Only You", who opened her eyes to the world in Paris in a small bar in Sarcelles. His last songs are like anthems of a nation to a beloved girl. With songs inspired by the poetry of Baudelaire, his voice and his songs, his style and his charm remind us of Julio Iglesias. I thought he was unmarried. Imagine my astonishment when he said that he was married and father of three children, who are already adults.
Why did I compare these four artists to international singers or artists? Since they are on the same level as them for their people dispersed throughout the world and which finds its unit in the songs which rock its dreams and its hope to find one day... the beautiful Bait-Nahrain! I thank them all the four for their cordial reception and their frankness!
To view these video interviews, click on the links you are interested in: Juliana Jendo, Janan Sawa, Linda George, Manuel Simon

[Zinda: Mr. Yalap is the producer of the radio program, the Assyro-Chaldean Voice in France.]