The January 2005 Elections in Iraq
A Perspective on the Indigenous Syriac-speaking Christians of Iraq-including Assyrians, Chaldeans and Suryani (Syriacs) and where they Stand on the Iraqi National and the Kurdish Regional Elections
Fred Aprim
California
The Iraqi national elections scheduled for January 30, 2005 are going to elect the 275 representatives of the Iraqi National Assembly (parliament). The people in north of Iraq's Kurdish enclave will additionally elect the 111 members of the Kurdish Regional Parliament in north of Iraq.
On Wednesday, December 1, 2004, the leaders of the two major Kurdish political parties, Masoud Barzani's Kurdistan Democratic Party (KDP) and Jalal Talabani's Patriotic Union of Kurdistan (PUK), announced their agreement on presenting a single Kurdistan electoral list to compete in the Iraqi national elections, as well as for the election of a new Kurdish parliament. This united single list included the KDP, PUK, and a number of much smaller parties, many of which have been getting their salaries from these two dominant Kurdish parties.
How are the indigenous Syriac-speaking Christians of Iraq (Assyrians, Chaldeans and Syriacs) going to be represented in these two elections and under what name or merit?
A Courageous Demand
Last Thursday (December 2, 2004), and in a courageous and responsible step, His Holiness Mar Emmanuel Delli, Patriarch of the Chaldean Catholic Church, called Masoud Barazani, head of the KDP, and demanded that Assyrians and Chaldeans be recognized as one people and under one name. Under such direct demand from the highest Christian authority in Iraq, the Kurdish authorities gave in and the previous designation of "Assyrians and Chaldeans" as two separate nations, ratified some two weeks ago by the Kurdish parliament that is under the KDP and PUK influence, was defeated. The indigenous Syriac-speaking Christians of Iraq, i.e. Assyrians, Chaldeans and Suryan (Syriacs), will be recognized as one people under the "ChaldoAssyrian" name. This is similar to how they were recognized by the March 8, 2004 Iraqi Transitional Administrative Law (TAL). The ADM had threatened earlier that if the Kurdish parties separated the ChaldoAssyrian people into separate groupings as "Assyrians and Chaldeans," it was going to withdraw from the Kurdish parliament.
His Holiness Mar Dinkha IV, the patriarch of the Assyrian Church of the East, is yet to take similar steps. The silence of Mar Dinkha concerns many within both communities, especially in these peremptory times. Since unity requires a reciprocating action from two sides, one should hope that this continuous silence by Mar Dinkha will not force Mar Delli from taking a regrettable move where the Chaldeans are forced to go on their separate path.
The Iraqi National Assembly (Parliament)
There were 226 religious and political groups and individuals qualified and approved to participate in the Iraqi national elections. The Christians have the followings: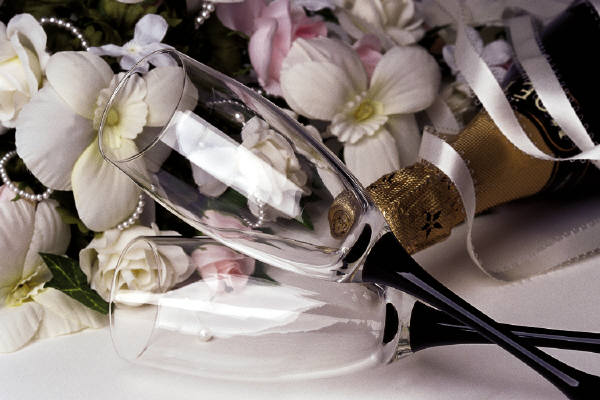 Babylon Productions
Wedding Photography & Video
DJ Band - Audio Recordings
Call Rafi Michael @ 416.663.4784
a) Individuals:
Hikmat Dawood Hakim (Independent)
b) Political Organizations:
Assyrian Democratic Movement (Younadam Kanna)
Chaldean Democratic Union Party (Abd al-Ahad Afram)
Assyrian Patriotic Party (Nimrod Baito Youkhana)
Assyrian National Assembly (Audishoa Malko)
Chaldean National Congress (Fouad Raheem Bodagh)
The Syrian (Syriac) Independent Group (Isho' Majid Hadaya)
Bet-Nahrain Democratic Party (Romeo Hakkari)
Patriotic Union of Beth Nahrain (Giwargis Khoshaba Michael)
c) Religious Organizations:
Christian Democratic Party (Minas Ibrahim)
Brotherhood Democratic Union (Its leader Shmouel Jajjo al-Botani has passed away)
d) Groups influenced by Iraqi and Kurdish patriotic movements:
Kurdistan Labor Democratic Party (Yousuf Hanna Yousuf)
The National Assembly (Hana' Edward George)
Unity is the only answer for the Syriac-speaking Christians of Iraq in general and other Christians whose heritage was the Syriac language; however, they speak Arabic or Kurdish today because of policies of Arabization and Kurdification. The Nestorian Assyrians need their brethrens, the Chaldean Assyrians, because the numbers of the former group is comparably low. The Chaldeans need the Nestorians because for all practical purposes political legitimacy and national struggle has been fought under the Assyrian name or the French Assyro-Chaldeanne (English Chaldo-Assyrian) in few cases. It is safe to claim that neither group can make it on its own in these troubled times in Iraq. Therefore, let us leave history aside for now and look at the unifying ChaldoAssyrian compromise as a political step reached for the sake of our survival in our ancestral home.
The ADM is working on two ends. First, to establish a united list that will include most of the other Assyrian Chaldean Suryani (Syriacs) groups that believe in the unity of our one-people, accept the Chaldo-Assyrian name, and enter the election through that list as an independent group. This list will have as well the support and blessing of our church leaders in Iraq. The second is to enter the elections through alliances of this ChaldoAssyrian list with certain technocrats, secular, patriotic, and progressive Iraqi groups.
The Kurds have formed a united Kurdistan list, with which they will enter both the north of Iraq regional and Iraqi National parliaments. Certain of our groups are included in this list including Chaldean Democratic Union Party (CDUP) of Abd al-Ahad Afram and Assyrian Patriotic Party (APP) of Nimrod Baito. To our information, the ADM is not part of this list as of this hour.
North of Iraq Kurdish Regional Parliament
BEAUTY SALON
FOR SALE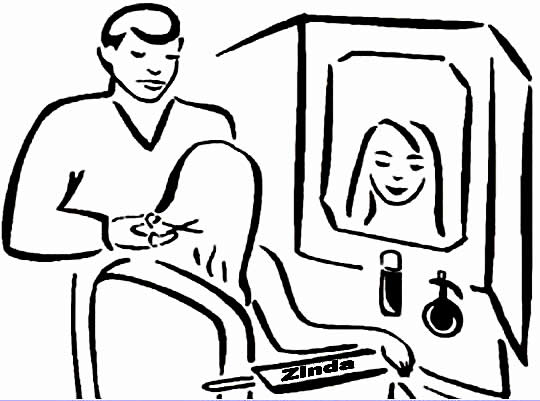 In the Heart of Fairfield-Australia
Modern, Established, &
Fully Council-Approved for All Beauty Treatments
with Rapidly Growing Clientele
Call Danny at 0417-836-840
or email PECHANATS@bigpond.com
As I stated, the Kurds have completed setting up their united list of 111 names for the Kurdish Regional Parliament. In some strange and peculiar interpretation for the principles of democracy, the two major parties of the KDP and PUK control 84 seats of the total 111 (42 for each group). This system will guarantee the absence of any viable parliamentary opposition and is designed to monopolize power in the Kurdish regional parliament. This system is in fact equivalent to the basic definition of a dictatorship. These non-democratic practices are not new to the tribal nature of the KDP and Barazani.
In 1992, the ADM had no other option but to join sides in order to have an organized movement. The ADM could not operate in Baghdad, and under the regime of Saddam Hussein there was no other option but to work with the Kurds. The Kurds were under the microscope since the establishment of the No-Fly Zone in 1991 after the Gulf War. They needed to present themselves as democratic people. They offered the Assyrians five seats in their 105-member parliament. Four seats were won by the ADM and a Christian group supported by the KDP won the fifth seat through fraud.
Things changed with the liberation of Iraq in 2003 and the fall of Saddam Hussein. The ADM is not accepting the unfairness and unjust acts of Kurds because ADM's leadership has an option today in free Iraq. The ADM is making its decisions based on the principle that we are ONE people with different names; however, and unfortunately, we have some misguided individuals among us who for one reason or another refuse to support each other or they have complete obligation to the KDP.
In the new Kurdish regional parliament, five of the 111 seats are designated for the indigenous Syriac-speaking Christians as follows:
1. Assyrian Democratic Movement (ADM) – 2 seats
2. Chaldean Democratic Union Party (CDUP) - Abd al-Ahad Afram – 1 seat
3. Chaldean Cultural Society (CCS) – 1 seat
4. Bet-Nahrain Democratic Party (BNDP) - Romeo Hakkari – 1 seat
The Assyrian Patriotic Party (APP) – Nimrod Baito, CDUP, CCS, and BNDP have joined in a separate alliance under the wings of KDP and are part of the Kurdistan single list as well.
Where Will we End?
If all the estimated 15 million Iraqi-eligible-voters cast their votes, then the threshold number for every member of the Parliament is to win 54,454 votes (15 million divided by the 275 seats in the National Assembly). The Kurds, meanwhile, have roughly 2 million eligible voters; hence, they will obtain 37 to 40 seats in the Iraqi National Assembly (parliament). The question to ask here is: Will any of the CDUP, CCS, BNDP, or APP representatives be given the chance to hold any of the 37 to 40 seats in the Iraqi parliament?
I doubt that the BNDP will, since Romeo Hakkari is comfortable in Arbil and in my opinion and the opinion of many other observers, will remain there as a representative in the Kurdish Regional Parliament. The CCS cannot muster any weight or influence to justify its presence in Baghdad, so it will remain in Arbil as well. There remain two groups: Abd al-Ahad Afram's CDUP and Nimrod Baito's APP. In my opinion, the Kurds will use both these two individuals and their groups as part of their 37 to 40 members block in the Iraqi National Assembly to be used against the united ChaldoAssyrians and the ADM.
I should remind the reader that all this is part of a wide political maneuvering by all parties involved. One does not know where this and that group will stand tomorrow as each group will assess the benefits of being independent or a part of a larger alliance with other groups. I guess we will all know soon when all the lists are made public.
Learning from Our Neighbors
Assyrians (ChaldoAssyrians in Iraq) must learn from the Kurdish example. The Kurds have been literally killing each other , most recently in the bloody fights to control Arbil in 1996 when the KDP collaborated with the Iraqi army and Saddam Hussein to chase the PUK out of the city. Why did they decide to work together? Because they want to control the maximum possible seats in the Iraqi parliament. What is wrong with these smaller Assyrian and Chaldean groups? Why can't they put their differences aside and work with the more powerful ADM for the benefit of our people? If a leader feels the pressure from another group and cannot make the courageous decision to unite with his own, such leader must resign his post and give his responsibilities to those who have what it takes to stand tall and proud and make the tough decisions or dissolve his small group. This is not about democracy; there is no true democracy in Iraq, as we understand it in the Diaspora. The name of the game is power and if smaller Assyrian groups do not understand this, they should not be in politics as they could do more damage than good. They could be used by the enemy and that is what is happening now. Now if the bigger group proved unworthy to lead, it could always be voted out in the next election. However, it must be given a chance to perform while it is supported by the majority in these crucial times.
If a leader is not healthy enough to perform his duties to the fullest, such leader should resign his post; we need leaders who can muster every bit of energy in these troubled times.
Preparing for all Possibilities
There have been many calls by political groups, religious figures, and few Iraqi government officials for the postponement of the elections due to the unrest and lack of security in many of the central Iraqi regions and in Mosul to the north (mainly Sunni populated areas). Many European leaders agree. However, President Bush, British Prime Minister Tony Blair, Iraqi President al-Yawar and Prime Minister Ayad Alawi, and many government officials in those three countries continues to promise to hold the elections on its scheduled time. The United States is sending additional troops to Iraq, bringing the total figure to 150,000 troops in order to secure the elections. Could these 150,000 troops with the much morally and physically broken Iraqi forces succeed to sustain stability for the elections? It seems to me that the insurgency is much organized than it has been anticipated. It is safe to assume today based on the number of attacks on U.S. soldiers, contractors working with the coalition forces, Iraqi forces, and their stations that the terrorists are well spread across Iraq. Observers doubt that these terrorists will allow the elections to take place, as they will increase their devastation, sabotage, and attacks on civilians to discourage voters from taking part in the process.
Michael Ziya Joseph
is
Running for
his
People

Click his
photo to find out why!
The United States and the Coalition Forces quickly approaching a real test in Iraq. Will the most powerful country on earth succeed to enforce democracy on a group of well-organized Sunni Arabs, backed by Wahabi fanatics from the neighboring states? How could the United States compensate and satisfy the Sunnis of Iraq who never shared power with other Iraqis and lost great benefits since the fall of Saddam Hussein? How could the United States pacify the hatred of Islamists who look at democracy and moderation as a threat to their existence?
I do not see how the Diaspora Iraqi Assyrians (known also as Chaldeans and Suryan or much loosely Syriacs) could participate in the elections. We are yet to see a mechanism through which such voting could be exercised. The Assyrians of the United States are spread in New York, Detroit, Chicago, Phoenix, Las Vegas, Turlock, Modesto, San Jose, San Francisco, Los Angeles, and San Diego. It is just not practical to ask thousands of people to fly thousands of miles to vote, especially when it has been suggested that there will be one voting place in the United States. The same is true for Canada and Australia, with one voting place in each country. Assyrians will stand to lose approximately 150,000 to 200,000 votes in these three large countries alone because of their spread and the non-presence of multiple voting stations. So, what are the Diaspora Assyrians going to do?
We really do not have the answer to these questions for now and we are not sure whether the elections will take place or not. Furthermore, many of the groups mentioned above are newly formed after the fall of the Ba'ath regime of Saddam Hussein in 2003. Most of them and for all practical purposes exist on paper only and we must analyze their formation thoroughly before we support them. Additionally, it seems that we are going to count on the votes of our people in Iraq only, unless those refugees in Syria and Jordan were included.
As indigenous people of Iraq, the ChaldoAssyrians, and all Syriac-speaking Christians throughout the world for that matter, must empower themselves with wisdom and give the leaders and groups that are calling for our unity a chance to lead us. We must give those calling for unity and those who our people in Iraq have entrusted throughout the last few decades the chance to fight for our rights. Let us for once take the responsibility and put every group where it belongs. Let us appreciate the true diamond and let us call that fake one for what it is … worthless.
Iraq's Christians Rely on Expatriate Votes
Courtesy of the Middle East Online
9 December 2004
By Salwan Binni
(ZNDA: Baghdad) With more Iraqi Christians living abroad than in their home country, their divided leadership here is hoping expatriate votes will help win parliamentary seats and reaffirm the minority's historical identity.
"We've been here for hundreds of years. We should be regarded as first-class and not third-class citizens as we were being treated under Saddam's regime," said Fouad Boudagh, head of the National Chaldean Council.
Iraqi Christians, who make up just three percent of Iraq's 26 million people, are estimated to number more than one million expatriates.
About 200,000 Iraqi Christians live in the US city of Detroit alone, Emanuel Shaba Yokhana of the Assyrian Patriotic Party said.
"They can help us win at least 15 seats in the next Iraqi National Assembly," he said.
Iraqis are to elect a transitional 275-member national assembly on January 30, the country's first free elections in half a century.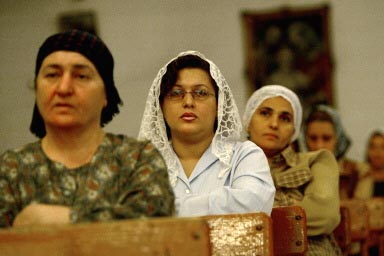 The new assembly will almost certainly be dominated by parties from the Shiite majority, but Christians, represented by eight political parties, are also hoping to get a small slice of the action.
The new assembly will write a permanent constitution, which if adopted in a referendum will form the basis for another poll to be held by December 15 next year.
Iraq's Christians, who feel marginalized by the majority Arab Muslims, are hoping to influence the new constitution and reestablish the historical identities of the Assyrian, Chaldeans and Syriac Christians.
Their desire stems from the fact that these groups lived in what is now Iraq before Arabs arrived from the Arabian peninsula.
"Our heritage as Iraqi Christians is fading. Over time, we have become accustomed to an Arabic style of thinking," says Ashur Yackub of the Bethnahrain Patriotic Union.
The country's provisional constitution, signed in March, guarantees freedom for all religions, but it has not assuaged the anxieties of the small Christian community - based mostly in Baghdad and Mosul - amid the torrent of violence and identity politics sweeping Iraq.
Churches in Iraq have been targeted in bomb and gun attacks since Saddam Hussein's ouster in April last year.
Christian leaders say they do not think the elections will result in an Islamic state similar to the one in neighbouring Iran, and they all agree on the importance of a secular Iraqi state where freedom of faith is guaranteed.
Eight parties are representing Christians, but they are siding with different coalitions in the electoral race.
Some leaders said the division was due to attempts by big parties to swallow up newly-formed smaller ones.
"We agreed first to introduce a one unified list, but the Assyrian Democratic Movement messed everything up," said Yashu Majeed Hadaya, head of the Syriac Independent Gathering.
The attacks on Christian targets have led the parties to adopt a low profile.
Most parties use small houses around Baghdad for their headquarters, with no external signs revealing the identity of the occupants.
While some imams in mosques urge voters to register and vote in favor of certain sides, Christian churches are not used for electoral purposes.
"At first we thought of using churches to tell people who we are and urge them to register" says Farid Toma Hirmiz of the Chaldean Democratic Union. "Because of the security situation, many Christians are no longer church-goers. We will not be able to use churches in our campaign."