Believe
Wilfred Bet-Alkhas
Editor
I was shocked last week when a close friend and avid reader of this column asked me if I still feel the same about the War in Iraq. "Was the War really justified and did it help our cause?", she asked. My friend works for a public relations company in the U.S. My reply was quick: "We should have done it back in 1991."
Friend: We?
- As an Assyrian nationalist and promoter of the Assyrian cause I look for every opportunity to push my people's agenda in the Middle East and the Diaspora. The Baathists had taken all possibility of my pushing the agenda away and the War gave me another chance.
If I have not brought my people's agenda to the forefront of every discussion table on Iraq's future, in Washington or the Hague, that remains my own fault alone and no one else's. I also take full responsibility for my people's failure to be fairly represented in the next month's election. I take full responsibility for not providing them adequate economic and security support which has forced them to leave their homes and villages for refugee camps and slums in Syria and Jordan. I take full responsibility for not doing enough in Washington to earmark millions of dollars of the funds that should have gone directly to them for the reconstruction of their villages, their schools and their churches. But I won't stop there. I also take full responsibility for the poor recognition of my people's unique identity as the most vital and progressive sector of the Iraqi society. I do the same for the political chaos and vacuum created by the disorganized groups pretending to represent me and my people in Iraq.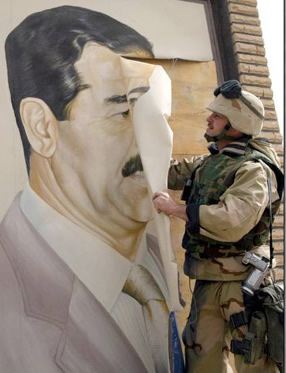 Friend: And what does this have anything to do with Bush's war games in my homeland?
- The War gave me an opportunity to act on my predecessors' dream at Pou, Tehran, Damascus and Chicago since the 1950's. But I have so far failed to act accordingly.
Friend: So what do you want to do now?
- All is not lost yet, but it will be if I remain silent and inert.
Friend: Don't you need an army of supporters to get anything done right?
- No, only an handful of believers.
Friend: How hard is it then to...
- (I stopped her) Very hard. It's easier to find a thousand sympathizers than a dozen believers these days.
Friend: Believers in what?
- In themselves and in reaching what seems unreachable.
Friend: I don't get it.
- Do you believe that you can one day become the president of your company?
Friend: I think it's possible if I do what is right.
- Do you know what is right to do to get there someday?
Friend: I'm not sure. But that's not my goal. I'm content where I am right now.
- That's exactly what has happened to all of us. We are happy where we are, being comfortably numb. My mentor, William Daniel, used to call us the nation in coma.
Friend: But if I'm happy where I am why would you want me to be something else?
- Because what you have now can be taken away from you tomorrow unless you are the decision maker and not on the receiving end of someone else's decision.
Friend: So what you're saying is that we're happy to be in a position of not making decisions.
- Content you may be now, but not happy.
Friend: What if I prefer comfort over happiness?
- You cannot grow if you don't feel secure in your place. You won't save money, invest in your future and your children's future unless you have a sense of security and stability that comes only with the ability to make decisions.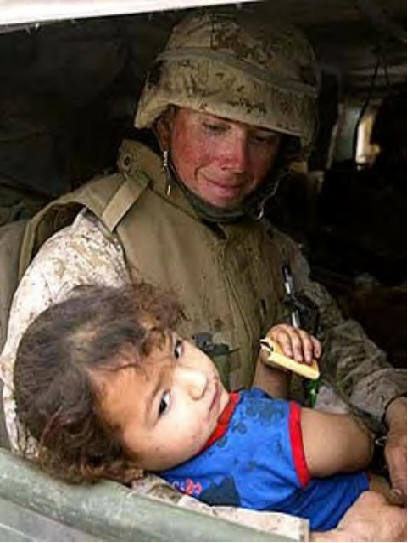 Friend: But I'm sure of my security in the U.S.
- Should we then bring everyone to this same place as yours? Move everyone from Iraq to the U.S. so they too can feel secure and content?
Friend: Why not?
- Hire more employees who will never want to become the president?
Friend: If that's going to make them happy, yes!
- What if your company dissolves and we're all laid off?
Friend: Company?
- Our community of Assyrians.
Friend: But how do you prevent its dissolution?
- By making the decision not to dissolve it.
Friend: Can't we become presidents of this company here and not there (she was referring to Iraq)?
- So you're now considering the presidency of the company?
Friend: Maybe!
- Do you you know how to get there?
Friend: I can read about it and ask around.
- You think you can do it?
Friend: I do, I think I can.
- Do you believe?
Friend: Yah, I do. I want to be making the decisions and not always be affected by others' decisions.
- Then you just made it more difficult for me in the long run.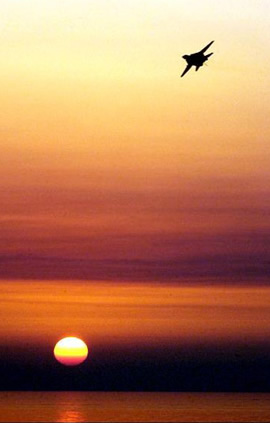 Friend: What? Why?
- If you fail, I will be left with another reason to take responsibility for yet another personal failure. (she smiled).
Friend: Do you know how to become a president of OUR company?
- I do and I believe that we can.
Friend: Was the War a good thing then?
- It was. It gave us a chance to rise and defend our people. It is up to you and I to become the decision makers in our own house.
Friend: Aren't you asking too much of me?
- To lead and not to follow is what I'm promising you at the end.
Friend: Is it really possible?
- Only if you believe.
Friend: Do you?
- I do. I really really do.
| | | |
| --- | --- | --- |
| | | |
More Churches Attacked, Christmas Services & New Year's Celebrations Cancelled in Iraq
(ZNDA: Baghdad) In a statement to ankawa.com by Bishop Mar Polous Faraj Rahho, the Chaldean Catholic Bishop in Mosul, three churches were said to have been attacked in Mosul on Monday.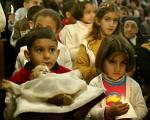 At 2:30 p.m. local time, the bishopric of Mar Afram of the Syriac Orthodox Church in Hay al-Shurta (Police quarters) was attacked with a bombshell. The bomb destroyed the main entrance to the church hall. The building of al-Bashara Syriac Catholic Church in Hay al-Muhandiseen (Engineers quarters) and the Chaldean bishopric of al-Tahira (attacked earlier) were attacked as well using detonators and bombshells.
On Monday an unidentified group in Mosul also kidnapped a teacher, Michael Daddeza, 50, married with children, from the Assyrian town of Baghdeda, as he was returning from an elementary school in the Hawsalan village. Mr. Daddeza's friend who was accompanying him at the time may have also been kidnapped.
Two more Assyrians, Ghassan Michael Kacho (married with four children) and Ammar Habib Jallo (married with two children) of Baghdeda were kidnapped on Sunday while working in their farms in Qeeraj.
A Christian student, Reem Khalid, and her friend whose name has not been identified, were injured during an exchange of fire between the Iraqi national guards and the militants at Mosul University.
Last week many valuable books and important records of a library inside the Chaldean Catholic Cathedral in Mosul were burned when a group of extremist Wahabi Moslems stormed the library and set the ancient manuscripts on fire.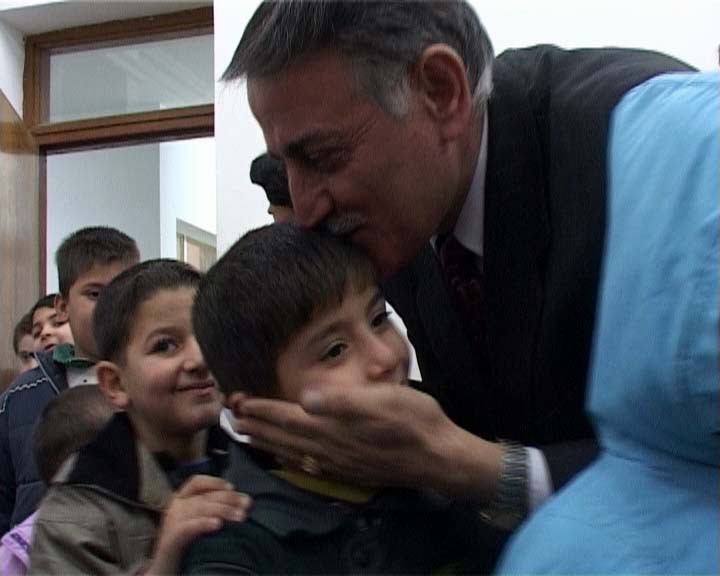 Mr. Yonadam Kanna kissing an Assyrian boy during an event in which toys and holiday gifts were handed by members of the U.S. Iraqi Survey Group and the Army personnel. Photo courtesy of Mr. Johnny Sargon Jacob.
Yonadam Kanna, Secretary General of the Assyrian Democratic Movement and a member of the Iraqi National Council, says Iraqi Christians have cancelled Christmas services for fear of attacks. To show solidarity with the victims of recent attacks on churches and monasteries all celebrations to mark the New Year will be cancelled in Iraq also.
According to Al-Sharq al-Awsat newspaper, small business owners in Baghdad markets are complaining that the holiday sales have dropped by 75 percent from previous years.
His Beatitude Mar Emmanuel Delly, Patriarch of the Chaldean Catholic Church told AsiaNews in an interview on Monday that the leaders of the Christian Churches in Iraq "will not send or receive official Season's Greetings" to protest the attacks against the 'houses of God' (churches and mosques) of the last few months and to honour the victims of terrorist violence.
Speaking by telephone, Patriarch Delly reiterated his condemnation of all the acts of violence that are marring the "martyred ground of Iraq". He added that despite them "Christmas celebrations will take place regularly" except for Christmas Mass which has "been cancelled due to the night-time curfew".
The Patriarch thus put a stop to suggestions that Christmas celebrations might be cut back because of security considerations. "The faithful will attend mass because Iraqis want to celebrate Christmas", he stressed.
How was Advent in Iraq this year?
Mar Delly: Like other years even though this year we had to be more cautious and prudent because of the danger of new attacks. In any event, we have not put any special security measures in place.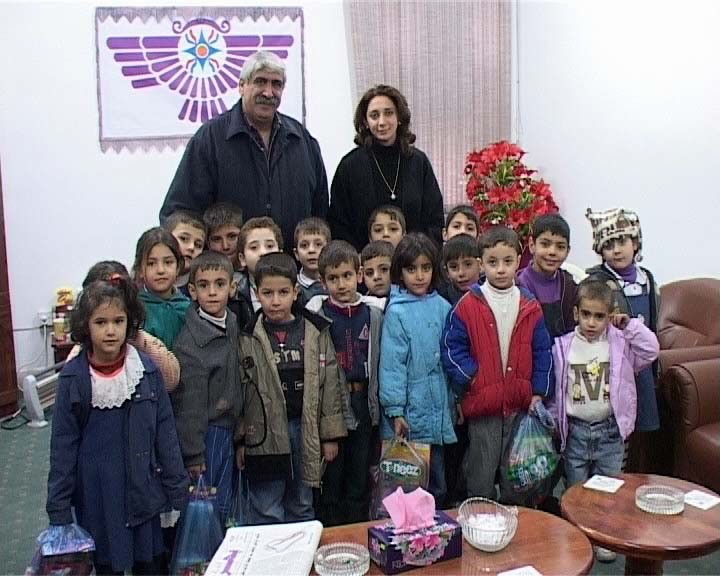 A group of ChaldoAssrian children holding their Christmas presents, gifts from the U.S. Army personnel. Nearly $7,000 in gifts for children was recently collected through the support of the Assyrian Academic Society and Zinda Magazine readers and will be distributed this holiday season in and around Mosul and the Nineveh Plains in north Iraq.
Are there any hopeful signs?
Mar Delly: Everyday life is a sign of hope. We are still alive and want to defeat the logic of death. Of course, we must be on our guard against possible attacks, but people go about doing what they always do: go out, go to work, go to school, go to the market, go to shops, go to worship.
And yet every day that goes by we hear about violent acts and people who want to flee.
Mar Delly: It is not true that people are fleeing. Iraqis want to stay in their country and live in peace. It is obvious that things are not quiet and so we are more prudent. If a bomb goes off in one part of Baghdad people change their usual route or avoid high risk areas but they do not lock themselves up at home. God has made us prudent and cautious. We must use precautions right now to ensure that life defeats the terrorists' evil logic of death.
What would you like Western Christians do for Christmas?
Mar Delly: To Christians around the world—in Italy, in France, in America—I ask that they pray for Iraq, for the Iraqi Church and for its people, whether Christian or Muslim, so that the Lord may give us peace and quiet. This is my wish for Christmas.
Mar Emmanuel Delly has ordered that the usual 10:00 pm (1900 GMT) December 24 service be moved forward to 5:00 pm, according to Bishop Andreas Abouna.
Delly has also advised worshippers not to travel to present him -- as is the custom -- with Christmas greetings, although the Mass will take place as normal on December 25, Abouna added.
Christian Orphans Stuck in Limbo in Iraq
Courtesy of the Washington Times
By Julia Duin
(ZNDA: Al Qosh) Compared with the ferocity of war in much of Iraq, the isolated Monastery of the Virgin Mary - 25 miles north of Mosul - exists in tranquility.
Surrounded by desert, this cool shelter - complete with olive trees, honeybees and a Chaldean church - houses six monks and 36 orphaned boys, ages 5 to 14. Twenty-two girls live at a convent in nearby Mosul.
Over the years, the Rev. Mofid Toma Marcus, 37, an Assyrian Christian monk in charge of the monastery and orphanage, has kept the wolves away. During dictator Saddam Hussein's reign, he passed off his orphanage as a seminary for students preparing for the priesthood, because the government was not anxious to let the outside world know the actual number of orphans in the country.
Even today, when the boys, dressed in jeans and T-shirts, line up after their naps and are asked how many want to become priests, six raise their hands. They will go to a Catholic seminary in Baghdad.
The fate of the other boys is uncertain, because Father Marcus will not give them up for adoption to Muslim families.
"In an Iraqi orphanage, they make you change your religion," the monk said, "and I don't want our Christian kids to be Muslims."
Bound by Law
He wishes he could send them to places like Detroit, which has many Iraqi Chaldean families who belong to the same ancient stream of Christianity and are willing to raise an orphaned child. Although the U.S. State Department says it has received many inquiries from American citizens asking about adoption, its Web site says adoption is not possible under Iraqi law.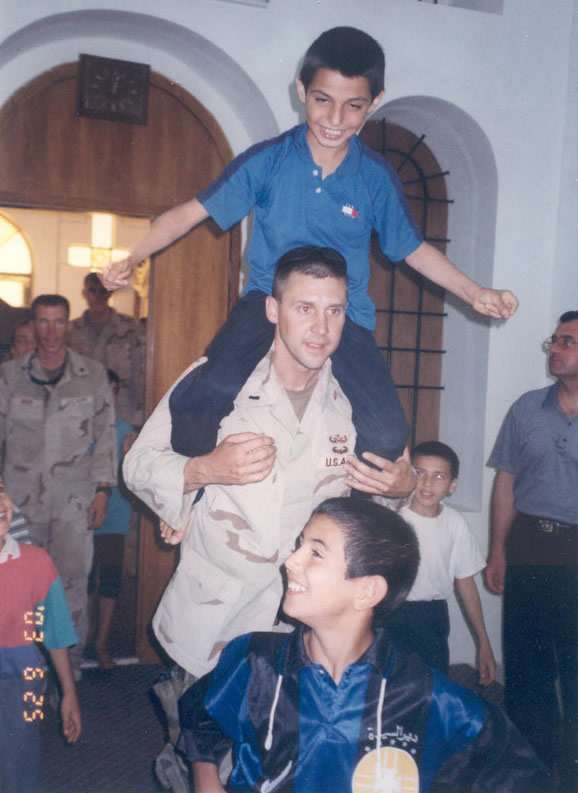 One reason: Adoption is prohibited under Islamic law, which informs Iraqi civil law. Unlike in the West, orphaned Muslim children do not take the name and family relationships of their new parents. Instead, Islam allows "kefala," a type of guardianship in which children retain their original family identities.
But U.S. immigration law considers kefala insufficient for immigration purposes. Moreover, anyone raising a child under the kefala system must promise to raise the child as a Muslim.
"The chances of adopting a Muslim child is nil," said Roni Anderson, a former Southern Baptist missionary who worked with Father Marcus for 12 years - until this year. "They'd prefer the child be stranded than be adopted by a Christian."
However, Father Marcus' charges are Christians and not subject to Islamic law. To date, Iraqi law has not permitted foreigners to obtain legal guardianship of Iraqi children. But Iraqis living abroad might be allowed to do so.
Much depends on whether human rights issues for women and children are addressed in the new Iraqi Constitution and whether adoption is part of subsequent international treaties or agreements between Iraq and the United States.
So, Father Marcus' charges continue to live in limbo.
Making Do
A Chaldean Christian businessman in Michigan has collected 1,200 pairs of shoes and 50 IBM computers, but the priest cannot afford to have them shipped. It is also difficult to get large amounts of freight across the Turkish-Iraqi border without spending a lot of money and finding trustworthy shipping agents.
But the boys' sleeping quarters are clean and spacious, a doctor visits once a week, and during the summer, some of the children are sent to live with families. U.S. troops based at Camp Freedom in Mosul have brought in toys supplied by Army chaplains from around the world.
Off-duty soldiers also built a playground, complete with paintings of Mickey Mouse and Donald Duck, and put in air conditioners. In the entrance hall of the boys' dorm is a painting of a scale with a child in one bucket outweighing another bucket with the word "money."
"A child is the best investment in life," the caption reads.
Although all the children can sing, in English, "Jesus Loves Me" and "This Little Light of Mine," all conversation at the orphanage is in Aramaic.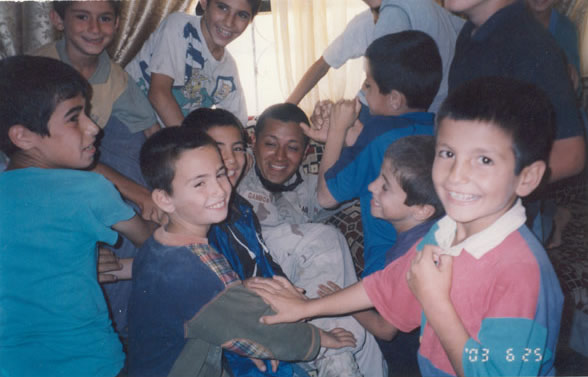 "We think Kurdish is a Muslim language," the monk said, "and so is Arabic. Jesus spoke in Aramaic."
Iraq has been called "a nation of orphans, widows and the handicapped" because of its recent, frequent wars, including an eight-year conflict in the 1980s with Iran that left 2 million dead.
The orphans poke about in dumps, sleep outdoors and hang around hotels, busy intersections, mosques and U.S. military installations. They are used as sex slaves and prostitutes, drug runners and spies.
Estimates of their true numbers range from 1.5 million to 5 million, but there is no national policy on what to do with them.
In Baghdad, some mosques have taken over state orphanages. The status of the children in them is complicated by the fact that some might have living parents who sent their children outside of a war zone to live with relatives or got separated during an evacuation.
Help from Abroad
Robert Anderson and his wife, Roni, spent 12 years as Southern Baptist missionaries in Mosul and in Adana, Turkey. He estimates that one in four children in northern Iraq is orphaned, on the street because his or her parents cannot support them or working hard for almost no money.
"In some villages and remote areas," he said, "the figures are even more alarming. It is not too far-fetched to say that across all of Iraq, more than 2.5 million kids are neglected pitifully."
In the Kurdish portion of northern Iraq, a woman can be killed for looking at a man through the gate of her home, he said.
"Any suspicion of wrongdoing is enough to eliminate her," he said. "It's enough to cause many orphans to exist."
Through the nongovernmental organization Concern for Kids, Mr. Anderson is seeking Americans to move to Dohuk, a Kurdish city near the Turkish border, to work with orphans from Christian and the pagan sect Yezidi tribes.
He's also advertising during lecture tours and through the Andersons' Web site (www.concern4kids.com) for workers to work with street children in Sinjar, a small town near the Syrian border.
Other Groups are Helping Out
The United Nations Children's Fund (UNICEF) operates five orphanages in Iraq, aiding children in a culture where a woman often is not allowed to bring her children into a new husband's home.
Islam allows a man to refuse to raise another man's children as his own. Adoption was widespread in the ancient Middle East, dating back at least 4,000 years to the code of Hammurabi. Exodus, the Old Testament book, says Moses was adopted by an Egyptian princess.
There are references to adoption in the New Testament, and adoption was practiced in Greece and Rome as well. In fact, Julius Caesar adopted his nephew, Octavius, who became Caesar Augustus.
It also was practiced among the Arabs and by Muhammad, the founder of Islam.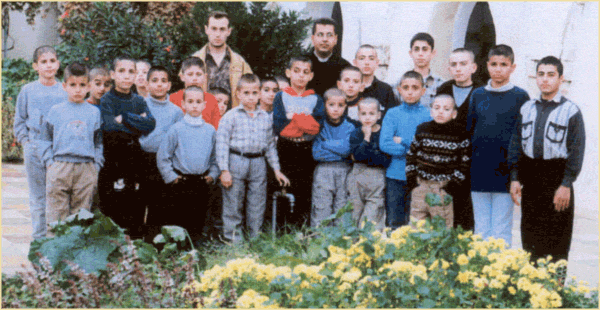 Signs of Hope
About 150 miles east of Al Qosh - also spelled Qush, an ancient Assyrian mountain town in Nineveh named in documents as old as 750 B.C. - in Sulaymaniyah, there are three Kurdish-run orphanages, one for girls, one for boys age 6 to 12 and the third for teenage boys.
Northern Iraq has been especially hard-hit by a succession of wars and attacks, including Saddam's 1988 gassing of the Kurdish city of Halabja, which killed about 6,000 people and left 218 orphans.
The plight of Kurdish orphans has been dramatized in two movies by Iranian film director Bahman Ghobadi. His 2000 movie, "A Time for Drunken Horses," shows the plight of five orphans who are desperate to find medical help for their handicapped brother. His 2003 movie, "Marooned in Iraq," portrays a rag-tag group of shivering children in an orphanage on the Iran-Iraq border in the early 1990s.
Things have improved a little, thanks to the prosperity of the Kurdish areas compared with the rest of Iraq. Rashid Tahir is the director of Sulaymaniyah Orphanage for Boys, a facility decorated with light blue walls and children's paintings. Green grass, rare in Iraq, fills a tiny front yard off a dusty street near the University of Sulaymaniyah.
Mr. Tahir said the Patriotic Union of Kurdistan, a political group, offers to pay for four years of university for each of the boys. Most of the children have relatives who are too poor to house them. Only two have no family at all.
"It's related to the economic situation," he said of the homeless children. "Because the Kurdish situation is good, we are not getting too many."
The U.S. Agency for International Development (USAID) says it has contributed more than $420 million through the World Food Program to feed chronically malnourished children, especially in northern Iraq.
The London-based Kurdistan Children's Fund (KCF) provides $15 per month for each of 2,700 children in a "distance sponsorship" program. It has six centers for children in Sulaymaniyah and hundreds more children waiting to be sponsored. The biggest needs are for clothing and school supplies for teens.
KCF also provides a day program on the second floor of an office building in Sulaymaniyah. It includes a music room with a drum, piano and four violins; a computer room; pingpong tables and a ceramics lab. In a room of children's paintings, one shows a depiction of Elvis. Another shows a crucified Christ.
A boy with tattered sandals, black pants, a dirty T-shirt and sad expression just sits and watches visitors walk by.
Iraqi Churches Thrive Despite Escalating Violence
Courtesy of the Christian Post
20 December 2004
By Kenneth Chan
(ZNDA: Baghdad) In the midst of the turmoil and violence, the church of Jesus Christ in Iraq is vibrant and alive, a Southern Baptist worker said in a recent report published Friday. While attacks by insurgents in the war-torn nation has escalated as its first national elections approaches, Southern Baptists say that the Gospel is being proclaimed and new believers are following the Messiah, gathering for fellowship and discipleship across this land.
"American foreign policy and military might has opened an opportunity for the Gospel in the land of Abraham, Isaac and Jacob," the worker said, as reported by the Baptist Press. "God is moving here, and Southern Baptists are responding."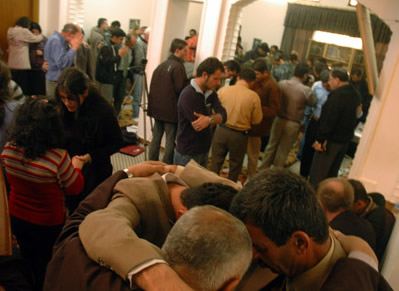 In a land known for tensions between ethnic groups, Christians gathering for prayer reflect the diversity of Iraq. They include Assyrians, Chaldeans, Arabs, Kurds, and Persians.
According to BP, people are coming to Christ across Iraq. "They often say they are sick of religion. What they crave is a relationship with God, and they find that in Jesus," the news agency reported. "In a land known for tensions between ethnic groups, Christians gathering for prayer reflect the diversity of Iraq. They include Iraqi Arabs, Kurds, Persians, Assyrians and Chaldeans. "
Out of a population of 24.2 million, Christians constitute only three percent for a total number of about 800,000 people in Iraq. They belong to different denominations and rites such as the Assyrian-Nestorian Church, the Syriac-Catholic Church, the Syriac-Orthodox Church; the Armenian Orthodox Church has some members, the Catholic Church about 260,000, 70% following the Chaldean rite.
The largest Christian communities are found in Baghdad and some northern cities like Kirkuk, Irbil, and Mosul (the ancient Nineveh).
"Here in this biblical land, the dust of time is everywhere. It swirls about you," the Southern Baptist worker stated. "Babylon, Ninevah and Ur are ruins, little more than toppled stone and fragments, historical memory. But Medes and Persians, Assyrians and Chaldeans are more than ancient words from an old book. They are very much alive. They are words people use to introduce themselves. It is who they are, their heritage. To walk among them is to walk among living history."
Iraqi Christians can proudly claim a two thousand year presence in Iraq going back to the times of Thomas the Apostle, who many consider to be the father of Christianity in the country.
"Out of this cultural mix came Abraham, framing his relationship with God, fathering a nation and the lineage of Christ, which is our heritage, too. To be here is to walk through our history, to walk on hallowed ground," the worker added.
Last Monday, during a meeting with Pope John Paul II, Iraq's Minister of Foreign Affairs vowed that the nation would protect religious freedom, particularly the Iraqi Christian community. According to a Vatican spokesman, the situation in Iraq and the Middle East in general was examined in the course of the conversations.
The Assyrian American Civic Club of Chicago would like cordially invite you to join us celebrate the 2005 New Year's Eve with a dinner dance party held at Golden Fawn.

For your convenience and satisfaction, we have arranged complimentary valet parking, hors dousers, cocktails , a complete 7-course dinner, open bar with top shelf brands, Champaign at midnight, and last but not least, international, live entertainment, multi-language music performance by Yourik along with his band from California.

Tickets cost $100. Tickets for children over 8 and under 12 years of age are half-price, and free for children under 8 years of age.For more information and tickets click the flyer.