Prof. Joseph Yacoub's Press Conference in Paris
Title: "The End of the Right of Political Intervention?: The Example of Iraq"
A French press conference with Prof. Joseph Yacoub on Wednesday, 8 December 2004 at 3 PM
Professor Joseph Yacoub is the Professor of Political Science in the Institute of Human Rights at the Catholic University of Lyons, France and a specialist on minorities affairs.
Contact CAPE
Corinne Neige T 01 56 40 50 13
corinne.neige@capefrance.com
Communique De Presse: Grande Manifestation Publique en Faveur Des Assyro-Chaldéens D'Irak
Paix En Irak, Securite Et Solidarite Pour Les Assyro-Chaldeens
Dimanche 05 Decembre 2004
Rassemblement A 15 Heures Precises
Place De France (Flanades) – 95200 Sarcelles
Marche Pacifique En Direction De La
Sous-Prefecture De Sarcelles
Conjointement Organisee Par L'aacf & L'uacf
Les Assyro-Chaldéens d'Irak subissent depuis plus de deux ans meurtres et brimades sur leur terre ancestrale, l'Irak. De grands attentats d'envergure ont été commis contre ce peuple, dont 16 000 membres ont choisi la France comme terre d'adoption (ils habitent Sarcelles dans leur grande majorité), dans les grandes villes irakiennes sans compter, bien sûr, les attaques incessantes et quotidiennes que cette communauté de 700 000 personnes subit actuellement.
Conscients de cette situation difficile et dramatique, l'Association des Assyro-Chaldéens de France et l'Union des Assyro-Chaldéens de France, implantées à Sarcelles, ont décidé d'organiser ensemble une grande journée d'action, avec le soutien et la participation d'autres associations assyro-chaldéennes de France. Cette journée d'action nous donnera l'occasion de sensibiliser d'abord notre propre communauté mais aussi l'opinion publique française au quotidien difficile du peuple assyro-chaldéen en Irak. Mais elle aura également pour but de soutenir l'ensemble du peuple irakien en général et de montrer notre volonté d'une paix durable dans ce pays en proie à des luttes intestines.
Cette grande manifestation publique, sous forme de marche pacifique et silencieuse symbolisant l'oubli des Assyro-Chaldéens, aura lieu à Sarcelles, le dimanche 05 Décembre 2004 de 15h à 17h30. De nombreuses personnalités sont attendues à cette grande journée d'action. Cette manifestation publique, ouverte à tous, aura pour point de rassemblement la Place de France et se dirigera à pied, vers la Sous-préfecture de Sarcelles où un communiqué sera lu à l'intention du public présent et des autorités françaises. La manifestation aura pour thème « Paix en Irak : Sécurité et Solidarité pour les Assyro-Chaldéens ».
L'Association des Assyro-Chaldéens de France (AACF) et l'Union des Assyro-Chaldéens de France (UACF) invitent tous les Assyro-Chaldéens de France ainsi que tous les défenseurs de ce peuple originel de l'Irak à se joindre à cette grande manifestation publique. Les Assyro-Chaldéens demanderont publiquement la protection de la France pour leurs frères d'Irak, au nom de l'amitié qui lie ce peuple au pays des droits de l'homme depuis des siècles. Pour que jamais ne soit oublié ce peuple par l'Histoire.
Naman Adlun – Président de l'AACF Stéphane Yalap – Président de l'UACF
Contacts Presse:
Antoni YALAP Portable : 06 03 71 30 84 E-mail : antoni.yalap@laposte.net
Hugues CHANAL Portable : 06 60 89 47 12 E-mail : hugues.chanal@neuf.fr
AssyrianKid.com Christmas Sale Special
AssyrianKid.com
Christmas is around the corner! Don't forget to give a gift of education and Assyrianism to the children in your life!
AssyrianKid.com is happy to offer some Christmas Specials. Most of our products are discounted for the month of December.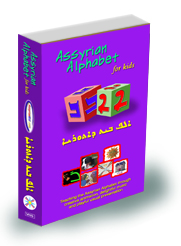 The following are our Special Christmas Prices:
Assyrian Alphabet DVD - $18
Assyrian Alphabet Video - $12
Assyrian Alphabet Peg Puzzle - $12 ($10 when purchased with DVD or Video) Assyrian Alphabet Bibs - $7 Various Assyrian related books - $5 - $10
Please visit us at http://www.assyriankid.com to view these outstanding products and for more information!
To order, to order, please send an e-mail to info@assyriankid.com
We wish you all a very Merry Christmas and all the best for 2005!
Offers valid thru 12/31/04.

A Political Gambit
Abyssus Abyssum Invocat (Disaster Invites Disaster)
Ivan Kakovitch
California
Not disparaging our national pretenders in Iraq, as well as their politically coerced alignments and alienations, one deserves to be audacious, vociferous and requisite, in asking them to step aside and to allow the non-affiliated Assyrian representatives, Assyrian movements, and generally speaking, Assyrians at large to run for the offices in the upcoming January 30, 2005 elections in Iraq.
This move is to demonstrate and to vertically lift the aspirations of Assyrians as a nation, and to encourage the Assyrian voters in Iraq as well as overseas -- as allotted to cast their ballots in no less than 15 countries of the world -- to come to the aid of all those that are left behind, and shall have to continue to strive in their livelihood as proud citizens, equal to all others, in Iraq.
The period of arguments and debates as to whether such a drastic move is proper and pejorative at this junction is undoubtedly futile, since no solution other than the one of enacting a totally non-aligned policy of the second largest minority in Iraq, namely Assyrians and their coreligionists in fomenting a national entity, rather than a political party, is closely related to sanity.
This theory is irreversible and it is based on the fact that all -- known to us at this time -- representatives on the ballots for the upcoming election, are either allied or sympathetic to the policies of the old political parties that were coerced to partake in the affairs of Iraq as members of Kurdistan Parliament, and Kurdistan political machines.
The quote below attests this fact:
"In 1992, when the first Parliament was formed, there were 105 seats 50/50 between the two main Kurdish groups KDP and PUK and 4 for the Assyrian Democratic Movement (ADM) and 1 under the Christians."
Also:
"... Regional Parliament in the Kurdish is to consist of 111 seats as follows:
1. Kurdstan Democratic Party (KDP) - 42
2. Patriotic Union of Kurdstan (PUK) - 42
3. Islamic Union of Kurdstan - 9
4. Communist Party of Kurdstan - 3
5. Assyrian Democratic Movement (ADM) - 2
6. Chaldean Democratic Union Party (CDUP) - 1
7. Chaldean Cultural Society - 1
8. Bet-Nahrain Democratic Party (BNDP) - 1"
It is worth noticing that all Assyrian political parties are to be subjected and recognized as political parties of Kurdistan. Not a single Assyrian party deems to portray itself simply Assyrian or otherwise Iraqi.
Obviously all efforts by the Assyrian representatives - no matter how honorable -- elected on the basis of their servitude to Kurdistan shall be hampered to the extent that their work shall totally benefit the nationalistic resurgence of the Kurds at the expense of the Assyrians.
There is no reason to adjudicate the fears and recriminations that may -- and definitely -- shall occur, to placate the voices of over 100,000 Assyrians living outside of Kurdistan, mainly in Baghdad area, and another 50,000 or so that may want to participate in this election at the overseas balloting centers.
This electorate is a force to reckon and the Assyrians of the north, subjugated and taunted by the Kurds must throw their towels and join this force that does not necessary, and outwardly, fall under the repressions and incriminations from any political spectrum of Iraq.
In conclusion, one is to toy with the events as they are, and not as they ought to be.
Cast your ballots freely as free men and women.
The more aggressive the non-committal votes, the more power to our brethren in Iraq.
It is essential to cataract the impending voting machines in Kurdistan with the ballots of noncommittal throngs of Assyrians of Iraq, in general, and overseas, in particular.
Our last hope is for our dedicated brethren in Kurdistan to ruminate our recommendations and to choose the better of the paths, for their sake, and perhaps, at least, for our pride.
When will the "European" Turkey Recognize the Forgotten Genocide of Assyro-Chaldeans?
Antoni Yalap
France

"The memory of the just is blessed: but the name of the wicked shall rot."

Proverbs 10:7

On December 17th 2004, the European leaders will inform Turkey if they will open negotiations toward its joining the European Union or not. The Turks impatiently await for this historical day. And, it appears that the answer will be "yes". Does this country have its place in the European Union? We, Assyro-Chaldeans, think that the return of our compatriots is a good indicator of democratization. But, is that sufficient? A country which denies the bases of its Republic, regarded as secular in the whole world (whereas everyone knows that in Turkey, the religion is mentioned on the identity cards), can it claim to have a place within a Union whose members share common values. Germany recognized the Shoah before joining this Union. Does Turkey do as much with the Armenian genocide and the forgotten genocide of the Assyro-Chaldeans? Today, in Turkish schools, children learn how to become negativists. It's a return on the history of a refusal. Here is the history of a forgotten genocide...
"But who still remembers the Armenian genocide?" It is with this dreadful question that Adolph Hitler began the purification of Germany. To his vicious question, no answer had been given by the international community. It could only convince him of the impunity of his crime.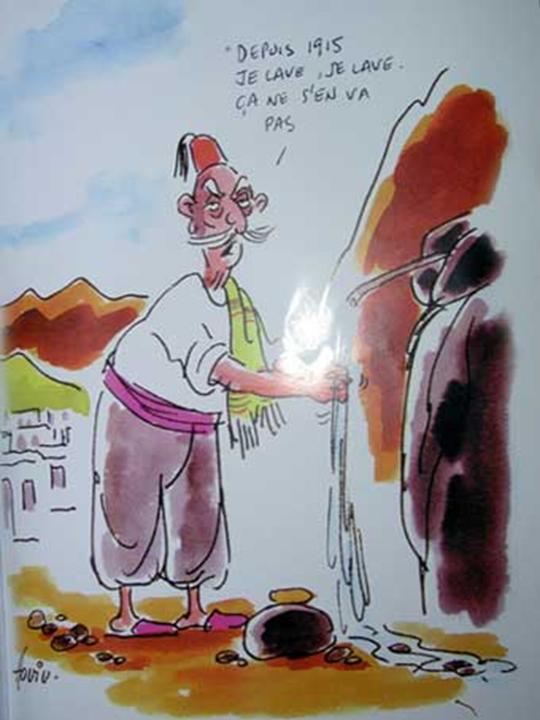 A Caricature by Hoviv: "Since 1915, I wash, I wash, but it does not go."
Even fewer are those who remember the forgotten Assyro-Chaldean Genocide. The Trium Vira, formed of three dark servants of horror, Cemal, Talat and Enver, who contrary to Hitler did not posed any question! The mission of this trio was quite clear and defined in advance by the central authority: to eliminate the Armenian traitors, formerly known as the members of the "Millet-I Sadika" (faithful community) and other Greek collaborationists and Assyro-Chaldeans. For the latter, this new pogrom was only a new stage, fraught with consequences, between the massacres of 1843, those of 1894-1896 and 1933 (massacre orchestrated by the Kurdish General, Sedqi, in the village of Semmel in Iraq).
The goal was simple: to eliminate any obstacle susceptible to block the way to the "turquization" and the Islamization of the past's Turkish cosmopolitan society. It is this genocide of 1915 which allows the famous Turkish daily newspaper today, Hürriyet (which paradoxically means Liberty), from day to day to point out this arrogant and threatening slogan: Turkey belongs to the Turks!
My goal here is not to reconsider this black page of our history, neither the Turkish history and its circumstances, its causes and consequences, nor this first genocide of the Twentieth century, which was the unhappy century of Shoah (the Jewish Holocaust) and Rwandan genocides. As the first genocide in the Twentieth century, the Assyro-Chaldean specialist Sabri Atman notes, it occured in the shadow of the First World War!
I only want and can bring my testimonies as a remote grandson of the hundreds of thousands of martyrs and survivors of the Assyro-Chaldean genocide.
In difference to Germany which recognized the Shoah and which forms a part of the European Union today, Turkey continues to deny its crimes against humanity, decided, planned and carried out by the Young Turk government of that time (Jeune Turc), supported by the irregular armed people and the Kurdish tribes. Today's Turks defend themselves by saying: "the Christian Armenians and the other people shamefully betrayed us". At best, they pretext with the circumstances of war which prevailed. These circumstances of that war would have constrained the failing power "to off-set" these populations from their ancestral lands.
In truth, 1915, the year of "Saypa - Sayfo" or sword, was only the apotheosis of this crime which began before 1915. The war allowed Cemal, Talat and Enver, discreetly supported by the Third Reich, to conclude the Jihad proclaimed a few time before, although the 1878 Conference of Berlin had asked the Ottoman Empire for the protection of his non-Moslem minorities. Thus, the genocide was overlooked in a world of war. It is quite later that the international public opinion, in particular the European one, realised the tragedy and horror of this slaughter.
Today, in all the Turkish schools, including in the schools of ethnic and religious minorities, young children learn how to deny the Genocide of 1915; they give them the necessary arguments to transform the truth into a lie. In fact, the children must believe and use all their energy to be made to believe that the crime was committed against the Turks, victims of their benevolence and their tolerance! To some extent, negativists of tomorrow, burning defenders of the single thought of a State, constituted on Christian's blood by sanguinary pseudo heroes, whose strike, threatening at the doors of Europe always and still resist to open. Until when wonder the Turks?
It was in 1996 that I realized I was not only just a Christian but more specifically an Assyro-Chaldean! It is here, in France, that I discovered my origins, my history, my culture, my identity, my language... It is in this country of the Lights and the Revolution that I knew and learned about that tragedy from 1915, victory of hatred over love, the 250,000 Assyro-Chaldean martyrs and oppressions that my people underwent during centuries under the yoke of the Turks and the Kurds, enemies of always, brothers of Jihad! Before 1996, I was a pure Turk, differentiated only by religion, proud to be a Turk, abundantly nourished by the Kemalist ideology, systematically recited during years, each morning before lectures.
Another Turk, who refuses to subject himself to the official lies, Kemal Yalçin, in his book entitled "Seninle güler yüregim" (With You My Heart is Delighted), apologizes to the Armenians, Assyro-Chaldeans and Greeks for the committed crime, in the name of all the nation, by Ittihat ve Terakki (Union and Progress: we have the right to wonder whether progress can be possible by the union of hatred and the sword against humanity), with an aim of homogenizing the Turkish society.
A forgotten genocide, ignored by the contemporary history and public opinion, these small "great" Assyro-Chaldean people, direct heir of Mesopotamia civilization who underwent many massacres, who have a history marked out of murder, of oppression, of slavery. How to forget the 250,000 Assyro-Chaldean martyrs who represented two-thirds of these people? How to forget the sufferings of Giwarguis, of Hanné and of so many others? How is it possible to forget the naked feet of Kérima who supported during long years rapes and inhuman treatments? How to forget these refugees fleeing the death, beseeching American missionaries and consuls, French and British to save them? I ask you, is it possible and even conceivable to forget the father's horrified face who saw his children placed on his lap in pieces?
Not Receiving Zinda Email Notifications Anymore?

We have a duty of memory. First, we must remember the people who suffered in the Genocide, and then fight against the lapse of memory, against hatred! Assyro-Chaldeans, Armenians and the Greeks who represented great powers for this cosmopolitan homeland and who represent nothing any more but only a drop in the Moslem Turkish ocean, and who have no hatred either against the Turks or against the Kurds. We cannot defer the crime of their ancestors on them, it would be unjust. But, there is a great pain. We feel the bitterness of the refusal, non-recognition. There is also this suffering, which will be dissipated by only one request for forgiveness. The Kurds already did it and that only can glorify them. It seems useful to specify here that certain Assyro-Chaldean villages were saved from destruction by the benevolent intervention of some Kurdish Aghas. Like what the hope, fraternity and the tolerance gained some battles in this war carried by hatred in a blood bath without precedent.
The duty of memory relates also to the public opinion and the international community: it is with the knowledge of the past that we will be able to fight the evil and prevent the new genocides. A number of countries already recognize the genocide of 1915: this figure must increase! Even if only the name of our Armenian brothers is quoted in the texts of laws voted for the recognition of the genocide, we should not forget that it was perpetrated against all Christians. Did Gypsies not undergo the same fate as the Jews, exterminated in the camps of death?
The demonstrations for the genocide's recognition can only be encouraged because they make it possible to leave the lapse of memory, to sensitize the people, to encourage them to withdraw themselves from the indifference. In a moving remark Martin Luther King notes: "What frightens me is not the oppression of the evil people; it is the indifference of the good".
In conclusion , I sincerely address the Turkish people and their leaders: by ridiculing the memory of our martyrs, you succumb! We do not have any hatred against you. We ask you just - and God alone knows the important symbolic of this act which will honour yourselves - to recognize the responsibility for the Turkish State in the genocide and to be sorrowful for having committed this crime. Nothing else! Thus, our martyrs will be able to rest in peace. You are also in charge of a duty of memory. You will achieve it by recognizing our suffering. Moreover, thank you for the efforts which you will make in the memory of our martyrs!
A Wish: I make it a wish that a democratic Turkey be respectful and protective of all of its minorities. The wish for a Turkey which can recognize the errors of the past. Assyro-Chaldeans, Armenians, Greeks, Jews, the Kurds are only a priceless wealth for Turkey which strives for impregnated republican values and secularism.
Heritage Inspires Assyriska
Courtesy of UEFA
30 November 2004
By Jan Juhlin
On 4 December, the Swedish Football Association (SvFF) will decide whether to grant Assyriska FF a licence to play in the Allsvenskan in 2005. A whole nation is awaiting the outcome of that meeting. For Assyriska are a club without parallel in Sweden, and perhaps in the whole of Europe.
Unique Situation
Founded in 1974 as the footballing division of Assyriska Föreningen, a society for refugees from the former Mesopotamian land of Assyria, few would have anticipated when they started playing in the Swedish eighth division that they would have so much success and be followed by so many.
Improbable Peak
Clambering up the league structure throughout the 1980s, Assyriska reached a seemingly impossible peak for an "immigrant team" when they were promoted to the Swedish second flight in 1992. When they were relegated after one season - the first relegation in their history - some may have thought they had peaked.
Important Work
However, the club came back stronger still, re-establishing themselves in the second tier. Meanwhile, off the field, Assyriska have been working hard to help integrate players and supporters irrespective of religion, language, colour or ethnic origin and have earned the support of the European Union.
Cultural Role
"We play an important role in society, not only in Sweden but also in other parts of the world," said club chairman Zeki Bisso. "Assyriska have always worked hard to integrate people from different cultures, and we will continue to do so in the future."
SvFF Appeal
Whether they will be able to take their work into the Allsvenskan depends upon how the SvFF adjudicates in the case of Örebro SK, who are appealing against an SvFF competition committee decision to relegate them from the Swedish top flight for financial problems.
Play-off Defeat
Örebro's relegation left the path to the Allsvenskan open to Assyriska, who had previously been resigned to spending another season in the second division after losing out to Örgryte IS in the promotion/relegation play-offs. Should Örebro's appeal be upheld, that is exactly where they will stay.
Assyrian Passion
However, that will not dampen the ardour of the club's supporters too much. With the bulk of the team's players being of Assyrian origin, Assyrians across the world have taken them to heart - tellingly, their play-off games against Örgryte were televised in 82 countries.
Fans' Fervour
For some, the club are as near as Assyria - the majority of which is now in modern-day Iraq and Syria - has to a national team. And certainly, that might go to explain the passion of their fans, and, indeed, the fact that some supporters take the club's performances a little too seriously.
Pressured Environment
The pressure on the club's coaches and players is huge, with the men in charge expecting to receive regular, passionate bouts of advice from fans. Assyriska have been through eight coaches in the last six years. Of their last nine coaches only two have lasted for an entire season.
Death Threats
Earlier this year Assyriska player Alexandros Pappas quit the club after receiving death threats from supporters. Coaches have received similar unwanted attention, in addition to the daily difficulties of dealing with the club's myriad different cultures, languages and temperaments.
National Heroes
"The passion is good and bad," said Johan Ländin, one of Assyriska's small band of Swedish players. "Not every coach can handle the pressure of never being left alone, but on the other hand we always get enormous support." With a whole nation behind them every matchday, that is hardly surprising.