Yonatan Bet-Kolia Wins 2004 Majlis Elections
(ZNDA: Tehran) The incumbent candidate for the Majlis seat representing the Assyrians and Chaldeans of Iran, has won his second term in office after beating his rivals, Freidoun Bet-Yonan and Shamasha Yonatan Babila Khanishan..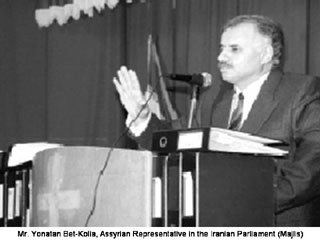 According to the information obtain by Zinda Magazine, the total number of Assyrian voters at this year's elections in Iran was 5,578. Mr. Bet-Kolia received 4,083 votes compared to Mr. Bet-Yonan's 1,379. Shamasha Babila Khanishan from Urmia received less than 116 votes.
Compared to over 7,000 votes cast in the last Majlis elections, the voters' turn-out was over twenty percent less in 2004. The Assyrian voters cast their ballots into the boxes made available in Tehran, Tabriz, Urmia, Ahwaz, Esfehan, Kermanshah, Hamedan, and Fardis-e Karaj.
Mr. Bet-Kolia is also the Assyrian Universal Alliance Secretary for the chapter in Asia.

Iraqi Owners of Liquor Stores in Detroit Allege Bias
By Robert E. Pierre
Courtesy of the Washington Post
22 February
(ZNDA: Detroit) The signs -- some flashing, others covering entire external walls -- at Norm's Liquor Express leave no doubt as to what's for sale. Lotto. Liquor. Beer. Wine.
On this evening, after sending in a minor to buy beer, police Sergeant Esther Lightfoot and her vice team find something else: scores of expired food items on the shelves. Butter and bottles of creamy French salad dressing were more than a year old. Sandwich spread, two years old. A box of cornmeal had expired three years earlier.
"There must be bugs in it," said Lightfoot, disgusted, and her partners cited the owners for violations.
Every evening for the past two months, vice squad officers have been cracking down on such stores. It's part of Mayor Kwame Kilpatrick's plan to push liquor stores farther from schools, forbid new ones from opening, and crack down on businesses that are not abiding by the letter of the law.
"No more new liquor stores in Detroit," Kilpatrick said in announcing the plan in December. "No more selling drug paraphernalia. No more selling single cigarettes out of the pack, no more signs with big, pink Tweety Birds holding liquor bottles."
Detroit has more than 700 stores authorized to sell liquor or just beer and wine. Because of the dearth of grocery stores in many communities, a number also double as mini-grocery stores and delis, selling meat, eggs, milk, and even baby food.
City officials said because liquor stores have been the only game in town for so long, many have become complacent or even reckless.
Now, Kilpatrick says he is trying to build a city that businesses respect and where residents no longer accept whatever they are given.
"The city of Detroit can no longer be disrespected," Kilpatrick said in an interview in his City Hall office. "It's a new way of doing business. You can't just do anything you want to in Detroit. We need to provide better neighborhoods, better quality of life."
But longtime business owners are crying foul over what they call heavy-handedness by police.
Store owner Ziad Shammami, who has been in business 30 years, said officers spent 30 minutes at his store without finding anything. On the way out, one officer found half-consumed bottles of ketchup and salad dressing in the back of the dairy cooler. They were for the personal use of employees, who often work long hours, Shammami said.
"This is harassment," he said. "If I was selling to minors, fine. But we are little small guys. It's hard to make a living. Work is slow, and this is what we get?"
Business associations have come to their members' defense.
"It seems more like a political program to me," said Mike Sarafa, president of the Associated Food Dealers of Michigan. "We don't take exception to cleaning up stores that need to be cleaned up and issuing tickets to people who sell drug paraphernalia. But they're going into every store and finding something to write a ticket for." The nitpicking, Sarafa said, was particularly galling because Detroit police remain under federal monitor after a 30-month investigation by the US Justice Department found widespread civil rights violations of residents, prisoners, and suspects. The city police force agreed as a result to sweeping changes in how it trains officers and detains and arrests prisoners.
The issue of race has also come up. The vast majority of the liquor store owners are Chaldeans, or Iraqi Christians, who fled their home country more than three decades ago because of persecution. Although many have good relations with their customers, there is a feeling that the crackdown may have more to do with a racial backlash toward them than city officials are letting on. "These are honest people who feel as if they are getting harassed," said Martin Manna, executive director of the Chaldean-American Chamber of Commerce.
Kilpatrick and business leaders periodically meet to discuss their differences on the matter.
The mayor has raised good issues, Manna said. If it's about signs, he said, also go after beauty salons and others with gaudy displays. If it's about expired food, he said, also go after chain groceries with similar problems.
"Otherwise, it becomes a race issue," Manna said.

Assyrian Aid Society Report in New Zealand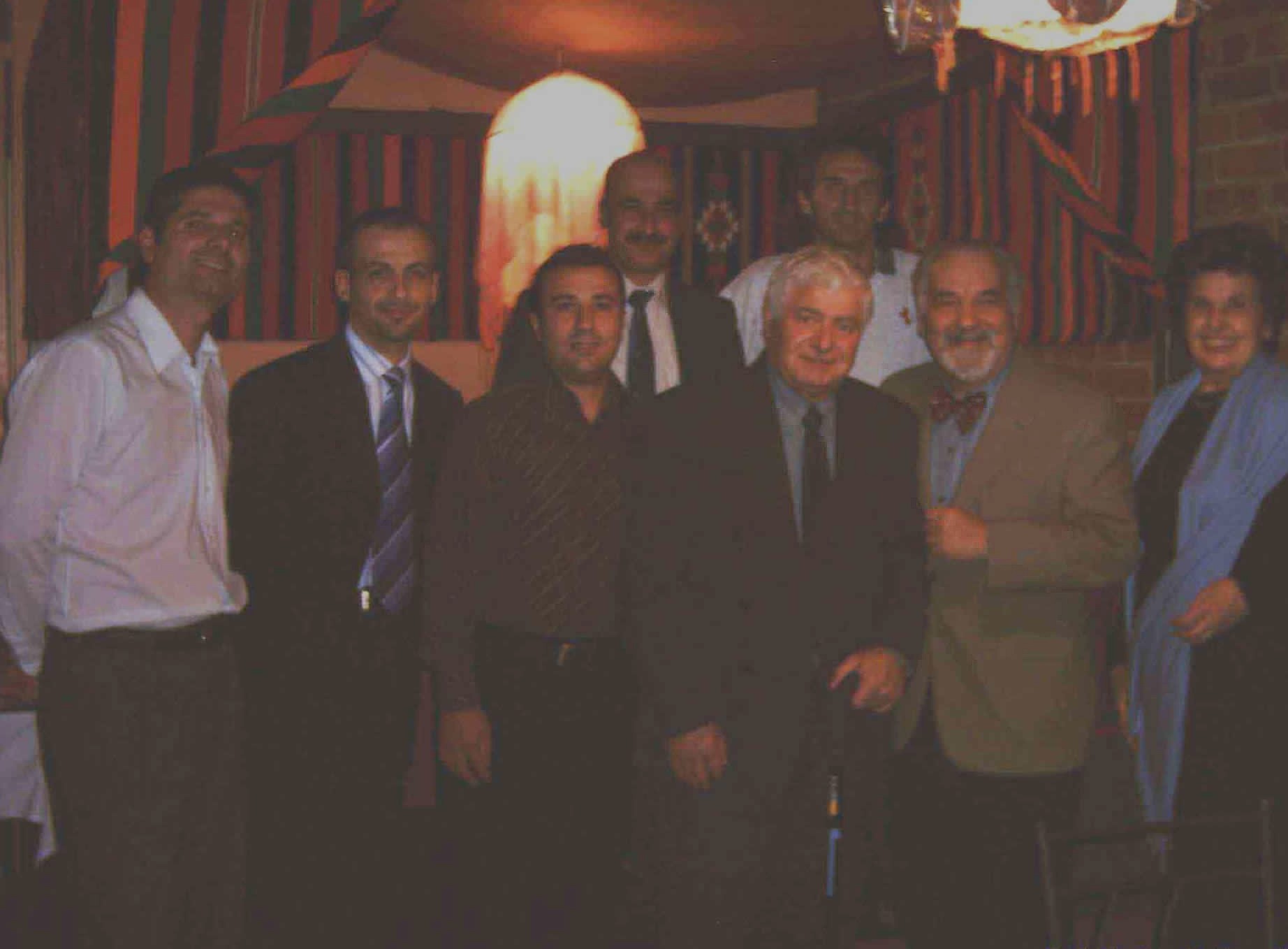 (ZNDA: Wellington) On Tuesday, 17 February, the executive committee of the Assyrian Aid Society in New Zealand and Mr. Hormiz Benjamin, the representative of the Assyrian Democratic Movement in New Zealand, met with Mr. Narsai David, president of the Assyrian Aid Society in the U.S. and his wife in Wellington.

"We were delighted and overwhelmed by Mr. David's enthusiasm and commitment. We found him to be a truly dedicated Assyrian with a spirit of devotion. We were convinced that our nation has only been surviving until this day, because it had brought some patriotic sons like him," said Mr. Emil Odisho of the AAS-New Zealand.
The representatives discussed the AAS-America's enormous projects, including Narsai's Taste of the Mediterranean, the Assyrian community in Wellington and AAS-NZ's future projects.
Assyrians Hear Native Tongue in Mel Gibson's Passion
Courtesy of the Associated Press
26 February
By Sarah Karush

(ZNDA: Detroit) Most viewers of "The Passion of the Christ" will find little familiar in the ancient language spoken by Jesus and other Jewish characters in the movie.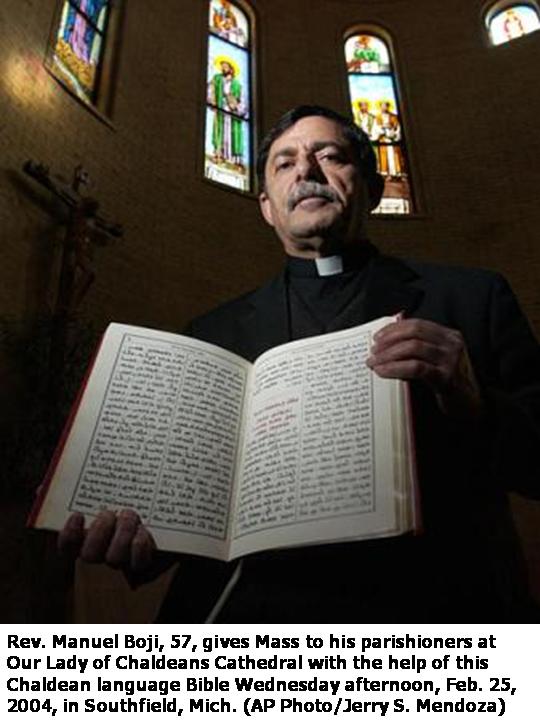 But for Chaldeans and Assyrians in the United States, Mel Gibson (news)'s film, which opened Wednesday, is an unprecedented chance to hear their native tongue — Aramaic — on the big screen.

Nobody knows exactly how first-century Aramaic sounded, and the language in the movie is just one scholar's best estimation of how Jesus would have spoken. It varies greatly from Syriac, the form of Aramaic used today by some Christians.

Still, it is familiar to today's Aramaic speakers — and for many, the language's role in the controversial movie about Jesus' final hours is a source of pride.

Aramaic is spoken by a handful of small Christian groups from Iraq (news - web sites) and other parts of the Middle East, including Chaldeans, who are Catholic, and Assyrians, who have their own church.

There are an estimated 250,000 Chaldeans and Assyrians in the United States — mostly in Michigan, California and Chicago — said Martin Manna, executive director of the Chaldean Chamber of Commerce (news - web sites), based in Farmington Hills.

In metropolitan Detroit, where Manna says the Chaldean community numbers about 120,000, Chaldean Catholic congregations have organized special outings to see the movie.

"The reality is we're very religious," Manna said. "But to add to it the fact that the language is a language that we speak a dialect of, to us, is very exciting."

Community leaders and scholars say they fear the language is dying, as Chaldeans and Assyrians leave the Middle East for the United States, and as people leave Aramaic-speaking villages in Iraq for the cities. Among Jews, spoken Aramaic has all but disappeared, although the Talmud and other religious texts are written in it.

Aramaic-speakers in the United States are struggling to maintain the dialects among generations born here.

For Ismat Karmo, 48, hearing Aramaic in the movie caused mixed emotions.

"It makes me feel proud and sad at the same time. Proud that we always carry this language that at one time was the dominating language in the region and a language that was spoken by Jesus, and sad that today there is not enough support for it to preserve it," said Karmo, a businessman who came to the United States from Iraq when he was 21.

Assyrian and Chaldean are "demonstrably Aramaic dialects, but they're about as different as, say, Chaucer is from modern English," said the Rev. William Fulco, who translated the script of "The Passion" into Aramaic and "street Latin."

Fulco, director of ancient Mediterranean studies at Loyola Marymount University in Los Angeles, said his version of Jesus' language is "a calculated guess."

But Joseph Amar, a classics professor specializing in Christian Aramaic at the University of Notre Dame, strongly criticized the endeavor, saying there is no way to know how similar the Aramaic spoken in Jesus' time is to the forms preserved today.

"It has no intellectual integrity. The very enterprise is bogus," he said.

Ancient Assyrian Jewels to be Auctioned in Delaware
(ZNDA: Delaware) A lapis lazuli jewelry collection will be offered in the Live Auction portion of the Nanticoke Health Services Auxiliary's annual Dinner-Auction 3 April at the Seaford Golf & Country Club.
Ancient Assyrian jewelry that has survived nearly 5,000 years is among the items on the auction block at the Nanticoke Health Services Auxiliary's 18th annual Dinner/Auction.
This year's major fund-raiser and its "Survivor" theme will play out at the Seaford Golf & Country Club on April 3.
Tickets are $55 per person; $25 is tax deductible. Doors open at 5 p.m.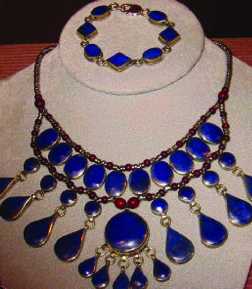 Currently on display at Heritage Jewelry in Seaford and donated by Mr. and Mrs. Jack Miller and family of Seaford is a lapis lazuli jewelry collection, which includes beaded necklace, bracelet and earrings mined, shaped and hand-polished around 3000 B.C. in ancient Assyria, now Northern Afghanistan.
The silver-clad settings were done in Egypt at an unknown later date.
The beads were acquired from a licensed antique importer. They were not taken from a tomb or protected historic site.
The Miller family owns Seaford-based NoUVIR Research, which specializes in advanced lighting found in hundreds of museums throughout the world.
NoUVIR stands for "no ultraviolet or infrared" light, which can damage rare artifacts.
The ancient jewelry collection is a featured attraction and will be "on sale" during the "live" portion of event, which includes a silent and Chinese auction during cocktails and dinner, and the live auction starting at 8 p.m., with popular auctioneer Don Moore orchestrating live bidding.
Co-chairs for the event are Nancy Brown and Nancy-Cook Marsh. Each has served the Auxiliary in many roles, including holding the office as president.
Virginia "Mike" Barton was recently sworn in as Auxiliary president.
The Nanticoke Health Services Auxiliary is more than 50 years old, and has donated more than $1 million dollars to the Nanticoke Health Services in Delaware.
For more information and tickets call Nanticoke Health Services Volunteer office at 629-6611, Ext. 2301.
Watch Your Languages. They're Ancient.
By Clyde Haberman
Courtesy of the New York Times
24 February
Wednesday is the big day for Mel Gibson, the actor-director who apparently considers himself in some respects to be more Catholic than the pope. His much-debated film, "The Passion of the Christ," will open in theaters.
George A. Kiraz can hardly wait.
His interest, though, is not in the theological and social disputes the movie has generated. He is curious about the dialogue, which Mr. Gibson chose to render entirely in Aramaic and Latin, not exactly the hottest languages on the planet.
"I want mainly to see if I understand any of the Aramaic, and what form of Aramaic it is," said Dr. Kiraz, director of the Syriac Institute in Piscataway, N.J. His organization promotes the study of Syriac, an Aramaic dialect that is the liturgical language of the Syrian Orthodox Church and some other churches with Middle Eastern roots.
"I call it BBC Aramaic - the standard form that continues to be used today," said Dr. Kiraz, 39. He began speaking it as a boy in Bethlehem (as in Little Town of Bethlehem, not the place in Pennsylvania). He uses it today with his daughter, Tabetha.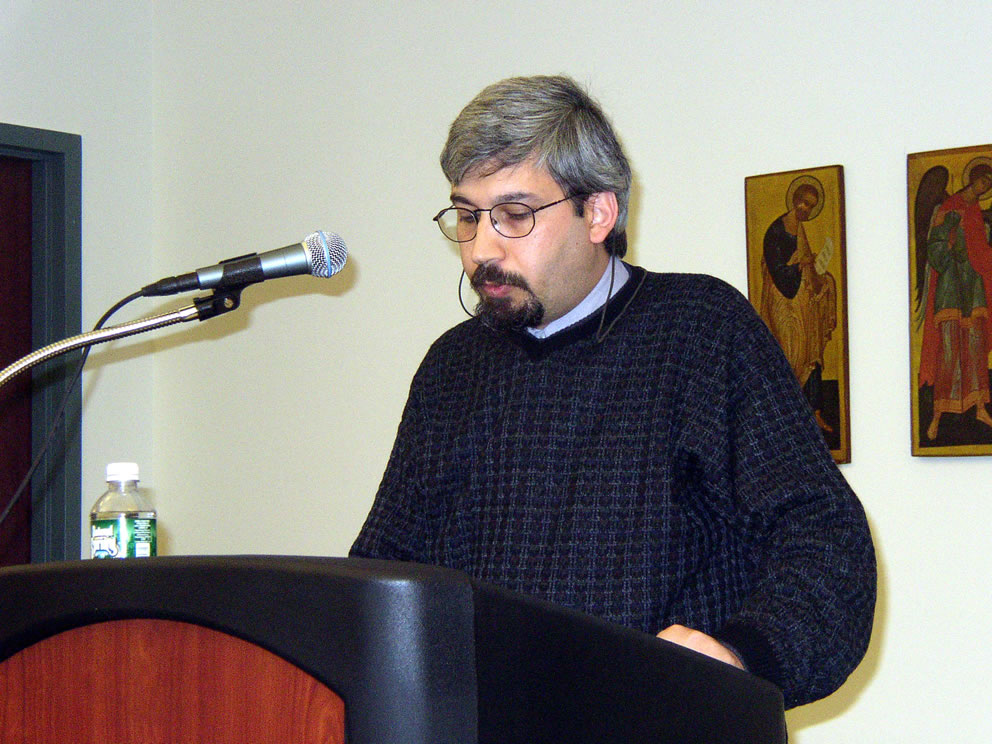 "Since she was born three years ago, I've only spoken the classical Syriac, which is Aramaic, to her," he said. "Now when she speaks to me, it's always in Aramaic. It's mostly a language used among bishops and priests. It would be like someone speaking Latin to his kid."
Aramaic, a Semitic language that in one of its forms is a cousin to Hebrew, has been around for 2,500 years or more. In Jesus' time, it was the lingua franca of the Middle East.
"Jews were probably not speaking Hebrew in the first century," said Rabbi Ismar Schorsch, chancellor of the Jewish Theological Seminary. "They were speaking Aramaic."
With the rise of Islam, the language was shoved aside by Arabic. It endures in some Syrian villages and a few other places in that region. A couple of Christian schools in New Jersey teach it, Dr. Kiraz said, and it is heard in church services.
Aramaic is familiar to Jews as well. Portions of the books of Daniel and Ezra were written in Aramaic, as were some of the Dead Sea Scrolls and the Talmud. Observant Jews hear Aramaic every day in the Kaddish, an exaltation of God that also serves as a mourner's prayer.
"You have to know Aramaic to be a serious student of the Bible," said Rabbi Stephen A. Geller, chairman of the Department of Bible and Semitic Languages at the theological seminary, in Morningside Heights.
While it might be a mistake to pronounce the language dead, it would be silly to call it thriving. By contrast, this film's other language, Latin, is faring rather well for an ancient tongue once given up for lost.
(Mr. Gibson's use of Latin, by the way, is deemed a blunder by experts. He'd have done better with Greek, which was widely spoken in Jesus' day. "No one in the Mideast spoke Latin," Rabbi Geller said. In other words, don't expect every scholar to walk away from "Passion" saying, "Si fractum non sit, noli id reficere" - "if it ain't broke, don't fix it.")
THESE days, Latin is enjoying a resurgence. "The nadir came in 1970, right after the Roman Catholic Church gave up Latin," said Thomas J. Sienkewicz, vice chairman of the National Committee for Latin and Greek, a group that promotes studies in those classical languages.
But all indicators point to a turnaround in the last two decades, said Professor Sienkewicz, who teaches classics at Monmouth College in Illinois. Indeed, one problem now is a looming shortage of qualified teachers for the growing numbers of students. A nationwide campaign to recruit instructors is planned for the first eek of March.
Some young people like studying Latin for its own sake, Professor Sienkewicz said. Others are persuaded by evidence that high school students who take Latin do far better than average on the verbal SAT.
There is, too, the "Gladiator" factor, said Nancy McKee, chairwoman of the Latin and Greek group and a former Latin teacher in Lawrenceville, N.J. The Russell Crowe movie "prompted an interest in the Roman culture," she said.
Might "Passion" similarly breathe new life in Aramaic? No one is betting on it. The language, Dr. Kiraz acknowledges, has obvious limitations in today's world.
"Sometimes we have to coin a new word to describe things," he said. "Pancake, for example, is kind of difficult. In Syriac, there is a word for cake, kuko. Basically, for pancake we say 'pankuko.' "
For moviegoers, unfortunately, there is no Syriac word yet for popcorn.
[Z-info: Dr. Kiraz, pictured above, is the Director of the Syriac Computering Institute and the publisher of Hugoyo. Dr. Kiraz is also a language/computing consultant to Zinda Magazine. Zinda Magazine invites its readers to support the activities of the SCI. See Zinda Magazine for detail.]