Kirkuk Assyrian School Reunion
Kirkuk Assyrian School Reunion
California Organizing Committee
5th Reunion Dinner/Dance Party
at the Assyrian American Civic Club
2618 N. Golden Sate Blvd., Turlock, CA 95381
July 2, 2004 at 6:30 pm
We cordially invite you to the 5th REUNION of the "Assyrian School Kirkuk" dinner and dance party being hosted by The California Chapter for all students, their parents, friends and relatives.
This party will take place at the Assyrian American Civic Club in Turlock on Friday, July 2nd, 2004 at 06:30 pm. Dinner will be served at 8:00 pm.
During the evening, Awards of Gratitude will be presented in honor of some Assyrians in appreciation of their dedicated services towards the Assyrian School in Kirkuk.
This event will allow you to meet and reunite with old friends from US, Canada and other parts of the world. Displayed throughout the event will be many memories captured from days past, i.e. since early 1930s.
Please complete the attached pro-forma and return in the enclosed self-addressed envelope together with your check payable to Assyrian School of Kirkuk by May 30, 2004.
Please note that so far more than $13,000 (thirteen thousand), being the proceeds from previous Reunions that took place (2 in Chicago, USA) (1 in Toronto, Canada) and (1 in Sydney, Australia) have been sent to our needy Assyrians back at home. All funds earned from this Reunion will again be sent to our needy brothers and sisters and to the Assyrian School Building Fund in Kirkuk.
No Children under 10
Formal Dress, please.
Donations (per person) US$35.00
For Founding Committee
Awisha Z. Lazar
Tel. (847) 965-1181
E-mail: Awisha@assyriansofkirkuk.com
For California Organizing Committee
Ramil Jamil Karim
Tel/fax: (209) 527-7144
E-mail: ramilkarim@sbcglobal.net
Website: www.assyriansofkirkuk.com

PROGRAM
Friday, July 2
Evening: 06:30: Get-together Dinner/Dance Party at Assyrian American Civic Club, 2628 N. Golden State Blvd., Turlock
Saturday, July 3
Morning: Tour to one of the beautiful cities in California
Evening: Free, visit friends, clubs, etc.
Sunday, July 4
Morning: Attend Mass at the St. George parish in Ceres, followed by breakfast in honor of the visiting guests.
Sunday, July 4
Afternoon: Picnic and meet friends at the Tuolumne Park in Modesto (in reminiscence of the old days – Kirkuk picnics at Zab River (No. 8 Camp)
For further information, please call persons mentioned below:
Awisha Z. Lazar
Tel. (847) 965-1181
E-mail: Awisha@assyriansofkirkuk.com
Ramil Jamil Karim
Tel/fax: (209) 527-7144
E-mail: ramilkarim@sbcglobal.net

Lecture on Assyrian Civilization and Culture at Northwestern University

Lecture Title: "Assyrian Culture and Civilization: The Survival of an Identity
The Jeremiah S. and Helen James Lecture on Assyrian Civilization and Culture
Tuesday, April 27, 2004
7:30 p.m. Lecture by Professor Abdul Massih Saadi
Reception to follow
Harris Hall
Room 107
1881 Sheridan Road
Evanston, Illinois
The James Lecture on Assyrian Civilization and Culture was established in 1999 by the late Helen James Schwarten, a prominent and active member of the Assyrian community. The Lectureship was conceived with the purpose of promoting understanding and scholarship of both ancient and modern Assyrian culture.

Mrs. Schwarten's gift to Northwestern University was just one of the ways in which she expressed her commitment to the Assyrian community. She sponsored educational and cultural events for adults, endowed hundreds of college scholarships for young people, formed a library and museum, and helped countless immigrants make new lives for themselves in America.

As a young girl, Mrs. Schwarten fled Persia with her family and after three years arrived in the United States. A devout Presbyterian, she met her first husband, Jeremiah (Jerry) Sargis James at church. They raised two sons, Edward and Kenneth, who have followed in their parents' footsteps of philanthropy and devotion to the Assyrian community.

Northwestern University is honored to perpetuate the educational tradition of the late Jeremiah S. James and Helen James Schwarten with this Inaugural Lecture.

Lecturer Professor Abdul Massih Saadi teaches Arabic and Syriac languages and their literatures as well as a variety of courses on Eastern Christianity and Islam. In addition to ongoing research on the history of Christianity in the Middle East – particularly of the Syriac churches – and catalogue of Syriac and Arabic early and medieval manuscripts, Professor Saadi has edited and translated the encyclopedic work of Moshe Bar Kepha, a 9th century Syrian bishop and Scholar. A Research Associate at the Oriental Institute of the University of Chicago, he has taught at North Park University's Center for Middle Eastern Studies and the Lutheran School of Theology. He currently teaches at the University of Notre Dame.
For more information call 847/467-3005.
[Zinda: See Dr. Saadi's article in Zinda Magazine: "The Scythe of the Ottomans & the Decimation of the Assyrian Nation"]
Second Session of Interparliamentary Conference on
Human Rights & Religious Freedom
Institute on Religion and Public Policy
c/o Institute Affiliates Program
1101 15th Street NW
Suite 115
Washington, DC 20005
Press Release Contact: Carol Paisley
202-835-8760

For Immediate Release:
Scheduled for August 5-7 2004 in Brussels
Washington, D.C. – The Second Session of the Interparliamentary Conference on Human Rights and Religious Freedom (IPC) will take place in Brussels from
August 5 through August 7, 2004.
"I am very pleased to announce the second convening of the Interparliamentary Conference," stated Institute on Religion and Public Policy President Joseph K. Grieboski, who serves as Secretary General of the IPC. "Last year the parliamentarians dedicated themselves to the irrefutable principles of freedom and liberty and enshrined them in the concluding Declaration as the guidelines for continued discussions. We will build on these tremendous first steps and advance them even further this year."
The Interparliamentary Conference on Human Rights and Religious Freedom is composed of members of national and supranational parliaments from around the globe. While regional bodies bring together parliamentarians from member countries to discuss religious freedom and human rights questions, there are no similar bodies on the global level. The unique nature of the Interparliamentary Conference on Human Rights and Religious Freedom allows members of national and supranational parliaments to meet and address the issues of human rights and freedom of religion with common understanding and background as legislators.
"On the policy level, religious freedom is very much a legislative issue," Mr. Grieboski continued. "As we have seen over the past several years, parliaments have approached religious issues with legislation that, more often than not, has endangered free exercise and belief in many countries. A broad approach to religious freedom in a context such as this conference allows parliamentarians, religious leaders, NGOs, and others the opportunity to approach these issues objectively and comprehensively."
For further information on the agenda, or to learn how to register for the conference, please contact Carol Paisley at 202-835-8760 or via e-mail at
Paisley@religionandpolicy.org.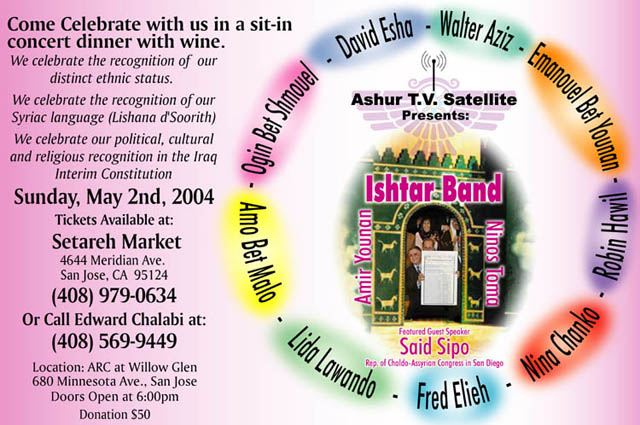 Assyrian Canadian Lobbying Committee's New Website
ACLC Information
Canada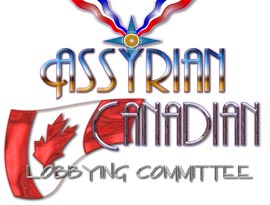 We are very pleased to report to you ACLC Online's official launch!

As we move forward with lobbying the Government of Canada, we will continue working to ensure that Assyrian-Canadian voices are heard and that Assyrian-Canadians are included in every decision the Canadian Government makes.

We would like to thank each and every one of you for your hard work, dedication, and interest in spreading education and awareness for the Assyrian cause in Canada and worldwide.

Please do not hesitate to contact us if you have any questions, concerns, or suggestions at info@aclconline.org .
Assyrian Evangelical Church of Tehran Debuts Website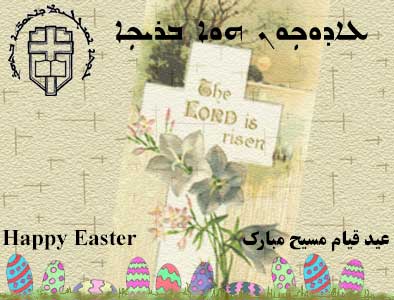 The Assyrian Evangelical Presbyterian Church in Tehran, Iran has debuted its official website (click here). The content of this website include the past issues of the Alap-u Tav magazine, church activities, and a complete list of the books published by the said church in Tehran.