Younadam Kanna in the United States
Assyrian Democratic Movement
North America
28 April 2004
What: Five members of the Iraqi Governing Council (IGC) arrived in Washington D.C. on Friday, April 23, 2004. The IGC had decided to send this high delegation to Washington in order to discuss the future of Iraq with the U.S. Administration and with various Iraqi constituencies in the United States. These talks will continue through Tuesday April 27.

After talks in Washington are concluded, His Excellency Mr. Younadam Kanna, one of the five IGC visiting members and the Secretary General of the Assyrian Democratic Movement (ADM), will travel to Chicago (Illinois), the San Francisco/San Jose Greater Bay Area, Modesto, and Los Angeles (California), Phoenix (Arizona), and Southfield (Michigan) to meet with Assyrian (Chaldo-Assyrian) groups, and deliver speeches about the general situation in Iraq and the conditions of the Chaldo-Assyrians.

In Chicago
April 28 - Friday 30, 2004
General Public Rally @ 7:30 p.m.
Hanging Garden
8301 W. Belmont, Chicago
For more information contact: Aprim Michael at 847-975-3017
Modesto
Saturday, May 1st, 2004
Time: 7:00 p.m.
Where: Yosemite Banquet Hall
2549 Yosemite Blvd., Modesto
For more information contact: Fred Aprim at 408-314-9106
San Francisco/San Jose Bay Area
Sunday, May 2nd, 2004
Time: 7:30 p.m.
ARC, at the Willow Glen (hall of the Assyrian Church of the East)
680 Minnesota Ave, San Jose 95125
For more information contact: Fred Aprim at 408-314-9106
Los Angeles
Monday, May 3, 2004
Time: 7:00 p.m.
Where: St. Mary's Assyrian Church
5955 Lindley Dr., Tarzana 91352
For more information contact: Ashur Giwargis at 818-652-0077
Arizona
Date: Tuesday, May 4, 2004
Time: 8:00 p.m.
Where: Sheraton Hotel
Hwy 17 and Donlup
For more information contact: Sam Darmo at 602-481-2929
Michigan
Date: Wednesday, May 5, 2004
Time: 7:00 p.m.
Southfield Manor
For more information contact: Antranik Aqrawi at 586-322-4840

Please come join us and meet with the Iraqi governing council member Mr. Younadam Kanna.
Background Information:
The Assyrians (known also as Chaldo-Assyrians) are the indigenous people of Iraq and make 5% of the Iraqi population. As Christians, the Assyrians are working with all other parties involved in Iraq and outside to establish a democratic, secular, free, and pluralistic Iraq.
Yonadam Kanna Joins Future of Iraq Conference in Washington
(ZNDA: Washington) Assyrians from Chicago, Detroit, and San Francisco are joining top Iraqi officials in Washington D.C. to discuss plans for the transfer of power on 30 June.
About 60 Chaldean-Assyrians - including former president of the Chaldean Federation of America, Dr. Jacoub Mansour- from Michigan traveled to Arlington, Virginia for "the Future of Iraq" conference yesterday, which included representatives of the Bush administration and the Iraqi Governing Council. 29 groups have sponsored this event.
The t wo members of the Iraqi Governing Council at this conference were Ibrahim al-Jaafari of the Daawa Islamic Party and Yonadam Kanna of the Assyrian Democratic Movement. Rend Rahim, the Iraqi ambassador appointed to represent the council in the United States, was also attend in attendance.
The following is the text of the speech delivered by the Honorable Yonadam Kanna at the conference yesterday:

Yonadam Kanna's Speech Delivered at the Future of Iraq's Conference in Washington D.C. on 25 April 2004
Brother, Dr. Ibrahim Al-Ja'afari, Presidential Committee, Member of the Governing Council and Distinguished attendees,
Good Afternoon,
It is a pleasure and honor to be with you and to share with you the first anniversary of the fall of Saddam Hussein's dictatorship. We express gratitude to those who participated in arranging this meeting and invited us here. We came here to convey to you and to the American public the hard facts concerning the Iraqi situation after one year from the fall of the previous regime, unlike what has been published or presented in the media, which has been exaggerated or twisted for whatever purpose. Perhaps these exaggerations will earn votes in certain campaigns. However, ultimately, this is not the truth.
On this blessed occasion, let me express our gratitude and appreciation to President Bush and the American people, as well as Britain and other Coalition countries, for their assistance in the liberation of Iraq. Truly, the Iraqi people have been saved from a slow death under the oppression of dictatorship, and our peaceful world has been spared from danger.
Today, we stand in honor of those who have fallen on the path of our liberation and of those who marched for freedom and democracy. We hereby assure you that the vast majority of the Iraqi people are happy about the downfall of the previous regime. The people of Iraq will never forget the humanitarian efforts of those who helped us in times of need. Although the enemies of freedom and democracy are desperately trying in vain, to become an obstacle to progress and victory, we are confident that good will prevail, and soon, stability and security will be achieved in the new Iraq.
There will be a transfer of power and sovereignty by June 30; the march to rebuild Iraq will continue; Iraq will see free elections; the constitution will be written; and a democratic parliament that embraces all sectors of a united Iraq and guarantees equality and justice for all will be created.
I will focus on the reconstruction of Iraq and what effect this is going to have on the future of Iraq and democracy. Our colleagues have focused on other aspects of the future of Iraq.
What has been achieved in the past year has not been modest. Teaching resumed with a totally new curriculum, hospitals and healthcare facilities resumed their services to a higher level, and public services have reached the level seen prior to the liberation.
It is lamentable that the infrastructure of Iraq was nearly destroyed by the previous regime, especially in the areas to the South and the North. Further, in addition to an infrastructure below par, ministries and public institutions were looted, destroyed, or set on fire by those who supported the previous regime. Sanitation was at its lowest level. Portable water was a highly-sought commodity.
Mismanagement by the previous regime and the effects of war have had a detrimental impact on the environment and healthcare in Iraq, thus presenting us with new, nonpolitical challenges. The United Nations, in its survey, has indicated that Iraq needs 1.5 million new homes for its people.
Let me present to you a summary by the Ministry of Planning showing the needs present to cover the costs of projects for 2004. We are hoping to obtain the necessary support from our friends to implement these projects. In this way, we hope to fulfill the services needed and to contain the problem of unemployment in Iraq. this will help to bring about the sort of decent standard of living that promotes stability and security, pillars upon which democracy and freedom will rest.
It is to be noted that with the exception of the United States and Japan, donor countries have not fulfilled the promises that they have made at the Madrid Donor Conference, till this moment. '
Clusters Cost Percentages

| | | |
| --- | --- | --- |
| Education, Health. Labor & Social Affairs | $ 737,900,000.00 | 17.61 % |
| Infrastructure [water sanitation, transportation,Telecommunication, electricity, housing,Planned management] | $1,957,728,695.00 | 46.73 % |
| Agriculture, Water Resources and Food | $ 602,410,300.00 | 14.38 % |
| Finance & Private Sector Development | $ 486,351,000.00 | 11.60 % |
| De-mining | $ 54,500,000.00 | 1.31 % |
| Governmental institutions. [Rule of Law,Civil Society, and Media, Cross-cutting themes, Human Rights] | $ 73,392,925 00 | 1.75 % |
| Gentler, Environment | $ 277,355,000.00 | 6.62 % |
| | | |
| Grand Total | $4,189,637,920.00 | 100.00% |
Finally, let me thank you again. I wish to draw the attention our friends and allies concerning the withdrawal of American forces from Iraq. Statements made to this effect have a negative impact on the morale of American troops in Iraq. Such statements will have serious consequences not only in Iraq, but also on peace and stability, and thus on American national security. If a withdrawal takes place from Iraq, then democracy will be defeated and international terrorism will prevail, bringing unwanted consequences in the world.
Thank you.
Yonadam Kanna
Member
Iraqi Governing Council
Iraqi Governing Council Member to Speak in Modesto
Courtesy of the Modesto Bee
29 April 2004
By Blair Craddock
(ZNDA: Modesto) The only Christian representative on the 25-member Iraqi Governing Council is scheduled to speak Saturday night in Modesto.
Younadam Kanna is expected to speak in Assyrian and English, discussing the future of Iraq and the condition of the country's Assyrian minority.
The event is open to the public, and admission is free -- including dinner, organizers said. But they added that seating is limited.
"We'd love for the public to come and ask questions, especially the families that have soldiers in Iraq," said Zalma Toma of Ceres.
She is a supporter of the Assyrian Democratic Movement, the party headed by Kanna.
The Iraqi Governing Council, appointed in July by the United States, has worked in consultation with American government representatives in Iraq.
Kanna and other members of the council are in the United States to meet with Iraqi-Americans and discuss the future of Iraq, event organizers said.
"The main issue for us right now is: How many rights will we have under the new constitution of Iraq?" asked Fred Isaac, a businessman who heads the Modesto Chapter of the Assyrian Democratic Movement.
Iraq's temporary constitution states that "administrative, cultural and political rights" of "Turcomans, Chaldo-Assyrians and all other citizens" shall be protected.
It does not create an Assyrian region, or state, within Iraq, however. The new constitution states that regions will be formed later, except for a
Kurdish region already established in northern Iraq.
Assyrian political opponents of Kanna's party have criticized the temporary constitution.
For example, Sargon Dadesho of Modesto, who heads a party called the Assyrian National Congress, has criticized the new constitution for failing to distinguish between Iraq's Assyrians and other Christian minorities.
Saturday's event is scheduled to start at 7 p.m. at the Yosemite Banquet Hall, Suite L, 2549 Yosemite Blvd. For more information, or to make reservations, call Toma, 996-9636 or 538-8813.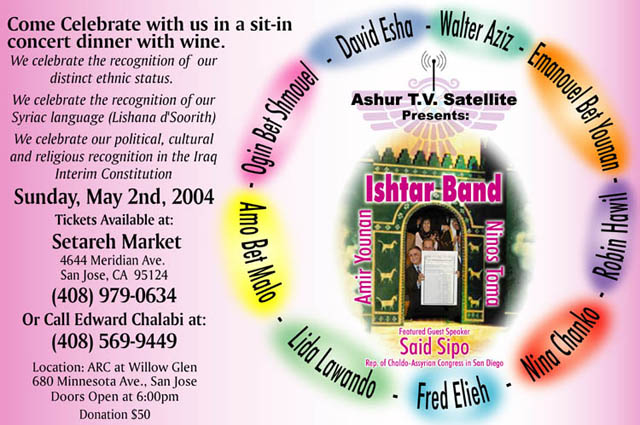 Shattered Lives on a Baghdad Street
Courtesy of the Washington Post
28 April 2004
By Pamela Constable
(ZNDA: Baghdad) Vivian Odishu's face bears no resemblance to the portrait of a glowing young bride on the wall, taken just 18 months ago. Her left eye is a crooked slit, her cheek is stitched and swollen. Her shattered jaw has been rebuilt with artificial plates, requiring her to speak through clenched teeth like a ventriloquist.
"My life is finished. My heart is broken. Everything in me is broken. I feel like a dead person with open eyes," she said, sitting limply on her parents' couch. "I don't know who to blame; I just pray to God that no one else should ever have to see what I have seen."
On the night of March 17, Odishu was pulled barely alive from the rubble of her cement house in a quiet Baghdad neighborhood after a powerful car bomb exploded outside. Her husband and three of his relatives perished inside the collapsed building, leaving Odishu a widow at 23.
In the past year, suicide bombings have occurred with increasing frequency in Baghdad and other cities. Most have been aimed at foreign facilities or symbols, such as the U.N. compound that was rammed by a truck bomb last Aug. 19, killing at least 22 people, and the U.S. occupation headquarters, where a car detonated at the front gate Jan. 18, leaving 20 people dead.
The target of the March 17 bombing was apparently the Mount Lebanon Hotel, a lightly guarded, five-story building on a narrow side street where a number of international contractors and U.N. employees had been staying. But like Odishu, most of the victims were Iraqis, and the explosion resonated far beyond a single building associated with foreigners.
The bomb left 10 people dead and dozens injured, including hotel employees and neighbors. It destroyed the homes of five families living in an adjacent apartment building, tore the facade off a community hospital, cracked open the walls and roofs of three houses and incinerated an antique shop. It vaporized wardrobes and mattresses, smashed fish aquariums and windows, melted cooking pots and silverware, and burned carpets and family portraits to ashes.
Beyond the immediate physical damage, there were other, more lasting repercussions, some of which became evident only in the weeks of recovery and recrimination that have followed. The explosion cost men their jobs and savings, led to quarrels over rent and fruitless searches for financial compensation.
It destroyed the secure, familiar spirit of a street where people from a variety of ethnic and religious groups -- Sunnis and Shiites, Kurds and Turkmens and Assyrian Christians -- had lived as neighbors for a generation. And it turned feelings of gratitude and tolerance toward the U.S. presence into disillusionment and resentment.
"We went to the Iraqi authorities for help, and they say there is no government. We went to the Americans for help, and they say they can do nothing because the damage was not caused by them," said Khadim Neama Uraybi, 50, an antiques dealer who estimates he lost $265,000 worth of property in the explosion, including 48 Persian carpets and his '97 Opel sedan.
"They said this is a war of liberation, but now no citizen feels safe, even at home. The Americans occupied our country and they are responsible," Uraybi said, poking disgustedly last week at a jumble of melted glass chandeliers in his scorched shop next to the hotel lobby. "I survived with my life, but I lost everything I have. Where am I supposed to turn?"
When the explosion occurred, Uraybi was cooking stew for two friends in the apartment above his shop. The blast knocked him unconscious, but a neighbor smashed the locked kitchen door with a pipe and dragged him to safety. He was uninjured, but one of his guests was badly burned on both legs and the other lost an eye.
Everyone in the modest, five-story apartment building managed to escape alive, though many were singed or cut by shattered glass. Last week, the families described how they had raced up a narrow stairwell in the dark, parents carrying small children to the building's flat roof and leaping onto the next one. A bloody handprint was left on a brick ledge someone had grabbed for balance.
When the fire cooled and it was safe to return, half the families found their apartments roasted black, with lumps of former furniture congealed on the floors. The 10 tenants were poor; the husbands mostly worked as laborers, and two were employed as guards at the Mount Lebanon, which is now bricked shut. They had no savings and no insurance.
"The children's clothes are gone, so I can't send them to school. The mattresses are wrecked, so we have no place to sleep. I have been cleaning for 18 days, and it still smells awful," said Huda Abdul Qadr, 28, a pregnant mother of four. "On the first day lots of people came, officials asked questions and journalists took pictures. Now, no one comes to see how we are doing. No one comes at all."
The devastation was just as dramatic on the other side of the street, where the blast shook a cluster of old cement houses to their foundations. All but Odishu's home remained standing, but the explosion left gaping holes in roofs and jagged cracks in walls. Several inhabitants told of chance escapes that came close to the miraculous.
Jamal Baban, 51, a Kurdish man who works in a coffee shop, said that just minutes before the explosion, he happened to rouse his 13-year-old son from a nap in a first-floor bedroom. Suddenly the roof collapsed, raining jagged chunks of tin and cement down on the spot where the boy had been sleeping.
"I still don't know what made me wake him up," said Baban, who has spent the past month shoring up his weakened house and replacing the roof. The family of seven lost many belongings, from an heirloom mirror to a brand new TV set, but Baban shrugged off the material loss.
"We saved a long time for that television, but let it go. Let it all go," he said, glancing across his garden wall to the empty lot, strewn with broken bricks, where Odishu's husband and his family, members of the minority Assyrian Christian community, had always lived. "They were our neighbors for 30 years," Baban said. "They were good moral people, and they died."
Despite the natural sympathy the explosion created among its victims, it also generated controversy and disputes that still color many neighborhood conversations. The main issue has been whether the blast was caused by an insurgent bomb or an American rocket, because U.S. officials compensate victims for damage caused by American military forces but not for harm done by insurgents.
After the explosion, numerous U.S. military teams visited the area, first to give medical assistance and later to assess damage and collect witness accounts. Some residents insisted that a rocket had landed in the street, and they still claim they were cheated out of benefits when U.S. officials ruled the explosion had been caused by a car bomb.
To make matters worse, residents said, the financial aid they were offered turned out to be virtually inaccessible. At an American facility, each family was informed it could apply to a nonprofit agency for help and was given a brochure in English. The brochure gave an international phone number and e-mail address for a reconstruction organization in Maryland, which turned out to provide not cash, but low-interest loans. No one in the neighborhood has applied.
"What are we supposed to do with these pieces of paper? How can we afford to call these people?" demanded Ahlam Zainab, a stout mother of five who stood in her cracked living room with a trowel last week while her teenage son mixed mortar with his hands in a plastic bucket. "Do we have to throw stones at the White House until someone listens?"
For Vivian Odishu, the idea of receiving financial compensation seems like a monstrous joke. For weeks she lay semi-conscious in a Baghdad hospital for nerve and brain surgery, unaware that her husband, Farid, an optometrist's assistant, was dead. Last Saturday would have been his 40th birthday, and she marked the occasion by visiting his grave with her family and leaving a bouquet.
"We were a hopeful couple with a simple life. My husband went to work and came home. But then it all vanished in a minute, and he died for no reason," Odishu said. Her voice was a flat, angry buzz through motionless jaws. "I don't want to accuse anyone, and I don't want money from anyone. My gold is gone, and no one can bring him back."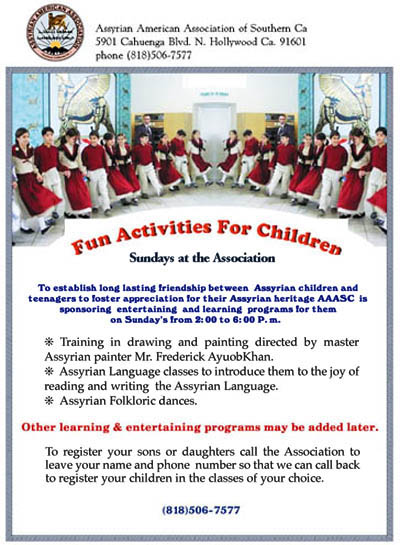 Living in a State of War: the Story of a Christian Family
Courtesy of AsiaNews
By Pierre Balanian

(ZNDA: Baghdad) Abductions of foreigners in Iraq are the work of "non-Iraqi criminal rings". Kidnappings (by Iraqis) are often done for reasons of extortion. How many wealthy Iraqis have been abducted, but then released once the ransom was paid!," says Muayed Hayat Shlimon,.
He is sure that this is the case. Muayed, a 41 year-old Chaldean Catholic born and raised in Baghdad, spends most of his day speaking with people while working as transporter. He says he views the killing of hostages as confirmation that foreigners are involved.
"Personally I, like so many other Muslim Iraqis with whom I've had conversations about the killing of hostages, am disappointed and scandalized. It's impossible that such killings were done by Iraqis."
Muayed is married with 3 children ages 10, 7 and six months. He shares a home with his brother Samir, who is also married and has 4 children. The Shlimons believe they are more fortunate than others. Unlike many other drivers, Muayed owns his own van. After years of work "everyone knows him" and, thus, Muayed says he always has enough work. Meanwhile many others "who worked for the state or were employed in businesses still have trouble finding work."
Muayed is a simple person: he heads out for work at 6.30 in the morning and returns home at 6.30 in the evening, since it's "dangerous to stay out there in the dark," he says.
"Once we used to go out to dinner or simply visit our friends and relatives in the evening. But now such a lifestyle is no longer possible," he said.
"We talk to each other on the phone "as if we didn't live in the same country," Muayed said that life in the post-Hussein Iraq is full of "uncertainty and fear".
"I served in Saddam Hussein's army –I was forced to –during a 11-year term in the national guard. Back then we used to say: 'Go to the frontlines and you never know if you'll make it back alive', he said. "Now every time I leave home I wave goodbye to my family as it were the last time I see them."
The fear Iraqis have is that of being caught amid bombs, and explosions, crisscrossing sniper fire which can erupt at a moment's notice. Like all Iraqis, the Shlimons are afraid to send their children to school by themselves. "Luckily it's nearby. In the end children get kidnapped anyway. We can't even let them play in front of our own home like in old days," Muayed says.
And yet life goes on. Compared to a few months ago, Muayed says "we now have electricity, potable water and can fill our natural gas tanks. Sure, we don't eat chicken or meat every day, but the shops and markets are filled with everything (you need)."
Muayed's wife never leaves home –not out of tradition, but out of fear. Hence her husband must do the shopping since, as he says, "why should both of us have to risk our lives? I have to be outside for work, anyway."
A new phenomenon is that of "medicines sold at market stands, which are often expired because they were stolen a year ago from warehouses during all the chaos. Or they're no good anymore, since they were left outside to sit in the sun (for too long)," Muayed explains.
Muayed is certain that, in terms of the country's many religions living together and getting along, "We all feel like Iraqis in the end. Us Chaldean Catholics have an excellent relationship with Sunni and Shiite (Muslims).
"We have a high opinion of and respect for one another. We were all raised together," he said. Once upon a time, Muayed says, "they called us 'crusaders'. Now, for them, the crusaders are the foreigners. We can pray out in the open and we have no fears at all in this sense."
Muayed, whose name in Arabic means "supporter", made an appeal to the world at the end of the interview: "Have mercy on our people. After years of suffering and war, we want our own government. Yet foreign troops must leave only after having guaranteed the nation's security. Until now little has been done to ensure the safety of civilians. There are still many weapons in circulation, stolen and left behind by the former regime. No one has taken the trouble to collect and confiscate them."
Muayed denied rumors about Iraqi Christians leaving the country. "On the contrary, many Christians are returning from abroad. This is our homeland. We are Iraqis and we get on well with Muslims. We are here to stay."
Los Angeles to Iraq, Leader Helps Connect Assyrians
Courtesy of the Los Angeles Garment & Citizen
24 April 2004
By Jerry Sullivan
(ZNDA: Los Angeles) Pierre Toulakany is active as a property owner and community volunteer when it comes to efforts to improve downtown Los Angeles. His local focus is clearly demonstrated by his work as a founding member of the Historic Downtown Business Improvement District and as an elected representative on the Los Angeles Neighborhood Council.

But the land of Mesopotamia is never far from Toulakany's mind.

The nattily clad executive devotes much serious thought to the ancient past. He can reel off famous names and dates from 5,000 years ago.

But he's constantly working to secure a future for an estimated two million members of a little-known ethnic group in Iraq, as well as several million of their compatriots who are scattered around the globe.

Toulakany is seldom seen without a lapel pin showing the U.S. flag. He doesn't hesitate to credit his adopted country with providing him valuable opportunities.

But the symbol of the U.S. he wears is depicted alongside the banner of a nation that hasn't had official status in the international community for nearly 2,000 years.

Those are some of the contradictions that come with being an Assyrian, an ethnic identity that Toulakany claims with pride and determination. Just ask him and he will tell you about the long history of the Assyrian people, who once towered over their known world but have more recently seen nearly two millennia of hard times.

"The Assyrians were the first civilization known to the world," Toulakany said during a recent interview in the office he keeps as a co-owner of the West Coast Jewelry Center in the heart of Los Angeles' bustling Downtown. "So much of everyday life--the words you are writing, the window we look out of--can be traced back in history to the Assyrian people."

Toulakany stopped to clear up any confusion, explaining that the Assyrians are a separate and distinct people from Syrians.

Assyria established an empire more than 5000 years before the birth of Christ (B.C.). Indeed, Christ is widely believed to have spoken the Aramaic tongue of the Assyrian people--a language they still speak and which has gained notice recently because of its use in the controversial movie "The Passion of the Christ."

Ancient Assyria counted Babylonia as an extension of its empire, which was centered on the land between the Tigris and Euphrates rivers. That territory is known by historians as the "cradle of civilization" and also forms the heart of present-day Iraq.

The use of glass and the development of the lens are attributed to the Assyrians. So are many important advances in agriculture and irrigation, the development of written language and the arts, and various innovations in military strategy and logistics.

But Assyria's political power ebbed over many centuries and the empire collapsed around 600 B.C. The Roman Empire eventually took control of Assyria's territory.

Assyrians remained a people without a country of their own throughout the ascendance of the Romans and later Islamic conquests. Tense relations with various empires and governments--some Arab, but including a long period of Turkish domination--have been a factor for Assyrians ever since.

Toulakany grew up in Iran, where his family owned a huge stretch of farm and ranchland.

"It would take two days on horseback to cover our land," he said.

He went to Paris, France, for college, and returned to Iran with a new perspective. The government was confiscating chunks of his family's land, he said, and leaving anti-Christian prejudice unchecked, making life miserable. In 1959, Toulakany left for New York, eventually visiting some friends in Los Angeles.

He eventually joined several clients in forming the current partnership that owns the West Coast Jewelry Center.

Toulakany's arrival in the U.S. came in the middle portion of what has been nearly a century of Assyrian immigration here.

A wave of anti-Christian violence in Iraq after World War I pushed more Assyrians to the U.S. Some historians estimate that as many as 200,000 of 2.5 million Assyrians who remained in Iraq were killed in anti-Christian violence by the 1930s.

The waves of Assyrians immigrants to the U.S. first established significant population centers in New York, New Jersey, Connecticut and Massachusetts.

There are currently about 600,000 Assyrian Americans in the U.S., with roughly 15,000 in the Los Angeles area.

The local population counts North Hollywood as a cultural center, with many homeowners spread through the rest of the San Fernando Valley.

The earliest immigrants formed the Assyrian-American National Federation in 1932, a group dedicated to lobbying the U.S. government and providing food, medicine and other relief to comrades in Iraq.

Toulakany took on a major role during the resettlements of the 1970s, providing the driving force for the formation of the Assyrian Universal Alliance Foundation. It's one of many organizations Toulakany has helped found or support, and he guided it through its early years while also serving as national president of the Assyrian-American National Federation from 1974 to 1976.

The community spirit extends to Assyrians still living in Iraq, too.

"The one I'm most proud of, the one I spend 90 percent of my time on, is the Assyrian American Aid Society," said Toulakany, who currently serves as president of the organization's Los Angeles chapter.

The aid society was founded in 1991, after the first Persian Gulf War, when Assyrian lands in northern Iraq--along with the territory of Kurds, another distinct ethnic group--received some U.S. protection against the now-deposed Saddam Hussein.

"Saddam Hussein had destroyed more than 200 Assyrian villages--churches, homes, schools, everything," Toulakany said. "We started raising money, about $500,000 a year. We have rebuilt a lot of what was destroyed, including about half of the schools. We've built dormitories for about 9,000 students who have to live at the school because the roads have been destroyed and travel is difficult."

The Assyrian American Aid Society also negotiated with major U.S. pharmaceutical companies for discounts on much-needed medicines to send to northern Iraq. And a program to plant apple trees has helped more than 400 families reestablish agriculture in the region.

Toulakany credited his wife, Angie Toulakany, also an Assyrian, with handling more than half of the local chapter's work. It's a partnership that has proved dynamic in fulfilling the chapter's mission, he said.

Such efforts by the Toulakanys and fellow Assyrians around the world appear to be paying off in Iraq these days. An interim constitution recently approved by representatives of various ethnic and religious groups in the war-torn country recognized the Assyrians as an indigenous people and granted the Aramaic language official status, clearing the way for its use in schools.

Preliminary plans called for 15 of 250 seats in an Iraqi national congress to be designated for Assyrians. There are currently about two million Assyrians among Iraq's estimated population of 27 million people, meaning the 15 seats promised in a new legislative body roughly match the community's numbers on a percentage basis.

Toulakany bounced around his office one day this spring, just hours after receiving news of the agreement in Iraq. His daughter, Patricia, a Hollywood set designer who has the same intense eyes as her father, was visiting.

"It's a great day," Toulakany said. "A great day for the Assyrian people."

"Yes it is," Patricia agreed, providing the next generational link in the long history of the Assyrian people.