Iraqi Christians Deserve a Homeland within Iraq, Not Empty Promises
Romina Khananisho
Arizona
In a recent visit to the United States Iraqi Governing Council member Yonadam Kanna brought a message of hope to Assyrians, who along with Chaldeans are Iraq's Christian minority. Mr. Kanna's travels included visits to areas of heavy Assyrian concentration such as Chicago, Detroit, Modesto and Phoenix where I heard him speak.
He told us that great things are happening to Iraq. American and Coalition forces are rebuilding the country and facilitating the establishment of a democracy that will allow all Assyrians to finally have a voice in a representative system of government. He also told us the he and the Assyrian Democratic Movement (ZOWAA) he leads are working hard to make sure Iraqi Christians have a voice and are represented in the new government.
After hearing the speech, excited attendees left thanking Mr. Kanna and ZOWAA for their humanitarian efforts for more than 25 years in Iraq. As an American-born Assyrian, I want nothing more than for all of my people in Iraq to share the same human and civil rights I have enjoyed as an American. I want all Assyrians in Iraq to have the opportunity to learn and grow so that one day they can compete in a free market system that respects work and talent, not religious affiliation. I am overjoyed to think that one day the Iraqi economy will be booming and my people will be able to freely buy groceries and import the goods they need to not only survive, but thrive.
We are thankful for Mr. Kanna's hard work in paving the way for our families to freely practice the oldest form of Christianity without persecution. Through his and ZOWAA's hard work and dedication my relatives in Iraq may someday soon experience all of the freedoms and luxuries that I enjoy as an American.
But wait. Now that I think about it, I am not sure Mr. Kanna is the person we Assyrians should be thanking at all. All of these luxuries, all of the freedoms the Assyrians will soon be enjoying are not because of him or ZOWAA, they are the basic human rights that come with a democratic system of government. These are all rights and privileges the Coalition soldiers are loosing their lives to give all the people of Iraq, not just the Assyrians. Each human being, Muslim or Christian, will have the same exact rights. If that is the case, then what are Mr. Kanna and ZOWAA doing there to make a difference for our people? What are they working on that the American government has not already provided through the toppling of Saddam and the creation of a democracy? What big fights are they winning that bring him to the United States to tell us about?
Please don't read my comments as ungracious. I do believe Mr. Kanna's work is essential. I know he has a huge role as a humanitarian in a country that really needs many now, especially for the small proportion (3 percent) of Iraq that is Christian. But we also need leaders willing to fight for what is rightfully ours as Assyrians. I challenge Mr. Kanna or any other leader that carries the Assyrian name in this rebuilding of Iraq to take the more important role of giving the indigenous people of Mesopotamia the right to their own home.
Just as it is part of the American Dream to own one's home, it is an Assyrian's dream to one day recover part of the land that had belonged to us for over 6,000 years. Our fight cannot be for anything less than a piece of Iraq for the 1.2 million Assyrians in Iraq to enjoy in safety, free from the fear of further genocide. Without this as Mr. Kanna and ZOWAA's goals, these leaders are wasting the time and money of not just the millions of Assyrians all over the world that support them, but of the American and Coalition nations that have paid a high price for Iraq's liberation.
It should be their duty to bring the Assyrian population back together so one day we can visit a home that all call Assyria.
I look forward to the day that my children or grandchildren can answer the question, "where are you from?" And say, "I am an Assyrian from Assyria" with a proud grin and a loyalty that will never be lost no matter what country our ancestors were forced to escape too. I want to see the day that my Christian brothers and sisters rule themselves with the right to come and go, free of harsh Muslim rule. No matter how many positions in the new government Assyrians are given, we will always be third class citizens in the land of a Muslim majority.
Mr. Kanna and ZOWAA can cut deals allying the Assyrians with the Kurds and the Turkmen to serve us for the time being. But their deals must be seen as temporary since history tragically teaches us that we have never been safe in the hands of these people.
Once again, the challenge has been issued. If Mr. Kanna is going to tour the world and give Assyrians a message of hope, then he should also bring with him a picture of my flag posted on a land we can call home.
The War on Iraq
Zaya Toma
Australia
On Thursday, 1 May 2003, major military combat was declared over in Iraq. With an end to major military combat also came an end to the torture chambers, the children's prisons and the death squads.
Arabs, Kurds, and Assyrians were all dancing with joy and toppling monstrous statues. Shias, Sunnis, and Christians alike are all celebrating the fall and capture of a tyrant.
It's been 12 months since the beginning of the end for Saddam's totalitarian regime and by now everyone has come to his or her own conclusion of how successful the campaign was, or if the campaign was even justified. WMD stockpiles may not have been found but does that mean that they didn't exist? There was much evidence to support to active development programs and anything could have happened to those weapons. They could have been shipped to Lebanon, Syria or Iran, they could have been hidden in the middle of the dessert or even destroyed at the last minute.
How many people need reminding that these weapons were not mythical objects that our governments conjured up in our imagination? They were tools of mass destruction used by Saddam on numerous occasions. He used these weapons on woman and children, he used these weapons to systematically destroy Assyrian and Kurdish villages, he used the weapons mercilessly on Iranian troops and he would have used these weapons again!
It is sad that the claims of Australia and America "sexing up" intelligence have become so rampant. It is the same intelligence that Russia, France and Germany had. No one in the world denied that Iraq possessed these weapons. The disagreement was with how to deal with this problem. France, Russia and Germany had a significant financial interest in preventing war mainly due to potential oil and weapons contracts as well as already existing unpaid debts.
The United Nations played no helpful role because its voting members were not independent jurors weighing the case for war but self-serving nations. For example, it was not a secret that Mexico sought looser immigration laws in exchange for a vote in America's favour. What did America's immigration laws have to do with a war in Iraq?
One year after the liberation of Iraq, the Coalition continues to work diligently to complete reconstruction projects, both large and small. Together the Coalition and the Iraqi people have begun the process of rebuilding Iraq. The work, although not complete, has produced tremendous results that can be seen throughout the country.
Construction has begun on thousands of new houses. Water and Electricity is reliable, food is readily available. Reconstruction Contracts are flowing into Iraq and oil is flowing out. Every School in Iraq is open and where Aramaic was once banned under Saddam it is now being taught in 35 villages. Likewise, where satellite television was once banned, news from around the world is beamed into the homes of millions of Iraqis.
The results of this war are clear. Besides the fact that Saddam and his brutal regime will no longer pose a threat to Iraqis, the region or the world, Iran, Syria, Libya and North Korea have also come to the realisation that they must abandon their ambitions of destruction or their regimes will be removed with surgical precision.
The Iraqi people see the improvements and are optimistic. However, at the moment we are engaged in a great war, testing our ability to conceive and dedicate a nation to freedom and democracy. We meet on a global battlefield with an enemy that hides among innocent people. We have made this battlefield a resting place for those who gave their lives to end terror.
Leaving Iraq now would mean that we let those soldiers die in vain, that we betray our friends and leave our work incomplete, but more devastating we let the terrorists win. We will ultimately lose the trust and respect of the international community and we would only be creating a deeper sense of hate for our way of life.
[Zinda: Mr. Zaya Toma is the Political Officer for the New South Wales Young Liberals.]
Time For the `S` Word For Iraq!
Rev. Ken Joseph Jr.
Washington D.C.
The Abu Gharib Prison has a personal meaning to me. As an Assyrian Christian who was in Iraq before the war the Abu Gharib Prison was the most feared place in Iraq. People who went to Abu Gharib `disappeared` never to be heard from again.

My Uncle worked at the prison as a clerical worker. In November of 2002 Sadaam Hussein freed all the prisoners - estimates of up to 100,000 people - and the most hardened prisoners of a generation were put out on the streets.

I used to ask my Uncle why he would continue to go to work every day at the Prison, even though he hadn't been paid in months and there was no longer any paperwork to fill out as the Prison was empty.

He said `You know, if I did not get up each morning, take a shower, eat breakfast, go to work - even thought there is nothing to do there and I never get paid - I would go mad! Just look at our family - already two of them are `mad`. I must do this every day to survive as a human being.`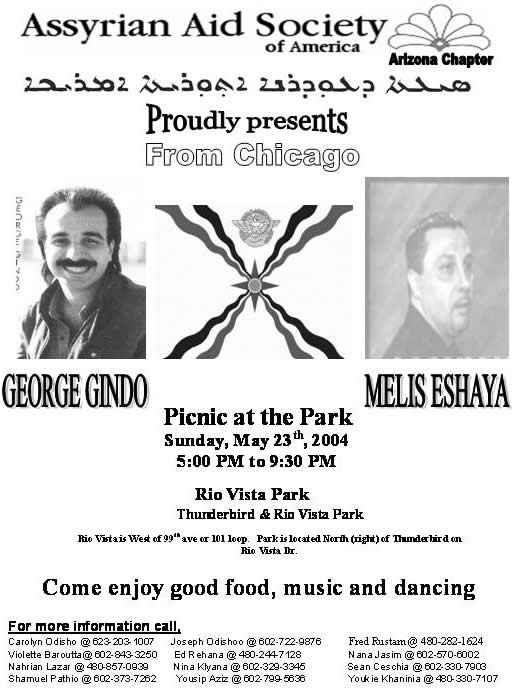 I looked around the room and quickly saw my two cousins - one staring off into space with a blank look on her face and the other constantly screaming . .

Little by little I began to understand the nightmare that was Sadaam Hussein and how he had not only destroyed a country but destroyed a people. He had broken them and in so doing caused them all to collectively go `mad`.

Another relative puts it more simply - `The Americans might wonder why we do not rise up now that we have been liberated. First, we are all still afraid - after 35 years of terror and 1 1/2 million killed we cannot actually believe Sadaam is gone. Once the Americans are gone `they` will come after us and kill us for anything we say and do now.

Second, though, it is as if we all have lost our minds. It takes time to recover. After 35 years of terror our minds need time to heal, to become normal and free again. But recover we will if just given the time.`

With the wave of incidents from the Abu Gharib Prison situation to the murder of a young man in Iraq and the situation in Fallujah I think it has finally come time, as late as it may be - better late than too late - to discuss `plan B` - the `S` word - Stop!

The handover of Iraq, barely a year after liberation when things are going so well on the ground for the average Iraqi must be stopped.

It for a long time had been abundantly clear to those of us who are in Iraq that it is not realistic to handover power on June 30. It seems to have finally come to a point where the situation is beginning to be understood outside of Iraq. The June 30 handover is just not realistic and should be `stopped`.

There are three main reasons for this.

First, it is just too soon - just when things are going so well! After 35 years of a terror state the basics cannot be put together in a little over a year. From infrastructure to politics to security, 35 years of neglect and abuse cannot be undone in a year. In Japan for example it took 7 years in a similar situation.

Second, the UN cannot take over the responsibilities of the US. In a very unique situation in the world the UN is an absolutely hated institution by all Iraqis. During the time of Sadaam Hussein, instead of supporting them, the Iraqis watch as the UN not only did not stand up to Sadaam Hussein but abused the `Oil for Food` program - their oil funds to enrich itself while doing little to help them. The UN does not have the ability to lead Iraq.

Third, with such a short and arbitrary deadline the `silent majority` the vast majority of Iraqis who support the dramatic progress that is taking place every day are too afraid and intimidated to speak out or even act. Simply put, if anyone outwardly expresses support for the wonderful things that are taking place in Iraq every day they are convinced that once the US hands over power they will be killed. They are the `engine of growth` that needs to be liberated so Iraq can go forward further! They need an atmosphere where they can be assured of a future without fear and given the `breathing room` to stand up for themselves once again without the stifling pressure of an imminent deadlne.

The June 30th handover power must be stopped - stopped not because of failure but because of dramatic success! Iraq is doing fantastic! Yonadam Kanna, a member of the Iraqi Governing Council recently touring the United States said ` The vast majority of the Iraqis are extremely thankful for being Liberated from Sadaam Hussein. A small band of terrorists and former members of the previous regieme are desperately trying to ruin everything. Things on the ground are going very well.` - his purpose in coming to the US? Party to drum up investment!

The reason it must be stopped is precisely because Iraq is so succesful. Like Like a newborn baby that must be taken care of carefully until it can walk on its own, a premature handing over of power will very clearly result in the death of the newborn Iraq.

A simple and time tested plan is all that is needed to take power away from the `thugs` that threaten to destroy the newborn Iraq and return it to the people, the `silent majority` of the people who having finally been liberated from Sadaam are the engine of growth that one can see everyone in Iraq these days. Their greatest weapon is uncertainty - the uncertainty felt among the people that the Americans will `stay the course` until the baby can walk again on its own.

The solution to a reborn Iraq is simple. As happened in Japan, Germany, Cambodia and others there is a `Roadmap`.

First, a secular, `normal` constitution. The current `temporary` constitution has in it the seeds of its own destrution. Hastily Hastily Hastily written it includes article 7 which is the death knell to a successful Iraq. It states much to the surprise of most Americans and most Iraqis as well as the Constitutional Committee of the Iraqi Governing Council. `Islam is the official religion of the state`.

Second, carefully organized and supervised, free and fair elections and a seated Government based on those elections. This will be the signal to the `silent majority` that they will not be abandoned and they will be protected and will cause them to speak out and act according to their true feelings.

Third, a long term `business plan` for the success of the newborn including a security plan, plan for restoring confiscated properties and local autonomy for the indigenous Iraqis to attract investment from the expatriate Iraqi community throughout the world.

Then and any then, to the great delight of the Iraqi people - the `silent majority` that is too intimidated to speak out, even to pollsters will Iraq truly be finally `liberated`!

Can it be done? As one who has been in Iraq since before the war the answer is a resounding `yes`! As an Assyrian Christian for whom failure is very personal - the last time it failed we lost 2/3 of our peole in the Assyrian Genocide these are high stakes decisions.

Finally, though, the most persuasive reason is because it is the right thing to do. It is not Iraq! The whole world is watching. Contrary to the loud voices of those who themselves freely threatened the `silent major` of the world - those suffering under similar regimes are watching to see if the US has the resolve, the moral character and the vision to stand up to totalitarianism and terror.

If the US can `stay the course` through a time tested `roadmap` to put the newborn Iraq carefully and gently once back on its feet again, the resultant `child` will be an example to the region first, and to the world that the age of tyrants and `thug rulers` is over and the `birth` of free peoples has come.

As Yonadan Kanna, the member of the Iraqi Governing Council visiting the US Puts it `If the US Troops are withdrawn fom Iraq too early it would be a terrible situation not only for Iraq but for the whole world.`

If the US `blinks`, and backs down, on July 1 at midnight Iraq will clearly explode into outright civil war with a resultant radical islamic nightmare that will haunt the world for generations and all the `naysayers`, domestic and worldwide will all collectively say a big `I told You So` . . it does not have to be that way!

The Liberated `silent majority` of the Iraqi people are desperate that the United States not leave and hand power over to the `thug rulers` who are waiting in the wings. They deserve a chance - a chance, for once to express themselves, to rebuild their own country with their own hands and in tune with their own drummer!
The baby is just starting to crawl! Stop its `milk` and it will die. A little patience and it will walk again, on its own!

The way through the current confusion? Iraq is a success! Stay the course! `Stop` the handover until the `roadmap` is complete - clearly the `S`s` have it - `Success`, `stop`, `Stay`!

Don`t let the enemies of freedom turn a resounding success into failure.
Iraq through Australian eyes: Casey-Bruce Correspondence
Stavros Stavridis
Australia
Prime Minister Stanley M.Bruce appointed Richard Gardiner Casey as Australian political liaison officer to London in late 1923. This decision proved to be very important for Australia, at a time when it was trying to chart its own 'independent' foreign policy within a British imperial framework.
Casey had direct access to secret British documents and also held conversations with officials of the British Foreign and Colonial offices'. Over the next 5 years Casey was to provide Bruce in form of secret cables and private letters information on British foreign policy covering a multitude of issues. This correspondence contained summaries of secret Foreign Office documents and Casey's own observations on international affairs. He also forwarded copies of official secret British documents to the Australian Prime Minister.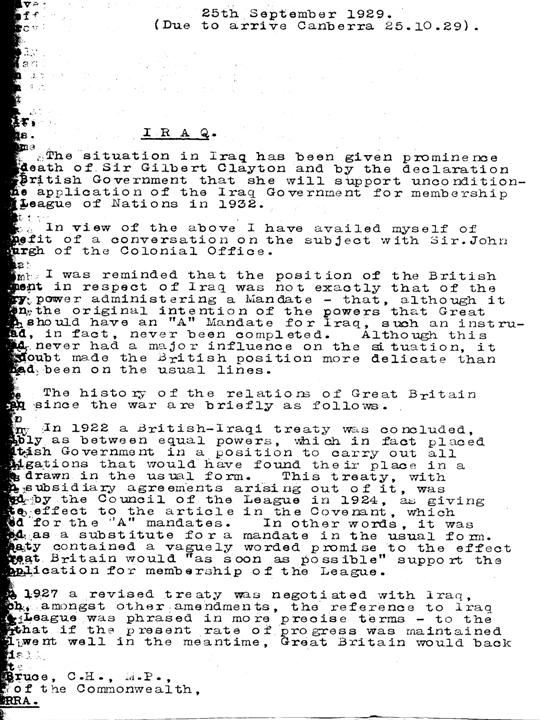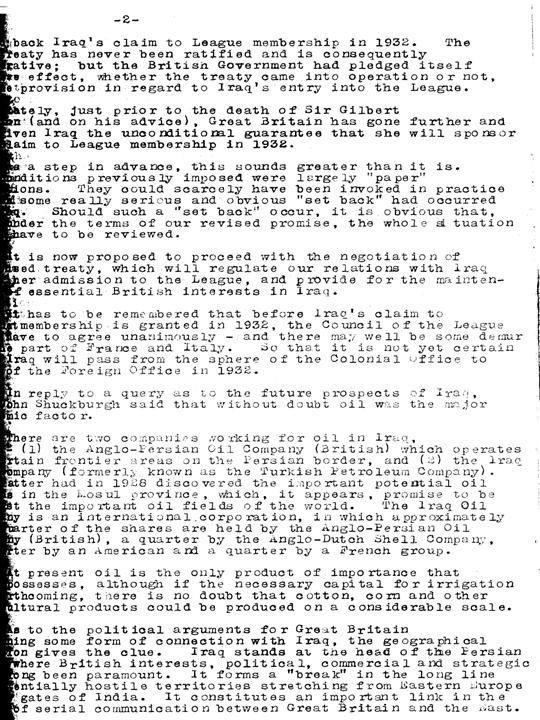 The document reproduced below refers to the future status of Iraq becoming an independent nation in 1932. It briefly mentions the various treaties that Britain negotiated with the Iraqi Kingdom during the 1920's. The other two issues that this document raises are the importance of oil and the geo-strategic position of Iraq in Britain's line of communication with India.
[Zinda: Mr. Stavros T.Stavridis is a Historical Researcher at the National Center for Hellenic Studies and Research, Latrobe University, Australia.]

Younadam Kanna's Visit to California

Fred Aprim
California

Despite a long, negative and vicious campaign by the AssyriaSat and Bet-Nahrain Inc. against the Honorable Younadam Kanna's visit to the United States, the Iraqi Governing Council member and Secretary General of the Assyrian Democratic Movement, was cheered by some 750 Assyrians and American dignitaries who packed the Yosemite Hall in Modesto on Saturday, May 1, 2004. They hailed Honarable Kanna as a hero. One day earlier in Chicago, some 1,500 people turned in to welcome the Chaldo-Assyrian representative in the Iraqi Governing Council. In Los Angeles they raised $31,000 during the over night stay of Honorable Kanna.

In Washington D.C.

Earlier Mr. Kanna spent four days in Washington D.C. holding high level meetings with Mr. Lewis Libby, the Chief of Staff for Vice President, Dick Cheney, and members of his staff. The meeting took place at The White House. He also met with Mr. Philo Dibble, Deputy Assistant Secretary, Bureau of Near East Affairs. The meeting was held at Mr. Dibble's Office at the Department of State. Mr. Kanna also met with Mr. Lawrence Rossin, Special Assistant to the President & Senior Director for Strategic Planning, along with members of his staff. The meeting took place at the Office of the National Security Council, at the White House. These meetings were organized by the Office of the Coalition Provisional Authority.

In these meetings Hon. Kanna discussed such topics as the Assyrian self-governance in the Nineveh Plains (Dishta d' Ninweh); the Assyrian villages reconstruction and resettlement; and the role of the Assyrians in the post-UN administered Iraq. Mr. Ashur Youeph, vice-President of the Assyrian Aid Society accompanied Hon. Kanna to these meetings.

Modesto Event of 1 May

The speakers at this event included: Honorable Dennis Cardoza; member of the United States House of Representatives (California, 18th District); Modesto's Vice-Chair of the City Council (Deputy Mayor), Janice Keating; Turlock Councilman John Lazar; Modesto Chief of Police, Roy Wasden; Hughson Chief of Police, Lieutenant Maury Sanders; FBI agent Gary Price; a Representative from the Stanislaus State University; talk show host Rob Johnson; talk show host Don Langman; representative of California Assembly Member Greg Aghazarian and many more. Congressman Cardoza, Deputy mayor Keating, representative of Aghazarian, and the Chief of Police in their speeches addressed Hon. Kanna as "His Excellency" and praised his work for his people and the new Iraq. The Deputy Mayor of the City of Modesto after a warm and enthusiastic speech presented Hon. Kanna with the Key to the City of Modesto.

Dennis Cardoza's Speech (member of the United States House of Representatives -California, 18th District)

Addressing Hon. Younadam Kanna: "I wish the best for your country. The House Resolution 272 expressed concerns for the Assyrians in Iraq. Assyrians deserve to be represented in Iraq's future government; something they have been denied for decades. They paid heavy price under Saddam Hussein and not having adequate representation in government will be great injustice. The resolution calls for freedom of religion and the right of the Assyrians to celebrate their cultural heritage. Assyrian leaders must be part of discussions that address the future of Iraq. I am pleased that Assyrians have a representative on the Iraqi Governing Council, and you Sir (pointing to Honorable Kanna) represent your people, but there is more to do. Assyrians must be guaranteed their rights under the new constitution. I will continue my efforts with the State Department and others to guarantee their rights and have their representation secured. Once again, Sir (looking at Honorable Kanna) welcome to the United States and may God bless you.

Modesto Chief of Police, Roy Wasden's Speech

"Wow, to sit next to His Excellency and listen to his personal story and to understand the struggle and suffering of the Assyrian people … freedom is not free … a heavy price must be paid. We know that when the winds of adversities blow, strong people are made … and the Assyrian people are strong people. God bless you and your efforts (addressing Honorable Kanna)...Never give up on freedom … we will prevail … you will prevail."

Modesto Deputy Mayor, Janice Keating's Speech

"I want you to know how honored and privileged I feel to be here to experience how much you truly appreciate His Excellency … he had come here to you and I am honored to be here to listen to him and what he has to say about Iraq.

Recently, I was in England and spent some time in the British Museum. In the British Museum there is an entire section dedicated to the Assyrians. All the things you brought to civilization; all those artifacts; that culture; and historical items will someday have a home to go to.

Tonight, I would like to honor His Excellency and welcome him to the City of Modesto. I would like to present him with the key to our city. (Vice-Mayor Keating steps off the podium and heads towards Honorable Kanna's head table and presents him with the Key to the City of Modesto).

Assembly member, Greg Aghazarian's Speech

Thank you for all the work you are doing in Iraq. It is phenomenal having you here. You are an extraordinary man and I am honored to have met Your Excellency. I would like to present to you a Certificate of Recognition from the California State Assembly honoring you for all your accomplishments and those that you will reach in your tenor in the Iraqi Governing Council.

Thank you Sir for your work and congratulations. (The Representative then headed to the head table of Hon. Kanna and presented him with the Certificate of Recognition).

Turlock Councilman, John Lazar

Turlock Councilman John Lazar took the podium and gave the guests a brief biography of Honorable Kanna and his position as the Chaldo-Assyrian representative in the Iraqi Governing Council and the Secretary General of the Assyrian Democratic Movement and asked him to come to the podium and address the guests.

Honorable Younadam Kanna's Speech

(Congratulated the audience for the first anniversary of the liberation of Iraq and the 25th anniversary of the establishment of the Assyrian Democratic Movement) "In Washington we addressed the future of Iraq, its reconstruction, rehabilitation, and its future relations with the United States. We are visiting with the Iraqi and Assyrian communities in the United States to convey to them the real picture of Iraq and to explain that the negative picture you see on certain media outlets is not the whole truth and it is exaggerated. Negative propaganda is coming from those who hate democracy and freedom. Let me assure you that democracy will prevail in Iraq. Iraq is free … Saddam is in the past … we are building a new Iraq, which was not there anymore; there was no Iraq, there was only Saddam.

Some say that the members of the Iraqi Governing Council were appointed by the United States. However, fact is that the Coalition Provisional Authority and the United States selected groups that were present on the ground; groups that have status in the Iraqi affairs; groups that fought Saddam for years. They did not bring anybody. Yes, there are individuals that do not fall in the above category; however, they were selected because they complete the gender, ethnic, and political diversity of Iraq.

Be assured that after June 30th everything will change … the enemy claims that this unrest and insurgency is a holy war against the occupiers. This card will fall after June 30. Iraq will be free then and those terrorists will not be able any longer to play with the emotions of the common and simple Iraqis. The United States is too Christian and lenient with these criminals. After June 30, we will have the Iraqi laws to deal with and take care of such criminals and not Geneva Convention rules. Peace and stability will soon be established in Iraq with the support of a new resolution in the Security Council and thus the help of the United Nations.

(Addressing the Iraqi Fundamental Law and the bills of rights that it protects) "We were here before the war and met with Mar Sarhad Jammo, Mar Ibrahim Ibrahim, Mar Dinkha and we told them that Saddam will fall and that our nation is divided into eleven pieces. We asked, how are we going to be ready then and when the new constitution is ready, how are we going to be represented. We did not get an answer, although Mar Ibrahim insisted on the term Chaldo-Assyrians.

We began to see certain questionable efforts coming from Europe through some clergymen and churches …let me tell you, we are living in Iraq and we can solve our problems there; we do not need foreigners to meddle in our affairs. We will not allow the repeat of what we witnessed in World War I. After much deliberation with many of our groups and authorities, the Chaldo-Assyrian National Council was established and the October 2003 Conference took place and we all decided that in this specific period in our history we shall adopt the Chaldo-Assyrian title to represent our people and Syriac to represent our heritage and language. This does not mean that Assyria and Babylonia are wiped away from history; no one can erase the name of our nation.

Due to ignorance and the influence of certain foreign groups and our enemy, some people are trying to stand against our progress. We will not allow them. We do not want to be recognized as separate groups, one used against another … we must be recognized as one people. I do not understand why is it that we cannot agree. The Jews, who today basically rule the world, were divided, but they decided to reach an agreement. They called their country Israel, their language Hebrew and their people as Jews; they compromised and decided to use the three titles: Israel, Hebrew and Jews.

The decision we have reached is a political decision for this specific and crucial time. Why is it that some do not complain about referring to our people as two separate people as Chaldeans and Assyrians in Iran? One denominator pushes all extremists, who call for separate representations. Regardless of whether these extremists are Assyrians or Chaldeans, that common denominator is the enemy of our people. Let me tell you that 80% to 85% of our people in the Nineveh plain support this move toward our unity and the Chaldo-Assyrian title. Unity is our primary challenge; we hope that the Church will make it its priority as well.

The new Iraqi Fundamental Law (Temporary Constitution) guaranteed our administrative rights. Meaning, we will have our own region … we will elect our own mayors and representatives. Today we have over 100 schools all over Iraq. We need your assistance in the resettlement of our people and reconstruction plan. Some 60% of our villages are still there and 40% need more work in them. We need help with the reconstruction of at least 20,000 homes. This is where you come from. With the $18 billion budget set by the United States government, you need to campaign in your country and with your representatives to allocate some of that budget for this reconstruction. Today, the Diaspora Assyrians have their rights protected as well; you are entitled to dual citizenship and all the privileges that accompany that decision. We passed a special law for property. Today, if you have a claim against the Iraqi government for confiscating your land or home or you sold your property under pressure, you can apply to be reimbursed or you can go back to Iraq and ask for it. Finally, you should go back to Iraq and invest there. We are ready to help you while in Iraq. We are ready to assist everybody, even those who are attacking us today.

I would like to conclude by mentioning some wonderful people who worked for the Assyrian national cause. People whom we will remember; they were among us last year but are not with us today. They are Mr. Evan Giwargis, Mr. Paul Yonan, and Mr. Nadan Younadam.

Thank you and congratulations for the first anniversary of the liberation of Iraq.

San Jose Event of 2 May

The dinner event at the Awana of the Assyrian Church of the East in San Jose was sold out almost a week before the event. Some 500 people enjoyed wonderful performances by six Assyrian singers and several poems were recited. Mr. Sa'id Sipo, Representative of the Chaldo-Assyrian Council in San Diego, welcomed Hon. Kanna and through his moderate stand, he emphasized on unity.

His Grace Mar Bawai Soro's Speech

"We are happy to gather here on this historic day. Throughout the history of Iraq, from Simele until today, this poor nation of ours dispersed throughout the world. We never had an official representative in Iraq as we have today. We are very fortunate that today we, as the people in Iraq first and then those in the Diaspora, have a representative who is our own son, from our own Assyrian flesh and blood. We see the faces of Iraqi people, the faces of our own sons and daughters, who have been oppressed, in your beloved image brother Younadam.

We need to say thank you, thank you to you and all the other brothers and sisters who worked with you for years. Thank you because as we left our homelands you remained to protect our human and national rights. We were selfish; we left our homelands looking for better and comfortable lives, meanwhile, those who remained, especially in Iraq, spilled blood as a price for that protection. For that, we salute those Martyrs and we, as Christians, supplicate to God that he will gracefully accept their sacrifices and have a special place for them in the eternal life.

Thank you for the schools that you built to save our culture, language, and literature. Thank you for being part in raising educated and nationalistic visionaries that understands world's politics and you are an example of such efforts.

We have met many people who have visited Iraq; many of them belonged to other groups. They have utmost respect for Hon. Younadam and all others working with him. They respected them because these people remained and worked hard and are worthy to be called trenches fighters. You made us proud. We pray to almighty God to repay you for your sacrifices and may He multiply those like you, so that our poor nation that has suffered always shall follow a path towards safety and prosperity.

Thank you so very much for the work that you accomplished in the Iraqi Governing Council and the ministry in the Kurdistan Regional Government earlier. We have a request from you. We want you to work on the issue that is most important to this nation and in one simple manner to put it: We want you to unite this nation. This we ask because today there are many questionable efforts in Iraq to divide the Iraqi Christians into pieces and break them into small sectarian groups in order to undermine our national rights. True, we have problems, especially those arguments between Assyrians and Chaldeans. However, to those who love God and love their nation, these problems must be dissolved. We have seen your hard work; a work that promotes the principles of compromise in order to bring our people closer together and ultimately unites them.

We beg you not to stop and to go forward. We will support you as long as this nation, and through your efforts, is working as one and not as two nations. We will support you even if it is one nation with two united names. We will support you with all our true and genuine nationalist love and humbleness; we will communicate with all our people and churches so that an understanding is reached because our national goal must stand ahead of our personal goals and bigger than the goals of each individual Church. Our goal must be an eternal one; a goal parallel with the greatness of our national name, this holy name you picked - Chlado-Assyrian.
Well, we are here to listen to you and not to me. However, before I conclude allow me to add that we are with you with and we will support you and our people in Iraq with our modest capabilities. Our Chaldean Assyrian people in the United States support our people in Iraq with all their hearts. We want you to work yet harder because we do not need a stranger to make us work together and we do not need a stranger to divide us. Today, if we lost as a nation, we can blame nobody but ourselves. Please convey this message to our people in Iraq. Let us pray.

His Excellency Younadam Kanna's Speech

In his speech, Hon. Kanna repeated the message he gave in Modesto and explained step by step what has taken place in Iraq and what is anticipated in the next 18 months and the options available. He stressed unity as the key for the progress of our people in Iraq. He explained the circumstances why the adoption of the political title Chaldo-Assyrian was important at this stage. The challenges were great and the risks were high and only with a compromise to unite our people we could progress as one people.