U.S. Promotes Islam in Iraq
Joseph Farrah
WorldNetDaily.com
President Bush says he wants to free Iraq, to liberate it from the oppression of totalitarianism, to create a new model for liberty in the Middle East.
But Christians are fleeing while they can because the new constitution makes Iraq an officially Islamic republic.
When the significant Christian community in Iraq failed to get even one seat on the executive council of the provisional government, the exodus began.
Christians also took as a cue the fact that they got only one ministry post in the new government – the Ministry of Emigration. Was that a hint? Apparently Christians in Iraq think so.
The churches are filled with Iraqis filling out baptismal forms required for the leaving the country.
One deacon told Insight:
On a recent night, the church had to spend more time on filling out baptismal forms needed for leaving the country than they did on the service. We have been flooded with parishioners desperate to leave the country, and as they cannot get an exit permit without a baptismal certificate from the church, we have been swamped with requests. ... In recent days, nearly 400 families, as far as we can tell, have filled out baptismal forms to leave the country. Our community is being decimated.
According to figures from the Saddam Hussein regime, there are about 2.5 million Assyrian Christians in Iraq, representing about 10 percent of the total population of the country.
There would be many more had the Assyrians not been systematically slaughtered in the last days of the Ottoman Empire. It is estimated that two-thirds of the population was wiped out in the early part of the 20th century. The Assyrians are not eager to see that kind of persecution again under Islamic rule.
"We thought the Americans were going to bring us freedom and democracy," one Christian told Insight. "Instead, they are promoting Islam. We do not understand it. ... We love the Americans! We are so grateful for them removing Saddam and giving us back our freedom. We do not want their effort to be a failure if the dictatorship of Saddam is replaced by the dictatorship of Islam."
He continued: "The American-funded TV station, Al Iraqia, broadcasts Muslim programs four times every day and for two hours each Friday, but nothing from the other religions. The recent inauguration of the new government was opened by a Muslim mullah reciting a long passage and a prayer from the Quran, but none of our priests were invited. Why do they do this? Why do the Americans promote Muslims? They need to promote equality and democracy and freedom, not Muslim dictatorship."
Already Iraqi Christians are seeing the first signs of harassment and intimidation by the Muslim majority.
"Our women are accosted on the street and intimidated to start dressing according to Islamic tradition, our businesses are being burned, and the constant harassment is because of the attitude of appeasement toward Muslims," said one priest.
Sharia law is the law of the land in the new Iraq. That means only Muslims are first-class citizens. We created a similar situation in Afghanistan, where the new constitution has been criticized by human-rights groups as a kind of "Taliban-lite."
Is it too much for the United States to demand that this Christian minority – and all other ethnic and religious minorities in Iraq – be protected and afforded full citizenship rights under the new government and constitution?
If so, was the sacrifice of American lives really worth it?
[Zinda: Joseph Farah's nationally syndicated column originates at WorldNetDaily, where he serves as editor and chief executive officer. This commentary appeared in the June 15th issue..]
The Baghdad Diaries
Rev. Kenneth Joseph Jr.
Baghdad
America at its Best!
`Shame` was the only word I could think of as I endured the `Iraqi Interim Government Announcement Ceremony` on a hot, dusty afternoon in Baghdad.

The even was extremely well organized. In spite of huge security concerns, one bombing in the center of Baghdad which we heard a couple times as the usual `thud`, it went off like clockwork.

It was the best of America! Professionally put together, a beautiful Iraqi map motif for a backdrop and it was all just `perfect`!

Young, energetic American young people, kindly speaking with the Iraqis who were to participate in the ceremony, helping in every way possible. Bringing them food, drinks - answering their every question, meeting every need.

Truly the best of America!

It all went downhill from there!

First, I began to notice something very strange. There were no Americans on the podium. Of course the Americans who had given over 800 of their brightest and best and thousands more injured to Liberate Iraq would be there to be thanked and honored?

It was not to be!

Not one American sat on the Podium for the ceremony. The `Iraqi Interim Government Announcement Ceremony`! Who in the world did everybody think made it all possible?

Next, the ceremony opened not with a normal announcement as befitting such an even but with an Islamic Mullah giving a sermon followed by a prayer that took a good long time.

I looked around. Surely, there would be other religious leaders there - the Assyrian Christians, the Jews, the Yazidiz . . . after all it is to be free, open society, right?

The vision for a secular, open, free Iraq swallowed up in the droning on of a Mullah who seemed to be wearing white tennis shoes and was one of the first to hit the drinks and food . . .

The Assyrian Christians - the indigenous people of Iraq, the people of Jonah and Nineveh received not one major position in the Government nor any rights in their indigenous homeland. One out of the two they did receive? Minister Immigration . . . a veiled threat to immigrate, leave the country? That is what they thought!

But then the speeches began. I waited and waited and waited and waited and waited for someone to say `thank you`, just one word . . . it was not to be!

Ambassador Lakhdar Brahimi, not only did not say `thank you`, but he apologized to the Iraqi people for their `suffering during the recent war and continued suffering under occupation` . . .

`The nerve!` I thought!

`The recent war?`, `The occupation?` What happened to 35 years of tyranny and terror? It was all wiped away with the brush of the `recent war` . .

Each speaker got up and spoke to the Iraqi people calling them to look toward the future, to all work together etc. etc. but nobody, nobody came near to saying `thank you` or even acknowledging the American presence.

The new Prime Minister, Mr. Ayad Allawi opened his speech by saying `I would like to express my deepest thanks to the United Nations and the secretary-general and to his distinguished envoy, brother Lakhdar Brahimi, for his vital role in supporting the political process and for his unique contribution made to Iraq in these difficult times that Iraq is passing through.`

Those are exact quotes!

After that he mumbled something in passing about `the liberation of Iraq by the coalition forces under the United States . . .

There was dead silence!

That was it! I started to clap as loud as I could to the angry stares of those around me!

That was it!

I lost it!

With all due respect to culture, values, uniqueness and all the other things that serve simply as excuses, how dare they after over 800 fellow human beings gave their lives to not only acknowledge the fact, but to say a hearty and joyous `thank you`.

My parents came to Japan shortly after world war when Japan was in a similar state. The Americans were loved, honored and thanked. My childhood growing up in Japan is full of the times someone would stop on the train, walking on the street, in a store and quietly look in my eyes and say `thank you` to the Americans for all they did for Japan.

What gives me hope is that unlike the group of anti-American exiles and others ungrateful human beings who filled that room a few hours ago, the Iraqi people, the `silent majority`, just like the Japanese are there to say a quiet `thank you`, followed by a worried `please don't leave`.

Unfortunately, it is not politically correct or frankly good for your health to say that these days in Baghdad, but it is the truth.

On the way back from the convention center where the event was held I looked across the bus to see a sad and tired looking American soldier. `Why did you come to Iraq` I asked him as I have asked dozens of others from soldiers to secretaries to drivers.

It never fails! With no reason to lie, they with very few exceptions say something like `I wanted to play a part in saving a country . . . and giving back freedom to a people` . . .

I looked at him and said `nobody in there just now, said it, but on behalf of the silent majority of the Iraqi people I want to say `thank you`. `

I could see something like tears welling up in the eyes of a meddle aged man on a dusty, hot bus in central Baghdad and then the quick jerk of professionalism pulling them back in.

`Thank you, sir. Its my job, sir.`

Somehow I didn't believe him . . . his job never called for him to spend over a year, risk his life and never even receive a `thank you`.

If you have a chance today send an email, a letter - better yet a box of cookies or a book or any one of a million things you would sure miss if you were on a desert Island.

Send them simply to:

Thank You, American!
Baghdad, Iraq

I know somebody here will make sure it gets to someone that could use it and there will be a lot of lonely soldiers, civilian cooks, drivers, security guards, Pastors, Chaplains and just about everyone in between that will tear up, grab the package and then suddenly catch themselves and say `Thank you, Sir, only doing my job, Sir . . .

God bless the Americans for doing what nobody would do - rid a nation of the terror of Saddam Hussein and do it without a word of `thank you` and higher gas prices!

Alexis De Touqville, the great Frenchman mused in answer to the question of why the Americans were so successful said `America is great because she is good . `

What he observed in America in the 19th century is alive and well in a dirty tent in hot, dusty Baghdad as I call out in the darkness to two, young, scared Americans - `God bless you. Lots of people are praying for you!`

`Just doing my job, sir , just doing my job . .. It`s dark so I cant see the tears . . .

God bless America . . . she is still Good and God never forgets . .

A D-Day for Iraq?
You can see it right away - to understand and quantify it is a much different thing!

The Iraqis call it the `black mind`. The signs are easy to recognize. There is the arrogant swagger, the blazing eyes, the generally unkempt manner and the strident views that always seem to defy logic but clearly scream `uneducated`!

I sat down with one of the `black mind`. Abbas Mohammed, 24 seems to take pride in the fact that he is a `black mind`.

`I don't care what anyone thinks of me - I believe what I believe and that is all.` he taunts.

On the Americans :

`They are the ones causing all our problems. They cause everything to not work, the bombings, killing our people. They are the cause.` he says.

`What about Saddam? What about the muhajadeen and terrorists` we ask.

`They are not good, but the Americans are the worst`. he continues.

The interpreter angered, yells at him `How can you compare the Americans to Saddam and the terrorists? Are you crazy? It is the terrorists that do the bombs! Not the Americans?`

Eyes ablaze one can see the `black mind` set in, as logic, common sense is submerged by its all encompassing power.

Obviously not getting anywhere and to prevent a fight between the irate translator we move on.

`What do you think of freedom`. we continue.

`Man is not free. Only free to believe God.`

`If your son comes to you one day and says `Father, I have to tell you the truth, I do not believe`. what would you do?

The answer is swift, harsh and the `black` eyes are all ablaze. `The koran teaches that at 8 years old you should teach your son, at 10 years you should beat your son. If he does not believe I will kill him. I will burn him. He does not deserve life`.

Not sure I got the translation right, I check with the translator. `Did he just say if his son decided not to believe he would kill him or burn him`

Shaking her had, her face burning with anger, she says `yes, you see the black mind?``

We continue.
`What do you think of women?`.

`They are nothing - they are less than 1/10 of man.` he blazes on.

Suddenly the interpreter steps in and begins shouting at him. `I cannot continue! It is enough. Have him leave`.

We end the conversation with the `black mind`, eyes ablaze, swagger in full swing and the arrogance seething standing up and walking off.

The translator is very shaken. 34 year old Zainab, continues.

`You see, this is the problem! This is our enemy! It is this `black mind` that is the cause of all our troubles. It is not the Americans. They have come, they have given of their lives. We see them every day, working so hard with us to make things better. It is the `black mind` that wants to destroy everything!`

`It is the religious leaders that create this `black mind`. As you can see they are crazy! Can you imagine any religious leaders that would teach you to kill your son if he does not believe like you? Can you imagine any religious leader that would say a woman is worth only a 10th of a man? Can you imagine any religious leader that would ignore all Saddam did for 35 years of terror and condemn those who came to liberate us?

It is crazy!

`Where does this come from?`

`Maybe 30% of the people are either those connected with Saddam and these with the `black mind`. It comes from islam.` she continued. The vast majority of the people, of course do not think like this, but the `black mind` intimidates them so they are afraid to say the truth.`

`I am a muslim but somebody must speak the truth. Do you know what the reality is? I do now wear a veil over my head. The religious leaders came to my home and told my mother that if I did not start to cover my head and stay at home they would kill me. My mother ordered them away.`

That would be bad enough! The same `religious leader` later came to me and asked me if I would come to his house for money! A `religious leader! Can you believe it!`

`The religious leaders - they are all liars, killers and thieves and they simply use `religion` to cover up all the bad things they do! I am sick of it!`

`Do you think the women cover their heads and their bodies in winter coats because they want to? No! They do it because they are intimidated from a religious leader, a neighbor - often from their own family who is intimidated from some religious leader. These men are out of control and someone has to stop them! We are thankful the Americans are trying!`

This is the reality.

`People thing that many go to the Holy Cities of Karbala and Najef to pray to God. Do you know what the reality is? There are hundreds of Iranian and Iraqi girls who take two weeks off supposedly to visit the Holy Cities but in fact they go there and are prostitutes - they charge 5,000 dinar - about three dollars each time. This is the reality.`

`Do you know what happens in Ramadan the Month of Fasting? They actually get fat during the month of fasting. They do not eat during the day because they are intimidated then they watch the clock and as soon as it is sundown they begin to eat and drink and party.`

`Do you think people pray? They complain at the early morning blaring sounds of the `call to prayer` from the Mosques when they are sleeping! Go do the Mosque, other than Friday when many are intimidated into going nobody prays! They do not actually believe! It is all all al lie!`

Trying to get something `politically correct` out of the conversation`, I ask `but it is not islam that is the reason, is it?`

`Yes, it is` she replies! `It is the religious teachers that cause the `black mind` the mind in which everything is backwards - it is good to kill, women are no good, beat your child . . . this is all crazy! How can any religious person teach this and then say if you don't do as they say they will kill you! What is this?!

`You see` she continues, `it is the religious teachers that are the enemies of Iraq. They block progress for one simple reason - they depend on the `black mind` to stay in power, they create it by keeping people uneducated and under their control. When progress comes, people have freedom and are able to experience and understand truth then they will realize the problem is the religious leaders and the power of the `black mind` will be gone. This is why they are so desperate to see the Americans and the forces of freedom defeated. `

What do you think of the Americans and what they have done in Iraq?

She is quick to answer. `They are our saviors! They got rid of Saddam! The Americans have brought us freedom - finally. I suffered greatly under Saddam, in particular under his sons. It makes me angry to hear the man with the `black mind` say nothing about Saddam but about the Americans. This is crazy!`.

`Do you want the Americans to stay in Iraq? For how long?`

`Of course! Forever until we can get rid of the `Black mind`.

Worried that I may be getting only one opinion, I talk to 21 year old Rasha ALi, sitting nearby. .

`What do you think?` `She is right! He has the `black mind`. We are happy the Americans have come and finally helped us get rid of Saddam Now we are free, but if we are not careful we will have another Saddam - the people of the `black mind`.

`Do you want the Americans to stay`

`Yes, of course!`

`How long!`

With a look of surprise she answers like the vast majority of the `silent majority` in Iraq feels.

`Forever of course!`

So what is happening? Are the `Iraqi people` we are always hearing about who want the occupation to end, want the Americans to leave and are so angry about everything they do really the `voice of the people` or the voice of the small minority that desperately wants everything to fail so they can continue to cling to power?

At least the `word on the street` is clear - they are the problem!

One soon learns the `look`. If you speak anything positive, anything not in accordance with the `black minds` you get the `look`. It says `be careful` . . .

Was the liberation of Iraq a mistake? Is the occupation of Iraq a failure? The answer to that question should not be from the exiles who have spent most of their lives overseas and from those with the `black mind`, but from the average people - the `silent majority` that any country has.

Away from the `look` and the `black minds` and the threats of the thugs and all their henchmen, you get a very, very different picture.

`We want the Americans to stay forever!` seems to be the clear answer! Please help free us from the darkness . . .
Ethnic Cleansing In New Interim Government in Iraq!

With shock and disbelief Christians in Iraq reacted to the news that the Interim Government contained no Christians in the seven man Executive Council and only one in the Cabinet of 32 members.

What particularly got the anger of the community that according to the previous regime numbers nearly 2.5 million out of a population of 23 million and up to 6 million worldwide was the one ministry they were given.

The position given to Ms. Pascale Isho Warda, an Assyrian Christian was the position of Minister of Displacement and Migration, known in Iraq as the `Minister of Emigration`.

For those not acquainted with the plight of all non-muslims in the Middle East where the non-muslim population has gone from nearly 18% to under 2% due to a sustained, and region wide policy of `ethnic cleansing` and the plight of the Assyrian Christians in Iraq in particular it might not mean anything. For the Assyrian Christians, though it was an act that perpetuated the twofold persecution that they continue to face - racist and religious.

As they are not Arabs, and the indigenous people of Iraq - remember Jonah and the Whale? Nineveh is Mosul and the people of Nineveh are the Assyrians!

Added to the fact that they face constant racial discrimination in spite of the fact that they are the indigenous or original people of Iraq, they face further abuse because they are Christians in a sea of moslems.

What particularly galled the Assyrian Christians was the fact that during Saddam's regime he did all he could to force the Assyrians to leave the country - wanting to `ethnically cleanse` the country of all non-arabs and non-moslems.

The meaning to the Assyrian Christians of being given the `Ministry of Emigration` was a clear message - intended or not that they are not wanted, that they should leave - that the policy of `Ethnic Cleansing` continues.

`I am very, very angry` commented 43 year old Tarik, an Assyrian Christian from Baghdad. `We are the original people of Iraq. It is not us who should leave Iraq, it is the Arabs that have abused us for centuries that should. We are angry that they insulted us like this. We are sick and tired of being abused, taken advantage of and intimidated. We will not take it anymore! We demand our homeland in Assyria just like the Kurds and we will no longer be nice. We demand our land back.`

21 year old Anmar agreed. `Most of all I am very, very sad. It is our country. We do all we can to live in peace with the Arabs who took our land, our homes and killed 2/3 of our people. We love them because God teaches us to do so, but they constantly abuse us and this was the final abuse. To give us the ministry of Emigration is completely unacceptable. I feel like giving up, but we must demand our land and our freedom as the Americans promised. We can no longer live with the Arabs if they continue to abuse us. Like the Kurds we demand our indigenous lands in Autonomy.

26 year old Duraid, though expressed the view that is worrying many. `I have had enough. I am going to leave Iraq and move to the United States. I know I should stay, but I am getting married and want to start a family and there is no future for us in Iraq. We believe the Americans were going to make Iraq a Democracy but when the Constitution says `Islam is the official Religion of the State` and we are given only one ministry and that the Ministry of Emigration there is no longer any future for me - I am leaving.`

If that was the intent of the appointment, it worked for one young Assyrian Christians.

Efforts are being made by the Assyrian Community to set up a nationwide `Assyrian 911` to provide 24 hour emergency assistance to the suffering Assyrian Christian Community.

Unfortunately, no funds exist in current programs to support such a venture - probably the only thing that can give the community some measure of assurance that they will be protected.

43 year old Father Y (Names protected as they face direct risk), said `I just got back from handling a case where an Assyrian Christian was falsely accused by a neighbor and threatened with arrest. I got there just in time to mediate the situation with the Police.

It is this kind of daily harassment and abuse that ranges from such petty cases to actual intimidation, killing of family members and burning of homes and businesses that we see on a daily basis. We feel the only solution is twofold - a central place where we can go for help for our community and an Assyrian Autonomous Area where we, like the Kurds can be protected.

We will no longer tolerate this constant harassment and intimidation. We need our land where we can be safe - otherwise we will have no choice but to join the exodus of non-moslems from the Middle East.`

The view shifts to Congress over the next few days as the 25 Billion Dollar appropriations bill for Iraq is being considered.

One major Assyrian Christian Political Leader put it more succinctly `We can do nothing here in Iraq for ourselves. We truly fear for our lives if we speak out. The only hope for our people is if the United States demands for us a homeland like the Kurds and protection in a zone in our original homeland. If not the ethnic cleansing begun under Saddam will continue and we will all be decimated either through death or emigration.`

One week ago Christians throughout the world declared a `Day of Prayer For the Christians of Iraq` and various efforts are ongoing on Capitol Hill and with the US Administration in Washington to attach a rider to the 25 Billion Dollar bill for Iraq demanding protection for the Christians of Iraq.

`All we can do is hope and pray that the Americans will do the right thing` said Philip, an Assyrian Christian. `If they can help us with autonomy for our area there will at least be one area in Iraq that will not descend into chaos and civil war as we all expect will happen on July 1 - The Assyrian Administrative Region, our homeland can be the one `success story` in Iraq that will be the example to the rest of the Middle East.`

Will his prayer and the prayers of the other 2.5 million Assyrian Christina's living in Iraq and the 3.5 living overseas be answered? The answer apparently lies not in Iraq but in Washington.
Assyrian Christians Lead Baghdad Government Charter Announcement!
Assyrian George Bakoos took center stage as `master of ceremonies` and leader of the `Town Hall` beginning of the new Baghdad Regional Charter inauguration

`
I have personally worked on this project for the past three months and it is the culmination of much hard work. It is especially gratifying that our positions are not appointed but chosen from the Iraqi public.`

George Bakoos, an Assyrian resident of London, came to Iraq over a year ago and has been working with the Coalition Provisional Authority to put together local government and the Baghdad City Charter. Today was the culmination of this effort in which the Charter and preparation for elections under it were announced.

What was particularly gratifying in a pattern that hopefully will transfer throughout the country, Bakoos was elected from the Baghdad population to head the committee to put together the Charter.

`I think the Assyrians in Iraq have the respect of the people as trustworthy and good. If we can translate this into actual positions, votes and political power I think we can accomplish many of the goals we have had as people for generations.`

Four speakers led the panel before an audience of about 300. Acting Governor of Baghdad, Hattam Kamil Abed Al Fattah, Baghdad City Council Member Mohammed Zamil Sa`eed Al Sa`dy, Baghdad Regional Council Chairman Kadhum Atya Kadhum and Baghdad Provincial Council Member, Juliet Isaac, also an Assyrian.

As the only Woman on the panel Ms. Isaac stood her ground explaining to the audience the benefits of the new charters for Baghdad City, Baghdad Province and Baghdad Regional governments.

I am confident we can make a difference` she said. Proudly wearing a large gold cross around her neck, she continued. `We believe that we can participate in all levels of Government and make a difference for Iraq as well as for our people`.

In contrast to Assyrian Minister of Immigration, Pascale Ishoo who hours earlier fumbled badly a Foxnews live interview and had to be cut off twice, Isaac was professional, crisp and confident.

All was not rosy though. The Baghdad Charters all begin with words from the Koran, a small compromise that many feel bodes ill for the future of a secular, open Iraq.

`I did my best` says Bakoo. `I could not do everything, but considering the past, where we are now and in the interest of the Iraqi people in general and us as Assyrians in particular I think there is much hope that Iraq can develop into a secular, open, democracy.`

If Bakoo is right, there is much that Assyrians living both in Iraq and those outside can do, first by registering to vote regardless of where they live and second by engaging directly in the political process to gain as much leverage as possible to be able to push forward an Assyrian Regional Government based on Article 54 of the Transitional Administrative Law.

A final area of deep concern is the status of the law itself - the judgment is out as to whether the Transitional Administrative Law itself is legal after the June 30 handover. According to clear international law, any legal provisions during Occupation are null and void following the return of sovereignty.

The failure to include any mention of the Transitional Administrative Law in the recent United Nations Resolution which raised red flags to many concerned, may prove to be a very serious development for the future of Iraq and may result in the efforts of many to steer Iraq on a path towards democracy and the rule of law.

The day before the Minister of the Interior for the first broached publicly in a press conference the possibility that Marital Law might be declared in Iraq if events warranted it.

[Zinda: Act Now! Click here to view the U.S. and U.N. officials' emails, telephone and facsimile numbers presented at the end of Rev. Joseph's previous article for Zinda magazine. For faster service you may wish to use PolitiFAX.]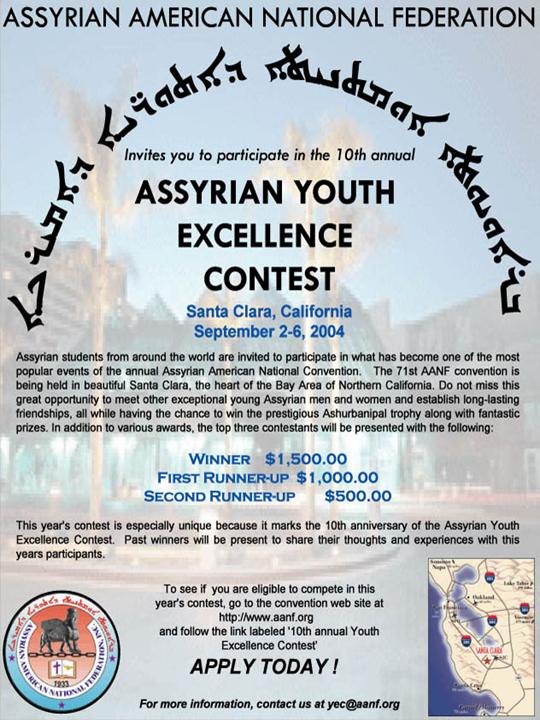 Diane Pathieu


Born and raised on the North side of Chicago, Diane went through the Chicago Public Schools. She entered the broadcast profession when she was 18. She carries a degree in Broadcast Journalism from Columbia College in Chicago. In school, she was an anchor and reporter for a closed circuit college news program which aired live twice a week. She was also a member of a hand-picked media ethics group, which held discussions on CBS in Chicago, and were headed up by renowned journalist Carol Marin. Diane is fluent in Assyrian, and has taken six years of Spanish. She spends her free time reading fiction novels, and she loves to cook, everything from American to Mediterranean dishes. (She loves to eat too!!)

Diane Pathieu joined the KCRG-TV Channel 9 news team in Iowa in August of 2002. In September of 2003, Diane was named anchor of the TV9 News At 11:30. Diane also reports five days a week on the TV9 Morning News at 5:00am. Her most recent project includes "Dishing With Diane," a segment highlighting favorite diners! She is thrilled to be a part of the morning show, it allows her to explore issues important to Eastern Iowa families on the go.

Diane came to Cedar Rapids from KFXB, the Fox affiliate in Dubuque. There she was the main anchor and producer for both the 5 and 10 pm shows. In addition, she edited and wrote her own material. She also participated in a reading to kids program, and helped younger children understand the importance of reading, which she continues here in the Cedar Rapids area.

Diane enjoys living in Eastern Iowa a great deal, she says it is one of the few areas were people actually walk by and always say hello. And being part of such a great morning show, allows her to learn from the best, and be a part of a long-time tradition.