US To Erase Iraq's Historical Legacy
Muhammad Abu Nasr
Free Arab Voice
23 June 2004
Informed sources in the Iraqi puppet "ministry of culture" have told Quds Press that an attempt is under way to move ancient Iraqi Assyrian treasures to America. The sources say that there have been bilateral meetings between US and Iraqi representatives in the "ministry" on the matter of moving the treasures to the United States, where the items are regarded as some of the most valuable ancient treasures and artifacts in Iraq.
Meanwhile feverish attempts are underway by US companies to buy the al-Qishlah and Suq as-Saray areas on the banks of the Tigris River. They aim to erect residences and commercial buildings in place of the buildings presently on the site. Al-Qishlah, which overlooks the Tigris River, was the seat of government in Iraq during the Ottoman times. It was formerly restored and renovated in accordance with the architectural norms of that period during the rule of Iraqi President Saddam Hussein.
These American attempts to rape Iraq's heritage are likely to raise a storm of controversy among Iraqis, in particular the intellectuals who have long feared US attempts to steal Iraq's antiquities and to obliterate Iraqi historical monuments.
Time For A Reality Check in Iraq
Mundus vult decipi
The American Daily
Islam is a religion of peace, but millions of its adherents practice a form of Islam that western civilizations find repugnant. Two hallmarks of this form are the subjugation of women and wonton disregard for human rights.
Let's pick on our friends the Saudis for a moment. Amnesty International (www.amanestyusa.org) cites Saudi Arabia as having one of the highest rates of executions in the world in both absolute numbers and per capita. The Saudis include as capital offenses a wide range of so-called crimes, including apostasy, drug dealing, sodomy, and witchcraft. Execution is by public beheading or by firing squad after summary trials with no opportunity for the accused to put on a defense.
Prisons and detention centers in Saudi Arabia make Baghdad's Abu Ghraib look like a resort: cruel or degrading treatment or punishment; floggings; overcrowding; lack of hygiene; and dehumanizing conditions.
The Middle East Media Research Institute keeps track of state-controlled Arab television stations and their programming, particularly statements by leading officials and clerics. Understanding the Arab Muslim mind regarding Christianity and the West is imperative to understanding the regional and global crisis we face.
During a May 24 interview on Saudi channel TV1, Sheik Ahmad Abd Al-Latif, a professor at Um Al-Qura University, called Christians "oppressors" because of their "cruel aggression against Islamic countries." This is why, he said, all Muslims must curse the oppressive and plundering Christians and pray that Allah will annihilate them.
Muslim thugs have already murdered Christians in Iraq, with little notice by the Western media. Assyrian and Mandaean Christians have received letters threatening torture, bombings, and death if they do not convert to Islam, according to a report carried by the Assist News Service. On March 22, someone beat to death an elderly woman and slit the throat of her husband in the Assyrian district of Baghdad. On June 7, masked men killed four Christians and wounded several others in the Dora district of Baghdad. That afternoon, drive-by shooters killed three Assyrian women as they returned home from working with the Coalition.
The Coalition Provisional Authority transfers power to a shaky Iraqi government even as murderers, thugs, and Muslim madmen prime their weapons and whet their swords. Maybe such dire warnings are the ranting of a lone voice in the wilderness. But, then again, what if they are not?

Assyria, Iraqi Turkoman, Kurdistan: US hands over sovereignty in Iraq
Sargon J. David
Canada
The US has formally handed over power in Iraq, two days ahead of schedule.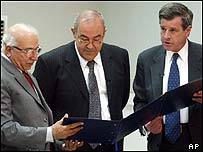 At a low-key ceremony in Baghdad, US administrator Paul Bremer gave legal documents to an Iraqi judge. He later left the country by plane.
Iraq's interim Prime Minister Iyad Allawi, who also took part in the ceremony in the heavily-guarded Green Zone, said it was "a historic day".
But the BBC's Dan Damon in Baghdad says the handover will mean little to ordinary Iraqis.
Our correspondent says it is not clear how real the transfer of power will seem to the many Iraqis whose backing is needed to defeat insurgents.
During the ceremony, Mr Bremer, describing himself as "ex-administrator of the Coalition Provisional Authority", said the US-led coalition had come to liberate Iraq - as anyone who saw the mass graves left by Saddam Hussein could attest.
"I leave Iraq confident in the future and confident in the ability of the government to meet the challenges of the future," he said.
Coalition officials later said Mr Bremer had left Iraq by plane.
Mr Allawi said: "This is a historic day, a happy day, a day that all Iraqis have been looking forward to."
He said the Iraqi government was committed to holding elections in January 2005, despite earlier suggestions that the poll might be delayed if security did not improve.
'Challenge'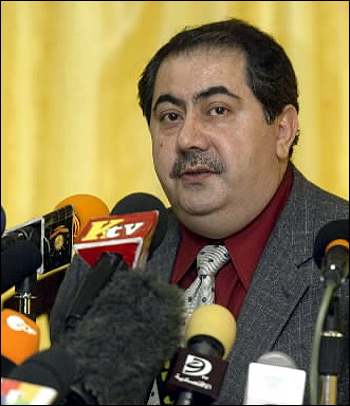 The surprise move to bring forward the handover of sovereignty was first disclosed by Foreign Minister Hoshyar Zebari, speaking after talks with UK Prime Minister Tony Blair at a Nato summit in Istanbul.
Mr Zebari told journalists that the transfer of power was taking place early and welcomed the commitment of Nato countries to help train the Iraqi forces struggling to put down insurgency.
"We are very pleased here, we are confident and we are ready to take up our responsibility - even before 30 June," he said.
"I believe today we will challenge those elements in Iraq - the terrorists, the criminals, the Saddamists, the anti-democratic forces - by bringing the date of the handover of sovereignty even before 30 June, as a sign that we are ready for the job."
The BBC's political editor Andrew Marr in Istanbul says the early transfer of power was originally due to be announced in Baghdad - and that Mr Zebari visibly startled Mr Blair by publicly revealing the plan.
Another BBC correspondent in Istanbul, Johnny Dymond, says it appears that the date was brought forward to pre-empt further attacks by militants to coincide with the handover.
He says recent violence in Iraq in the run-up to the transfer of power has forced the hand of the authorities.
Security Fears
The Iraqi foreign minister's disclosure came as Nato leaders were arriving for the summit in Istanbul, where they are expected to endorse a plan to help train Iraqi security forces.
Nato's Secretary General Jaap de Hoop Scheffer says the alliance must take action to ensure security is maintained in Iraq after the handover of power.
"There is a broad agreement that a stable Iraq is in the interest of all allies," he said.
Nato ambassadors, who gathered in Istanbul for talks before the arrival of the heads of government, hammered out a draft agreement to provide training and equipment for Iraq's armed forces.
The move followed an urgent request from interim Iraqi Prime Minister Iyad Allawi.
It is not yet clear when the training operation will begin, nor how many personnel will be involved.
The 26-member alliance also looks likely to agree to the expansion of its operations in Afghanistan.
The Application of Autonomy to the Assyrian Territory in the New Democratic Iraq
Dr. Khoshaba Jasim
Chicago
Introduction

Autonomy or self-rule is a relative term that describes the degree of local Assyrian self-rule within the framework of a democratic federal Iraq. This is the minimum level of authority -- an autonomous status -- tolerated under the new democratic regime of Iraq.

The prime factor that helps realize or achieve such a status is the freely and democratically stated and expressed intention of the central government to implement or put in force a federal system that can guarantee equal autonomy to the Iraqi nationalities. On base of such a prudent choice the Assyrians' top priority is a self-rule in their ancestral territory unhampered by challenging unhistorical claims or behavior that has no legal attachment to the Assyrian territory.

Politically, the Assyrians are
A distinct ethnic component of the Iraqi population.
An integral part of the whole Iraqi nation just as the Arabs. Subject to principles of Self-determination; i.e. Autonomy.
Possess the ingredients that go into nationalism such as the Assyrian Triangle around Nineveh which is the core of their claim to autonomy or self-rule.
Socially and Culturally, the Assyrians
Are not a religious community and should not be looked upon as such.
Are an ethnic group with legitimate rights to participate equally and actively in building the new democratic Iraq.
Have their own language, called neo-Syriac, which is based in Assyrian Aramaic, which is heavily infused with Akkadian, their previous language.
Historically, the Assyrians
Are the indigenous inhabitants of Iraq. They have the desire to continue dwelling there as a distinctive self-ruled entity identified by comprehensive national elements still existing in their conservative communities.
Hopefully aspire to have their past rule in Mesopotamia rehabilitated as a legitimate justification of their claim to autonomy.

General Autonomy Structure

The structure of the Assyrian autonomy shall be as follows:

Legislative
The Assyrian local authority will represent the Assyrians residing in the autonomous territory. The authority will exclusively administer local laws legislated by it to run the affairs of the autonomy in coordination with the Constitution and laws of the central regime.
The Assyrian authority will be confined to matters of pure local nature and will not get involved in foreign policy and national defense unless otherwise being counseled by the central regime.
The head of the autonomy will be elected by the Assyrians of the autonomous territory.
The Assyrian autonomous authority will be entitled to amend its local by-laws as it deems necessary for the implementation of its agenda in the autonomous territory. The Assyrian Autonomous authority will abide completely by the constitution of Iraq and with all subsequent legislation and amendments enacted by the central regime.
Judicial
The Assyrian autonomous territory will have an independent local judiciary with jurisdiction over purely local matters.
Jurisdictional questions between local courts and local disputes are to be solved locally.
Particular Issues And Powers

Foreign Relations And Defense
The Assyrian autonomous territory will exercise no power over foreign relations and defense.
Policy and Security Arrangements
Local police power in the Assyrian Autonomous territory will be exercised by the Assyrian local authority in coordination with the central regime strategy, particularly, matters of security and other vital issues.
Local police forces in the autonomous territory will be a component of power of the Assyrian autonomous rule.
Social Services
Provisions of social services such as health, education, and welfare will be the responsibility of the Assyrian autonomous Authority who will be eligible to seek grants and other subsidies administered by the national government.
Taxes
The power to impose and collect local taxes in the autonomous territory will be the responsibility of the Assyrian local authority.
Culture and Religion
The Assyrians are directly responsible to cultivate their culture that reflects their traditions, customs, and folklore, in a multi-national and ethnic society existing in Iraq.
Conclusion

In the Assyrian case, the self-rule will come true and will be materialized through full integration of the Assyrian community in the new democratic regime of Iraq. And since the people of Iraq strongly favor a federal regime, the Assyrians, similarly, like the Arabs, the Kurds, and Turkomans are also in favor of a democratic federal regime that has the capacity to provide a federal political entity for the Iraqis. They are longing to see their autonomous territory prospering under the comprehensive direct control of the central government.

[Zinda: Dr. Khoshaba Jasim is an Assyrian from Iraq. He immigrated to the U.S. in 1974.]

Mental Constipation
Filham (Fil) Isaac
Canada
There are many afflictions that are known to man and over time science has made great inroads in curing or treating most of these diseases. The brain remains a region where very little is known about it. Yet, it is the source of all thoughts that flow from an individual which defines and reveals a great deal about his/her nature and nurture. From the very first moment of birth, we engage this magnificent organ storing recallable snapshots of sights, sounds and signs. This is the child's mode of learning until gradually language is developed and he/she is able to communicate by receiving and transmitting information.
For a child not wanting to communicate the damage is not as grave as in the case of an adult. As adults, communication is important and should not be easily abandoned.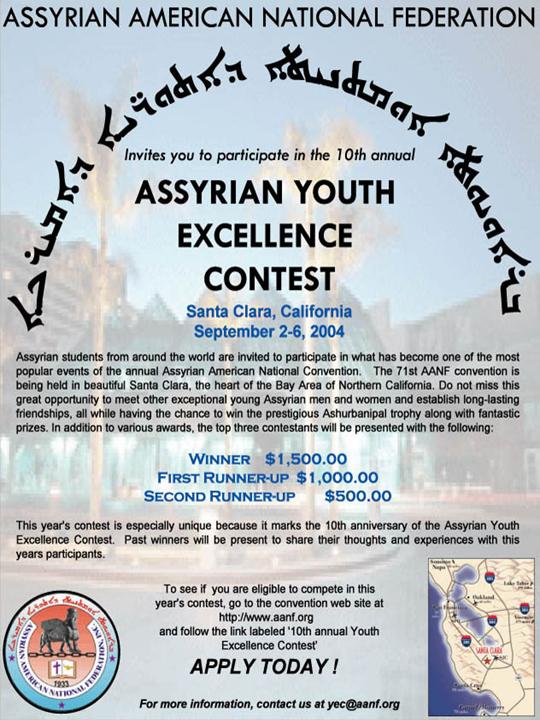 Such is the case amongst our national doers. By refusing to even open a dialogue over national issues (and what could be more important?) we are then constricting the thinking cycle and relying mostly on emotions. At times, some national issues build up into such volcanic eruptions that burn anything in its path leaving absolutely no room for growth. Such rigid process is not worthy of our support. We must be flexible and willing to communicate and, more importantly, cooperate so that we can grow together and strengthen the causes that benefit our nation. Currently, we are too isolated, too extreme, and too abrupt and bent on creating huge divides that grow more difficult to bridge.
Needless to say, such thoughts are a poor basis for us to lend support to our national leaders and allow them to manipulate and override our nation's right to work for common solutions as well as earn the right to be called "National Leaders". Together and in any medium we can exchange ideas by engaging in discussions that are supposed to bring us closer to the issues. Issues, those that are common to us. Instead, we tend not to be as flexible as we ought to and quite often we manage to mangle and twist our debates into endless angry discussions that do nothing useful other than raising our blood pressure as well as alienating and disgusting the silent majority.
I have been actively reading this magazine for awhile and participating on the Assyrian forum for one full year. There is cause for concern and it would seem that most of what is posted is emotional in nature. To a point, I personally stand accused of being pulled into such debates.
The next time you read an article or hear from a leader and/or an influential person, I would urge you, as a reader, to analyze this trait and see if:
• The person's intention is genuinely designed to reach and benefit the majority of the Assyrian people or just a certain segment. We can ultimately single out the demagogues in our midst.
• You can assess what kind of an answer is warranted from you. If it is going to be an emotional answer I would suggest you opt for the other kind. The kind that would leave the door slightly ajar to let some light in.
We are in dire need of what will unite us and we should not allow a few to manipulate our thoughts to fuel their agendas. The silent Assyrian majority should make it clear to all that want to work on behalf of this nation that our unity comes at the top of everyone's agenda. The angriest exchanges occur when the loyalty of the individuals engaged in a discussion are to two different Assyrian parties. When rationally explored, you will find that these individuals have quite a bit of commonality which may amount to 95%. That is a huge percentage to ignore and it should form a solid base upon which a great deal can be accomplished. For the time being, let us ignore the 5% of disagreement. The message to our friends and respective parties ought to be that we refuse to support anyone that ignores our common goals. The message is clear and it is:
All parties alleging to represent Assyrians must dedicate a good deal of their energy to promoting our 'NATIONAL GOALS' and together they can find ways to plan, draw, amend and elect to work on the top 10 items on the Assyrian National Agenda. We demand an annual national meeting. Assyrian parties that do not participate in these meetings should be totally ignored.
As for the rest of us that call ourselves the "silent majority" and specifically those of us living outside our homelands, it is high time that we become involved. We have been passive way too long. Our involvement should come in the form of making it clear that we are willing to acquire Party Memberships and pay dues. Dues, that support our individual party as well as dues that contribute to the National Party. We have to take action and curb the lip service. We have been talking to one another for a long time. The time has come for us to direct our words outwards towards the rest of the world. Talking "Assyrianism" to one another is no different than one brother saying to another "Come let me tell who our parents are". We all know who our parents are. It is the rest of the world that needs to know.
Now take a mind-laxative, be positive and lighten up a wee bit. Assyrian politicians, please take two.
Legacy of Control and Domination
Kuthula Matshazi
Zimbabwe
The Assyrians are the indigenous people of what is presently known as Iraq or ancient Mesopotamia. Their heartland encompasses Northern Iraq, Southeast Turkey, Western Iran and Eastern Syria.

Following the fall of their empire in 612 B.C.they have systematically been assimilated, massacred or displaced from Assyria since the conquest of Islam, and presently the Kurdification of Northern Iraq since the Gulf War in 1991.
As a result of that displacement, the Assyrians, who now number about 4 million have dissipated around the world while others have been forced by circumstances to assimilate into either Arabs or Kurdish societies.
Shamiran Mako is an Assyrian and breathtakingly intelligent politics and philosophy student at York University in Canada. She feels the effects of being countryless. Her stark choices entail returning to her homeland of Assyria and rejecting the Kurdification and Arabisation policies that have been forced upon her nation. Another tragedy is that her country is now also under the occupation of the most tyrannical modern states, President George W Bush's United States and Britain under Prime Minister Tony Blair occupying Iraq for the second time again in history.
Shamiran's story reflects two critical issues. First the importance of having a country that one can call their own and secondly the importance of having an identity.
It is strange, according to Shamiran when she learns that there are still some Africans or Black people in the Diaspora who are indifferent to who they really are or disassociate themselves from Africa. Her message to such people is, "Africa is your home. To refuse that you are from Africa is to refuse your home". But, obviously, every Black person knows that history traces them back to Africa. Also some of us that have been lucky to be kindly accommodated in western countries know too well that we belong to where we came from - Africa.
But that is too simplistic a generalisation because some of our brothers and sisters are easily shading off their identities that Shamiran so much longs for allowing their minds to be colonised again by the whites.
But to some extent this is the work of some white supremacists who still think that they could do what they did in the past to kill our various aspects of life as a people, like our culture as well as make us feel bad for being Black. They do this so that they could be able to dominate and control us. Such acts are not limited to past centuries.
Shamiran says that they still keep coming back again in the same manner. For instance in her native Iraq, after the British invaded and moved out, America has followed suit, eager to get control and exploit the second biggest oil fields in the world.
In our Racism and Colonialism class we had the opportunity to analyse how the British colonised Egypt. Arthur James Balfour, also known as (aka) "Bloody Balfour", the Conservative Party British Prime Minister (1902-1905), described how it is possible to disorient non westerners to make them believe that the west has a moral duty to rule over them. In his assertion, he uses French philosopher Michel Foucault's knowledge/power principle which postulates that knowledge translates to power. Quoted by Edward Said in his book titled Orientalism, Balfour said, "We know the civilization of Egypt better than we know the civilisation of any other country...we know it more intimately; we know more about it". Said explains that to have such knowledge of such a thing is to dominate it, to have authority over it. Said further highlights the distinction the westerners make of "them" and "us". The "them" is that group of people that has been intimately studied, dominated and subsequently controlled while the "us" are the westerners who control and dominate.
The tragedy accompanying this dominate and control mindset is that it has since been internalised and subsequently normalised by some of our Black African people.And unbelievably, some Black scholars are assisting in sanitising this mentality. They have been graduated into the "wonderful and civilised" western trappings, which have enabled them to be used against their own people.
Said further says that lurking behind the pacification of the subject race is imperial might. Against this background, it is strange that some Blacks and Black scholars have the temerity to say that people like me are seeing shadows everywhere thinking that the world wants to get us. Yes, Said proves that the world wants to get us and Balfour confirms it.
As Shamiran said, this keeps coming back again and again. Apparently, the only difference are the words they use, which are determined by the prevailing times and circumstances. And in this communication era, the westerners have perfected their skill of communicating that they could tell you to go to hell and make you actually look forward to the trip.
Yes, lets cultivate relations with the west but not at any moment should they want to exploit us. This is the very reason why we see Britain and Blair so fixated on Zimbabwe. They have that mentality that as a superior race ("us") they could never be stopped from pursuing their interests by a Black person ("them"). As the British House of Commons debates the Zimbabwean issue (as if they have any sort of authority vested in them) in July they must keep in mind that whatever tricks they learnt from Balfour and company of dominating and controlling they are never going to work again.This is how imperial administrator, Lord Cromer characterised "them", " His explanation will generally be lengthy and wanting in lucidity. He will probably contradict himself half-a-dozen times before he has finished his story. He will often break down under the mildest process of cross-examination".
This, according to Said is in contrast to the "clarity, directness and nobility of the Anglo-Saxon Race".
[Zinda: Mr. Matshazi's article appeared on 25 June in Zimbabwe's Daily Mirror newspaper.]

Arizona's First ChaldoAssyria Beauty Pageant 2004

Youkie Khaninia
Assyrian Aid Society
Arizona

On Saturday, June 19, 2004 and for the first time in Arizona a special event was held by the Assyrian Aid Society of America, Arizona Chapter to choose Miss ChaldoAssyria of Arizona 2004. With more than 450 people in attendance, 14 young ladies between the ages of 16 to 21, competed for the title.

None had any prior experience, all cherish the moment and got to know each other and made new friends. Entertainment for the event was provided by the talented singer, Ramsin Sheeno from Chicago, with local musician Adel, Atour and Younan and Ninos from California.

The competition was judged by a panel of seven from outside of the community. According to a member of the panel, it was a very close decision. The crown was claimed by Tina Youkhana, first runner up was Diane Rehana and second runner up was Diane Aziz. The winners received a $1000, $500 and $400 in U.S saving bonds respectively.

The Beauty Queen was crowned by Mrs. Mona Oshana, the Youth Group Director at Saint Peter Assyrian Church of the East. Mrs. Oshana received a special award from the AAS- Arizona Chapter for her work with our youth in Arizona. As always, this was also a fund raising event for the Chapter in which more
than $5000 were raised to support the Assyrian Aid Society of America programs in the homeland. The event was also sponsored by Valley Mortgage,
Sands Chevrolet. King Gyros, West USA Realty, Unique Realty, Allstate Insurance, and Bistro Provence French Restaurant.

Much of the preparation and coordination for the competition were done by the young members of the local Chapter. The entire event, including daytime events were videotaped by Mr. Johnson Odisho.

Contestants: Nicole Klyana; Eva Torkhan; Rita Khanania; Sandi Shamon; Amanda Saloum; Amanda Tappo; Jinny Khosho; Vivian Haji; Roxanna Khidan; Hilda Malham; Ashourena Jando;

Ushers: Jonathan Jargis; Joseph Moushi; Phill Babico; Shawn Selewa; Jason Younan; Alan Awdisho; Steven Badine; Ashur Nadirsha; Gino Dicarlo; Sargon Nadirsha; Youkhana Khaninia; Michael Khoshaba; Mike Darmo; Danny Khaninia

Hosts: Carolyn Odisho; Joseph Odishoo

Tina Youkhana (Winner, Center); Diane Rehana (First Runner Up, Left); Diane Aziz (Second Runner Up, Right)