The Hood, the Bad, & the Holy
A Zinda Magazine Special Investigative Report
David Tiglath Chibo
Zinda Magazine
Australia
"It is an honour and a privilege for me to be of an(sic) assistance to my community to make it succeed.."
- Karl Suleman in an interview with Progressive Assyrian Magazine
Beginnings
The Karl Suleman phenomenon reached its zenith during the dinner for the former President of the United States, Bill Clinton in September, 2001 before it collapsed. Some of the diners seated at Suleman's table at the Westmead benefit included Rabbi Pincus Woolstone, Nati Stoliar, Suzy David, and the Bishop of the Assyrian Church of the East, Bishop Mar Meelis Zaia [1]. Three weeks after the dinner, Stoliar and Suleman would apparently commit to funding a $US80 million ($154 million) Hollywood movie, Godfathers, Popes and Presidents, in which Clinton was to appear [2]. The links between some of the diners were clearly more than just social as this investigative report will clearly show.
When Karl Suleman Enterprizes (KSE) crashed on 4 November, 2001 the trusting heart of the Assyrian community was literally ripped out. The effects have continued to reverberate throughout Australia's Assyrian community up to this very day.
Over three years later and using various archives, the biggest financial swindle against the Assyrian community in modern history is finally pieced together showing how this scheme took place and who the main people responsible for its implementation were.
The Freemasons
Rumors have it that it all began when Karl Suleman, then a businesses man, owning a small-time trolley collection business decided to network and see if he could "strike it rich" by learning from others. Suleman took on a Jewish persona and adopted the Jewish name of Soloman, a name which according to newspaper reports he was to use during the visit of former president George Bush Sr. to Melbourne in October 2001. Karl Suleman became Karl Solomon in what may have been an attempt to imply he was of Jewish descent. According to his personal assistant, Nadia Stephen, Suleman was at the time an active member of the Freemasons, a male-only secretive organisation which had a network of like-minded business men.
Could it have been in the brotherhood of the Freemasons, or through their networking connections, that Karl Suleman eventually came to meet Jewish business people such as Nati Stoliar and gem prospector Pnina Feldman, her husband rabbi Pinchus Feldman, rabbi Pinchus Woolstone as well as rabbi Nochum Schapiro?
Was he naive and easily manipulated or a shrewd swindler? Ambitious and wanting to get rich was Suleman manipulated into initiating a Ponzi scheme on the unsuspecting Assyrian community within Australia?
The Ponzi scheme takes its name from Charles Ponzi, whose Boston-based postal coupon enterprise was the talk of the East Coast of America in the summer of 1920. Before the investment bubble burst the financial wizard turned accomplished swindler had collected $9,500,000 from 10,000 investors by selling promissory notes paying fifty per cent profit in forty-five days.[3]
Karl Suleman now had his get-rich quick scheme. Was, as has been alleged, his fellow businessman, Jewish Nati Stoliar, the mentor Suleman needed in order to ensure that the Ponzi scheme was successfully launched?
The Unholy Alliance
The initial strategy recommended to Suleman may have been to target the Assyrian community's leaders, a common factor in Ponzi schemes which target people whom others trust. Sydney's Assyrian community could only be swindled by first winning over the church and organisation leaders.
Suleman approached Suzy David, the former President of The Assyrian Australian Academic Society (TAAAS) and the current Deputy Secretary General of the Assyrian Universal Alliance (AUA) in 1999 and may have gained her support for the scheme.
At the same time the, then married, Karl Suleman also claims to have fallen in love with Suzy David after Suzy David had asked him to show her over his boat, which was moored at Birkenhead Point. "After that Suzy and I gradually started seeing each other," he claimed. "She used to call me and invite me to dinner and we'd go to the ANA hotel [now Shangri La], the Japanese restaurant there." Suleman also claims: "I fell in love with her and my wife found out about it. That's why my wife kicked me out of the house and I started living with Suzy in her apartment.[4]"
Is it possible that Suzy David, Suleman's legal advisor and alleged lover, was totally ignorant about the Ponzi scheme which she was to help establish and orchestrate?
Suleman may have then lobbied the Bishop of the Assyrian Church of the East in Australia and New Zealand , [Mar] Meelis Zaia through Suzy David who had a good working relationship with him.
Whether Mar Meelis Zaia was totally aware of the illegality of the scheme or not, evidence clearly shows that he gave his tacit approval for the scheme. During court questioning it was revealed that [Bishop] Mar Meelis Zaia was the one to come up with the name "Froggy," apparently because he thought Suleman's eyes looked like a frog, and he received 5% of Froggy's shares for his trouble [5]. Besides Bishop Zaia being a 5 per cent shareholder in Suleman's Froggy Holdings he was also known as a warm supporter of Suleman's enterprises and efforts to support the Assyrian community [6].
Not Receiving Zinda Email Notifications Anymore?

Media interviews with Mar Meelis Zaia later explained this away by claiming that because the St. Hurmizd Primary school was not registered at the time, Mr. Suleman had registered the donated shares in the name of the Bishop in trust for the school. However considering that the non-profit Assyrian Church of the East was fully registered in Australia and would receive preferential tax treatment it is, in this writer's opinion, illogical to claim that the 5% of shares allocated to Mar Meelis Zaia were being held in trust, by Mar Meelis, for the school when they could have easily been registered in the Church's name. Apparently there was also a delay in transferring the shareholdings, by the Assyrian Church of the East's "pro-bono" lawyer, Fred David, brother of Suzy David, who "didn't have the time," to transfer over the shareholdings.
When it came to property, unlike the 5% shareholdings for Froggy, Mar Meelis Zaia may have learnt to put property in the name of others after he had been caught in the past co-purchasing a house with Eva Robin George, the ex-wife of the Assyrian entertainer Raad Zaya, in Cecil Hills Sydney.
When the scheme had first begun Mar Meelis's brother, David Zaia, who resides in California , owned a property in Liverpool , NSW which he sold and invested with the KSE scheme around July 2001. Two months before the KSE scheme collapsed he suddenly decided he wanted to "cash up" the contract around August 2001, and co-incidentally, followed Karl Suleman's advice when Suleman suggested to David Zaia and [Mar] Meelis Zaia that the money be reinvested in a unit on 11 Bunn Street, Pyrmont (Sydney). In court proceedings property developer, Mr. Waitsman gave evidence in relation to Nati Stoliar in relation to property developments and investment options and the sale of units in Bunn St, Pyrmont to Mr. Suleman, and to Bishop Zaia or his brother, David[7]. The units were being developed by a Joint Venture between 2 companies: Metro Apartments and Kimberley Securities, of whom Nati Stoliar is a director. Karl Suleman personally gave the money to Nati Stoliar for the purpose of David Zaia purchasing the unit. The title however was never transferred to David Zaia and given that the investment contract was "cashed up" the liquidators placed a caveat on the unit, and Mar Meelis Zaia, David Zaia's representative in Australia , has not yet made an application to remove it.
Encouraged by the head of the Assyrian Church of the East in Australia, a priest from the Assyrian Church of the East, Fr. Ashur Lazar also got involved, personally investing and actively promoting the scheme as well as showing unwavering public support for Karl Suleman. The greed was palpable and he was even rumored to promote the scheme at church functions he presided over, including funerals! "I noticed that even the priests' brothers were involved and they were making good money," said Eddie David after borrowing $150,000 to invest in the scheme[8].
A Family Affair
With Suzy David acting as one of Karl Suleman's chief advisors she ensured that her family would also financially benefit from the illegal scheme. She brought in her brother, Fred David, who according to Professor Collin Tats, had once been caught by him cheating on a final year Law paper. Professor Tats had only reluctantly allowed Fred David to resubmit his work and pass his final year of Law after big sister Suzy David had threatened Macquarie University with an expensive lawsuit.
After he was brought in on the scheme Fred David revealed during examinations that he along with Suzy David (through their companies) owned the intellectual property rights to the "Froggy" name and (through their companies) had owned a total of 90% of the shares in Froggy Music Pty. Ltd., of which they were both co-directors with Karl Suleman. In addition Fred David was also a director of Suleman Investments Limited [9].
As well as being a KSE agent, Suzy David's other family members were also deeply involved in the scheme. They included Fred David's wife, Sabrina Jajoo, who admitted in court that she had been a financial advisor for clients wishing to invest in KSE [10].
With the Froggy name selected, Suzy David's company Holographics Pty. Ltd., registered and owned the intellectual property rights to the "Froggy" name on behalf of Suleman. It was also revealed during court deliberations that two of the principals of the law firm Dominic David Stamfords are Fred David and Suzy David, who are both directors of companies in Karl Suleman's Froggy Group [11].
According to documents filed with the Australian Securities and Investments Commission the registered office of Karl Suleman Enterprizes was Level 1, 343 Harris Street, Fairfield which is the office of the law firm Dominic David Stamfords.
Along with the name various registered logos for Karl Suleman's Froggy Group were also owned by Holographic. The sole director of Holographic of course was Suzy David [12]. Suzy David also claims that Holographic paid the approximately $30,000 in registration on behalf of Froggy Music, and that this $30,000 debt held against Holographic by Froggy Music was later waived by Holographic.
Evidence of just how intertwined Suzy and Fred David had become in the scheme was revealed during court examinations made with Mrs. Maria Azar who invested $25,000 AUS in KSE but after discussions with Richard Azar decided to cancel the investment and was repaid not by a KSE account but drawn on an account of Dominic David Stamfords [13]. More evidence was revealed in May 2002 when the KSE liquidator also revealed it had recovered $890,000 from a trust fund controlled by law firm Dominic David Stamfords [14].
But behind the scenes there were others who would also handsomely profit from the scheme. Suleman had given Chabad House a 10 per cent stake in Froggy.com [15]. Was Suleman ensuring that his Jewish mentors were also given their fair share of the profits when he gave somewhat of a Jewish tithe to Chabad House in St Ives, a Jewish outreach centre run by Rabbi Nachum Schapiro?
With the tacit support of the major secular Assyrian organizations and Churches in Sydney secured, with the help of Suzy David and Bishop Mar Meelis Zaia, the job of winning over the people would next begin.
Winning Over the People
With the rumored support of his Jewish mentors and in an alleged alliance with Suzy David and Mar Meelis Zaia, Suleman began what appears to have been a carefully co-ordinated and crafted campaign to donate money to Assyrian charities, churches and needy Assyrian individuals.
Suleman's image of a successful Assyrian businessman and convert to Judaism was further strengthened when at The Assyrian Australian Academic Society's (TAAAS) Annual Ball in 2000, Karl Suleman, along with two Rabbis, donated $5,000 each to the Society. A speech by one of the Rabbis told of how impressed he was of TAAAS' work [16]. Having planned it ahead of time the former TAAAS President, Suzy David told members of TAAAS, before the start of their Annual Ball, to clap and act surprised when an announcement was made for donations to TAAAS, which they promptly did.
According to another Assyrian witness as interviewed on The Daily Telegraph, "Once cashed up Suleman's generosity in the community was well known. If an elderly woman needed a new television she would get one. There were many such acts and Assyrians would hear about them from the Bishop Joseph Mar Meelis Zaia, who was a strong supporter of Suleman.[17]"
Another Assyrian community source was quoted as saying that the combination of Suleman's overt wealth and associations with both a Bishop and rabbi plus Jewish business advisers impressed would-be-investors [18]. The Assyrian community began signing up in droves.
The Agents
In order to ensure that the pace of money coming into KSE exceeded the payments made to the investors, KSE agents were recruited into the perfidious scheme and used to entice as many investors from the Assyrian community as possible.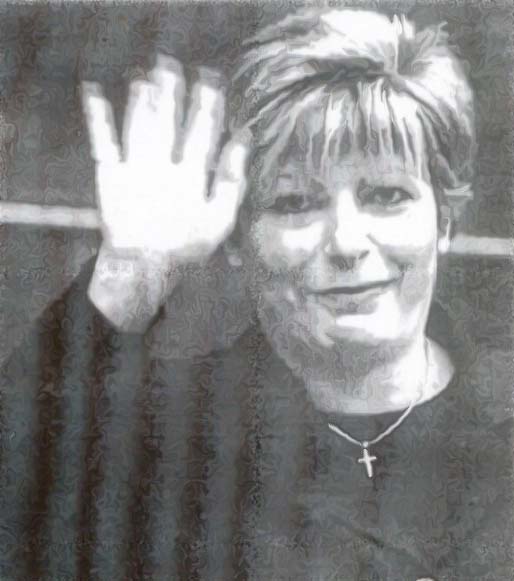 Elizabeth George
According to the liquidator's investigations a group of about 30 so-called agents acted as Suleman's representatives [19]. As well as being one of the main architects of the scheme Suzy David was also among those examined as a KSE agent [20]. Other agents of KSE were named by the liquidators in August 2002 as, "Jessie George, his nephew Zaia George," in addition to his wife, "Elizabeth George."
"Joining them are Sankho Sam Babanor and Robert Barkho." Other agents named were, "Sargon [Adam] Oshana, Romil K[h]oshaba, David Varda, and accountants Roger Hyde and Graeme Sinden," as well as, "Sargon's wife, Eman Oshana, and Helen K[h]oshaba. [21] "
In testimony provided by car dealer, Mr. Damelian, of Rick Damelian Sydney, Karl Suleman generously rewarded his architects and agents. Luxury vehicles were leased for Karl and Vivian Suleman, Roger Hyde, Graeme Sinden, Sam Babanour, Bishop [Mar Meelis] Zaia and Jessie and Romil Koshaba's wife, Elizabeth George [22]. As a possible reward for his tacit support Bishop Mar Meelis Zaia received a BMW 2000 model which he returned to the liquidators after the collapse of KSE.
Karl Suleman's original Barrister, Mr. Tim Moore, explained how some of these agents had been unauthorised and had fraudulently obtained investment contracts [23]. This is not surprising considering that some of the agents were well-known criminals. One of the key agents was none other than the notorious Jessie George who holds a criminal record and is well known by the Federal police for numerous accounts of fraud [24].
The scheme included a practice where 10 per cent of the amount invested would be repaid to the investors, like a rebate. But it also appears that some agents saw it as commission [25]. In court and making further attempts to shift the responsibility for the debacle onto the agents, Mr. Suleman said the agents were apparently not supposed to keep the commissions paid to them for bringing in investors. "I was told the money was going to be given back to the investors as a discount. [26] "
Coming to America
In July 2001, Terry Griffiths was brought in as a consultant and along with David Goldstein carried out feasibility studies on KSE. H e expressed his concern to Karl Suleman in July 2001 that KSE was a pyramid scheme on the verge of collapse and that $453 million would be required to pay out each of the contracts which KSE had signed with investors at that stage [27].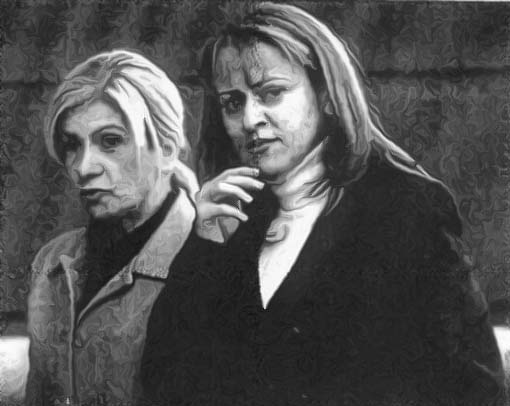 Eman Oshana (right) & Helen Khoshaba
The Australian Securities and Investments Commission (ASIC) started investigating the scheme in July, 2001. This forced the architects of KSE to switch to a new method of raising funds in August. From late August, $53 million was raised from investors by a company known as PAL Holdings Pty Ltd, which ASIC records show was only registered on September 14, 2001 [28]. In early September while researching an article for Nakosha Magazine I asked Suzy David if the scheme was legitimate and whether there had been any problems. Her response was that up to that point in time she had heard of no complaints, leading me in hindsight to conclude that she was either very ignorant of the KSE inner workings, or not telling me the truth.
In an attempt to export the scheme overseas the architects and staff of KSE arranged a trip to the Annual Assyrian Convention in the U.S. Here it was hoped they could find thousands of unsuspecting and affluent Assyrian-Americans to invest in KSE. According to Eshu Youkhana, one-time KSE loan application officer, at the end of August 2001 he, along with 20 other people, were flown to the US to attend the annual international Assyrian community convention in California courtesy of KSE [29].
Rumors have it that Karl Suleman went into action showing off and throwing money about, while Suzy David used her contacts established through TAAAS and the AUA to open doors for them with prominent Assyrian-Americans. Following closely on their heels were the agents promoting the scheme and securing even more unsuspecting investors.
Yet despite the new investors the rate of new investors participating in the scheme couldn't keep up with the money needed to pay them out.
The Scheme Collapses
By September Suleman needed up to $20 million a month just to pay back the promised returns to his investors. The house of cards was about to come crashing down. Having exploited the scheme to the point of collapse ASIC received an anonymous tip-off that the scheme was unregistered. Then coincidently just days before ASIC took action, Mr. Suleman placed KSE into voluntary administration.
It all went according to plan because according to the liquidator and later administrator, Mr. Weston, "The companies had no ability at that point (when voluntary administrators were appointed) to pay all its investors and creditors.[30]" According to the Australian Financial Review, "Technically, the company may never have been solvent.[31]"
Was the vital evidence that could implicate Karl Suleman, his Jewish mentors, the Assyrian architects of the scheme and some of the agents quickly shredded, deleted or eliminated, before the liquidators could arrive? In all cases, Weston found few, if any, business records. "This is our biggest problem," he says. "We have had to go to the bank records and other third-party sources and piece it all together. It is not uncommon for records to be lost or destroyed when a company fails, but it is rare to see it on this scale.[32]"
Damage Control
After the collapse was a public relations campaign initiated to control the damage and buy the architects of the scheme enough time to launder and stash the money away? Karl Suleman was portrayed as an innocent businessman who had been blocked by government bureaucracy and now requested the patience and assistance of his faithful investors.
Following the ASIC raid, Dominic David Stamfords (DDS) received cheques from many parties wishing to contribute to Mr. Suleman's legal fund [33]. It is also alleged that underworld figures that had invested and threatened Suleman, David and some of the agents with violence may have been quickly paid off. When KSE was placed into voluntary administration on November 7, Karl Suleman asked 10 friends including Khoshaba and Oshana to donate to the trust account, to "save Froggy." But by early December, according to Khoshaba, Suleman was asking his pals if he could use the money to pay legal expenses. In court Barrister Jim Thompson, representing the liquidators, read from a document allegedly signed by Khoshaba on December 17, authorising payment of $125,000 of his and Oshana's funds to four members of the same family. Khoshaba replied: "These people invested through Mr. Oshana and they were threatening him and his family" [34] .
Initial protests and outrage that had begun from the heads of some of the Assyrian community in Sydney suddenly became silent. Had the heads of the main Assyrian organizations in Sydney and various Assyrian friends that had invested and lost money in the scheme been paid off, and as has been alleged, in return made to sign a legal document demanding their silence?
Try as they might the scheme's architects realised that they couldn't buy off all the community. Panic gripped the unstable Suleman. Under questioning during May, 2002, [Jessie] George's wife Elizabeth said in a public examination that Suleman had arrived at their home in his white Mercedes-Benz, wearing slippers, and warned them to leave the country and take their family with them [35].
Suleman was not the only one to panic. One of the agents, Sargon Oshana, spoke to Wilson Younan on an SBS radio program via telephone on June 21 [2002], Sargon [Adam] Oshana told listeners that he had left the country after receiving death threats on his mobile phone [36].
The pressure was on. In July 2002 a vehicle parked at the Suleman residence was set alight by persons unknown. The car, which did not belong to the Suleman household, was badly damaged in the attack [37].
Meanwhile the investigation continued. In an attempt to track down the missing $65 million Mr. Weston uncovered a series of questionable overseas transactions and, he continued "After liaising with our lawyers, we have moved to secure worldwide asset freezing orders for the named parties. [38] "
With the liquidators busy chasing after the agents of the scheme had the architects of the scheme arranged for much of the missing money to be smuggled into an Israeli bank account? According to one of Karl Suleman's relatives, who did not wish to be identified, Suzy David left nothing to chance, ensuring that a Tontine contract was arranged for a secret signatory bank account in Israel. This is a legal arrangement in which subscribers to a common fund share an annuity with the benefit of survivorship and the shares of the survivors increase as the subscribers die, until the whole goes to the last survivor.
In Court
The architects of the KSE Ponzi scheme knew from the start that their scheme would eventually collapse and arranged for a fall guy to take the blame. The possible fall guy and would-be architect for the scheme was a solicitor named Mr. Phillip Pham, who had first made contact with Suleman in 1998. Under questioning in court Karl Suleman claimed, that his solicitor, Phillip Pham, had masterminded the investment scheme and had told him he did not need to register the scheme or hold a finance adviser's licence. "The man behind the whole idea was Phillip Pham, the structure of the whole idea was Phillip Pham's," Mr. Suleman said. "I didn't know about investors, it was Pham's idea. [39] "
Pham told a court hearing that in early 2000 when he had asked Mr. Suleman if he had a dealer's licence for the activities of the [KSE] investment scheme that he was told there was nothing to worry about. He said that at the time he had no reason to doubt Mr. Suleman [40]. "He looked me in the eye and said I'd got(sic) nothing to worry about, he had the licence," Mr. Pham said. "Mr. Suleman said he had a friend at the law firm Mallesons who could fast-track everything. [41] "
Ms. Lucy Robinson, a barrister, gave contradictory evidence in court that she had advised Mr. Pham, Suzy David and Mr. Suleman on different occasions that KSE was operating a managed investment scheme and that it was imperative that it be registered as required under the Corporations Act [42]. Karl Suleman eventually admitted that he knew the scheme was unregistered and, "..that before KSE was shut down by the corporate regulator in November, 2001, he handed up to $13 million to the agents of the unregistered scheme. [43] " Under continued questioning Suleman was eventually forced to admit that Pham was not the ring-leader of the scheme. Asked if he understood that, at the time, a dealer's licence was required for KSE's activities, Mr. Suleman answered "Yes [44]."
Suleman next shifted the blame for the KSE debacle from Pham to two of his overseas agents blaming them for the missing millions. Referring to Jessie George and Sargon Oshana Mr. Suleman explained how from about mid October, 2001 – as the investment began taking off – he said "two major players and a number of minor players involved" fraudulently diverted up to $30 million of the funds for their own use [45].
Court Findings
Karl Suleman
In May, 2002 Karl Suleman was banned for life from running a corporation. He and his wife were also banned from dealing with any of their assets. Of the $20 million in compensation, Mr. Suleman was ordered to pay KSE $17,463,839 for breaches of director's duties. Mrs Suleman is to pay KSE $2,571,022 and the two are jointly and severally liable to pay $2,412,070 of the combined compensation orders [46]. Karl Suleman and his wife Vivian were ordered to pay more than $20 million in compensation, with the prospect of further damages to come. They quickly moved to declare themselves bankrupt.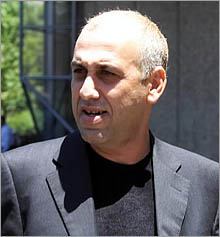 Karl Suleman
Although he was a bankrupt Karl Suleman's lifestyle suffered little or no obvious changes. Besides being caught gambling and featured on the television programme Today Tonight he also appears to have some money stashed away. In April 2002 he contacted the sky writing company that he had previously used to advertise Froggy.com and arranged a jet to fly "a couple of his mates" telling the proprietor, "And it would be money up front. [47] "
According to the a Sydney Morning Herald reporter on the 24 May 2003 the failed entrepreneur Karl Suleman, also known as 'King,' was seen hopping out of a brand new Mercedes, worth at least $250,000, outside Doyles at Watsons Bay. She said the car was sporting the number plates King 1 [48].
Last December, when Suleman was spruiking his plans for a hamburger chain, his former employer, Italian-born businessman Joe Prestia, gave him $120,000 to settle on a couple of business purchases.
But Suleman was already in debt and being chased by the corporate cops, so he did what came naturally – he went to a Brisbane casino and allegedly began gambling the money away. Horwath Accountants discovered the Brisbane bank account, owned by Prestia but operated by Suleman, and immediately froze it. Prestia says that all but $15,000 was recovered and he had written the money and the experience off. When questioned by the liquidators Prestia claims that he had no knowledge of Suleman's scheme when he gave him the $120,000.
Further questioning revealed that Prestia had authorised Suleman to act on the account - as he didn't trust his two children to leave it to them - as he was going away. The liquidators informed him that Suleman,was bankrupt and was required to disclose the funds to the bankrupt estate, which he had not done. Although Prestia claimed that he hadn't authorised Karl to spend the money he has not taken the matter further with police [49].
Suleman was eventually found guilty of fraud, for statements used by him to obtain finance for his luxury vehicles, and sentenced to 21 months in jail. Throughout his civil trial his former legal advisor and alleged lover, Suzy David, was seen by his side. Suleman is currently serving a 21 months prison sentence in the minimum security Bathurst jail, where he receives daily medication for depression.
Suzy David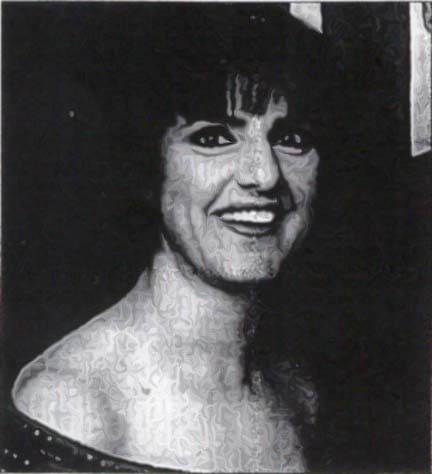 Suzy David
In a Public Relations campaign to rehabilitate her image Suzy David along with the AUA Australia chapter presented a paper to the New South Wales Local Government Association on the 2nd August, 2002 . She then sent out press releases to Assyrian media organisations claiming that the Assyrian Genocide had been recognised at a governmental level, in the State of New South Wales , Australia [50]. Further analysis of the paper she presented showed that far from being recognised by the New South Wales State Government, the Assyrian Genocide had only been recognised by the New South Wales Government Association which is a non-government body.
In addition to acting as Suleman's legal advisor, David and her brother, Fred David were also both directors of Froggy Group companies. Both are awaiting a judgment following a NSW Supreme Court hearing into whether they breached their duty of care when arranging for clients to invest in the Karl Suleman Enterprizes investment scheme, which has since been found to be illegal [51].
Nati Stoliar
According to the latest reports from the liquidators Stoliar has agreed to repay $350,000 from the claimed $700,000 he took from KSE in order to avoid a protracted and expensive court case.
Bishop Mar Meelis Zaia
Referring to people who had received money from the KSE investment scheme, the Daily Telegraph on 11 April, 2002 reported, "One such individual is the bishop of the Holy Apostolic Assyrian Church of the East, Mar Meelis Zaia. Apparently there's some cash in an account that's attracted a letter from the liquidator. [52] "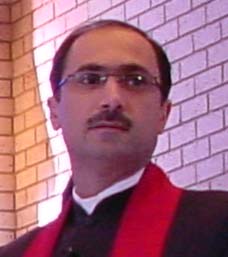 "Horwath is also interested in money donated to the Bishop by Karl Suleman to purchase a church bus and a $10,000 wooden door for the inner temple of the St Hurmizd Cathedral, out at Greenfield Park. [53]"
The Bishop and his board of trustees have already spent $248,000 donated to the Assyrian School Building Fund, and have advised Howarth's they are looking at refinancing so they can pay the money back. However these previously agreed upon repayments from the Assyrian Church of the East, which had been promised by Mar Meelis Zaia, have not been repaid to liquidators. According to the liquidators the Assyrian Church of the East alleges that their members cannot afford to make donations to the church and therefore, the church can't afford to repay the donation.
Meanwhile in a surprise revelation Karl Suleman's former employee, Joe Prestia, is coincidently also Bishop Mar Meelis's advisor in relation to David Zaia's transaction. Apparently, Joe Prestia has been assisting Mar Meelis Zaia with some refinancing or purchase deal for the Assyrian Church of the East and the Bishop, when he heard of this transaction and decided to "help out" Mar Meelis Zaia.
Jessie George
Using his company, Western Network Services, to finance and to invest the money with KSE, Jessie George did financially very well. In May 2002 Horwath said that it believed no more than $10 million had been taken out of the country by former Suleman associates Jessie George and Sargon Oshana [54]. In the end, George agreed that the money in one of his bank accounts had 'probably' come from KSE. On November 7, 2001 (the day ASIC raided KSE), there was a balance remaining of $469,000. By the end of November it was all gone. [55] "
In court examinations, "…former KSE agent Jessie George said he'd withdrawn $96,000 on November 14, 2001 and $200,000 three days later. [56] " Jessie George quickly repaid the mortgage on their house of about $220,000.00. He then transferred his interest in the house to Mrs. George for $1.00 [57].
George also moved to deposit his share of the loot into the U.S. bank accounts of his father and other relatives. During further courtroom testimony the wife of Jessie George, Elizabeth George recalled an account containing $600,000 with Bank of West in Fremont, California, where she lived with her two sons until recently [58].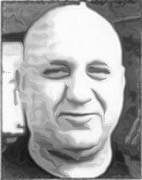 Jesse George
During the KSE legal proceedings many of the KSE agents were brought to the attention of liquidators including Jessie George's relative [nephew] Zaia George. The Daily Telegraph reported on the 3 rd June, 2002 that, ".. one Zaia George, has been, in legal speak, restrained from dealing in his assets. [59] " It was Zaia George who controlled the bank accounts a nd transferred money to family members in the United States at the request of Jessie George [60]. Jessie George's father had also acted as a US KSE agent, and had at least $2 million deposited into his bank account in Los Angeles [61].
Other methods of transferring Jessie George's money overseas and away from the reach of the liquidators included a trip to California by Zaia George in November 2001, shortly after the collapse, where he took American Express travelers cheques in the amount of US$100,000.00 given to him by Jessie George. He cashed all of the cheques, and gave them to Jessie when he arrived in the U.S.
Fearing for their safety, Mrs. George left Australia for the U.S. , following her children who had left one week earlier. She and her children stayed at her parents-in-law house in California [62]. Jessie George followed Mr. Suleman's request that he leave the country and flew to California 2 weeks later to join his wife and children.
Before leaving Jessie George even had time to pay-off his mistress, Esther Tower, who was also examined in relation to the transfer of funds from the George family in the United States to her account in June 2002, approximating $70,000. Of that, $50,000 was allegedly withdrawn within a one week period. Ms. Tower told the court that she needed the money in order to buy a business or "to make ends meet", and spent the money on various things, including furniture, clothes, entertainment and payment of bills [63].
According to the liquidators' latest reports they have pursued Jessie George's brother, Ninos George through the USA where they have frozen approximately US$280,000 held in his bank account. Ninos initially claimed they were his funds then admitted that they were fraudulently obtained (Jessie was sending money from Australia to the U.S. ). The IRS holds the funds (after significant non-action and delay by the U.S. Attorney) and now the U.S. Attorney (on behalf of the IRS) has offered to settle the dispute between the liquidator here as the liquidator has argued that he has been put to much expense, including legal fees, in tracing these assets all the way to U.S. The liquidator has requested that the amount should all come back to Australia to form the pool of funds available for distribution to worldwide investors. Weston confirmed that he is also now battling the U.S. Attorney's Office in California, which wants the $US280,000 ($400,000) seized there to be paid to American creditors in Suleman's scheme – not into a general pool [64].
Jessie George has since returned to Australia and is known to be living in Sydney's northern suburbs.
Sargon Oshana
In court proceedings it was revealed that "Mr. Suleman said he gave Mr. Oshana between $1 million and $1.5 million.[65]" Sargon's wife, Oman Oshana had, "…difficulty explaining to the court how a total of $5 million was deposited in various bank accounts including her own between May 2001 and November 2001." In court Mrs. Oshana of course conveniently claimed that she had no knowledge of her husband's business, or the source of deposits by her of large sums of money handed to her by her husband [66].
Apart from using his wife, Sargon Oshana also held a joint bank account with another female named Maria Warren, or Maria Corrugo, in which, "$2.2 million had been deposited. [67] "
Awad Loufty El-Gamal, KSE Accountant
KSE former accountant, Awad Loufty El-Gamal, was also caught profiting from the scheme when he recalled during questioning, "….a sum of $400,000," which he, "..undertook to pay….to Horwath and also promised not to withdraw any money from a certain National Bank account, currently in credit to the tune of $917,388.19c. [68] "
Phillip Pham
PAL Holdings generated around $63 million from investors. Until November 12, 2001 Mr. Pham was Secretary of PAL Holdings Pty Ltd which occupied offices at Suite 5, 161 George St. Liverpool, the same address as Mr. Suleman's Froggy Internet Services. Acting as an intermediary between KSE and a group of investors and pulling more than $2 million a fortnight out of the KSE scheme in repayments it also collected a 2% commission on each payment [69].
Roger Hyde, Accountant
Former KSE accountant, Roger Hyde, also became an agent and skimmed a monthly commission from all referred clients. According to the Daily Telegraph on 28 March, 2002, "..on an investment of $100,000 over five years, clients of Sinden Hyde & Associates received $4,000 a month. An additional $1,000 was paid to Sinden Hyde." Whereas, "...investors in Mr. Suleman's failed Ponzi scheme who invested direct on the same terms would've received $5,000 a fortnight. [70] "
Robert Barkho
Another KSE agent, Robert Barkho, testified that he had single-handedly collected $1.4 million from investors as well as investing $150,000 of the $500,000 he had made working for KSE back into the investment scheme [71]. At the time of the KSE collapse Karl Suleman had also asked Mr. Barkho – at the time in the US – to take his wife and children out of Australia for a while "until everything settled down here", Mr. Barkho told the court [72].
Justice?
From the $138 million involved in the scheme, $91 million was returned to investors, $5 million spent on property and luxury cars and other monies taken as cash and allegedly gambled. The claims of the creditors, mostly from Sydney's Assyrian community, are worth $48 million. A dividend of 2.5 cents has already been paid.
Unlike the architects of the scheme, who were sophisticated enough to cover most of their tracks, the agents left a paper trail that could connect them to the scheme and have been the main parties pursued by the liquidators.
The liquidators remain in a quandary. Although they could pursue the ring-leaders of this scheme in expensive and delayed court trials and bring them to account for their perfidious actions, the liquidators must also balance justice against the wishes of the majority of investors who want the 15-20 cents in the dollar, recovered by the liquidators, thus far, paid back to them.
The justice awaited by the Assyrian community will most likely never be achieved. The architects of the scheme appear to have orchestrated the perfect crime. These unscrupulous agents preyed on trusted relationships in social, ethnic and religious groups. And they got away with ripping the Assyrian people off because the victims are still unwilling to continue legal action. In the Assyrian community this mindset coupled with the fact that two of the alleged instigators are considered "sacred cows" explains why most of the victims continue to remain silent on this crime.
The very same members of the Assyrian Church of the East who donated their time and money to build St. Hurmizd Assyrian Primary school - the first Assyrian school in the West - were swindled. The very same people who helped organize the Sydney Genocide conference in 2000 were deceived by Karl Suleman through Mar Meelis Zaia and Suzy David. In November 2001, after the scheme had collapsed, I personally interviewed Mar Meelis Zaia, for Nakosha Magazine, and asked him about the rumored involvement of Fr. Ashur Lazar in the scheme. Mar Meelis guaranteed me that if evidence ever emerged that Fr. Ashur Lazar or any other member of the Assyrian Church of the East had been involved in the scheme then he would personally remove them from the church.
With Karl Suleman serving a 21 month prison sentence in Bathurst jail the onus remains upon the Assyrian community to continue through all legal avenues to ensure that all the architects and agents of this scheme are eventually brought to justice.
Notes
Leap-frogging to glory and back, Australian Financial Review – 1 December, 2001
Ibid.
The Ponzi Scheme, Mark C. Knutson
Of burgers bars and broken dreams, The Daily Telegraph, Saturday August 29, 2004
Agent General, The Daily Telegraph – January 18, 2002 .
Leap-frogging to glory and back, Australian Financial Review – 1 st December, 2001
KSE Examinations, 5 September, 2002
Froggy head's scheme croaks, Today Tonight – 5 December, 2001
KSE Examinations, 29 Oct. – 4 Nov. 2002
KSE Examinations, 6 September 2002
Investors turn against Suleman, The Daily Telegraph – 27 November, 2001
Agent General, The Daily Telegraph – January 18, 2002
KSE Examinations, 9-13 September 2002
Liquidator drawing up claim against Suleman, The Daily Telegraph – 21 May, 2002
Shattered Dreams, The Daily Telegraph -5 January, 2002
Karl Suleman Enterprizes, Nakosha Magazine - December 2001. p. 8.
Shattered Dreams, The Daily Telegraph -5 January, 2002
Ibid.
Investors simmer as Suleman stammers through his statement, The Daily Telegraph, – 18 May, 2002
Suleman List , Daily Telegraph – 31 August, 2002
Chasing Millions: KSE liquidator to pursue claim against agents, The Daily Telegraph – 3 August, 2002
KSE Examinations, 5 September, 2002
Froggy sinks as investors pull the plug, Australian Financial Review – 8 December, 2001
Karl Suleman Enterprizes, Nakosha Magazine - December 2001. p.8
Investors simmer as Suleman stammers through his statement, The Daily Telegraph , – 18 May, 2002
Suleman's mystery cheque, The Australian – 19 January, 2002
KSE Examinations, 17 June, 2002
Froggy hunt goes after advisors, The Daily Telegraph – 4 December, 2001
In Suleman's slipstream, The Daily Telegraph – 17 May, 2002
Suleman leaves community divided, The Australian – 20 November, 2001
Froggy hunt goes after advisers, Australian Financial Review – 4 December, 2001
Investors simmer as Suleman stammers through his statement, The Daily Telegraph – 18 May, 2002
KSE Examinations, 9-13 September, 2002
Focus on an absent friend, The Daily Telegraph – 26 June, 2002
Hounds of Horwath close on Froggy, Sydney Morning Heral, – 21 May, 2002
Safety first, The Daily Telegraph – 3 July, 2002
Hotting up, The Daily Telegraph – 12 July, 2002
Suleman assets sent offshore, Australian Financial Review – 15 February, 2002
Suleman blended accounts, The Australian – 26 February, 2002
Suleman tells of gambling, Australian Financial Review – 27 February, 2002
Even in court, Suleman still drops names, The Australian – 27 February, 2002
KSE Examinations, 11-15 November, 2002.
Investors simmer as Suleman stammers through his statement, Daily Telegraph, – 18 May, 2002
Suleman grilled on lost millions, Sydney Morning Herald – 26 February, 2002
Life in fast lane grinds to a halt, The Daily Telegraph – 10 January, 2002
Karl Suleman to file for bankruptcy, Sydney Morning Herald -23 July, 2002
Karl's jet set, The Daily Telegraph – 9 April, 2002
Big Jim and the luxury car, Sydney Morning Herald – 24 May, 2003
Of burgers bars and broken dreams, The Daily Telegraph - August 29, 2004
Assyrian Genocide in Mesopotamia , Zinda Magazine - 12 August, 2002
Of burgers bars and broken dreams, The Daily Telegraph - August 29, 2004
Suleman and the Bishop, The Daily Telegraph, – 11 April, 2002
Skeletons in cupboard, The Daily Telegraph – 15 April, 2002
Liquidator drawing up claim against Suleman, The Daily Telegraph – 21 May, 2002
Laughing in the aisles , The Daily Telegraph – 20 June, 2002
Rich wives club is tight-knit, The Daily Telegraph – 21 June, 2002
KSE Examinations 17 June, 2002
A wife's fortune that just popped into her account, The Daily Telegraph – 17 May, 2002
KSE Examinations, 11-15 November 2002
KSE Examinations 14-15 May, 2002
Mystery trio has the cash, The Daily Telegraph – 10 January, 2002
KSE Examinations, 15 May 2002
KSE Examinations, 9-13 December 2002
Of burgers bars and broken dreams, The Daily Telegraph - August 29, 2004
Investors simmer as Suleman stammers through his statement, The Daily Telegraph, – 18 May, 2002
Rich wives club is tight-knit, The Daily Telegraph – 21 June, 2002
Ibid.
Life ban ends reign of King Suleman, The Daily Telegraph, – 7 May, 2002
Amnesia on scheme's 'secret fees', The Daily Telegraph, – 28 March, 2002
Suleman's architect, The Daily Telegraph - 5 December, 2001
Money dumped on floor: Suleman probe, Sydney Morning Herald – 28 February, 2002
Ibid